Starvation Creek To Agate Creek 8.15.10
(Last Updated On: August 25, 2010)
After riding Starvation Creek for the first time on the last day of July, I was pretty stoked not just because the trail was easily one of my new favorites, but also because I knew Starvation Creek would lend itself nicely to some combinations with other rides. Best of all, these combos wouldn't involve a shuttle like so many Monarch Pass rides do. We choose to start our ride in the town of Sargeants on the West side of Marshall Pass. While I have ridden up the East side of the Pass, this marked my first time up the West side. Being a former railroad grade, Marshall Pass is quite gentle and easy as you slowly gain elevation to the 10,842′ summit.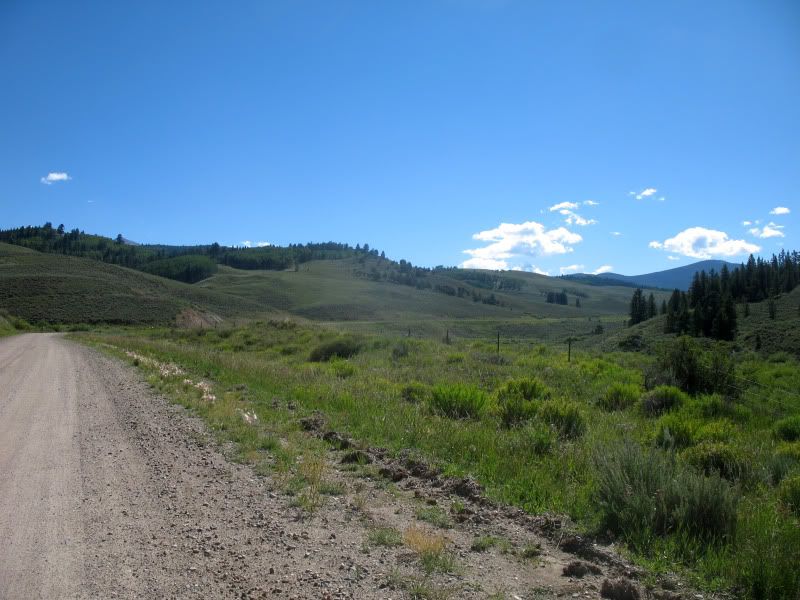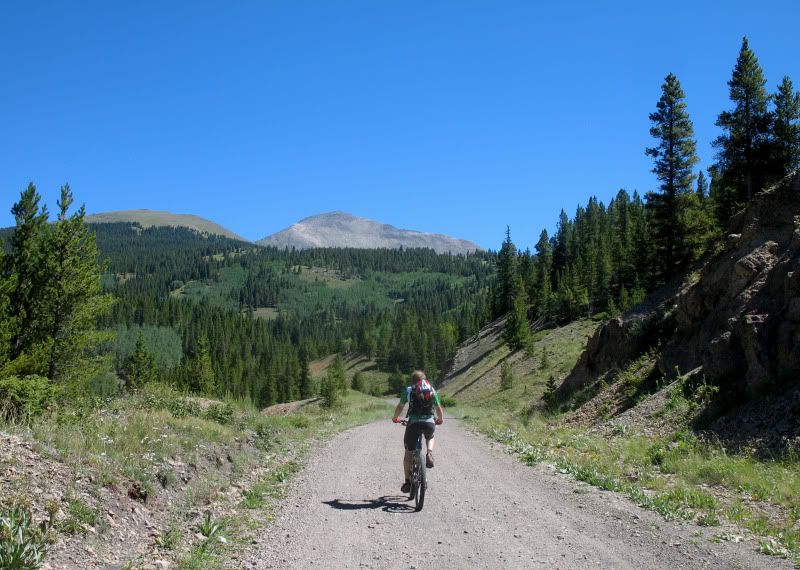 Mt. Ouray: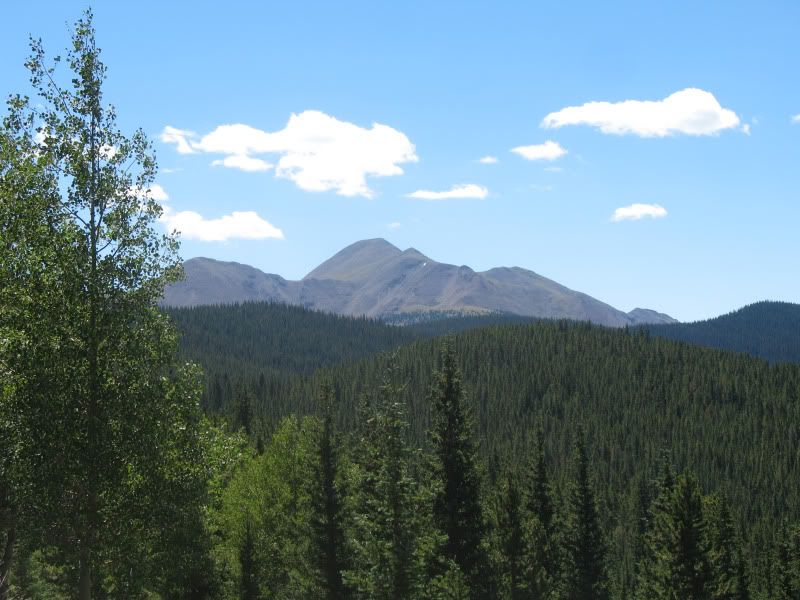 There were large areas of downed Aspen trees along the road. Our guess was that a windstorm had swept up the valley, knocking down trees of similar aspect as it went. Unless anyone else has some guesses…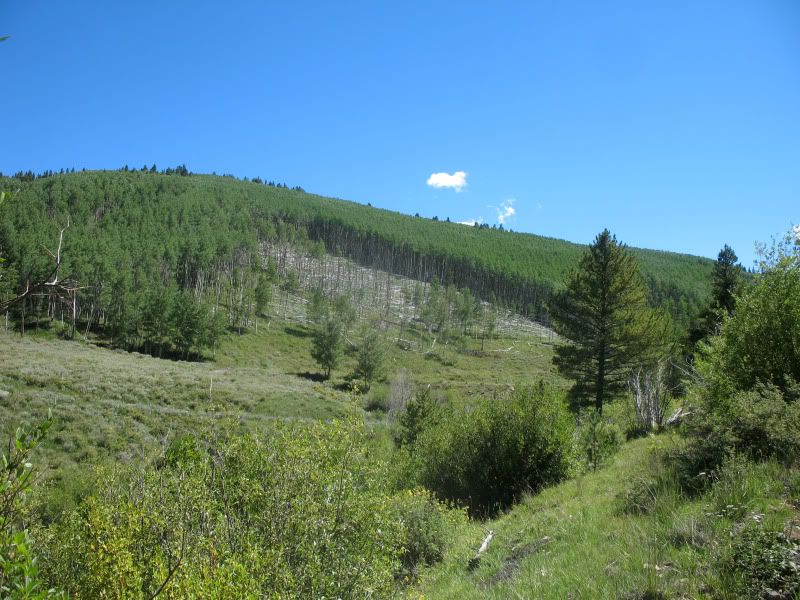 We cruised up Marshall at a nice easy pace in a couple of hours and found ourselves at the top of Starvation Creek, along with several other parties. The word is out- Starvation is where it's at. Brittany: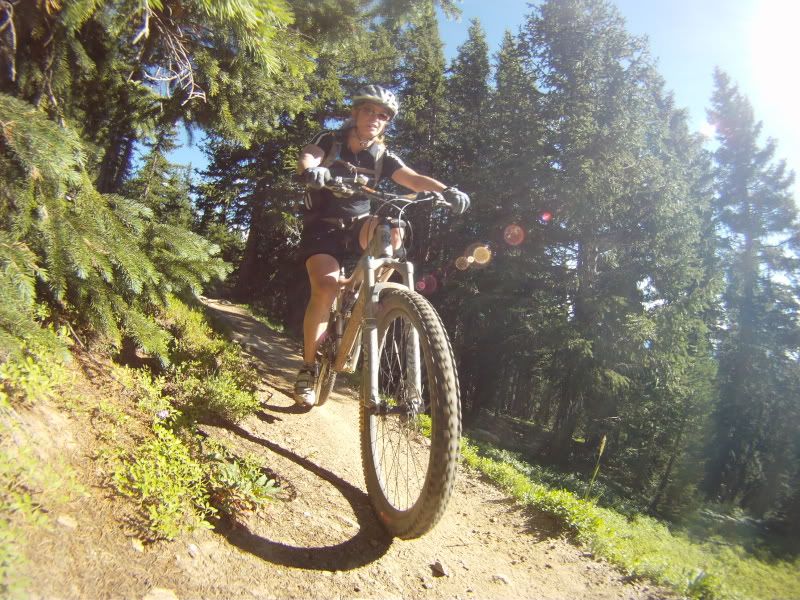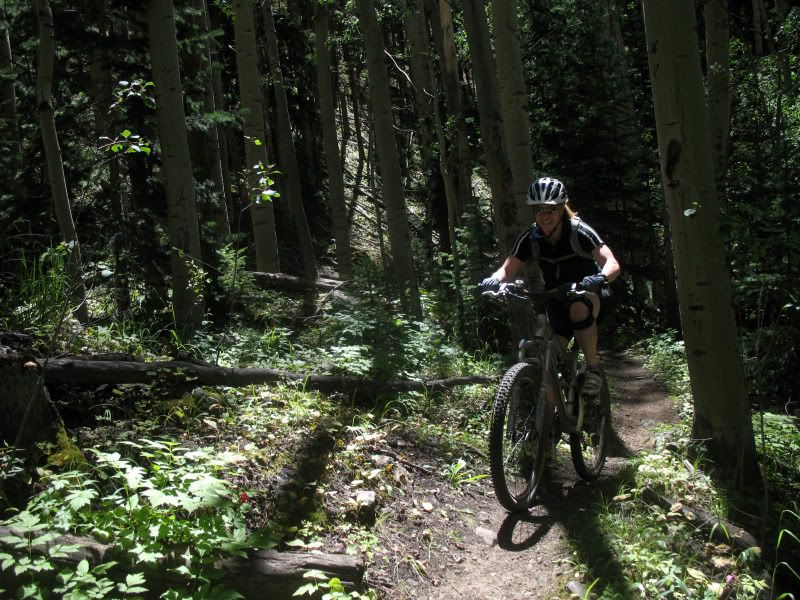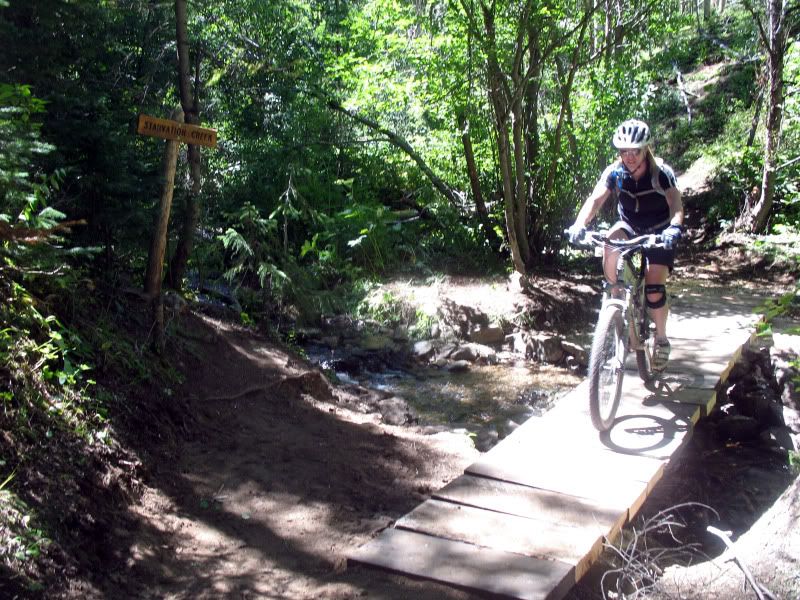 Frank: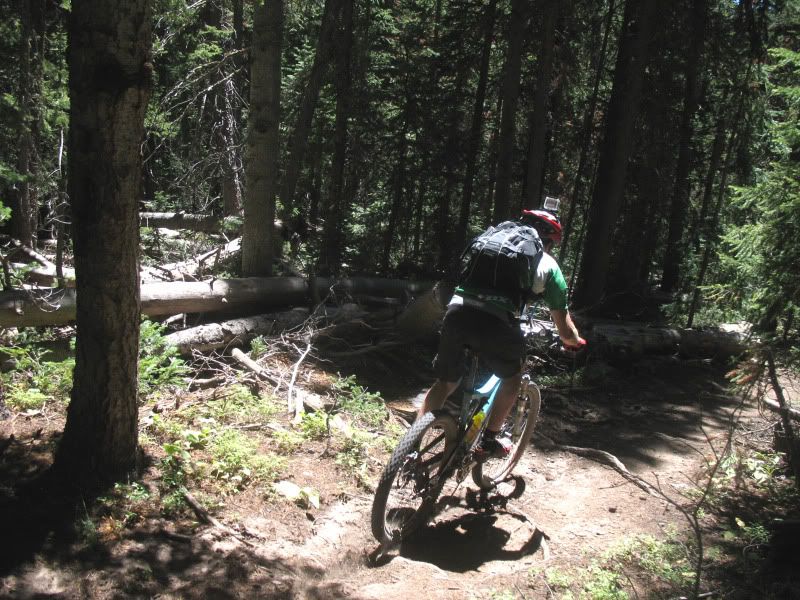 Starvation Creek dumps you out on the Otto Mears Toll Road, where a left hand turn will take you back up to Marshall Pass. We took another break at the top and this extremely bold little fox begged for food as we ate our sandwiches.

We went "backwards" up the Continental Divide Trail, thankful that it was now afternoon and the hordes of Monarch Crest Riders had long come and gone. We reached the start of Agate and our final descent of the day. Brittany: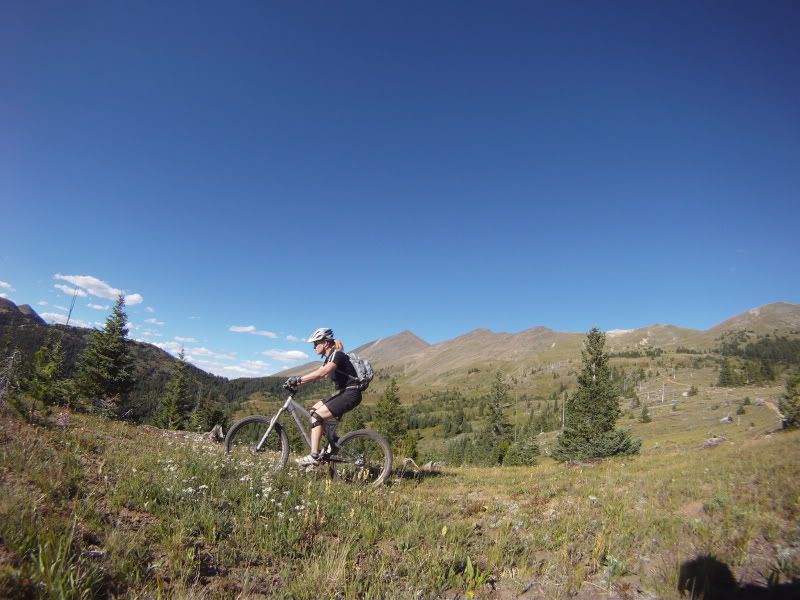 Frank:

Rocks are less bumpy when you levitate.

One of the nice features our GoPro Helmet Cam
has is the ability to take photos, and one of the settings is one photo every 3 seconds. While not all of these shots were great, I thought a number of them had a great effect. Brittany: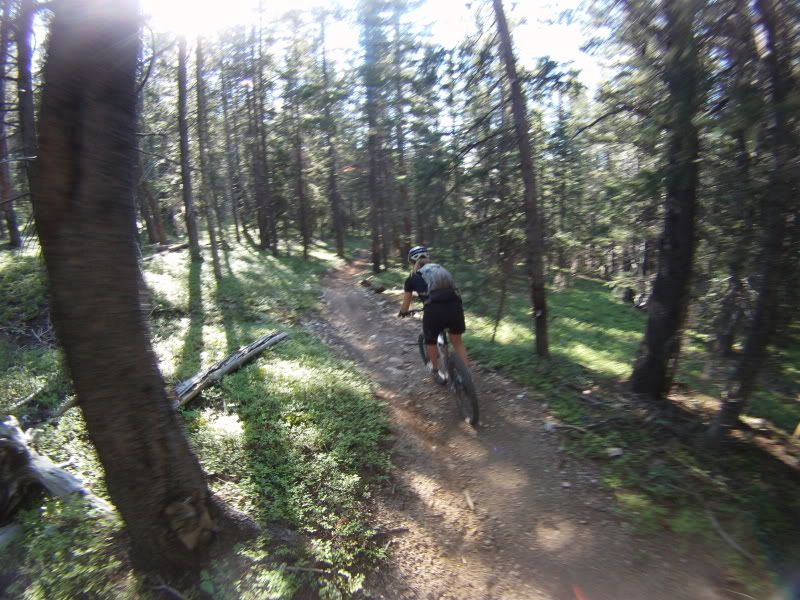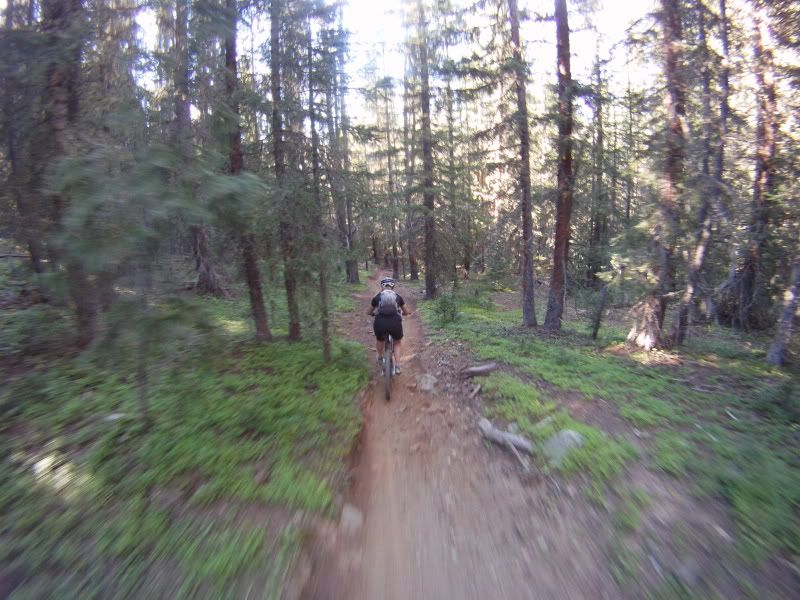 Frank crossing one of the many famous (or infamous) crossings of Agate Creek: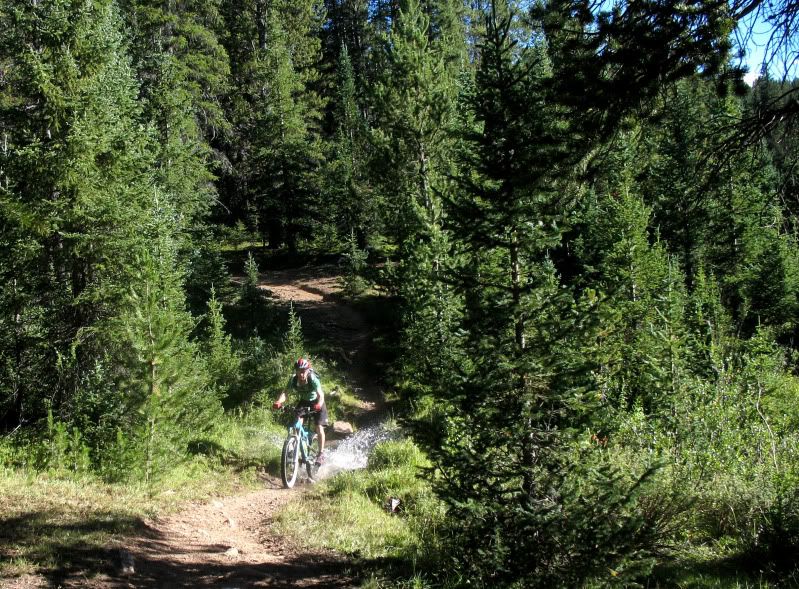 Vehicles that don't make it on Monarch Pass end up down here on Agate: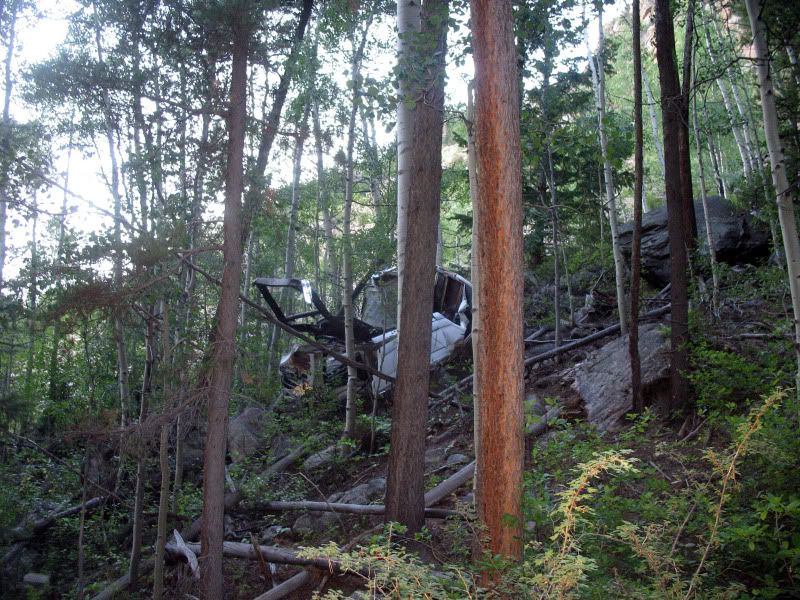 Agate is a great trail, but at the end the trail is one river crossing after another and it can get old. This is followed by a steep exit back up to Monarch Pass in order to avoid private property. This is unfortunate, since it leaves a bad taste in the mouth after such an otherwise great trail. In any case, we coasted down a couple miles of Monarch pass back to Sargeants for a ride time of about 6 hours and a little under 50 miles. This is a great figure 8 loop and I highly recommend it. Check out our video for more:

Starvation Creek to Agate Creek from 14erskiers on Vimeo.
Frank
loves snow more than anything... except his wife.  He ensures his food is digested properly by chewing it 32 times before swallowing.He is a full-time real estate agent serving
Crested Butte and Gunnison
and would be honored to send you his
monthly newsletter.
Latest posts by Frank Konsella (see all)