(Last Updated On: July 28, 2017)
After roughly 14 years here in Crested Butte, I sometimes feel like I've seen and done it all, especially when it comes to bike trails. When I've stared at the map, looking for new adventures on two wheels, my eyes have always been drawn to the Lowline trail south of Ohio Pass. But whenever I've asked anyone about it, all I've ever heard are words like "lots of cows", "lots of horses", "muddy", and "easy to get lost". Despite the lack of local enthusiasm for the trail, when Pete Sowar suggested it I was all in. Jay Prentiss thought it was a great place to go explore as well, and we were off.
In a lot of ways, we got really lucky in our timing. It was clear that this trail is normally a mudfest, but now, right before the snow starts to fall in earnest, it was mostly dry and sometimes even frozen in the shade. It was also obvious that the area usually has cows, cows and more cows, but they have all been taken to pasture for the winter. The horses haven't done the trails any favors, but it wasn't that bad. The lack of signage and myriad of cow trails fooled us and we did get lost for a bit. In the end, this was one of the more enjoyable rides of the summer, but I would highly recommend that anyone trying it wait until the very end of the season, so they catch it in the good conditions that we had.
We started off at the Swampy Pass trailhead on trail 439.1 and the views were off the hook right off the bat.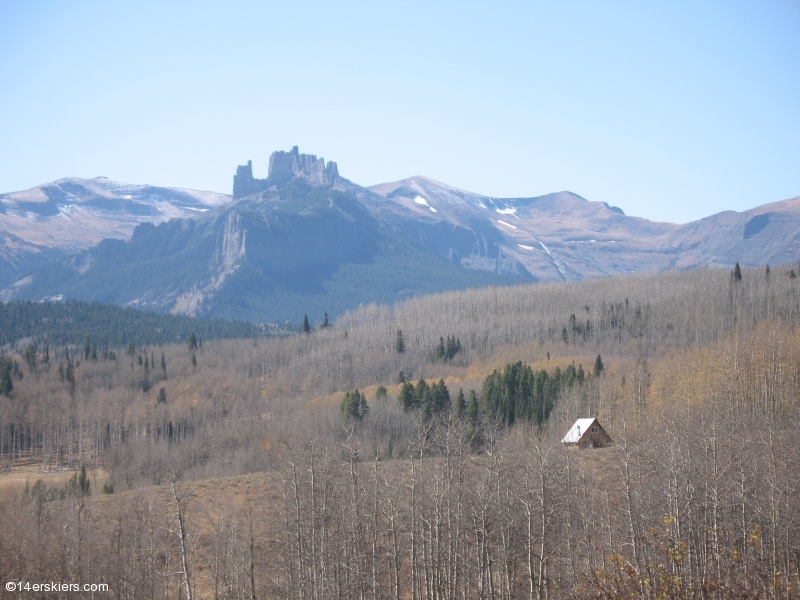 I took a number of photos of lines that looked like they might be worthwhile ski descents, and this was the first one, off the backside of the Anthracites.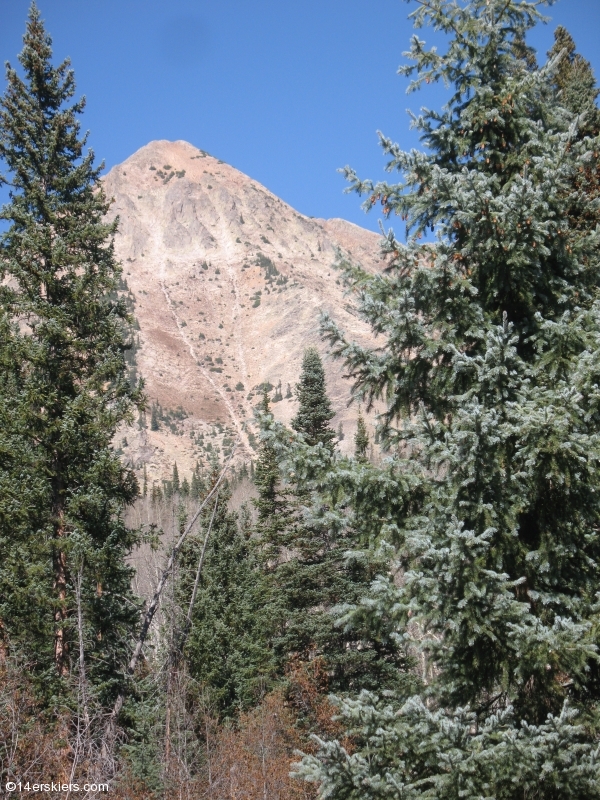 We got on trail 563.1 and began heading directly towards the Castles, a unique geologic feature in the West Elks.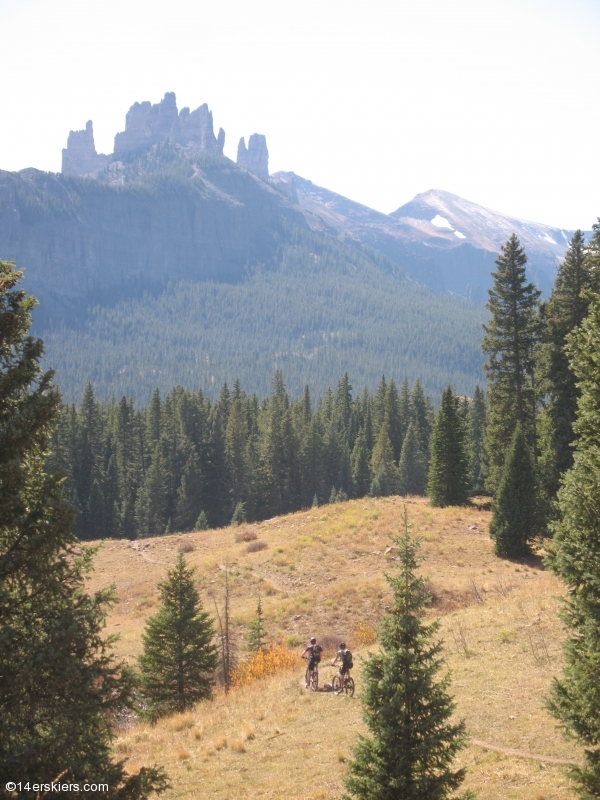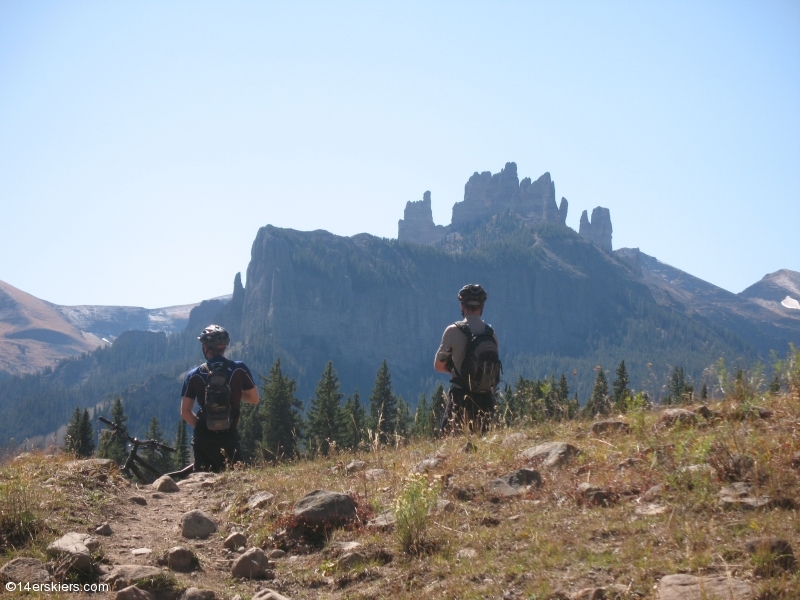 We hit the wilderness border right where trail 438 skirts the border and begins to traverse the range. As it turns out, 438 is also the Lowline Trail, although it wasn't marked on our map as such. More ski beta, wonder if this one goes all the way through or not?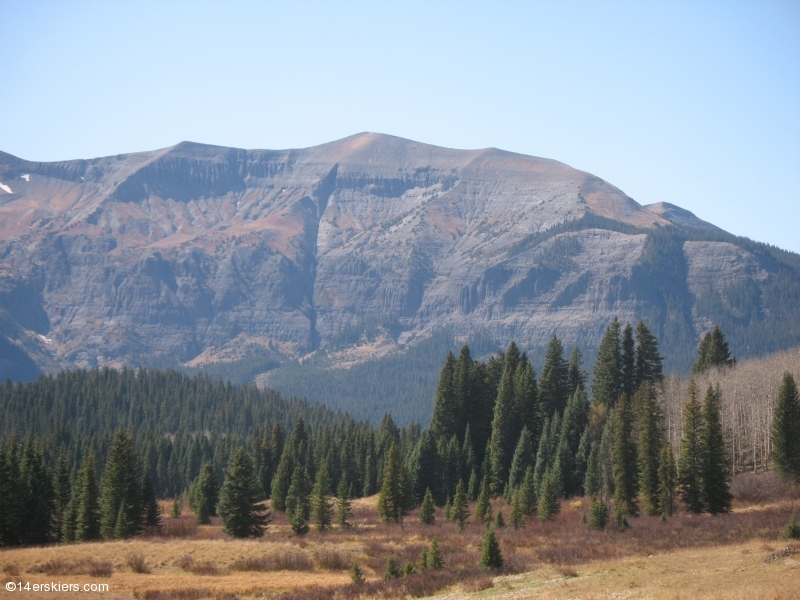 The scenery continued to be "OK".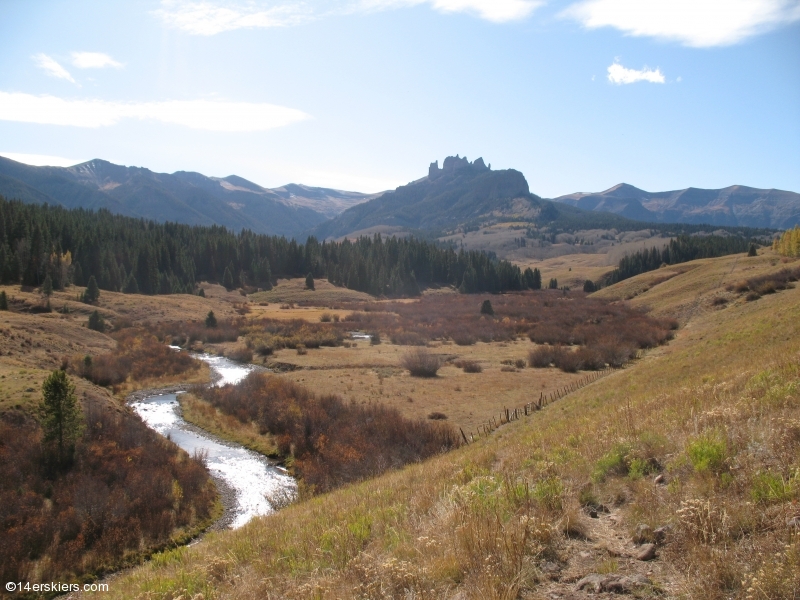 We got lost in this area and followed some cow trails. Eventually, we made a small loop and returned to a stream confluence where we should have crossed. This cost us an hour and a half, and we were concerned about finishing in the daylight, but decided to give it a shot anyway. More scenery and ski beta: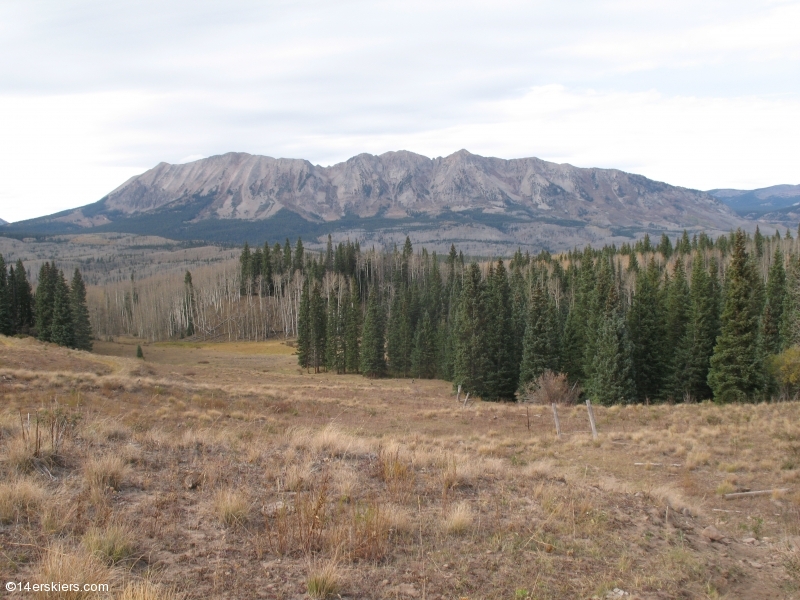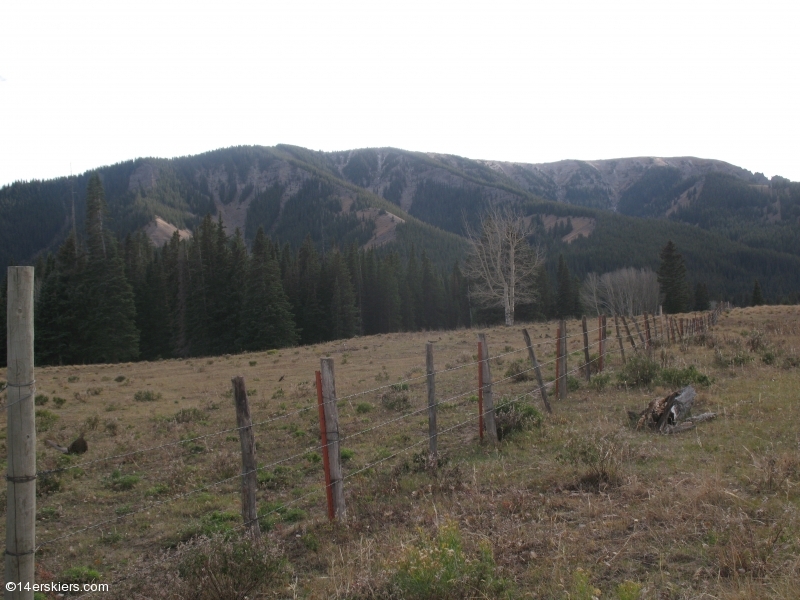 Between losing any decent light to shoot any photos as a storm rolled in and our need to hurry before we got "nighted", we didn't take many other photos. Some awesome sections of trail, though: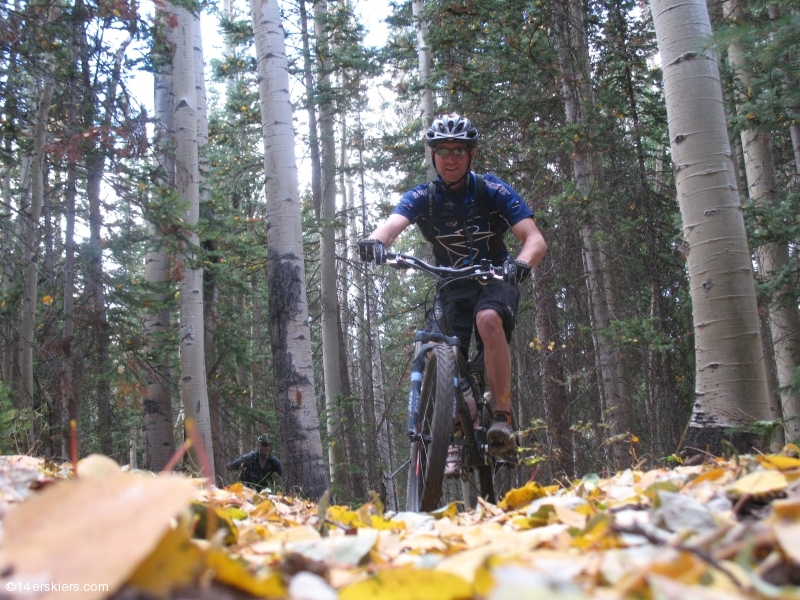 The final downhill to Mill Creek was tight, twisty, and steep. It descended the hill above Jay and Pete here on Mill Creek: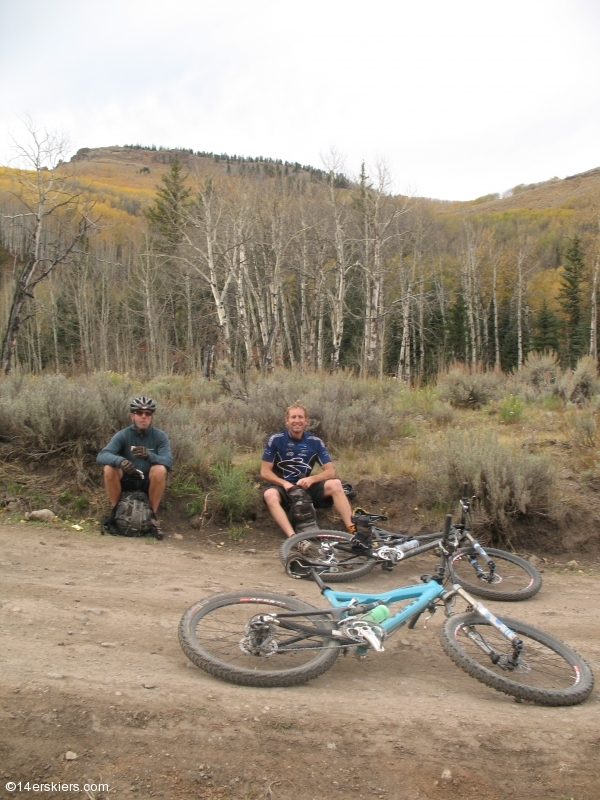 A descent down Mill Creek led us to a 10 mile ride back to the truck on the Ohio Creek road. We were pretty smoked at this point, but we made it right as it got dark. Beer is good: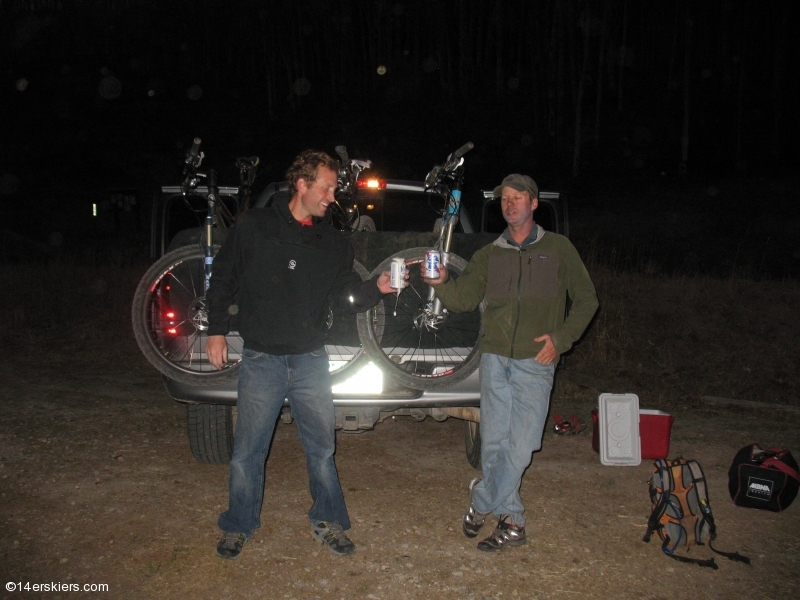 The stats: almost 32 miles, 4:15 ride time, almost 7 hours out there, and 4100′ of vert. Had we been able to ride without consulting the map repeatedly (and not getting lost), I'm sure the ride would be a more reasonable 3.5 hour ride. Lowline is worth a return trip next fall, for sure…
Frank
loves snow more than anything... except his wife.  He ensures his food is digested properly by chewing it 32 times before swallowing.He is a full-time real estate agent serving
Crested Butte and Gunnison
and would be honored to send you his
monthly newsletter.
Latest posts by Frank Konsella (see all)
Summary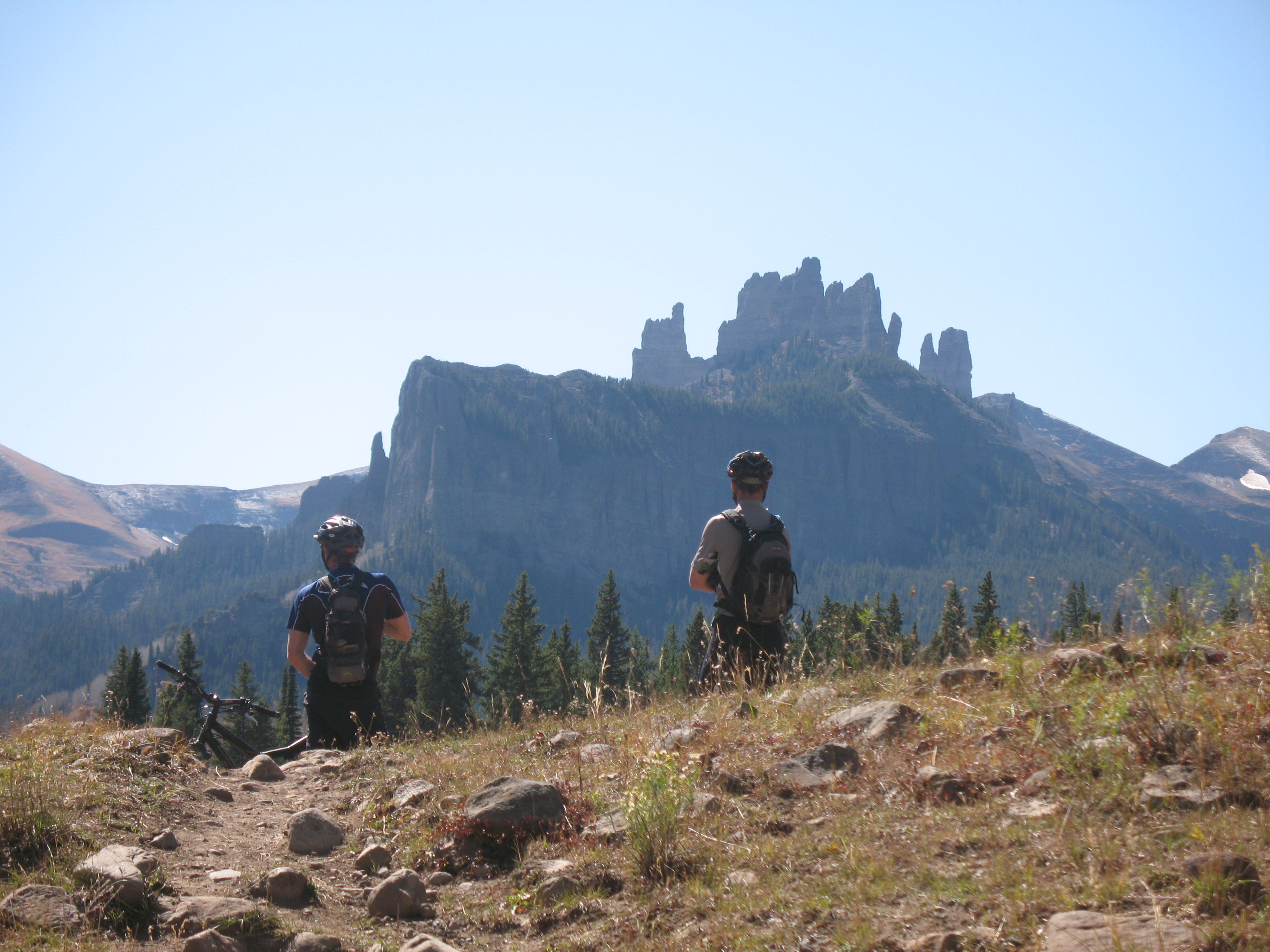 Article Name
Description
Although difficult to navigate, The Lowline Trail near Crested Butte, makes a beautiful adventure mountain bike ride in the fall!
Author