Finding Adventure in the Modern World
(Last Updated On: October 19, 2009)
It's getting harder. It's something that I have been noticing more and more. Part of it stems from the length of time I've spent here in Crested Butte- the seemingly endless backcountry seems a little smaller every year every time I venture out into it and fill the holes on the map. The backcountry seems smaller with all of the information on the internet, and on the bookshelves of skiers, climbers and bikers all over the world. Skiing the 14ers was a revelation, in that respect, as I was able to study the peaks so well before I ever left the house that half the time it seemed like I had skied the peak before I even started. It isn't just the fourteeners, or the local peaks, either- there is information overload for almost any major ski range.
So what's someone to do who still seeks a sense of adventure in their ski trips? Well, there is always the hippie option of tuning it all out, avoiding the books and the internet reports, and figuring it out on your own. This is probably a good option for local trips, when one can afford a little trial and error figuring things out. But on a trip, who's to blame someone for seeking the beta and giving themselves the best shot at success? For myself, I'm hoping to check some new areas out. I'm really what the best way of accessing some of the lines I've spotted will be, but I'm hopeful I will be willing to skip a run I know to check out something new.
The other thing I hope to do is use the internet to my advantage as a means of finding new challenges and objectives. I've been scouring summitpost for new peaks that look interesting and I think I've found a few. I'll probably post a few in the future. I also love staring at maps and I think that I recently found a worthwhile line. Another crazy tool to use these days is Google Earth, which I just downloaded recently (my old computer couldn't handle it). I went to the line I saw on the map and this is what Google Earth had to say about it: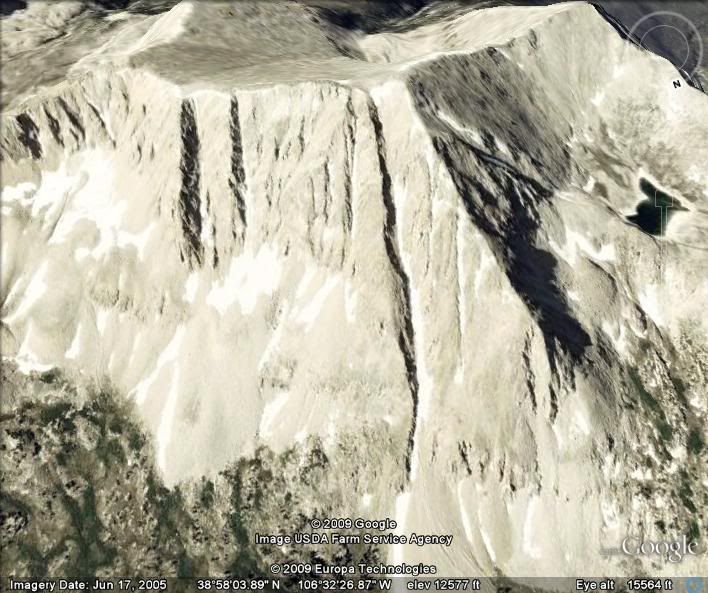 Maybe that's the answer, eh? The old-school map meets the new-school google earth and all I have to do is ski it. I think I can probably handle that…
Frank
loves snow more than anything... except his wife.  He ensures his food is digested properly by chewing it 32 times before swallowing.He is a full-time real estate agent serving
Crested Butte and Gunnison
and would be honored to send you his
monthly newsletter.
Latest posts by Frank Konsella (see all)