Silverton Mountain- Don't Believe the Hype
(Last Updated On: June 8, 2009)
"Silverton- The place to go when you want to be seen" -Ben F., spring '09
"That was like downing a bottle of viagra, going to the strip club, and then going home with the dudes" -Ben F., spring '05
Both times I have gone to Silverton, I went with my friend Ben. The first time, back in 2005, we went guided. This remains one of the most disappointing ski days I have ever had. Despite a fast group, we were only able to get 4 runs in, and not a single one was in good conditions, although there was good snow all around us. That snow was for someone else, I guess. That's where the viagra quote comes from- we saw great snow and great terrain, we just didn't get to touch any of it. Our guide was completely overmatched by our group, and fell on a number of occasions, including losing all his gear at least once. Nobody in our group, even the telemarkers from Vermont who should have been blown away, were at all impressed.
This year, I decided to give the place another chance, this time unguided. With 22″ reported in the last 48 hours, we decided it just had to be good. We arrived to a few inches, perhaps as much as 7″ on the top. I had always wondered if Silverton exaggerated their reports, and at least on this day, it was very much the case. The skiing was OK, but I couldn't help but continue to feel that Silverton's marketing as the steepest ski area in CO/the US/sometimes even North America continues to be way overblown. Is it steeper than Vail? Yes. Is it steeper than Crested Butte? Not even close. It wouldn't be a problem if there wasn't so much hype, but that's all the place seems to be- empty hype.
Which leads to the first quote above. The uber-cool hippster who just moved to Santa Fe(because he/she read in a magazine that Santa Fe was the hippest place to be) because a magazine like Outside/Men's Journal/National Geographic Adventure told him/her that Silverton was the place to be will probably love the place. They'll drive there in their genetically unmodified organic SUV that runs on vegetable oil (since the magazines told them it was cool). The magazine probably says that Silverton is the most euro-like place in all of the states, so he/she will probably bring an ice axe, because the magazine said that's some bad-ass cool stuff to bring to the gnar of Silverton. Like this moron, with his upside-down ice axe ready to stab him in the butt: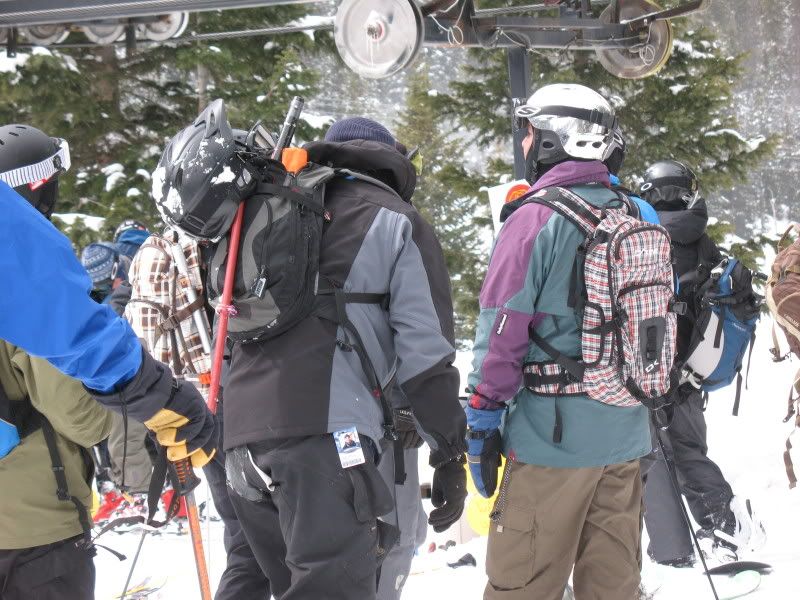 I was reminded of all this last night when I was reading my first issue of National Geographic Adventure. It was a cheap subscription, and the article on Everett Ruess (disappeared in the desert SW in the 30's) made the magazine, but the rest was just junk. Magazines like this love making cheesy little lists, and there it was, at #19: Ski Scar Face "Fewer than ten skiers a year attempt Scar Face at Silverton Mountain, the nastiest run at America's Highest [sic: both Loveland and Breckenridge are higher], steepest [yeah right], and funkiest ski resort. This is a good thing. With its blind entry, impossibly narrow chutes [clearly it is possible], deadly cliff bands to sidestep, and a pitch that pushes 60 degrees over 2,200 vertical feet, Scar Face is more a prediction than a description." Whatever. As Public Enemy famously sang, "Don't Believe the Hype"
Public Enemy's "Don't Believe the Hype" (embedding was disabled so you've got to hit the link)
Frank
loves snow more than anything... except his wife.  He ensures his food is digested properly by chewing it 32 times before swallowing.He is a full-time real estate agent serving
Crested Butte and Gunnison
and would be honored to send you his
monthly newsletter.
Latest posts by Frank Konsella (see all)