Capitol Peak (attempt) 9-13/14-08
(Last Updated On: October 1, 2008)
One of the goals that Brittany and I had going into this summer was to climb Capitol Peak. In the summer, it ranks as one of the more difficult and exposed fourteeners to climb via its' easiest route, while for skiers, it is unquestionable the most difficult fourteener to ski. Brittany wanted to climb it to get some beta for a ski attempt this spring, while I was mostly just along for the ride and interested in revisiting the mountain after my successful ski descent of last spring.
We headed over Kebler and McClure passes until a traffic jam (or is that a sheep jam) stopped us just outside of Marble.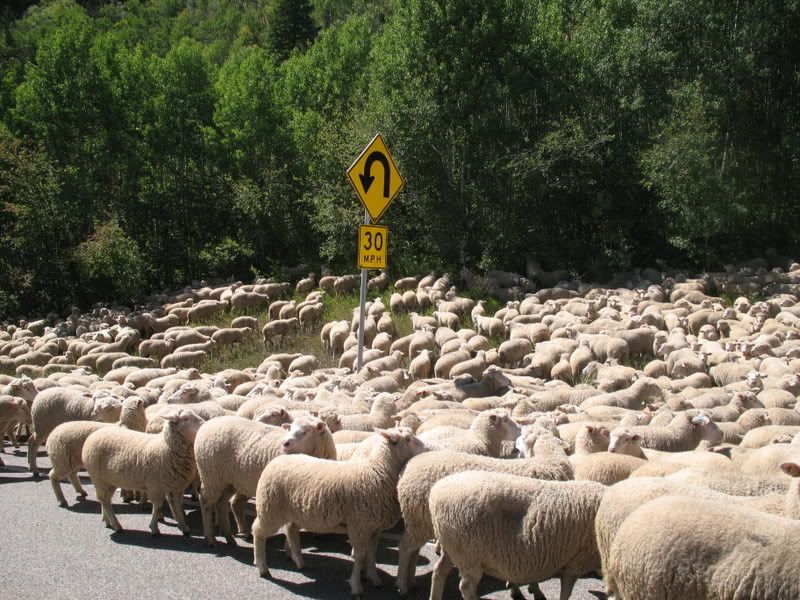 We arrived at the trailhead and started down a "new" trail, known as the ditch trail to reach a campsite. Capitol had received quite a bit of snow and unfortunately, it wasn't melting as quickly as we had hoped. Nevertheless, Capitol is a beautiful mountain and we enjoyed the views as we hiked up.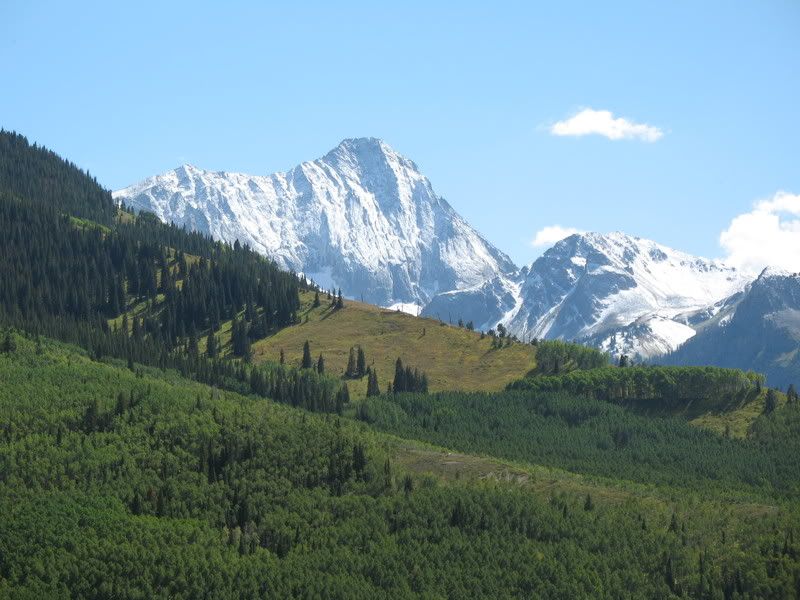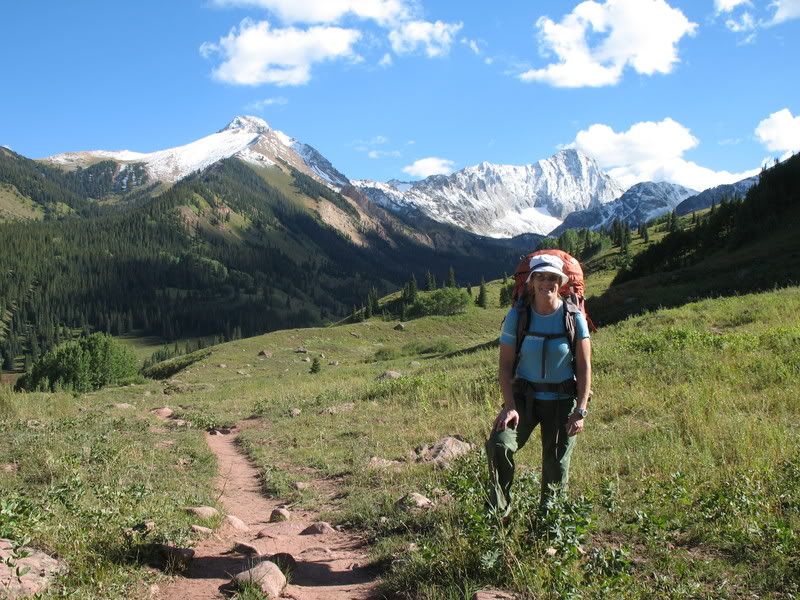 The only bummer about this area is that there are cows EVERYWHERE, and cow trails EVERYWHERE! Yes, that's correct- smack dab in the middle of the Maroon Bells-Snowmass wilderness, cows are allowed. A clean, quiet mountain bike is not allowed, nor is a tiny climbing bolt that nobody can see, nor a paraglider, but cows, sure, why not? Pretty ridiculous. We were able to find one of the few remaining campsites that wasn't completely covered in cow poop and headed out the next day, knowing that the snow would probably hamper our efforts to summit. After rounding Daly Pass, we found ourselves on the ridge below a point known as "K2". Snowmass mountain is on the right, along with the Maroon Bells and Pyramid on the left and Pierre lakes below.

Now, we traded our views of the North side of capitol for the East and South sides.

From K2, we carefully made our way through 8″ of snow and began the ridge to the summit.

The snow was slowing us down considerably, and conditions were quite dangerous- a few feet of consolidated spring snow or a dry ridge would both be preferable to the dusting of snow we were dealing with. We turned around shortly after reaching the famous knife edge portion of the ridge:

We could have made it, but it would have been a long and dangerous day, and we would have been hiking out at night. Here, Brittany climbs back up and over K2, with Capitol Lake behind her.

Several snowfields remained from the huge winter of 07-08, so we were able to slide down some of them and make good time:

While we didn't make the summit, Brittany still got a good look at the challenges that will be facing her this spring, and Capitol remains an awe-inspiring and picturesque peak.

Frank
loves snow more than anything... except his wife.  He ensures his food is digested properly by chewing it 32 times before swallowing.He is a full-time real estate agent serving
Crested Butte and Gunnison
and would be honored to send you his
monthly newsletter.
Latest posts by Frank Konsella (see all)