Long's Peak- Loft ascent, Keplinger descent. 5.4.08
(Last Updated On: May 6, 2008)
The crew: Pam, Chris, Pete, Brittany, Norm, plus me. Yeah, a little large, but what the hell.
Ah, there's nothing like a 1:30am alarm clock on a Saturday night (or is that a Sunday morning?) The cops were out in full force, it being the weekend before cinco de Mayo. It would have almost been fun to get pulled over: "You been drinking?" "Yeah, coffee, and a lot of it, and that smell is polypro, not alcohol, so beat it, Mr Ocifer." Brittany and I were off the hook for running shuttle, so we went straight to the Long's Peak trailhead while the others dropped a car off at Wild Basin.
We were skinning by 3:45 or so, on one of the most heavily beaten paths of any fourteener. By treeline, the sun was starting to come out: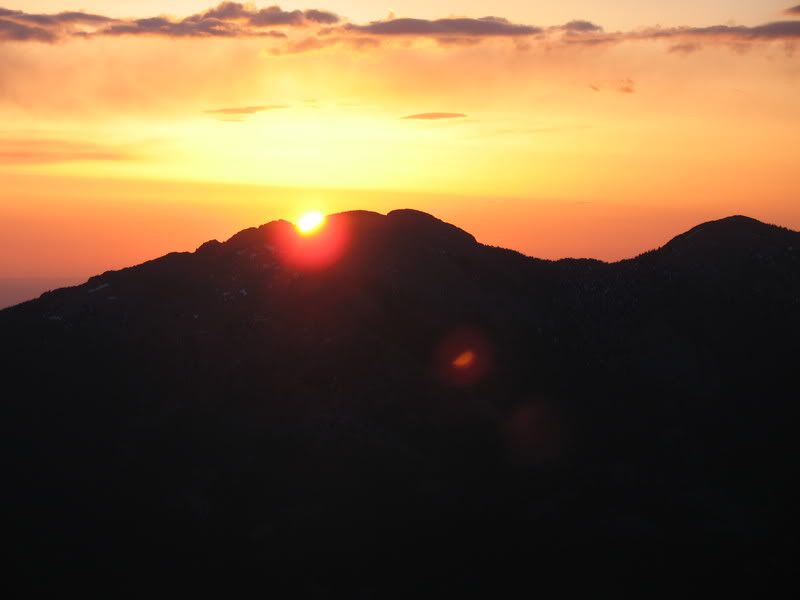 Who the hell smiles with a lack of sleep?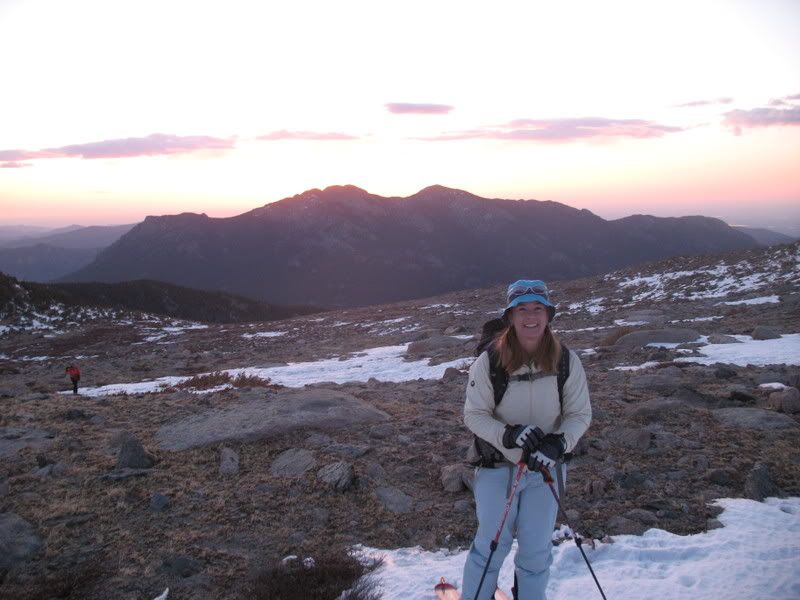 Chasm lake is an amazing place. Diamond face:
Our route followed the obvious Loft couloir on the left:
The bootpacking up the couloir was perfect.
Near the top, you hit a cliffband and are confronted with a choice: right through a difficult and potentially icy step, or left onto an exposed ramp system. We chose left. Brittany: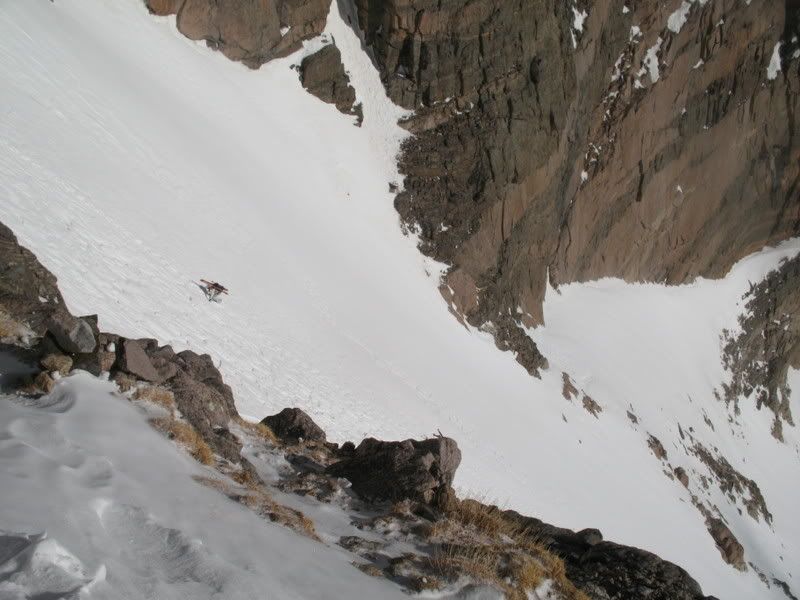 Brittany and Chris: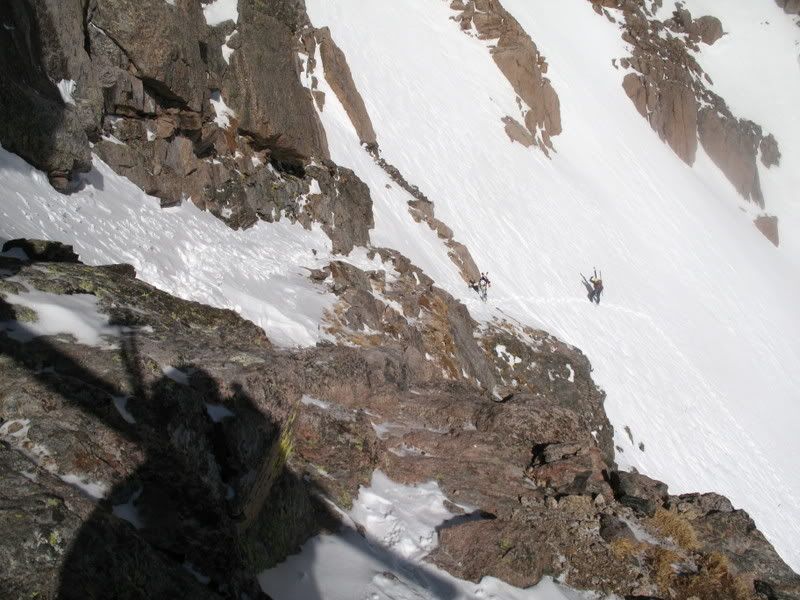 Once on top of the Loft, the high plateau between Meeker and Long's, we made our way down through tedious boulders to make our way to the upper part of Keplinger's couloir on the mountain's S side. We purposefully dropped a little extra elevation below Clark's Arrow, having heard that it was easier and faster to do so.
I actually enjoyed the scrambling in this area a lot. Brittany:
Once we were off the rocks, the climb remained exposed, but we were on great snow for our traverse across the ledges and finally the homestretch. Brittany and Pam: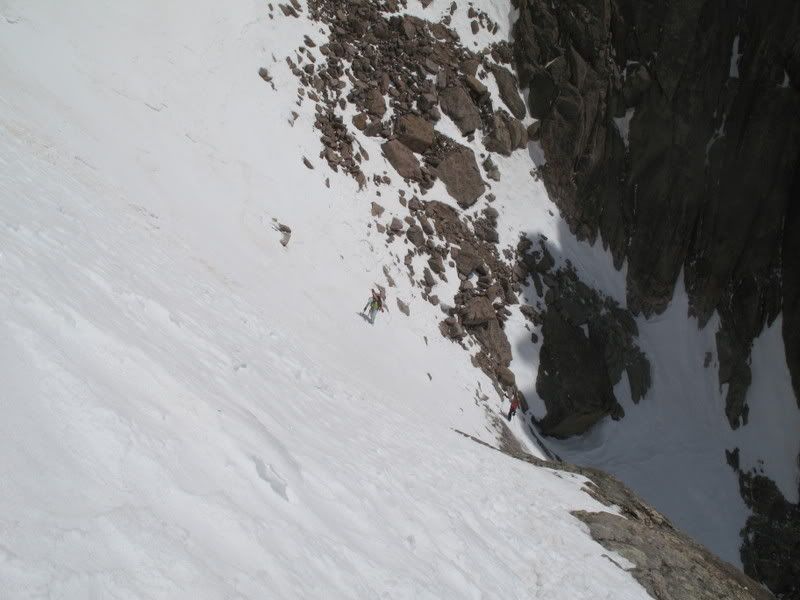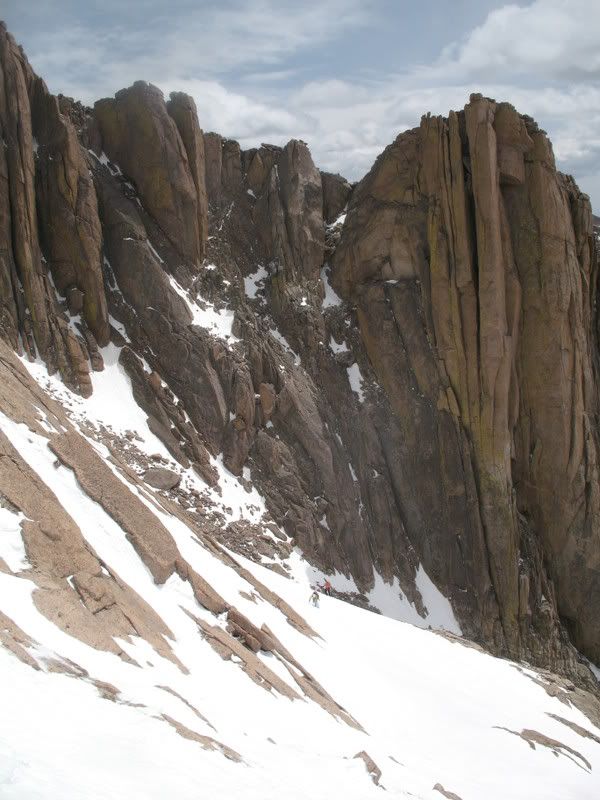 The huge summit of Long's: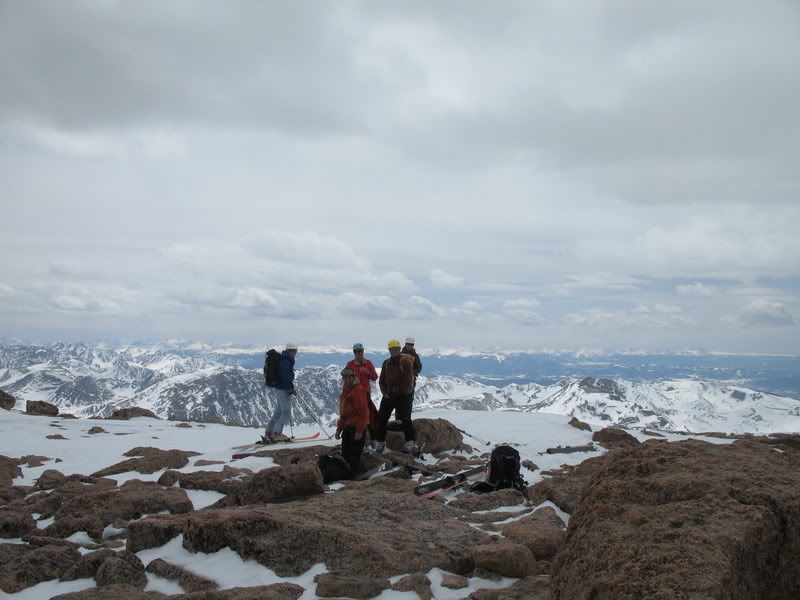 The skiing was quite good- some powder and some corn. Brittany drops the homestretch, a few feet below the summit: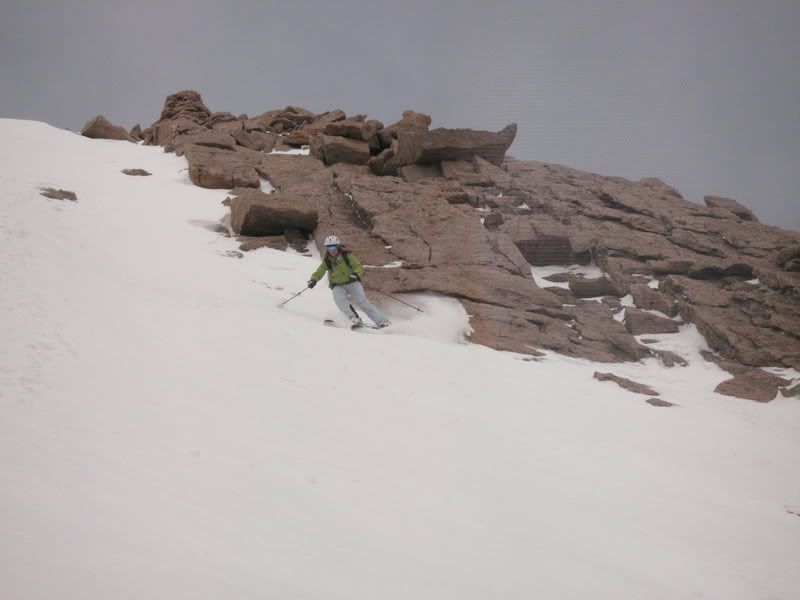 There were a few rocky sections to slide through, but overall, coverage was pretty good.
Pete: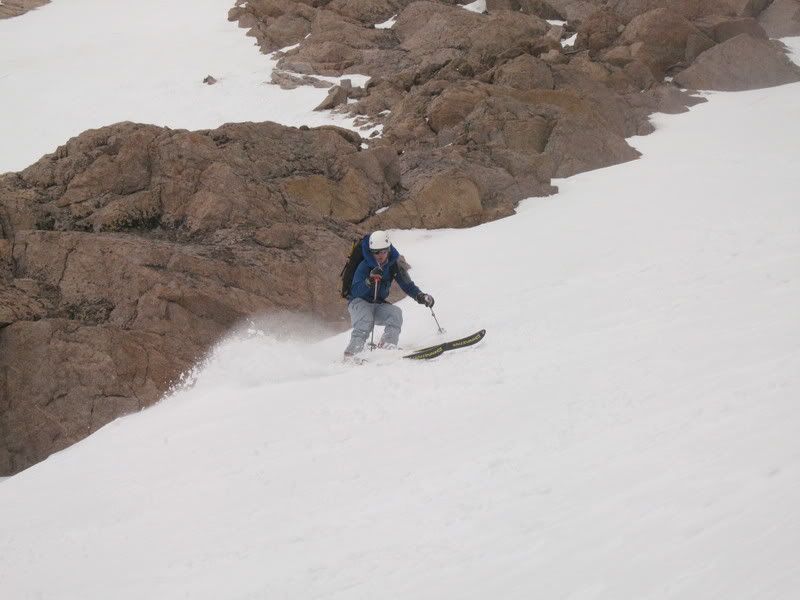 me: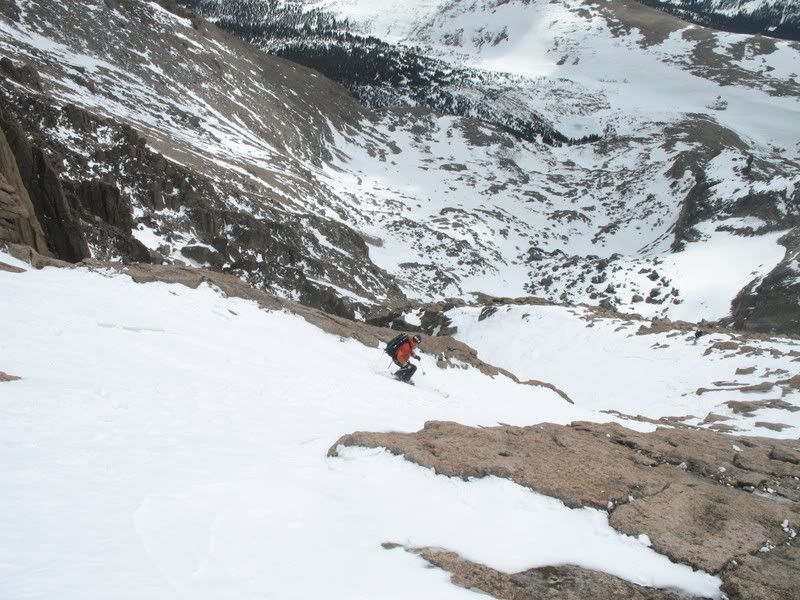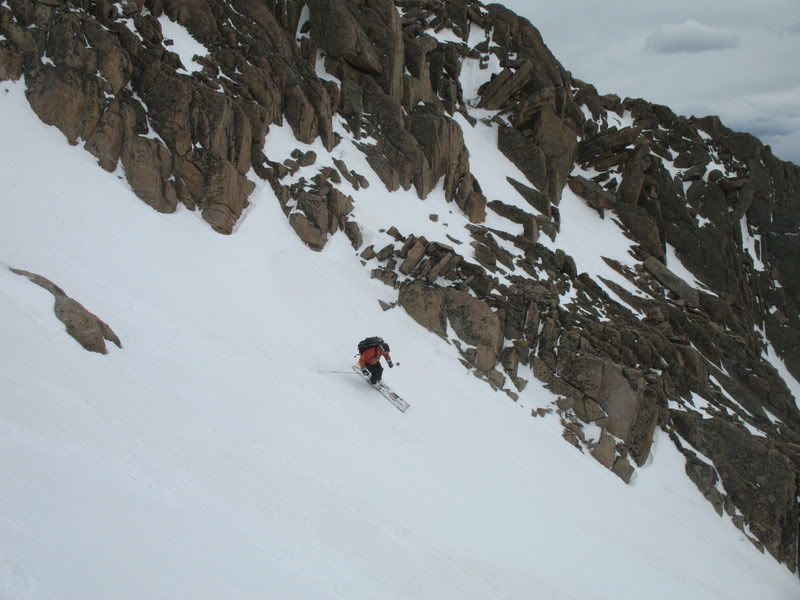 Chris: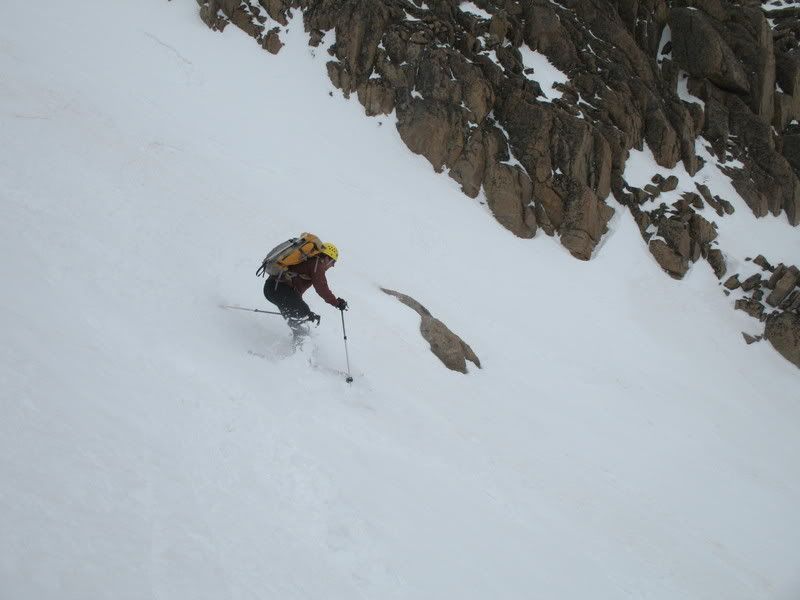 Norm: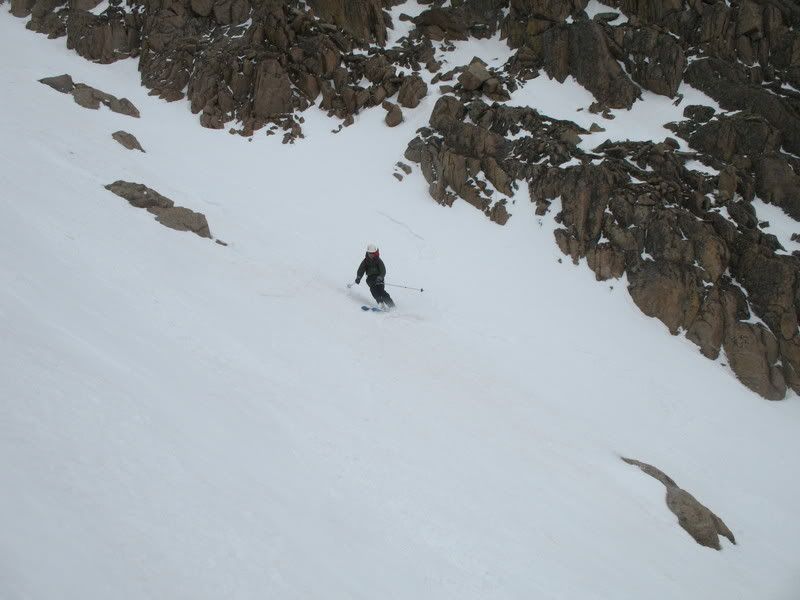 Pam: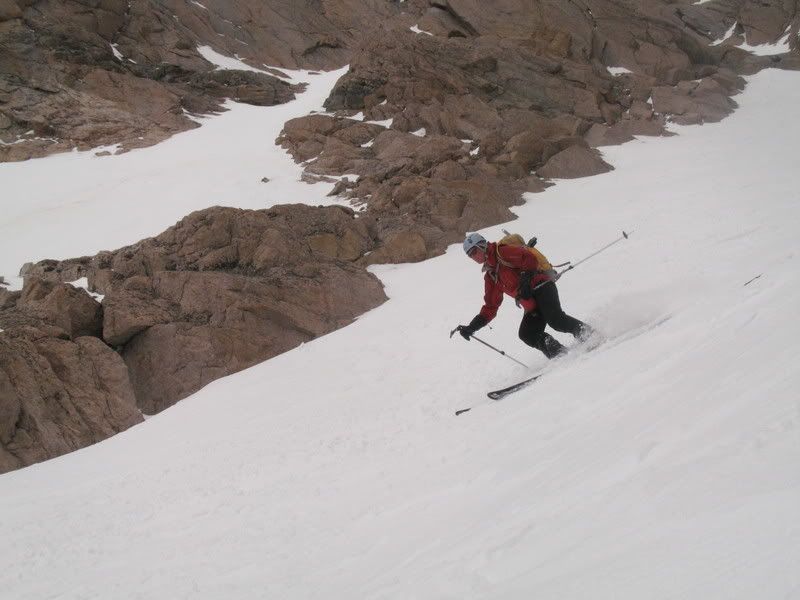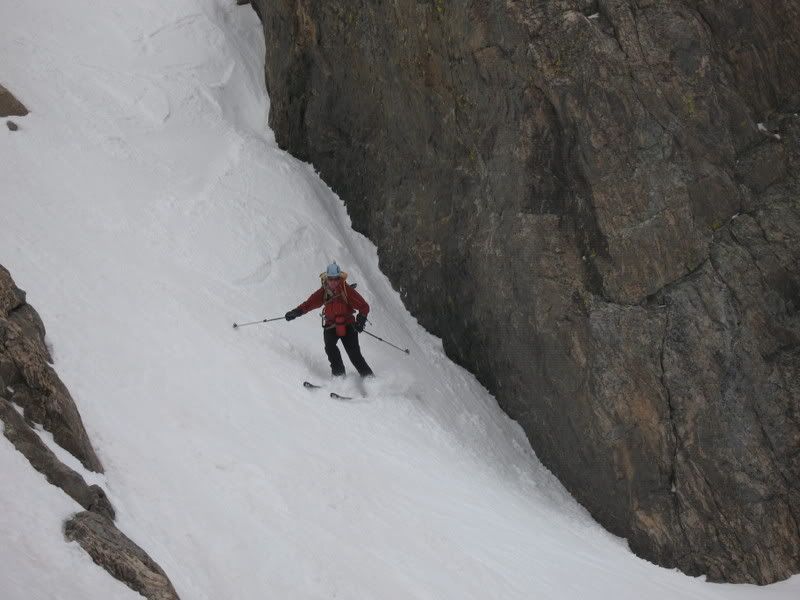 Brittany:
Yes, the route does continue all the way above Brittany in the shot below. Keplinger's is a pretty cool route, it goes even though it doesn't look like it should or even can.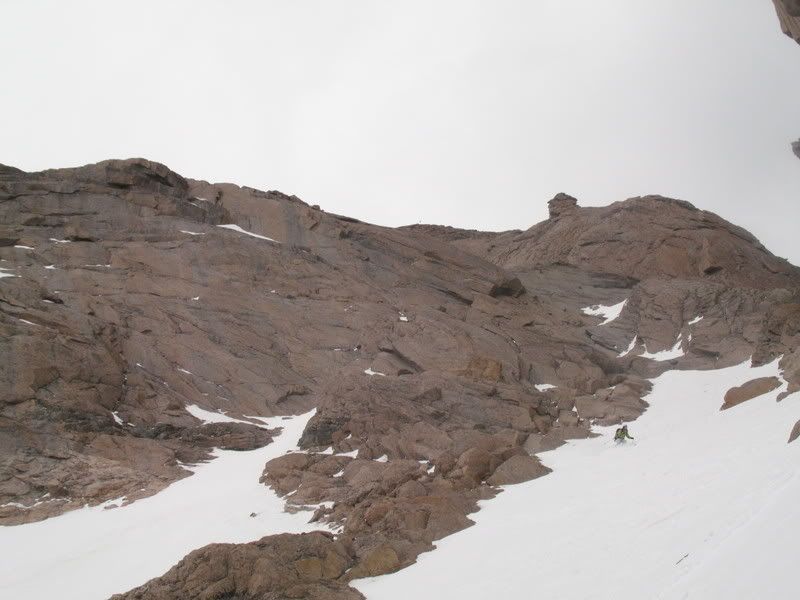 back to Pete: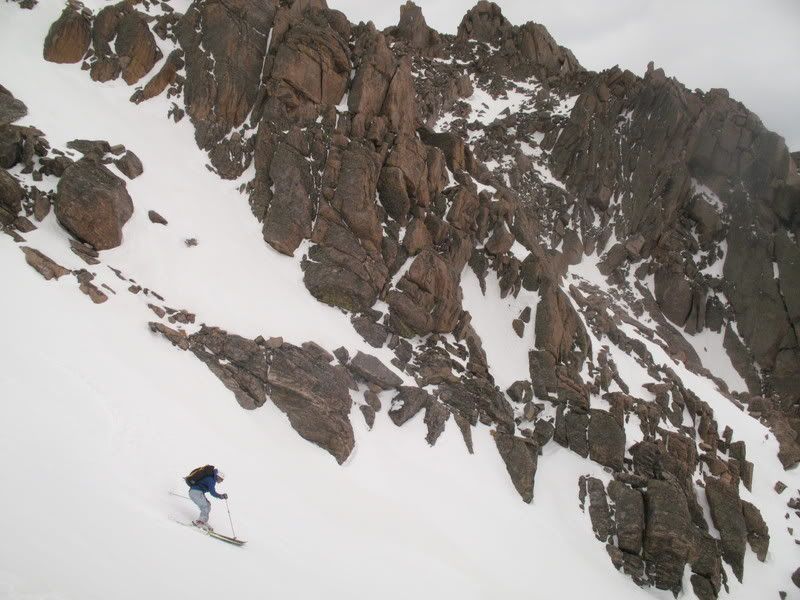 Long's S side: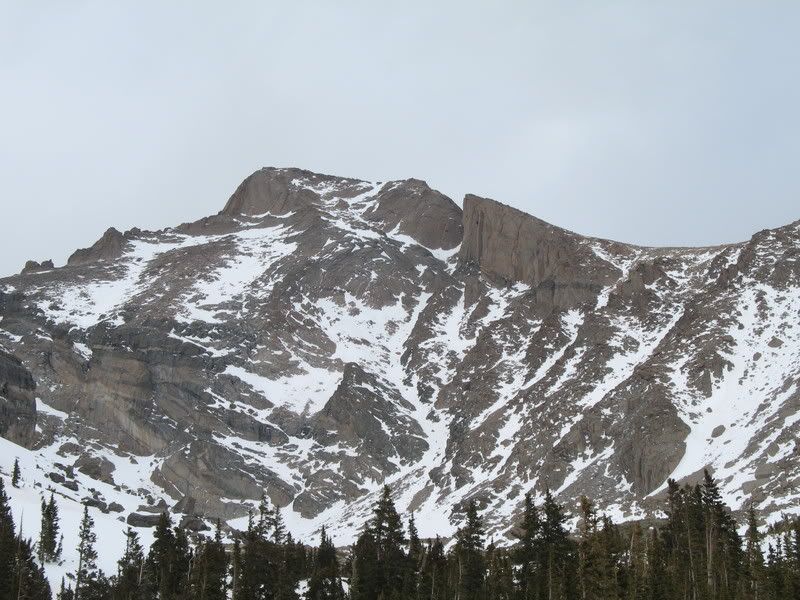 Our ascent traversed below the cliffs from the looker's right, near the black rock band. The couloir is fairly obvious. This ptarmigan, however, is not so obvious: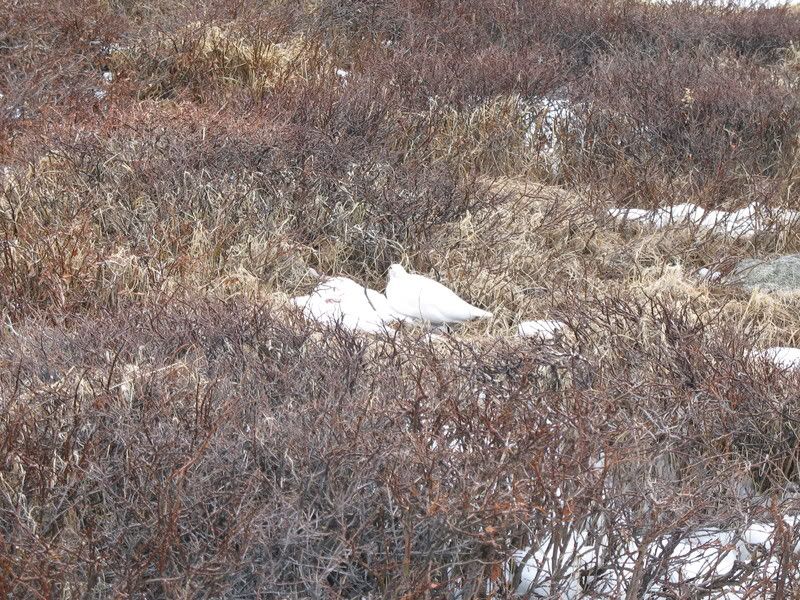 Some guys were just getting to the base of the couloir at 3:30(???), but we were happy to have their tracks to follow until we reached Sandbeach lake (Meeker right, Long's left).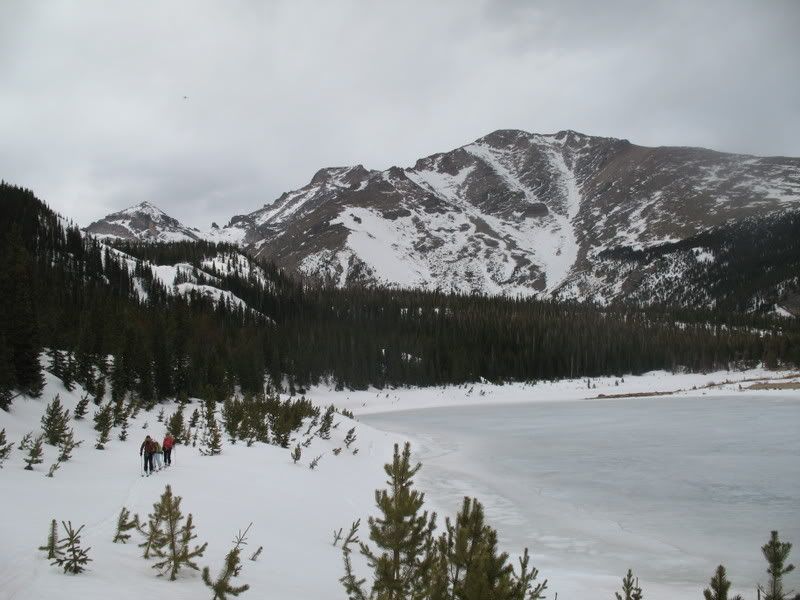 From that point on, we put the "wild" in wild basin. There is a reason that area is well-known for being a bushwack from hell, and our experience wasn't much different. Imagine this for two hours, but with less and less snow as we descended, eventually walking through the forest until we hit the trail we wanted.
Right around hour 13, we walked off the trail and into the parking area. Woohoo, beer-thirty, we thought. But oh, no, Long's wasn't done with us yet. Dry as the road may have been, it was still gated another couple of miles down the road. It was tough remembering all the good turns Keplinger's provided us at that point, but the truck and the beers arrived soon enough.
Long's is probably considered the preeminent climber's peak in all of CO. It has it all- Huge classic multi-pitch routes on the Diamond, great scrambling routes, ice routes, and mixed routes. Sadly for us skiers, what the park lacks in snowfall, it makes up in wind, making snow routes difficult to find in condition. The silver lining of this was that the North Face Cables route, which I wanted to ski, never filled in. That route has 800′ of good skiing, whereas Keplinger's has almost 3 grand. So in the end, I feel like we lucked out and ended up having a great tour de Long's.
Frank
loves snow more than anything... except his wife.  He ensures his food is digested properly by chewing it 32 times before swallowing.He is a full-time real estate agent serving
Crested Butte and Gunnison
and would be honored to send you his
monthly newsletter.
Latest posts by Frank Konsella (see all)