(Last Updated On: May 6, 2008)
Previously posted on my Thrillhead Blog
Long's Peak is a fourteener easily seen from Denver. It towers high into the north-western sky and stands like a guard over the plains. Recently, Long's Peak became the emblem on Colorado's state quarter.
Like many Coloradoans, I have a personal connection to Long's Peak How can you NOT have a connection to it, when you can stare at it day after day. I can see it when I drive. I can see it when I ride my bike. I can even see it out my window.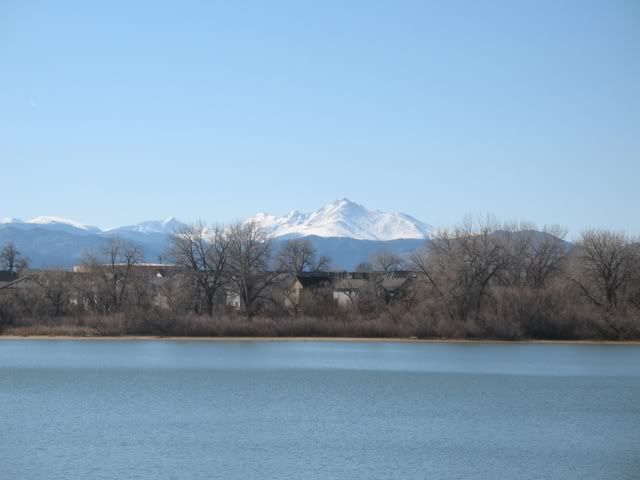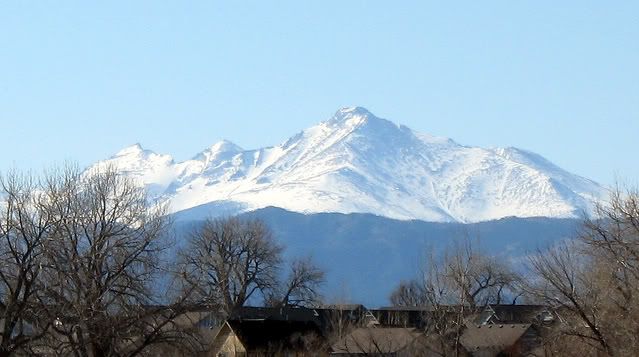 The view that Denver-metro residents have of Long's Peak is often misunderstood. To most, the above picture looks like one continuous peak. But, there is in fact another peak in the front of Long's, called Meeker. Here is a different view of Meeker.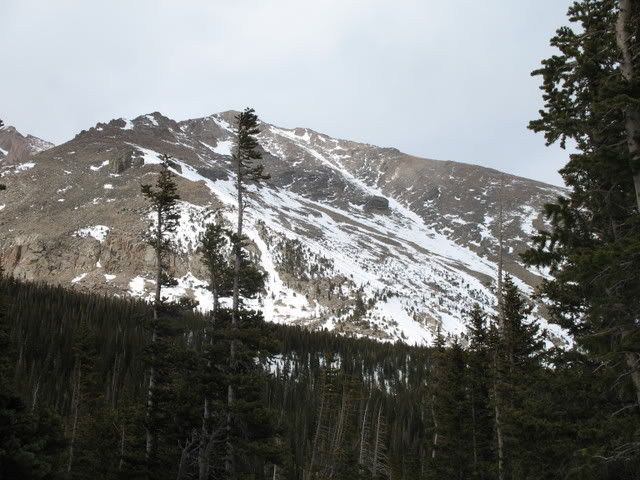 Most people don't realize that they can barely even see Long's peak from Denver. Most of what they are seeing actually belongs to Mt. Meeker.
But, my connection goes far beyond my view. Long's was the first fourteener I climbed after I came to Colorado. I climbed it in the month of August with my father and his friend Jim. When we reached the summit, we saw marmots floating around all over the football-field sized boulder field. Jim said, "How do these things live? What do they eat?" We found out very quickly as Jim set down his sandwich for a moment only to turn around and find that a marmot had snatched it!
My connection to Long's Peak grew when, for a course in college, I was required to read the book [url=http://books.google.com/books?id=F1oUAAAAYAAJ&printsec=frontcover&dq=A+Lady%27s+Life+in+the+Rocky+Mountains]A Lady's Life in the Rocky Mountains[/url] by Isabella Bird. Isabella Bird was an English writer and traveler who visited the Rocky Mountains in 1873. She dedicates an entire chapter of her book to her climb of Long's Peak. She was one of the recorded woman to ascend this peak.
Long's Peak is named after Major Stephen H. Long, who led a historical expedition to the Rocky Mountains in 1819-1820.

Originally, Long thought it was the same peak that Zebulon Pike chronicled during his expedition. But, eventually Long realized this peak was different. And the peak eventually became known as Long's peak. Unlike Pike, Long never attempted to climb his name-sake peak. A recorded first ascent didn't happen until years later, in 1868 by John Wesley Powell.
Even more interesting, however, is the likelihood that Native Americans used to ascend this peak on a regular basis. Documentation supports that Native Americans built "eagle traps" with the boulders on top of the summit. According to a story in Roof of the Rockies (Bueler)They would build small shelters with even smaller holes in them to hide, and then would dash out when an eagle swept by, and grab onto its feet.
All these thoughts were going through my mind on Sunday (May 4th) when we climbed Long's Peak.
I had the honor of joining "Team Capitol"- the four people who climbed and skied Capitol last Monday: Frank Konsella, Pete Sowar, Chris Webster, and Pam Rice. A friend of Chris and Pam's named Norm also joined us on the occasion. So, a team of six of us began at 3:45 am to ascend the Long's Peak trail up to Chasm Lake. From Chasm Lake we enjoyed sunrise on the Diamond, and then ascended up to the Loft. We crossed the loft and then entered Keplinger's Couloir from a few hundred feet below the famed Clark's Arrow. We followed Keplinger's up to the Homestretch, and then onto the summit. We arrived at the summit around 1:15, much later than anticipated. Having such a large group slowed us down, surely. But, also, Long's is a mountain were time can be easily underestimated. Everything seems to take longer than it should.
Here is a picture of Pam and I on the summit.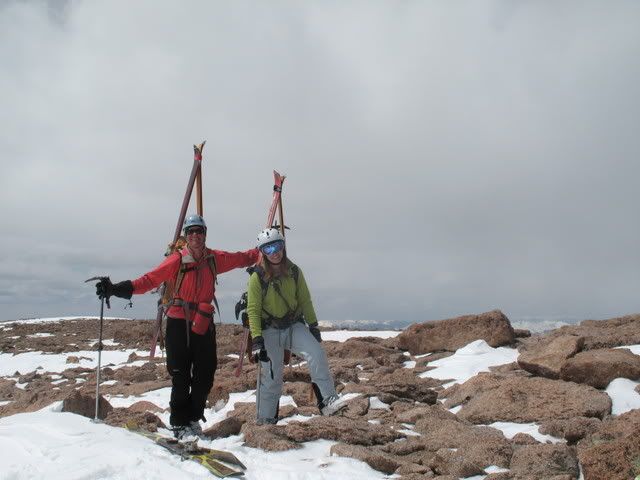 We began skiing from the summit around 1:45 pm. We took more than an hour to ski Keplinger's all the way down into Wild Basin. The snow was fun and the descent was nice and long. In the end, it was worth dealing with the Wild Basin slog in order to ski the Keplinger's couloir in it's entirety.
View of Keplinger's from Wild Basin. The snow is hidden by rocks obscuring the route.
When we arrived in the basin, we still had hours to descend our way through the thick forest. Eventually, we found our way, and arrived to the car we left at Wild Basin earlier in the morning (shuttle) around 6:15 pm.
Long's Peak certainly lived up to it's name. A 15.5 hour excursion shows that Long's Peak really is long!
Frank wrote a trip report with more pictures and details about the climb and ski. Please take a look at it.

Resources:
Isabella Bird
Stories
Roof of the Rockies by William Bueler
Aside from skiing, biking, and all outdoorsy things,
Brittany Walker Konsella
also loves smiles and chocolate 🙂 Even though she excels at higher level math and chemistry, she still confuses left from right. Find out more about
Brittany
!
Latest posts by Brittany Walker Konsella (see all)