Ride – South Quartz Trail to Horseshoe to Wuanita Loop (30 June 2018)
(Last Updated On: July 16, 2018)
Frank and I have been riding Canyon Creek, a fantastic mountain bike trail near Whitepine, for years. It was such a great trail that we paid little attention to the other trails that intersect this lovely descent. But, enter TrailQuest which has prompted us to do so. And these trails have been fun to explore! This time we had our eyes set on South Quartz trail to Horseshoe.
For this adventure, we planned to start in Pitkin and ride up South Quartz creek road to the trail. This trail would eventually intersect with Canyon Creek and we would follow it uphill just a bit until it intersected with Horseshoe. We would then descend Horseshoe until it intersected with the lower portions of Canyon Creek and then head uphill on this singletrack a couple of miles to Wuanita trail. Then we planned to descend Wuanita trail and follow county roads via Wuanita Pass back to Pitkin. The whole loop entailed 32 miles of riding over 5,600 vertical feet.
Before the start of the singletrack, we passed by this old cabin on South Quartz.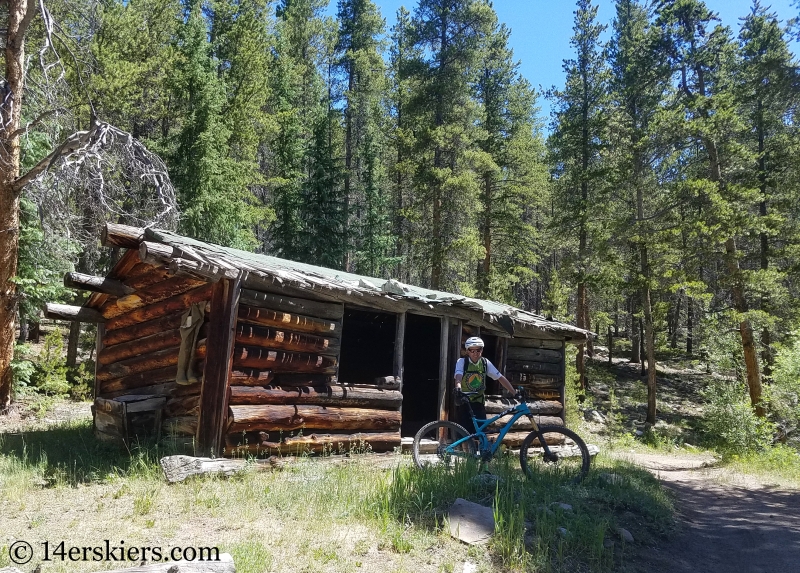 The South Quartz trail was even more beautiful than Canyon Creek- full of stunning scenery and lots of wildflowers!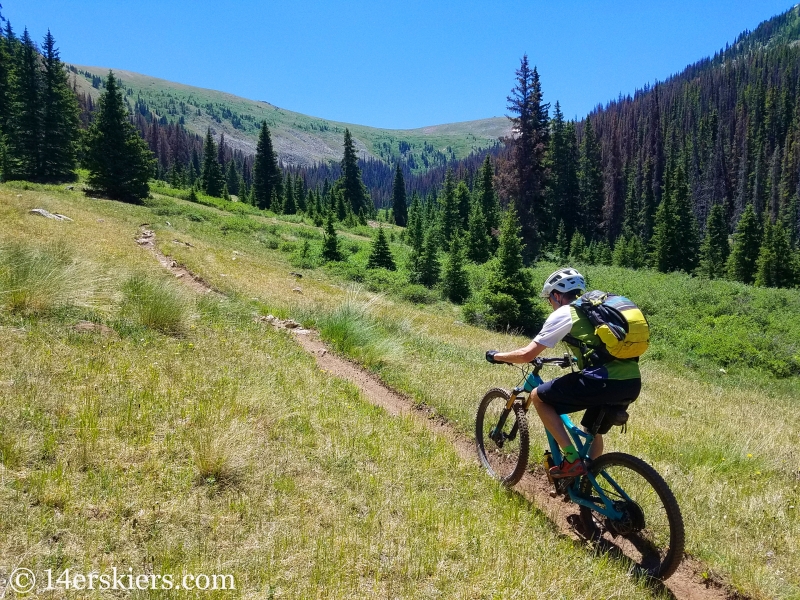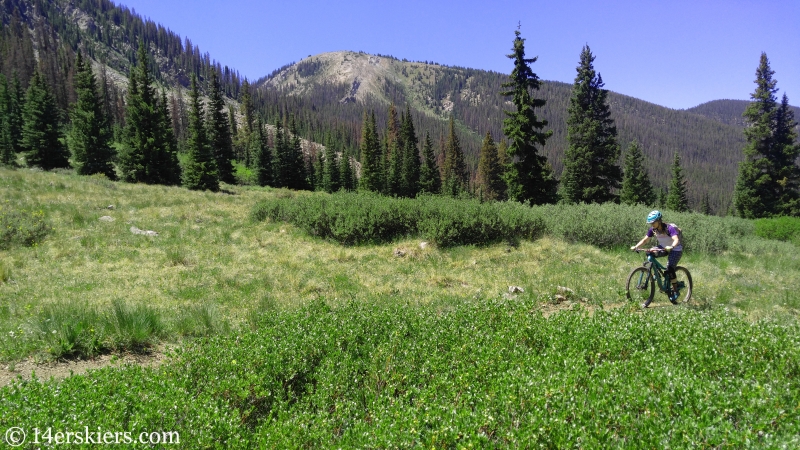 I wish I had more pictures from this trail, but we were too busy climbing. While the majority of the trail was rideable, the last mile or so was generally hike-a-bike.
Once South Quartz Trail intersected with Canyon Creek, we followed this trail uphill for a few hundred feet before veering off onto Horseshoe Trail. We spent a little time ascending on Horseshoe as well. Strong winds prevented us from attempting to ride the trail uphill.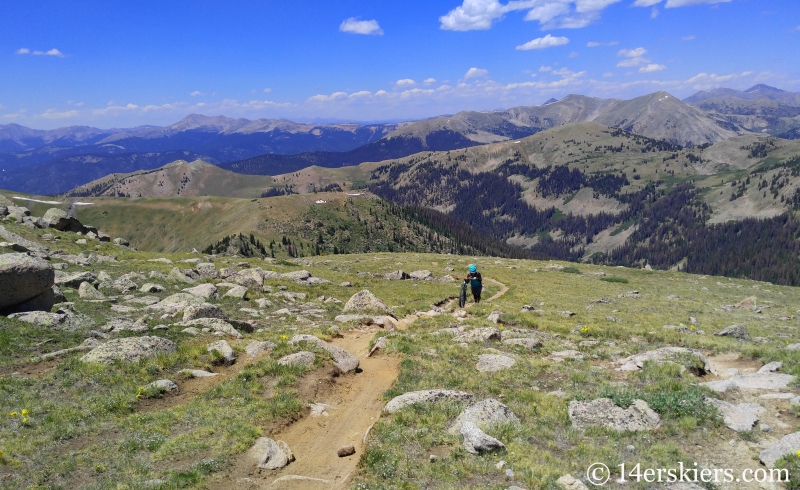 But, when Horseshoe leveled off, we began to descend.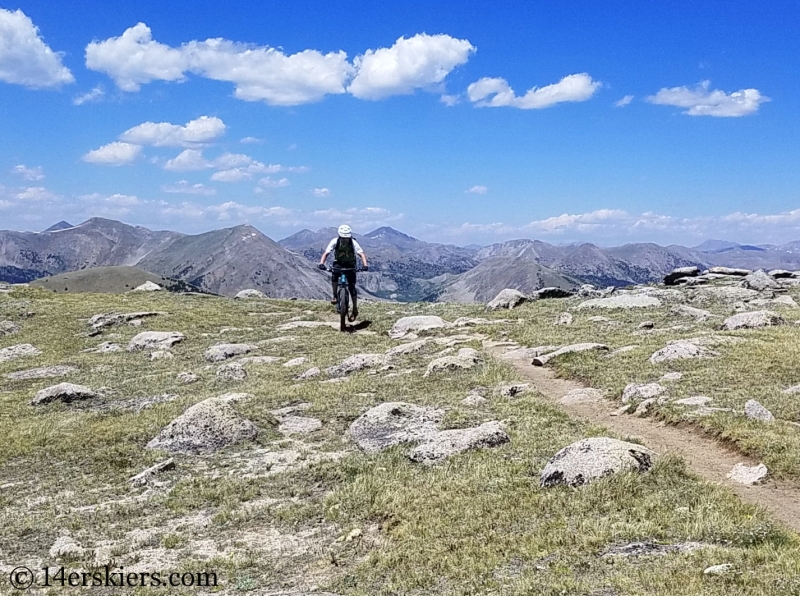 The descent above treeline was beautiful and really fun. Frank.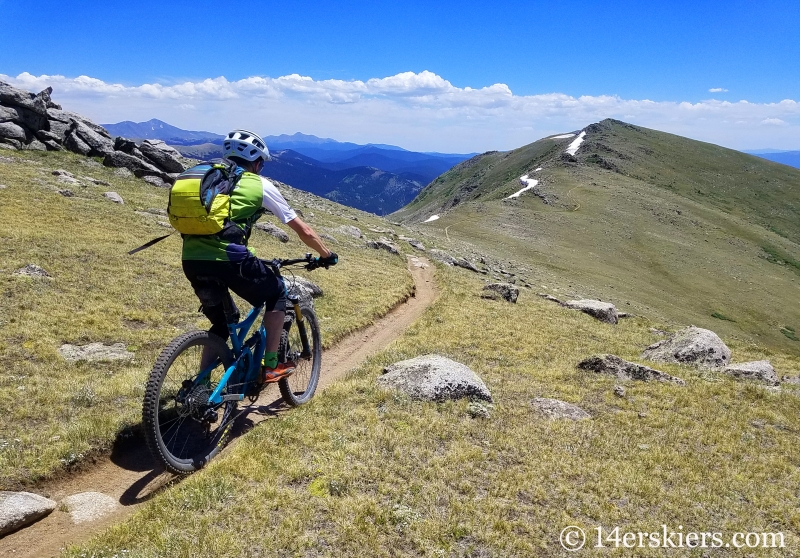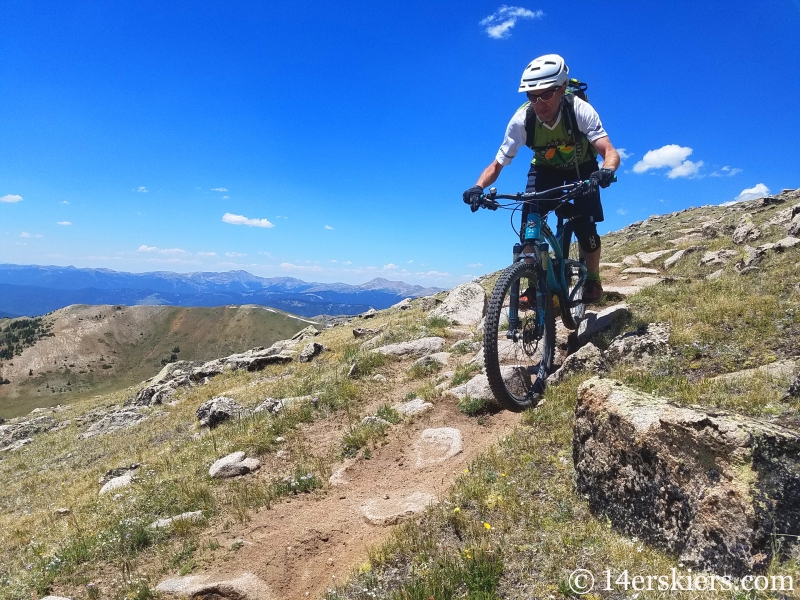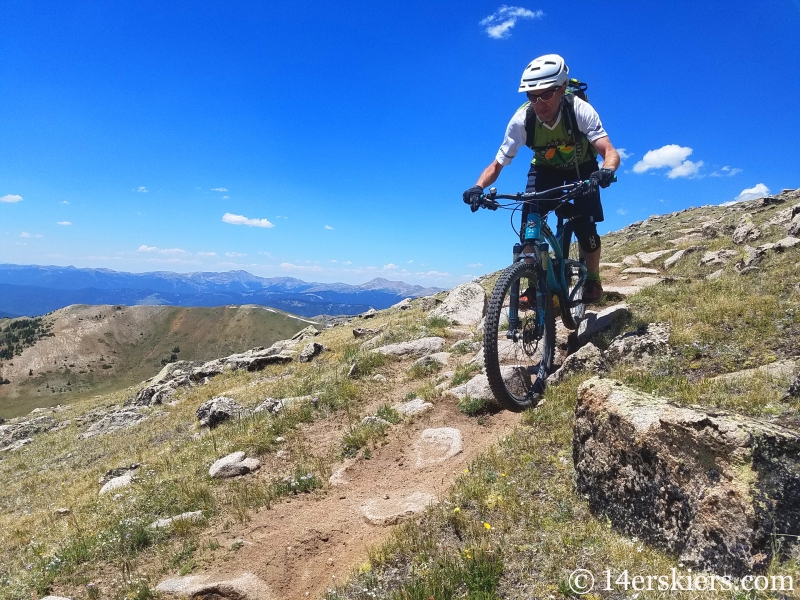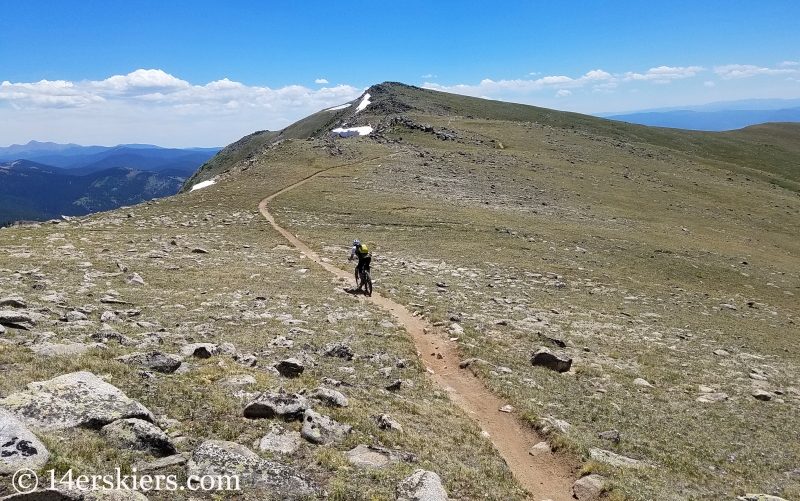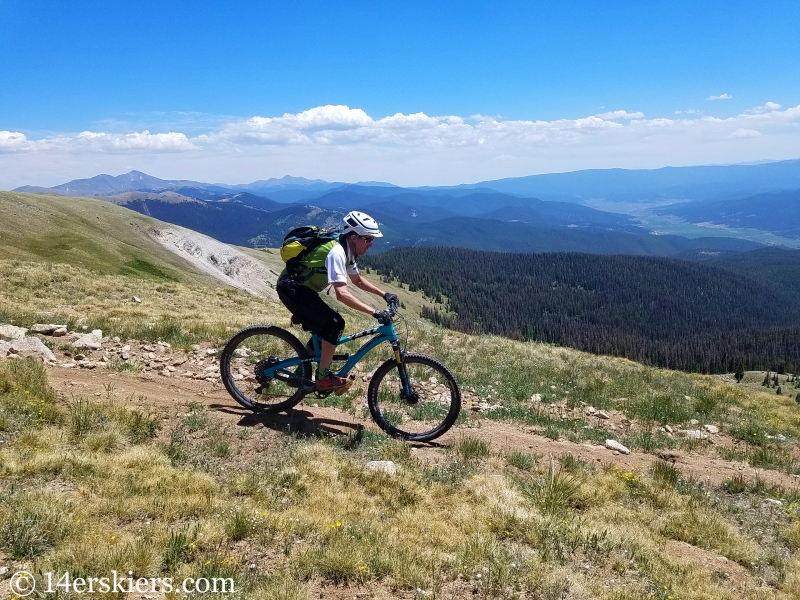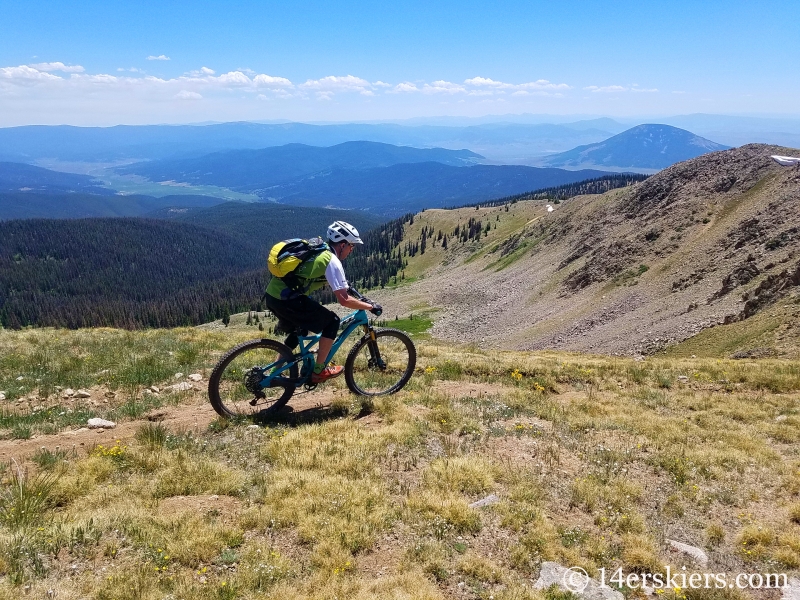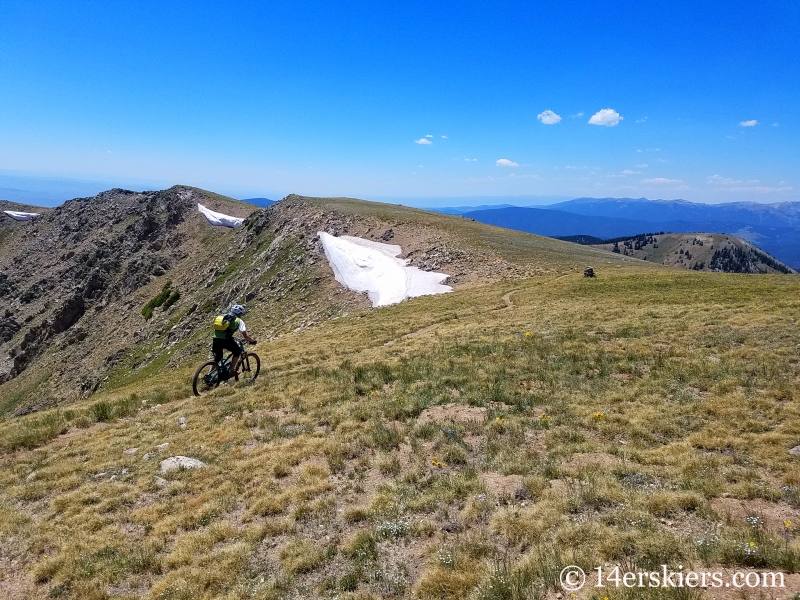 Me.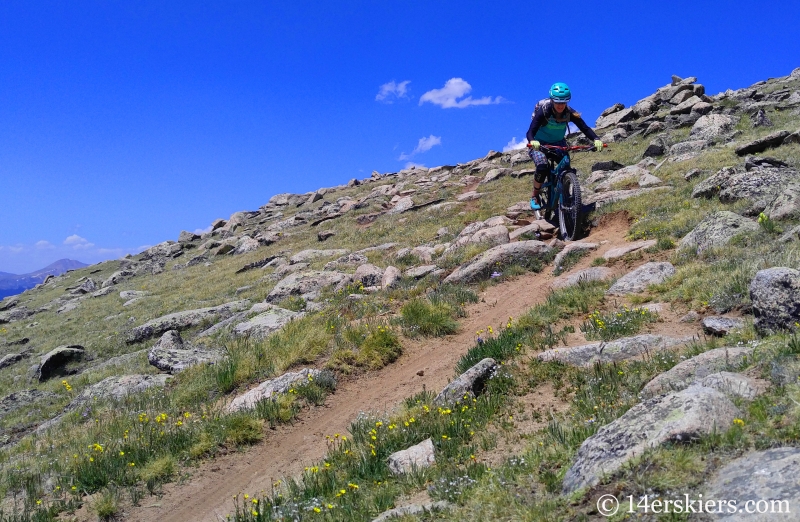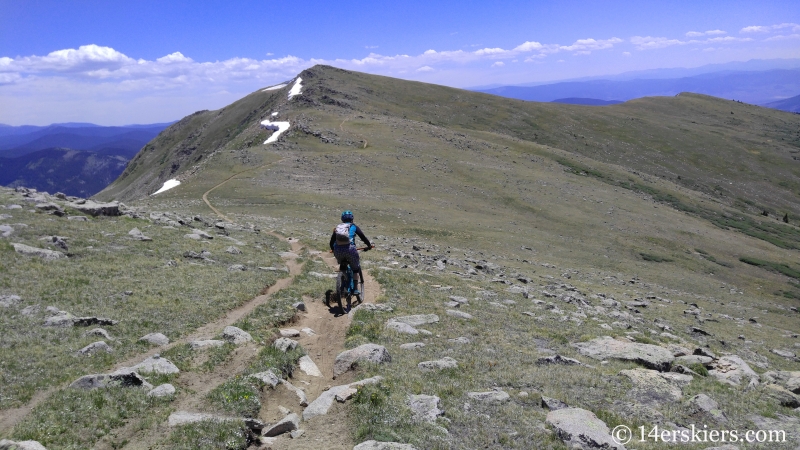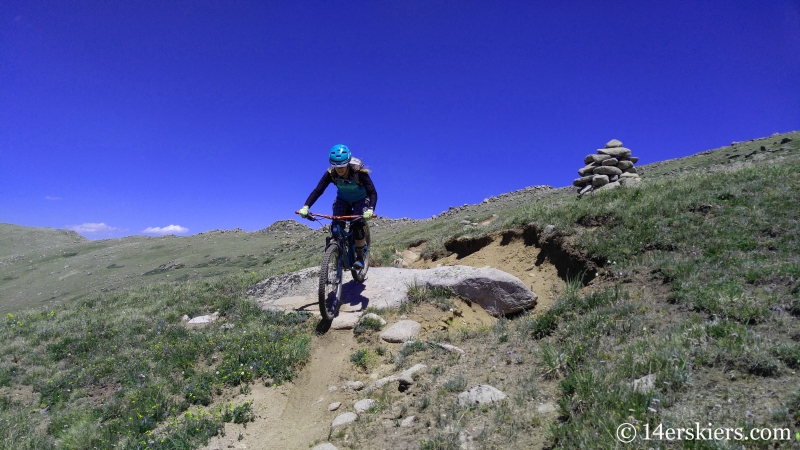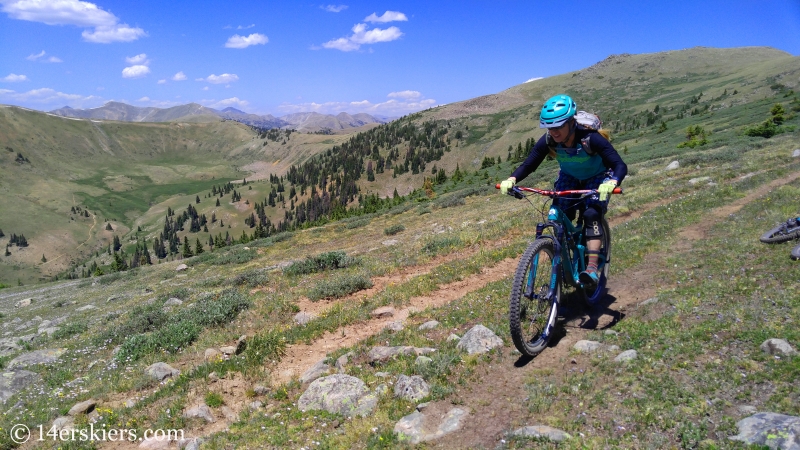 As we reached treeline, Horseshoe became a lot more technical.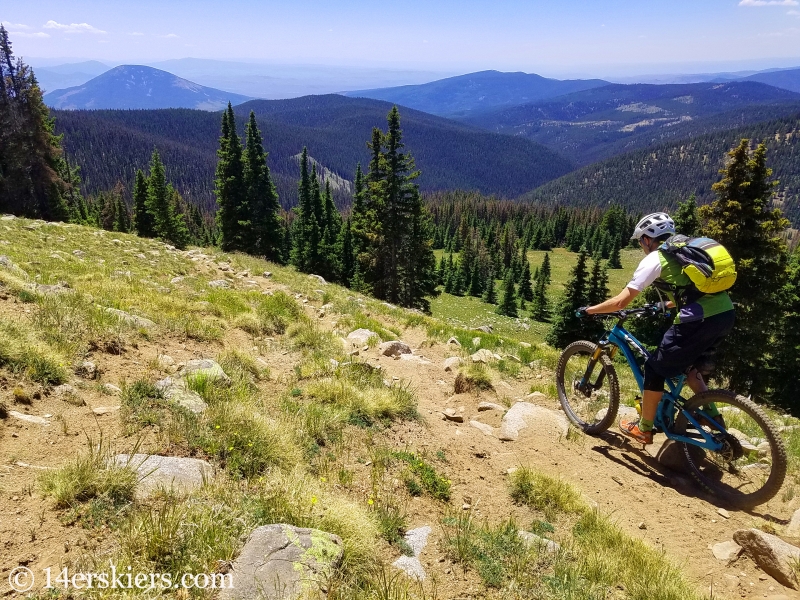 Some parts became unrideable. Yes, Frank fell here.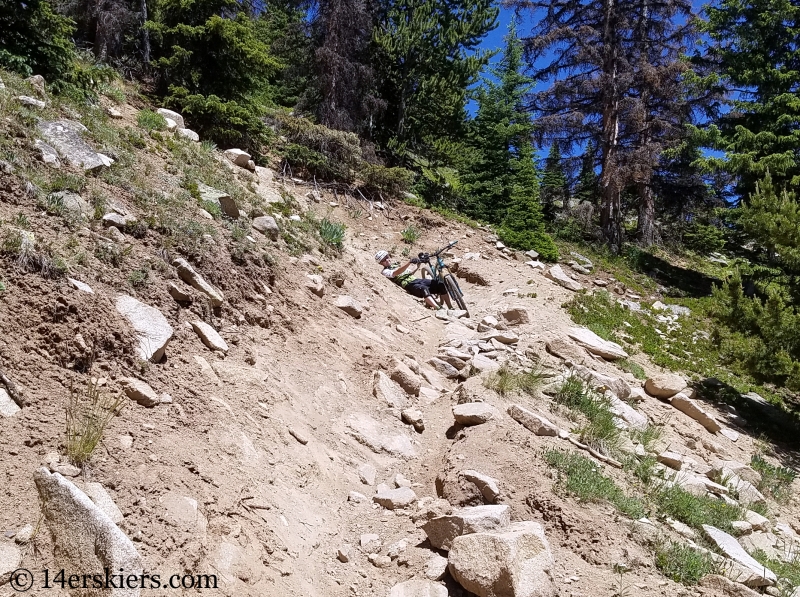 Other parts were beautiful and flowy.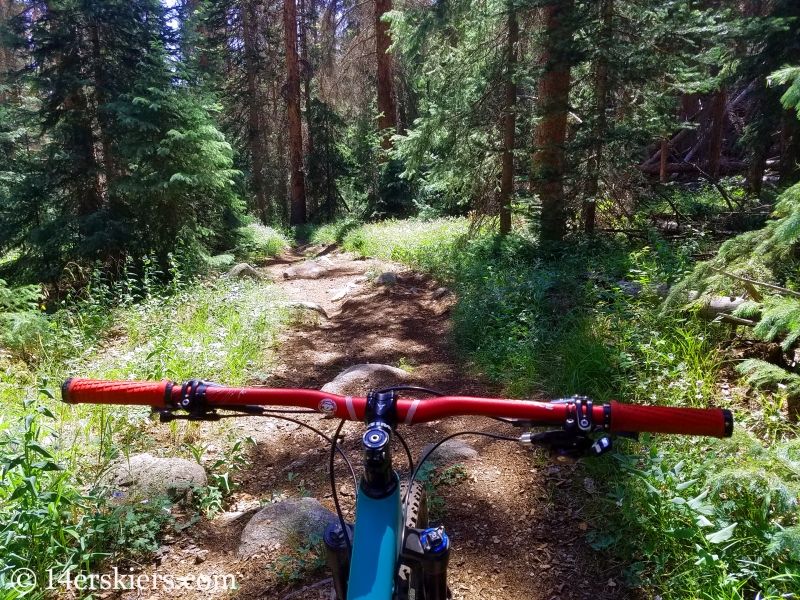 Admittedly, the beautiful and flowy parts were few and far between, broken up by unridable sections of rock or extreme ruts, and lots of creek crossings near the bottom. Frank got so frustrated with getting off his bike so many times that he deemed this trail as among his top five least favorite trails ever. I don't know if I would go so far as to say that, but the constant on-and-off the bike wasn't exactly enjoyable. But, I see potential in this trail. Not that we are bad riders, but I think an exceptional rider could enjoy large sections of the Horseshoe descent. Also, like South Quartz, Horseshoe was very beautiful.
When we intersected with Canyon Creek trail again, we headed uphill a couple of miles to the Wuanita Trail. Having ridden this trail last fall, we didn't stop for photos. But the descent was every bit as good. If you've ridden Canyon Creek before, it's worth checking out Wuanita for a variation for sure. Here's a shot from last fall to entice you!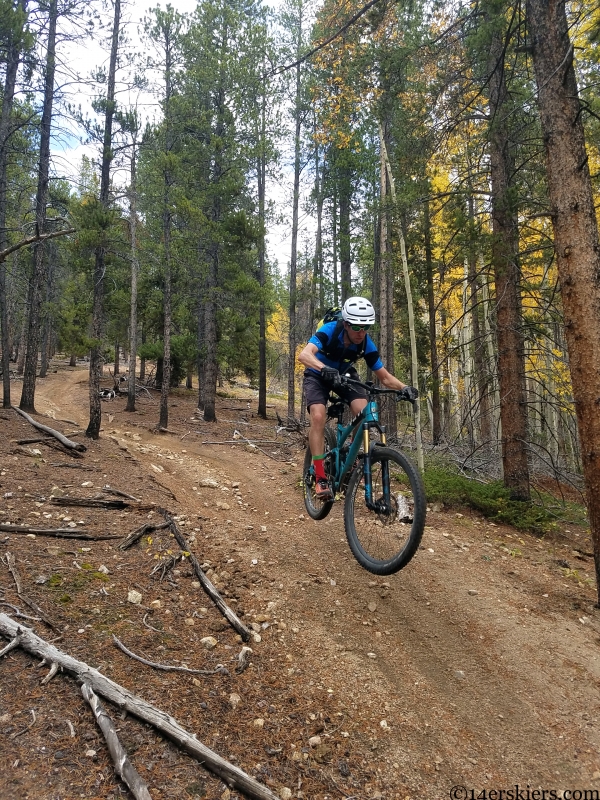 When Wuanita ended, the hurt began. We followed miles of county roads up to Wuanita Pass, where we then descended some pretty fun ATV trails back to Pitkin.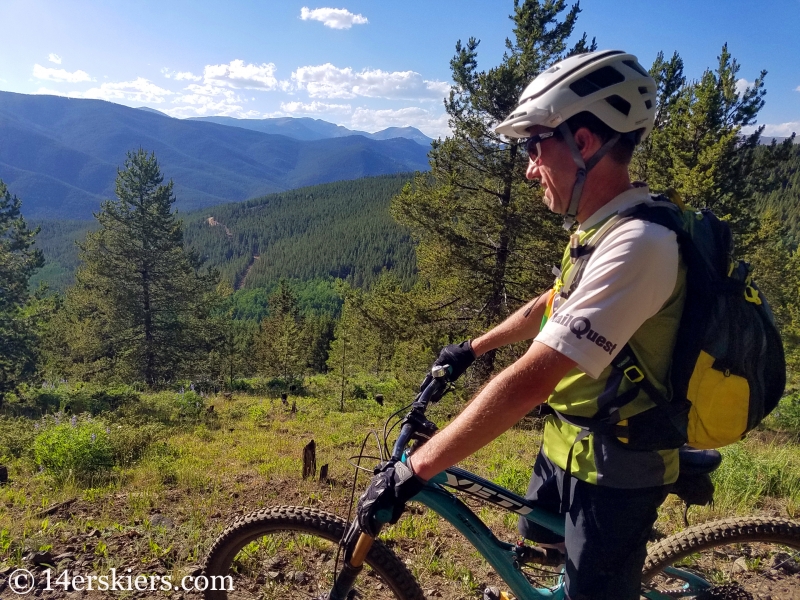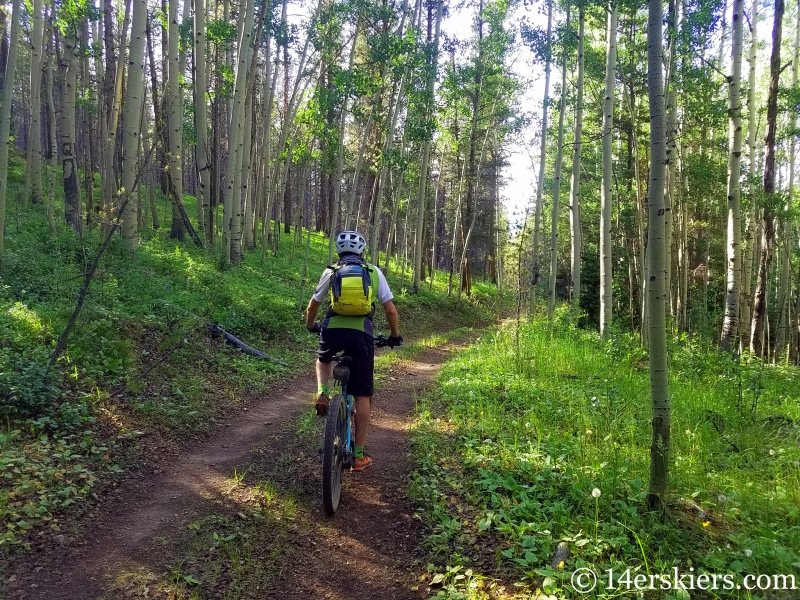 All in all, South Quartz Trial to Horseshoe to Wuanita was quite the loop. I wouldn't hurry to redo it. But parts of it were worth learning about. The South Quartz trail would certainly make a fun descent, but then when we think about doing that over Canyon Creek…. the Canyon Creek descent sure is a tough one to top! For a longer and more scenic Canyon Creek loop, it would certainly be fun to ascend South Quartz and then descend Canyon Creek and loop back to Pitkin similar to how we did.
Map of South Quartz Trail to Horseshoe to Wuanita Loop
Want to do this ride yourself? Here's the map!
Aside from skiing, biking, and all outdoorsy things,
Brittany Walker Konsella
also loves smiles and chocolate 🙂 Even though she excels at higher level math and chemistry, she still confuses left from right. Find out more about
Brittany
!
Latest posts by Brittany Walker Konsella (see all)
Summary
Article Name
Ride - South Quartz Trail to Horseshoe to Wuanita Loop
Description
This 32 mile loop starting at Pitkin, up South Quartz Trail to Horseshoe to Wuanita was full of magnificent scenery, but was certainly a difficult ride.
Author