TBT: Mountain Biking Monarch Pass – Greens and Starvation Creeks
(Last Updated On: July 6, 2017)
This post is part of a Throwback Thursday series featuring trip reports that we haven't had a chance to write about until now! Look for them at least every other Thursday!
It had been an number of years since I had ventured over to Monarch Pass to ride. But, Monarch Pass has a lot of great options for mountain biking and last summer, I made it a mission to ride many of the trails there. First we started out with the standard Monarch Crest route, following the Colorado Trail until we descended via Silver Creek trail and then Rainbow. But, we took two more trips there later in the season – then checking out a descent of Greens Creek Trail and then another trip to descend down Starvation Creek Trail. This report will feature the last two of our Monarch Crest adventures on Greens Creek Trail and Starvation Creek Trail.
Monarch Crest to Greens Creek Trail
We headed to Greens Creek Trail in mid-July. Monarch Crest Trail was scenic as always.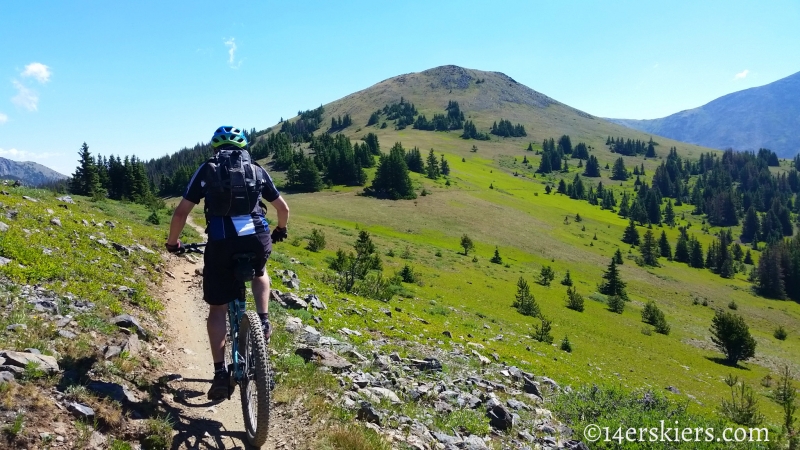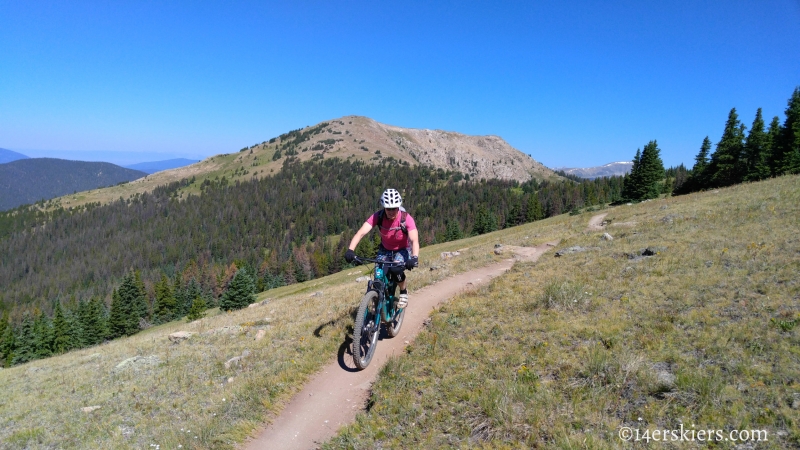 The Greens Creek Trail descent is relatively technical and quite rocky at times. However, in general, the rock is not loose. It's just bumpy. While the trail is not exactly fast and flowy compared to some, it is certainly fun.
Frank.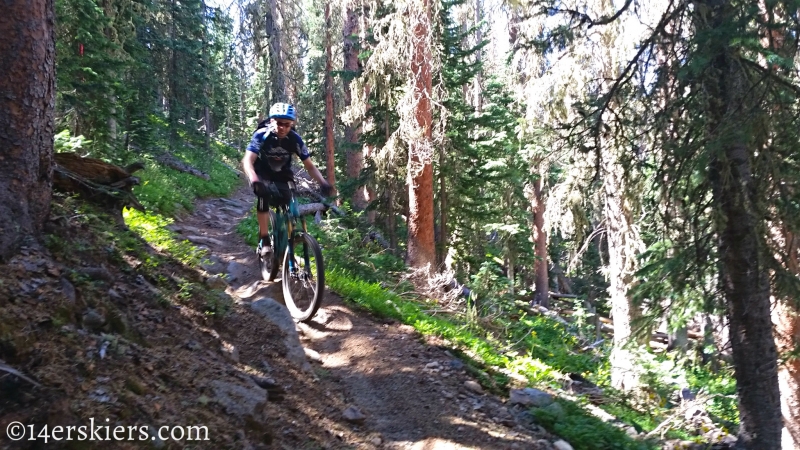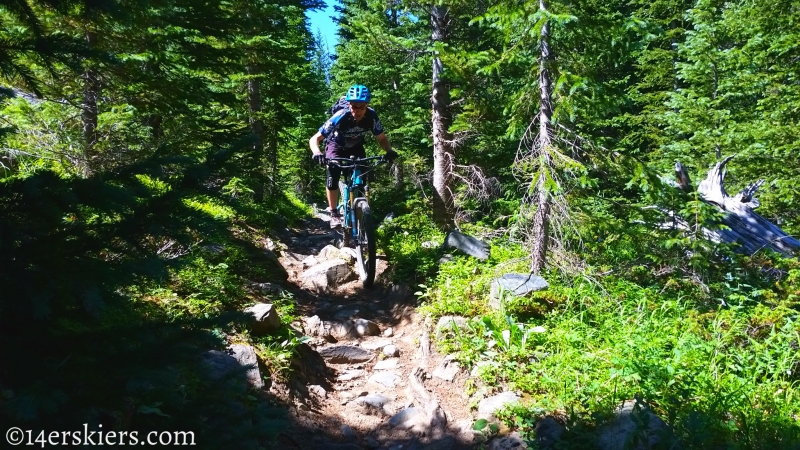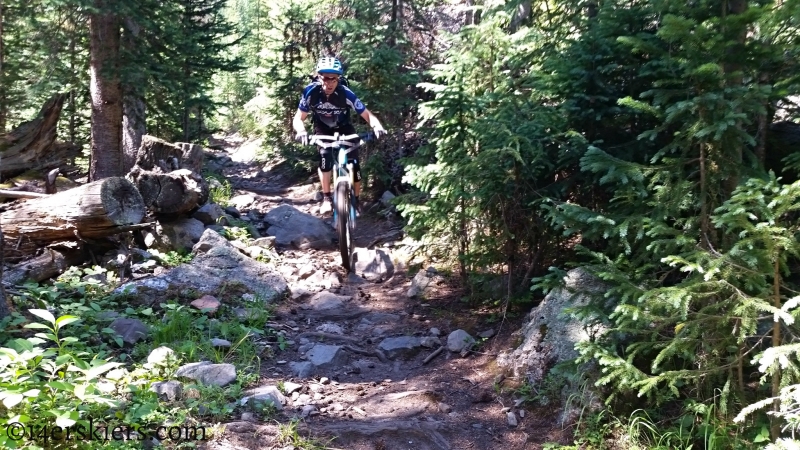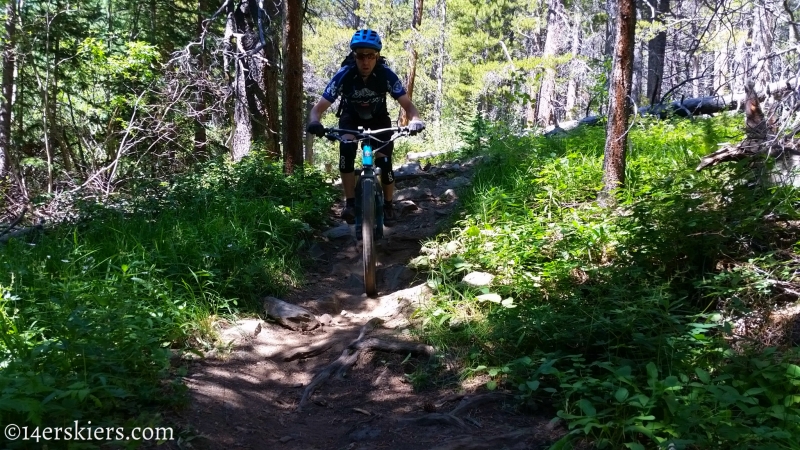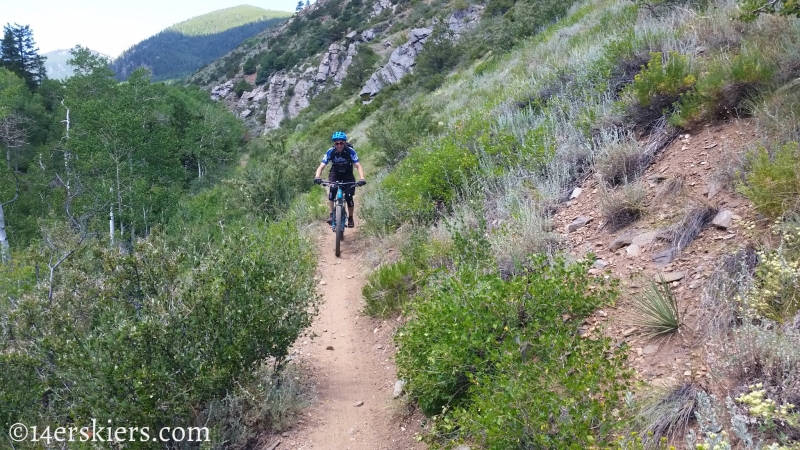 Frank near the bottom of Greens Creek Trail.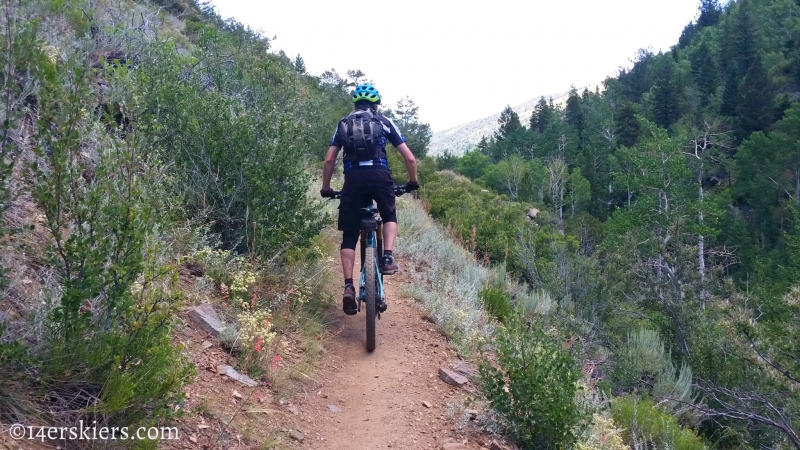 Me.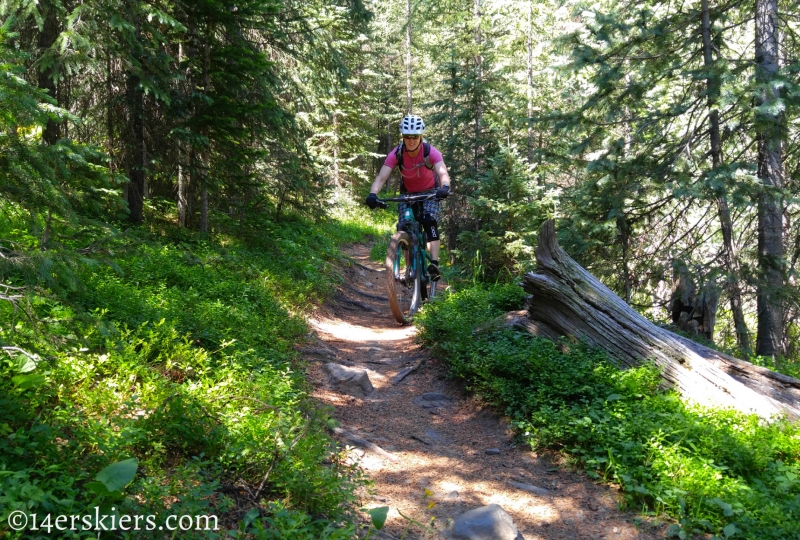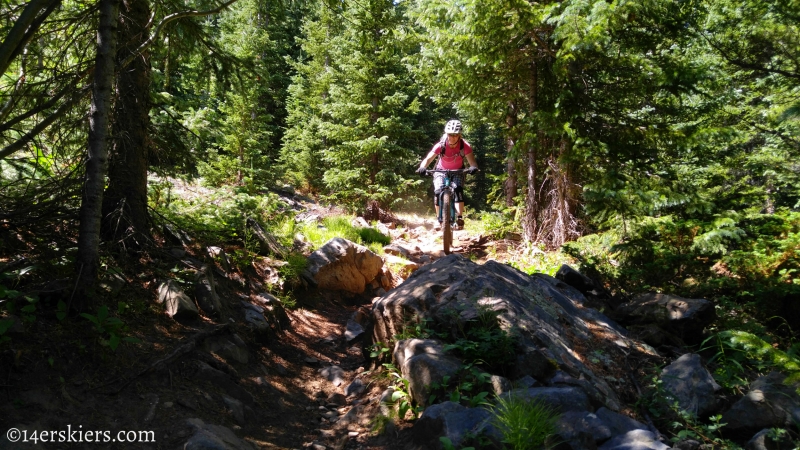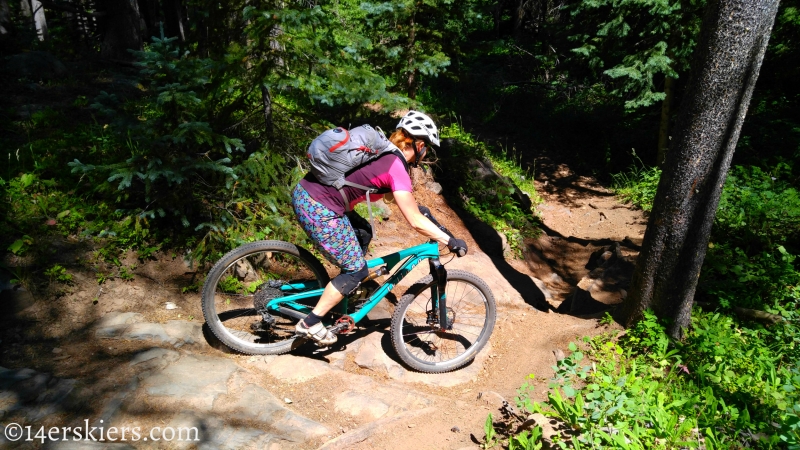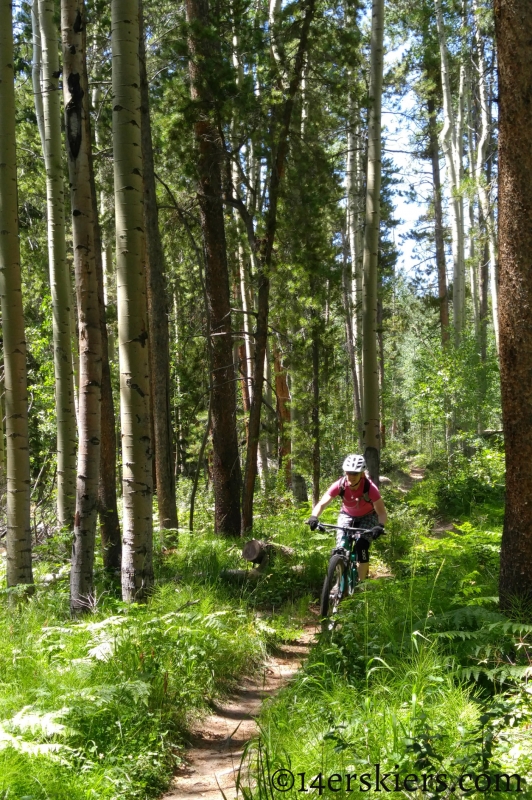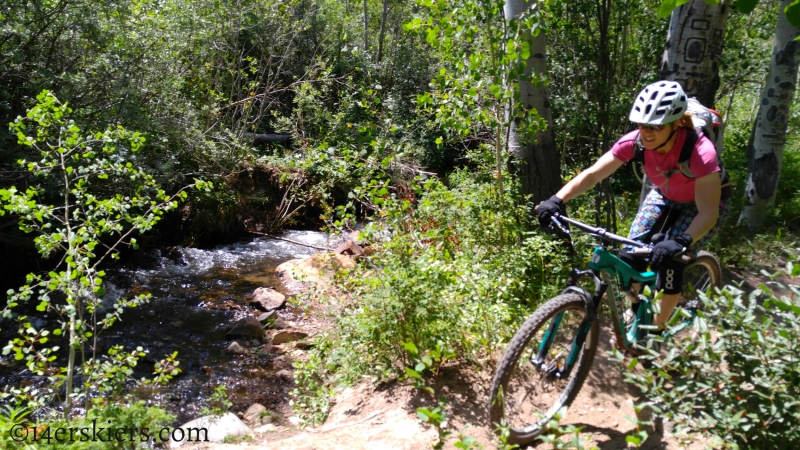 Monarch Crest to Starvation Creek Trail
At the beginning of August, just before my first of two knee surgeries in 2016, Larry and I headed back to Monarch Crest to descend via Starvation Creek Trail. I had done this trail a few times in years prior and had always liked it. Starvation Creek Trail is one of the lesser traveled trails on Monarch Pass. But, that doesn't mean it's good. It's a great blend of technical mixed with fast and flowy. It's only deterrent is that you must travel miles of dirt roads to get back to the highway.
In other words, some of the descent is squandered on these dirt roads. In the past, we've dealt with this by re-ascending Old Marshall Pass Road (Forest Road 203) back to the Monarch Crest trail and finishing our ride on another route, like Agate Creek Trail. However, that does make for quite a long ride. No rest for the weary 🙂
This time, we decided to just ride Starvation Creek Trail alone.
Larry on the Crest: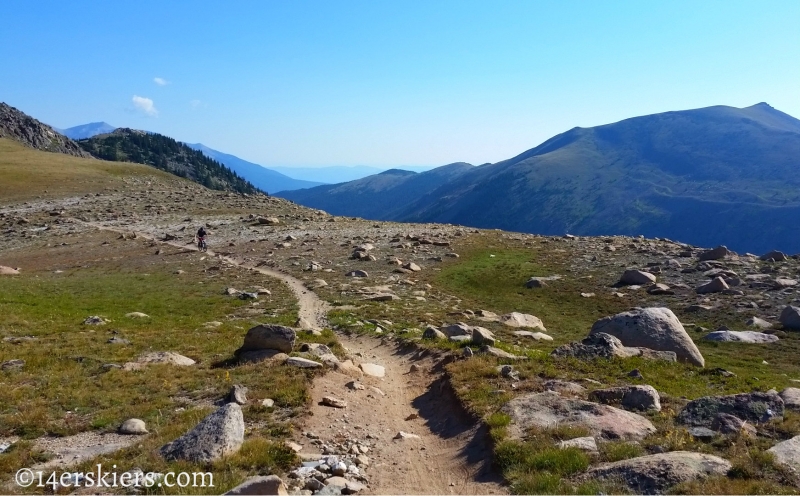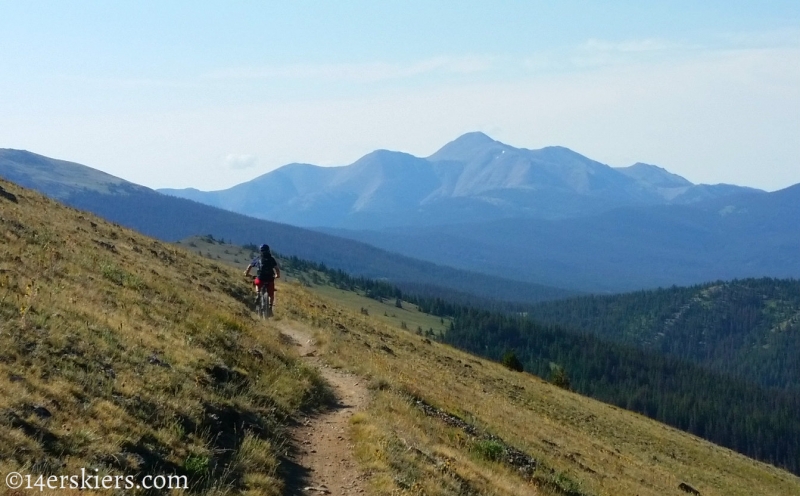 And on Starvation Creek Trail: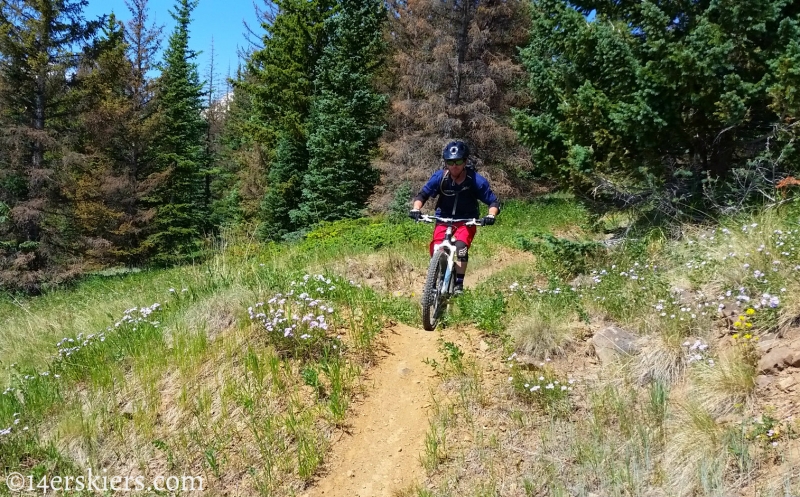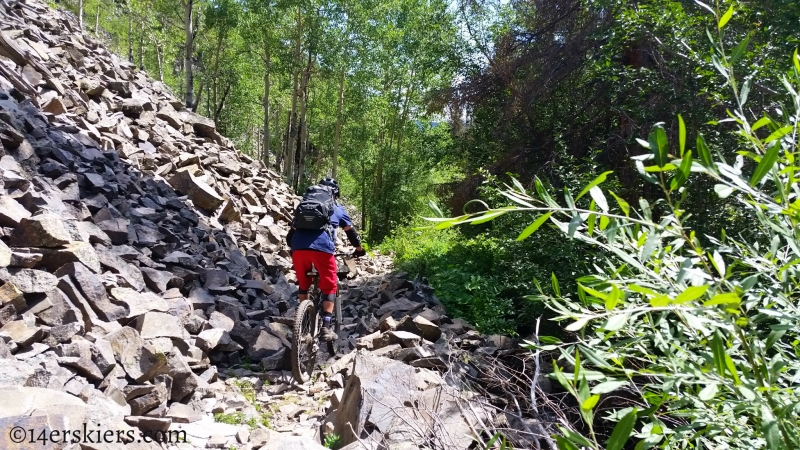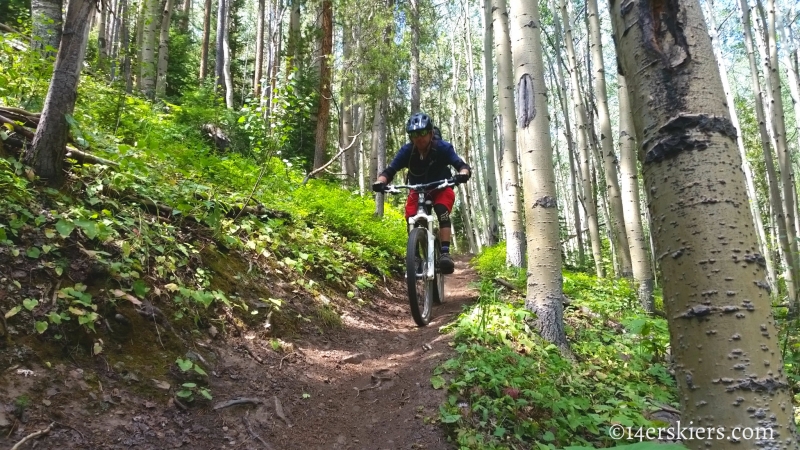 Which one was our favorite? Too tough to tell. But, we certainly like descending Starvation Creek Trail and Greens Creek Trail much more than Silver Creek and Rainbow. Frank headed to Monarch another time last year to check out the Boss Lake area. I had hopes of also making it down to ride Fooses Creek Trail and Agate Creek Trails too, but I kept getting distracted with other riding missions. Maybe this year…..
Word has it that Monarch Crest is largely good to go. Now's the time to start enjoying some fun alpine riding!
Aside from skiing, biking, and all outdoorsy things,
Brittany Walker Konsella
also loves smiles and chocolate 🙂 Even though she excels at higher level math and chemistry, she still confuses left from right. Find out more about
Brittany
!
Latest posts by Brittany Walker Konsella (see all)
Summary
Article Name
Mountain Biking Monarch Pass - Greens and Starvation Creeks
Description
Featuring two alternatives to the standard descent of Monarch Crest by the Silver Creek. Better descents lie on Greens Creek Trail & Starvation Creek Trail.
Author