(Last Updated On: July 2, 2017)
Our previous post about Cartagena largely featured the Old Town areas. But, there's much more to explore of this beautiful city. If you spend a little more time, you'll find a city deep with contrasts – old vs. new, poor vs. rich, colorful vs. bleak – and everything in between.
Getsemani
Getsemani is a neighborhood just outside of the city walls. Newer than the Old Town, this area is still old by our American standards. A little less flashy, Getsemani has a more authentic heart.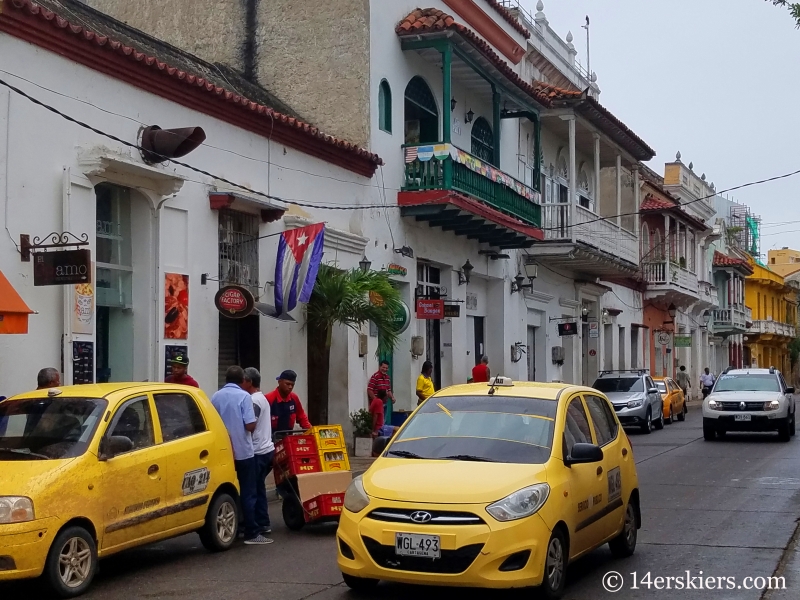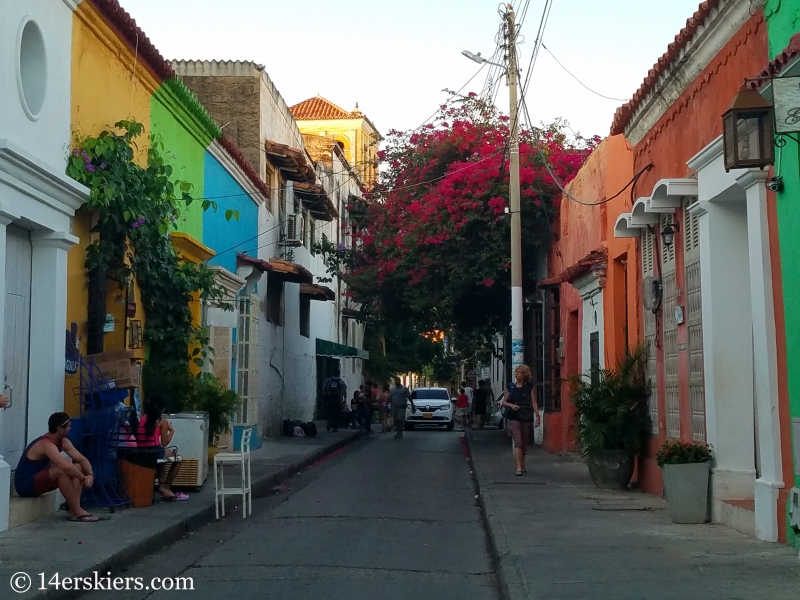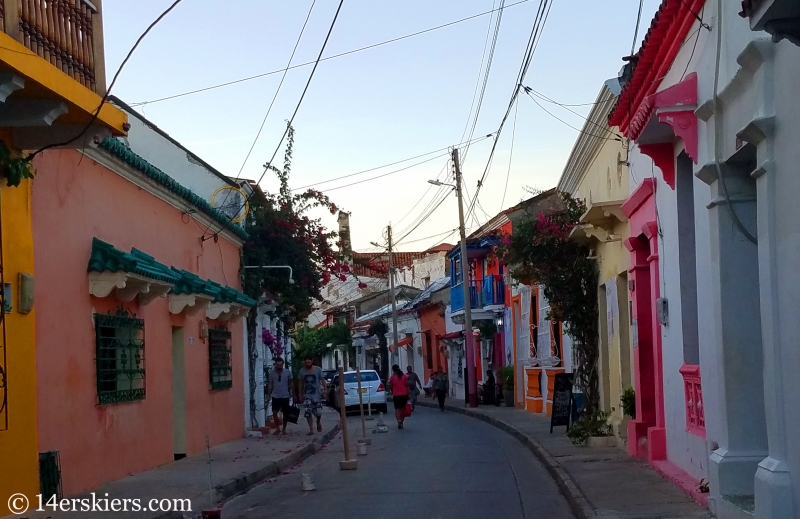 A beautiful older church in the neighborhood.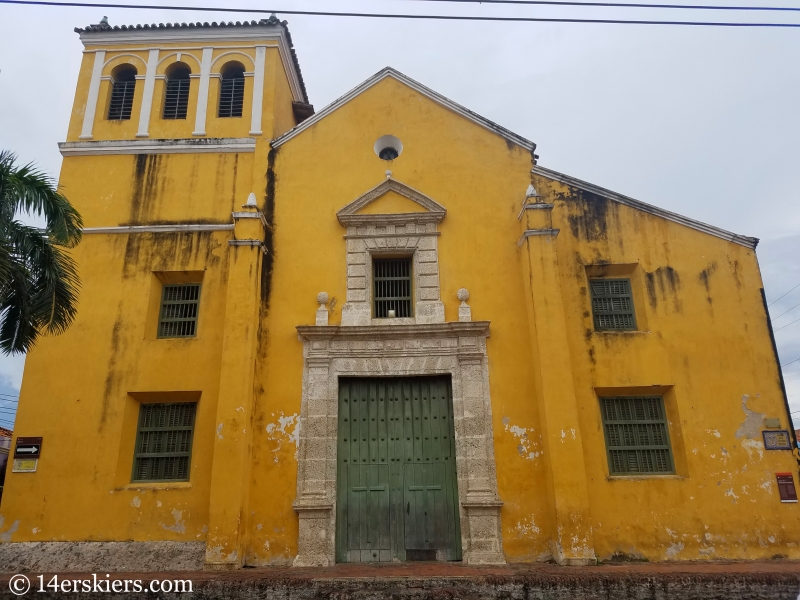 We rode through parts of Getsemani on our bike tour.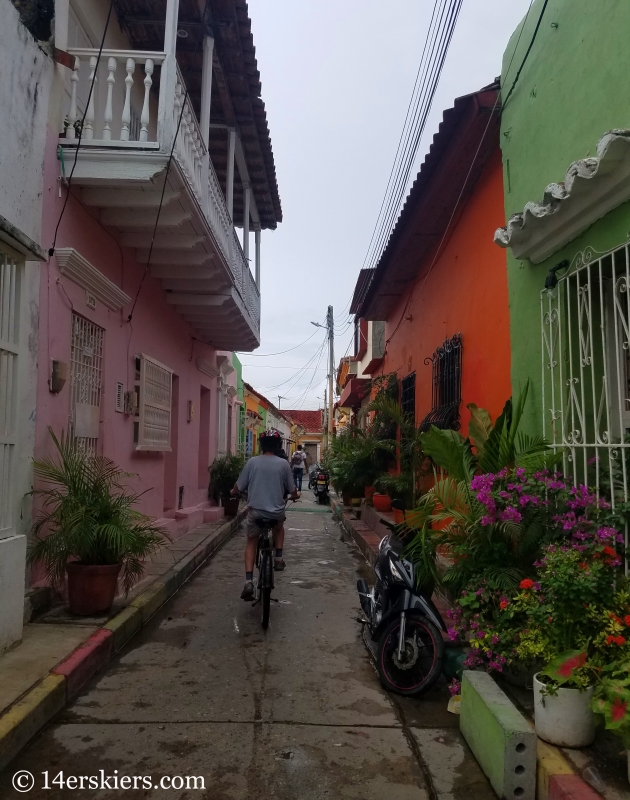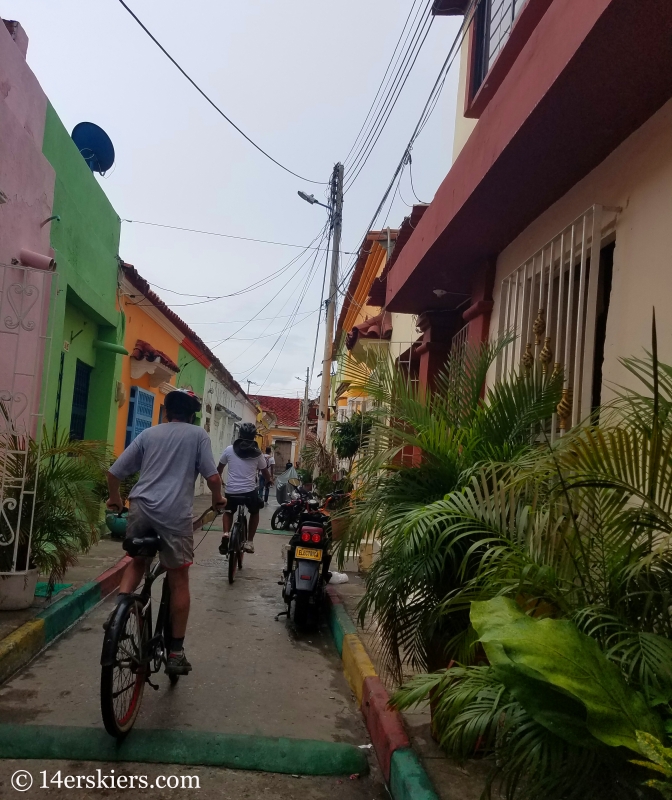 Ermita de San Roque, another church in Getsemani.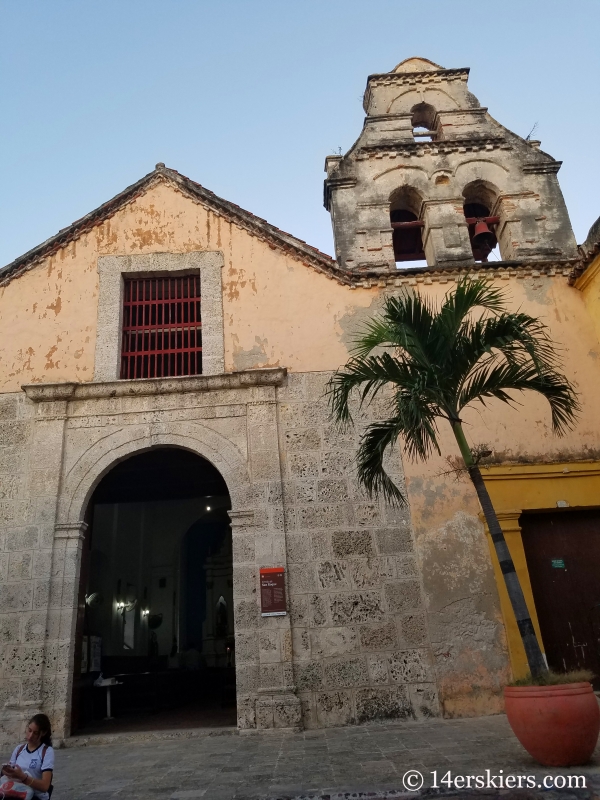 Evening services in the church.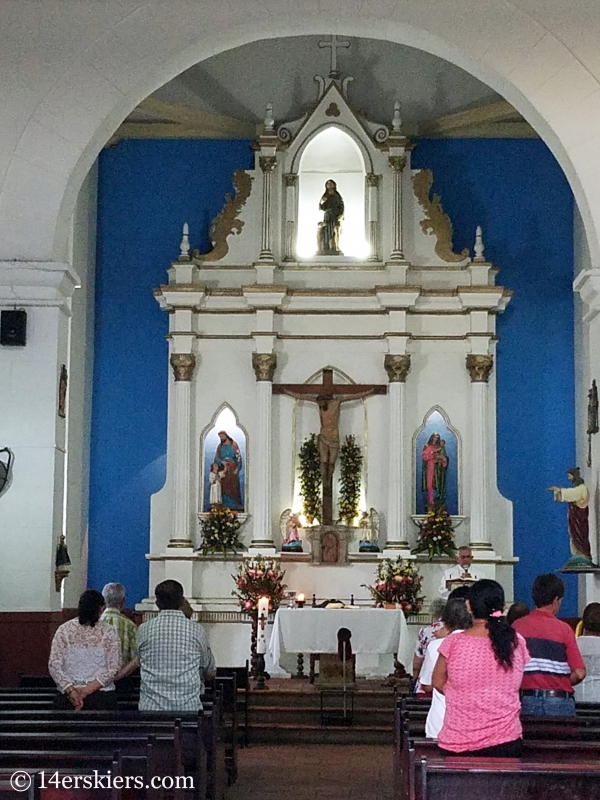 The Monumento India Catalina was built in 1974 by Eladio Gil, a Spanish sculptor, to commemorate this indigenous woman who was the Pocahontas of the area – abducted in 1509 by Spanish conqueror Diego de Nicuesa and eventually become an interpreter for Pedro de Heredia, founder of Cartagena.
/20170421_181757MonumentoIndiaCatalina.jpg" width="800″ height="600″ alt="Monumento India Catalina in Cartagena" class="alignnone size-large" />
Castillo San Felipe
Castillo San Felipe was built as a fortress beginning in the mid-1600's and was enlarged over time.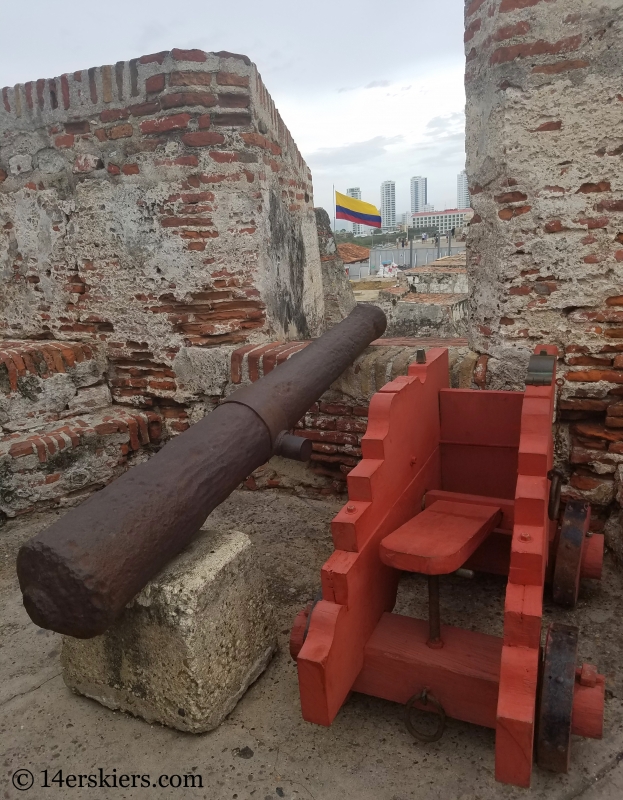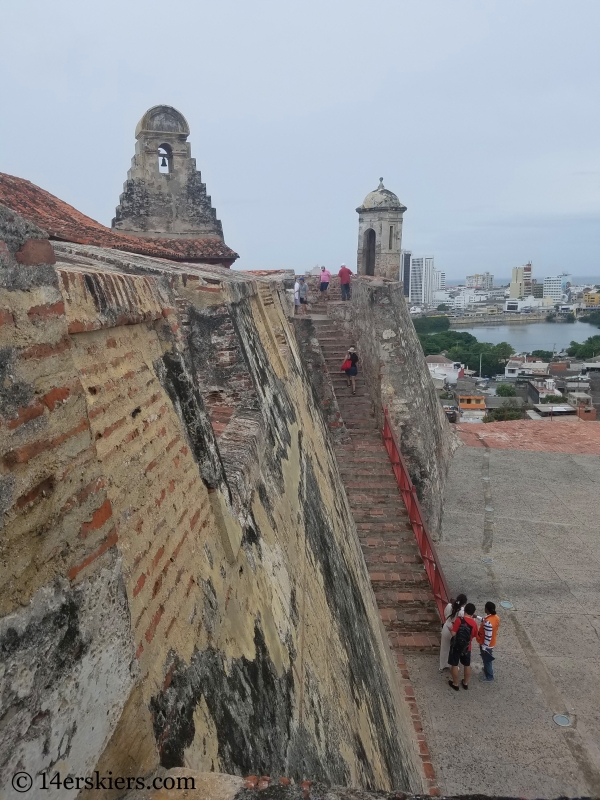 From atop the Castillo, you can see the contrasting Cartagena – old vs. new.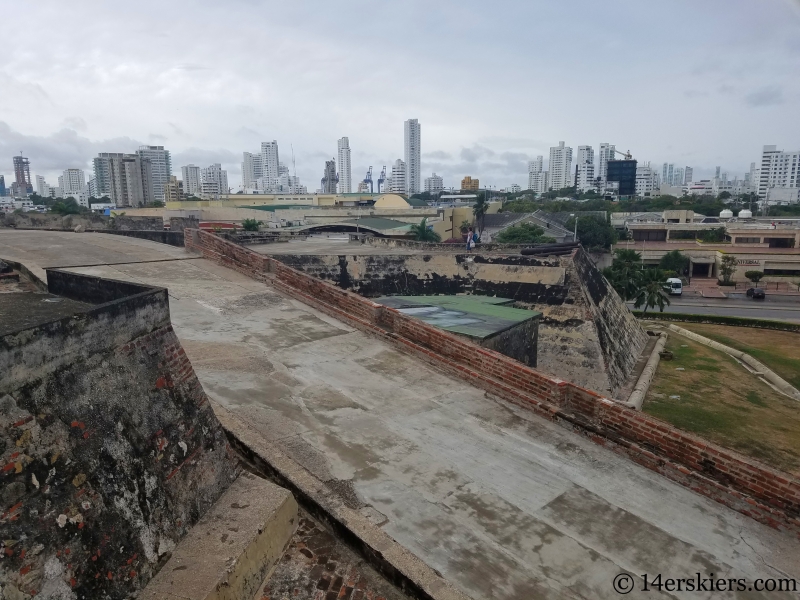 We enjoyed the fort 🙂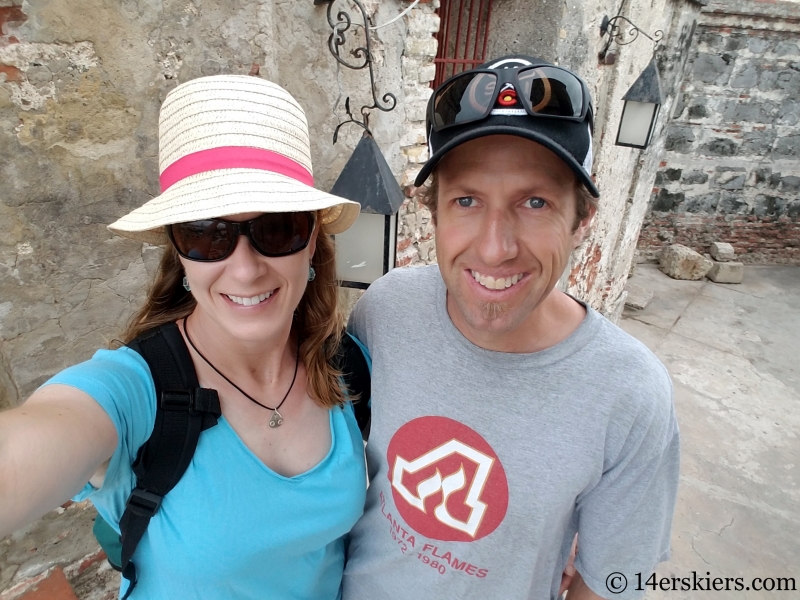 The tunnels of the Castillo were fun to explore.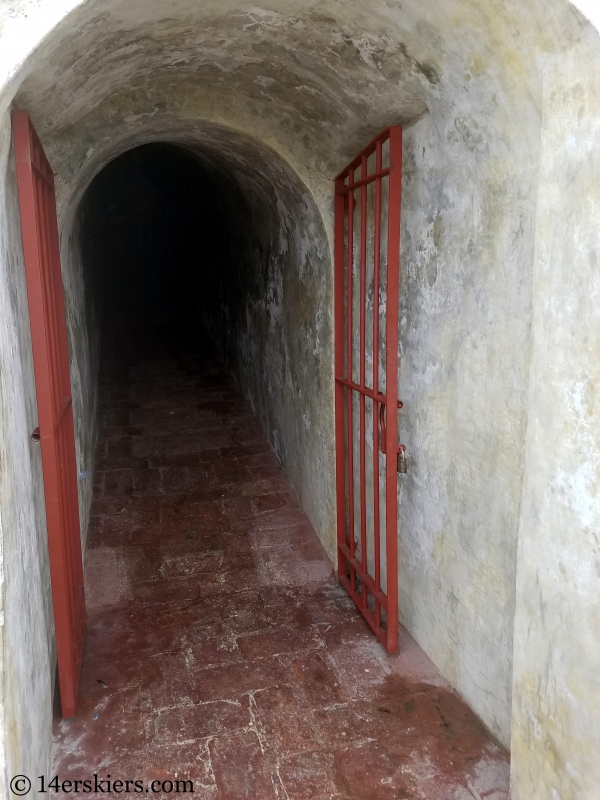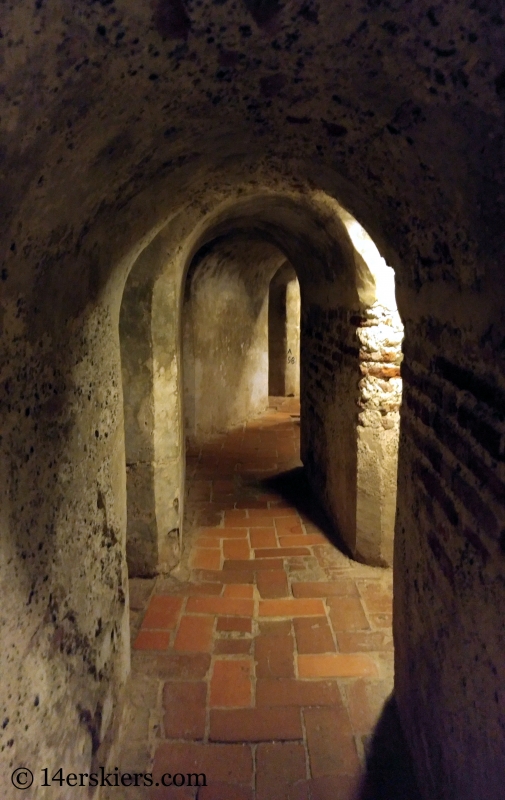 The Castillo San Felipe is one of many forts in the area originally built to protect Cartagena from attacks from the sea. Through these forts, forces were able to guard Bocachica and Bocagrande, the two main entrances into the port, from pirates and invaders.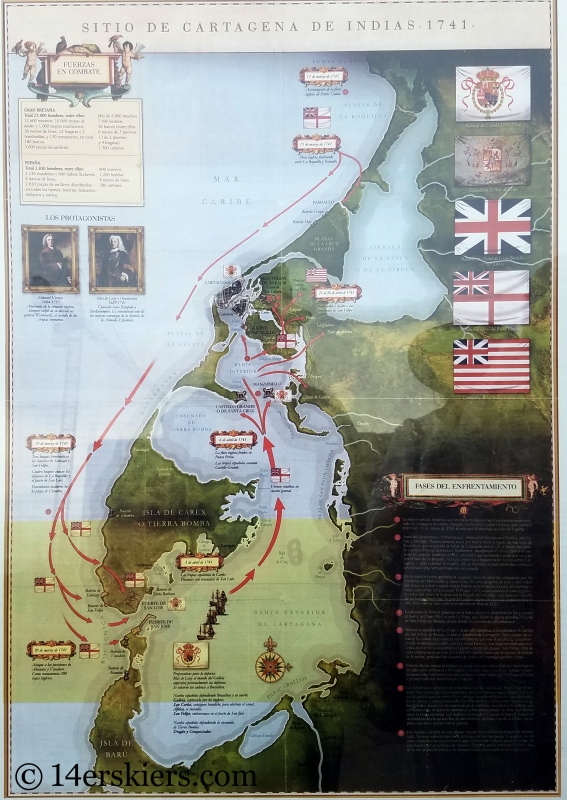 Invaders didn't stop from trying to take over this rich city though. One legendary battle was led by Edward Vernon (who Mount Vernon is named after) in 1741. English soldiers arrived with 186 ships. But, the Spanish were able to fend them off due to the design of the fortresses, and some creativity from Blas de Lenzo, who had alread lost an arm, a leg, and and eye in previous battles. The photo below shows a statue of de Blas, while the photo above depicts the military strategies of the 1741 battle.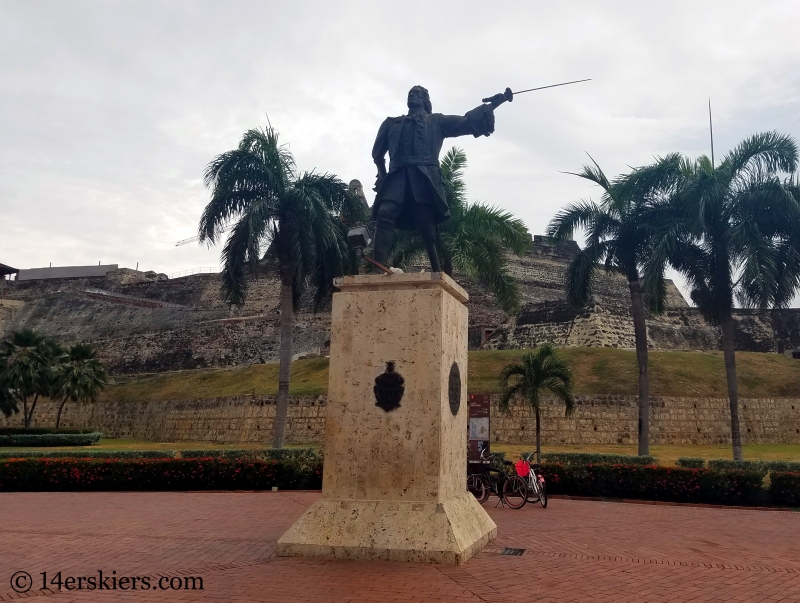 Fuerte at Bocachica
After seeing Castillo San Felipe, we decided we weren't done seeing forts. There were plenty more to see, like Fuerte de San Luis at Bocachica on the island of Tierra Bomba. We had to take a water taxi to get there.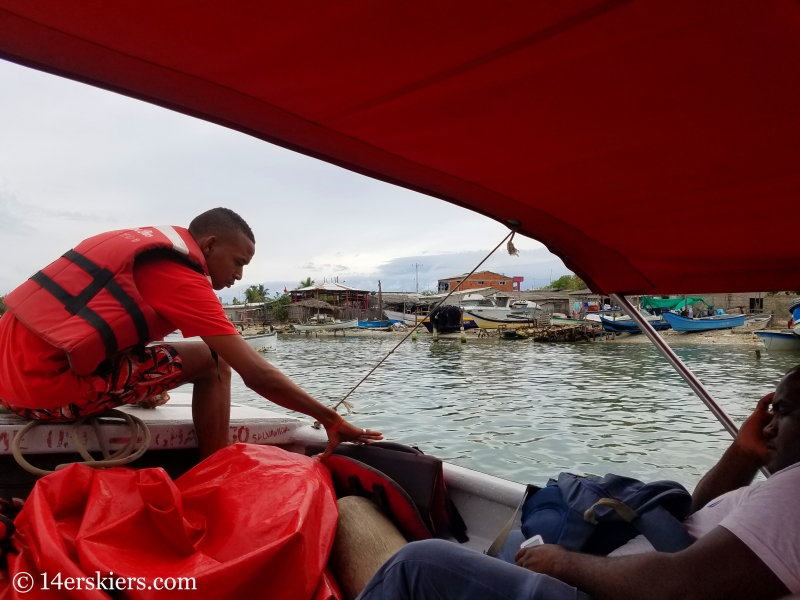 Bocachica was quite the contrast with Cartagena. The town here was poor and largely in shambles. Garbage was spread everywhere and stores were practically non-existent.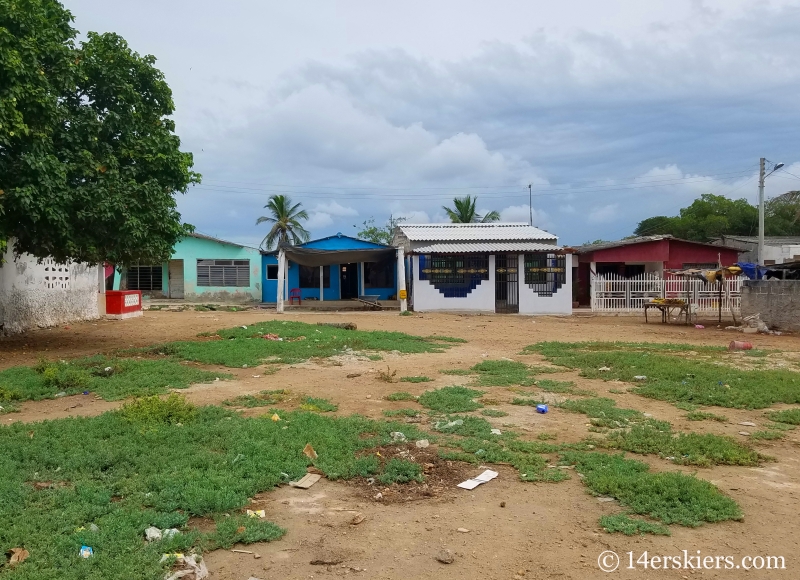 As walked our way from the water taxi to the fort, a guy approached us, more or less wanting to be our guide for the Fuerte de San Luis. We took up his offer as we often like to learn more about the community from locals, and we spoke English very well. His name was Eddy. We found out through Eddy that the people of this poor town did not have clean water or garbage removal, and that sometimes their houses are flooded when a big ship passes by and creates too large of a wake.
But the fort was something else. Similar to Castillo San Felipe, it was first built in the mid-1600's.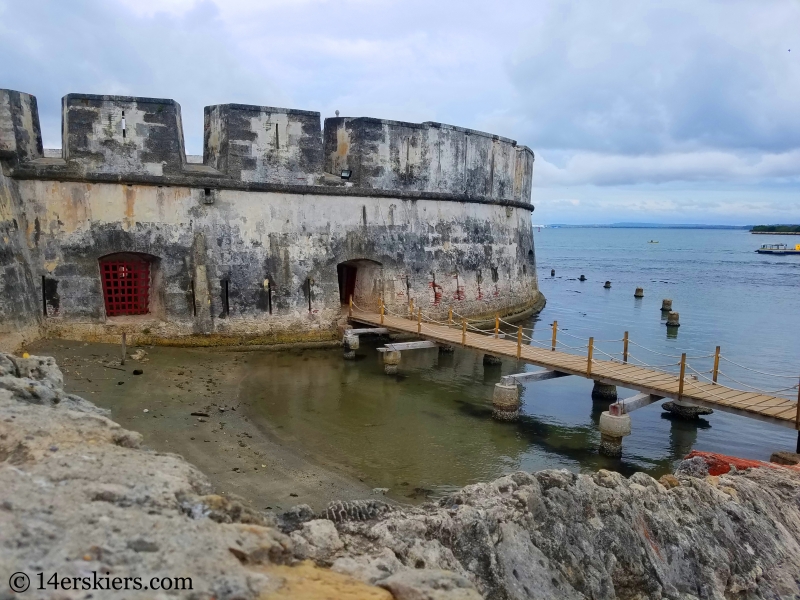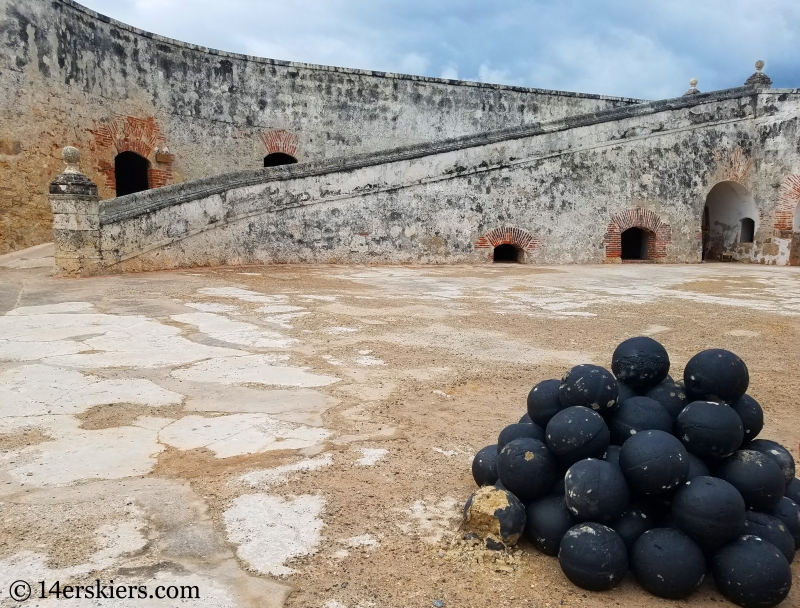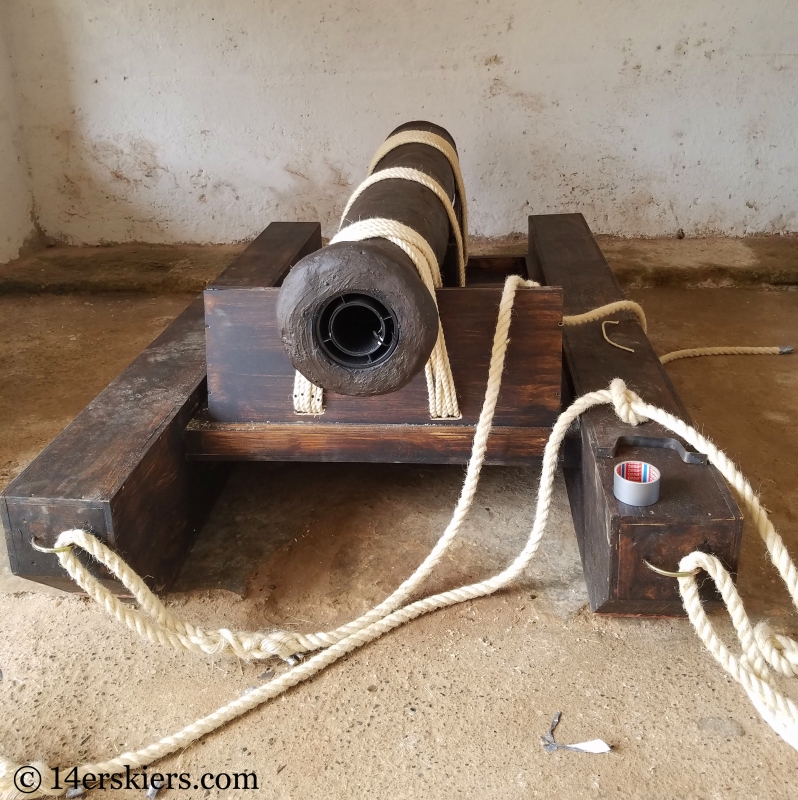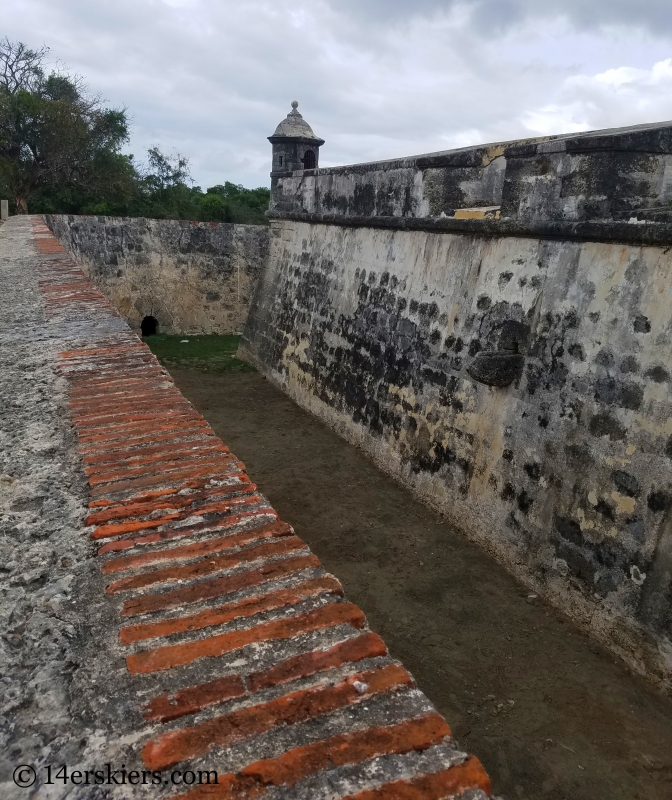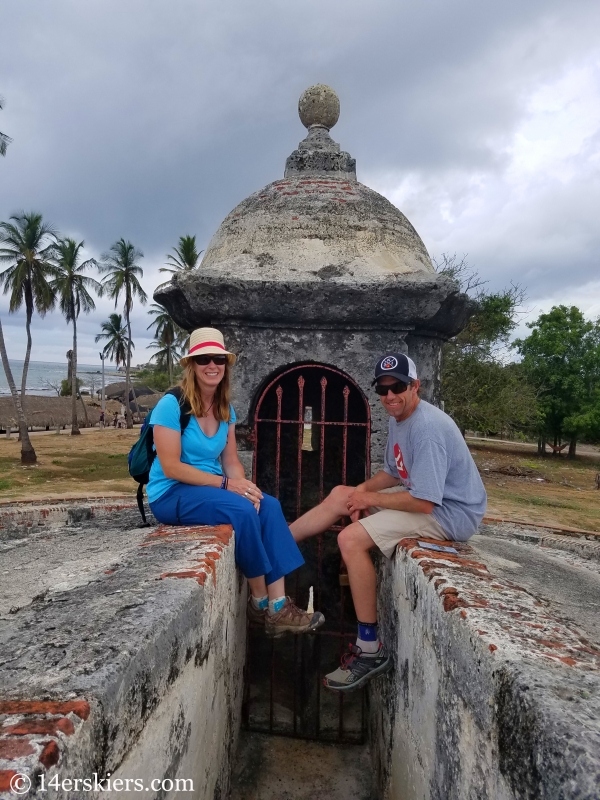 Our guide kept telling us that there once were 150 cayman living in the is moat.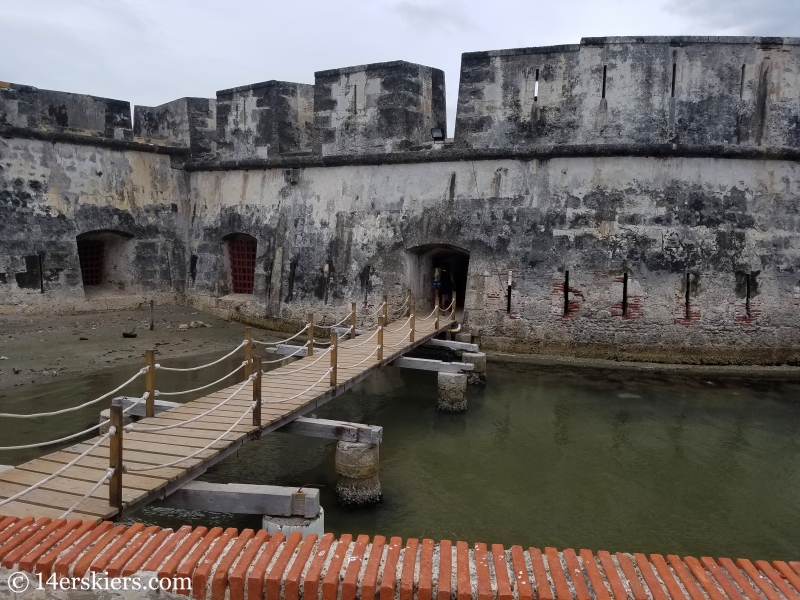 Yes, this was a bathroom. From the way it smelled, it probably still is….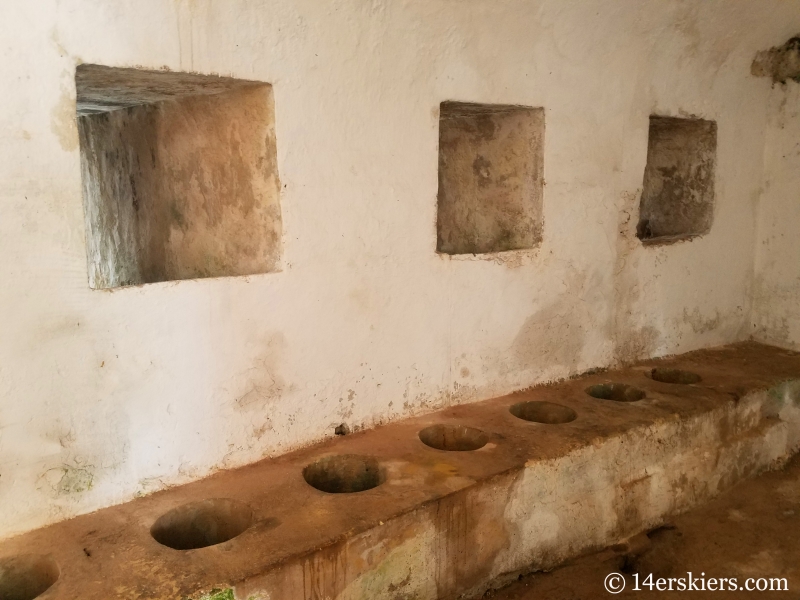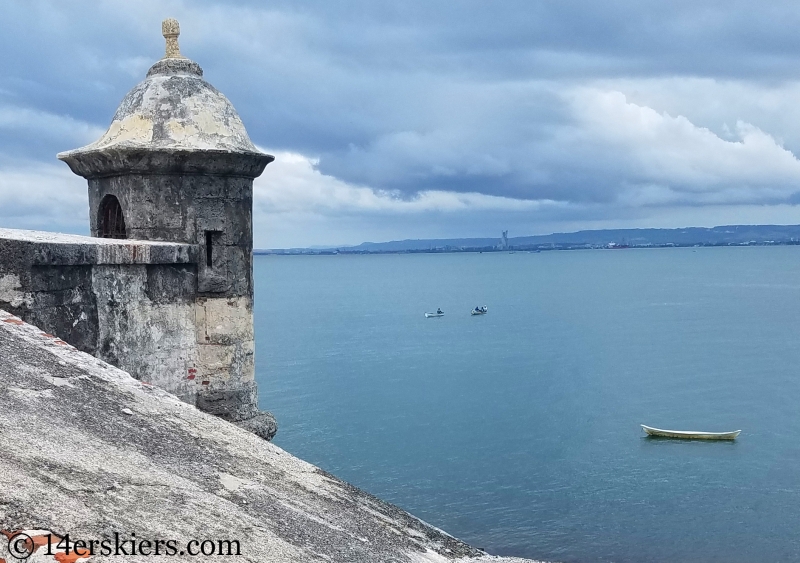 Across the way, we could see the Fuerte de San Jose. Both of these guarded "Bocachica" – the "small mouth" entrance of the port of Cartagena.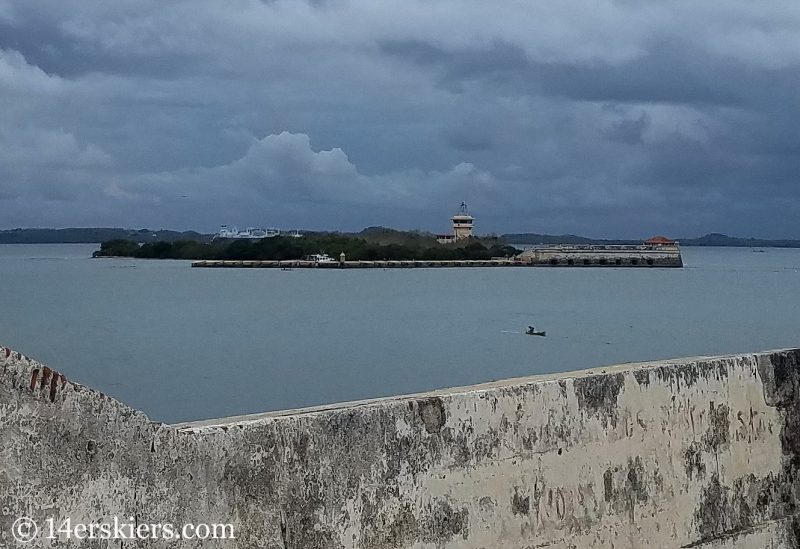 From the fort we could see the town of Bocachica down the shore. It was then that our guide asked us, "How did you get here?"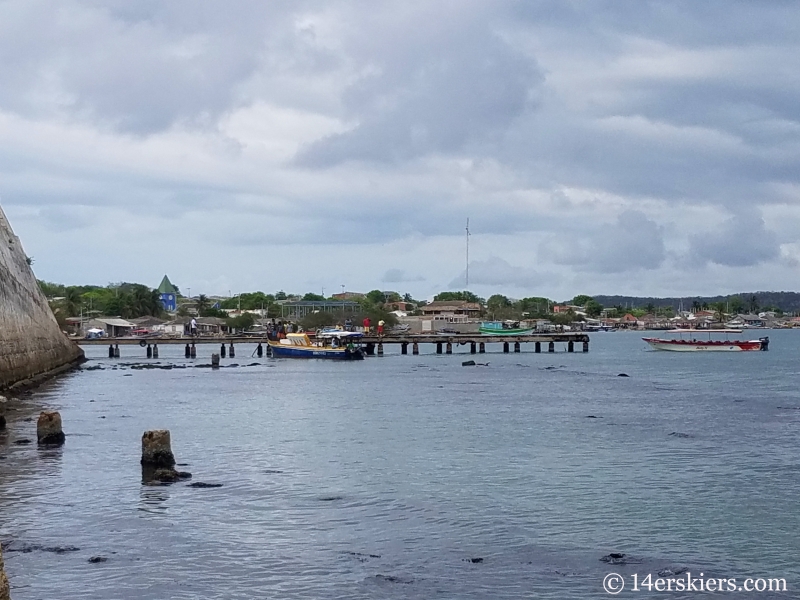 "By a water taxi," we replied.
"Which water taxi?" he asked.
"I don't know. does it matter?"
"Yes, it matters. What color was your boat?"
"Um I don't know. Red maybe? The deckhand was very tall and skinny."
He then proceeded to tell us the way water taxis worked in Cartagena. There is a boat, and a "driver" of the boat, and that driver and boat are responsible for you. We were supposed to get back on the same boat. Eddy then pointed, "There, that boat. That boat is your boat I think."
And it looked like it.
So, we sauntered back through town, needing to catch our water taxi back to Cartagena. We snapped pictures of this church on the way back. Eddy told us that the church was fairly new and that all the people of the town had put their hard-earned money into building it. They were proud of it.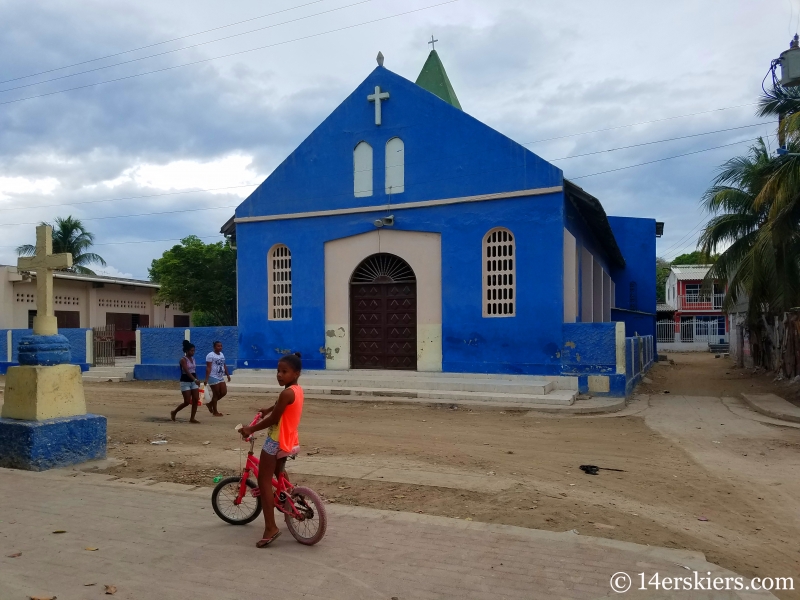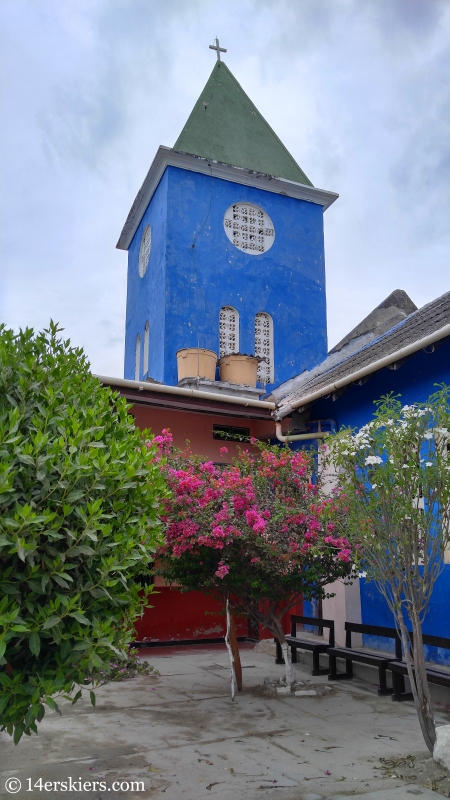 When we got to the dock, things took a big turn. Our water taxi was not there. It was gone, vanished.
Of course, there were more water taxis coming, right?
"Oh no," Eddy said. "There is only one more water taxi. The teacher's taxi. It leaves in a few hours. It takes the teachers back home to Cartagena. If it is not full, you can take it. But, if it's full, then…."
Then we're stuck. We're spending the night on the beach most likely. Where we would eat, who knows. To make things worse, this island worked on cash, and we hardly had any cash left. Eddy had most of it.
"Don't worry, I will make sure you get home."
And there we sat, for hours, on the deck. But, we weren't alone. A Colombian guy with a red hat and his son had the same problem we had, and were also impatiently waiting for the teacher's taxi. I could write an entire chapter of a book about all the things that went on during these few hours – how a water taxi came, and then the red hat guy and we tried to pay him money to take us back. First he agreed, and then he left. I could elaborate on how Eddy asked us for more money to give to a guy to ensure we'd get on the teacher's taxi, and how the captain of the taxi eventually made him give it back to us. I could also tell the story of how, when we originally booked our ticket in Cartagena, we were charged double and how we still had to pay the proper rate to use this water taxi, so we were being more or less triple charged. I could tell you how we met young Isabella, who spoke perfect English, and was the sole dentist for the area, and she traveled back and forth every week from Baranquilla to work here – and she herself was a contrast to the very person that inhabited the island of Tierra Bomba. Isabella was appalled a the scamming we encountered, but was a friendly fresh face to us. "Don't worry, if you have to sit on my lap, you'll go home on the teacher's taxi."
I don't think I've ever loved a boat so much, and at the same time, been so scared it might just sink with the weight of all these people.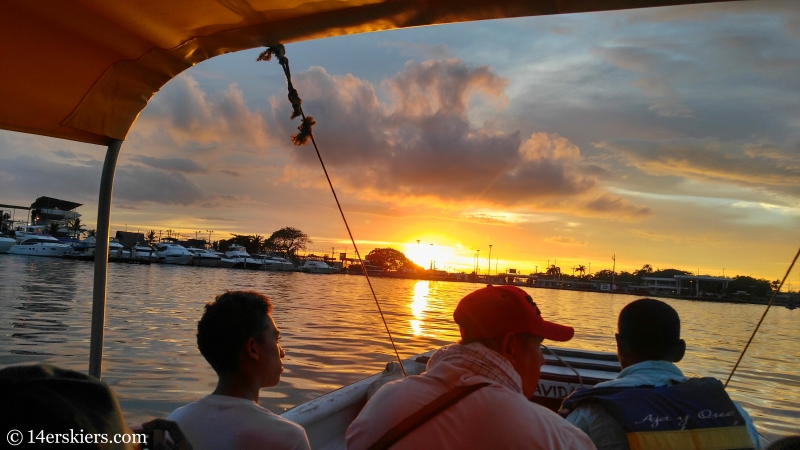 Needless to say, with some nodding, handshakes, and far too much money by Colombian standards, we made it back to Cartagena on the teacher's taxi.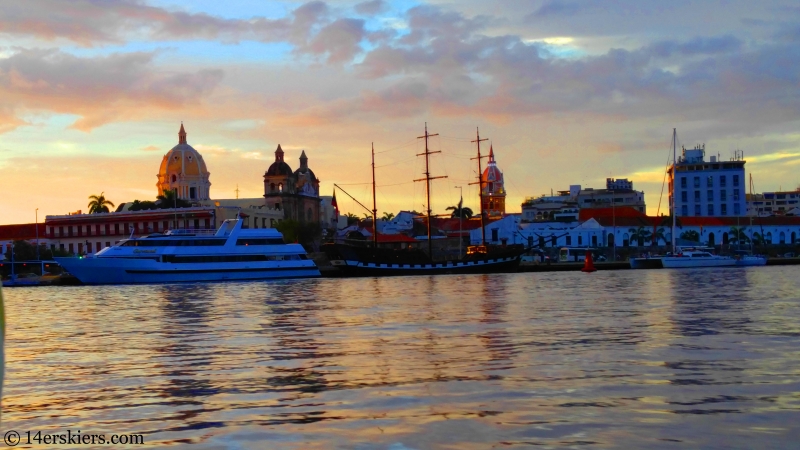 We went from the tiny houses and dirty garbage-infested town of Bocachica to the giant clean white high rises of Bocagrande. What a contrast.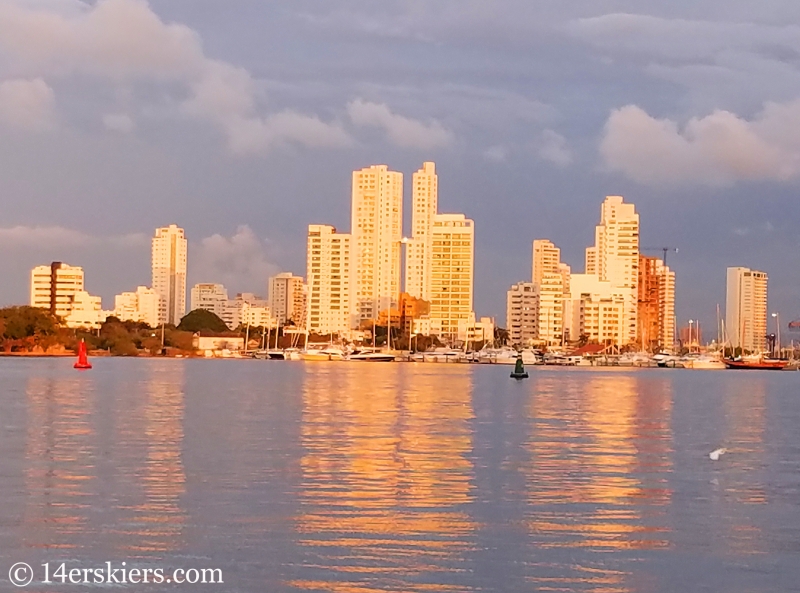 Cartagana, like all of Colombia, is a land of contrasts. But this day could not have exemplified that any more.
Aside from skiing, biking, and all outdoorsy things,
Brittany Walker Konsella
also loves smiles and chocolate 🙂 Even though she excels at higher level math and chemistry, she still confuses left from right. Find out more about
Brittany
!
Latest posts by Brittany Walker Konsella (see all)
Summary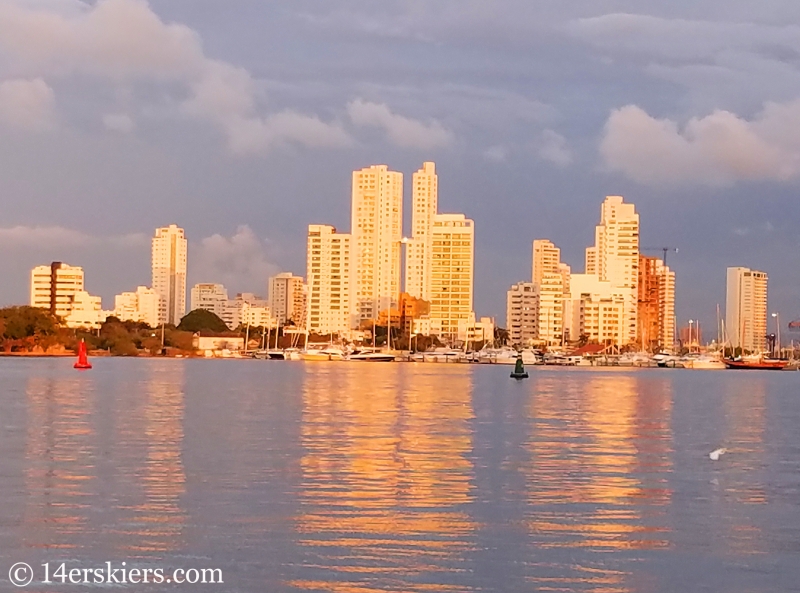 Article Name
Description
Old vs new, rich vs poor, color vs bleak- all part of contrasting Cartagena. From Bocachica to Bocagrande, the contrast couldn't be more striking.
Author