Gear Review: G3 Scala Skins
(Last Updated On: March 8, 2017)
In terms of backcountry ski gear, climbing skins are often overlooked when it comes to innovation. So you've got to hand it to G3 for trying something different with the G3 Scala skins. I've been able to put a few days in on the Scala skins this winter, enough to give my initial impressions. I'll update this post if I find that my initial impressions are off, or any durability issues pop up (good or bad).
The idea behind the G3 Scala skin is that most of the grip is centered under the foot, while the tip and tail section of the skins don't do much for grip, and mostly reduce glide. G3's solution was to add a urethane fishscale section at the tip to increase glide, while (hopefully) keeping the traction characteristics of a full nylon skin. In theory, it should work the same way as a fishscale backcountry ski would work.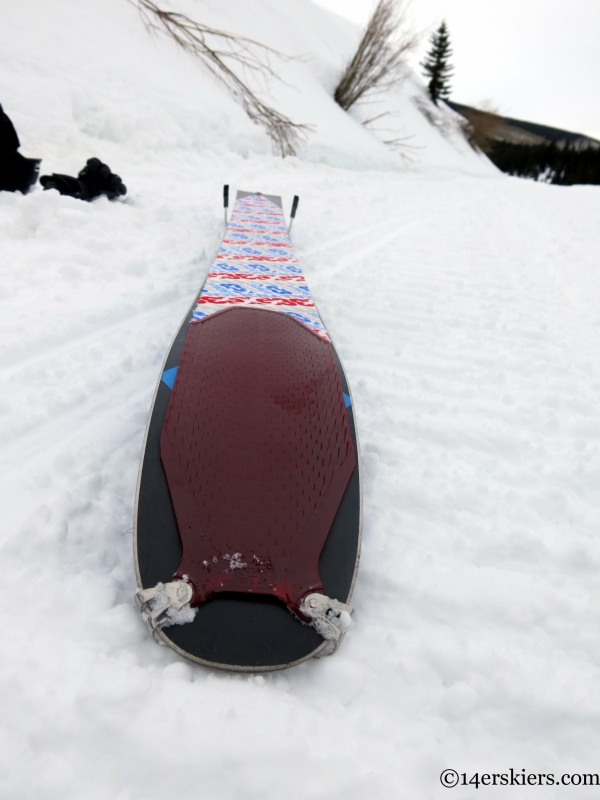 I can't honestly say that I noticed a huge increase in glide. That doesn't mean that the glide isn't better- it's just hard to tell given all the variability of the snow conditions. Even if the increase is only a tiny bit, it can still add up on a long day.
As for traction, it did seem like I wasn't getting as much grip as touring partners that were on full nylon skins. Part of that was probably attributable to the skins being on the short end, leaving a large amount of the tail area without and coverage. (G3 skins come in short, medium, and long which can leave different gaps at the tail). While G3's sizing makes adjustment easy, and is probably more durable than riveting the tail assembly onto the skin as many other skins will have you do, it's not perfect if you're at the end of the recommended length, as I was with my skis. Meanwhile, the tail attachment is a thing of beauty. I had to do it a few times just to watch the system work, in all its glory. I'm prepared to say it's the best tail attachment I've seen.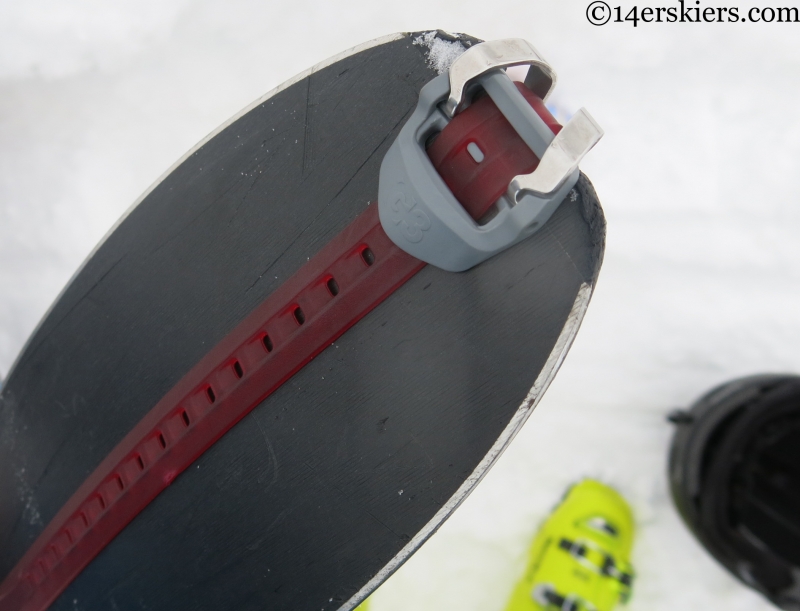 The tip attachment was not my favorite, on the other hand. I found it pretty easy to knock off the tabs if my tips crossed at all. From what I've heard, they work great on certain skis and less well on others, depending on sidewall shape and thickness.
Trimming the skins was easy for me with G3's included trimming tool. I was lucky in that I did not have to trim the urethane, which I'm sure would have taken a little extra work (though they are meant to be trimmable).
The urethane tips do not have any glue on them. I was worried that snow would collect under the skin where the nylon plush begins, but I didn't experience this at all. Of course, the glue was brand new and I never took them out a really cold day, which seems to be the only time I get problems like that on other skins. Speaking of glue, I've been impressed. G3's first glue formulations 20 years ago were full of problems, sometimes leaving chunks on the ski after ripping them, but the current formulation is top notch.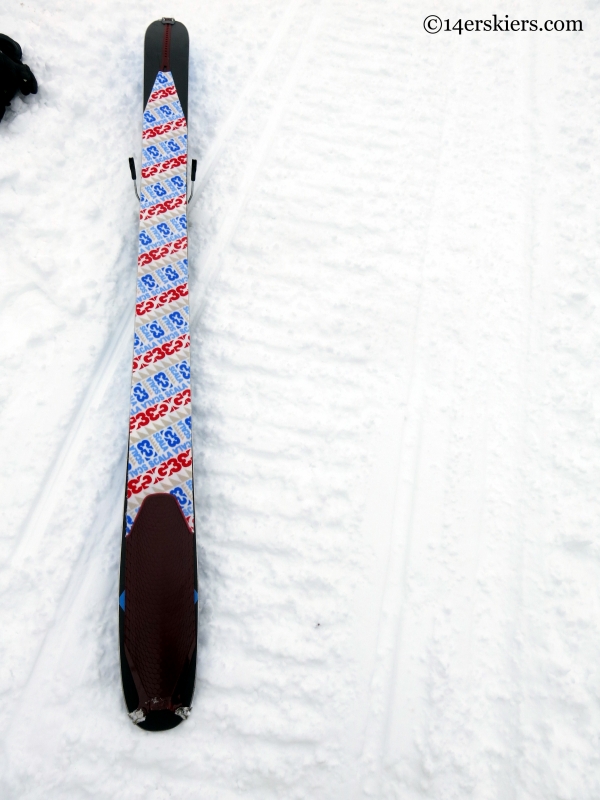 Perhaps my favorite part of these skins was somewhat unexpected, and that's how they fold. The urethane tips aren't all that flexible, so the skins come with a long bag.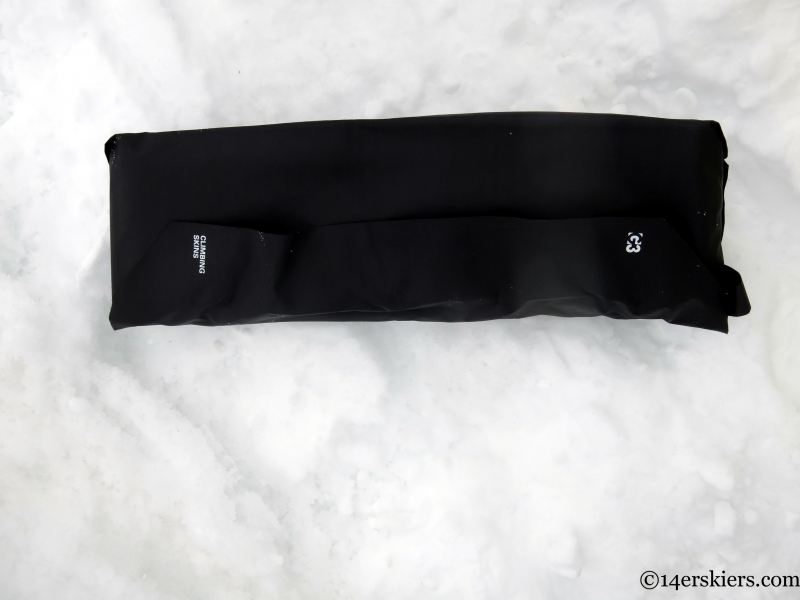 What's cool about this is that the skins end up being folded skinny and long, rather than short and fat. In the pack, this was ideal, and actually left more usable space in the pack since the skins were simply up tight against my back. For those of you who like the short laps, and put your skins in your jacket, this might take some getting used to. (Although I think it could actually be better as long as you had a long enough torso)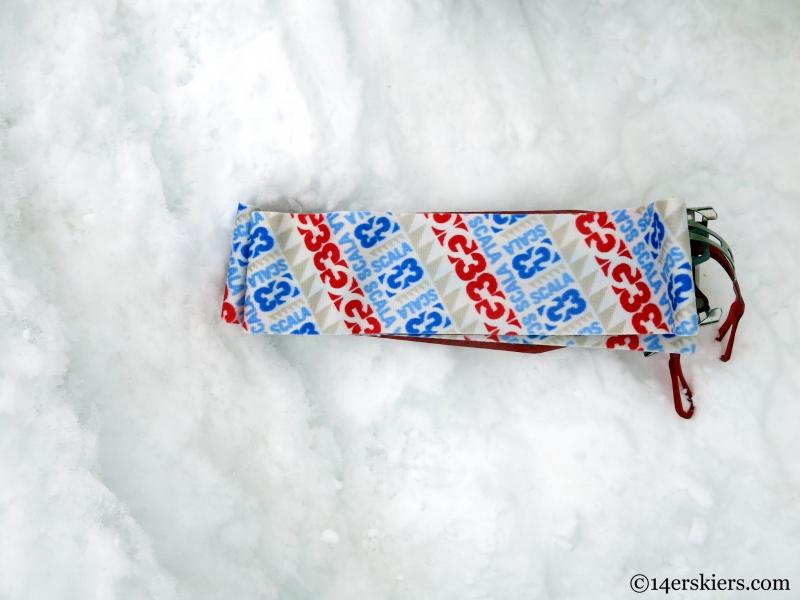 Finally, the weight weenies will want to know about the weight. The Scala is roughly 30 grams heavier than the same size G3 Alpinist skin that lacks the urethane tip. Next year, a Scala LT version will be available with a smaller redesigned urethane section that will have a nearly identical weight to the Alpinist (~30 grams lighter than the regular Scala).
You can buy G3 Scala skins at backcountry.com and many other stores:

Frank
loves snow more than anything... except his wife.  He ensures his food is digested properly by chewing it 32 times before swallowing.He is a full-time real estate agent serving
Crested Butte and Gunnison
and would be honored to send you his
monthly newsletter.
Latest posts by Frank Konsella (see all)
Summary
Reviewer
Review Date
Reviewed Item
Author Rating