(Last Updated On: February 26, 2017)
It's that time of year. Time for the SIA 2017 ski reviews…
As always, there are a few things to remember about these ski reviews. First, my background is that of an ex-racer, ex-big mountain competitor. I like my skis damp and powerful more than light or playful. Also, I only weigh a buck thirty- on a good day. Conditions at Copper Mountain this year were hard packed, like they always seem to be. It was hard for me to find anything that even resembled soft snow. Unfortunately, that can make it hard to test a ski that excels in conditions other than packed snow. And that's not even getting into the difference that a good or bad tune can make. Finally, most of these skis got a grand total of one run to either blow my mind or make me wonder where the nearest dumpster is…
Generally speaking, I was most interested in the sweet spot of backcountry ski widths, meaning 105-110 underfoot, and 180-185cm.
Black Diamond Boundary Pro 107 184cm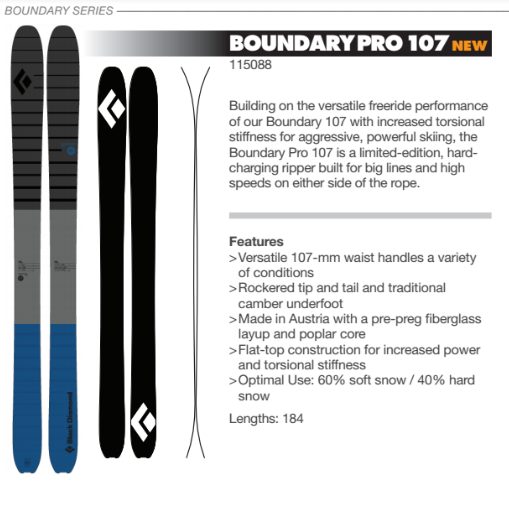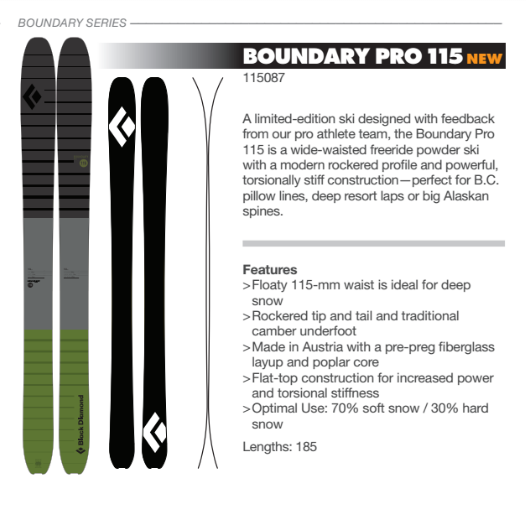 Next year, Black Diamond will introduce two pro versions of their Boundary ski. I've always felt like the Boundary skis had a bit of a "speed limit" to them, so adding metal to make those skis a bit more stable seems like a no-brainer. This was one ski that didn't mind the snow conditions one bit- in fact they came alive the faster I skied. I've always felt like this ski's shape could benefit from a longer turning radius, but for those of you who like shorter radius skis (20m), these are worth a look.
Black Diamond Route 105 185cm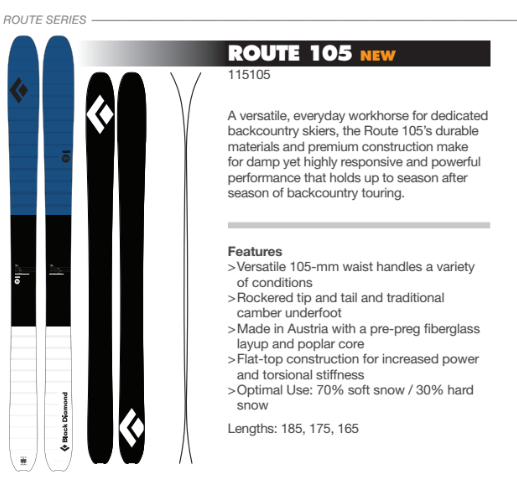 Another new ski for next year, the Route 105 is the fattest of the new Route series, which also includes the Route 95 and Route 88. The Route series is a "price point" ski, meant to be more affordable than their signature Helio series skis. Despite this, I found the Route 105 to be a nice, easy ski that is far more damp than the skis in the carbon Helio lineup. When you really pick up the pace and work this ski for everything it has, however- it does have limitations. It's the exact opposite of the Pro model above- it doesn't want to go that fast or ski that hard, as the tip will really start to chatter. Most skiers will pick up on the ease of skiing this ski more than the high speed limitations, however.
Atomic Backland FR 109 182cm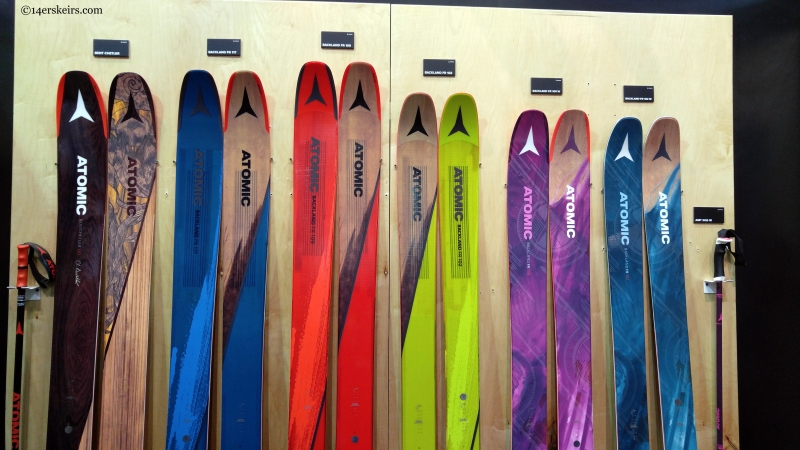 This is a pretty fun ski, and one I think I could get used to. While it is a lightweight carbon ski, it doesn't have the same deflecty/ carbon feel that most carbon skis have. Or at least, not as bad… One thing I did notice was that the tip was extremely grabby. Was it a bad tune, that could have used more de-tuning in the tip and tail? Probably. But with just one run, I'm not sure if that was all it was, or if the shape leads it to be grabby…
Volkl BMT 109 186cm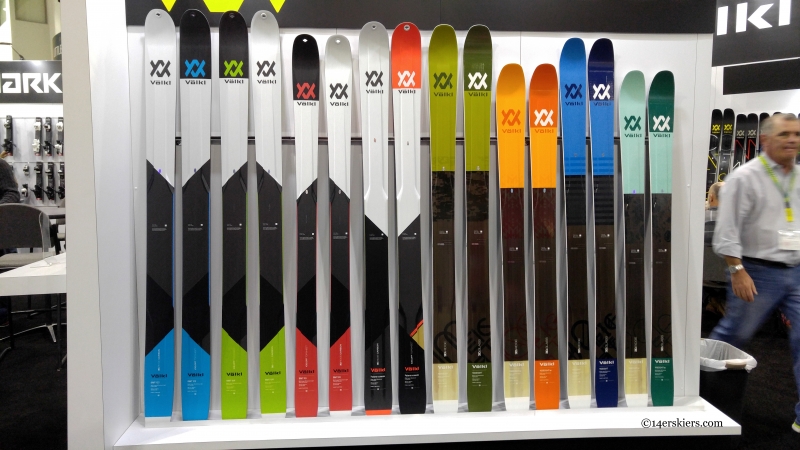 The BMT (or big mountain touring) 109 uses the same V-Werks construction that Volkl has been using for several years. If you're looking for a ski that looks like it can take some abuse, this isn't the ski. They look fragile, but who knows how well they actually stand up. The BMT 109 is almost certainly the most "carbon feeling" ski I've been on. The ski sensation that you feel in your feet is one of extreme feedback- these are not damp skis in any sense of the word. But they are amazingly powerful. I was loading this ski up and catching air as I came out of carves- something I never do in this type of ski. That said, would I want to harness that kind of energy on a steep slope? Doubtful. Meanwhile, the sweet spot felt like it was a bit in the backseat, and the tail was stiff and a bit of a handful.
Dynastar Legend 106 182cm
Oh Dynastar. Why must you tease me? One look at the old school construction, flat square tail, and I get all hot and bothered. Then I see the 17m turn radius and I think, why? why? why?
At the convention center, we were told that Dynastar started calling the feel of these skis "velvet power" due to their construction. Uh- huh. We hear a lot of marketing junk and I try to brush most of it off. But it's a pretty good description of this ski's feel, actually. Everything I want a ski to transmit to my foot was there. Everything I don't was quiet (more or less the opposite of the carbon feel of the Volkl above). Unfortunately, the ski's shape got in the way of enjoying that velvet power. 17m sidecuts are ridiculous for an expert level ski, and more than that, the stiff tail makes it frankly terrifying. The Dynastar Cham ski had long been one of my least favorite skis from SIA, and while the Legend is better, it's still low on the list. Please Dynastar- take the construction that gives the ski its awesome feel, and put it on a ski with a descent shape and flex. It could be the ski of the decade.
Salomon QST 106 181cm and Salomon QST 118 185cm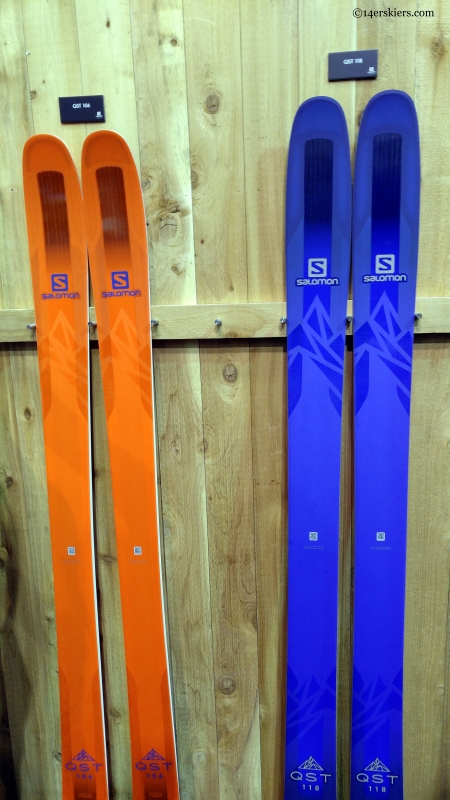 Salomon's older Q105 (or, for a while, the quest 105), was a ski that both Brittany and I liked- and that's a rare ski indeed. so I was excited to test the QST 106, which more or less replaced the Q 105. One of the things I liked about the Q 105 was how well it carved on hardpack. The QST 106? Not as much. In fact, I found it to have one of the floppiest tips I'd been on since the days of the K2 AK Launcher/ Olin Outer Limits. The tips looked like a Buddhist prayer flag in hurricane winds at even moderate speed. It's something you can get used to, but it wasn't at all what I was expecting. The other weird thing was how hooky it felt, which is probably due to the shorter turning radius compared to the Q 105. If you can find a Q105 on closeout, I'd by it over the QST 106 in a heartbeat.
The QST 122 was a bit better, and I'd guess that is mostly due to it having more mass, and it's more stable just because of that. Various sources have told me I need to give these Salomons another try, in their natural environment of softer snow- so there's that.
That's a wrap for SIA 2017, at least for ski reviews. We have more to come, so check back soon. Meanwhile, if you need a new pair of skis, this is a good time of year to get a good deal:

Frank
loves snow more than anything... except his wife.  He ensures his food is digested properly by chewing it 32 times before swallowing.He is a full-time real estate agent serving
Crested Butte and Gunnison
and would be honored to send you his
monthly newsletter.
Latest posts by Frank Konsella (see all)
Summary
Article Name
Description
Frank reviews several 100-110mm skis tested at SIA On-Snow 2017, from Black Diamond, Dynastar, Atomic, Volkl, and more.
Author