Gear Review: Black Diamond Front Point Pants
(Last Updated On: October 21, 2015)
Finding a great pair of ski pants is a tough task. They're either too tight or too baggy, too long or too short, too many pockets or none at all. And while often overlooked, a good pair of pants is a pretty important piece of gear for ski mountaineers. Catch a pant leg while cramponing up a steep slope, and the results can be dire. Last spring, I was able to give the Black Diamond Front Point pants an extended review.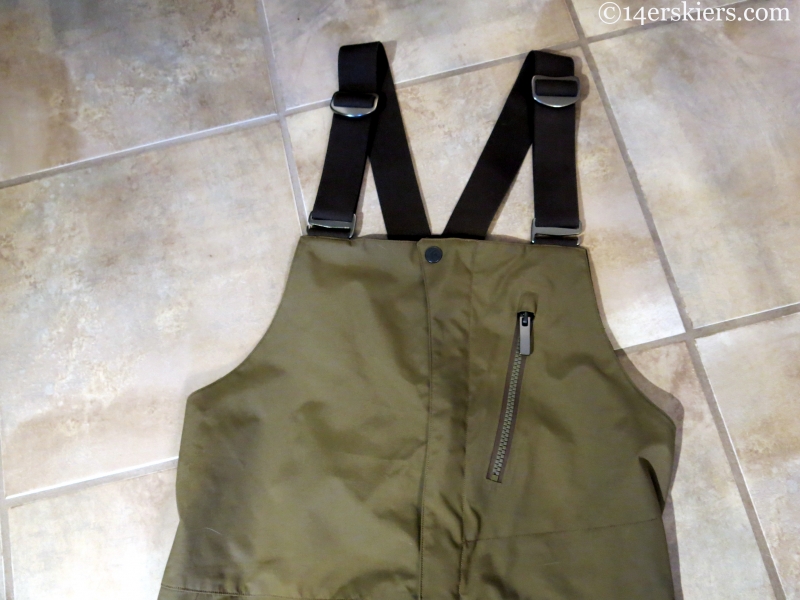 Overview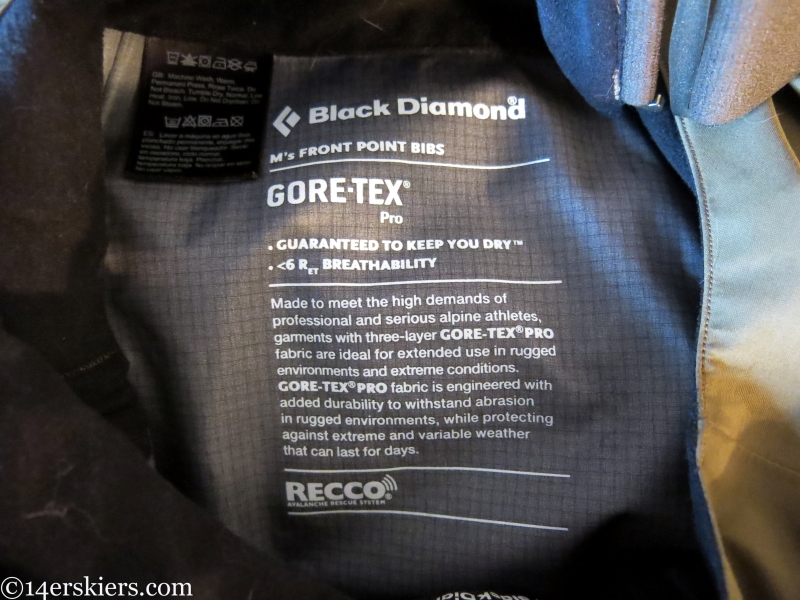 Black Diamond's Front Point pants are bib pants made with Gore-Tex Pro waterproof breathable fabric. Long the gold standard, these pants will breathe while also keeping you dry in the wettest of weather. The bibs feature three pockets- one zippered leg pocket, a velcro leg pocket, plus another pocket on the bibs themselves. I carry a fairly large point and shoot camera (a Canon G-series), and both pockets will hold it comfortably. Outside of some lip balm and perhaps a snack that's all I tend to carry in the pockets, so the Front Point pants are great on that end.
The bibs themselves are pretty high- perhaps overly so. In my opinion, they could be an inch or two shorter and an inch or two narrower, but that's a minor point. The metal suspender adjusters work well, but they are somewhat bulky and tend to require the occasional readjustment to make sure they haven't shifted underneath a backpack strap. That seems to be a common issue for ski pant suspenders, and while Velcro adjustment comes with its own set of problems, I personally believe it's the best option.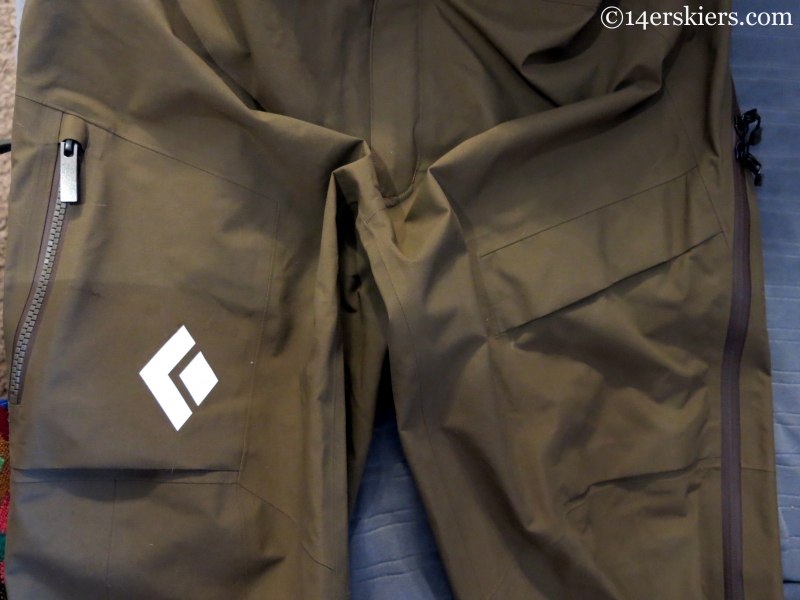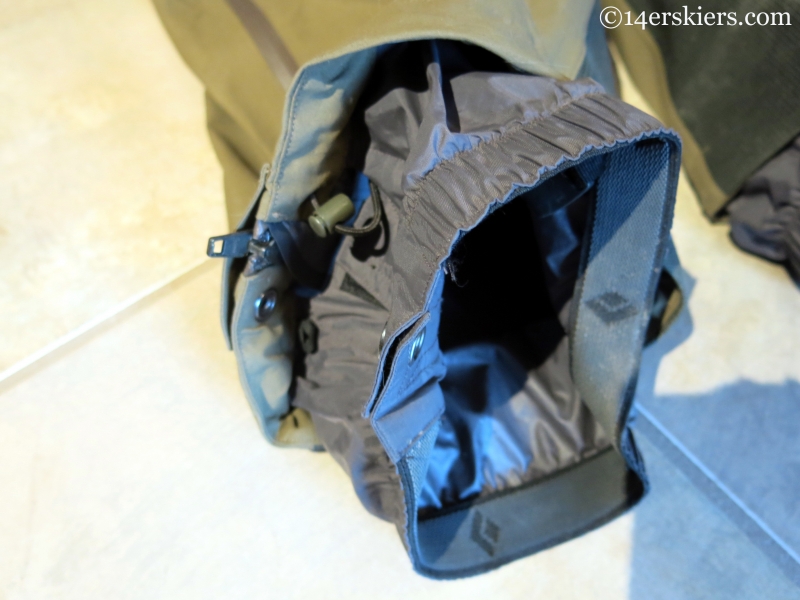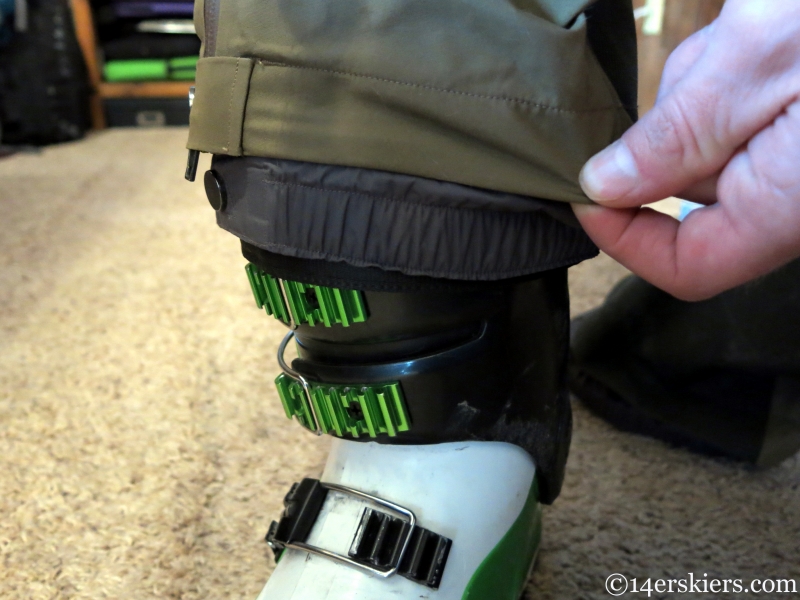 The reinforced boot cuffs are burly and made for accidental crampon scuffs. They're also tight, which make them less likely to get in the way of a crampon. The downside, however, is that they are so tight that they're tough to get over an AT boot. It's a fine line, but in my opinion, the cuffs could be just a tad bigger, while not being so baggy that they're too big for serious climbing. The gaiters are a nice design, with a hidden drawstring. Like the cuffs themselves, the gaiters are a bit too small, and difficult to fit over a ski boot.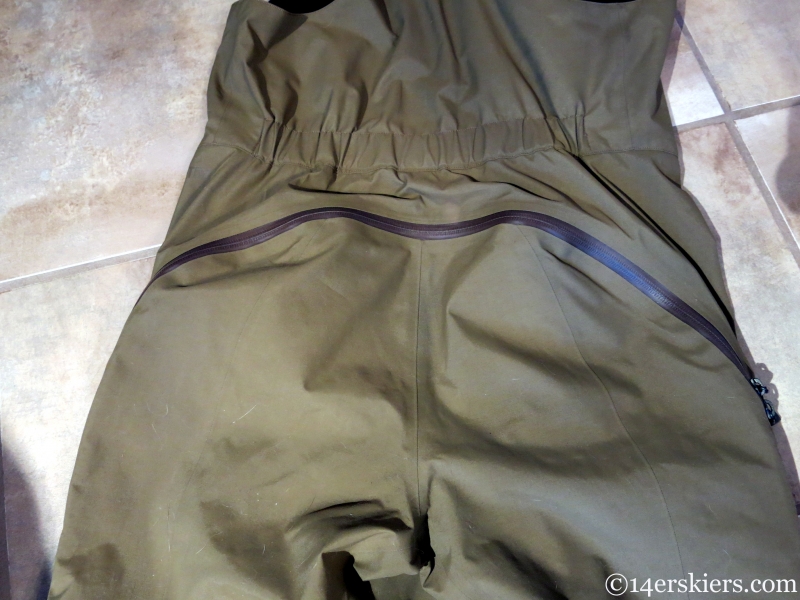 The sidezips continue straight through to the backside, making a dropseat design for those times when nature calls. I never had the need to try that particular feature, however. 😉 The zips themselves provide plenty of ventilation, something I can speak to, since most of my time with this bib was late last spring.
Conclusion
As I mentioned at the start of this review, I'm critical of ski pants. And while I have a couple of minor quibbles with the Front Point, namely the cuffs, they're as close to perfect as I've seen. They're light, they pack small, movement is unrestricted, and the pockets are a good size. In short, if you're looking for a new pair of ski mountaineering pants, put the Front Point bibs at the top of the list.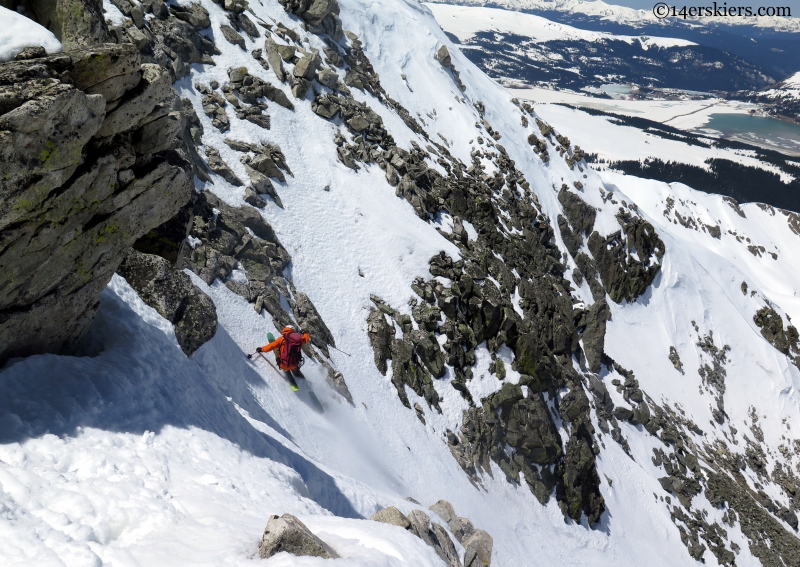 Frank
loves snow more than anything... except his wife.  He ensures his food is digested properly by chewing it 32 times before swallowing.He is a full-time real estate agent serving
Crested Butte and Gunnison
and would be honored to send you his
monthly newsletter.
Latest posts by Frank Konsella (see all)
Summary
Reviewer
Review Date
Reviewed Item
Black Diamond Front Point Pants
Author Rating