Part Two: Interviews with 11 of Colorado's Fourteener-Skiing Finishers
(Last Updated On: January 13, 2015)
This is Part Two of a two-part article. See Part One.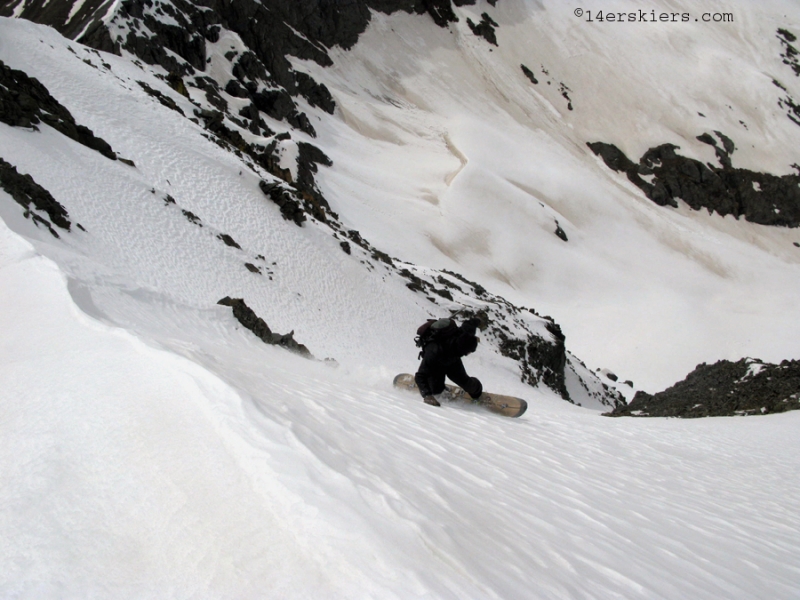 In Part One, Jarrett Luttrell told his story of why he decided to snowboard all of Colorado's fourteeners. His need for validation and the fact that "no one can take that away from you" is a common thread that most fourteener ski and snowboard finshers likely share, although they may not say so directly.
In the first part of this series of articles, I introduced the interviewees and posted their responses to questions like, "What was your favorite fourteener experience?" and "What was the 14er you'd like to go back to most and why?" Today, I will be exploring a few more related, but different questions. I hope you find the responses as enlightening as I did.
What was your most challenging 14er and why?
Lou: None of them were particularly hard in terms of technicality, as I was a pretty good skier of the steeps during my day. But the avalanche danger during some of my trips was a challenge. Again, we didn't have very good beta in those days (literally no one was up there doing it, so you had no source of direct info as folks do these days). During one trip I skied the west side of Pyramid by connecting up all those thread gullies with some lateral climbing and down climbing. That was some difficult route finding and alpinism. My partner actually rode a slab a few dozen feet before it broke up, which could have ended up badly. Another hard one was Longs, a long hard drive in winter and quite dangerous doing the North Face, which I tried to protect with some belays but was still a bit out of hand in terms of possibly getting 'lanched over the Diamond Face.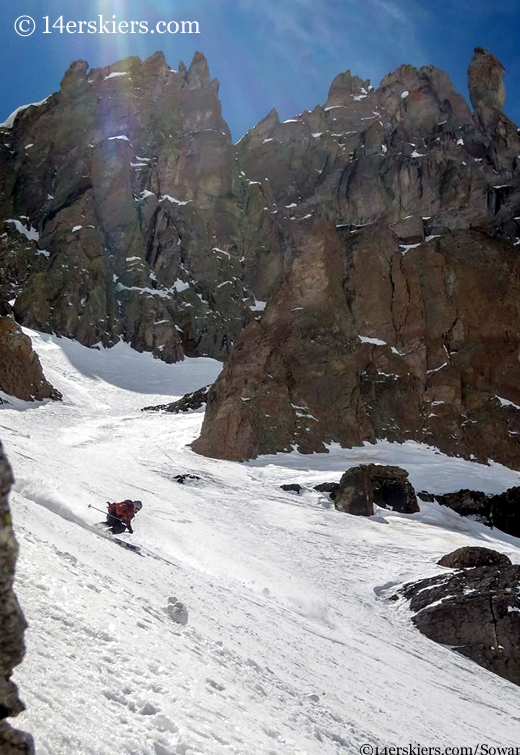 Ted:Because Capitol always gets named here, I want to come up with a different answer, but the fact is, it was Capitol. We were looking to ski the west side on an unproven route, in a single push. So it was a big day in miles and effort, as well as mentally, because like a lot of finishers, it was my final peak. I think it was the most committing ski of them all.
Frank: Capitol was the hardest due to the climb. I love the climb in summer, but the mixed climbing near the summit with exposure just isn't my favorite. The skiing isn't very difficult, however.
Jordan: In Colorado, Capitol. Climbing and skiing are techy and the pucker factor is high. Especially on our north face line from 2011. We skied into it having no idea what we might find for a rap anchor, which made for some really heavy packs too.
The most challenging 14er ever? Mount Hunter in AK 10 fold over anything else I've ever skied. Most people say they wouldn't go back to Capitol, I won't take my skis up Hunter again. Scariest 41 hours of my life and by far the most challenging.
Joe: Bross because who can get motivated to ski that pile of slag! Ha, mostly kidding. I guess more to the intent of the question would be Pyramid. At the time I did that peak, it was a big mental hurdle for me. I wasn't sure if I belonged up there.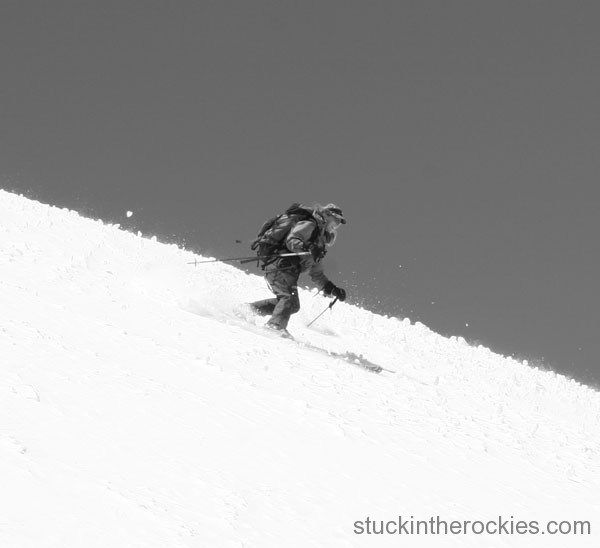 Christy: For me, it was Capitol – it took three tries, and it's not an easy one to get to! The first time, we had bad snow quality and got stymied around 13,000ft, the second time I had decided to camp at Moon Lake and got really sick that night and couldn't climb the next day, the third time I finally got it.
Jarrett: South Maroon. Fairly new, three nights, and solo. But no troubles. Just go and go. Maybe El Diente too – it represents all that I love about the mountains: exploration is nothing without uncertainty. (Note: Jarrett descended a route that he did not ascend and was not sure if it "went", as it had not really appeared in any known ski mountaineering literature. It turned out the line did go and it was a beautiful one. Frank and I traveled to El Diente later that year to find this route and were unsuccessful during the first attempt, but successful on the second. This line is now called the Luttrell Line.)
Brittany: Capitol was my most challenging fourteener. We had some interesting conditions with hallow shallow snow making the Secret Chute hard to climb, and a few inches of fresh on "snirt" creating an onion peel effect on the exposed face. This new snow was especially prone to sliding and if you got caught, could send you over the cliffs below. Frankly, I was completely on edge for several hours, and it was a 19 hour day – the longest of any of them. After all that, Jarrett and I finished in the dark and had to drive 3 hours so I could be back at work at 7:45 am on Monday.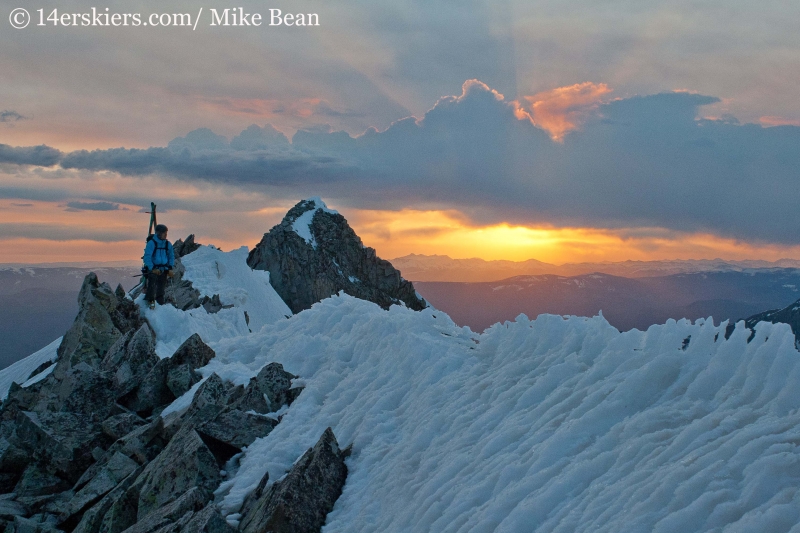 Carl: Capitol and Crestone Needle had some challenging skiing and technical difficulty, but the conditions on Snowmass caused a level of exhaustion that stands out in my memory five years later. For a few thousand vertical feet we skinned up the east slopes with 10 inches of heavy snow stuck to the bottom of our skis. The physical exhaustion was rivaled by mental exhaustion when we contemplated having to spend the night on the summit as we reached it in a storm that was growing much more intense than forecasted. We skied the first 1,000 vertical feet following our GPS track as visibility dipped into single digits. Making it to Wendy's in El Jebel before the drive-thru window closed for the night was the only thing going through our minds as we hiked those last few miles back to my car with our ski equipment on our backs.
Matt:The hardest single day would be KC and Challenger (with Jordan and Anton), though Capitol was close. Culebra is difficult for purely logistical reasons, and I ended up settling for pretty ragged conditions. Some, like the Sangres and the Chicago Basin group, are hard to catch in good conditions because they're remote and information is scarce.
Marc: I think Mt Wilson was my most challenging 14er. The top was thin, and we were late, perhaps 30 min? The snow was hot and sticky and I was basically doing jump turns on rocks at one point on the steepest part of the line and my binding and board paid the price along with my nerves. A little lower the coverage improved and it got much better.
How did you feel when you finished your 14er project?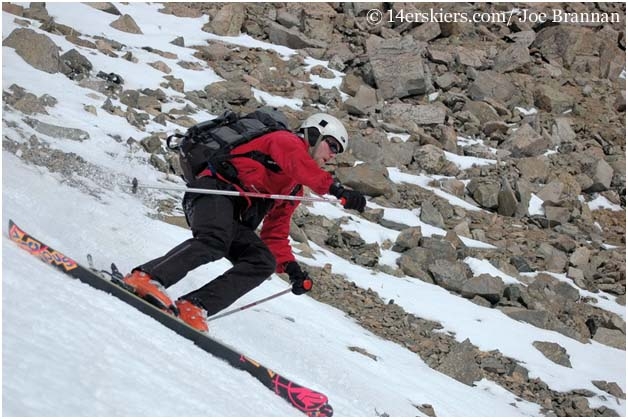 Lou: Elated is a weak word. Standing on top of Kit Carson that day, I experienced a sort of mental slideshow — a vision — of all the pioneers who had come before and on who's shoulders I stood. Fritz Stammberger, Bill Briggs, the Fitz brothers, Jeff Lowe, Chris Landry and so much more.
Ted: I felt great. I was psyched. Not just to wrap it up, but being mid April of 2008, which was a huge snow year, it felt awesome to be done early in the spring season. Rather than have the project hang over my head all spring (as it tended to in prior years), I could get after skiing goals that weren't based just on the list.
In addition to that, Christy was just getting going on her 14ers, so I was looking forward to helping her get it all done as well. So nothing really stopped with my final peak.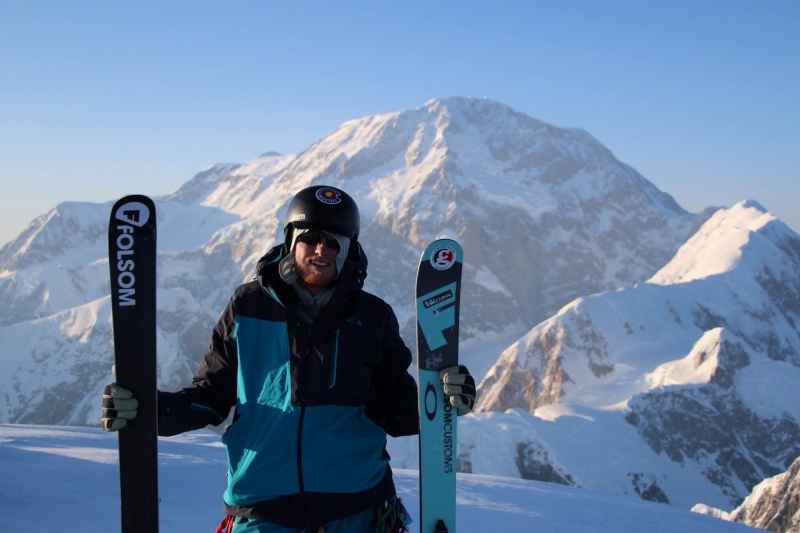 Frank: Finishing the 14ers was pretty anticlimactic. It was just like, "OK, now what?". Especially since Brittany had more 14ers left to ski, and I knew I'd be skiing many of those with her.
Jordan: What's next? Done with Lists! It's a cool project, and a great way to see CO but I was stoked to have a bit less focus on one thing even if it was self imposed.
Joe: To be honest, the long drives from Boulder and working full-time as a weekend warrior had me pretty burned out. Mondays were tough! In hindsight I can see how lucky I was to have the youthful drive and freedom to do it, but the turns off Wetterhorn were liberating and a bit anti-climactic. I remember the North Face on Culebra, Huron, Pyramid, Capital and many other days just as fondly as the finisher.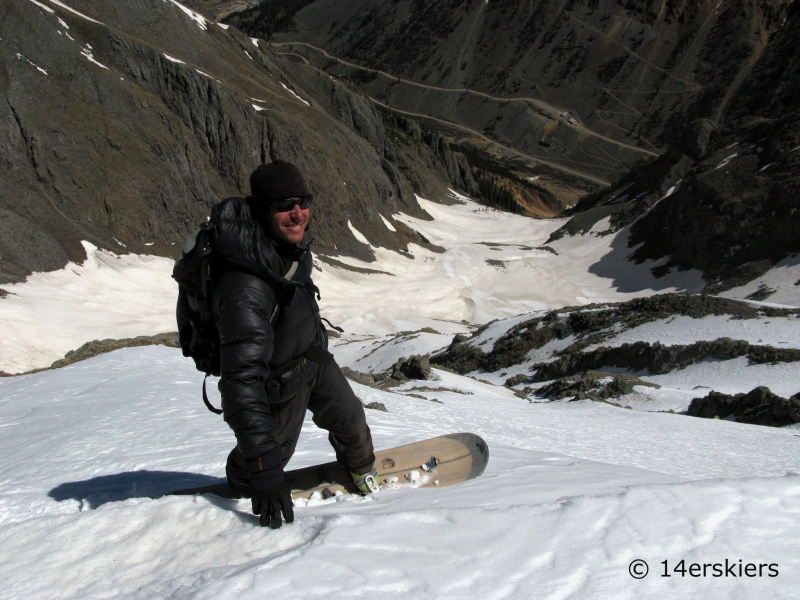 Christy: After safely skiing from the top of Capitol, I remember cruising down and loving the tamer lower terrain while feeling a huge sense of accomplishment. I'll never forget it, I had all these amazing images and memories from the past few years flashing before my eyes, it was a great feeling.
Jarrett: When I finished the fourteeners, I looked back to see the narrow snow bridge I had envisioned waning and waxing from the beginning, disappear. And like so many other explorers of the past, left to ponder the emptiness.
But I remembered Scheaffers's words. "No one can ever take that away from you." It helped.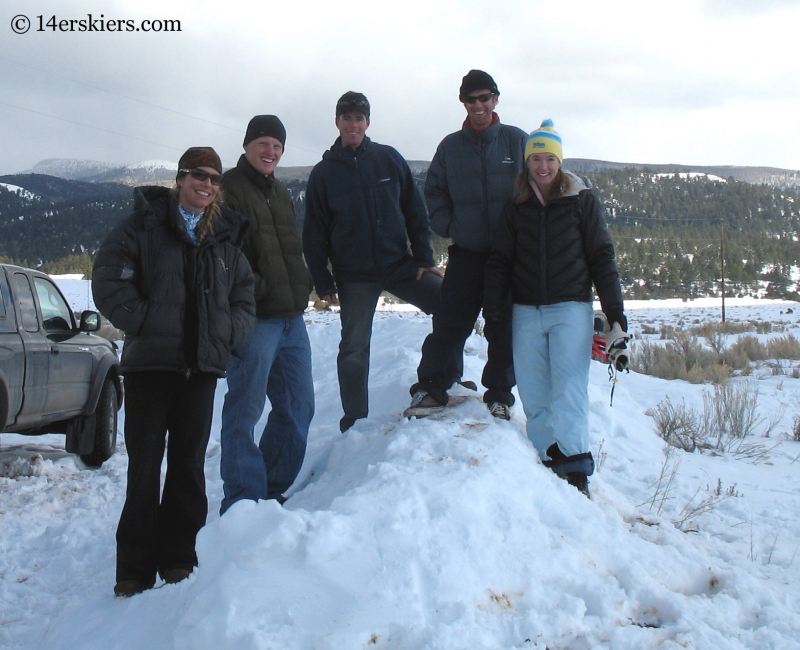 I felt Empty. What are we left with other than ourselves. The ultimate confrontation. However, this was not a one time holiday from the day to day. This was a way of life, over the span of ten years or more. In the words of Lou Dawson, it "ordered my life'.
Brittany: I thought I would feel elated, and part of me was. But, there were so many other feelings. My last season, I had only two fourteeners left, and it took me 3 years to ski the last nine. I just wanted to finally be done with this project. So, when I finally did finish, I felt so relieved.
But, a larger part of me was actually sad. This fourteener project took 5 years of my life. Many of my friends I'd met because of the project. I had a fiance (soon to be husband) because of the project. And suddenly the project that had defined my life for half a decade was just gone. I didn't know what to do. Part of me wanted to take on a similar large-scale project, like Ted and Christy did with the Centennials. But, Frank kind of just wanted me to chill out for a bit. "No more lists," he said. So, I didn't. But, I have a strong yearning to return to a larger multi-objective goal once again.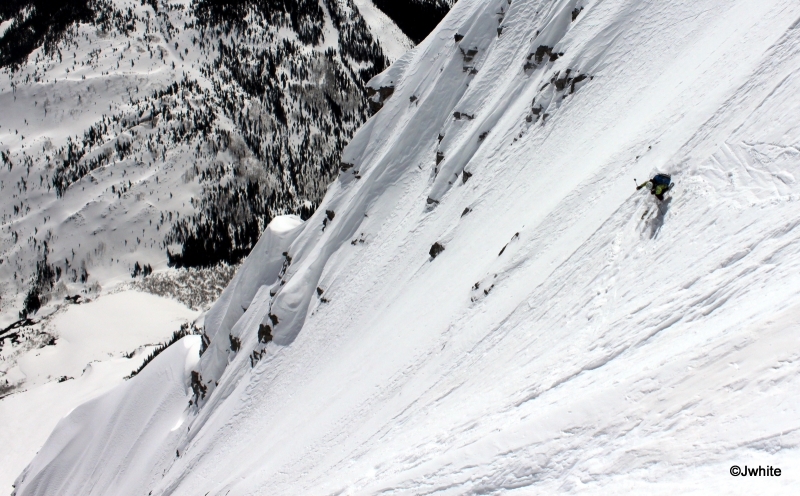 Carl: We hoped to ski and ride Crestone Needle in April of 2011 when we went in to get Crestone Peak. The Needle was too thin, but we got the Peak. During the following month and again in the winter and spring of 2012 and 2013, we followed the Sangres weather, Snotel data, and the few trip reports. We took a first-hand look at things in 2012, we turned around on the Needle at 13,000 ft. again in April 2013, and then two weeks later we went back again and skied from the summit. It was fitting to have to earn the last one and I wouldn't have had it any other way. A great feeling shared with a handful of close friends with whom I was fortunate enough to have shared much of the journey.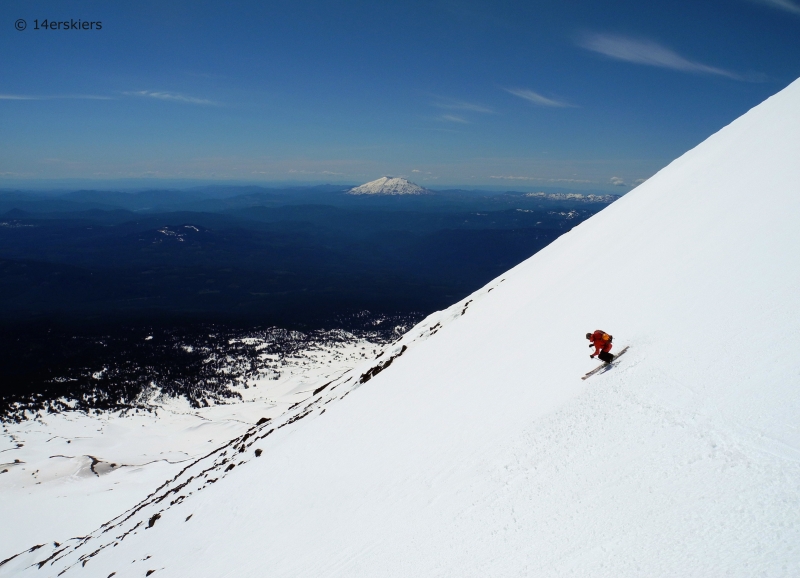 Matt: Initially, just really elated and happy – the same way I feel when I'm looking down from a hard-earned summit, but bigger. After a few days I found myself wishing there were more. Obviously there are other peaks and other categories (centennial, etc) but the 14ers represented a cleanly defined goal, and having that made it easier to break away from my other responsibilities and get out into the mountains. Since finishing I keep hearing "now that you're done with that, you can spend more time on X," where X is usually some work-related bureaucratic crap. I'd much rather be out in the mountains!
Marc: When I finished I felt a lot of relief and satisfaction. It's not that the project needed relief, but when you get to the end and have to wait for snow and the logistics of Culebra to come together it wears on you a bit. I had waited a few years to get Culebra once I finally decided to ride it and had already mentally finished on the Needle, but didn't want to leave that peak out. Early on in my project I had not committed myself to riding all the 14ers and only after I rode most of the hard ones had I decided to go and get the less interesting peaks that hadn't been picked off for one reason or another. Culebra didn't lie down though and it was a long day with less than ideal weather. At the end of the day I got it with one of my best friends plus Chris, Ted and Christy to boot!
How did skiing the 14ers impact your life then? And now?
Lou: Well, in my case the impact has been huge. Being in the Colorado Ski Hall of Fame really helped with my writing/blogging career, with perfect timing to help launch WildSnow.com and keep it going. On a more personal level, my 14er project was a big goal that had a very uncertain outcome. Beyond my career as a climber and self employed business person (both of which have plenty of challenge), the 14ers gave me self actualization that far surpassed anything I expected. All that time alone out in the mountains, with the wind in my face and the sky extending out to infinity, also gifted me with somewhat of a spiritual awakening that's stuck with me to this day. In all, I was blessed.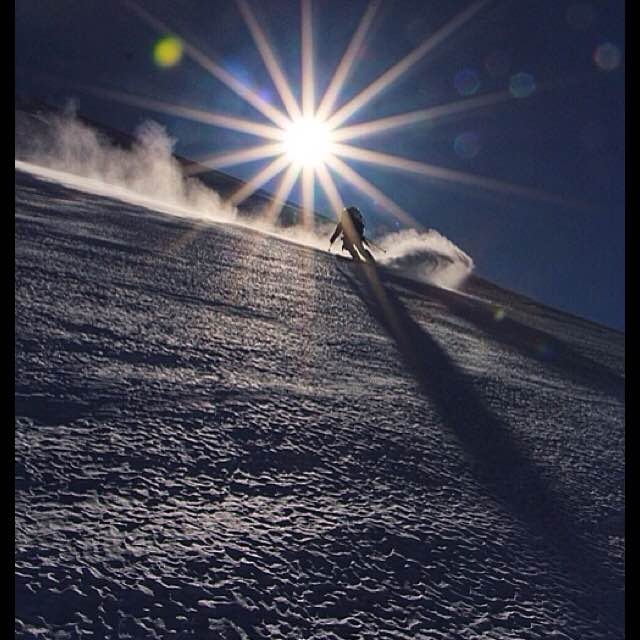 Ted: It was really special have had all of those days in the mountains with Christy. We've skied from the summit of all but two 14ers together, and nowadays we consider ourselves lucky to have been able to share those experiences.
In a personal sense, there are obviously lessons learned on setting and achieving goals. But with each summit view I was introduced to so many other nearby ski lines that I soon realized the 14ers weren't the end of anything, it was actually just the beginning of a lifelong focus for me, to continue for years to come. My list of ski goals continues to grow, not get smaller, and I owe that to the 14ers.
Frank: Well, obviously meeting Brittany and now we're married.
Jordan: It was and still is the basis for not only my ski mountaineering career, but in a lot of ways it is still how I make a living between guiding and teaching skiing. 14er skiing helped me to grow out of being a suburban hack of a skier, even if I will never be as good as a lot of other people on this list.
Christy: It really spread into all different parts of my life, reinforcing that you can do anything if you put your mind to it and work hard. It taught me how to set goals, realize them, and then continue to set more goals, always working to be your best.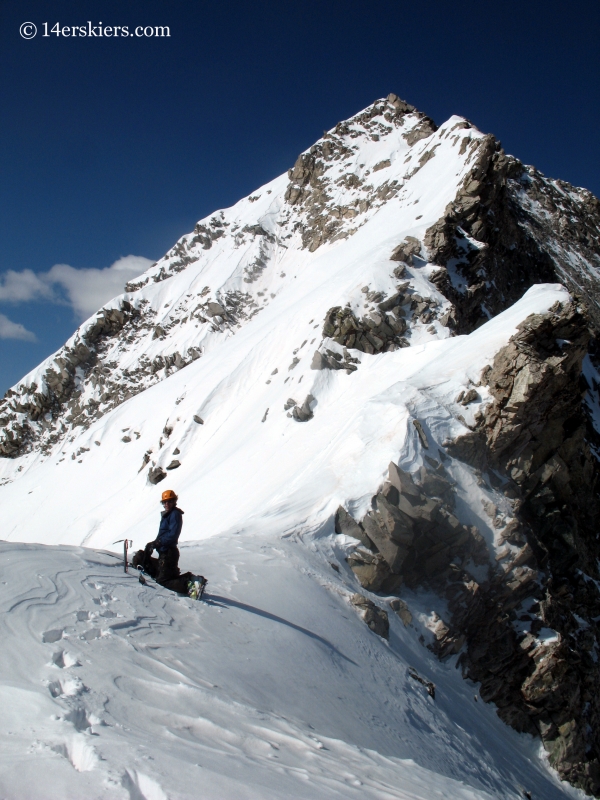 Jarrett: It made me look for other goals. What I'm getting at here is not about the size of the goal, but the size of the investment of a person's time and well being. The fourteeners are bigger than any single objective. That is why they stood waiting – right in everyone's backyard, close to home. There are greater goals. But this one has local precedence.
Brittany: As I have alluded to in previous responses, I've been able to connect with some amazing people who have changed my life. Obviously, the most important one is Frank. But, mountains build friendships and some of these fourteeners are pretty big mountains, so I've made some pretty great friends 🙂 It also opened my eyes to many other ski mountaineering possibilities. As I cross things off my "wish list", the list just keeps growing and growing. Most of all, finishing the fourteeners brought me confidence and a sense of accomplishment – a knowledge that I can achieve nearly any goal if I just put my mind to it and believe in myself.
What advice would you give to others beginning their 14er skiing projects?
Frank: The main thing I would say is take your time. It's easy to get wrapped up in the quest to finish skiing them all, but that leads to mediocre descents in mediocre conditions. I would be far more excited to see someone take 10 years to ski each and every 14er by the best line (hopefully via a new route or two), in the best conditions, than I would be to see someone do them in less time than Dav with a bunch of mediocre, "just get them done" descents.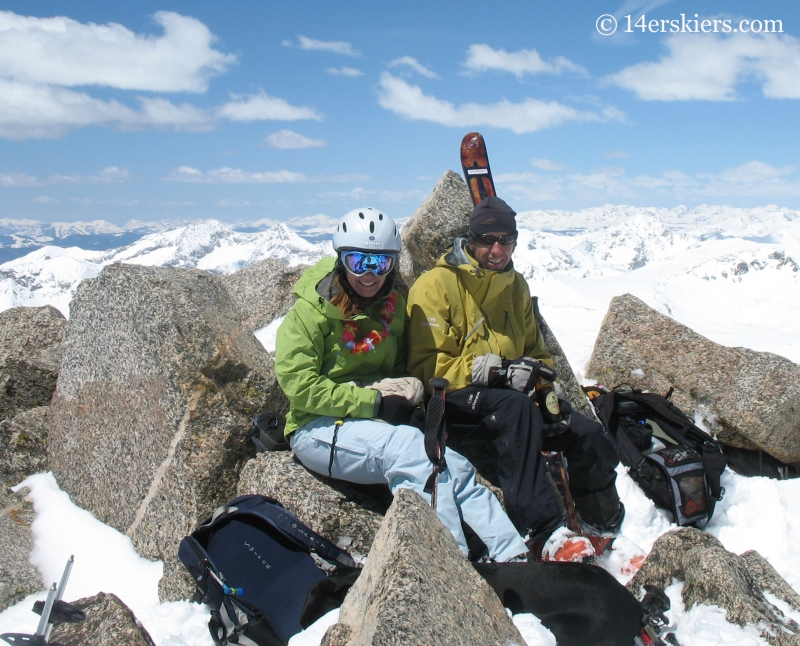 Joe: Don't let others tell you what you can achieve! Successfully skiing the14ers demands good planning and a lot of perseverance. You don't have to be a professional in the industry to do it. Relish the friendships developed with partners and most importantly avoid taking risk outside your normal operating range. Life is long and skiing the 14ers will be just one defining adventure along the way. It's far too easy to get in over your head due to a blind spot. Keep your eyes peeled and look both ways, and get the peaks when they are in good condition!
Brittany: Enjoy every moment. While some fourteeners by nature are better than others, every fourteener has its own story. People always ask, "What is your favorite fourteener that you've skied?" Before I skied Pyramid, I used to say, "I don't have one. They've all been wonderful and special in their own ways." Take your time accomplishing your goal. There is not a huge rush. Be patient and do research to try to hit each line you ski in good condition. And remember to enjoy the journey along the way. Because that's really what it's about.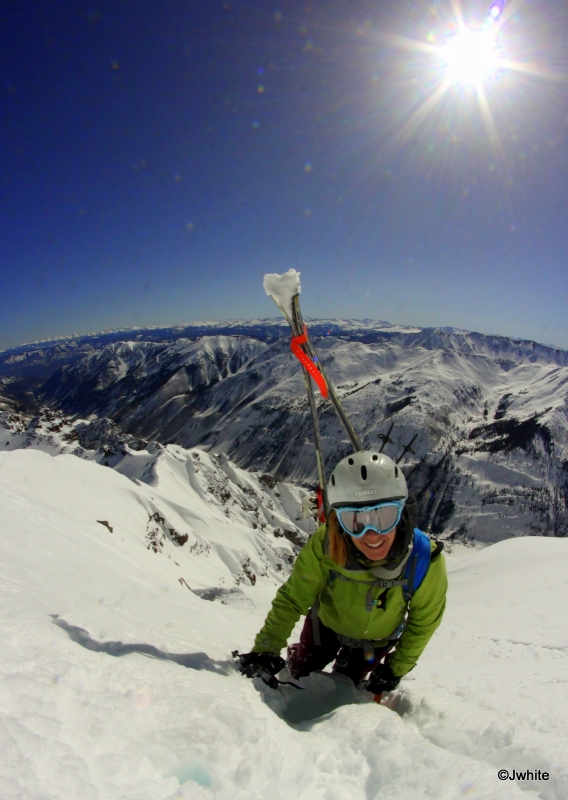 Carl: The Colorado 14ers span a wide range of difficulty for the aspiring ski mountaineer. Take advantage of that and take your time working through the natural progression. If a peak isn't skiable that month or that year, try to be patient as it will likely be a safer and more enjoyable descent later. It's somewhat cliché, but if you're trying to ski them all, make sure you're reveling in the journey and not getting too focused on the destination. Be safe and have fun!
Matt: Most of all be realistic about your skills and capabilities, and take your time learning where you need to.
Marc: The best advice I can give for starting a 14er riding/skiing project is to find some good solid partners, learn and be prepared about avalanches, and be ready to ride/ski some of the worst and best snow. It's an amazing way to get great exercise in an 'off' season and get the peaks with little to no traffic and an expeditious descent.
The Wrap Up
By reading these interviews, it's easy to see some fairly common themes. The Landry Line on Pyramid is a clear favorite. Capitol was most people's most difficult. Finishers also emphasize to be patient for lines to come into good shape before skiing them. But, it is also clear that every fourteener-skiing and snowboard finisher had different experiences too. They were able to share a snippet of their experiences through these interviews.
One thing I know for certain is this – all of us fourteener-skiing and snowboard finishers are glad to have taken on the challenge. We all came out a little more experienced, a little wiser, and with an even larger list of things to ski than we started with. Skiing the fourteeners isn't just about the list. It's about the dedication and the commitment. It's about challenging yourself as a skier and ski mountaineer. So, who's up next for the challenge?
---
Like this article? Continue to be inspired…. Follow Brittany's journey as she
revisits her fourteener project
, posting a peak a week, in the order that she skied them, every Thursday as part of a throwback Thursday theme! Check this blog every Thursday for her reports!
Aside from skiing, biking, and all outdoorsy things,
Brittany Walker Konsella
also loves smiles and chocolate 🙂 Even though she excels at higher level math and chemistry, she still confuses left from right. Find out more about
Brittany
!
Latest posts by Brittany Walker Konsella (see all)