14er TBT: La Plata (12 June 2006)
(Last Updated On: January 20, 2015)
This is part of an ongoing series re-telling Brittany's fourteener-skiing story. Look for the reports every Thursday, as part of a Throwback Thursday theme.

La Plata Peak was my sixth fourteener to ski. I was joined by Dave Bourassa and Frank Konsella to ski the north side. Below, you will find a slightly edited version of my original trip report.
After skiing Elbert and getting that excellent view of La Plata, I just had to get it done. Those beautiful north chutes were calling my name.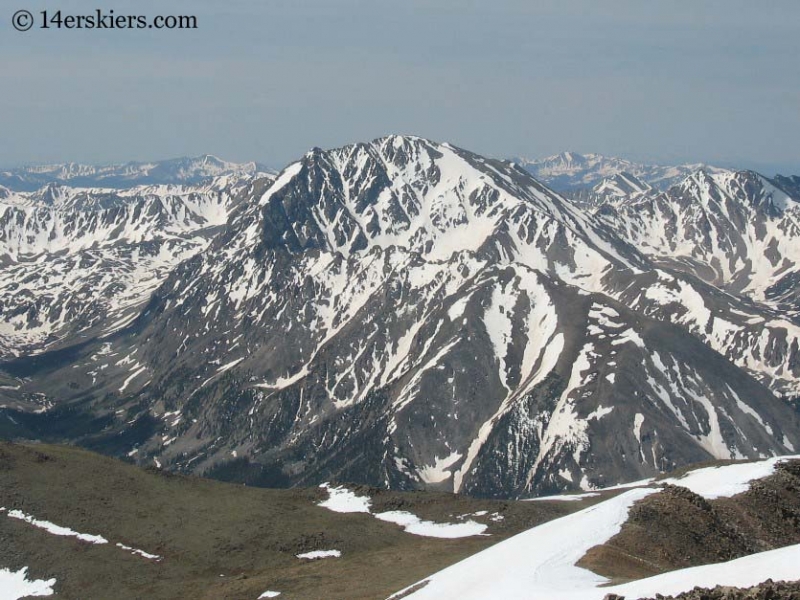 Dave and I met in Golden the night before, and drove to the La Plata trailhead where we met up with Frank. We camped off of the dirt road that begins at the La Plata trailhead.
The day began early, starting our hike at 5:45 am from the La Plata Gulch trailhead. I was barely awake and was disturbed that I did not bring my coffee 🙁 Thankfully Frank saved the day as he brought enough coffee to share with all of us 🙂 My morning went from foggy to sunny very quickly, and the sun had not even risen yet. That's a good thing 😉 I think Dave was as foggy as me because he left his helf-eaten breakfast muffin sitting on a rock by the trailhead (which we found at the end of the day). 🙂
Frank hiking up the switchbacks toward the northwest ridge.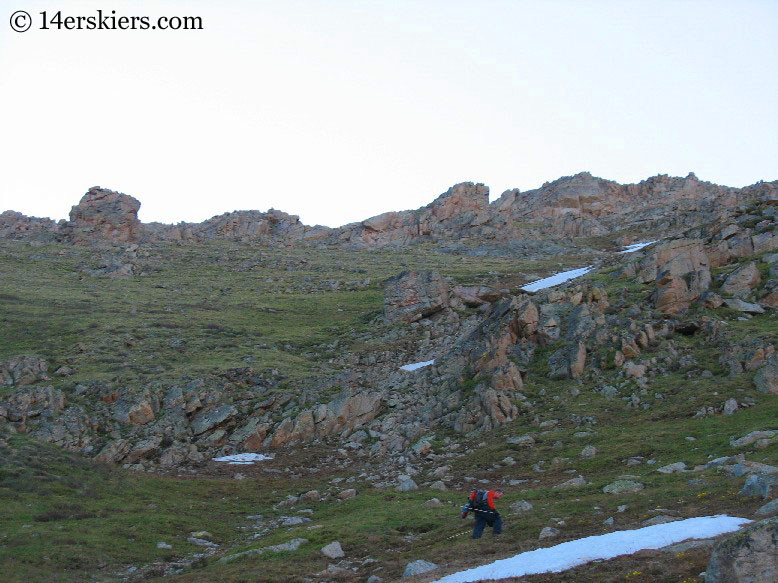 In less than three hours we were at the summit, where we got these great views. Mt. Elbert and Mt. Massive in the background, the two highest peaks in Colorado. Just a week earlier we'd been on Elbert! Ellingwood ridge is in the bottom of the photo, another route to the summit of La Plata. Now, remind me, why didn't we take that way again?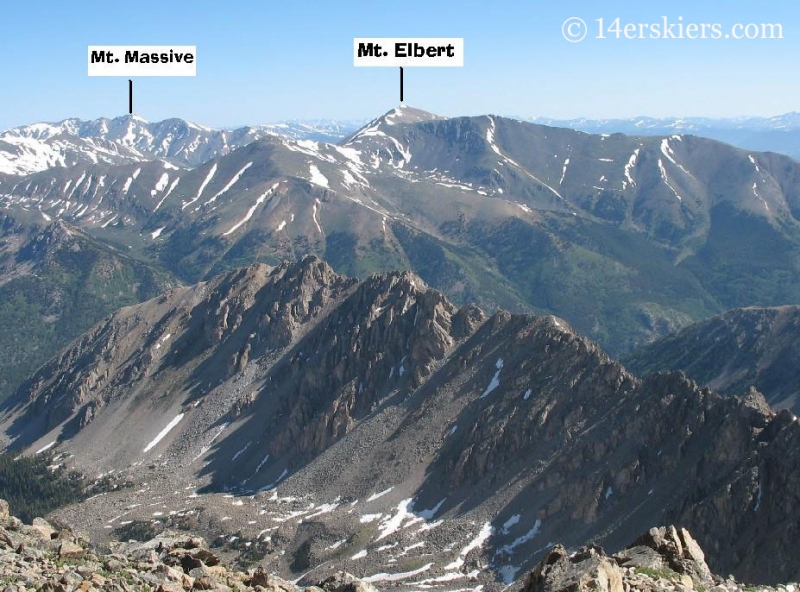 Frank scoping out the lines on the north chutes.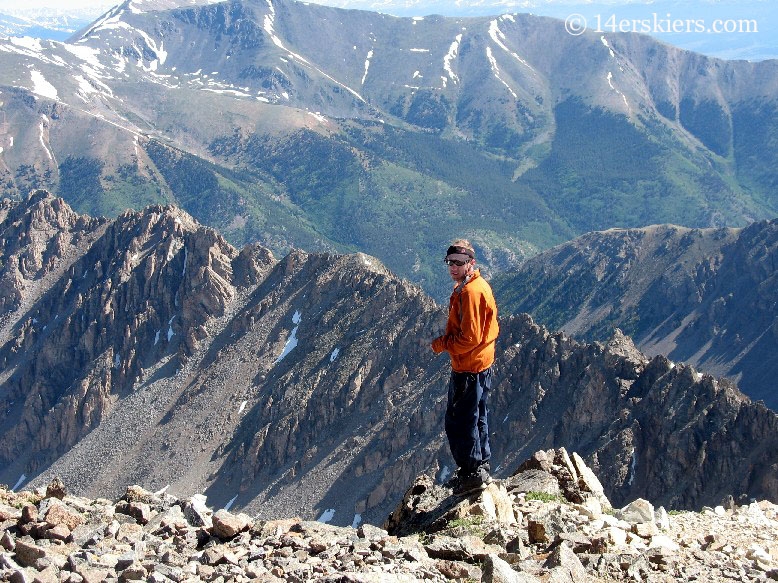 Me: "Yep, there's snow at that there summit and we're going to ski on it!" 🙂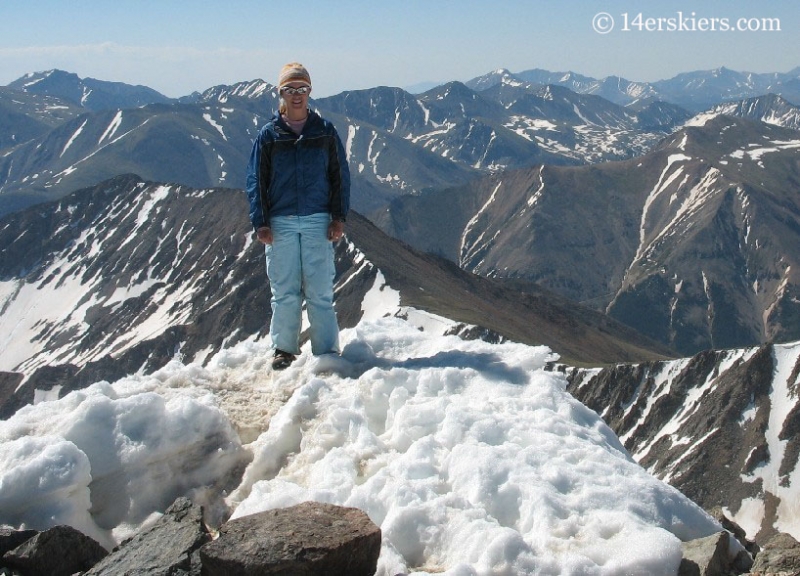 Okay, let's ski it! Dave and Frank strap on their skis for the descent.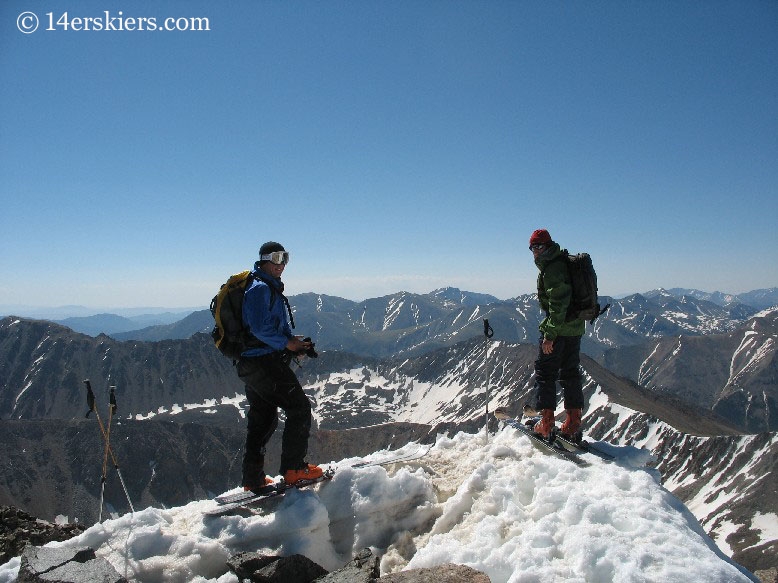 Frank dropping in: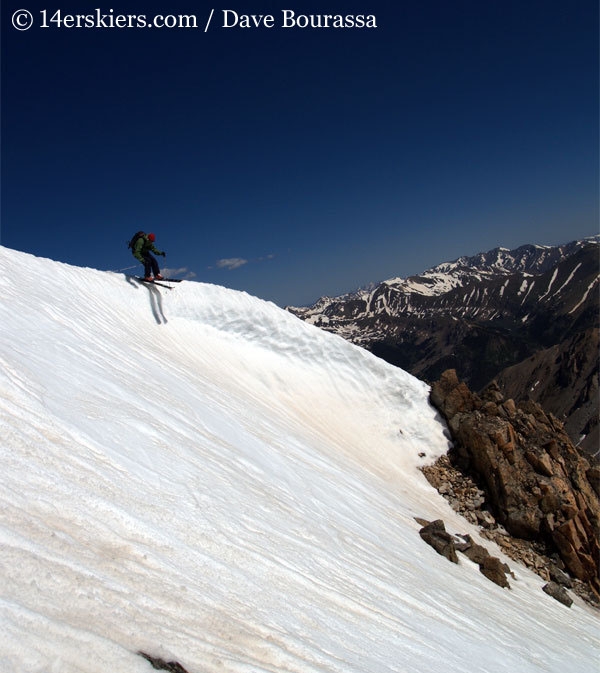 Frank shows off: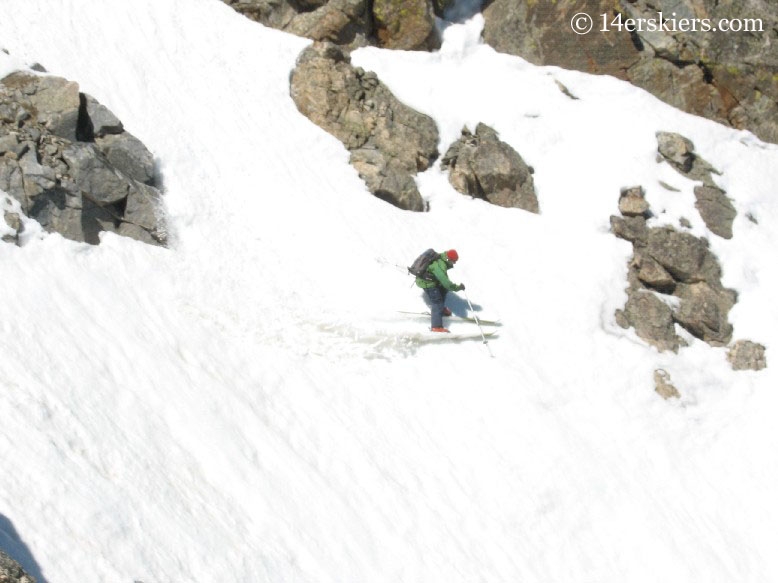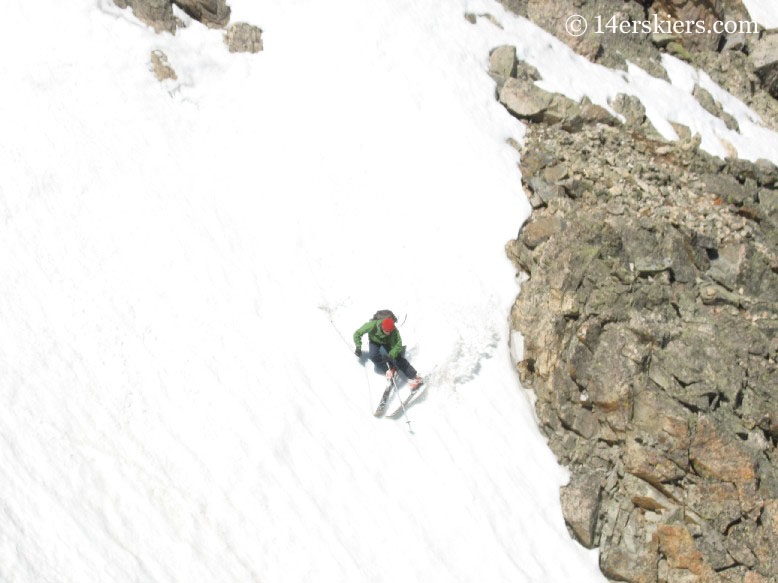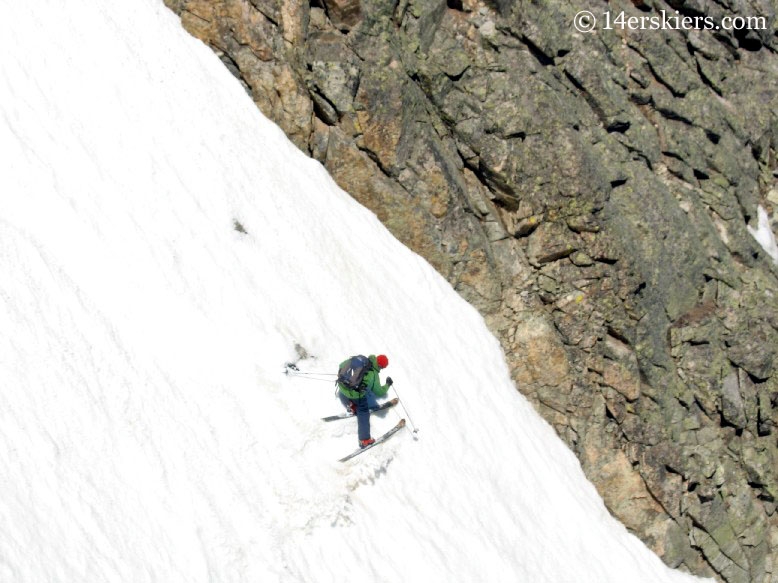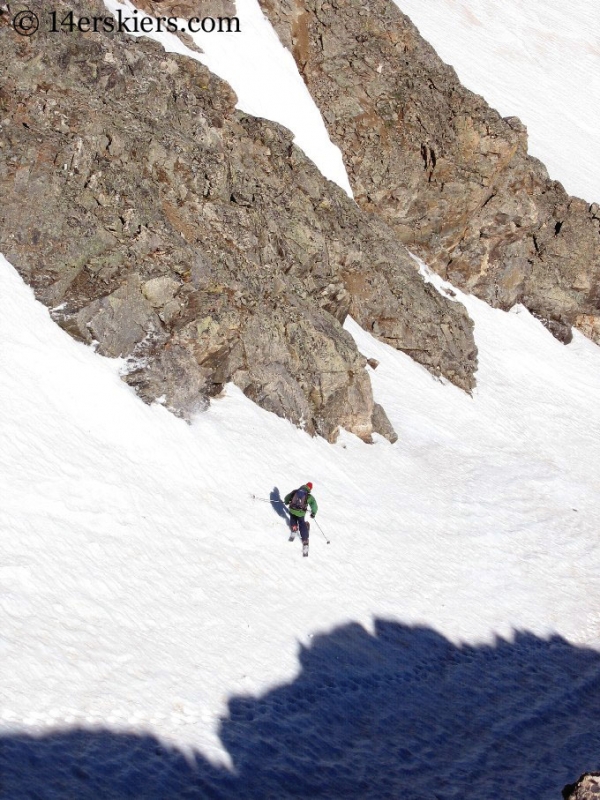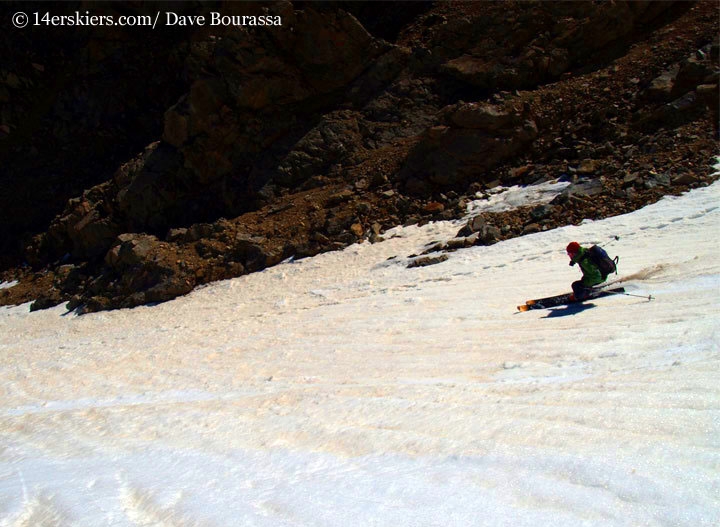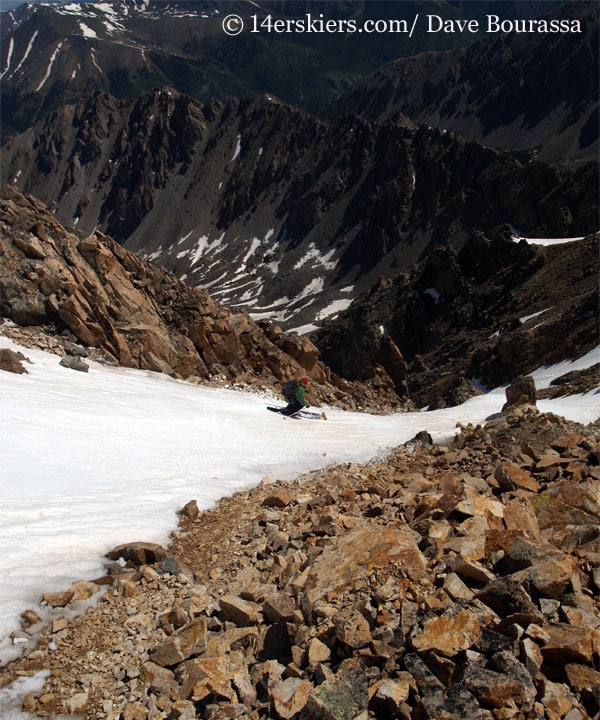 Thanks to Dave for taking pics of me! 🙂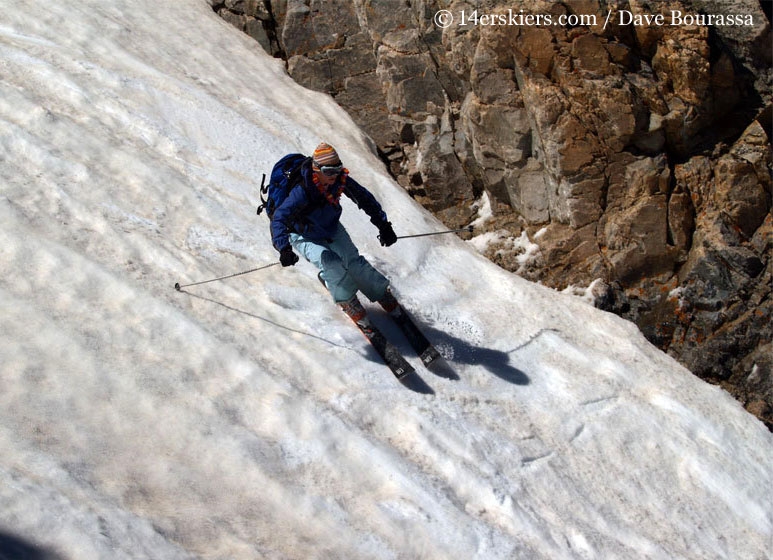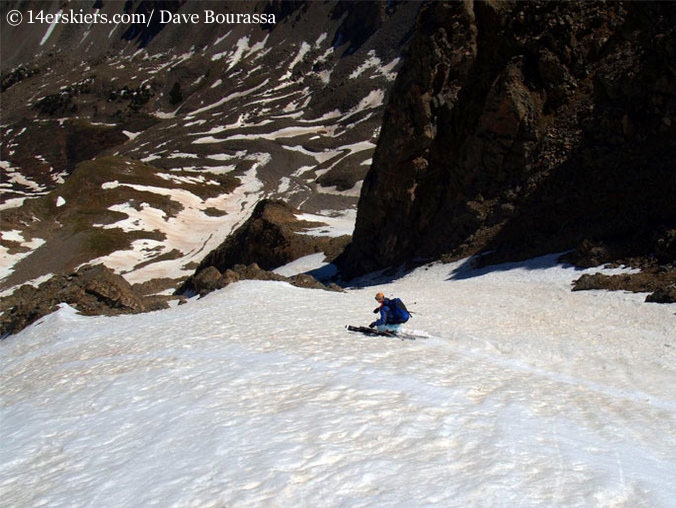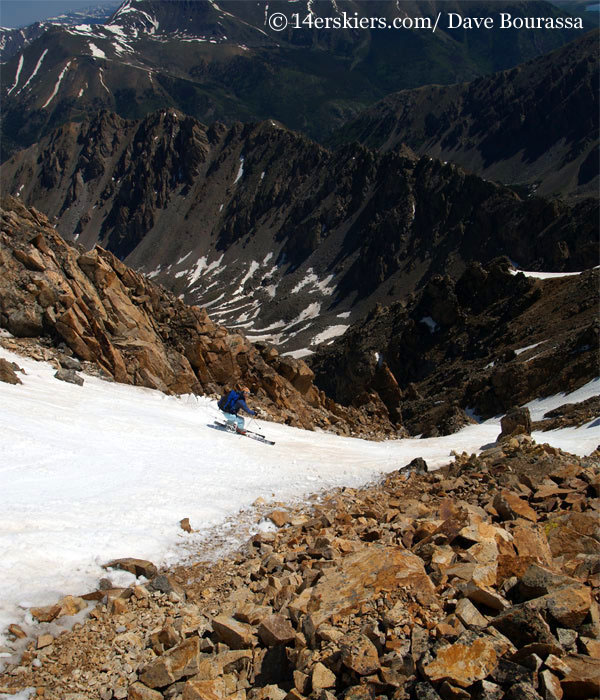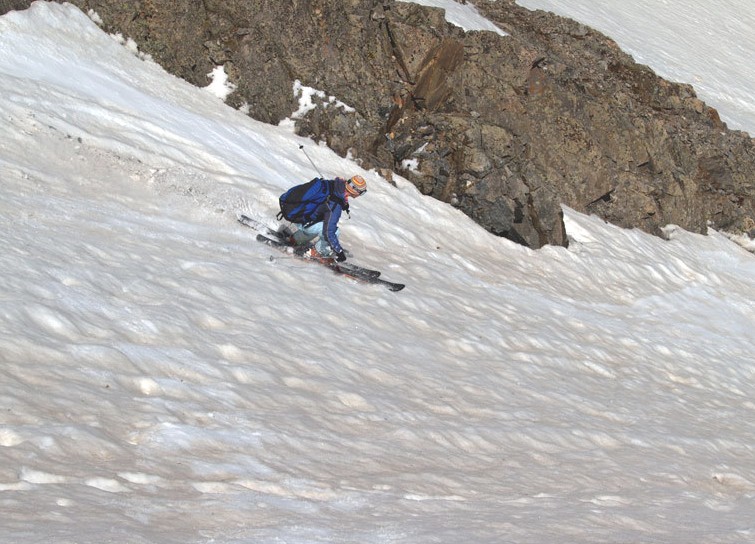 Dave goes for it.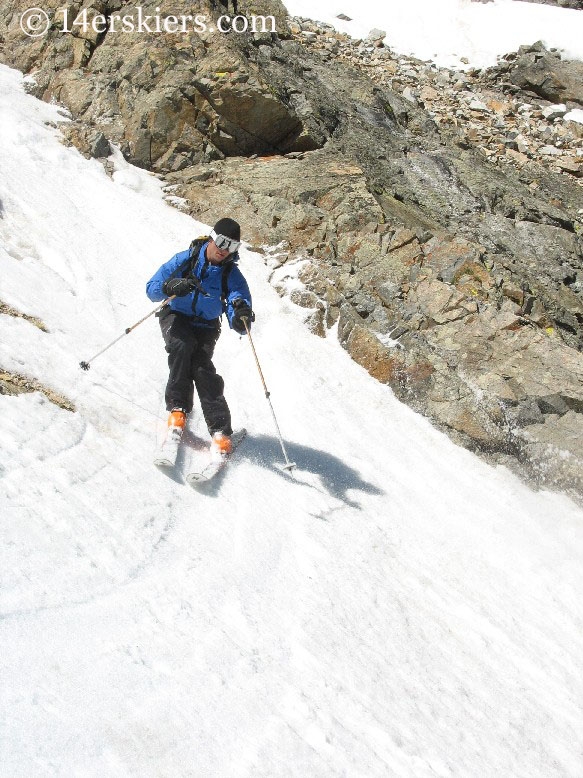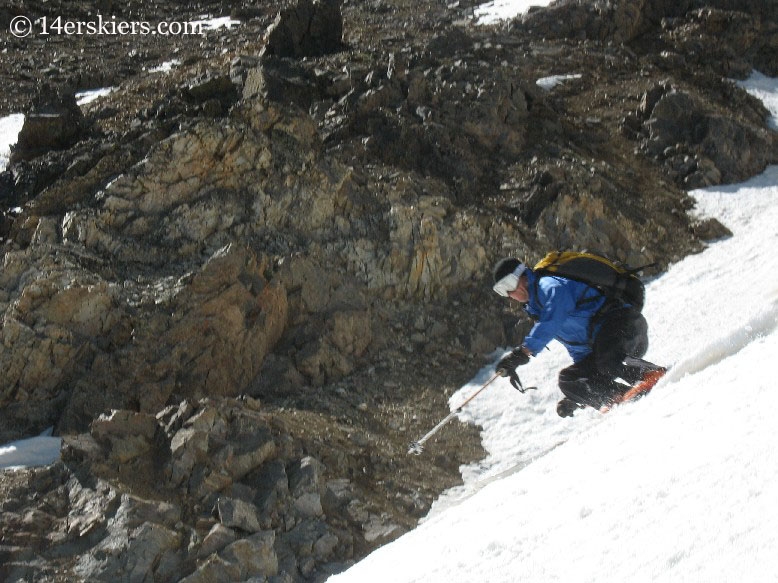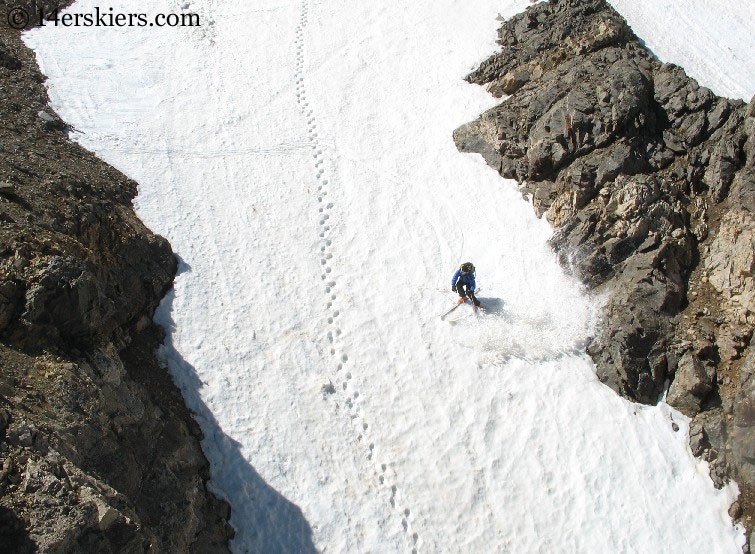 Dave shows us just how steep it really is: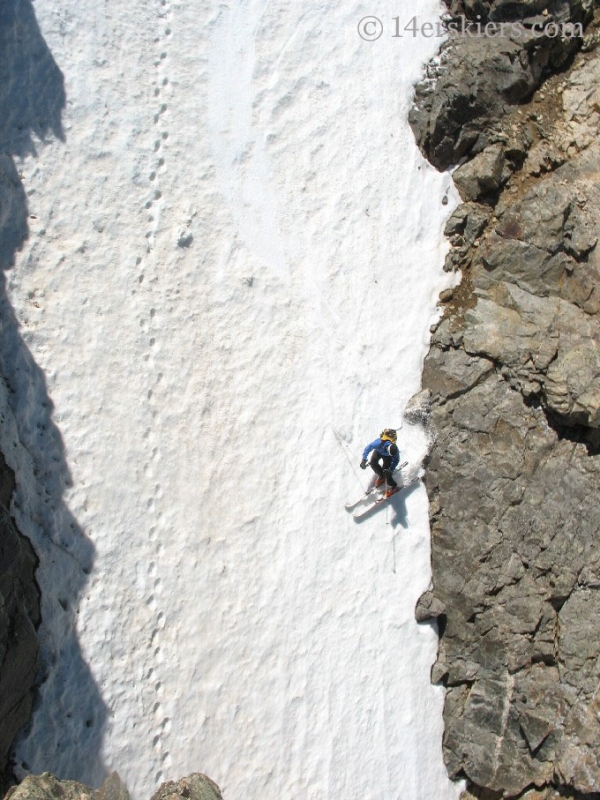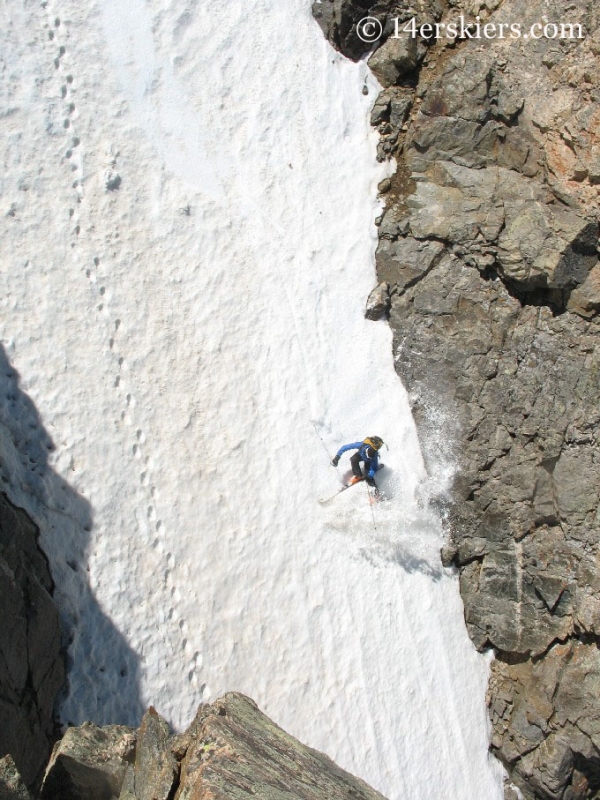 And he found some nice corn snow too!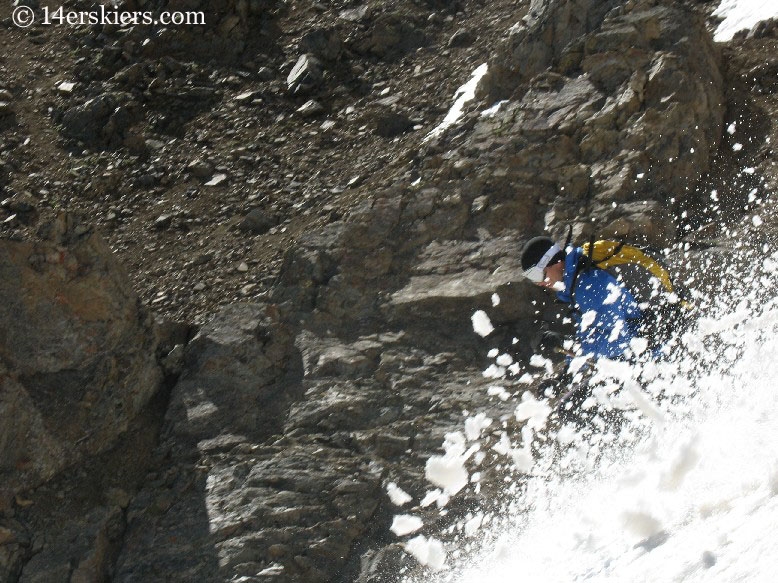 We skied to the bottom of the chutes and this was our view looking up. Our approximate route is marked.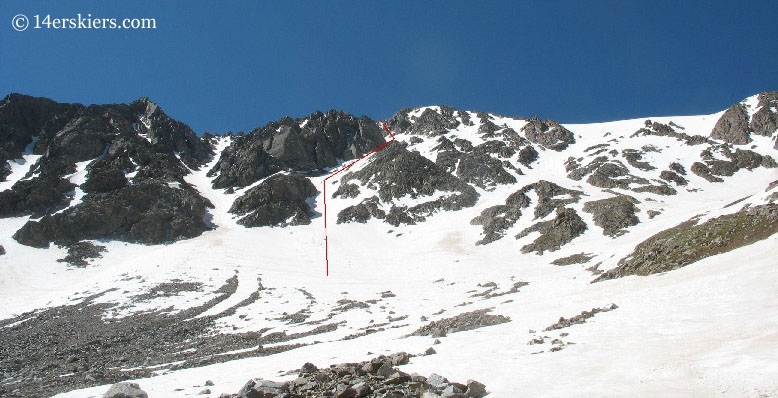 We skied this 🙂 It was fun, what can I say???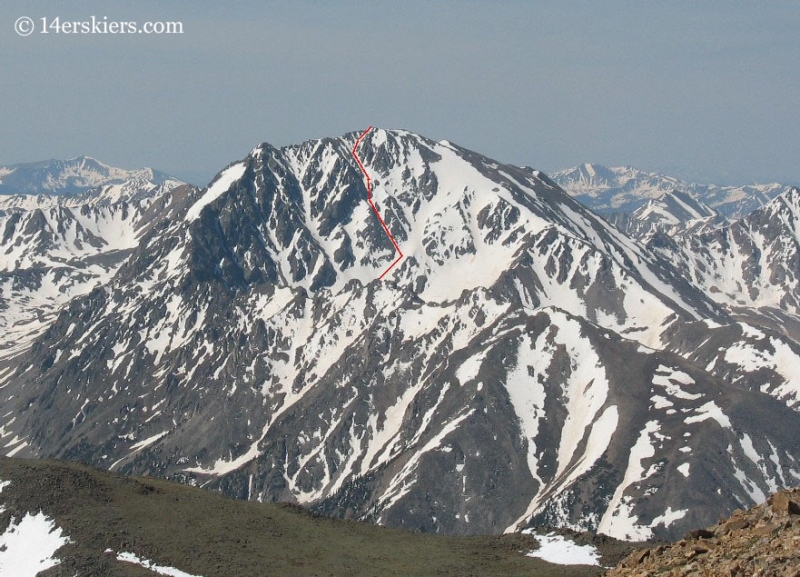 We were able to ski a ways into the basin before the snow ended. Then we took off our skis, and traversed high around the northwest ridge to our left, making sure to stay above treeline. It's easier to stay above treeline than to bushwhack through the forest. We traversed all the way to the other side of the northwest ridge, and followed an avalanche gully down to the La Plata Gulch trail.
The forest was hot, sticky, and full of mosquitos…. So, when we saw this….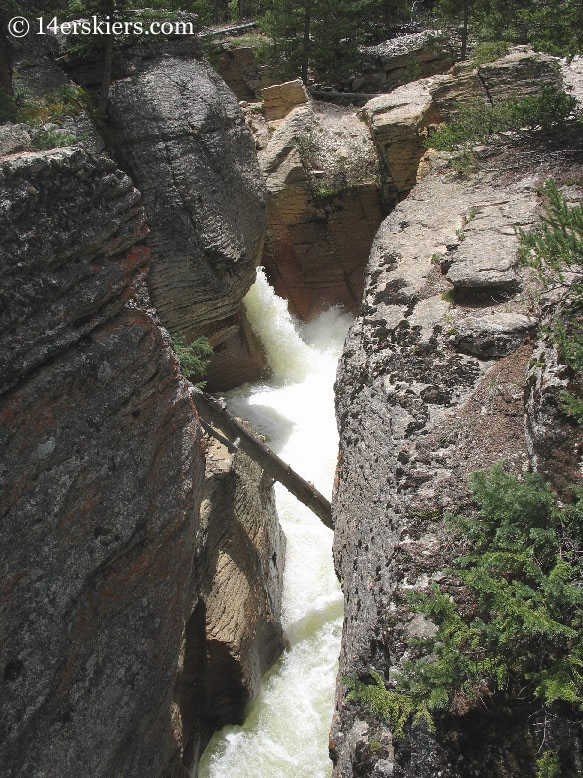 I wanted to go into the river. Thoughts of tubing this thing down crossed my mind both on the way up, and even more so on the way back down. What do you all say? Lets go tubing!
Looking back, La Plata would prove to be a significant peak for us. Not only do the north chutes make a really fun ski, but it would also be where Frank kissed me for the first time- as we sat at the tailgate of his truck, under a starry night, in the shadow of a fourteener. In later years, La Plata would become the last thing that I would ski with my friend Lacy before his passing during a ski-related accident in Rocky Mountain National Park. La Plata harbors some wonderful memories, and I hope to return to it again someday soon.
---
Like this report? See more of
Brittany's 14er skiing journey
.
Aside from skiing, biking, and all outdoorsy things,
Brittany Walker Konsella
also loves smiles and chocolate 🙂 Even though she excels at higher level math and chemistry, she still confuses left from right. Find out more about
Brittany
!
Latest posts by Brittany Walker Konsella (see all)