TR: Second servings on La Plata (19 June 2010)
(Last Updated On: June 26, 2010)
After three good ski days in the previous week, I wanted to squeeze in some more. Kim was hungry for some skiing also so we planned an outing together. After mulling it over for a bit, we decided to try for Sayres. Kim had skied La Plata on Tuesday and Sayres looked pretty good in her pics.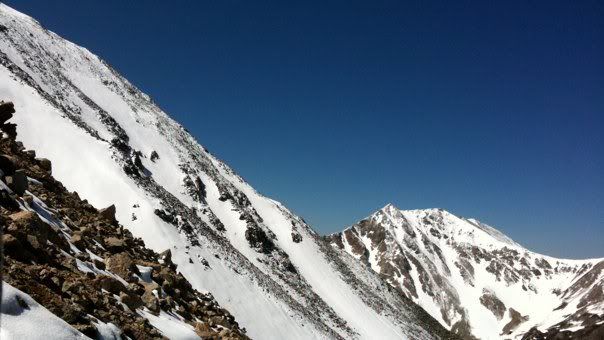 Photo by Kim Ross
So, to try Sayres we went. Kim and I were also joined by our friend Lacy.

As usual, we began our trek in the dark.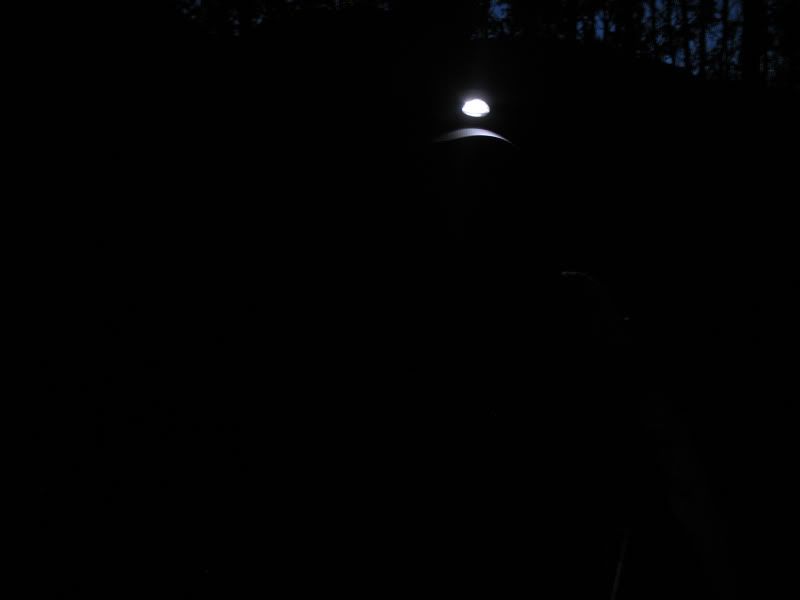 Early light shined on Sayres and as we caught a glimpse we had doubts that our intended line even went.


After a group discussion, we decided that Sayres didn't look as good as we'd hoped. It was doubtful that our line went and we basically decided it wasn't worth the bushwhack (the Sayres approach requires leaving the La Plata trail and finding your own way through the willows, bushes, and scree in the valley to approach the peak). Instead, we decided to continue on the trail and ski La Plata. It would be the second time for Kim and I- I skied it 4 years before and Kim skied it 4 days before. But, it would be a first for Lacy.
Heading up the trail, Lacy and Kim.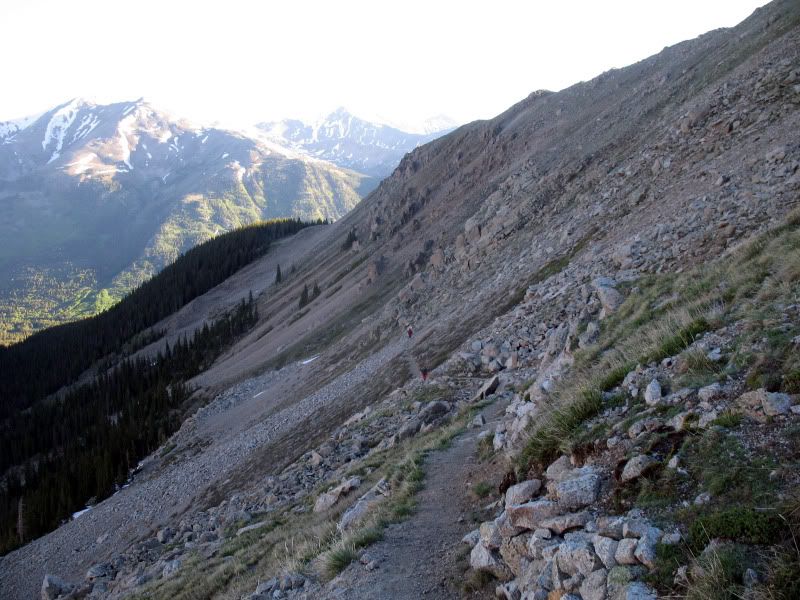 Another fun looking line.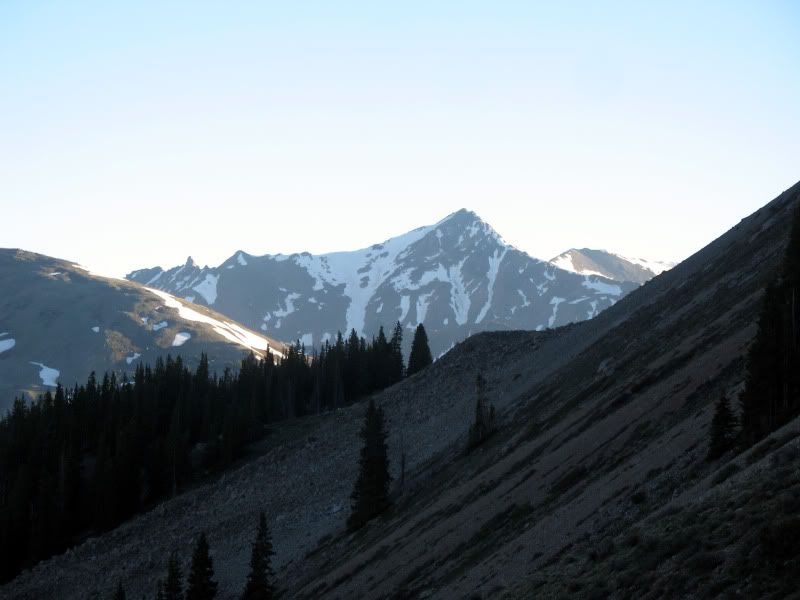 A look at the north face of La Plata, where we planned to ski.


Photo by Kim Ross
Kim, enjoying the views….

Views like this…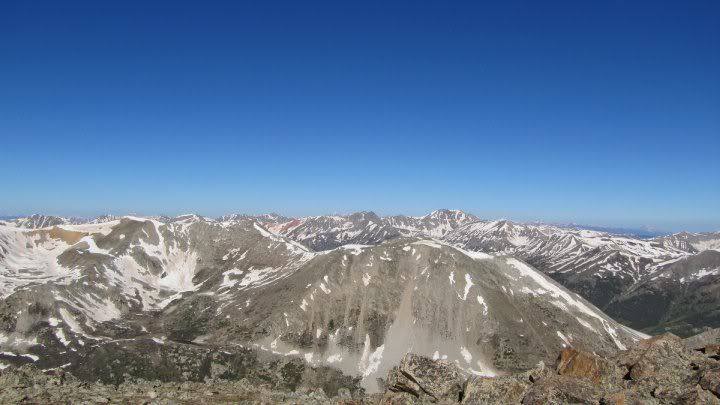 Photo by Lacy Meadows
Switching to crampons. The night had given us a very solid freeze.


Photo by Lacy Meadows
View of the summit.


Photo by Lacy Meadows
Some people hate them, but I kind of like Marmots 🙂 … especially baby ones.


Photo by Lacy Meadows
Kim and I on the summit.


Photo by Lacy Meadows
We hung out on the summit for a while trying to decide exactly which line to ski. The line Kim and I had both skied before looked fairly melted out. We toyed around with the idea of trying another line skiers right of the summit, but couldn't tell if the lines would be continuous. We decided to play it safe and opted for better snow over a more aesthetic line, and went for a line to the skiers left of the summit. Kim and Lacy ready to ski.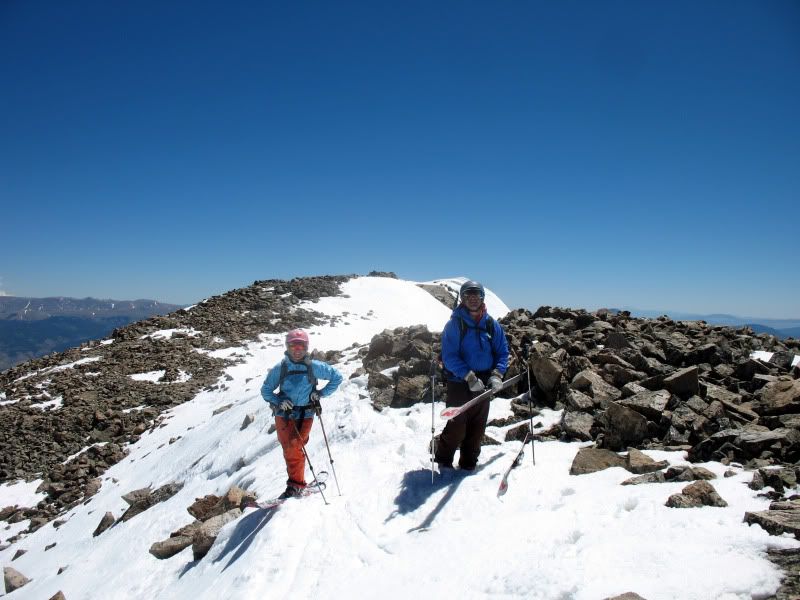 Our intended line (seen on the ascent) leads along the lookers right ridge from the summit to the first obvious snow field.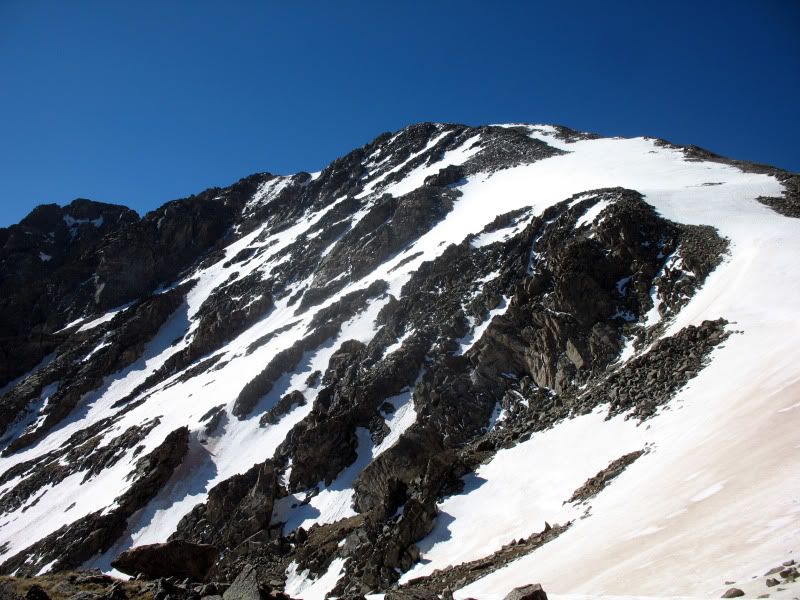 Kim.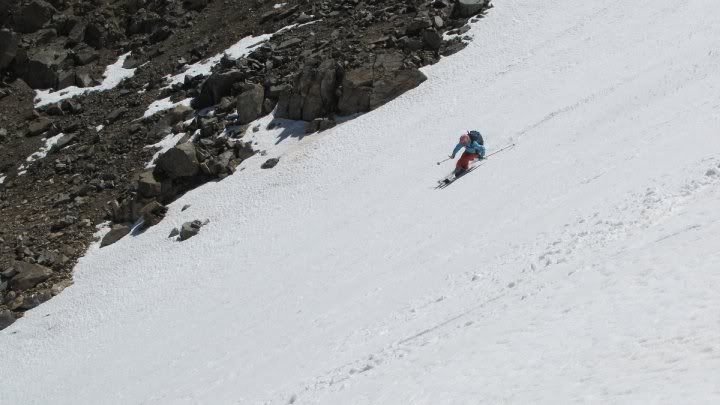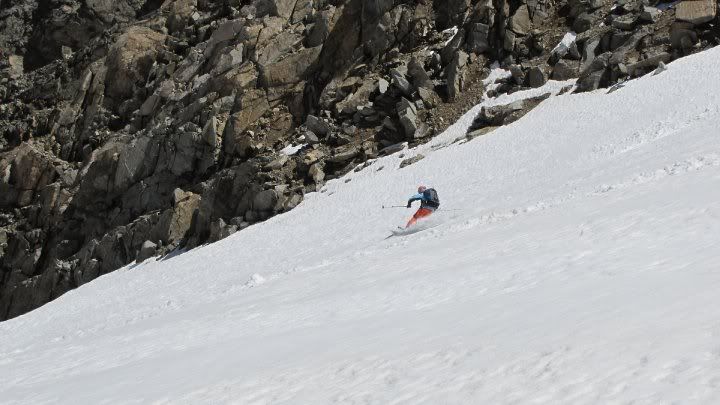 Lacy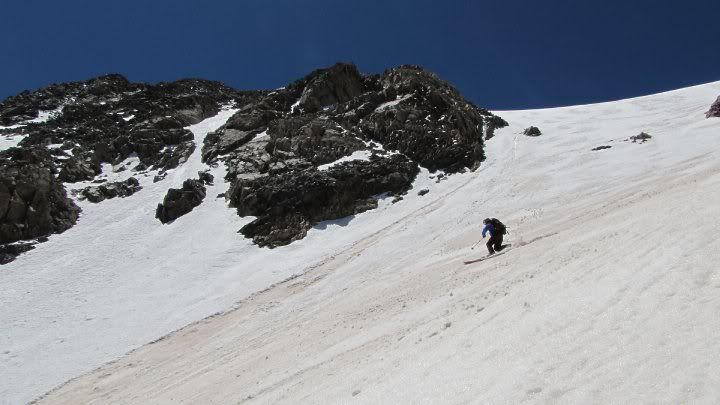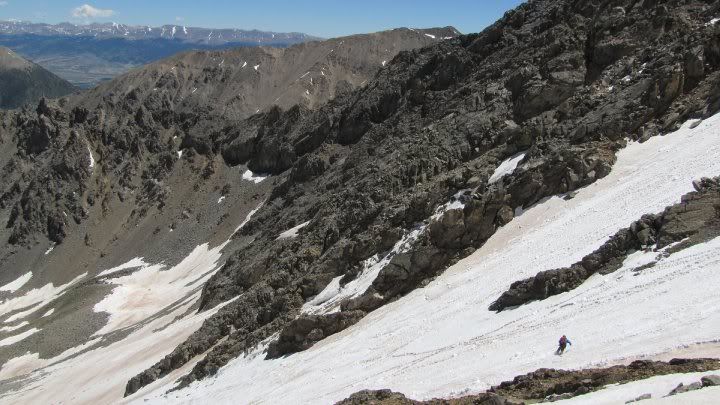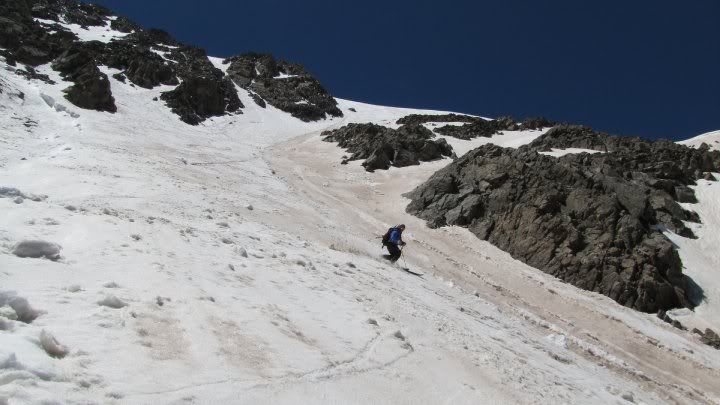 We were able to ski about 2000 feet into the basin below. Lacy, happy and satisfied. Afterall, the snow was pretty good for June 🙂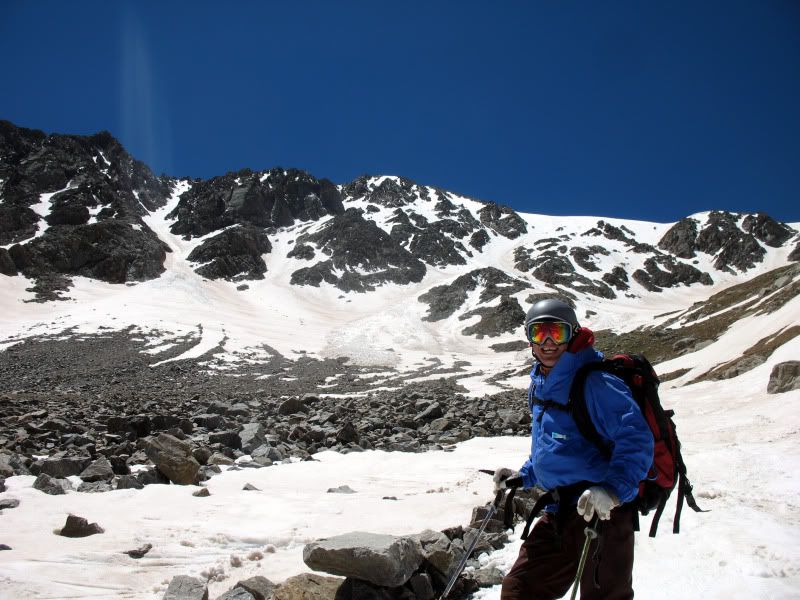 Next, was the hike out. We continued down the basin through alternating patches of snow and scree.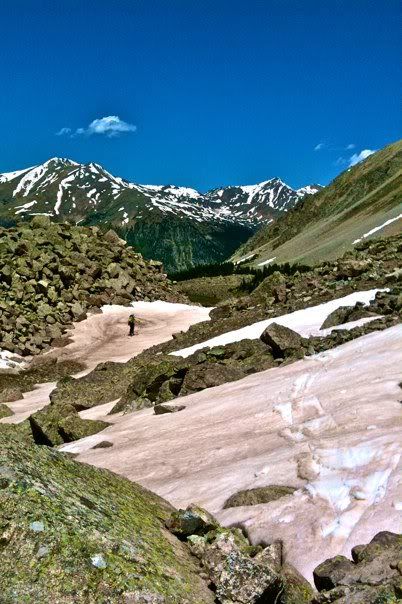 Photo by Kim Ross
And then followed the obvious bench on the left, seen in this photo.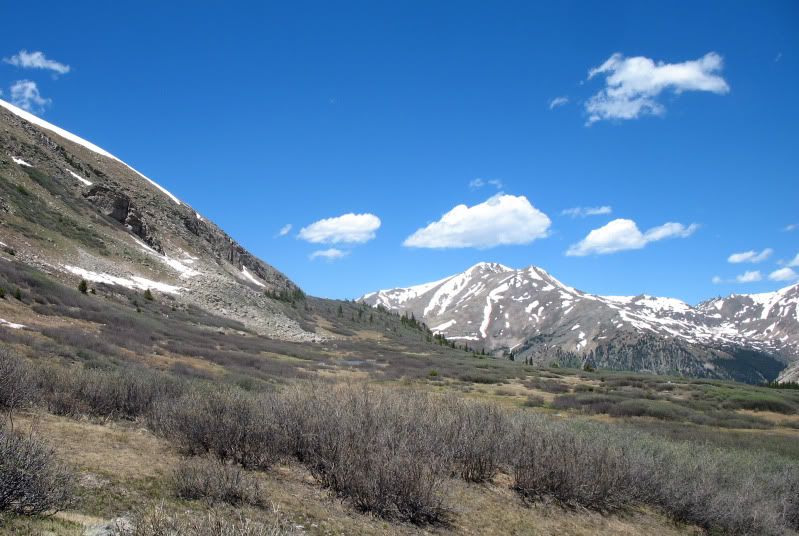 The bench wraps around, taking you over annoying scree. But I took time to admire this statue of a rock 🙂

Another view of Sayres, seen from the bench. I'll be back for this one, hopefully next year 🙂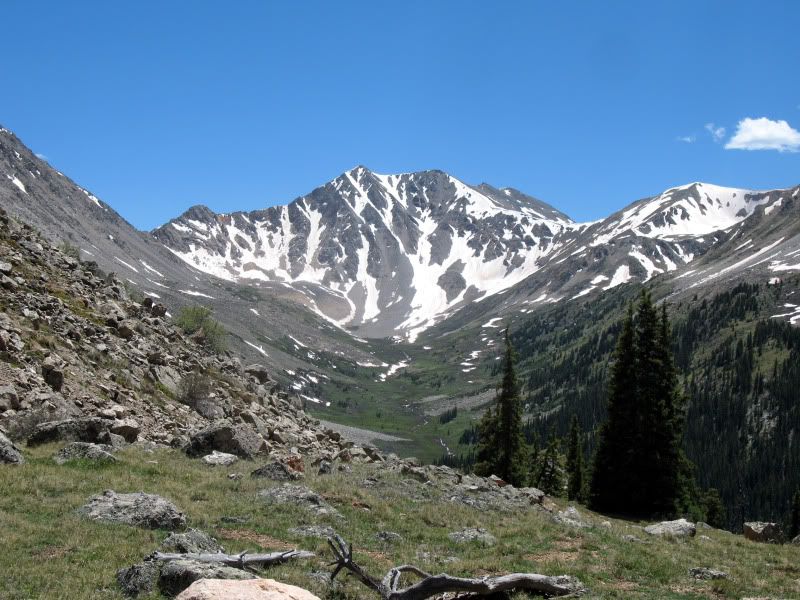 From there, we headed straight down the mountain through the forest, until we hooked back up with the trail, and followed the trail back to the trailhead.
Despite not being able to ski what we'd intended, it was a fun day. 2000 vert of good snow in late June… that put a smile on all of our faces 🙂
Aside from skiing, biking, and all outdoorsy things,
Brittany Walker Konsella
also loves smiles and chocolate 🙂 Even though she excels at higher level math and chemistry, she still confuses left from right. Find out more about
Brittany
!
Latest posts by Brittany Walker Konsella (see all)