14er TBT: Huron Peak (19 June 2006)
(Last Updated On: January 18, 2015)
This is part of an ongoing series re-telling Brittany's fourteener-skiing story. Look for the reports every Thursday, as part of a Throwback Thursday theme.
Huron Peak was my 7th fourteener to ski and it would be my last one for 2005-06 season. I was joined by Frank to ski the east face. Huron is barely a fourteener. In fact, if it was 4 feet shorter, it wouldn't make the cut. But, Huron still boasts a good ski. Below, you will find a slightly edited version of my original trip report.
Frank and I met in Leadville the night before, with the intentions of skiing Mt. Massive. But, we took a better look at the peak and realized it was pretty thin and the approach was long. So, last minute we changed plans: We'll do Huron instead. We knew Huron was thin, but we'd seen lines down it while on La Plata the week before. We were pretty sure we could fine a line that went, and the approach was not as long as Mt. Massive (Okay, so maybe we were lazy  ).
Huron peak is in the Northern Sawatch Mountains, as are many of the other peaks we've been tackling lately like La Plata and Elbert. Spots of the Northern Sawatch are holding snow well this summer, so we were hoping to find some of that on Huron. Huron's elevation is supposedly 14,003 feet, making is just BARELY a fourteener. Question is, what if one of these days we recalculated elevations and it turns out Huron is 13,999 feet. Will that throw the fourteener world into an uproar??? 🙂 🙂
The drive in to Huron was one of the more difficult tasks- we were accessing Huron from the Rockdale Trailhead (Cloyses Lake) which is little used. Most people take the South Fork of Lake Creek Trail from Winfield to reach the peak of Huron, from it's west side. But the west side of Huron has no snow, but the east side does, and the Rockdale Trailhead works it's way up the east side of Huron.
Okay, now back to the story of why the drive was so difficult. So, Rockdale is this little old town, a row of cabins basically, on a dirt road. From here you turn onto another more rugged dirt road. The book talks about crossing the creek there like it's nothing. Yeah, um, nothing. The sun had set and it was twilight now, and there was the creek staring us in the face. But it wasn't a creek, it was a downright river. And at the other end of the river was a deer. The deer was staring us in the face with a look that said, "What the HECK are you guys doing???? No way you're going to make it across this creek." Well, we tried it anyway. A much better option than swimming and then walking up the other side of the road for miles. The creek, I mean river, was easily 3 feet deep at times. We made it to the other side, and the deer ran away. It didn't stick around for our victory celebration 🙂
Anyway, the road came to a dead end, and we camped there that night.
The next morning we got a bit of a late start. We started our hike on a trail that looked like it went somewhere, but then we realized it was not going to Huron. It was going up the valley. So, we turned around and backtracked to a point where it looked like we should be going up Huron. We bushwhacked a bit, and then found the trail. Now, when I say "trail", I mean that quite loosely. As I said before, this trail is not widely used, and you can tell that by how many fallen trees we had to climb over, and by how many times we lost the trail and had to look around to get back on the trail. Nevertheless, the scenery was beautiful.
Frank crossing a stream.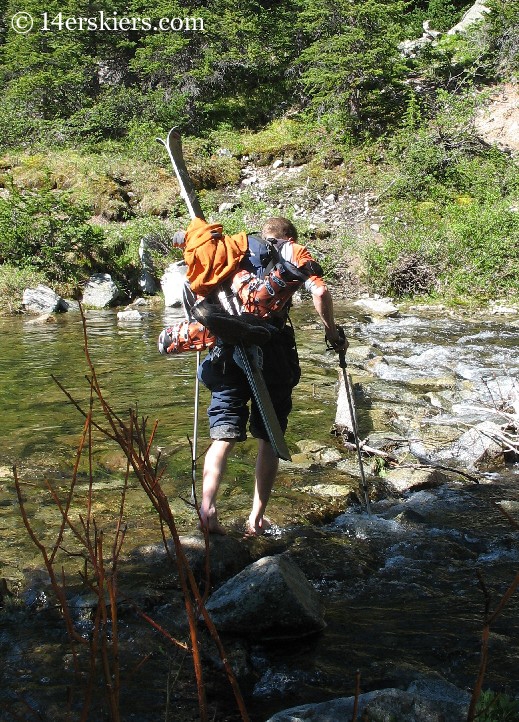 Loved this meadow!!!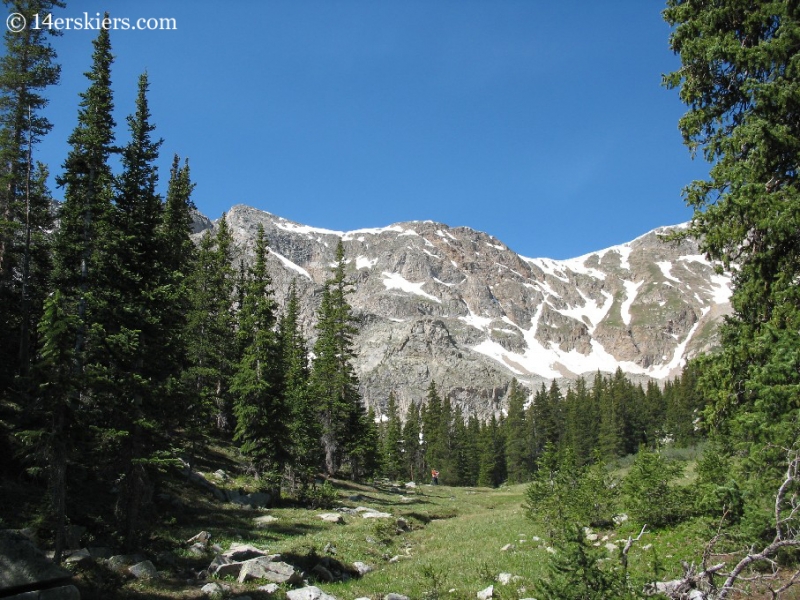 A view of Huron Peak.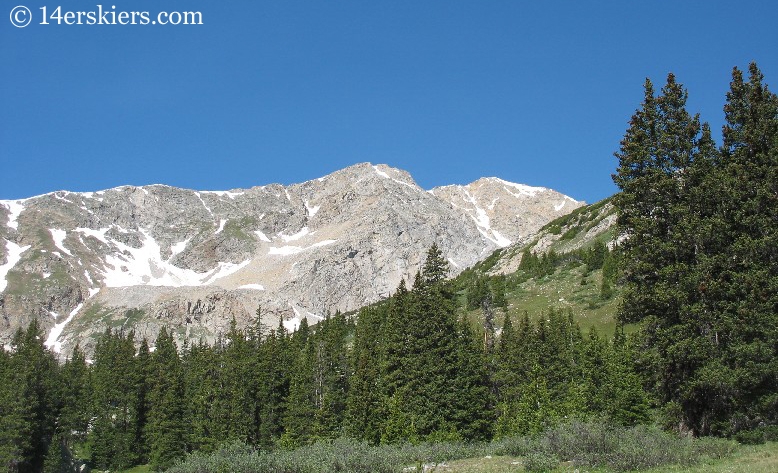 Um, yeah, we're here to ski THIS: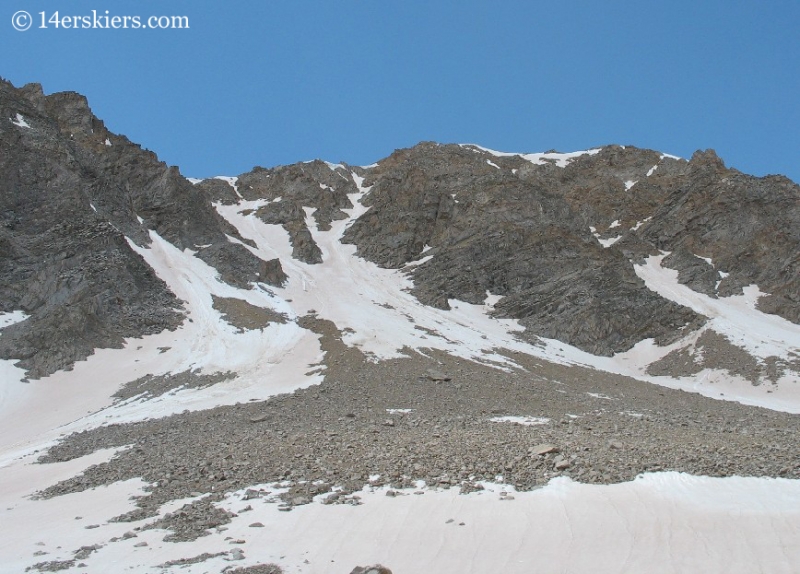 But first we have to get up this saddle, and work our way to the peak.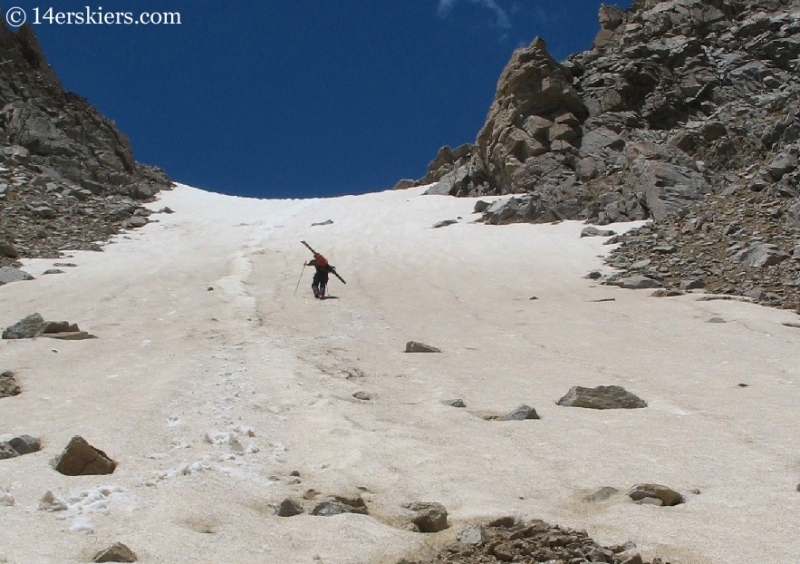 The summit register was actually not buried under snow and was not frozen shut. Yay. So, I got to sign my first summit register of the year! Yay! Any idea what actually happens to those things???
Frank at the summit, ready to ski!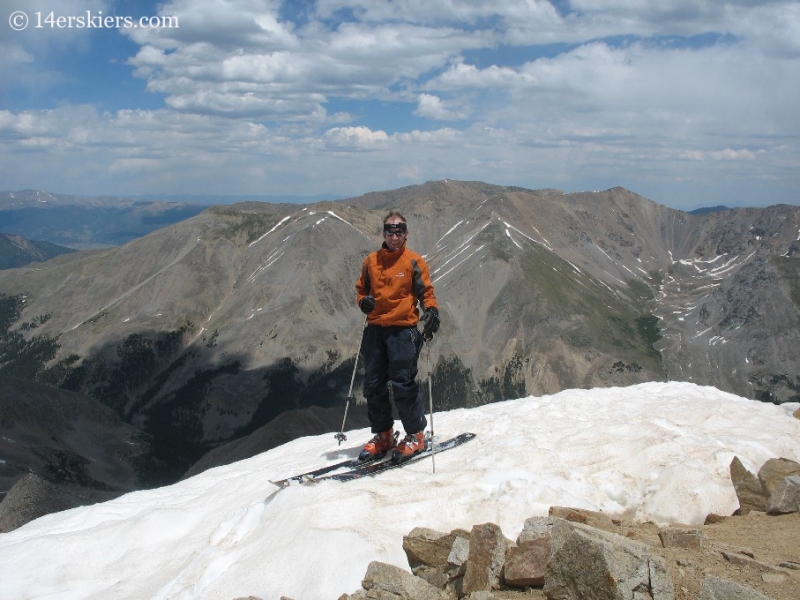 Frank ready to drop in to the couloir.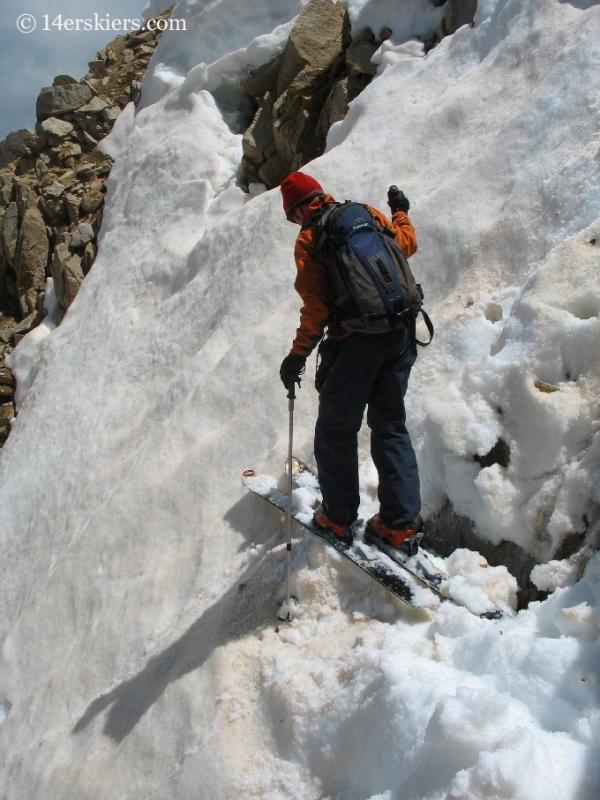 Makin' the turns!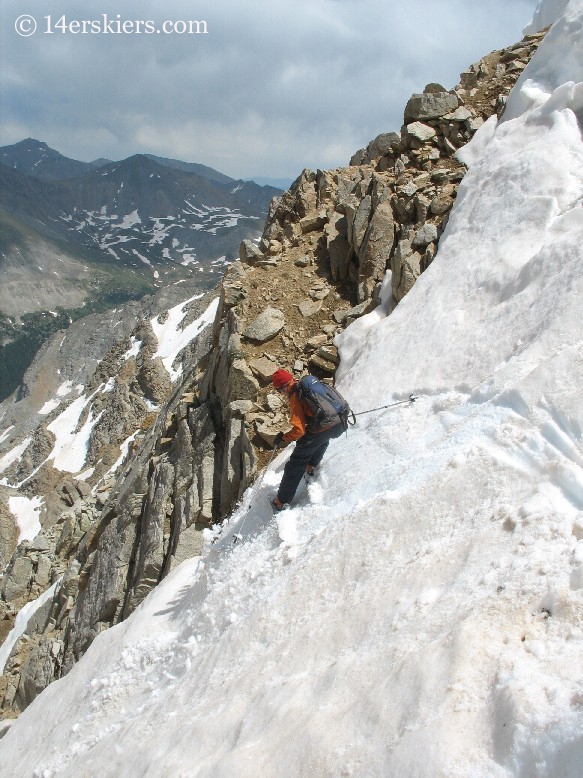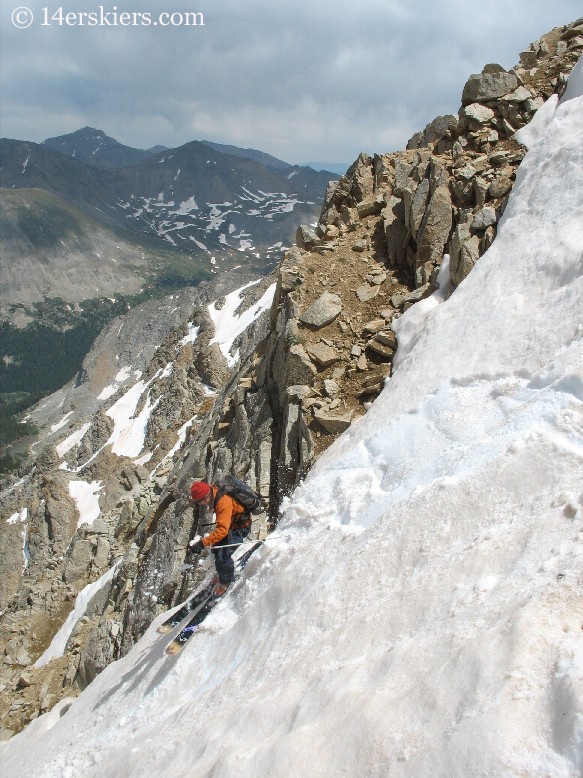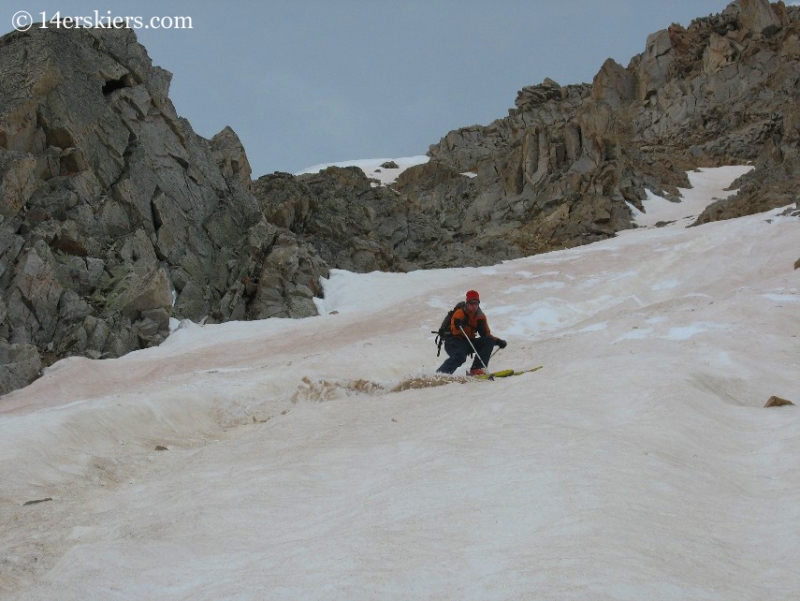 Frank is the only skier I know who loves runnels. He continuously made runnel jumps like this: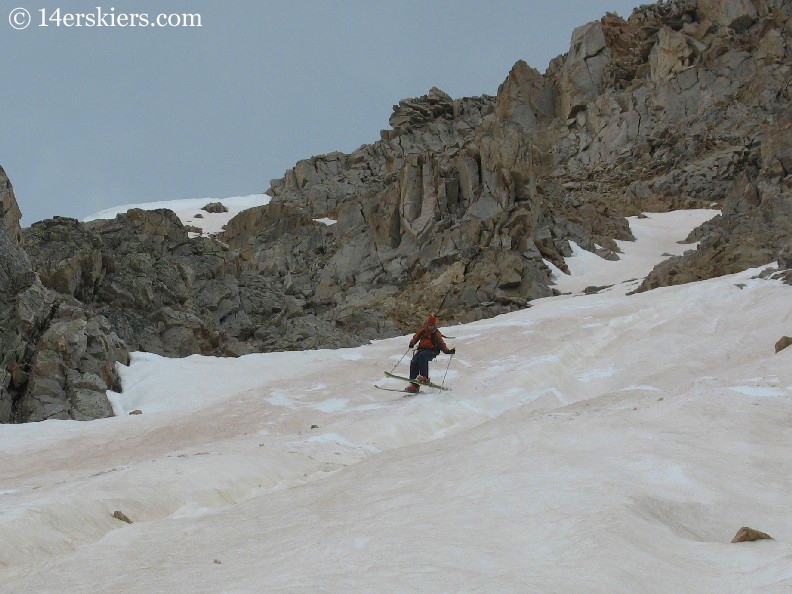 And on one of the runnels he pulled a full on spread-eagle! SWEET! So sad I missed that photo op! But I didn't miss this one- Frank turning a runnel into a rail slide! Why go to the park when you can ski summer runnels???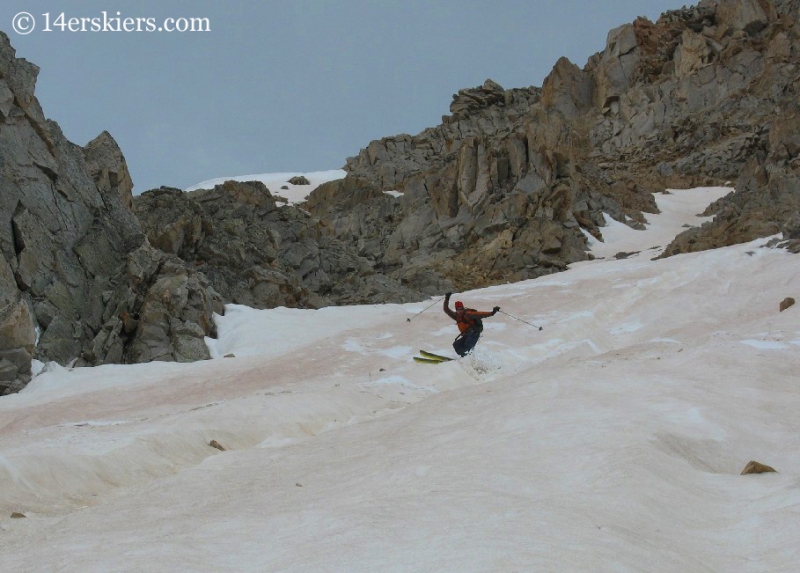 Okay, my turn.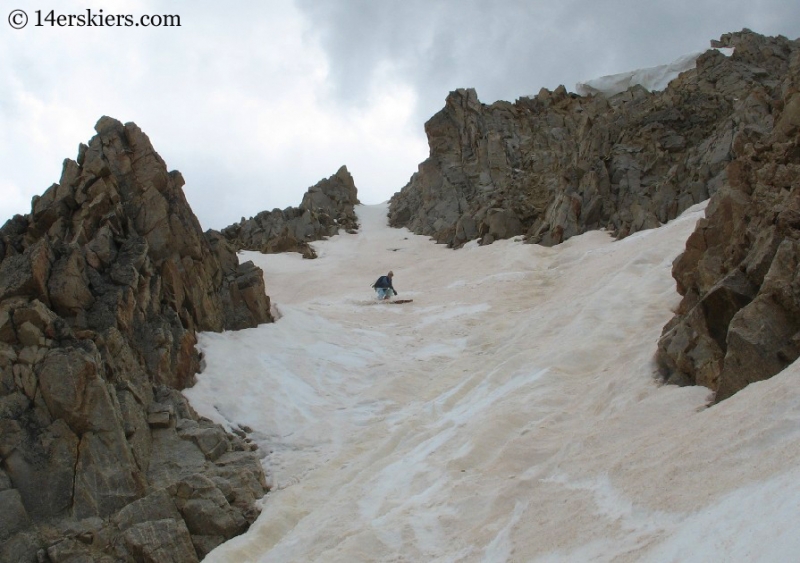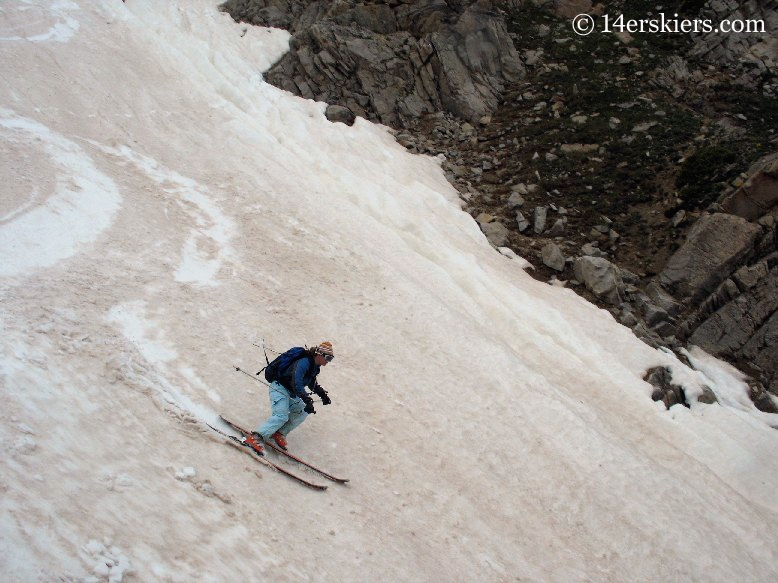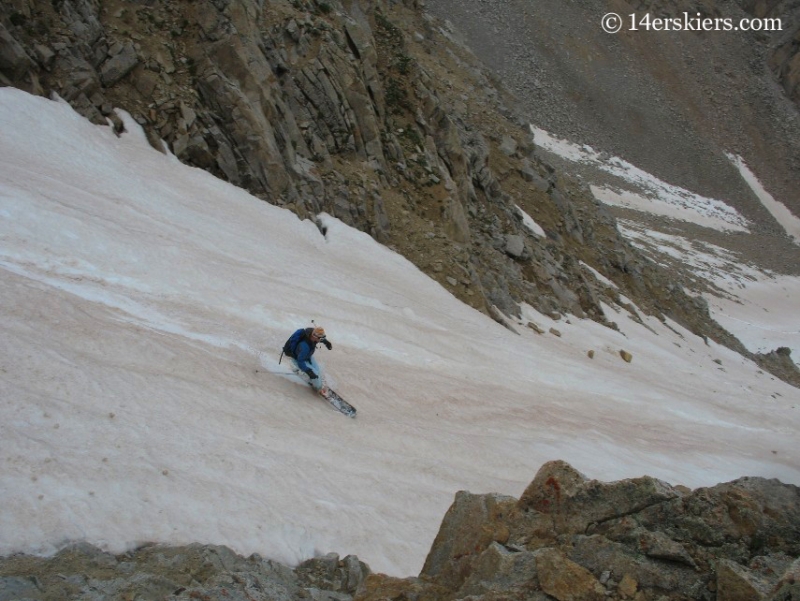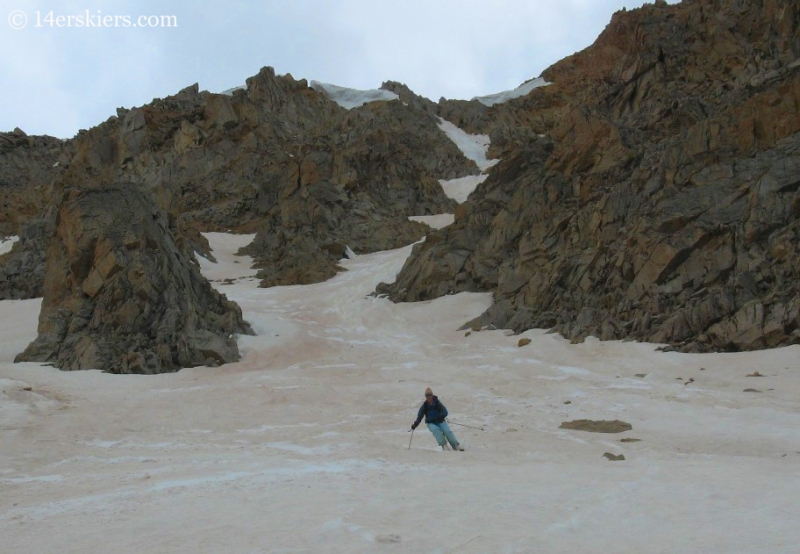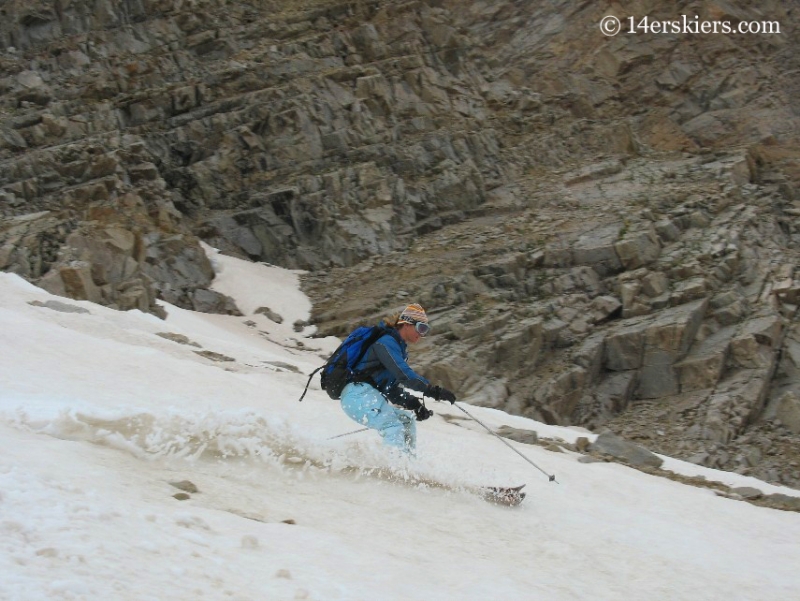 Looking back up the couloir we'd just skied.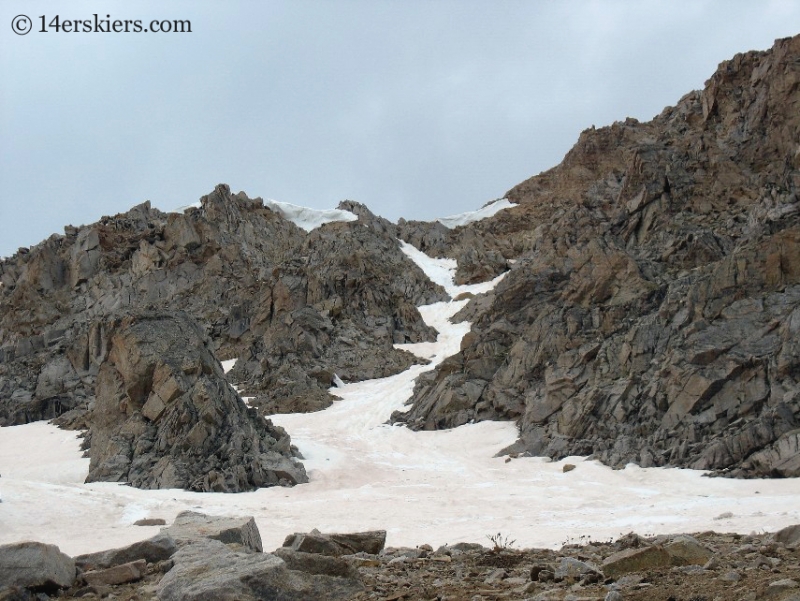 When we got down to the bottom of the snow, we packed up our skis and boots for the hike down, and as I open my backpack, I pull out something VERY important… and realized I FORGOT TO WEAR MY LEI!!!!! I was so bummed! I've decided this TR needs to be decorated with flowers somehow. So, here's my parting shot: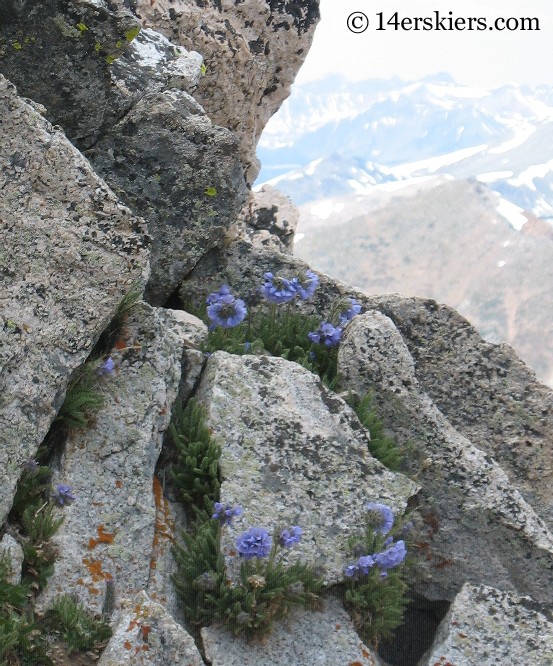 Looking back, while the skiing on Huron was fun, I don't think that our ski did this line justice. As you could probably tell, summer was rapidly approaching and snow conditions were swiftly deteriorating. Simply said, we didn't hit the east face of Huron in optimal conditions. This is one peak I feel the need to go back to in better conditions to serve the line right.
---
Like this report? See more of
Brittany's 14er skiing journey
.
Aside from skiing, biking, and all outdoorsy things,
Brittany Walker Konsella
also loves smiles and chocolate 🙂 Even though she excels at higher level math and chemistry, she still confuses left from right. Find out more about
Brittany
!
Latest posts by Brittany Walker Konsella (see all)