2015 Crested Butte Lift Ticket Deals
(Last Updated On: December 20, 2015)
Note: The deals mentioned below apply to the 2014-15 ski season. To find out details of discounts for the current season, please view our post on 2015-2016 Crested Butte lift ticket deals.
I have had so many inquiries from the Crested Butte Lift Ticket Deals post I wrote last year, that I decided to update the information to the current year.
Crested Butte Mountain Resort is a great ski destination. With few or no crowds except during a few select holiday weekends and Christmas, you'll get a better bang for your buck skiing here in Crested Butte because you'll spend less time in lift lines. Currently, we are still waiting for our steep terrain to open… But, when it does open, Crested Butte offers the finest steep terrain in Colorado and is among the best in North America.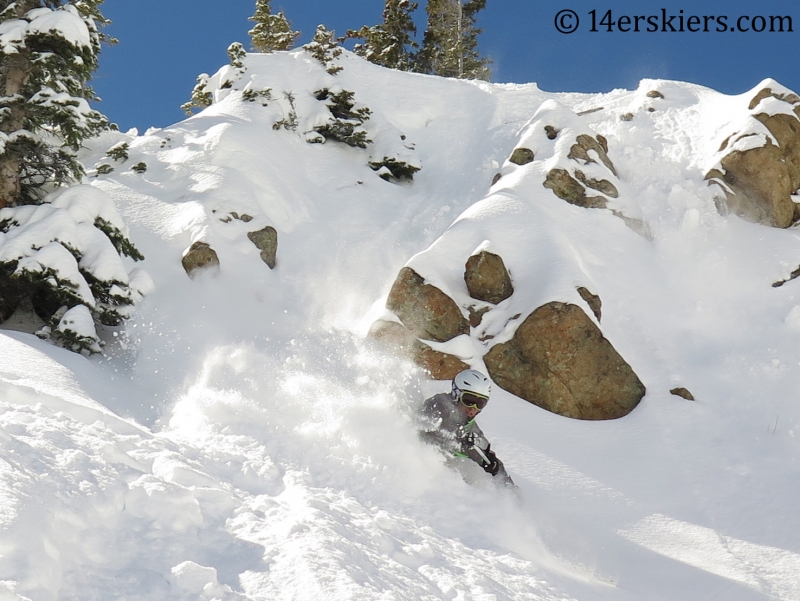 While a typical lift ticket at Crested Butte Mountain Resort is $103, there are many ways to get around this high price for skiing. Here's a few deals that will help you fund your fun, and stretch your wallet a little more.
1) Costco Lift Tickets
Front Range Costco stores are selling vouchers for two day tickets for Crested Butte for $97.99. This is less than half price for one ticket! The one catch is that this voucher is good for only one ticket that is good for two out of three days. So, splitting this with a friend is not an option. Black-out dates include the week of Christmas which is now past, March 9-11, and March 16-18 – and it is good until the end of the season.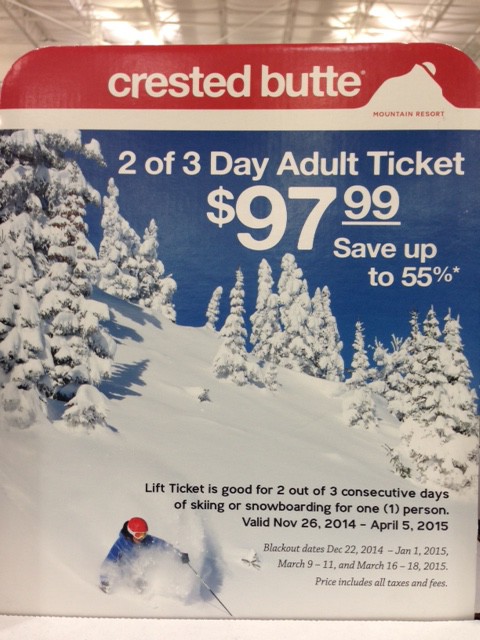 2) Two-for-One Voucher with Shell Gas

Participating Shell Gas stations have these vouchers available if you purchase 10-gallons or more of gas. Of course, you must go inside and ask a gas station attendant for the voucher. More details, including a list of participating Shell Gas stations, can be found on the Ski Free website. This voucher is for two tickets that must be used on the same day, making it ideal if you travel with a friend. Black-out dates include February 14–15, March 9-12, March 16-19 and it is good until the end of the season.


3) Liftopia
Liftopia is always a great resource for discount lift tickets. You never know what you'll find. But, the deals tend to be better when you book early. Check it out:

4) Multi-day lift tickets at SkiCB.com
If you plan on skiing Crested Butte for more than one day and the previous deals don't work, purchase multi-day tickets through CBMR's website. This will get you a few dollars off of your ticket!
5) Senior Discounts
Sometimes the senior discounts offered can be better than what you can find through Liftopia and other deals. If you are 65 or older, check CBMR's website for Senior Discounts!
6) Gunnison-Crested Butte Lift Ticket to Fly
If you live far away from Crested Butte, then this might be the deal for you! If you purchase a round trip ticket to Gunnison Airport (GUC) then you may be eligible to earn a FREE lift ticket! Qualifying flights to Gunnison are non-stop Houston (IAH), Chicago (ORD), or Dallas (DFW) flights with an arrival date between January 14 – April 4, 2015, except for March 5 – 19, 2015. One leg of the journey can go through Denver, but not both. Airline tickets purchased after January 15, 2015 are eligible for this offer. The ticket can be from united.com, aa.com, travel agent, or online booking sites. Offer does not apply to non-revenue airline tickets such as tickets booked using frequent flyer miles. In order to receive this lift ticket, you must fill out this form after your purchase, but at least 48 hours prior to your arrival date. Details can be found on gunnisoncrestedbutte.com.
Aside from skiing, biking, and all outdoorsy things,
Brittany Walker Konsella
also loves smiles and chocolate 🙂 Even though she excels at higher level math and chemistry, she still confuses left from right. Find out more about
Brittany
!
Latest posts by Brittany Walker Konsella (see all)