Meet Eszter Horanyi: Great Divide Mountain Bike Race Winner
(Last Updated On: August 21, 2014)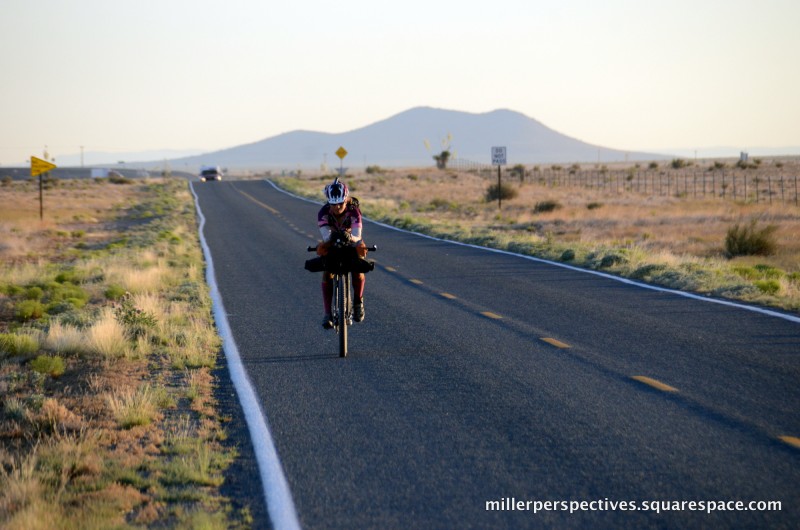 Last year, Eszter Horanyi decided that winning the women's category in the Colorado Trail Race was not enough, though she'd completed the CTR in a highly competitive 5 days, 5 hours, and 27 minutes, finishing 5th place overall. So, this Crested Butte local set her sights on a bigger race. On June 8th, Eszter rolled out of the scenic Rocky Mountain town of Banff, along with 111 other riders, all heading to Mexico as part of a race that has come to be known as Great Divide Mountain Bike Route, also commonly referred to as the Tour Divide. 19 days, 3 hours, and 35 minutes later, she found herself at the Mexican border, obliterating the previous women's record of 24 days, originally set by Jill Homer.
The Great Divide Race has become known as the hardest bike race in the world. The route travels over 2700 miles from Banff, Canada to the Mexican border near Antelope Wells, New Mexico. Unlike the Tour de France, the race is self-supported. Riders don't have team cars following them, handing them water or food, or fixing a flat. They are not allowed to stay at friend's houses that might be on the route, or do anything else that would give them an unfair advantage over the other racers (more about rules here). Along the way, racers travel many mountain passes, amounting to a climbing vertical of over 200,000 feet – that's 7 Everests! Riders experience everything from snow-packed terrain to extreme heat. Many spend sleepless nights camping in grizzly country before getting back on the bike and doing it all over again the very next day. Everyone fears the bears, injury, and mechanicals. But perhaps the greatest fear that most must overcome is the games the mind can play when you're riding day after day on your bike – alone.


The GDMBR was developed by the Adventure Cycling Association. The first race was in 1998. Numbers of racers were very few at first, but the race has grown exponentially in the last few years. In 2008, only 16 riders participated, while this year 112 began the race in Banff. Only four years ago, the first woman, Mary Collier, finished the race. This year, 10 woman started.
The GDMBR's popularity has largely grown due to recent publicity. In 2010 a movie called Ride the Divide hit the screens, documenting the 2008 riders and bringing the trials and triumphs of all of the racers to the general public. Here is the trailer:

Ride the Divide can also be rented or viewed online via Netflix.
The route of the GDMBR has evolved over the years. While the mileage has varied, it has always amounted to over 2700 miles. Racers travel from Banff in Alberta to Montana through the towns of Whitefish and Butte. The route continues into Wyoming, passing through Boulder and Rawlins, before hitting the Colorado border. In Colorado, riders travel through Steamboat Springs, Silverthorne, Salida, and Del Norte and then continue on to New Mexico, passing through Cuba and Silver City, before finishing in Antelope Wells at the Mexican border. More about the route can be seen on the GDMBR's site or at ACA.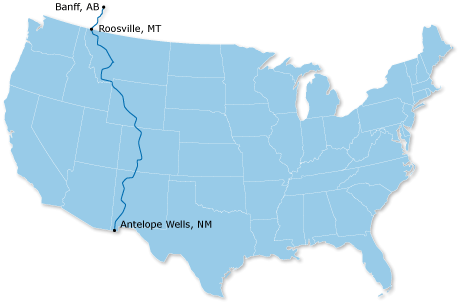 While many racers are still working toward Mexico in this year's race, Eszter completed her race last Friday. Needless to say, Eszter pulled in a stellar performance, finishing 7th place overall and 1st place in the women's category. But, after realizing her fantastic results in last year's CTR, Eszter was bound for glory in this year's GDMBR. Finding Eszter's story inspirational, I sought out to interview her earlier this week. Here's what she had to say.
What prompted you to do the Great Divide Race? The Tour Divide is the granddaddy of bike packing racing so it was almost a natural progression from the Colorado Trail Race. The movie, Ride the Divide definitely helped encourage the idea as did Jill Homer's book Be Brave, Be Strong which chronicled her ride a few years back.
How did you train for a race like this? I planned my entire winter and spring around riding the Divide. I did a big training block in December and January that ended with racing the Arrowhead 135, a 135-mile snow bike race in northern Minnesota at the end of January. Then I took some time off to pretend to ski and do the Elk Mountain Grand Traverse at the end of March and reset my on-the-bike motivation and then I started putting in some big miles with a shakedown race at the Stagecoach 400 in southern California at the end of April.
I did some rides fully loaded, but I've done enough of these events that I didn't have to do that many shakedown rides with gear.
You started out doing the Colorado Trail Race. How many years did you do the CTR? What experiences did you draw from the CTR that helped you in the Great Divide Race? I did the CTR two years with the first year being my first bike packing race. It rained on me the whole time, my feet swelled to scary sizes, I didn't eat for the last 48 hours…it was a bit of a junk show. The next year I came back ready to race knowing what I was up against. The CTR has a lot of spots where you're hiking your bike, moving half a mile per hour, completely dejected but you know that as long as you keep moving, you'll get to faster parts. I think that mental state helped on the TD because there were definitely some miles of hiking in snow, of wallowing in sand, but I always knew that as long as I kept moving, regardless of how slow, there would be easier miles ahead.
Tell us about the average day during the Great Divide Race. What did you eat? Did you sleep much? Where did you sleep? Did you ever spend a night in a hotel or did you only camp? How many miles did you tend to ride in a day? I would wake up 5-6 hours after I fell asleep. In grizzly country, I'd jump out of my sleeping bag, pack everything up, eat something and start pedaling. Out of grizzly country, and later in the race, I'd wake up, eat breakfast in bed, let the air out of my Thermarest, pack it up, then jump out of sleeping bag and pack the rest up. Then I'd pedal, eat, drink, pedal until it got warm, then I'd stop and strip and eat some more before pedaling some more.
I'd aim for one warm meal a day, so when I'd get to town I'd stop at a gas station, load up on food while downing as much Vitamin Water as I could, then I'd find myself a McDonalds or a Subway, eat a meal, and then get out as fast as I could. On the trail, I ate a lot of Snickers and Reeces Peanut Butter cups up north, and once it got warm, I ate bags upon bags of Swedish Fish. I'd try to supplement it with some 'real' food, but when the temperatures got above 80, all I could do were the gummy candies.
I stayed in hotels three nights, once because it was pouring rain when I rolled into Eureka, MT after a day spent trudging through snow, the second in southern Montana at the Grasshopper Inn because I had two tweaky ankles, a hurt wrist, and a cut that was infected and I simply needed to take care of my body for a night, and then I spent a night in Grants, NM because the town felt really sketchy, it was nearly dark, and I wasn't sure of the camping options beyond. I showered there and the soap dried my skin out so badly I spent the entire night awake itching my dry skin.
My longest day was 186 miles in southern Montana and my shortest was 96 on a day where there was a boatload of climbing and all the descending was super rough. I averaged 143 miles a day in the end.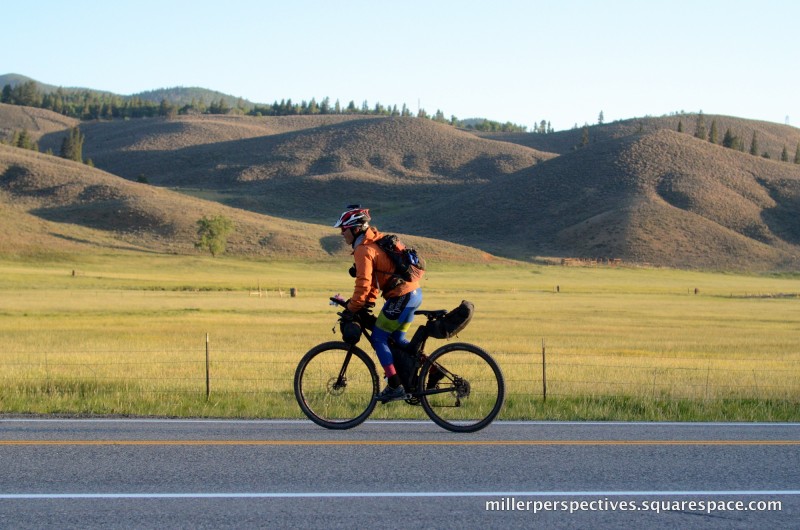 What did you pack with you? Is there anything you would add or take off your list for next time? I had two pairs of shorts, one jersey, a pair of arm warmers and knee warmers, one pair of socks, my Oh Shit Kit with bike repair stuff and first aid, a mid weight wool top, a light down jacket, a rain jacket, rain pants, warm gloves, thin gloves, a buff, bear spray, and 7.5 liters of water carrying capacity. (This is a basic list, I had other bits and pieces that I can't think of) I actually felt like I was comfortable 95% of the time. I was never dangerously cold or dangerously hot.
The top guys were carrying less water and treating wild water as they went instead of hauling more water from towns like I did, but I didn't feel like I knew the route well enough, and I knew Colorado and NM streams would be dry to really risk carrying less water than I did.
What bike did you use & how much did everything weigh when packed? I used a fully rigid 29er steel Waltworks. I have no idea how much it weighed. It wasn't the heaviest out there, it wasn't the lightest out there.
Do you plan on doing the Great Divide Race again? I'd like to do it again. I think that with the route knowledge, I could do it faster.
What were some of the most difficult times, physically or mentally, during the race? There was a 124-mile stretch of pavement across the Reservation from Cuba to Grants in New Mexico. It was brutally hot and a south wind was blowing at 20-30 mph the whole day. I was fine until the wind paused for a moment and there was this silence where my bike actually accelerated from my efforts and I breathed a sigh of relief. When the wind started back up I very nearly sat down on the side of the road and cried.
Turning off Highway 50 only 20 miles from Gunnison was also hard, not because I wanted to quit, or to stop pedaling, but because I just wanted to pause, relax, hang out with friends, and stop having to hurry everywhere.
What were some of the highlights of your race?
Northern New Mexico was absolutely beautiful. I got to see some amazing sunrises and sunsets throughout. I always looked forward to the Golden Hours around sunrise/sunset and somehow I always managed to be someplace beautiful for them.
Pie Town in New Mexico was amazing because I'd been looking forward to it since the start. I had a burger and a giant slice of key lime pie, a la mode.

How much snow did you have en route compared to most years? Canada had a record snow year, so the Canadian passes and some of the Montana passes had more snow than normal. Once we got into Wyoming and Colorado, there was definitely less snow than average.
How much did you travel with others? I rode with others for a few hours here and there the first few days but the last I rode with people was in northern Montana and the last person I saw was Jarral Ryter of Gunnison at the Brush Mountain Lodge outside of Steamboat. He took off a bit before me as I was stuffing myself full of cherries and I never saw him again.
The Ride the Divide movie pinpoints that riding alone and on so much "boring" road is what tends to really be mentally tough for riders. Was there any single track at all? What did you do to beat the mental games associated with "boring" time spent alone? There were a few 'singletrack' sections in Montana which were glorified hike-a-bikes. Then there was a 7 mile section outside of Silver City NM which most people hate, but after miles of washboards, I had a great time riding. I'm really good at being inside my own head for hours without being bored, but there were a handful of times that I resorted to 99 Bottles of Beer on the Wall, which at first seemed silly but got to be a sort of meditation for me as the miles passed. Next time, I'm bringing an iPod.
This month of June has been known as one of the hottest months on record. How did the heat and wildfires affect you during the race? I got really lucky with the heat. My second to last full day went through some hot areas but there was some cloud build up which gave me a huge amount of relief during the hottest part of the day. My last full day I had to cross the water-crux section of the route which was about 60 miles with no water on course with a lot of climbing, some singletrack, and in the southern NM heat. I started with 7.5 liters of water, was rationing the whole day, and ran out about five miles from the resupply. I got to Silver City and downed an amazing amount of liquid.
About how much money did you spend while during the actual race?
I'd spend about $50 at each gas station on food and then another $15-20 for a meal each day. Multiply that by 19 and it wasn't an inexpensive race. But then I think about it and I know that I'd be eating for those 19 days regardless of whether I was racing or not, so the 'extra' expense of shopping at gas stations rather than a store maybe doesn't seem that bad. Of the three hotel nights, I split two of them and the third was a $32 room, so it was about $100 on lodging.
Did you have a goal starting out? Did you have a certain place finish in mind or a certain number of days in which you hoped to finish? The speed of that race is so conditions dependent that I was hesitant to put a firm day number on finishing. The men's record at the time was 17 days and 9 hours (set by Jay Petervary, but beaten this year by Ollie Whalley with 16 days, 2 hours, and 54 minutes) and I thought that with perfect conditions and a perfect race, that number was possible. I think that if I have a second go around, I'd put the goal somewhere near that again.
In the end, it's well known that having course knowledge is super important in a race like this, so the fact that I could go that fast racing it blind was amazing. I definitely finishing thinking that I could go faster given a second chance but I think that given the conditions and my knowledge, I made very few mistakes out there and came pretty close to my speed limit.

What was it like to finish? Stellar. I hadn't been able to get comfortable on my bike for the last 65 miles of pavement, I was out of caffeine, and I knew I was racing the heat of the day, so to be able to pull in having only been out of water for the last two miles, to have the temperatures only in the low 90's, and to see my husband Chris and Tim, the border agent, was awesome. It was almost more of a relief than anything.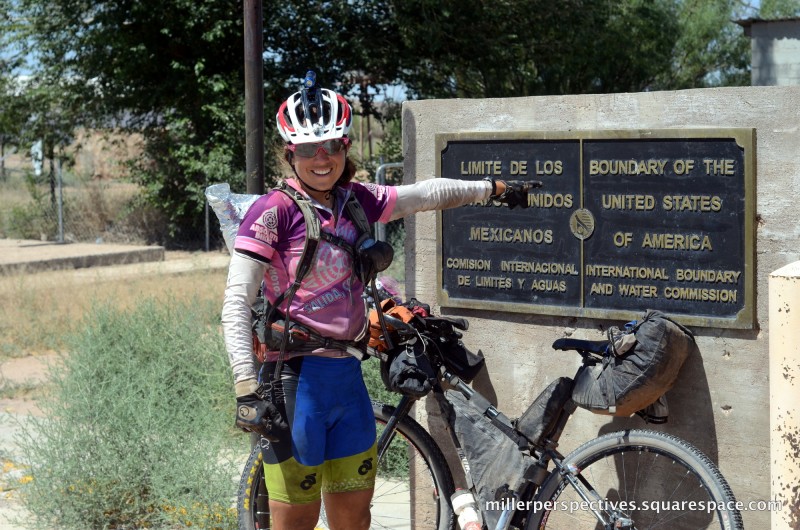 How is your body feeling after 19 days on the bike? Do you plan on taking some time off? It felt pretty good for the first day or two afterward. I even contemplated riding. Now the fatigue is starting to set in and taking naps is sounding more appealing than riding.
I'd like to race some more in the fall, so I'm hoping to spend the next month or two recovering and riding a little bit and then racing some of my favorite fall races like the Vapor Trail 125.
Anything else you'd like to add? It was an amazing experience from start to finish and I hope I get the chance to do it again.
Want to know more about Eszter? She has her own blog too! Find her at Zen On Dirt.
Aside from skiing, biking, and all outdoorsy things,
Brittany Walker Konsella
also loves smiles and chocolate 🙂 Even though she excels at higher level math and chemistry, she still confuses left from right. Find out more about
Brittany
!
Latest posts by Brittany Walker Konsella (see all)