9 Best Short Hikes in Crested Butte
(Last Updated On: July 12, 2017)
Crested Butte is full of wonderful hikes. Whether you are looking for wildflowers or scenic mountain views or wildflowers, you're going to find a beautiful hike in Crested Butte! While many hikes in Crested Butte can be long, there are many great short hikes too. This post will describe nine of the best short hikes in Crested Butte. The hikes described below are all 6.5 miles or less, and can be good hikes for families depending on fitness and comfort level.
---
Scarps Ridge Loop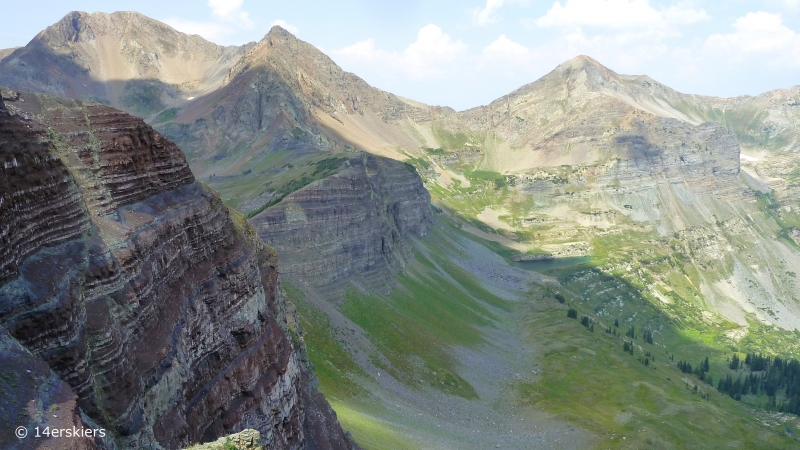 Distance: 4.5 miles
Level: Intermediate, some fairly steep grades
Description: The Scarps Ridge Loop will lead you to some of Crested Butte's most stunning high alpine views. With majestic peaks all around, it's hard to keep your eyes on the ground!
The trail is easy to find and had moderate to steep grades. Although there is nothing technical on the trail itself, be aware that there is a "ridge" that drops off sharply at the end of the trail. Although this is really easy to avoid, keep little ones and dogs under close guard when nearing this ridge.
---
Hasley Pass Loop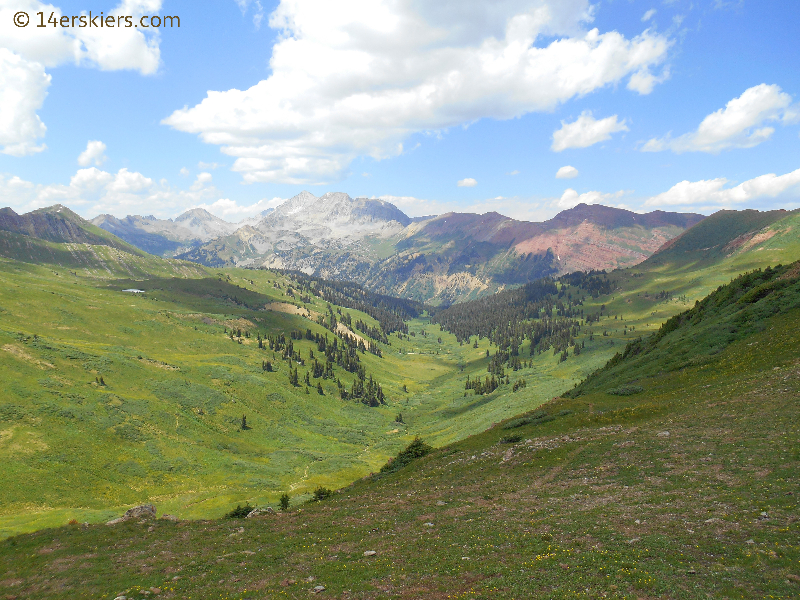 Distance: 6 miles
Level: Intermediate – some route finding required
Description: When I think of this hike, I think of the Wizard of Oz. I feel like Dorothy traveling down her Yellow Brick Road of magic. The wildflowers (usually from mid-July to mid-August) are over the head, literally – so stunning that the senses get overwhelmed. And, the views from the top of the pass couldn't be more rewarding – a true fairyland. It's my favorite hike in Crested Butte.
The Hasley Pass Loop hike is not technical and is mostly moderate steepness with some sections that are fairly steep. The main thing with this route is that the trail can disappear in a couple of places. But, if you follow the directions we have in our hiking guide, the route is not difficult to find.
---
Three Lakes Trail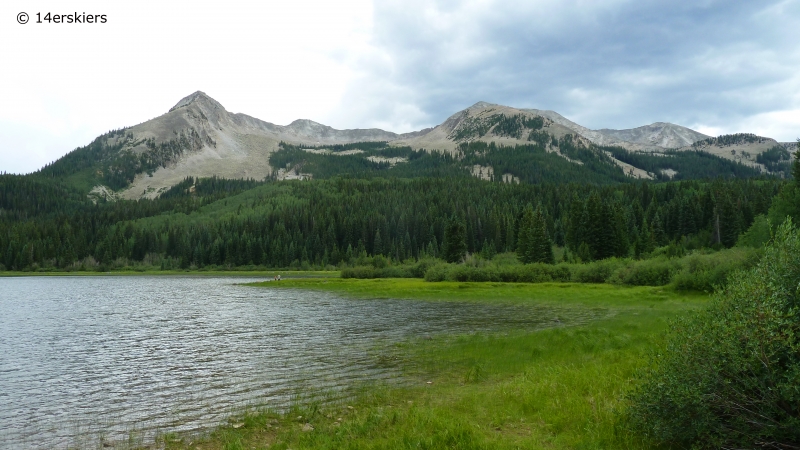 Distance: 4.5 miles
Level: Intermediate
Description: Three Lakes Loop is a fantastic loop that winds through a lush forest, linking these three beautiful lakes – Lost Lake, Dollar Lake, and Lost Lake Slough. There's even a nice waterfall too. Occasionally, the trail opens up to some nice mountain views. But, the real treasure here are the lakes and their serenity.
This loop has easy route finding and and moderate steepness. The loop can be shortened by only hiking to Dollar Lake and back, or by excluding the "off-shoot" to Dollar Lake from the loop trail. Three Lakes is a fantastic family hike.
---
Schofield Pass Loop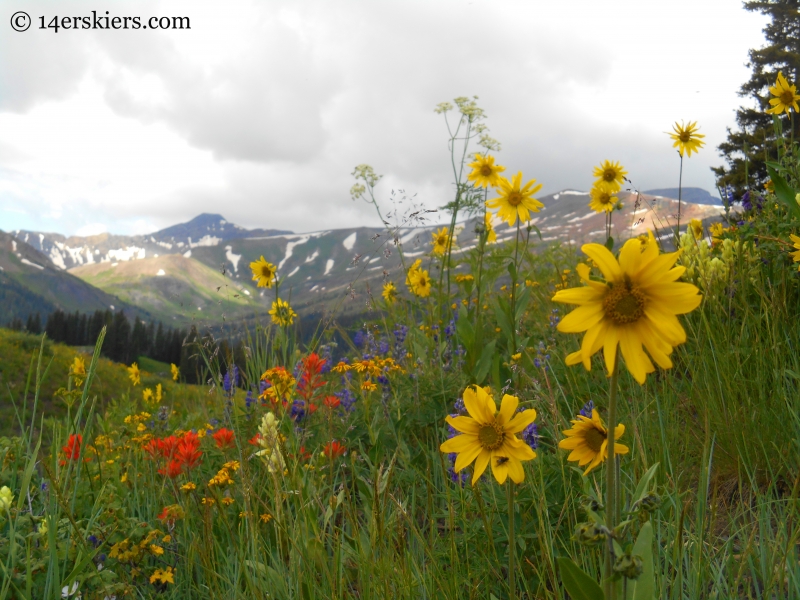 Distance: 4.8 miles
Level: Intermediate – some route finding required
Description: This hike is amazing when the wildflowers are raging from mid-June to mid-August. The Schofield Pass Loop accesses a similar area to Hasley Pass, but passes through more forested area, and therefore contains a wider range of wildflowers. This hike is especially great if the weather is a little questionable, as it offers more shelter in the trees.
The Schofield Pass Loop has moderate steepness at most, and the trail is usually easy to follow – except for when it crosses the East Fork creek just before merging with the West Maroon Pass trail. The Schofield trail tends to fade here, but it is not hard to navigate the area. When crossing this creek, you may want to take your shoes off! Shofield Pass Loop is a wonderful hike for families.
---
Mount Crested Butte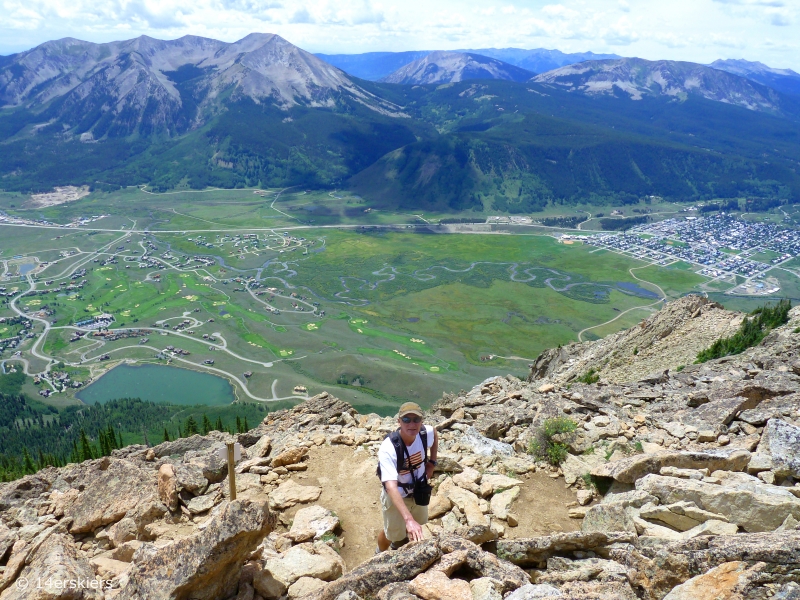 Distance: 2.6 miles
Level: Intermediate to Advanced
Description: Mount Crested Butte is best accessed by first riding the Silver Queen chairlift. Lift tickets can be purchased through the ski area. Prices vary from year to year. If you wish to hike to the peak from the base, it is 11.6 miles. Mount Crested Butte is truly an alpine climb.
Starting out fairly steep, the route gets even steeper as you ascend. The last few hundred feet are a sporty scramble using all-fours to get to the summit. But, the views are well worth it! You will find many people on this hike of varying ability levels. Many people bring their families and children to the top. But, keep in mind, some people may find the last bit of the climb too much for their comfort.
---
Brush Creek Trail (also called East River Trail or the "Ditch Trail")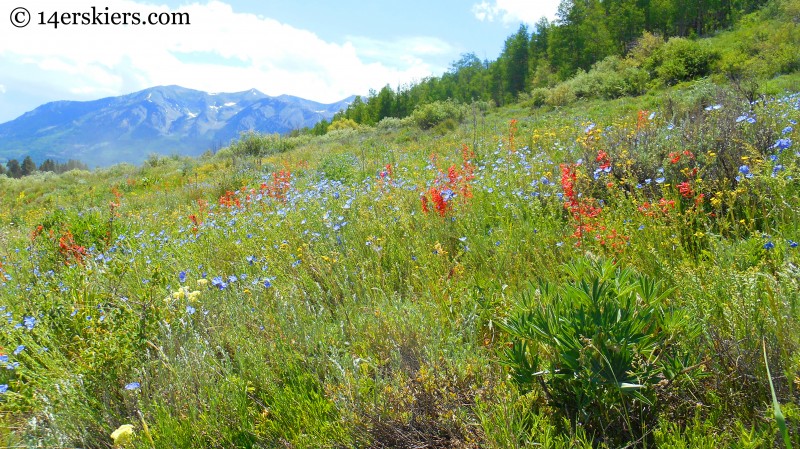 Distance: 4 miles
Level: Beginner
Description: Hiking doesn't get much easier than Crested Butte's Brush Creek / East River Trail. Nearly flat, this trail traverses along side the East River, providing excellent views of the surrounding mountains. It's also a great place to find wildflowers during most of the summer.
The Brush Creek trail is a great hike for those who want an easy stroll. Being an out-and-back trail, it's also easy to shorten the length of the hike. The Brush Creek Trail makes an excellent hike for families, especially those with young children.
---
Meander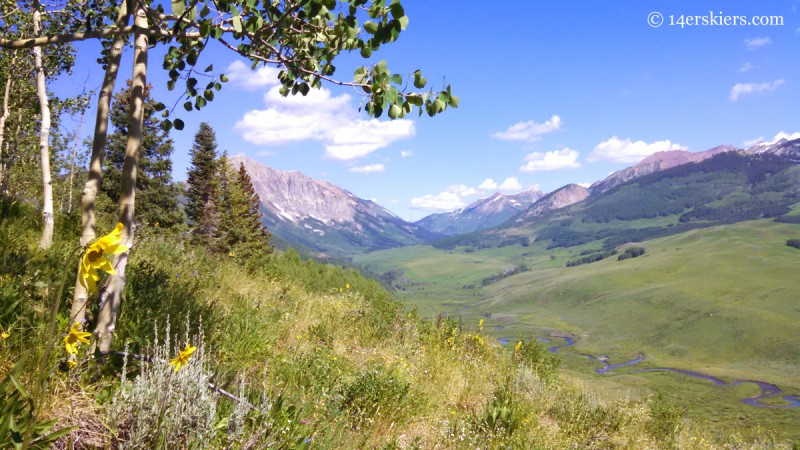 Distance: 6 miles
Level: Beginner to Intermediate
Description: The ski area is not one of those places that you think of hiking. But, Meander is one of those trails that's a hidden treasure on Crested Butte Mountain Resort. With views of the snaking East River Valley and mountains rising toward the sky, it's difficult to keep your eyes on the ground. But, when you do, you'll likely see a plethora of wildflowers at your feet.
This trail actually begins with a slight descent, followed by a traverse, then a climb upwards towards the ski area. Meander is another out-and-back trail, so the distance can easily be shortened if desired. The most scenic views and wildflowers are within the first 1.5 to 2 miles of the hike. Meander is a great trail for a family hike.
---
Beckwith Pass via Cliff Creek Trail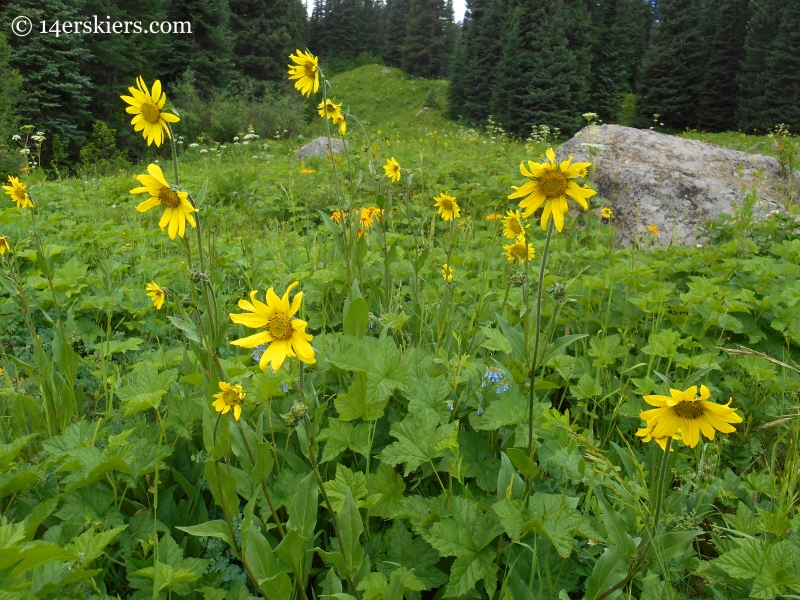 Distance: 5 miles
Level: Intermediate
Description: Beckwith Pass via Cliff Creek is an enjoyable trail that passes through mountain meadows and lush forests. Both wildflowers and panoramic vistas can be enjoyed along the way, though the wildflowers quickly change in this area from week to week.
The Cliff Creek trail is wide and of moderate steepness. There is no exposure of any kind, making it a wonderful family trail. The Cliff Creek trail is done as an out-and-back, so the distance can be shortened if you don't wish to actually reach Beckwith Pass itself. This is a fairly popular trail for horseback riding. If you wish to make this hike a bit longer, continue on the Beckwith Bench trail from Beckwith Pass. To return, turn around and follow your tracks back to the Cliff Creek Trail.
---
Dyke to Dark Canyon Loop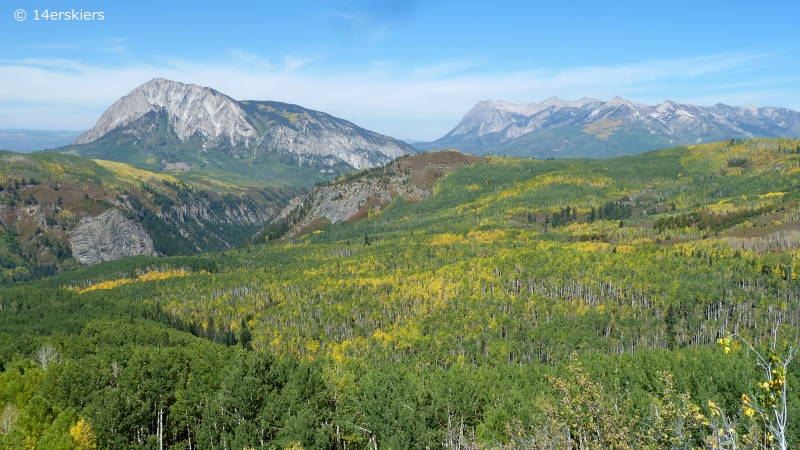 Distance: 6.5 miles
Level: Intermediate
Description: The Dyke to Dark Canyon loop is a scenic trail that passes through a lot of forested areas. But, there are occasional mountain meadows that open up to panoramas. The Dyke to Dark Canyon loop is one of my most favorite fall hikes.
This loop ascends and descends multiple times through the hike. There are some steep sections, but if you do the loop counter-clockwise, most of these steep sections are on the downhills. They are also very short. The Dyke to Dark Canyon Loop is a favorite among families. It's only limitation is that this is the longest of the trails listed here. To shorten this hike, start by hiking directly on the Dark Canyon trail as an out-and-back.
---
Extra Credit: Twin Lakes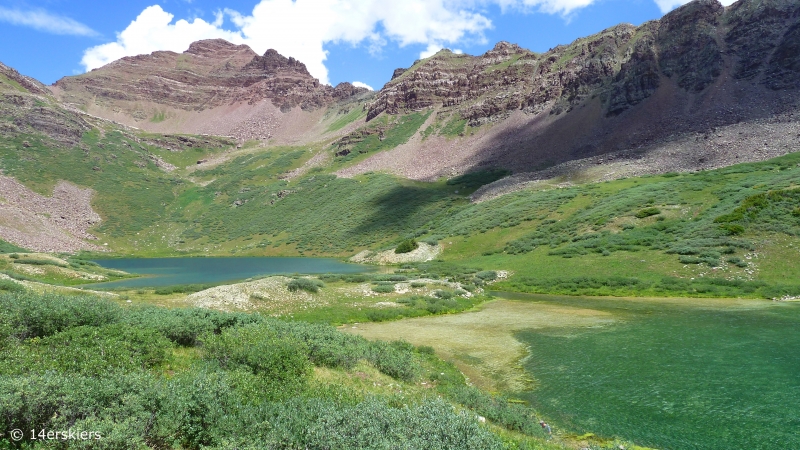 Distance: 6 miles
Level: Intermediate to Expert
Description: The Twin Lakes hike is not "officially" on the 9 Best Short Hikes list because of the difficult of accessing this trail, which requires many miles of travel on a fairly high-clearance 4WD vehicle. Additionally, there are stream crossings on this 4WD road which are not advisable to cross until mid to late July. You will likely spend almost as much time in the car as you will hiking on this trail. But, the Twin Lakes trail is well worth it. These lakes are among the most beautiful lakes near Crested Butte.
If you get tired of the bumpy drive, you could always find a place to park the car and walk along the road until you reach the trailhead. However, this will make the hike longer.
Though well-defined usually, this trail is fairly steep most of the way and passes through some occasional tight over-grown willow patches. There is minimal exposure on this trail. But, it does pass through some streams. So, your feet might get wet.
---
One or more of these best short hikes in Crested Butte is bound to suit your needs as you spend time in the valley. Now, it's time to get out and enjoy them!
Aside from skiing, biking, and all outdoorsy things,
Brittany Walker Konsella
also loves smiles and chocolate 🙂 Even though she excels at higher level math and chemistry, she still confuses left from right. Find out more about
Brittany
!
Latest posts by Brittany Walker Konsella (see all)
Summary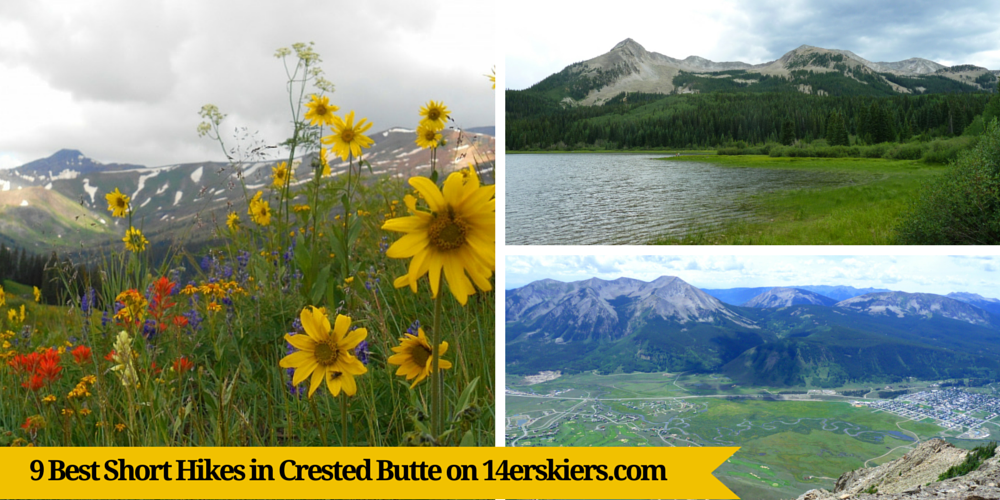 Article Name
9 Best Short Hikes in Crested Butte
Description
Crested Butte is a hiking mecca. This article describes nine best short hikes in Crested Butte that are all 6.5 miles or less. Wonderful for families too!
Author