TR: Hasley Pass Loop Hike (26 July 2013)
(Last Updated On: July 16, 2017)
Crested Butte has claimed that it is the "wildflower capital of the world". While wildflowers around town abound, I truly feel that the real reason why Crested Butte has made this claim is because of the endless miles of wildflowers that appear in the surrounding alpine in July – flowers like I saw during my Hasley Pass loop hike.
I began on the West Maroon trail, and it didn't take long before I came across some of the most beautiful columbine I have ever laid eyes on.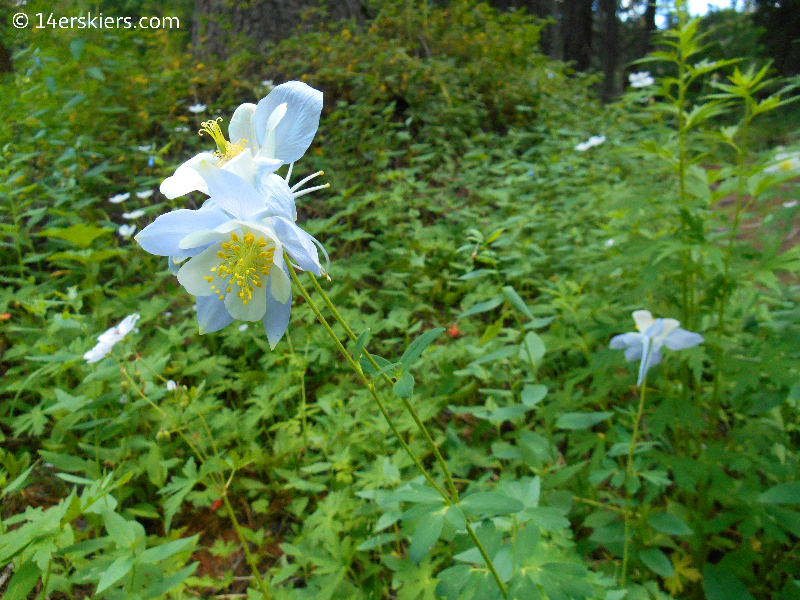 Cinquefoil.

Larkspur beautifying the meadow surrounding this old cabin.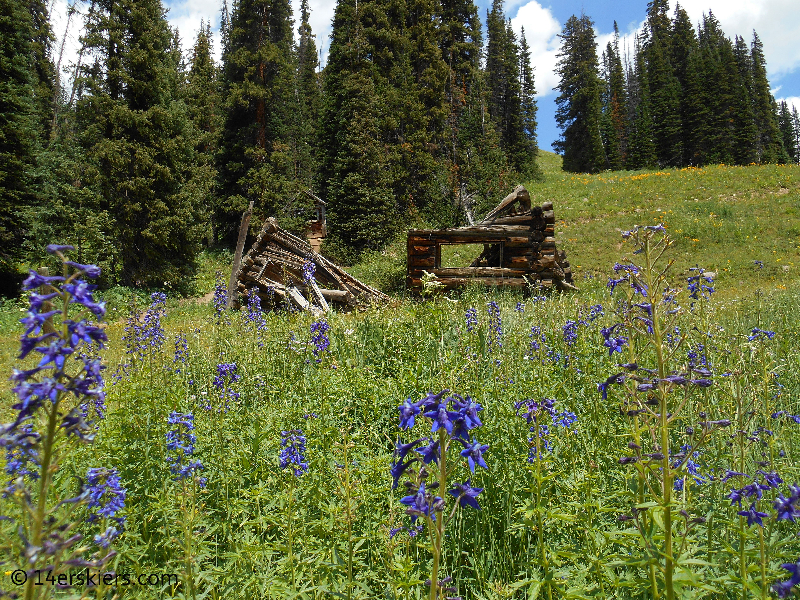 Sunflowers rising toward the sky with Galena Mountain behind.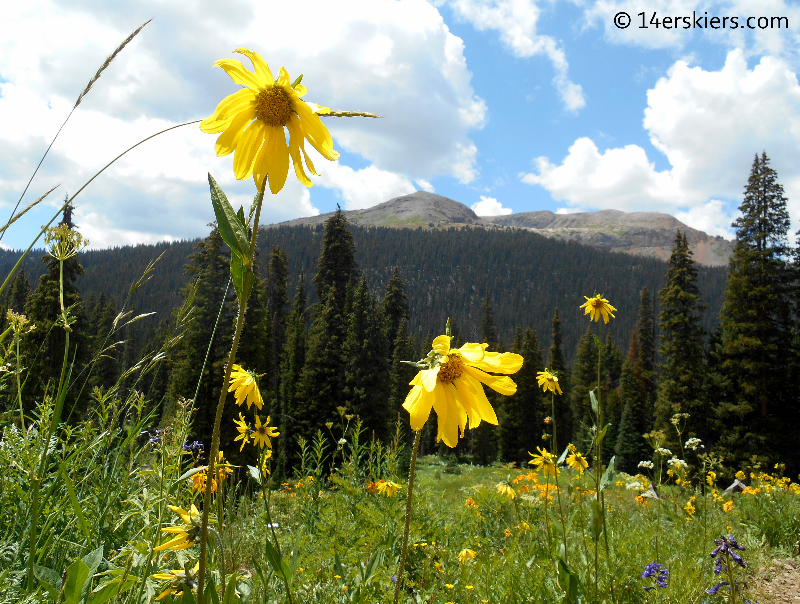 Fireweed sprinkled the lower part of the valley, but was just beginning to bud up high.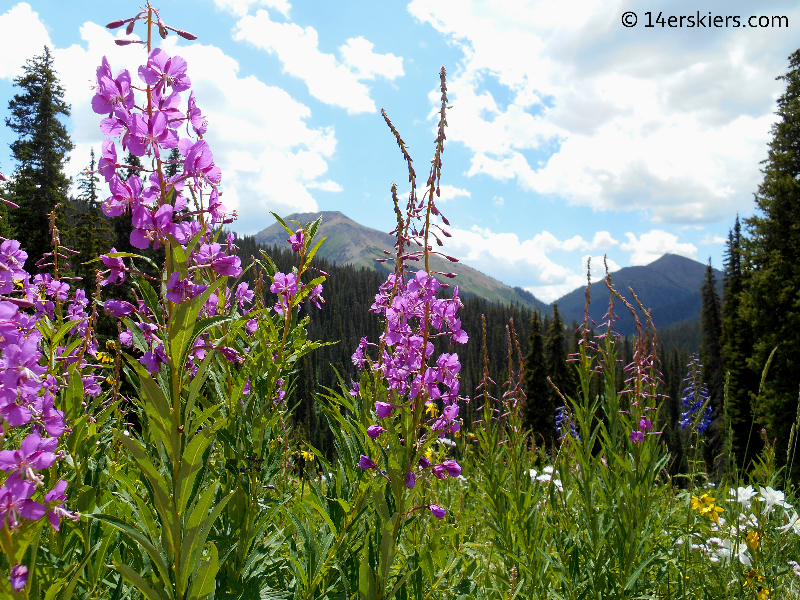 The bees liked the larkspur.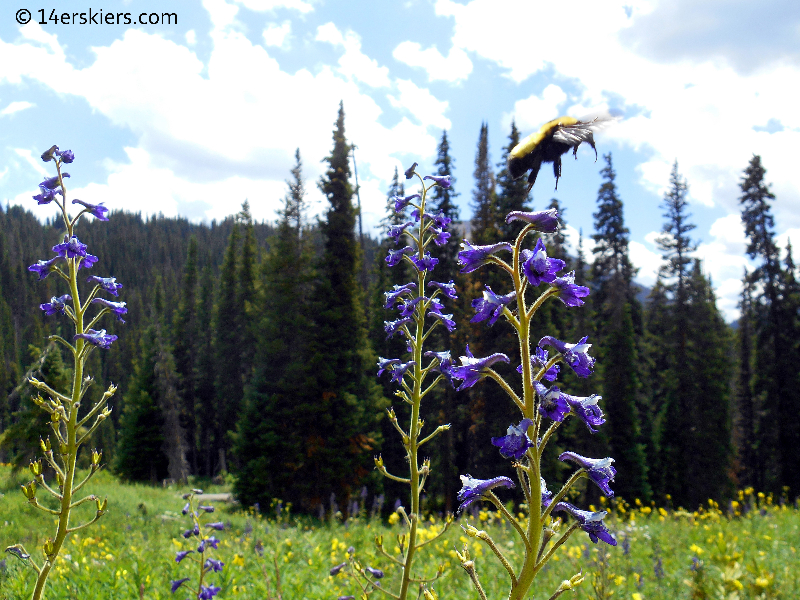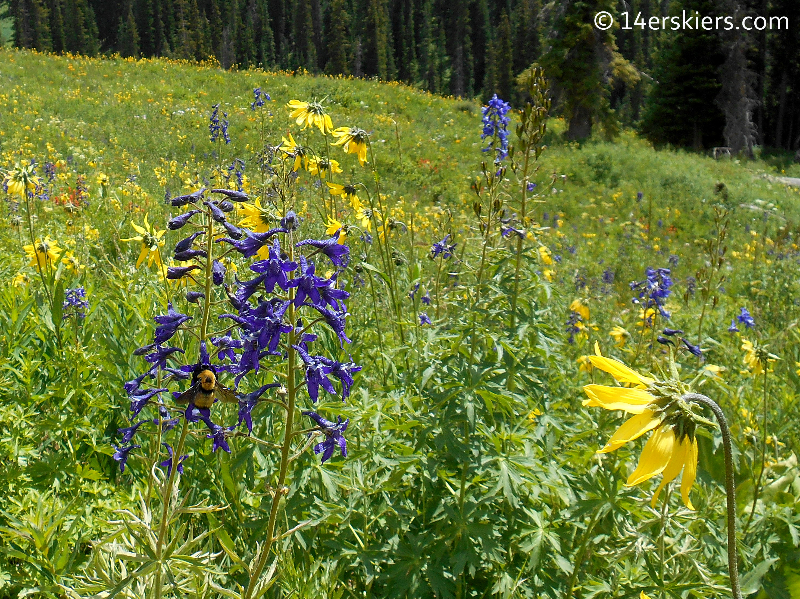 I turned left toward the Sheep Herder's trail, and the trail was barely distinguishable at times as it winded through fields upon fields of wildflowers.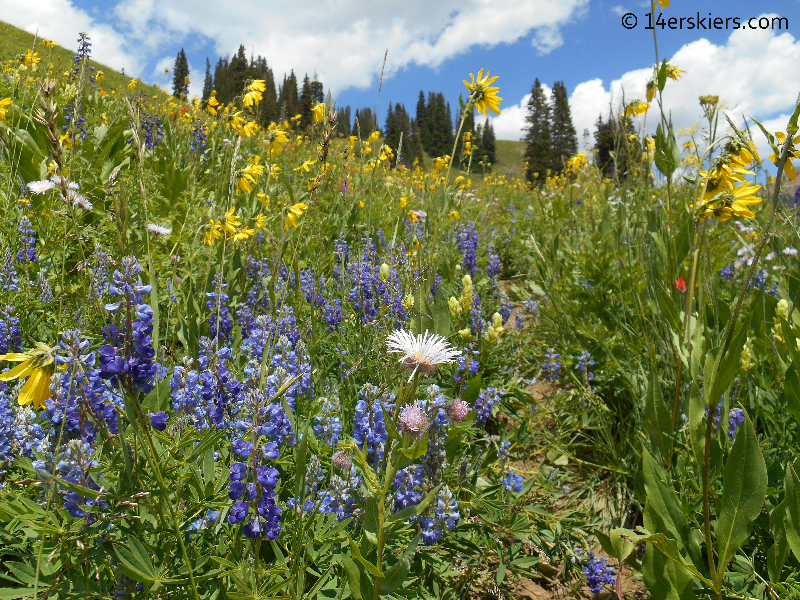 The scarlett of the paintbrush added rich color to the mix.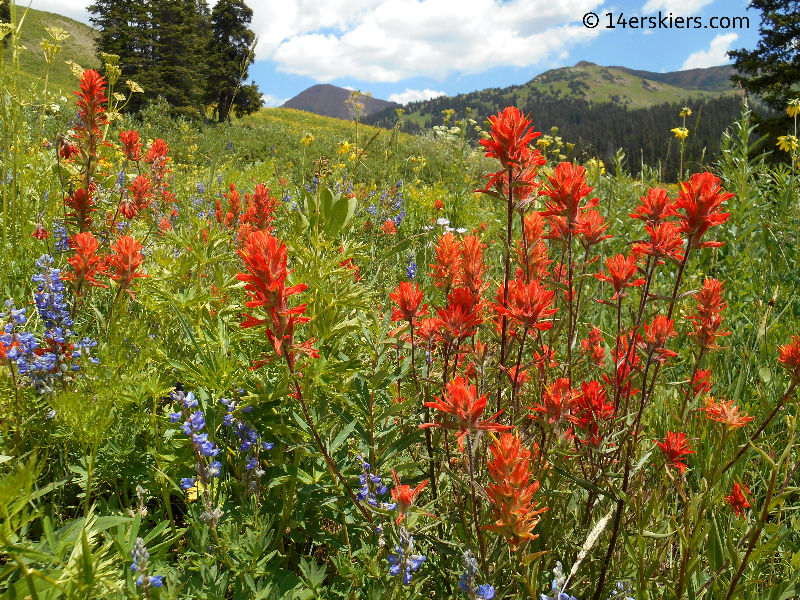 Eddy liked the flowers too 🙂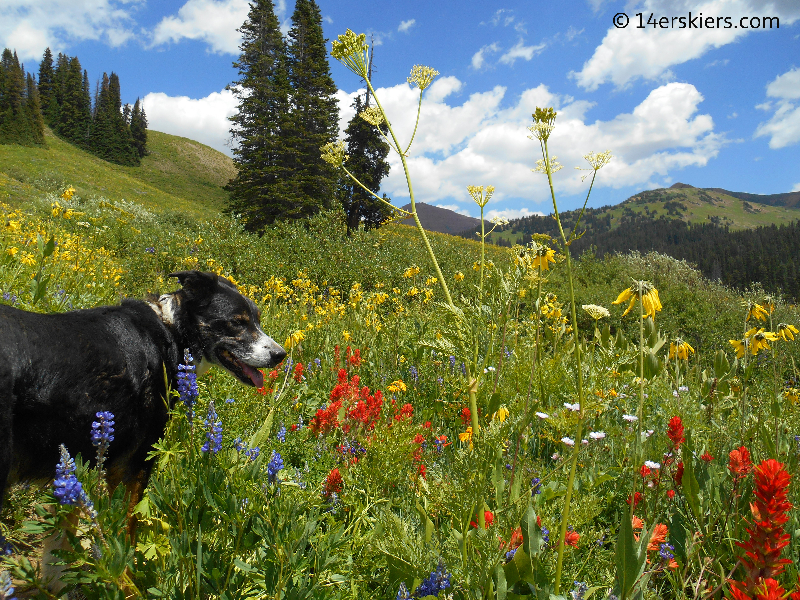 Everywhere the eye could see, there were more wildflowers.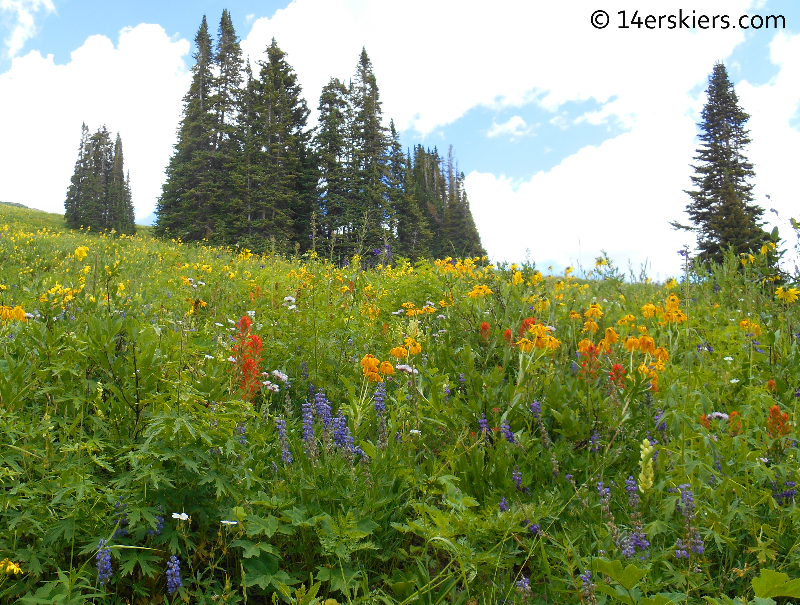 I laughed from enjoyment.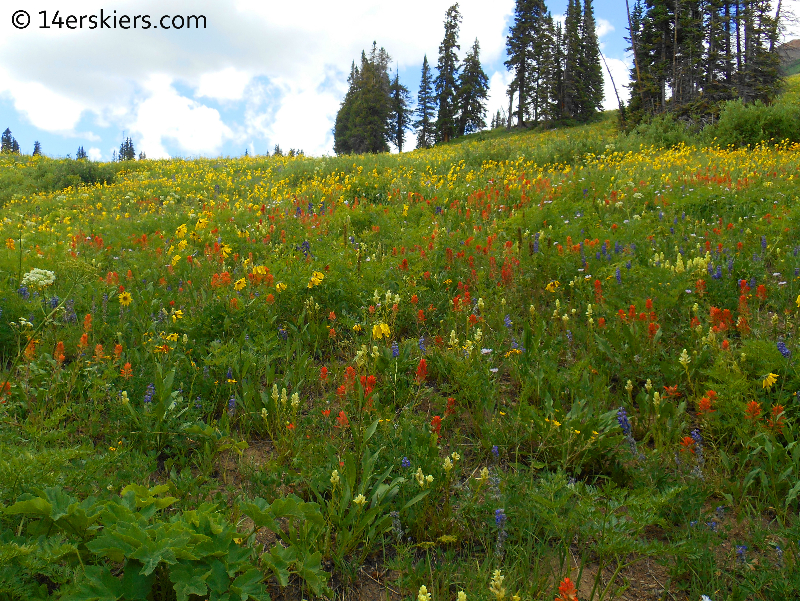 And my brain nearly burst from sensory overload.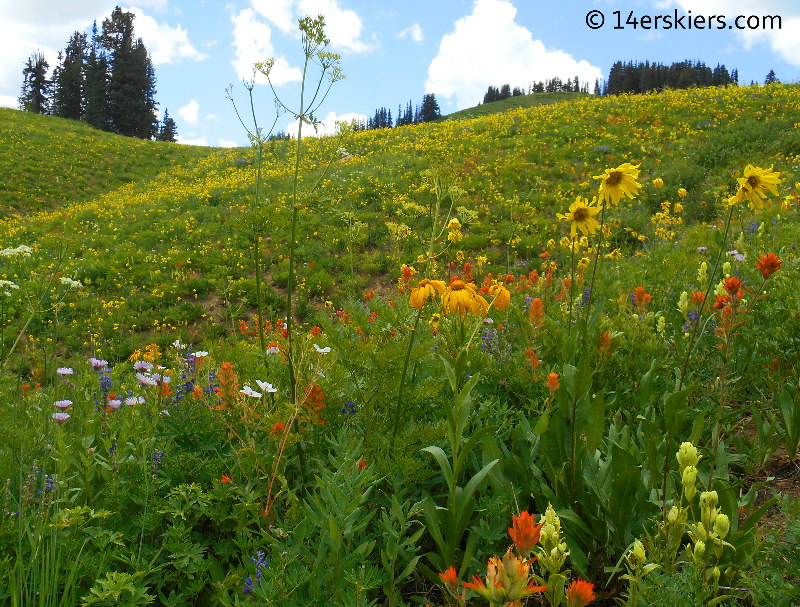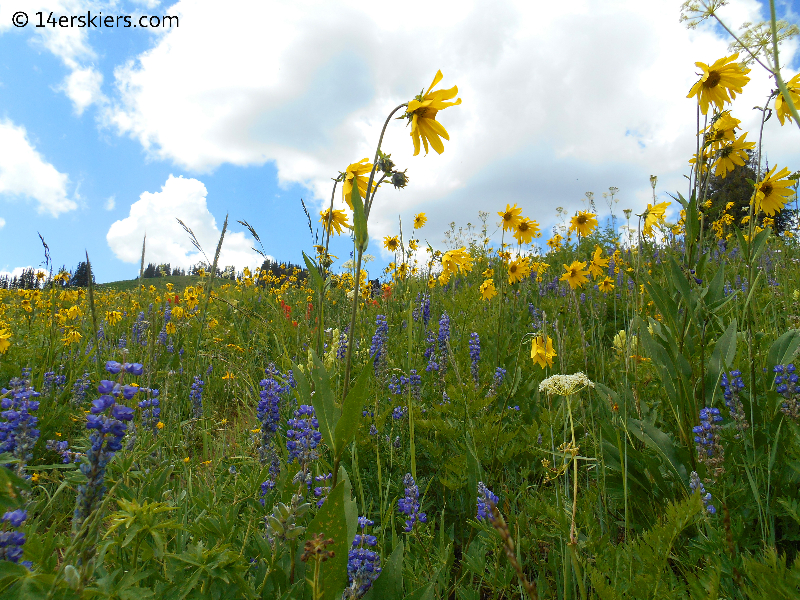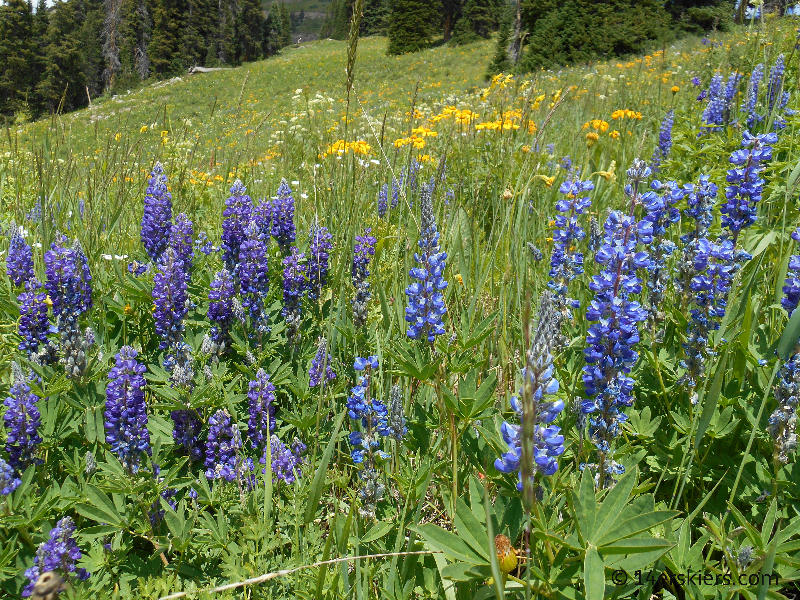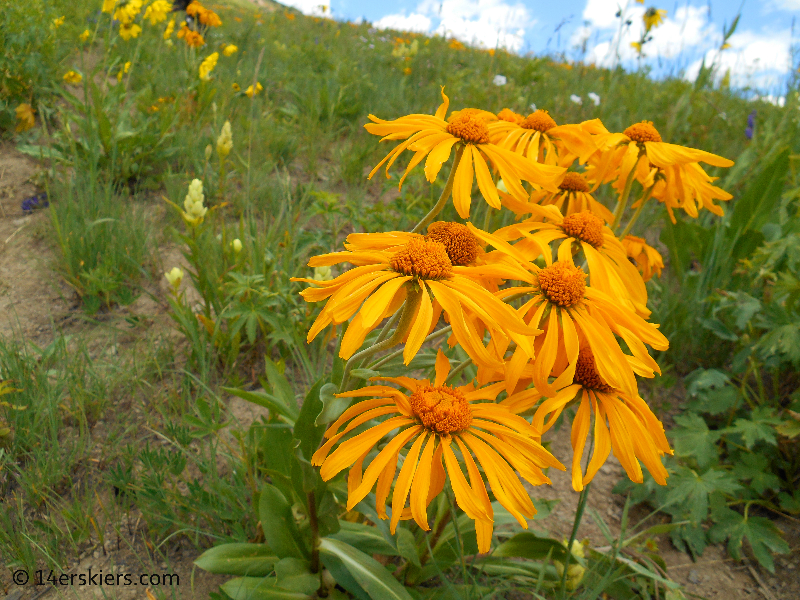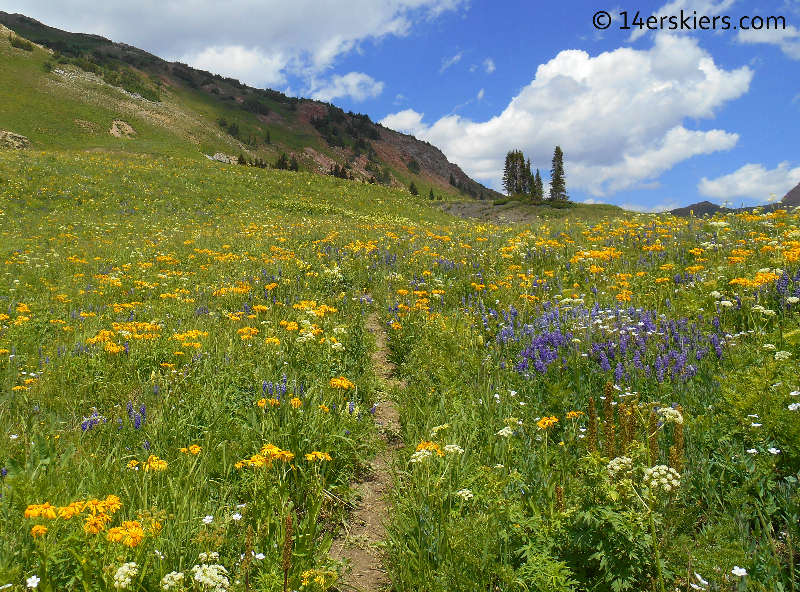 A view from the bench on the west side of the valley, looking toward West Maroon pass.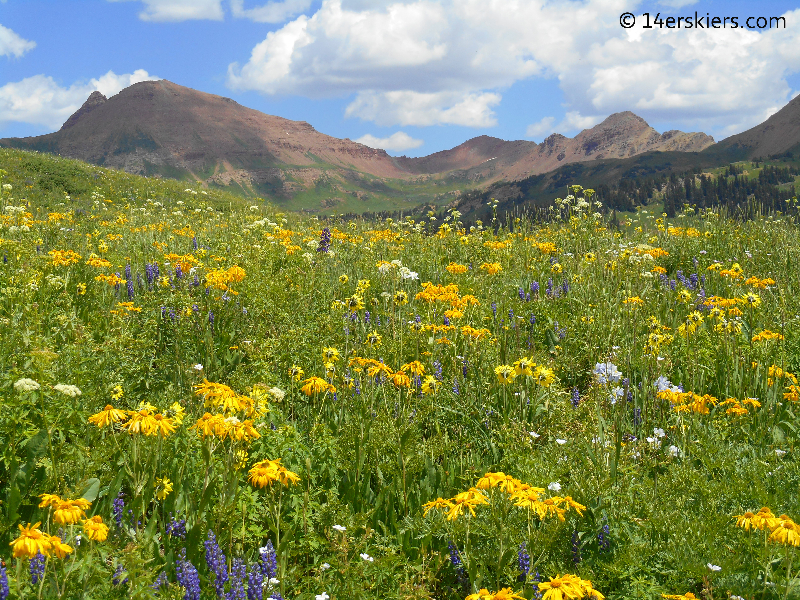 The top of the bench gave spectacular views. North Pole Basin in the background.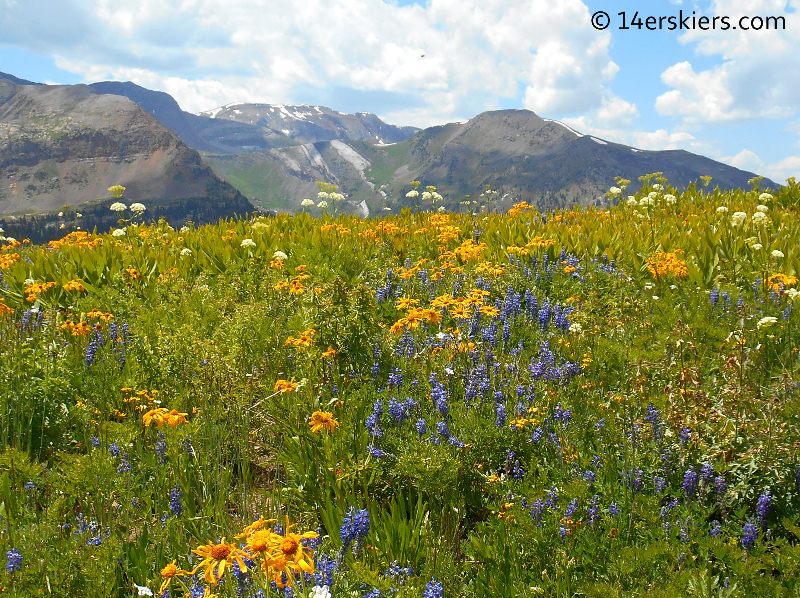 Baldy rising from behind the wildflowers.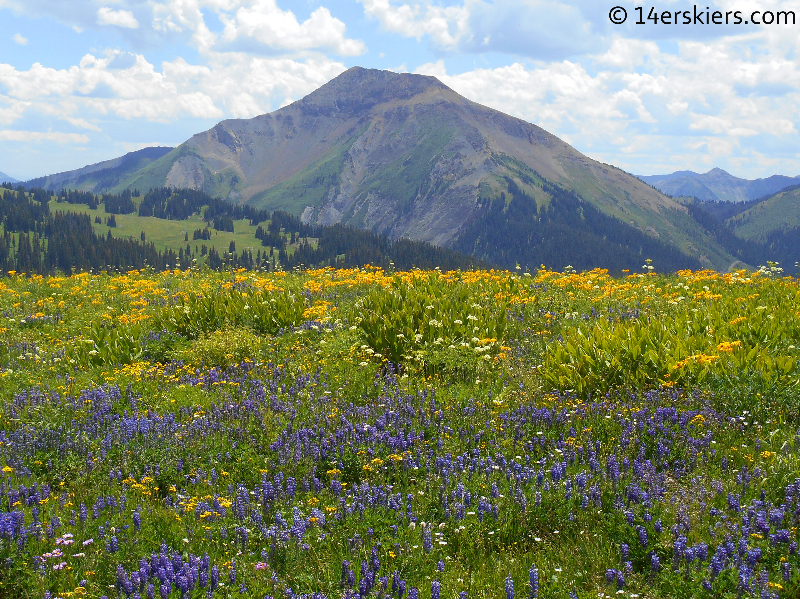 As I continued to gain elevation, the flowers changed, becoming smaller and shorter. But, they were still every bit as colorful!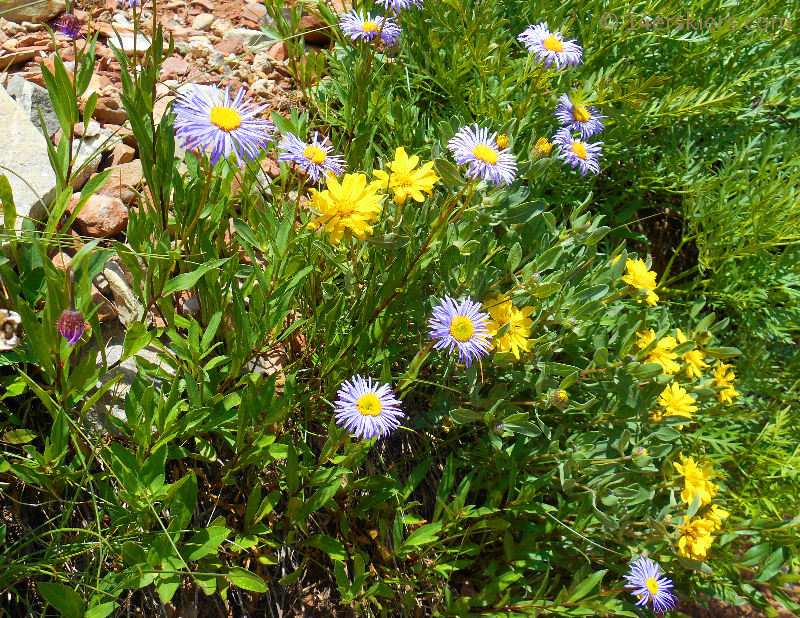 The trail cut alongside the slopes on the west side of the East Fork valley.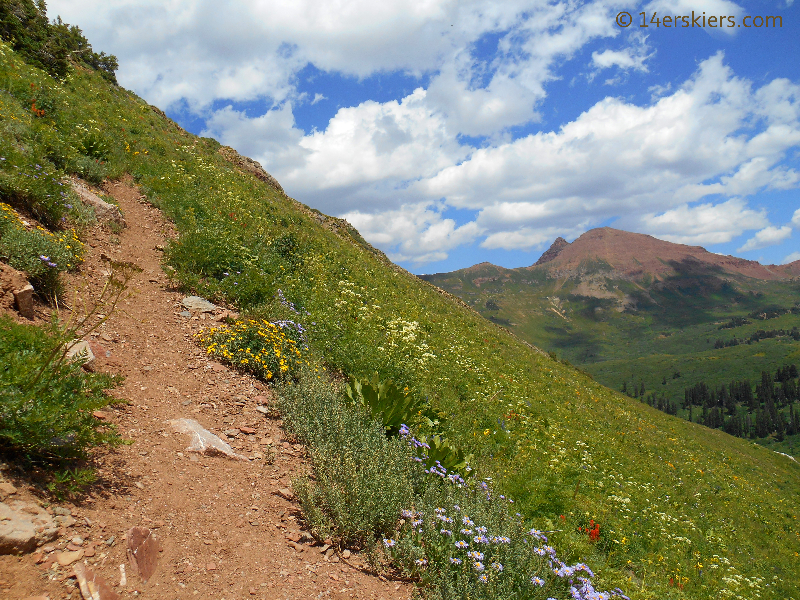 Eventually, it wrapped around northward, entering a basin toward Hasley Pass.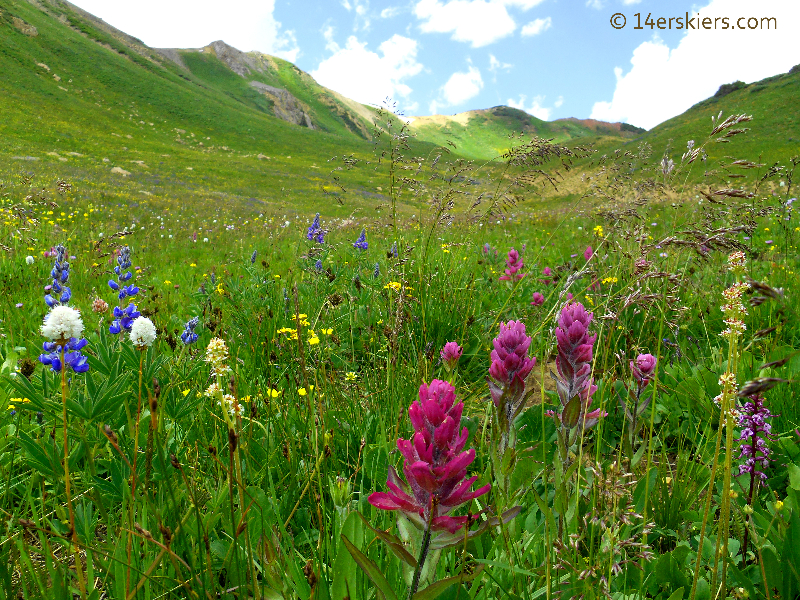 Looking back down the basin the direction where I came.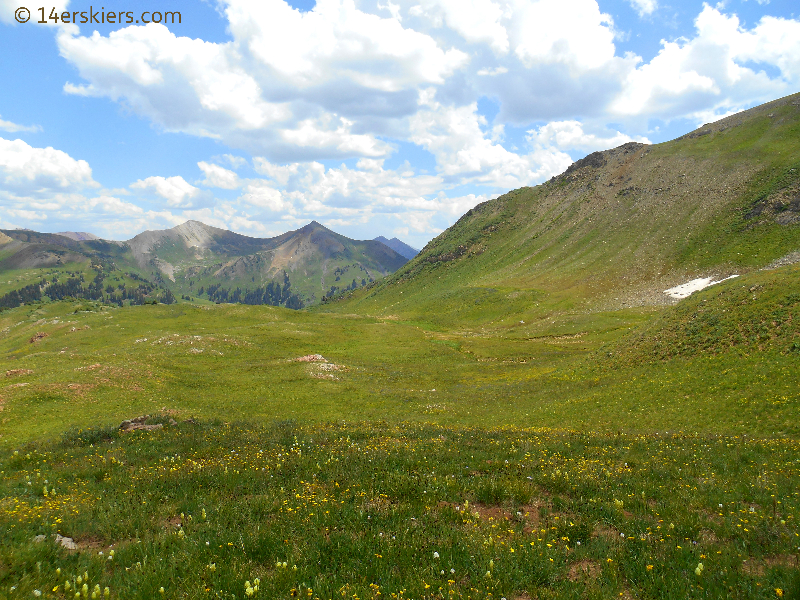 South Maroon peeking out from behind, Hasley Pass on the right.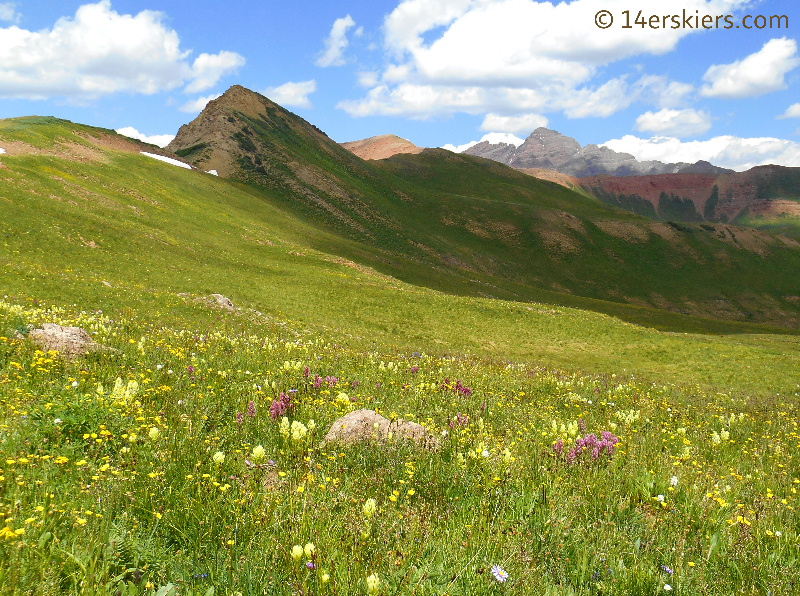 The views from Hasley Pass are as good as climbing any mountain.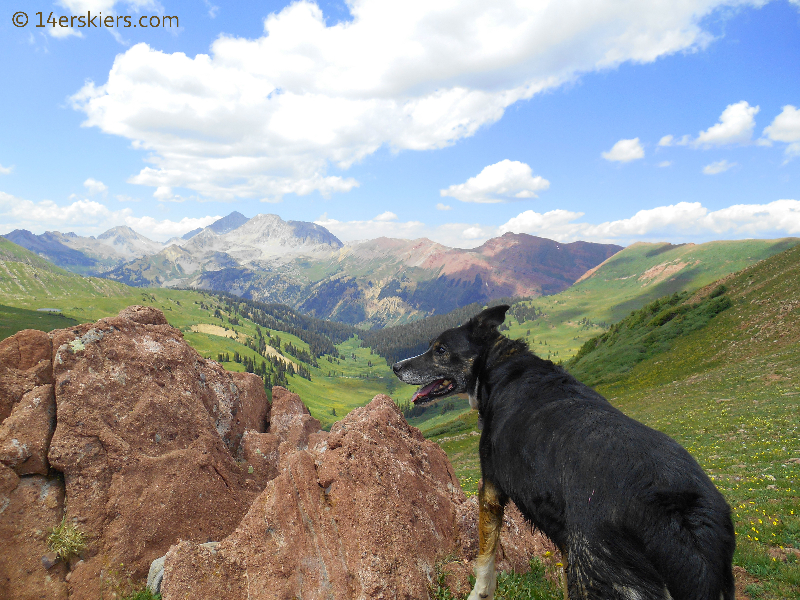 This place is purely paradise.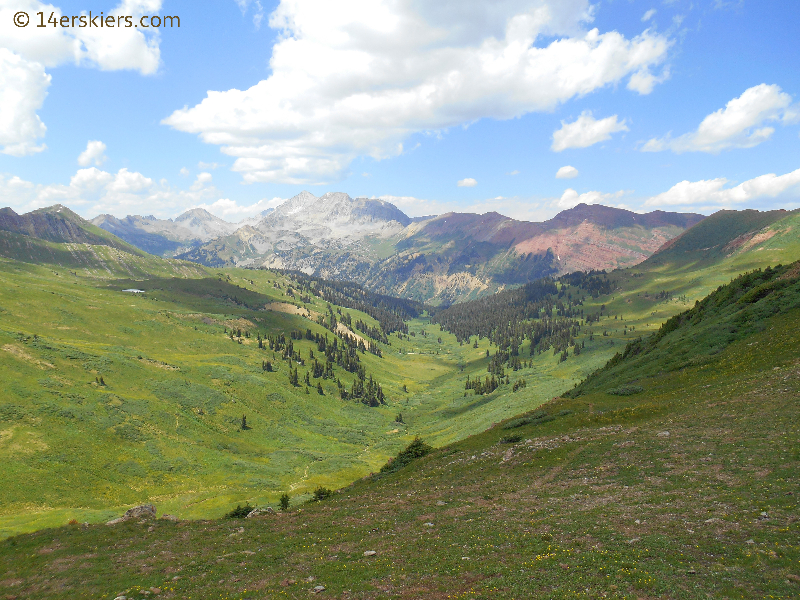 Looking eastward toward West Maroon Pass.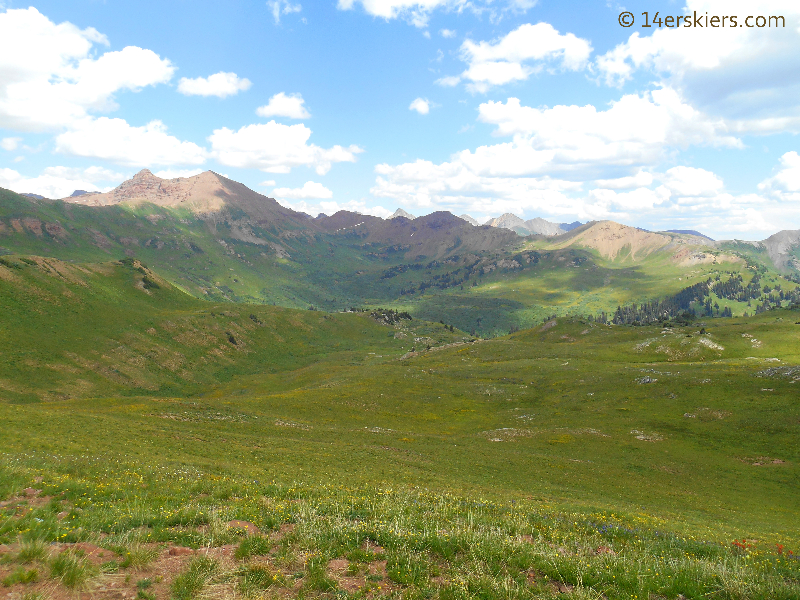 I descended from Hasley Pass via the traditional trail. A view of the backside of the Maroon Bells, with Frigid Air Pass.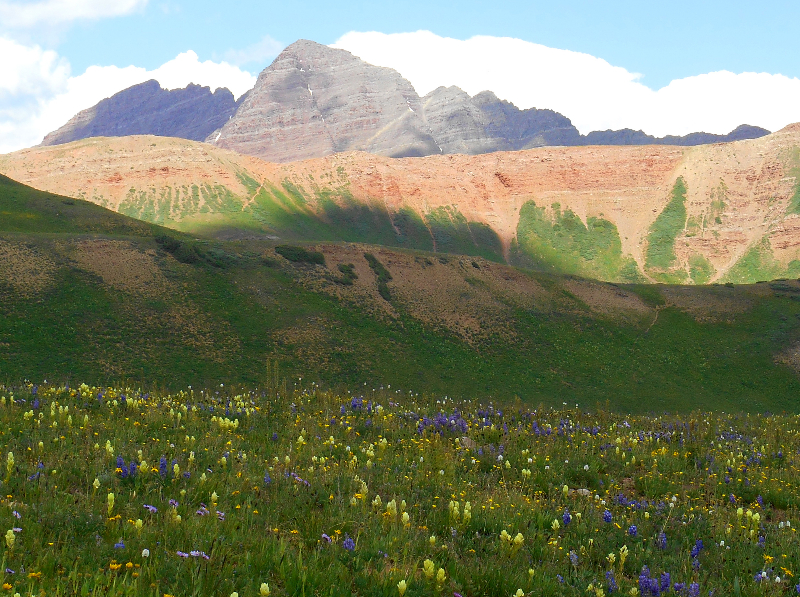 This part of the trail was beautiful as well.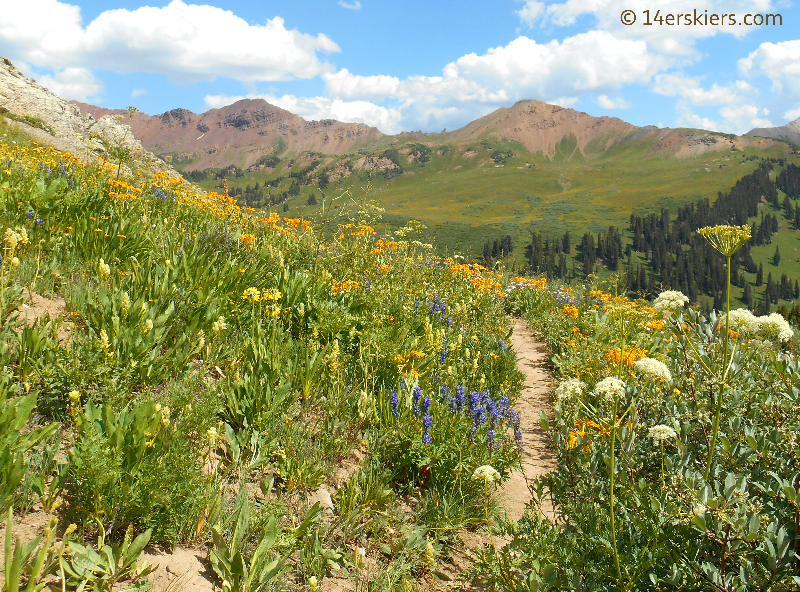 Mount Bellview in the distance.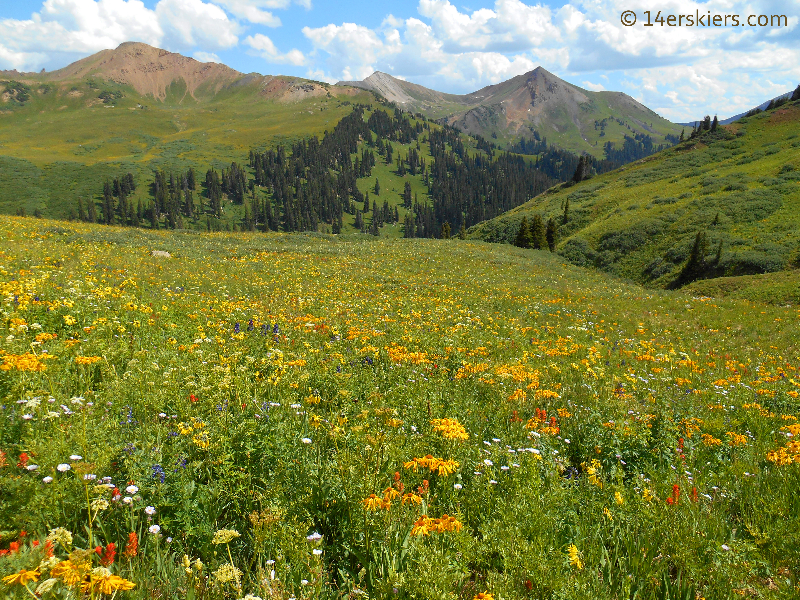 And the wildflowers just did not stop!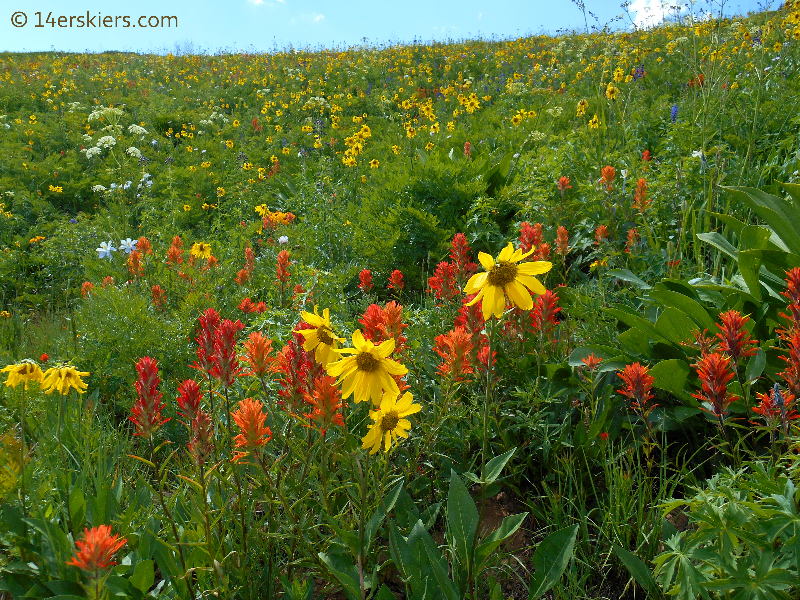 This hike is simply one of the most amazing hikes I have done in a long time. While the wildflowers are on the downside of their peak, they should still be very good for another week or so. For directions to this hike, please see my hiking guide.
The summer months are waning. So, get out there, and enjoy the best of it while you can!
Aside from skiing, biking, and all outdoorsy things,
Brittany Walker Konsella
also loves smiles and chocolate 🙂 Even though she excels at higher level math and chemistry, she still confuses left from right. Find out more about
Brittany
!
Latest posts by Brittany Walker Konsella (see all)
Summary
Article Name
Description
The Hasley Pass Loop Hike is full of scenery and holds some of the best wildflowers in Crested Butte, the wildflower capital of the world!
Author