Initial Impressions: La Sportiva Spectre AT Boot Review
(Last Updated On: May 22, 2014)
When we were at SIA this winter, one of the boots which was getting some buzz and seemed worth a look was La Sportiva's Spectre, so I made sure to check it out. With a claimed flex of 110, 4 buckles, light weight, and huge range of motion, it fits right in with other popular boots in the AT world. For the ladies, La Spotiva offers the women's-specific Sparkle boot.
I have a pretty "normal" foot and the Spectre felt good out of the box (i.e. the fit seems average, not wide or narrow). When I really cranked the buckles down tight, however, I could feel the soft plastic deform and create a pressure point, but this was also at room temperature at the convention center. Speaking of buckles, the Spectre uses the unique Pegasus buckle which looks neat if you try the boot on in a shop. When I skied the boot the following day at Copper Mountain, however, I found the buckles to be quite finicky and fairly annoying in colder temperatures, especially with gloves on. I'll be surprised if they stick around long or make their way onto other boots.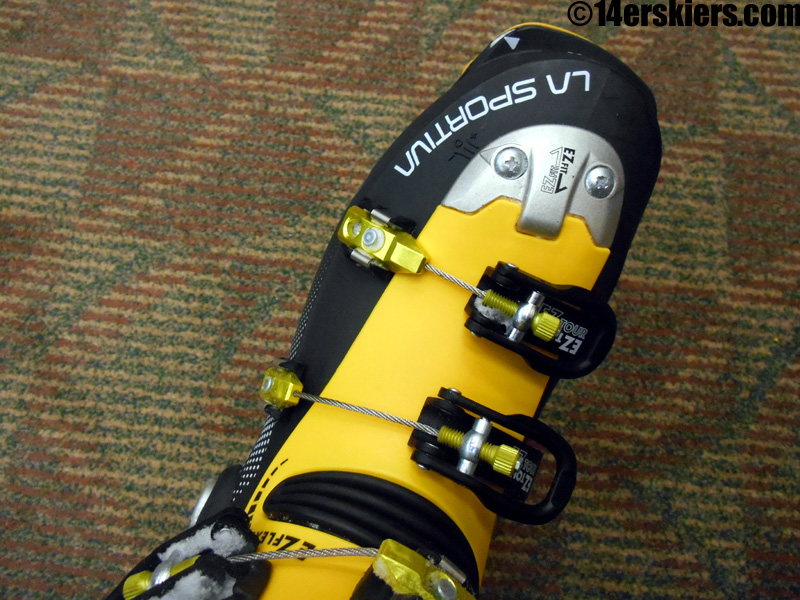 Notice the front of the tongue in the photo above, with the "0", "+", and "-" markings. The tongue can be re-positioned slightly so the curve of the tongue lines up with the curve of the front of your foot. Nice touch.
La Sportiva claims a range of motion of 60 degrees. Normal range of motion in ankles is 50 (toes down) and 20 (toes up), so the Spectre covers almost all of it. In walk mode, the range of motion is definitely noticeable- this boot is smooth and offers as much movement as I could ever need.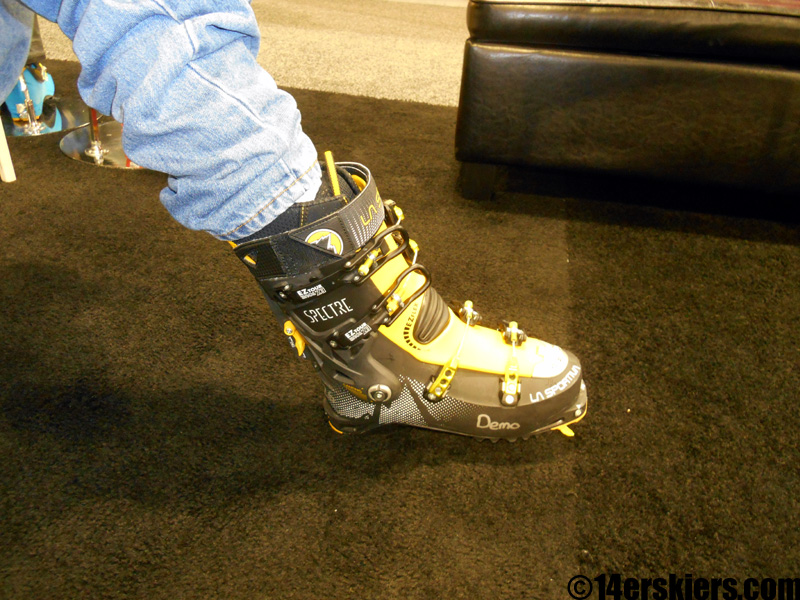 OK, great, but this is 14erskiers, so the real question is "How did it ski?". My normal boot is Technica's Cochise, in a 120 flex. The Spectre is called a 110 flex by La Sportiva. My opinion? If I use the Cochise 120 as a baseline, I would call the Spectre a 40 on the same scale. This boot is SOFT. I'm not even sure if my Sorels are any softer, to be completely honest. That said, they did seem adequately stiff both laterally and to the rear. Even as the 130 pound lightweight that I am, I simply couldn't use my ex-racer technique of pressuring the tongue of the boot with the Spectre.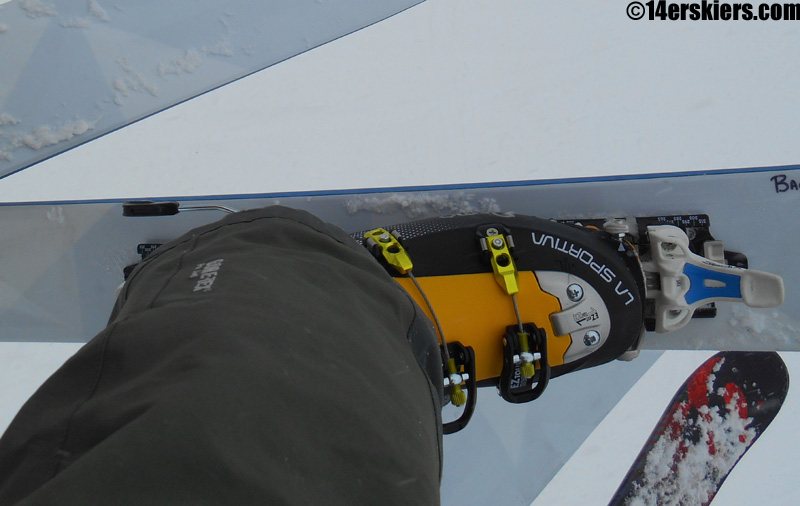 Now, if you ski unagressively, or what some people are trying to call "centered", the Spectre might be fine. Most people I know who prefer super light gear have a very different skiing style than the one that I prefer, and and that's why every review should be taken with a grain of salt. So if you're a skier who likes to hop around, ski at moderate speeds, use lots of foot steering, and don't pressure your edges much, the Spectre may very well be a great boot for you. If, like me, you like to roll a ski onto its edge and ski hard and fast, prepare to either change your style or be disappointed.
Find the Spectre here:

Frank
loves snow more than anything... except his wife.  He ensures his food is digested properly by chewing it 32 times before swallowing.He is a full-time real estate agent serving
Crested Butte and Gunnison
and would be honored to send you his
monthly newsletter.
Latest posts by Frank Konsella (see all)