Cooke City Day 3 – Sled Access
(Last Updated On: April 17, 2018)
While there are a lot of lines in Cooke City that skiers can access without a sled, the heart of it all lies in sled-neck territory. The best way to get out there is to bring your own sled. But, in cases where you don't own a sled or you don't feel like lugging it 18 hours on a windy snowy road, then it's easy to throw your thumb out an hitch a ride to your destination – all for the small cost of a few bucks or a beer, and some chit-chat about how you actually can climb and ski off of peaks like this.
Or better yet, you meet a local. Our local was enthusiastic as can be. We met him at the coffee shop, and then later at the bar. With a town of only 50 people, it's easy find someone when you want to. With a one-tooth crooked smile, his passion was contagious. He loved Cooke City and wanted to share it with us. "We gotta figure out how you can get yourselves out to Daisy Pass tomorrow," he said. "I gotta work tomorrow… But… Ah screw it. You can just take my sled. I'm not using it. It's that red Yamaha in front of the Soda Butte. Just don't take it past Daisy Pass. And only take two of you at a time. It'd be appreciated if you filled it up when you're done." He even took the time to introduce us to two other visitors who did have sleds, who also offered to tow Doug and Tony while Frank and I rode Big Red. That's how it went. That's how the world works in Cooke City. And that's how we found ourselves in a sled caravan the next morning, on our way to Daisy Pass.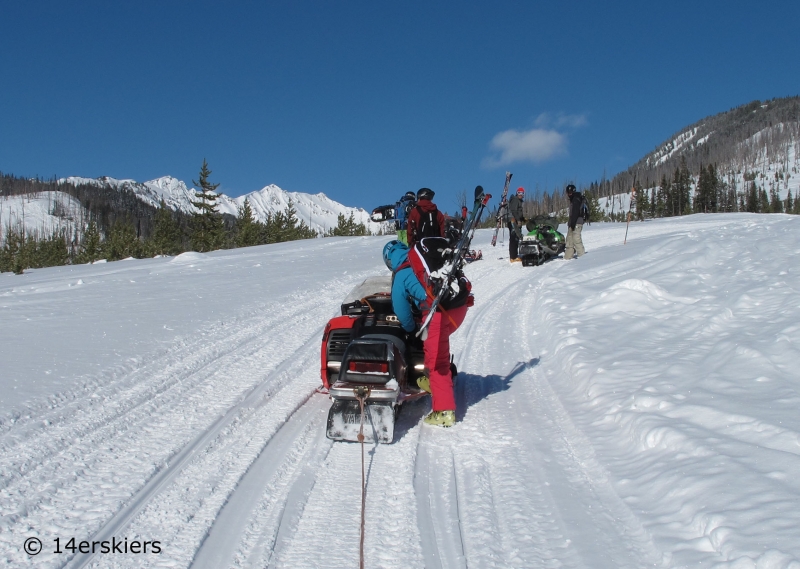 We admired Republic from afar, which we'd skied the day before.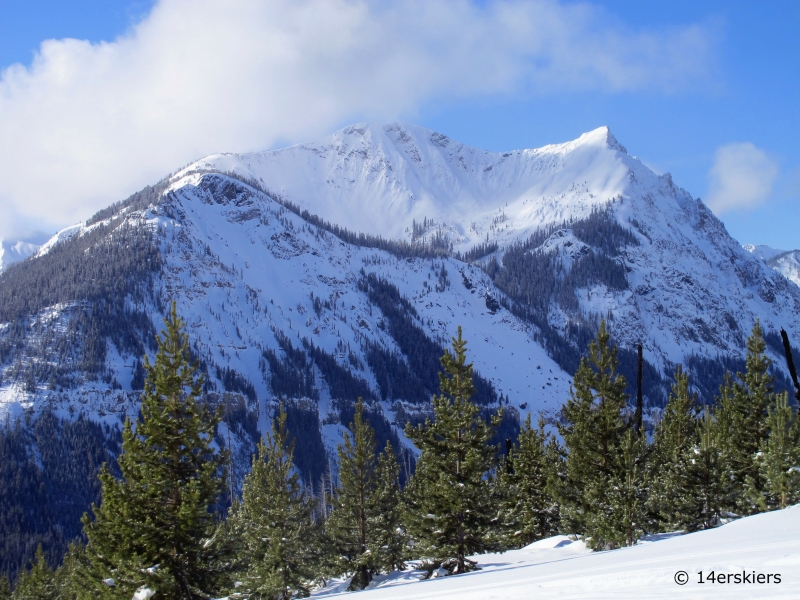 We left Big Red and our sled-tow at the top of Daisy, and skinned around Crown Butte to Crown Butte Pass, admiring lines the whole way.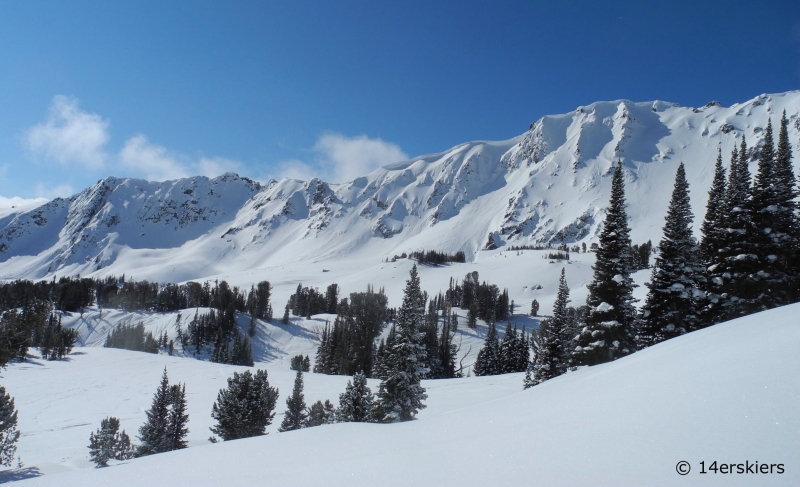 Chutes off Miller.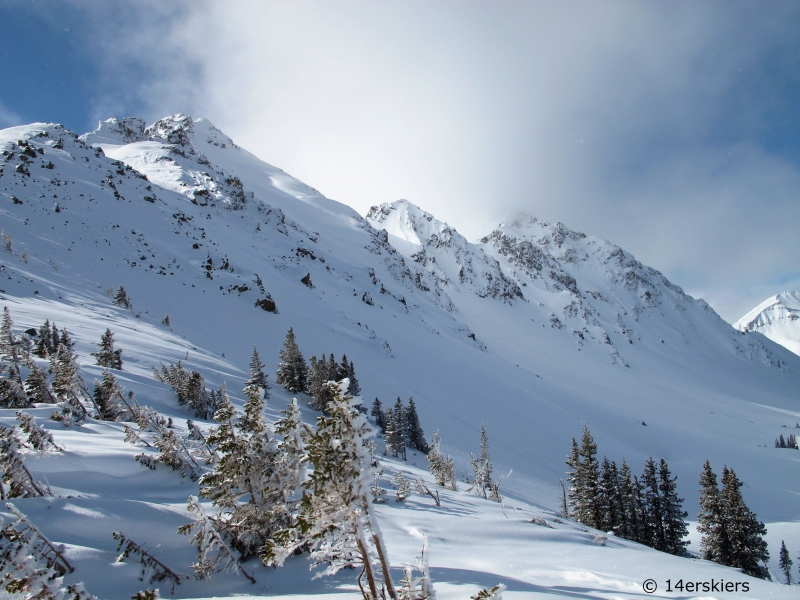 Wolverine – looking fun, but a little too far for us without a sled past Daisy.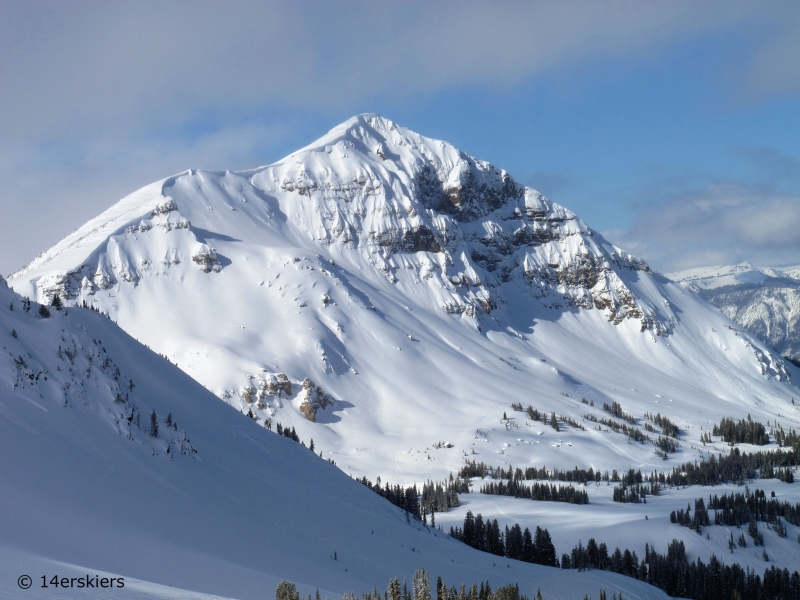 At the top of Crown Butte pass we pondered our options, and decided to head into the northeast basin below to check out more terrain.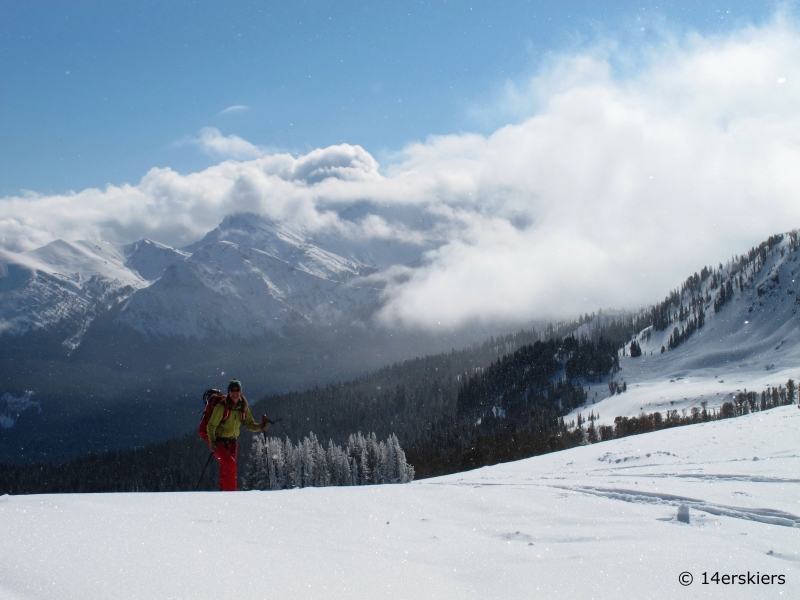 It wasn't long before this coulior caught our eye. This quickly became our target for the day.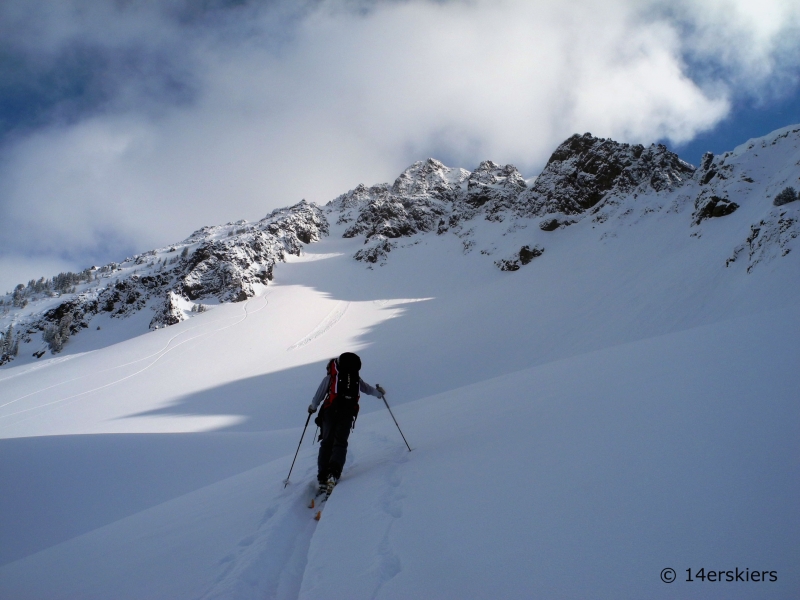 We skinned up the apron.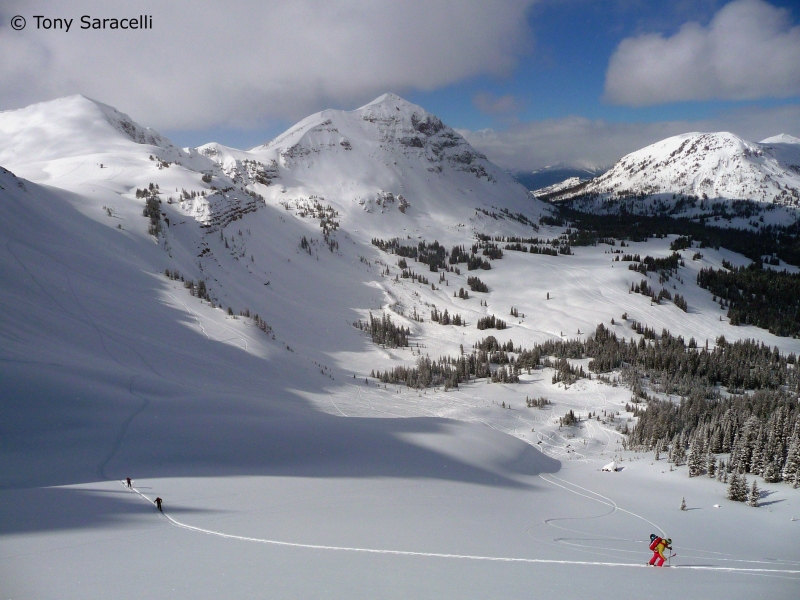 But as it steepened we switched to booting.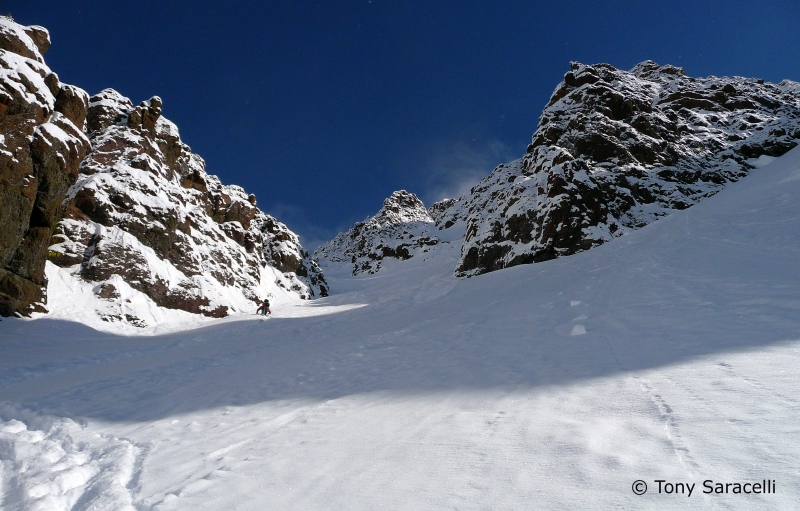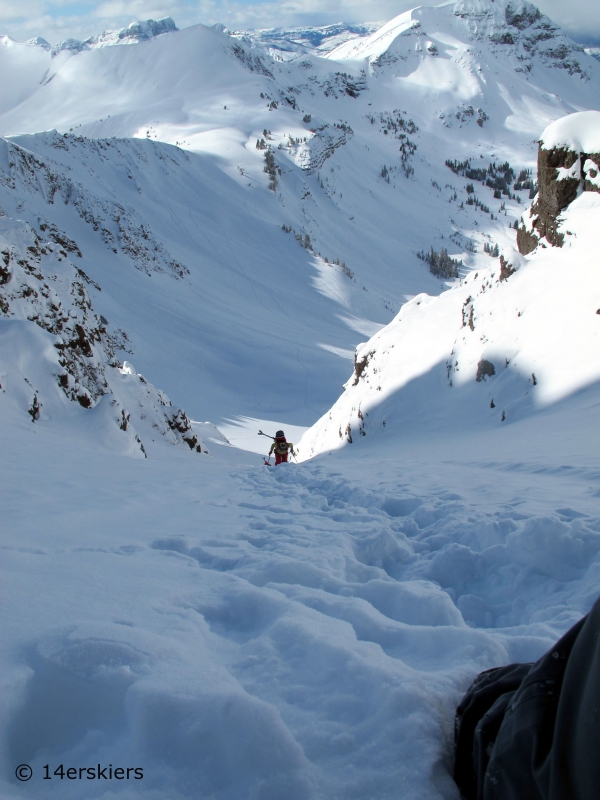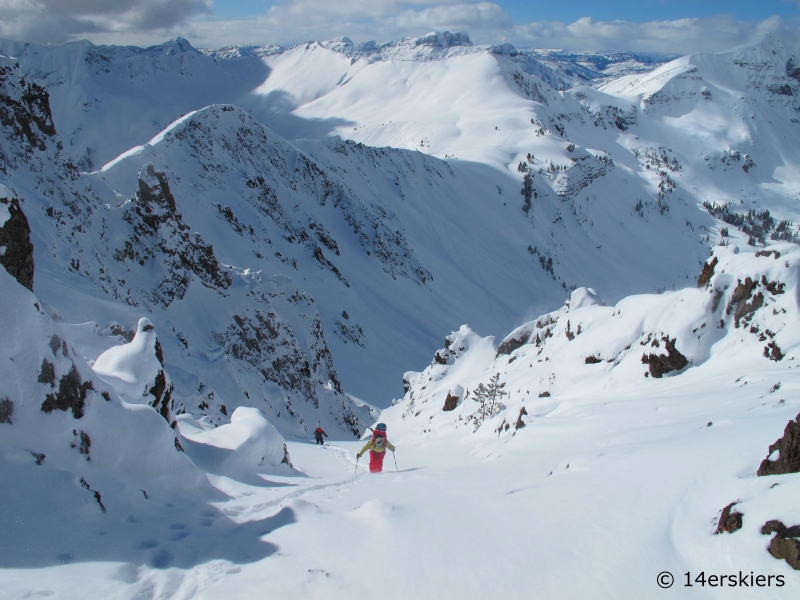 From the top, we drooled over more amazing lines we wished to ski.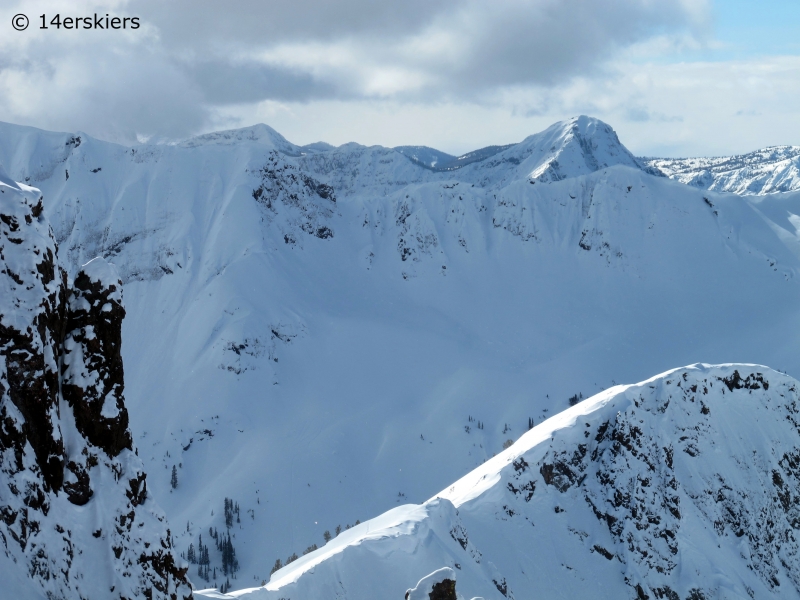 Frank dropped in first.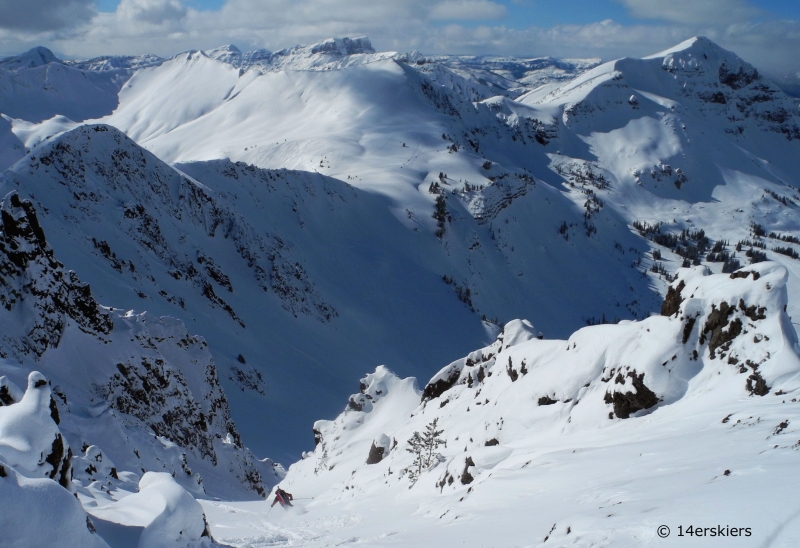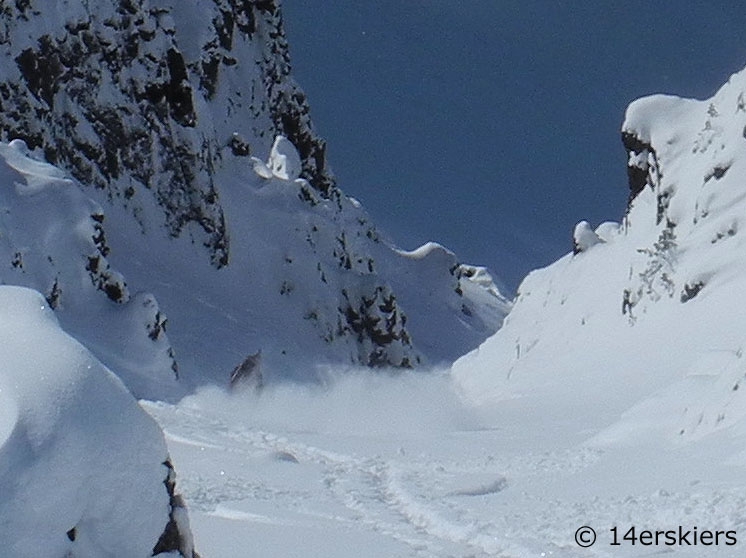 Tony.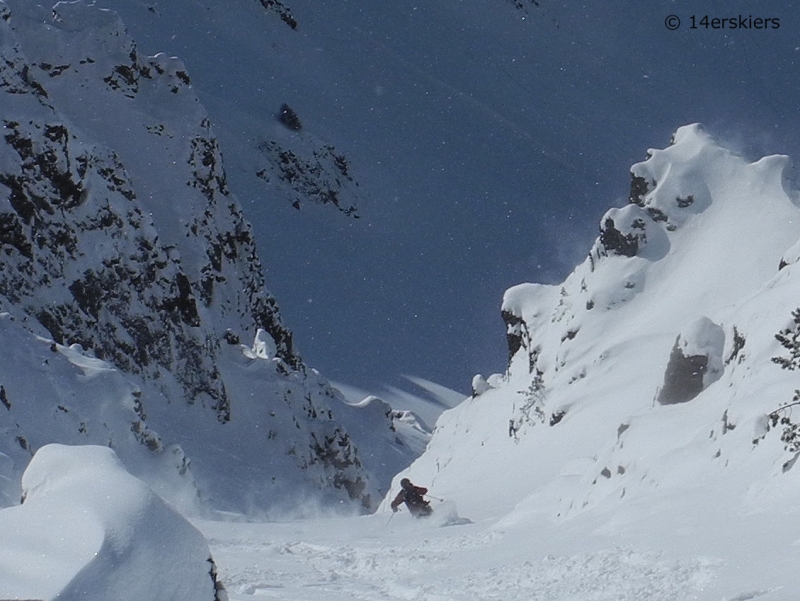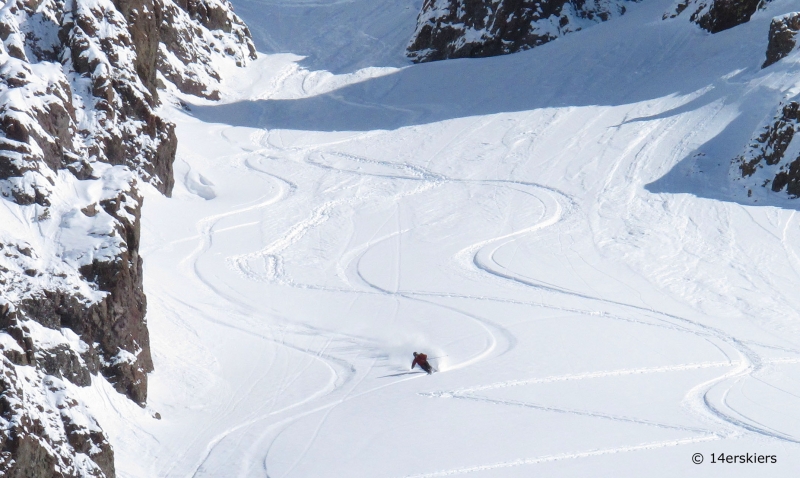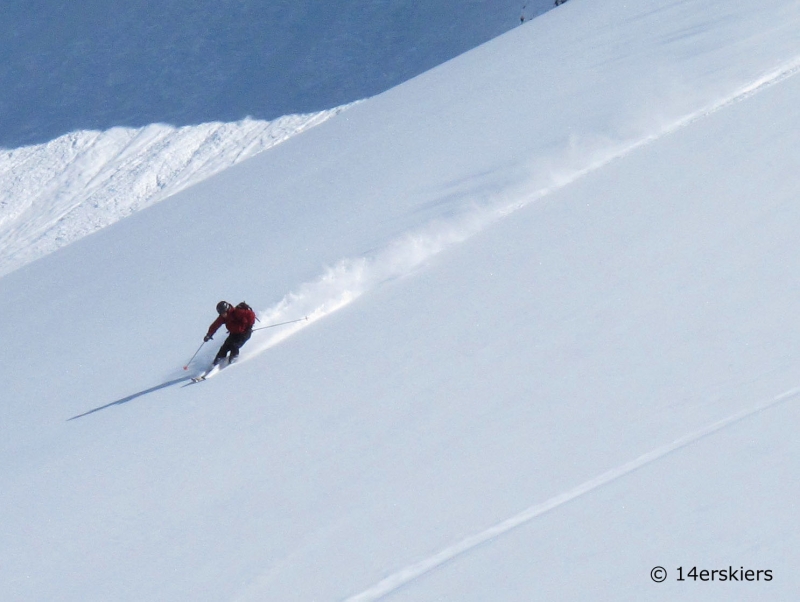 Needless to say, the skiing was great. Me.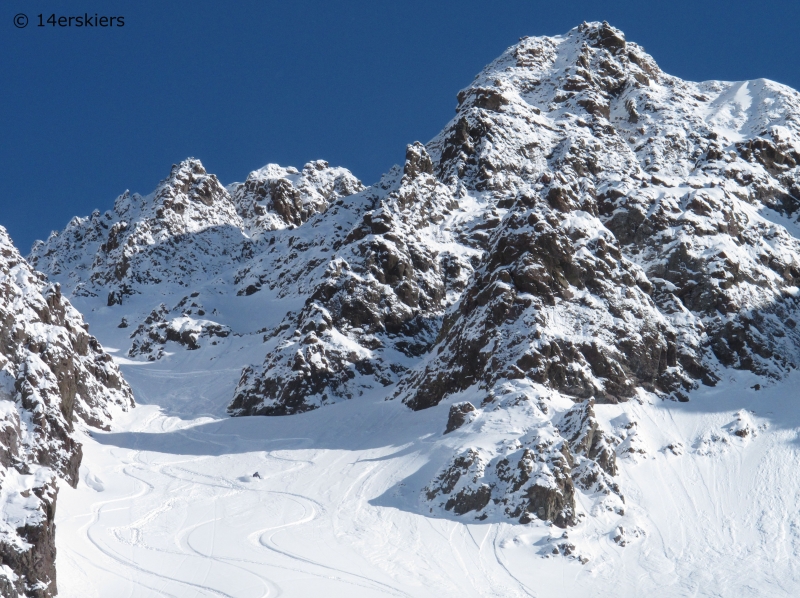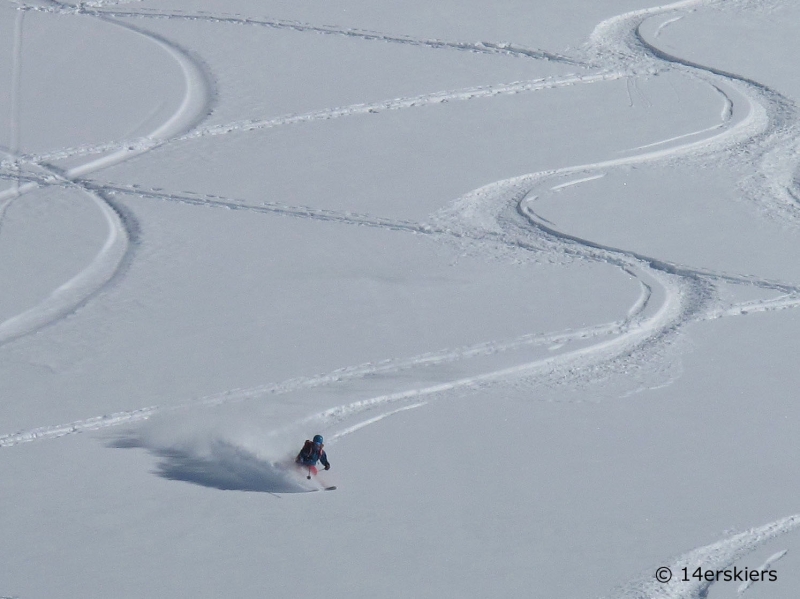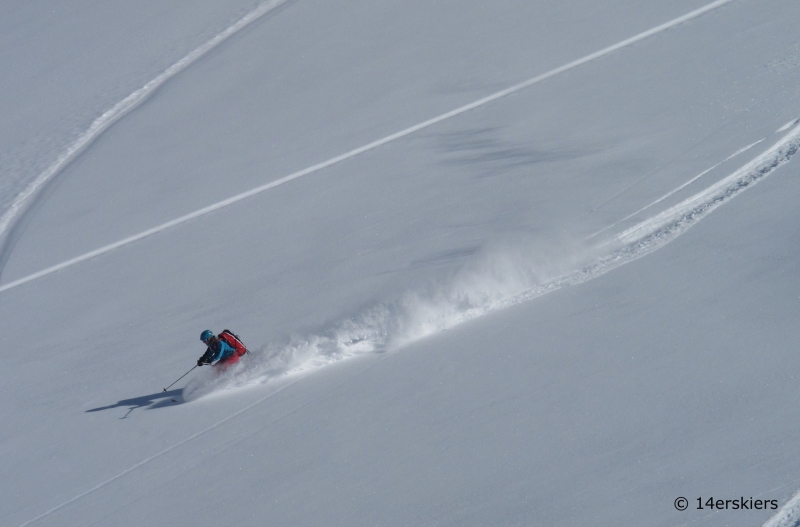 Doug.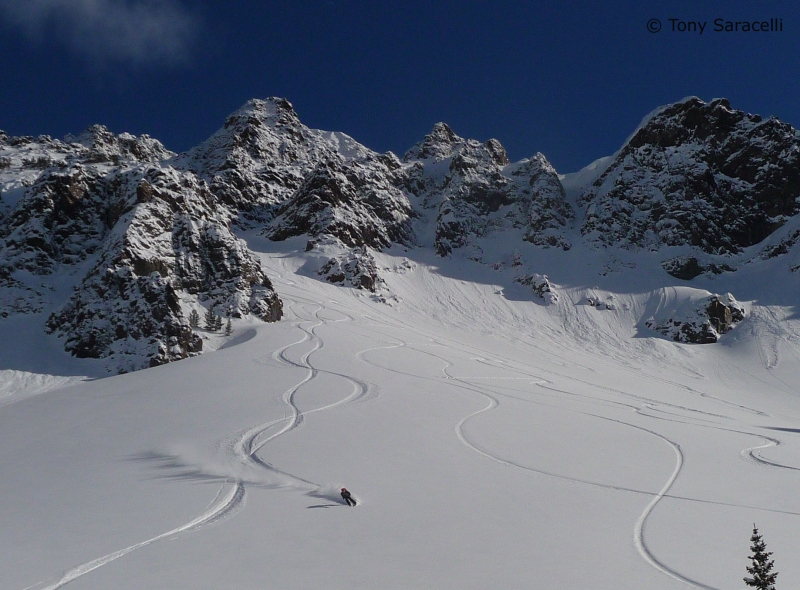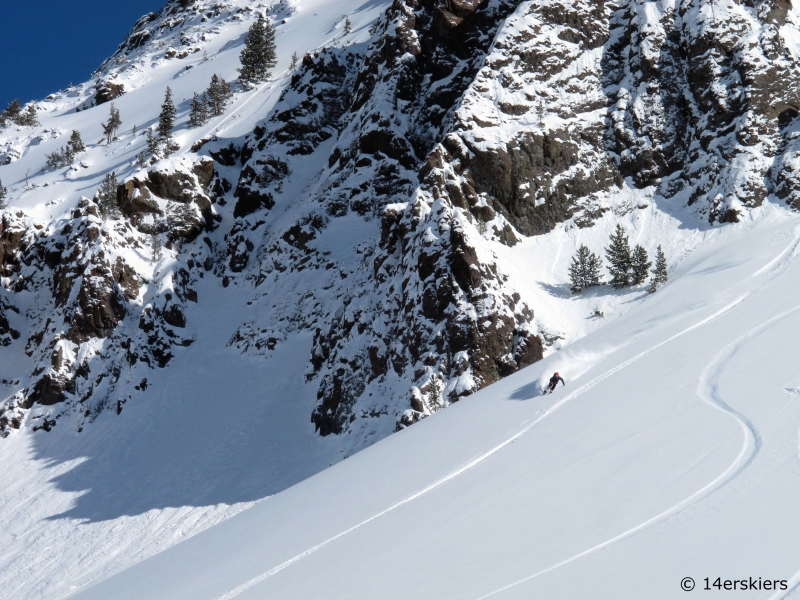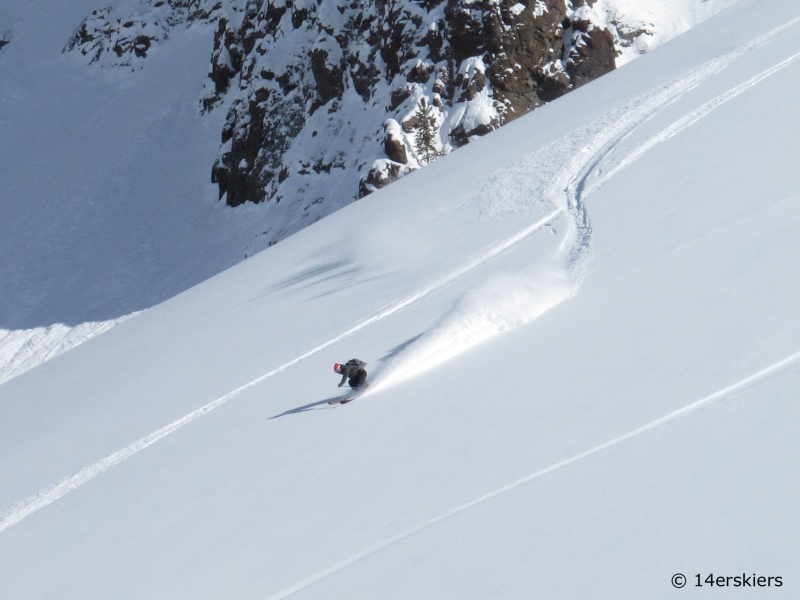 Below the apron, though well tracked from sleds, offered some good skiing as well. Frank.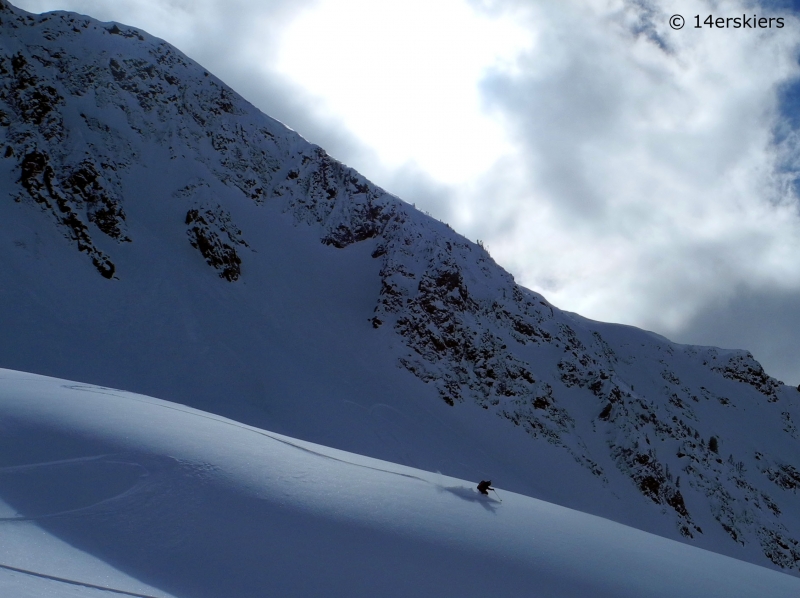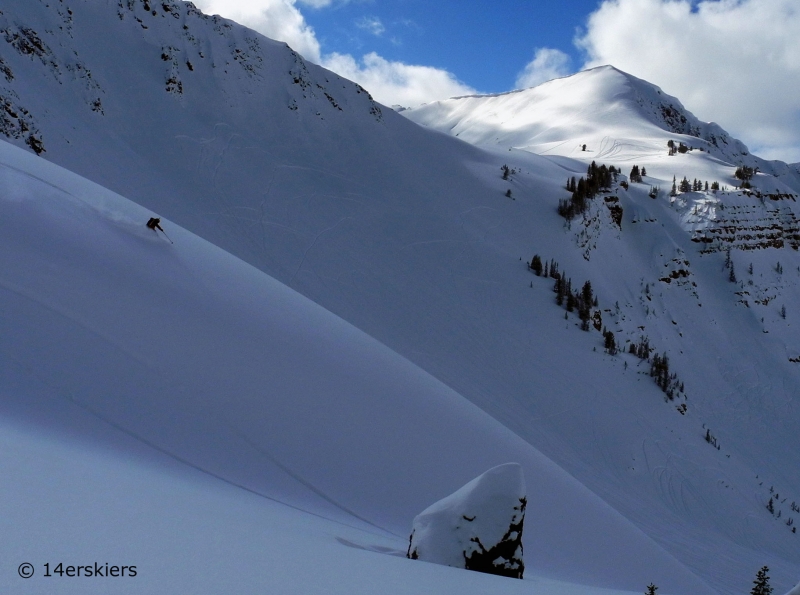 Me.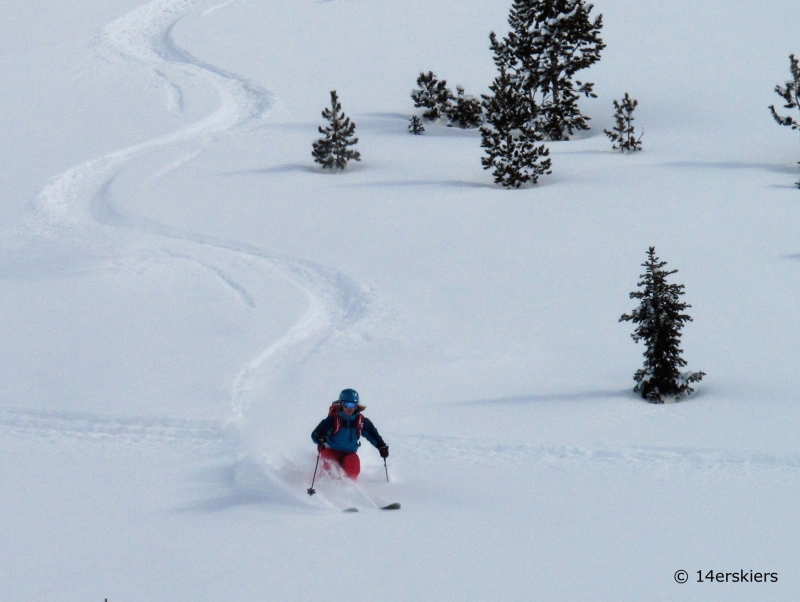 A look back up at where we'd just been.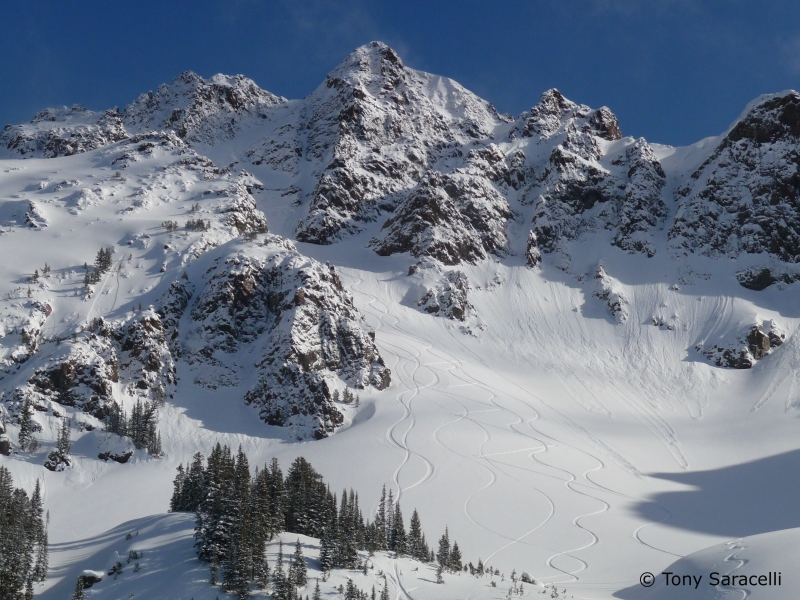 As we rounded out the finishing touches on our run, we ran into a solo sled-skier, a local who was admiring our ski. And the magic that is Cooke City ensued. We were not looking forward to the hour or so skin back to Daisy Pass. So,for the cost of a few bucks, this good local towed our butts up there with his sled. It took two trips, but it saved us effort, energy, and time. We were ready for more skiing.
Tony, gracious as he is, decided to let us have the better end of the deal. We headed up Henderson while he drove Big Red back to it's home in front of the Soda Butte. So, back up we went, as weather began to close in around us.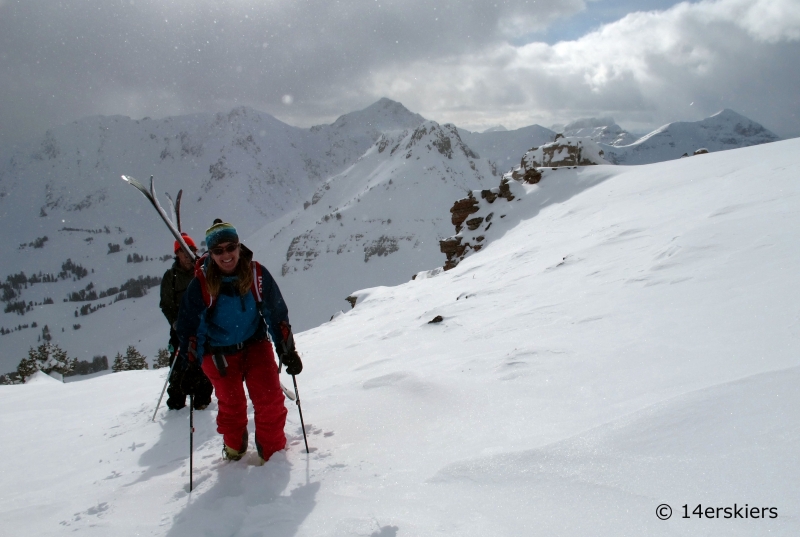 As we scoped out lines off the ridge, the wind howled in our faces. It was miserable at times.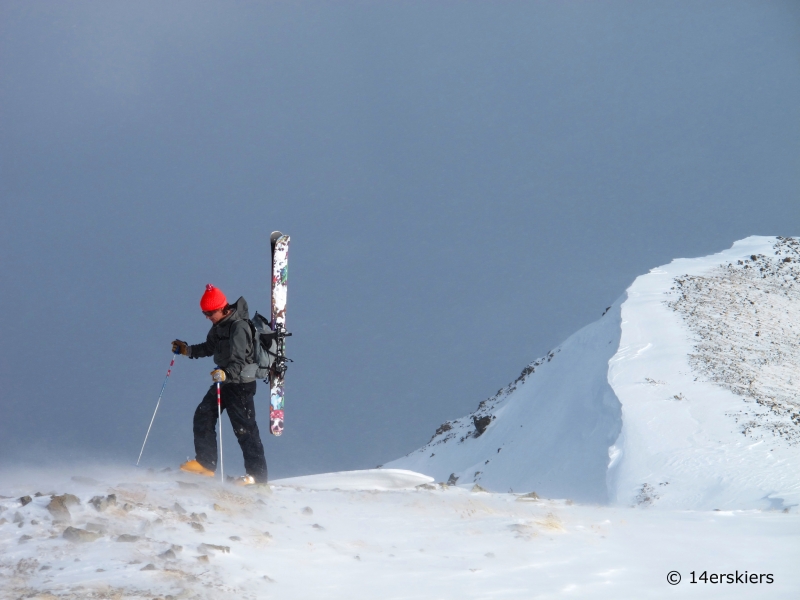 But, then, views like these brought us back to our happy place. Republic, from a different view.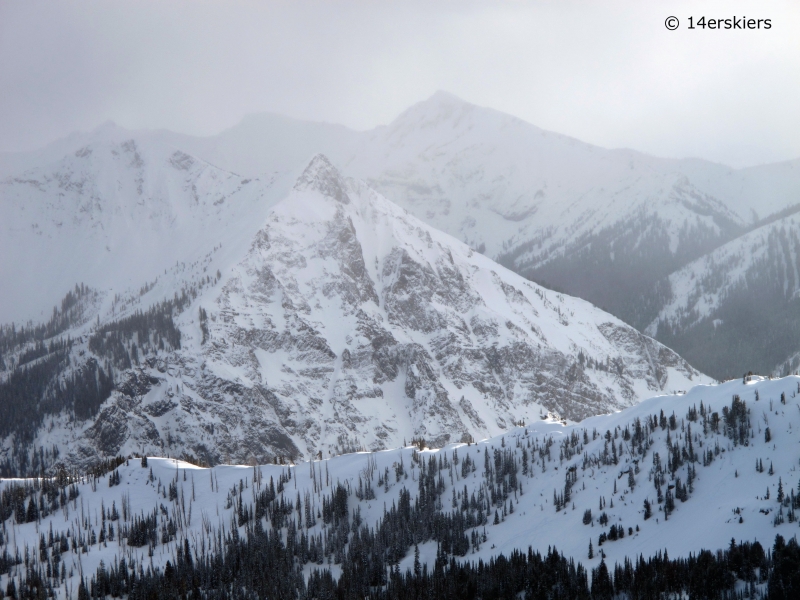 Scotch Bonnet seems made for skiing.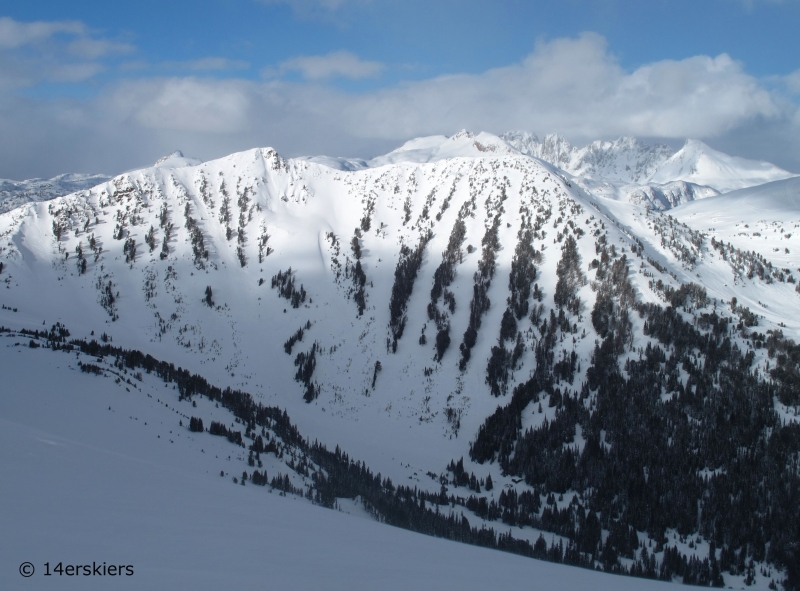 But then there's this – what dreams are made of. Wolverine and Sawtooth towered along the horizon, suddenly high on my list of "must ski".

We'd hoped to drop in on the northeast side of Henderson. But, cornices and recent wind-loading had us a little worried. So, we opted for the safer, yet fun, ski on the southwest side, back to the road. We enjoyed milking some fine powder turns along the way. Frank, looking rather ghost-like.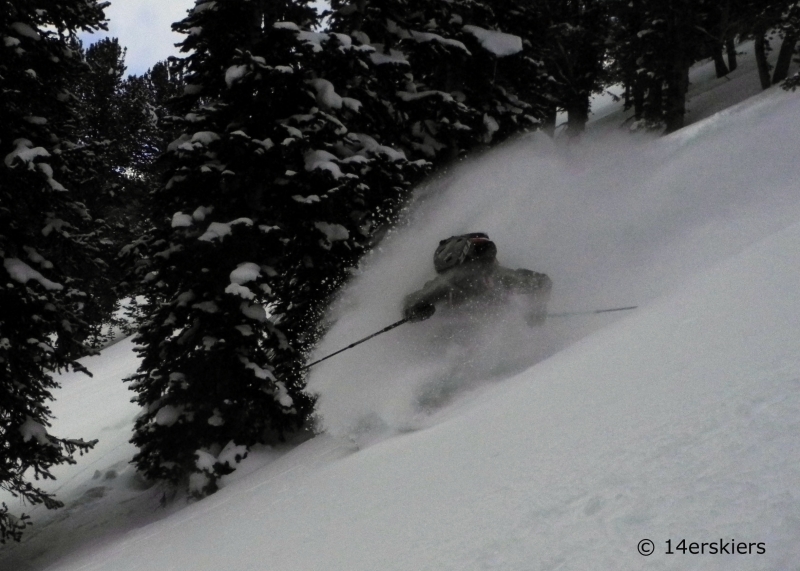 Doug.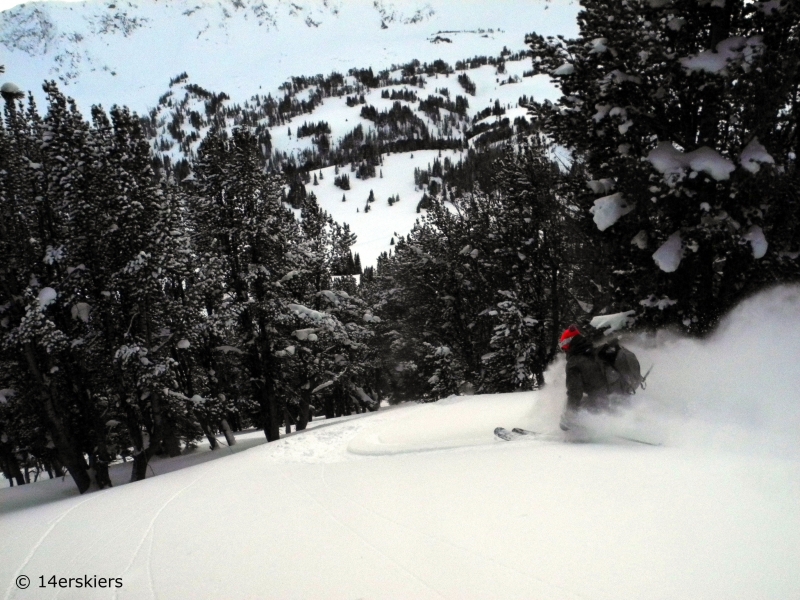 After following the road for a bit, we diverged from it to ski the burn more directly towards town. Doug.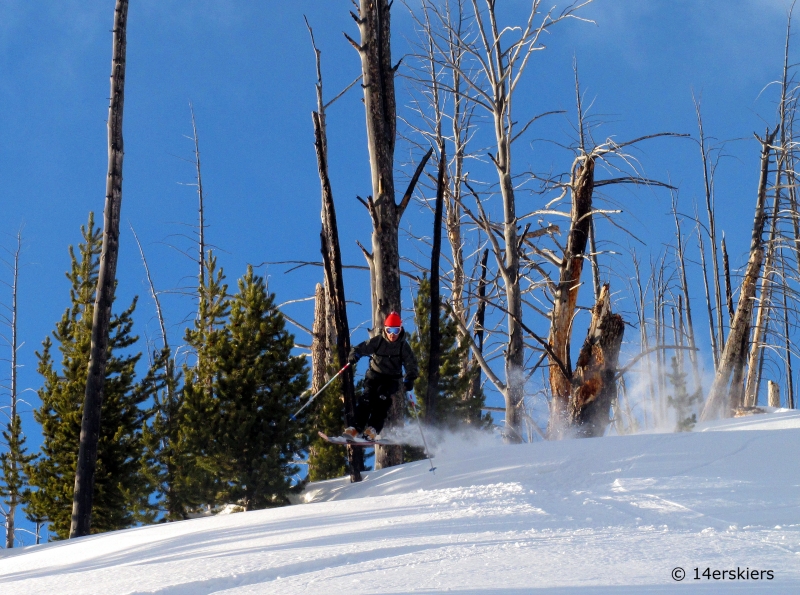 Frank.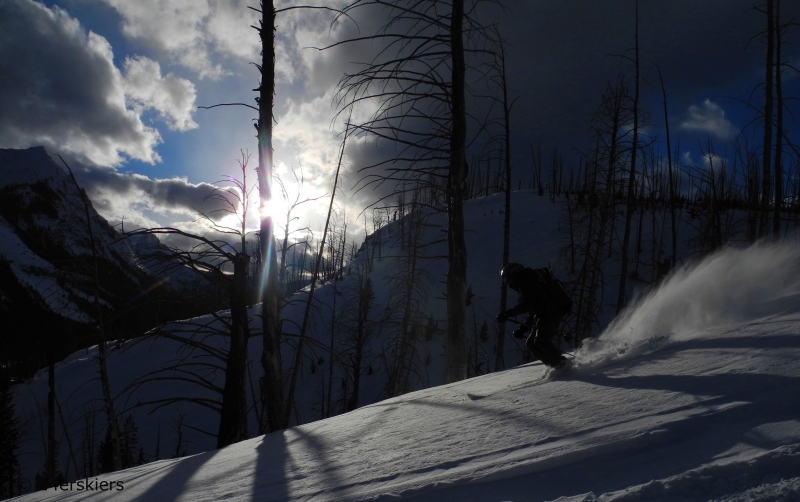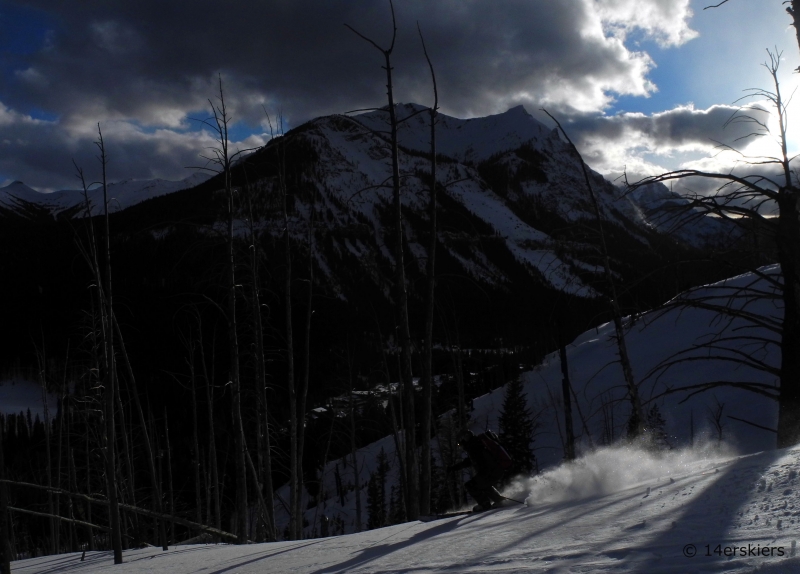 And we skied right into town, straight down main street, and to the door of our hotel room.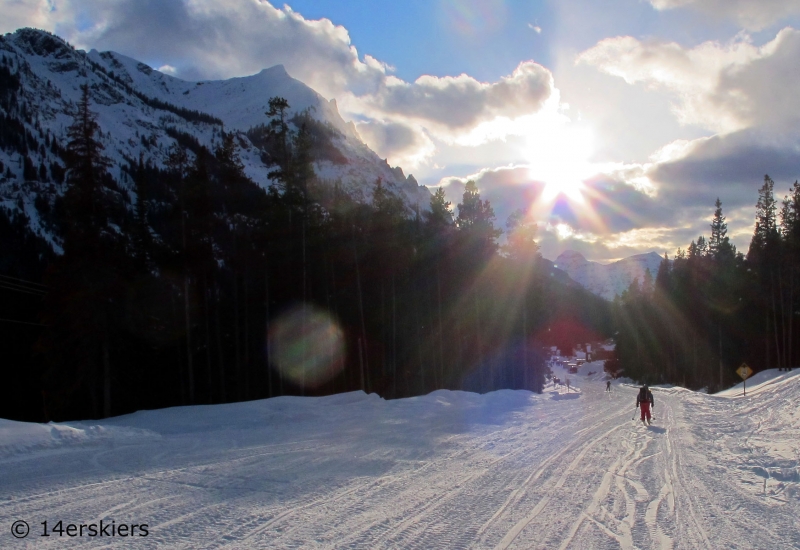 There are some places that I'm happy to have visited. And then there are those places that I'm sad to leave. Cooke City was one of the latter. Four days in Cooke City was only enough to get a small taste of what this area has to offer. With easy access, friendly locals, and fantastic terrain, we are bound to be back 🙂
---
Update: In April, 2018 our friend Tony perished in an avalanche skiing solo outside the boundaries at Bridger Bowl. Tony was a great person and we miss him greatly.
---
Cooke City Posts:
Day 1
Day 2
Day 3
Day 4
Aside from skiing, biking, and all outdoorsy things,
Brittany Walker Konsella
also loves smiles and chocolate 🙂 Even though she excels at higher level math and chemistry, she still confuses left from right. Find out more about
Brittany
!
Latest posts by Brittany Walker Konsella (see all)
Summary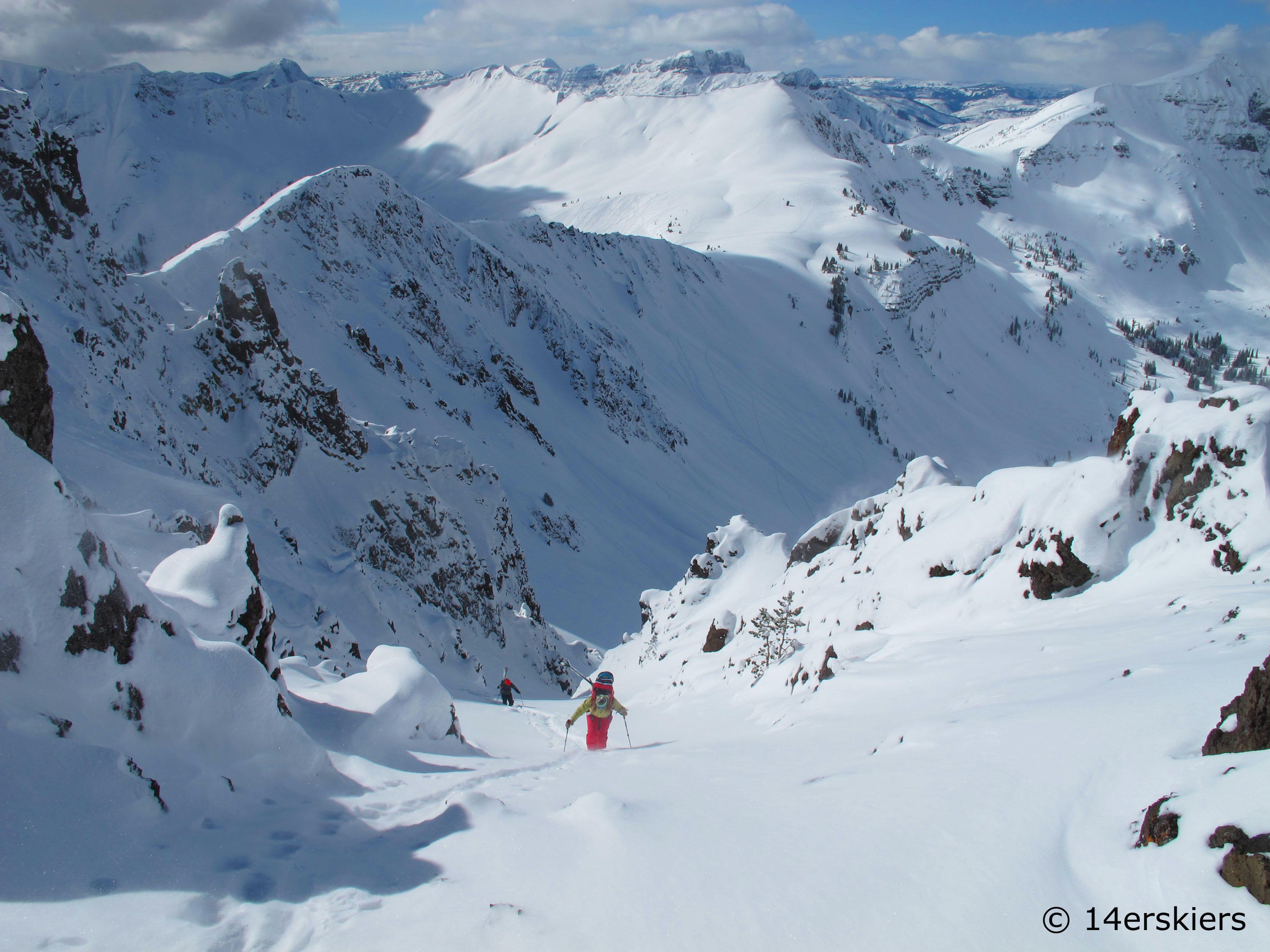 Article Name
Cooke City Day 3 - Sled Access
Description
Day 3 of exploring the backcountry ski terrain around Cooke City, Montana brought us to the good stuff, thanks to the help of a roughed up friendly local.
Author