Gear Review: CEP Compression Socks
(Last Updated On: August 31, 2012)
At last year's SIA trade show, Brittany and I were given the opportunity to test and review CEP's compression ski socks. Generally, socks obviously aren't that interesting, but the CEP socks do make some interesting claims. First, a little history and an explanation of compression socks.
CEP started out in the medical business, manufacturing compression socks for patients, a product which those of you unfortunate enough to have suffered an ACL injury know all too well. Realizing that their products were not only helpful for the injured, but also athletes, they began manufacturing sports- related socks and other products like compression shorts. The basic idea of compression products is increased blood flow- reportedly 40%. Studies have shown this increased blood flow results in faster times for runners, faster recovery, and less exertion. Click HERE for more info on these studies.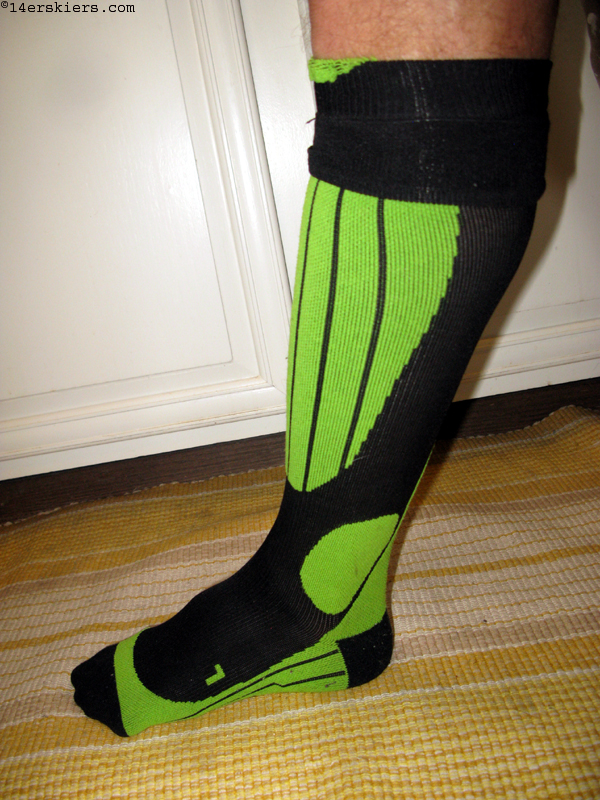 So, what did Brittany and I think about CEP socks- both as ski socks and did we notice any difference? Well, my legs certainly felt different while wearing these socks. There is no doubt about it when you put these on- they are not your standard ski sock. Was I faster or less tired at the end of the day? Tough to say that I really felt a certain percentage faster or less tired, but mentally, I certainly tried to tell myself that I was, near the end of a long tour. The socks are very thin, with more padding in the shins and other areas- this is great if you have a performance fit, but may leave you wishing for a thicker sock if you have a fair bit of room. Warmth was adequate/average. I found them to be very comfortable and you might notice the "L" in these photos- these socks have an excellent anatomical cut for each foot.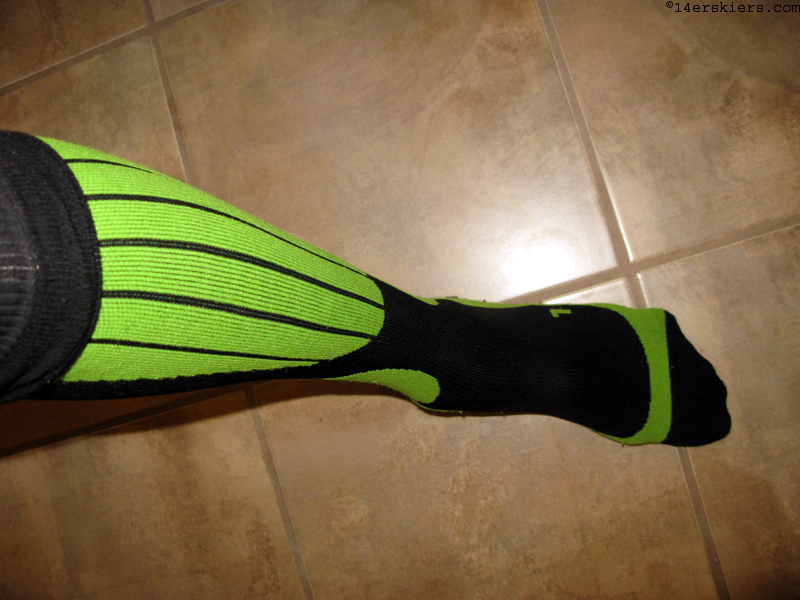 While I'm not sure this is a "must-have" product for every skier, they're certainly a great product that is worth a look. Based on their performance, I think their other products deserve a look as well- for instance if you're a dorky runner looking to regain your King of the Mountain status in Strava, a potential 5% increase in speed might be all you need…
Frank
loves snow more than anything... except his wife.  He ensures his food is digested properly by chewing it 32 times before swallowing.He is a full-time real estate agent serving
Crested Butte and Gunnison
and would be honored to send you his
monthly newsletter.
Latest posts by Frank Konsella (see all)