When There's No Snow, There's Ice: Silverton Ice Climbing 12.2.11
(Last Updated On: December 7, 2011)
The silver lining during a mediocre early season? The ice is usually as good as it gets during a dry year. Climbing ice is something I really enjoy, but I tend to blow it off for pow turns. The way things are going this season, however, ice might just have to become my activity of choice.
I gave Ethan Passant a call and we decided a trip down to Silverton was in order, which boasts a number of long, beautiful, natural routes. The ice park in Ouray is fun, but I'll take long moderates like these any day of the week. The ice was in, the avalanche danger from above was minimal due to the lack of snow (not the case anymore), and the temps were perfect. Stairway to Heaven (WI4, 280m) was day one's objective:

A quick hike got us to the base of the route and Ethan began leading up the first pitch.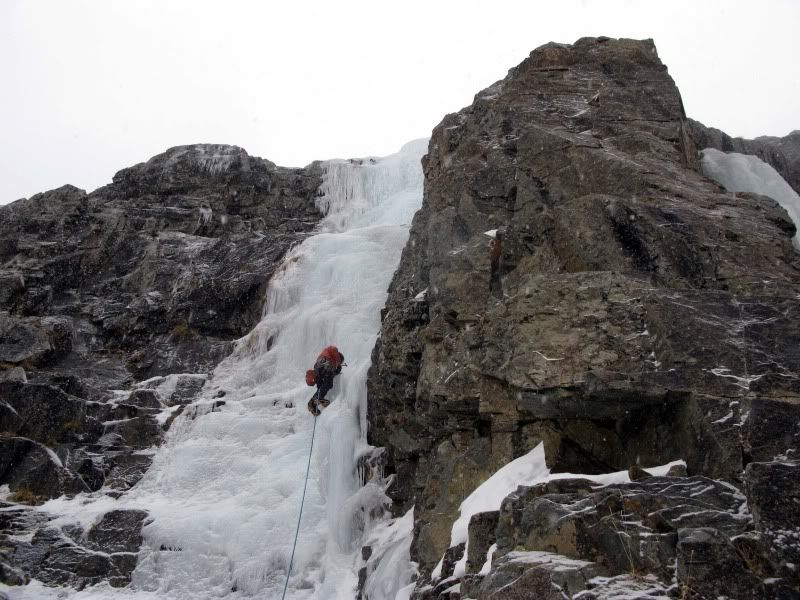 This was my first time using modern leashless tools (Ethan has an extra set), and like fat skis or full suspension, they change the game and make things a lot easier. We had the route to ourselves, although there were several other groups in the valley.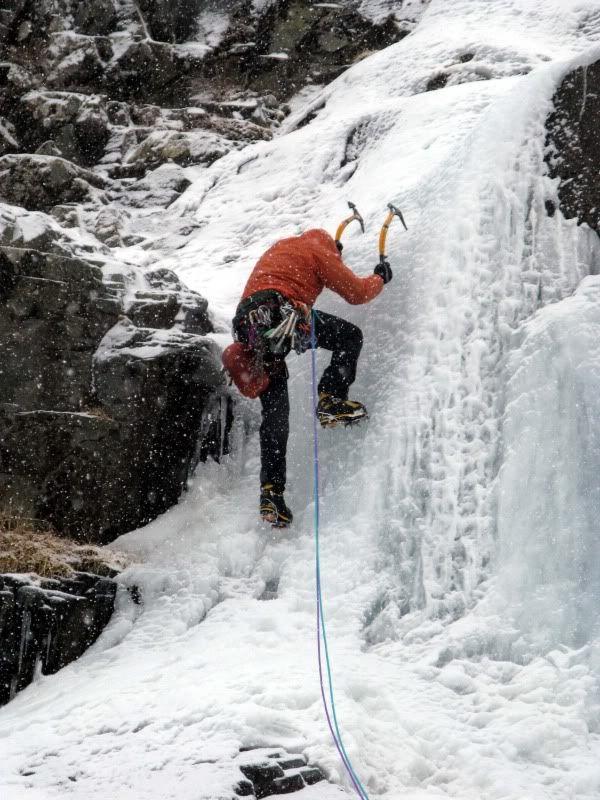 Climbing is such a mental game compared to my normal activities like biking and skiing. Especially on the dead vertical 3rd pitch, there were times when doubt crept in and I thought "I can't do this, this is way above my head". But then I tried anyway and I made it- that sense of overcoming adversity is sky-high when it comes to climbing. It takes challenging oneself to a level that skiing and biking just can't match, at least for me. Which isn't to say that I prefer climbing by any stretch, only that the mental experience is a lot different.
We had to skip the last pitch- after driving from Crested Butte that morning, we simply didn't have the time to complete the route. We still ended up rapping in the dark:

On day 2, we went to the same area to climb 1st gully (WI3/4, 260m). This climb was quite a bit easier than Stairway, especially for me, having exercised some fear demons the day before. Following on rock usually isn't very fear-inducing, but on ice even following gets my heart rate up. Nobody wants to fall with sharp points attached to their feet and hands- mom always said not to run with scissors, so falling with ice axes seems like an even worse idea. More photos of Ethan and the route (much of it hidden):

Thanks for reading. No minimum for backcountry.com shipping right now:

Frank
loves snow more than anything... except his wife.  He ensures his food is digested properly by chewing it 32 times before swallowing.He is a full-time real estate agent serving
Crested Butte and Gunnison
and would be honored to send you his
monthly newsletter.
Latest posts by Frank Konsella (see all)