The Wonderful Wedding (18 June 2011)
(Last Updated On: June 24, 2011)
Some girls grow up dreaming and planning their wedding day. I didn't. When Frank proposed to me the previous May, I had very little idea of what our wedding should look like. But, maybe that's the best way. Through the course of a year, Frank and I developed our wedding- with our own style, our own importance, and our own hands. And when it came time for the actual wedding day, things took their own course. And there Frank and I suddenly found ourselves, characters in our own fairy tale wedding.
We are still waiting on pictures from our photographer, Tom Stillo. But, I wanted to do a blog on our wedding before we leave for our honeymoon in just a few days. Thus, I am thankful for the photos contributed by friends and family that you will see here.
Our wedding was at the Club at Crested Butte. Yes, the "Club" is a golf course. But, the venue is perfect for a wedding like ours. We wanted a outdoor wedding followed by a largely indoor reception. With stunning views on all sides and a rustic yet classy interior, the Club suited our needs to a tee.
The Wedding Ceremony
Guests arriving.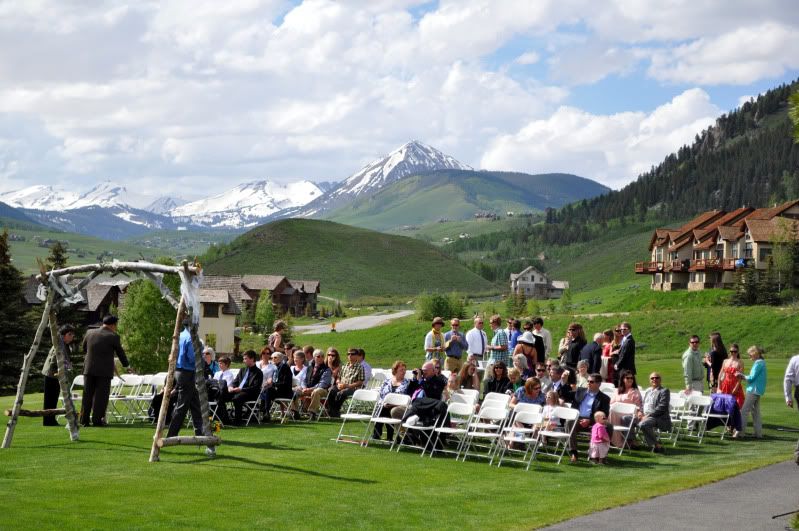 Hennie played music as our guests began to arrive, and played for our procession as well. Our procession song was All I Want Is You by Barry Louis Polisar.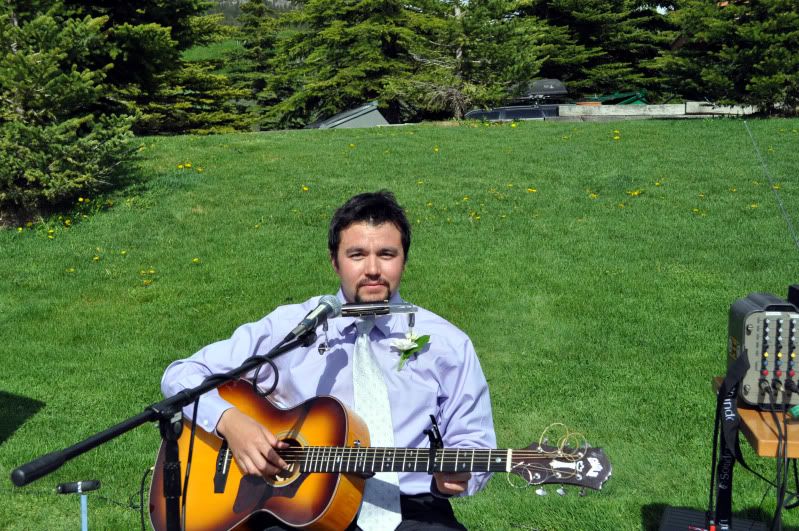 Photo courtesy of Kim Ross
Frank waiting with his best man, Ben, and our officiant, Lou Dawson.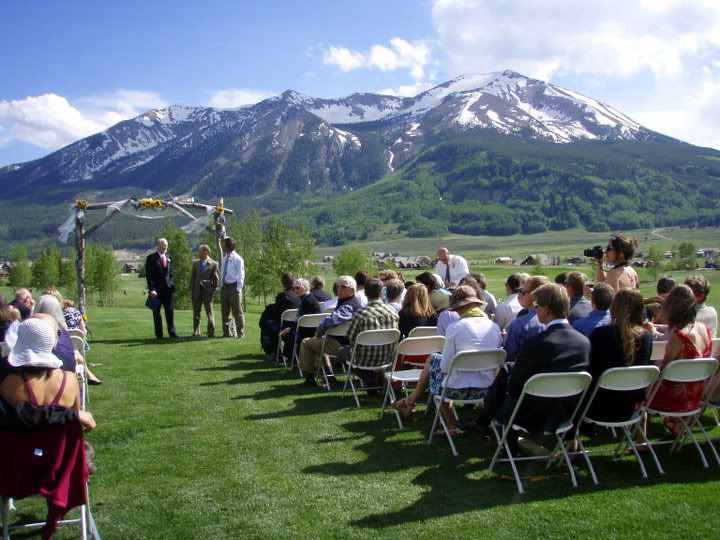 Photo courtesy of Amy Bosak
Moms were seated first. Frank's mother Fran was escorted by Frank's brother-in-law, Ki.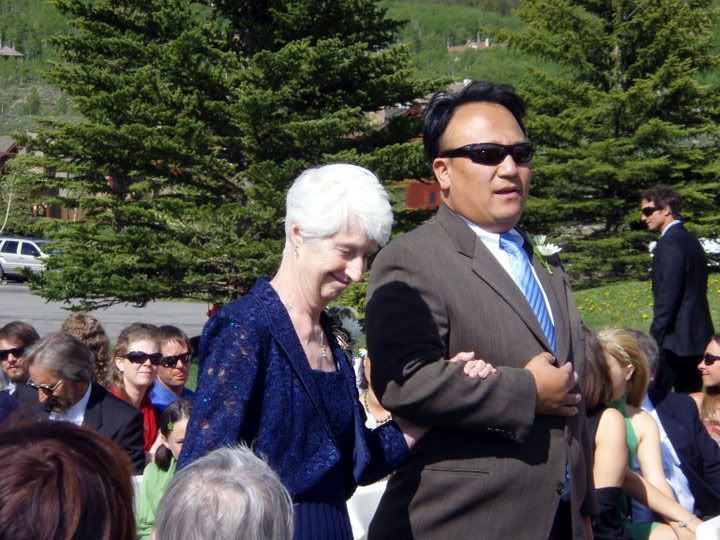 Photo courtesy of Amy Bosak
My mother, Inga, was escorted by our friend John.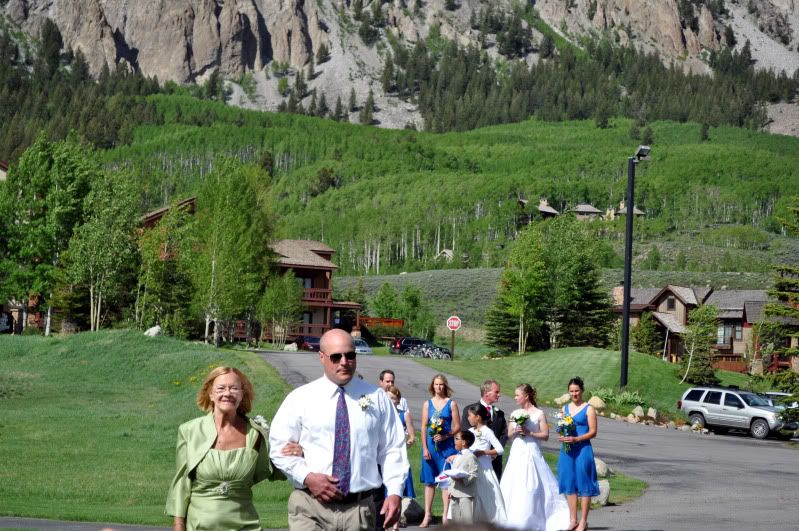 Photo courtesy of Kim Ross
Our ring-bearer, Leo, Frank's nephew.


Photo courtesy of Kim Ross
Our flower girl, Azalea (how appropriate for a flower girl!), Frank's niece.


Photo courtesy of Amy Bosak
These little ones were followed by our bridesmaids and groomsmen. Jen and Steve.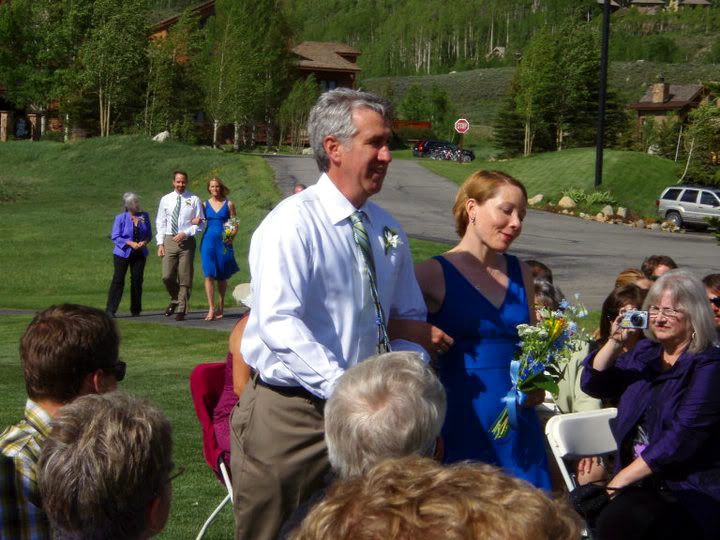 Photo courtesy of Amy Bosak
Sydney and Mark.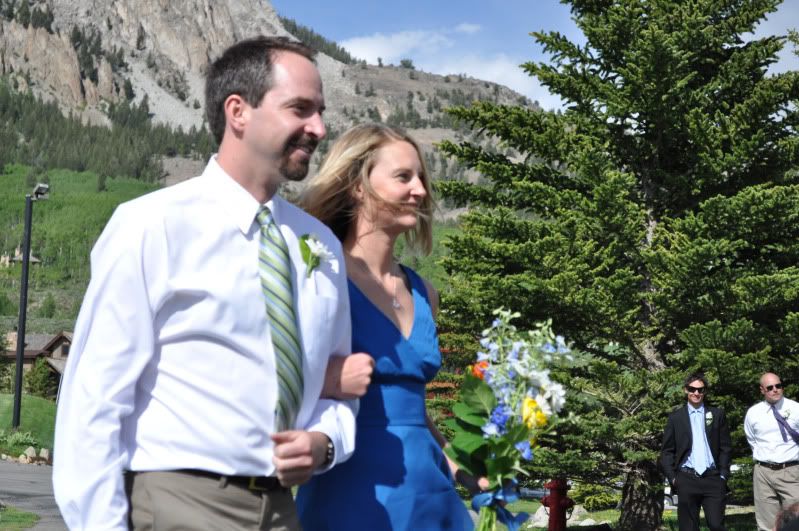 Photo courtesy of Kim Ross
Sonya, my Maid of Honor.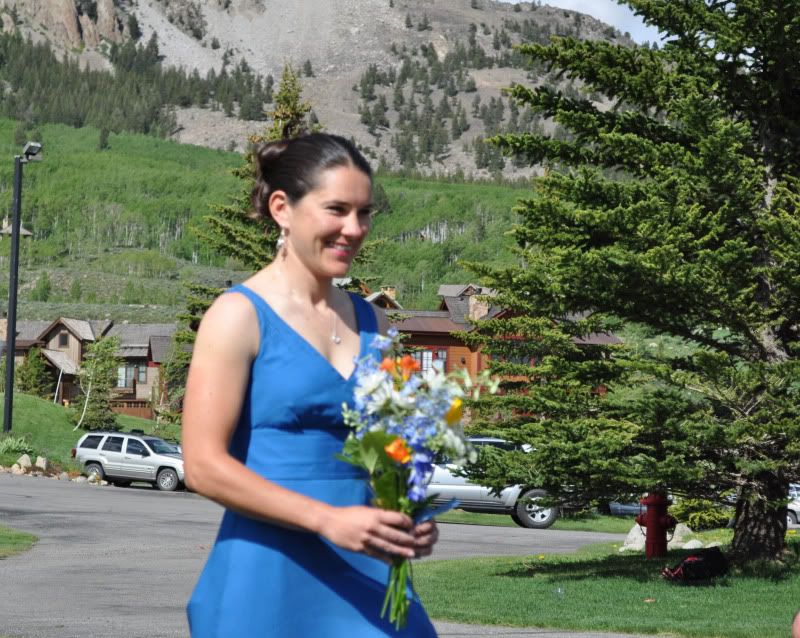 Photo courtesy of Kim Ross
My dad, escorting me down the aisle.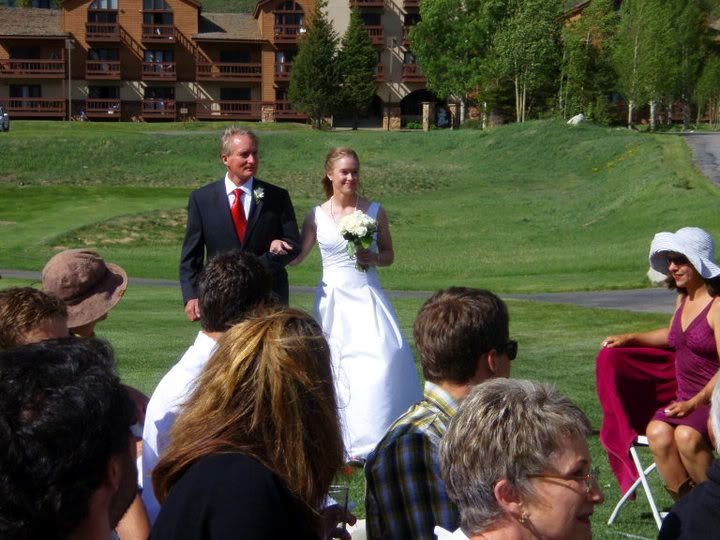 Photo courtesy of Amy Bosak
The ceremony was fantastic, not that I'm biased or anything 🙂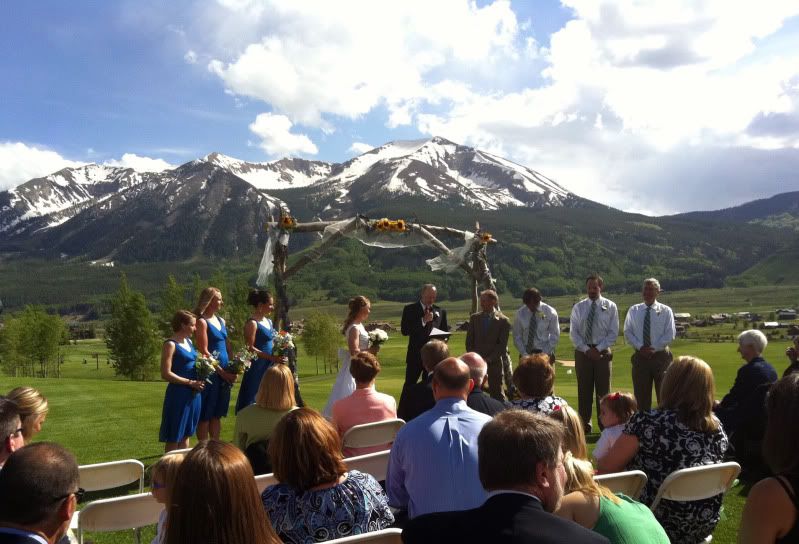 Photo courtesy of Amy Bosak
Our officiant was Lou Dawson, the first person to ski all of Colorado's fourteeners. Since Frank and I met because I wanted to ski all the fourteeners and Frank and I have both skied all of the fourteeners since meeting, Lou seemed like the perfect person to officiate our marriage. Lou has put his speech on a blog post for others to read. While Lou did develop his speech largely on his own, Frank and I did write our own vows (which were read by Lou) as well as choose the poem that was read.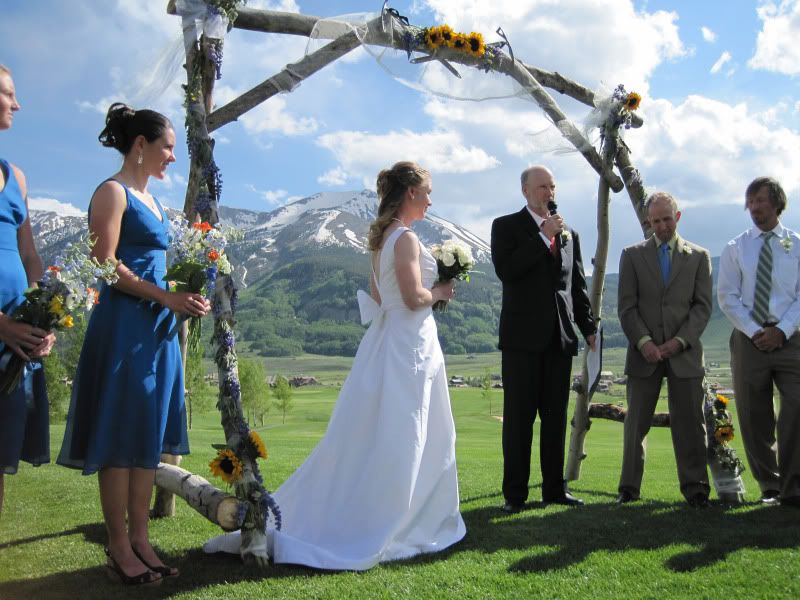 Photo courtesy of Inga Walker
To add to our ski mountaineering them, our guests saluted us with ice axes as we exited down the aisle.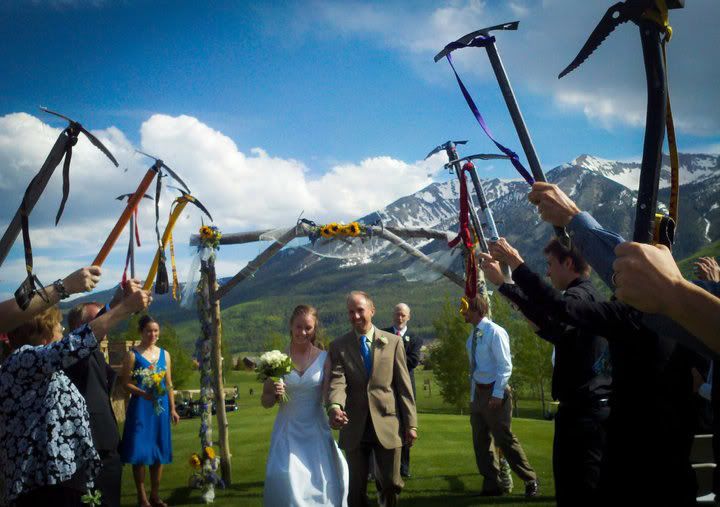 Photo courtesy of Ann Driggers
The arch/altar under which we were married was built by Frank and his friend Jon earlier in the week. They harvested fallen aspens from a nearby forest and used their carpentry skills to build it in less than an hour. To decorate, I had gathered blue and green ribbon at Michael's as well as wedding dress scraps from my alterer at D'Anelli Bridal. I purchased sunflowers at our grocery store and friends gathered lupine. The altar was beautifully decorated by Frank's family- Laurie, Amy, and Susan.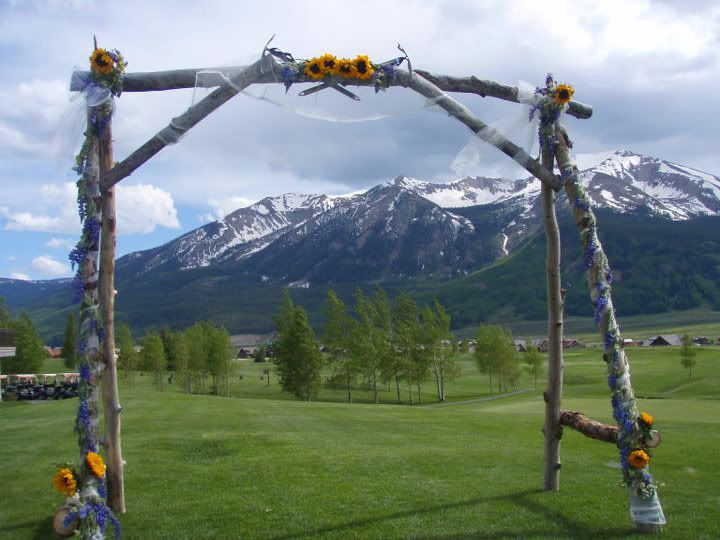 Photo courtesy of Amy Bosak

Photo courtesy of Ann Driggers
Of course, it would not be complete without the ice axes 🙂 Where did we get all the axes? Frank and I provided 7 ourselves. The rest we asked our friends to contribute.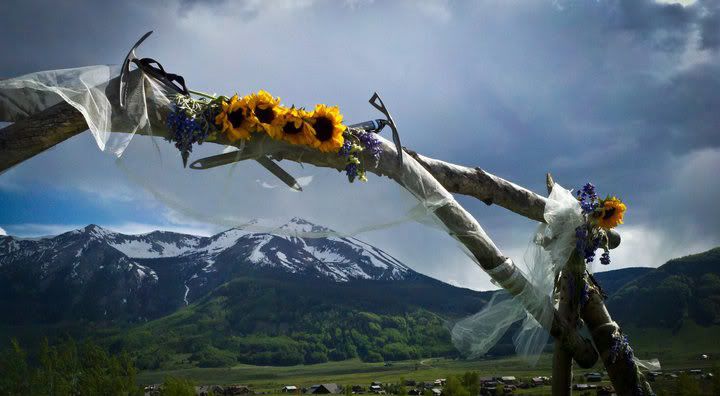 Photo courtesy of Ann Driggers
After the ceremony, we relaxed as teams were organized for group photos. Here, Frank checks out his new ring 🙂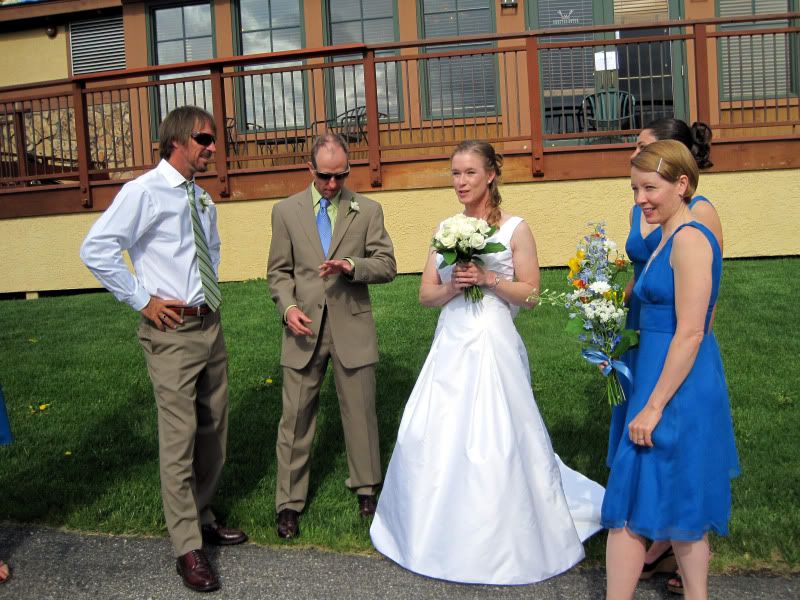 Photo courtesy of Inga Walker
And after a few photos, it began to rain- but that means good luck, right?


Photo courtesy of Inga Walker
But, it didn't rain for long. And the light was perfect!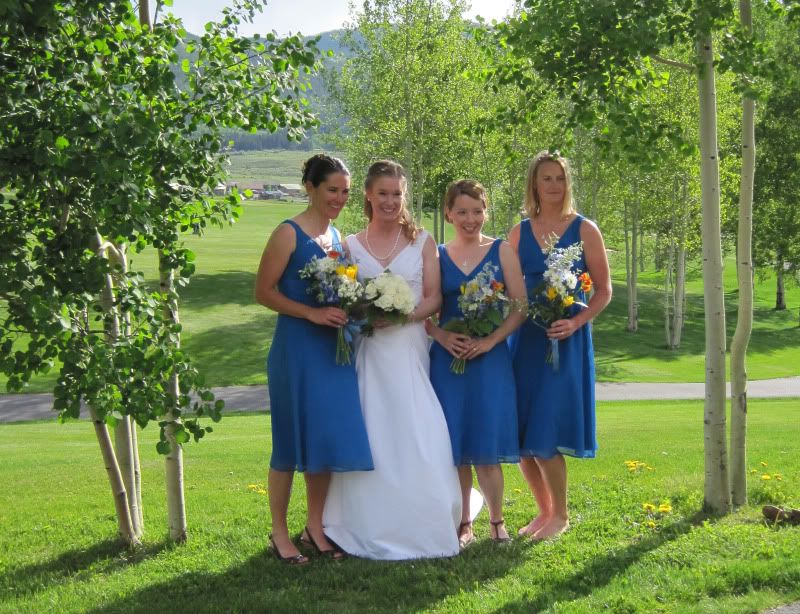 Photo courtesy of Inga Walker
The Reception
Our reception was decorated with a ski mountaineering theme. It included miscellaneous ski mountaineering and vintage ski posters that we had brought from our apartment, and ice axes and crampons contributed by our friends. Tables were decorated with a crampon, a vase of "wildflowers" (delphiniums and freesia- from Rocky Mountain Rose) and a photo cube depicting a specific fourteener. We had fourteen tables, each one named after one of the 38 fourteeners Frank and I had skied together. The photocubes on each table had pictures and a story of that particular fourteener.
Frank and I, enjoying the reception.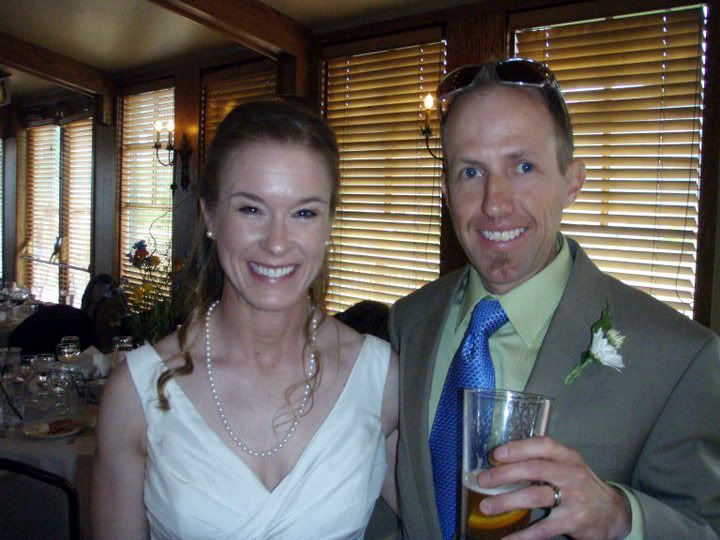 Photo courtesy of Amy Bosak
Our "cake" was a real highlight. We had delicious cupcakes and a small cake made from the local Bodo Baker (Kristina Herrin). We displayed them by stacking slate which Frank and I had gathered the week before from our local rock.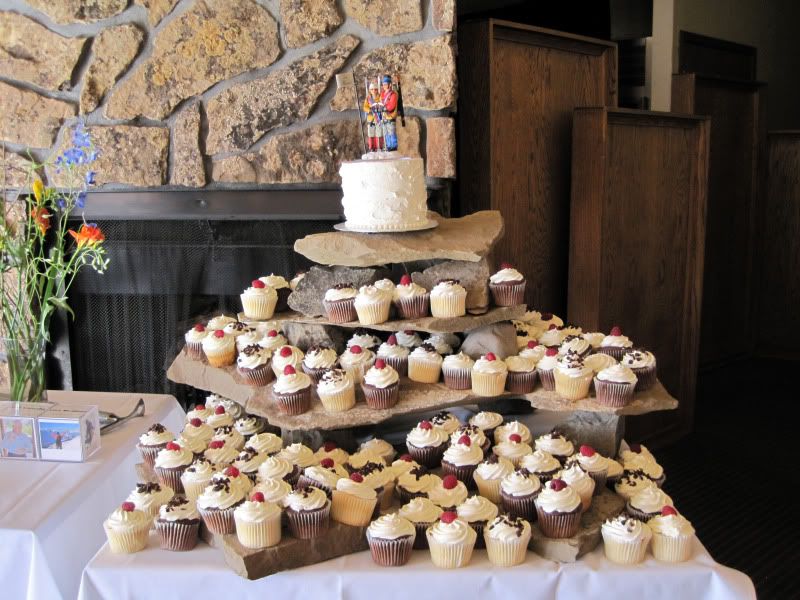 Photo courtesy of Inga Walker
Our goal was to make our cake look like a mountain we had just climbed and were about to ski down.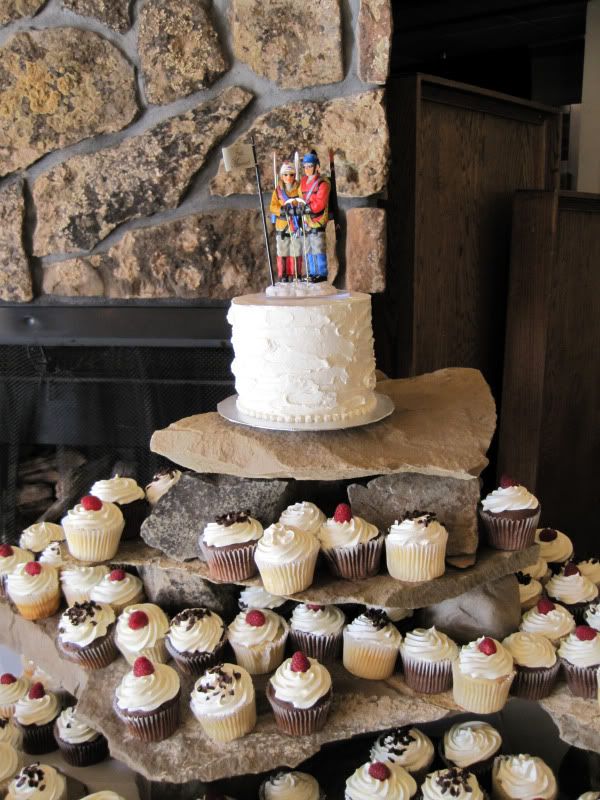 Photo courtesy of Inga Walker
The cake topper, I had purchased at peak62.com. But, we had to add our own skiing flare to the mountaineering figurines. So, I purchased dollhouse skis and poles. I painted the skis to match our equipment (Frank on Black Diamond Verdicts, me on Salomon Czars) and then glued them and the poles on to the figurines. The funny thing is, they actually really do look like us 🙂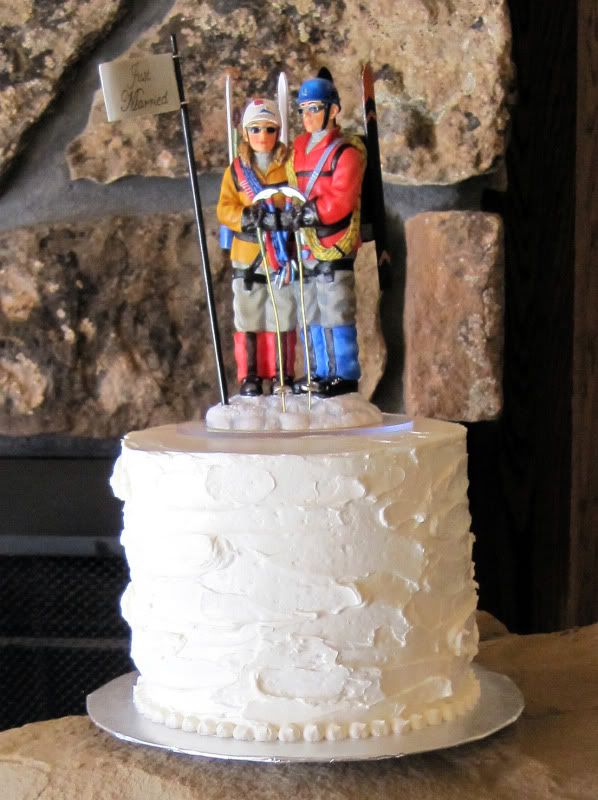 Photo courtesy of Inga Walker
Live music is always so much better than a DJ. That's why we hired a band. We hired Velvet Rut, whom we booked through gigmasters.com. If you need a band within a few hours of the Denver area, I'd highly recommend them. Frank and I enjoyed our first dance to Little Silver Ring, by the Samples. Our wedding bands, by the way, were designed by our friend Stone in Leavenworth, Washington. Engraved on them is a silhouette of Castle Peak, which was the first fourteener Frank and I skied together. (Picture of rings coming soon 🙂 )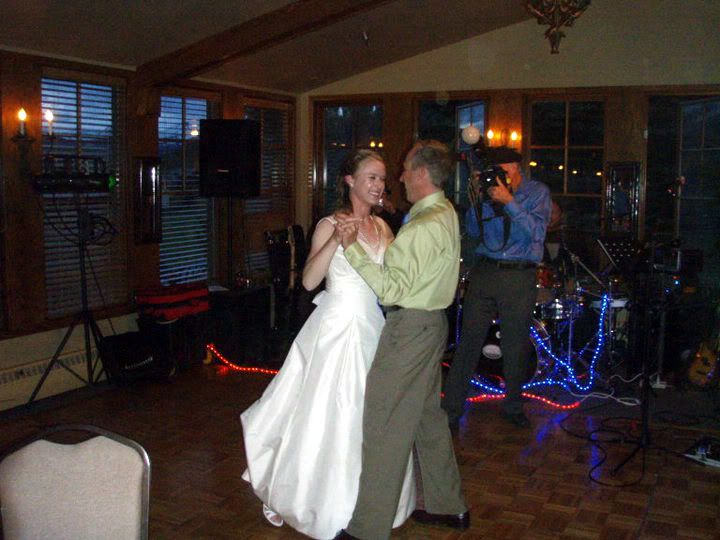 Photo courtesy of Amy Bosak
The reception was full of energy, happiness, and laughter. But, like so many things this year, it too went by far too fast. Before we knew it, the time was 11:30 pm. Last call had already passed. Cinderella's carriage was about to turn back into a pumpkin and the employees at the Club were kindly escorting us out the door.
Still, Frank and I continue to marvel at the whole event. Everything happened to perfection, much to our amazement. We truly lived the magic in our fairy tale wedding. Frank and I were so thrilled to be surrounded by friends and family from far away and from so many different parts of our lives and we absolutely enjoyed sharing our union with all of our loved ones. We have all of you to thank! Our wedding day will go down as one of the greatest days of our lives.
Frank and I are just at the beginning of enjoying our married life. We are so happy to share the rest of our lives together 🙂
Read more about our story in a New York Times article in the Vows column, written by Lois Smith Brady. Thanks Lois!
Also, check out our related blog entries:
Ski with the Bride – morning of the wedding ski with the bride and her ladies
White Rock Ski – a day-before-the-wedding ski with both Frank & Brittany and a group of their friends, revisiting the peak where Frank proposed the year before
Aside from skiing, biking, and all outdoorsy things,
Brittany Walker Konsella
also loves smiles and chocolate 🙂 Even though she excels at higher level math and chemistry, she still confuses left from right. Find out more about
Brittany
!
Latest posts by Brittany Walker Konsella (see all)