TBT: Sayres Benchmark – Grand Central Couloir Ski (5 May 2018)
(Last Updated On: May 19, 2020)
This post is part of a Throwback Thursday series featuring trip reports that we haven't had a chance to write about until now! Look for them on Thursdays!
I first laid eyes on Sayres Benchmark in June of 2006, when skied nearby La Plata Peak, my 6th 14,000-ft peak skied during my Colorado Fourteener Skiing project. I immediately added it to my to-do-after-I'm-done-skiing-fourteeners list, but here it was 2018, and I finished that project in 2011. Where did the time go and why hadn't I skied Sayres Benchmark yet? I could make up some excuses, for sure. But mainly, it was time to just get it done.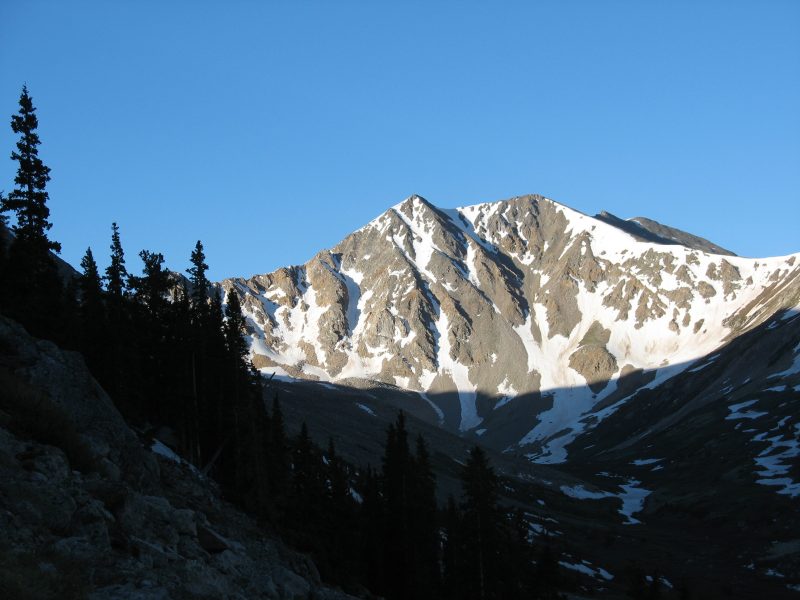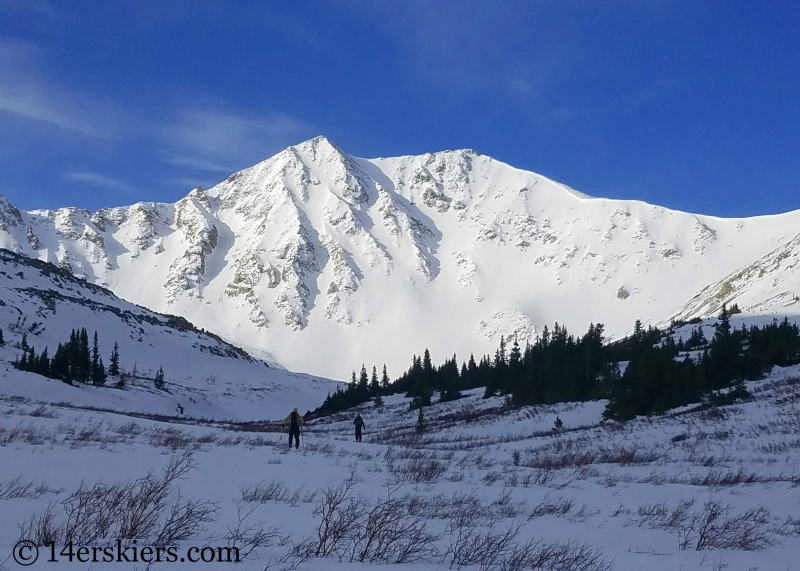 A storm was primed to hit the Sawatch Range and then leave bluebird skies the next day. After a season of non-winter, we felt lucky for an opportunity to ski a high peak in powder. I met with Dan and Larry, friends from Steamboat, and the La Plata trailhead, and we started up the La Plata summer trail. The trail was mixed snow and dirt and very slick, making both hiking and skinning very difficult.
At an obvious switchback, we left the trail as it started upward toward La Plata, and we wanted to continue further up the valley, following along La Plata Gulch. Traveling through the valley was easy, as all the willows were covered with snow. If you wait too late in the year so the snow no longer covers these willows, and your travel will be a lot more difficult.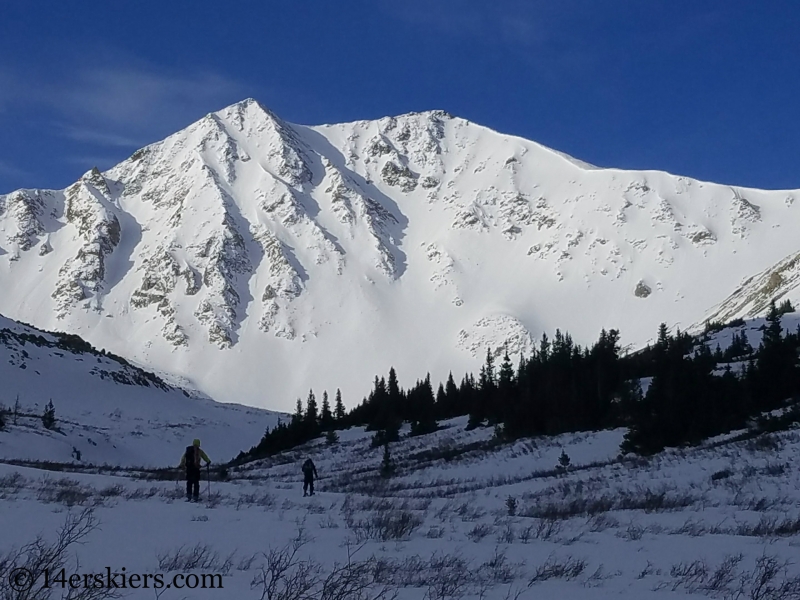 She's a beautiful peak.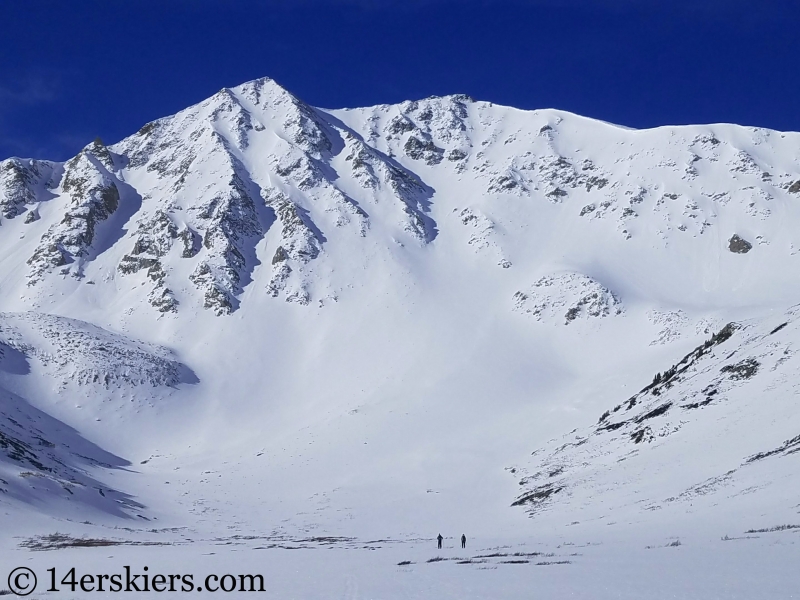 Once we neared the apron of the line, we transitioned from skinning to booting. The new snow slowed our bootpack a bit, but we charged on.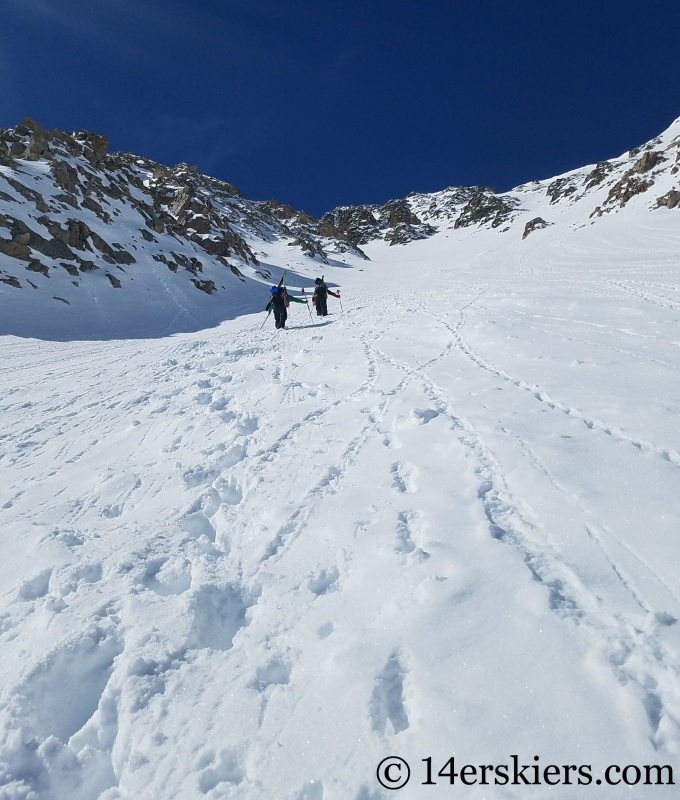 We ascended the Grand Central Couloir.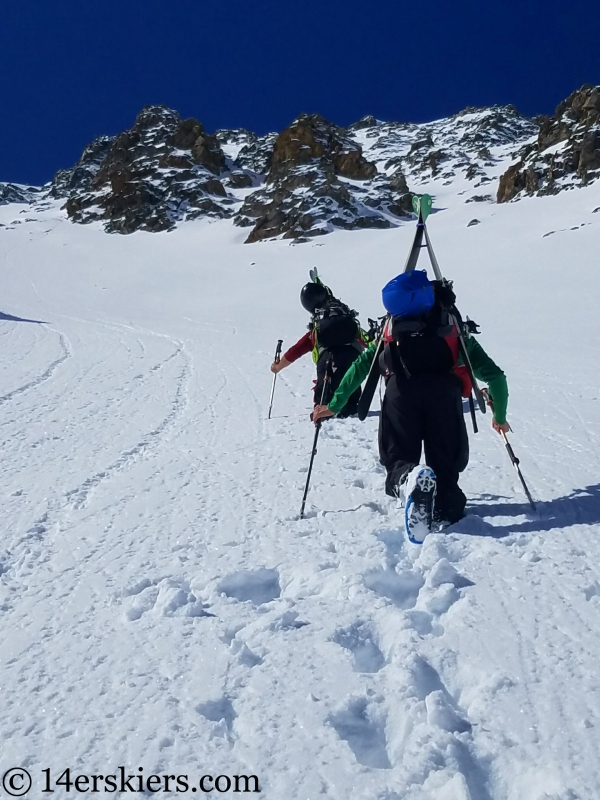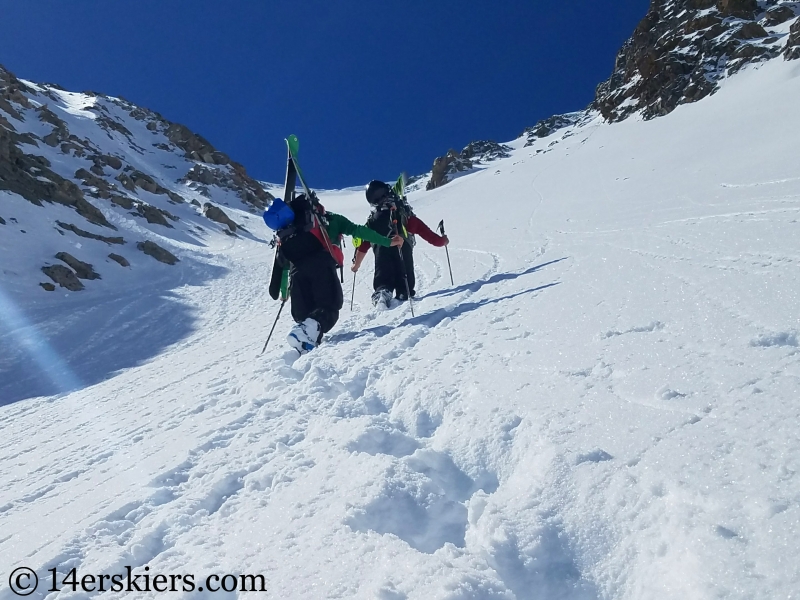 Me approaching the summit.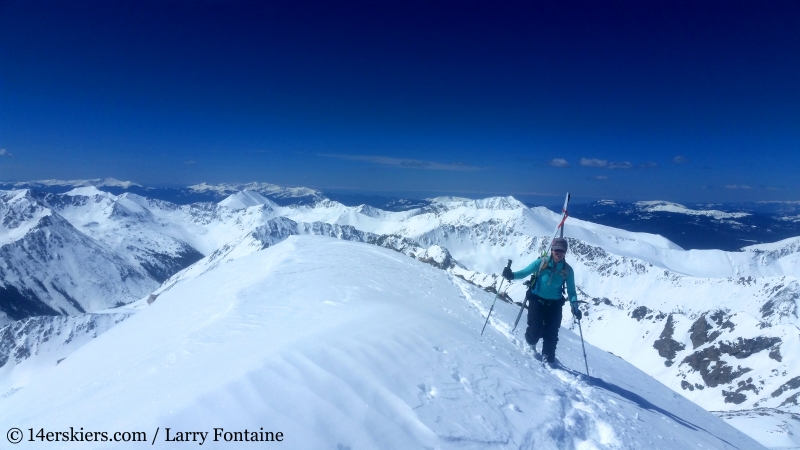 Larry and Dan.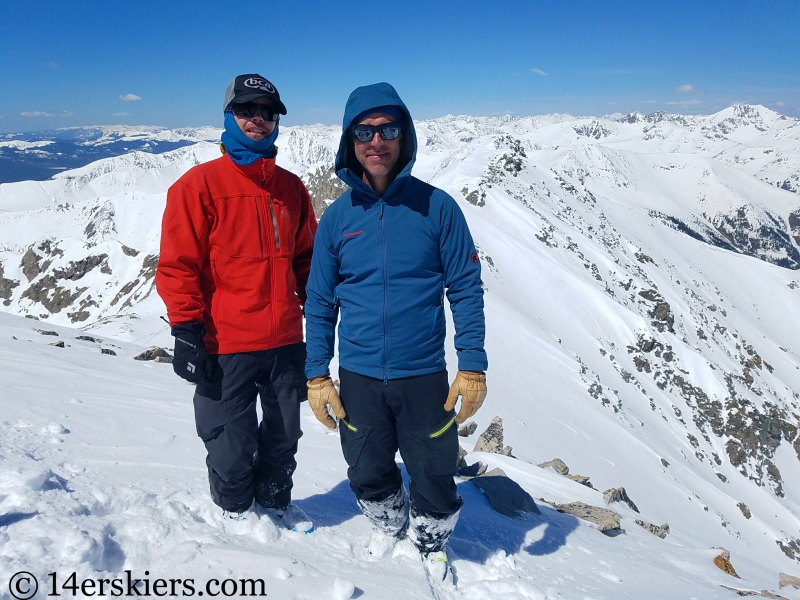 We had hoped to descend the steeper X-Rated Couloir, lookers left of the Grand Central. But, the route was wind loaded with the new snow near the top. And it also looked potentially speckled with rocks beneath the new snow. We all agreed we would probably find better conditions (and safer) on the Grand Central Couloir. Dan dropped in first.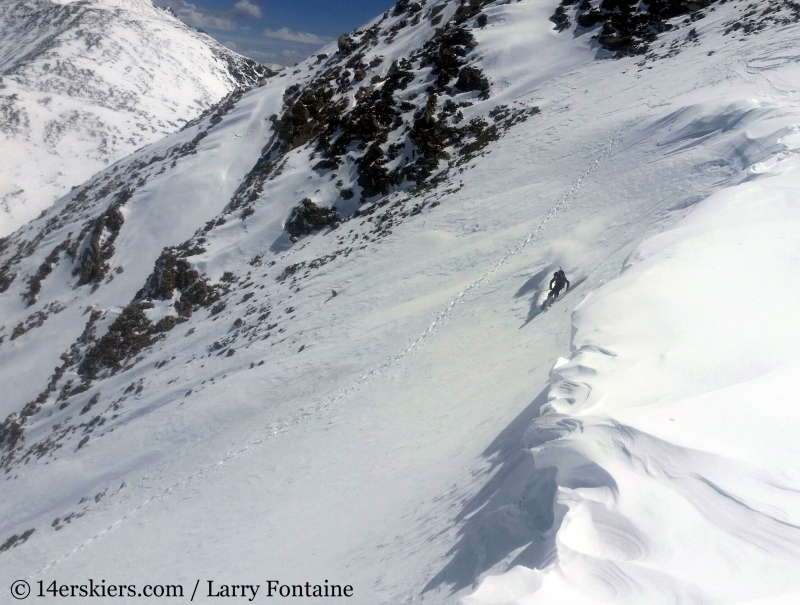 Dan's tracks sure made it looked good.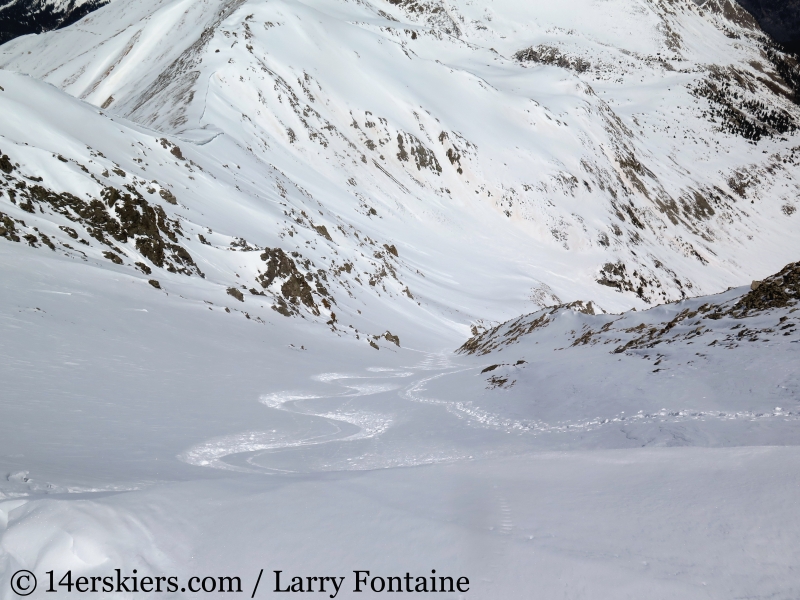 Larry was next.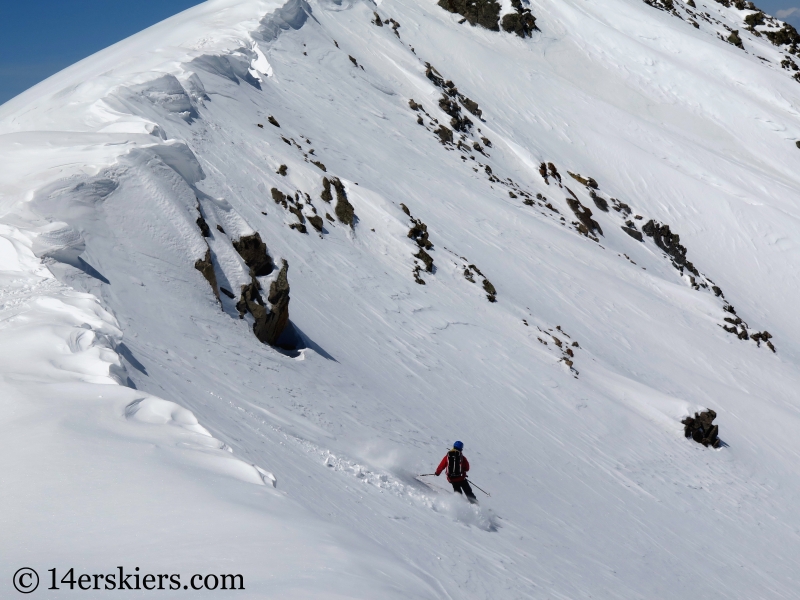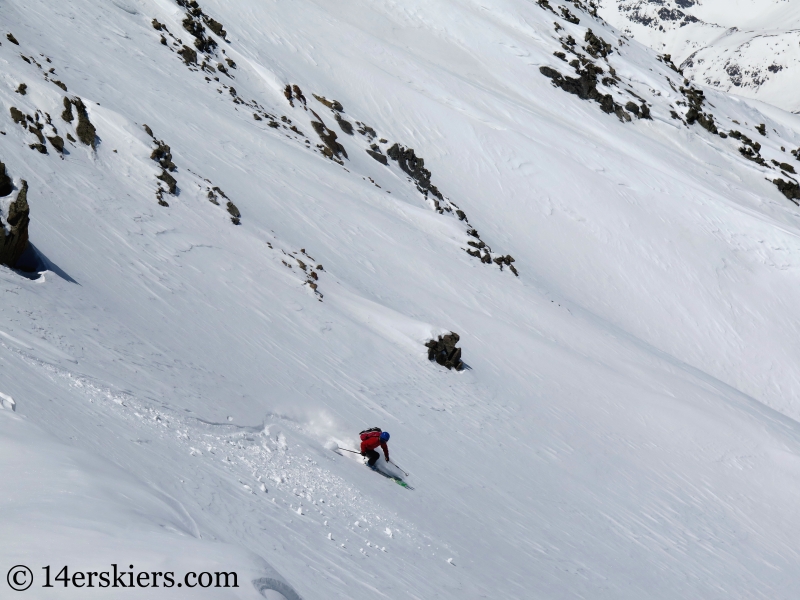 Did I mention it was good?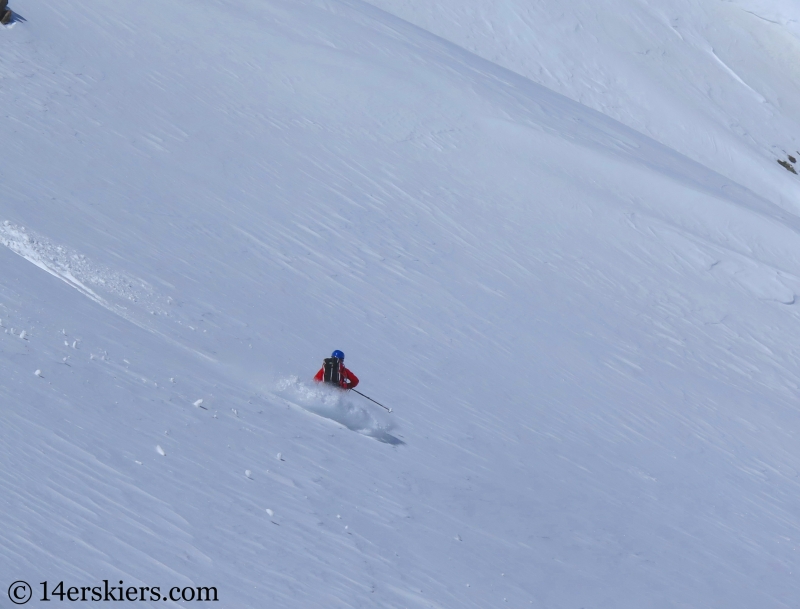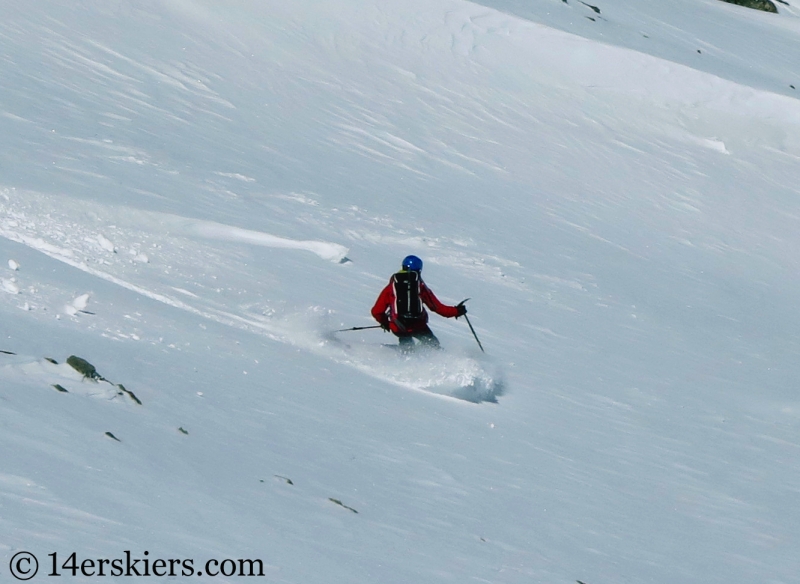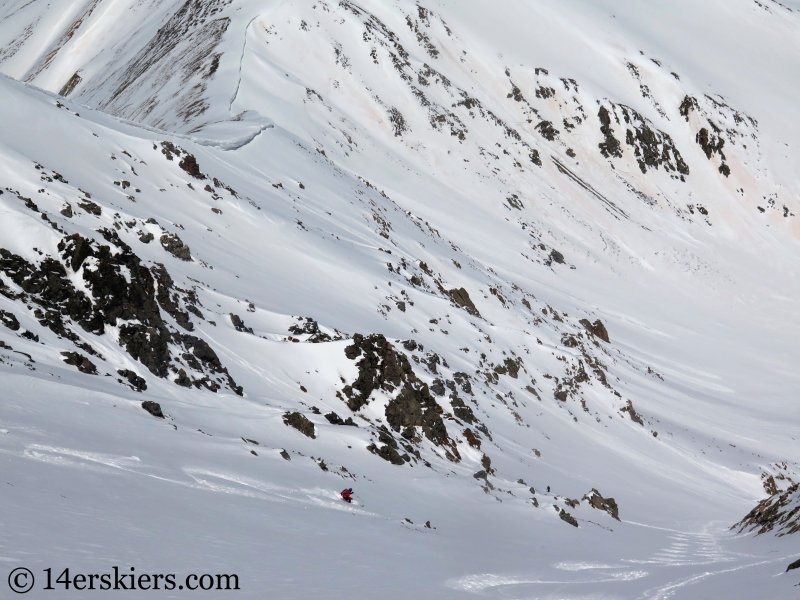 Back to Dan.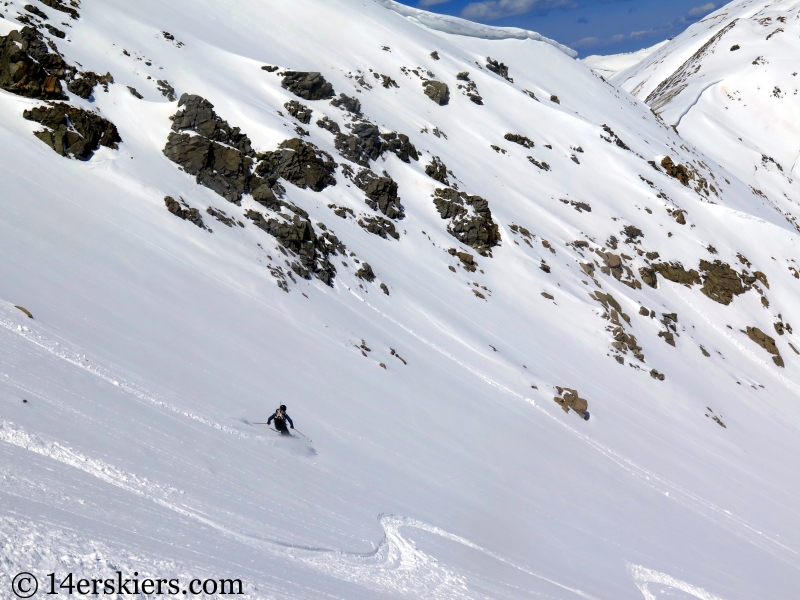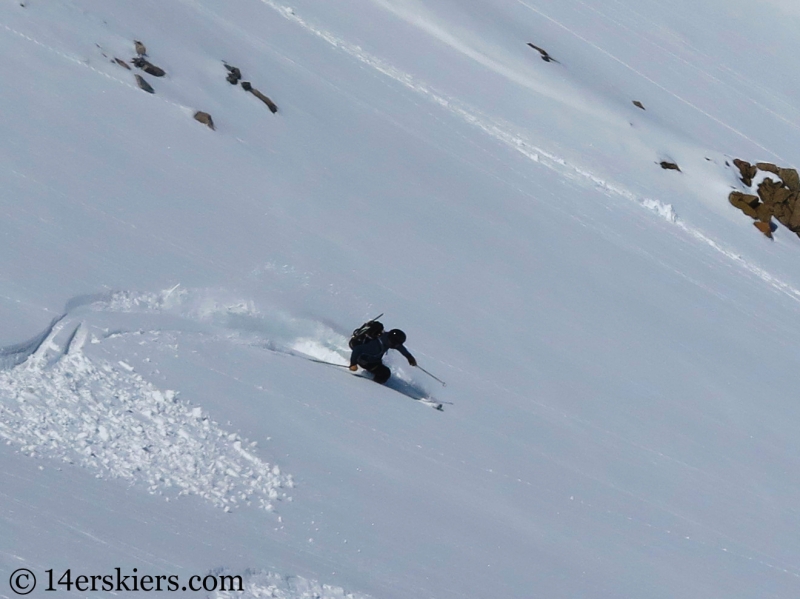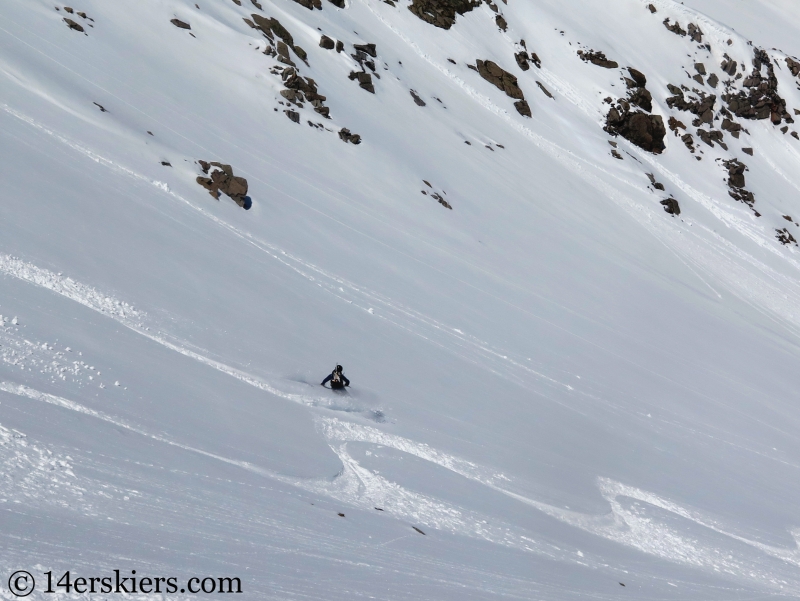 One of me.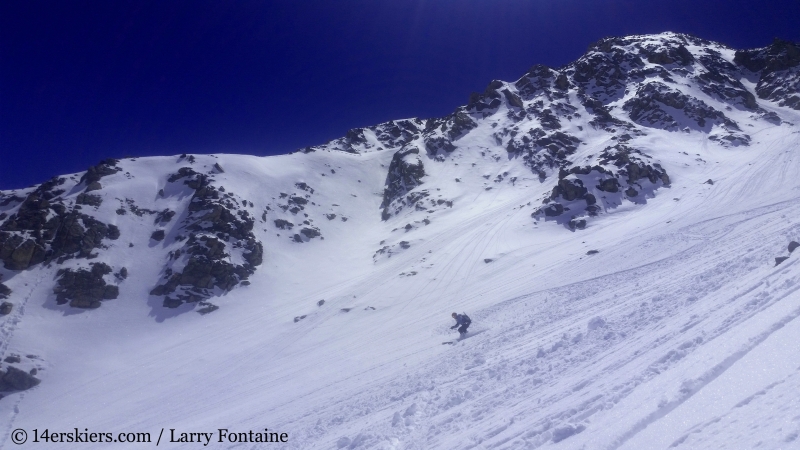 Larry taking it out the apron.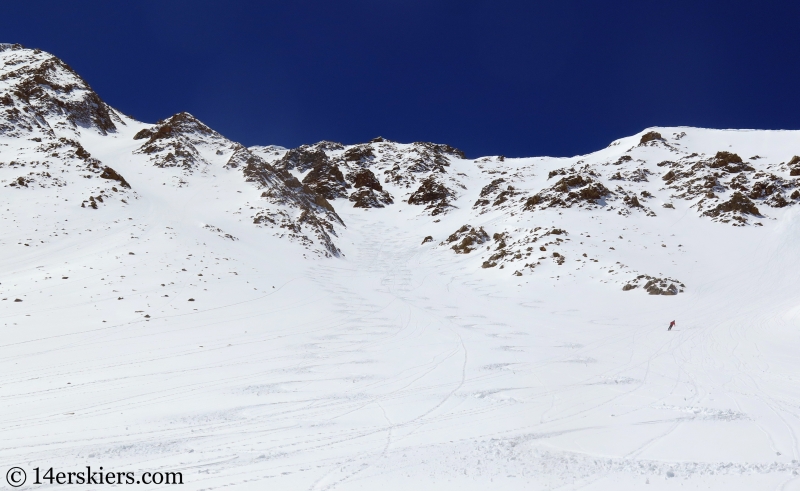 And down to the long long La Plata Gulch valley below.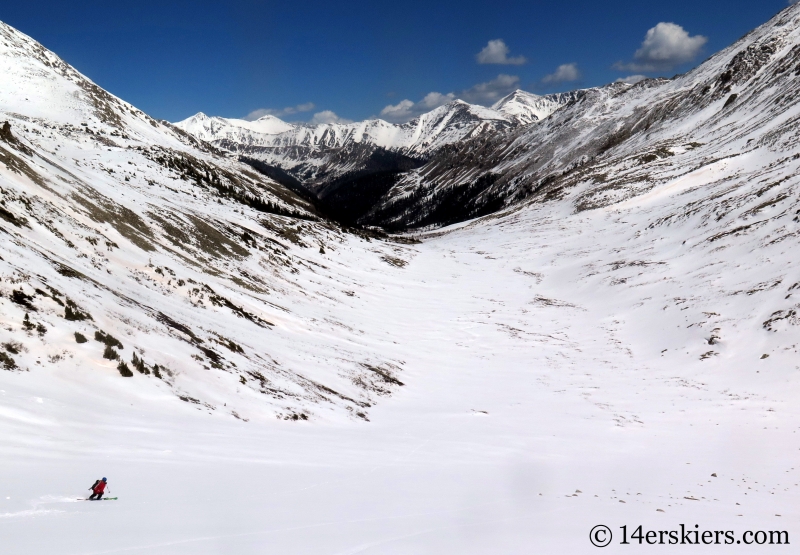 We decorated the mountain in our tracks.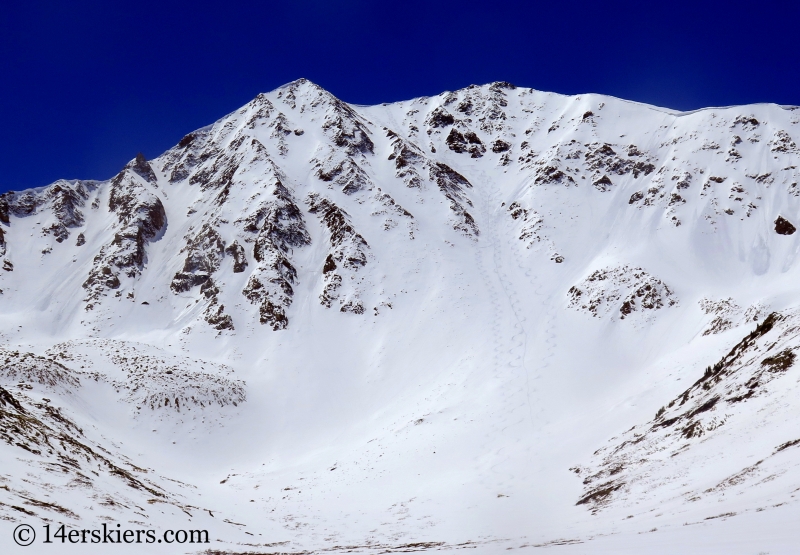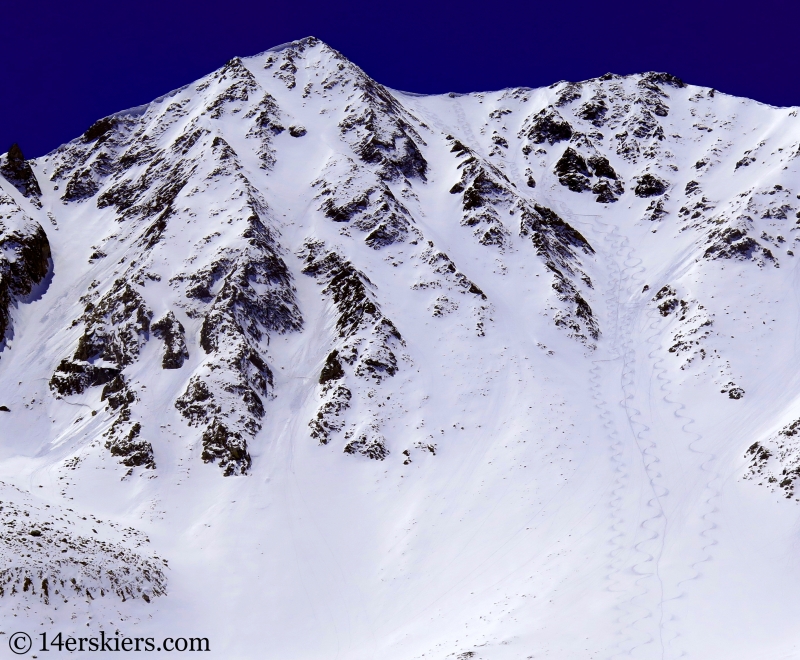 On our way out, we followed along the gulch for as far as we could rather than returning to the trail immediately. That made for some interesting/challenging skiing.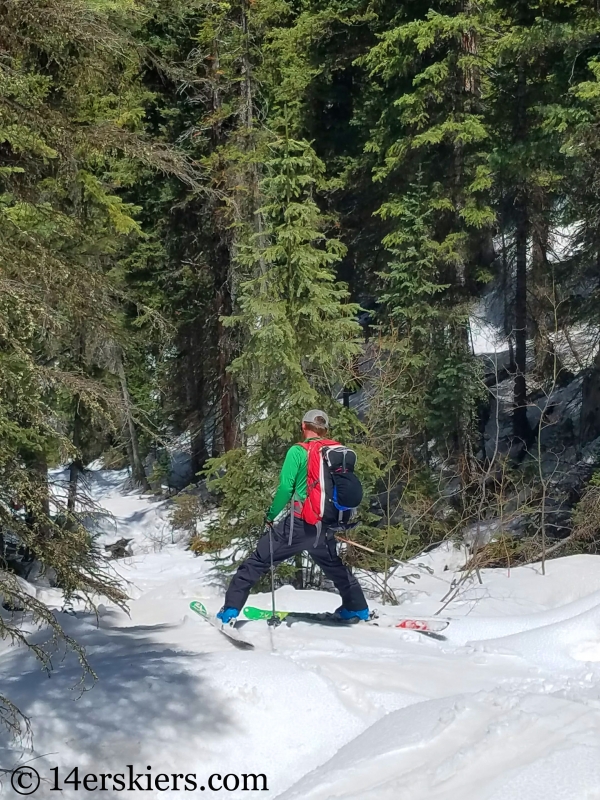 All the same, we made it out. No complaints. We just skied a beautiful line on a stunning peak in powder in May on one of the worst ski seasons in Colorado 🙂
Aside from skiing, biking, and all outdoorsy things,
Brittany Walker Konsella
also loves smiles and chocolate 🙂 Even though she excels at higher level math and chemistry, she still confuses left from right. Find out more about
Brittany
!
Latest posts by Brittany Walker Konsella (see all)
Summary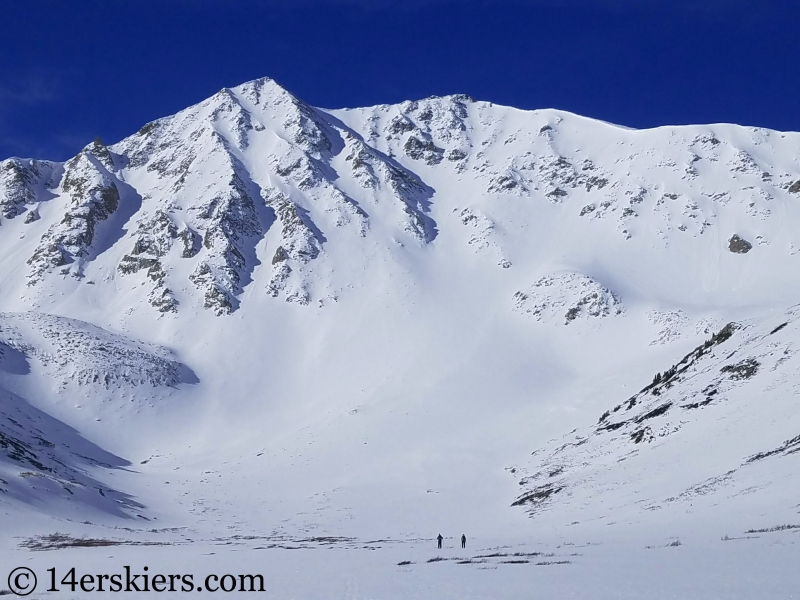 Article Name
TBT: Sayres Benchmark Ski (5 May 2018)
Description
Catching a ski descent of the beautiful Sayres Benchmark in spring powder conditions should be on every backcountry skier's checklist!
Author