14er TBT: Mount Evans (2 June 2007)
(Last Updated On: June 2, 2015)
This is part of an ongoing series re-telling Brittany's fourteener-skiing story. Look for the reports every Thursday, as part of a Throwback Thursday theme.
It was now rolling in to June and I still had fourteeners on my mind. I was able to convince an old friend to join me for a jaunt out on Mount Evans, once the road opened up. Below is a slightly modified version of my original trip report.
TR: Mt Evans (14,264′) 6-2-2007
Brittany & Dustin Sysko
Mt. Evans is in great condition and will be for some time, although it will not be good from the summit for much longer. The bowl will last a long time and is currently devoid of runnels.
I was looking for something easy to do this Saturday since I still hadn't completely recovered from Memorial Day weekend where we attacked four peaks in 3 days, with wake-ups at 3 or 4 am each morning. Mt. Evans was on my list, and it seemed like the right time to do it. My friend Dustin isn't much of a backcountry snowboarder, but he did want to come with me once this spring, and he also wanted to try out his new crampons.
We arrived at the entrance gate before it was manned with employees. Most folks know about the Evans road fee debate: that the NFS shouldn't be charging people fees to use the road. If you plan on not parking or using any of the facilities (picnic areas, bathrooms) on the road, you don't have to pay. Otherwise, you pay $10. We were doing all of the above so we paid the $10 entrance fee using the machine at the gate.
The road that climbs up Mt. Evans provides some amazing views. We saw a bunch of mtn goats on the way.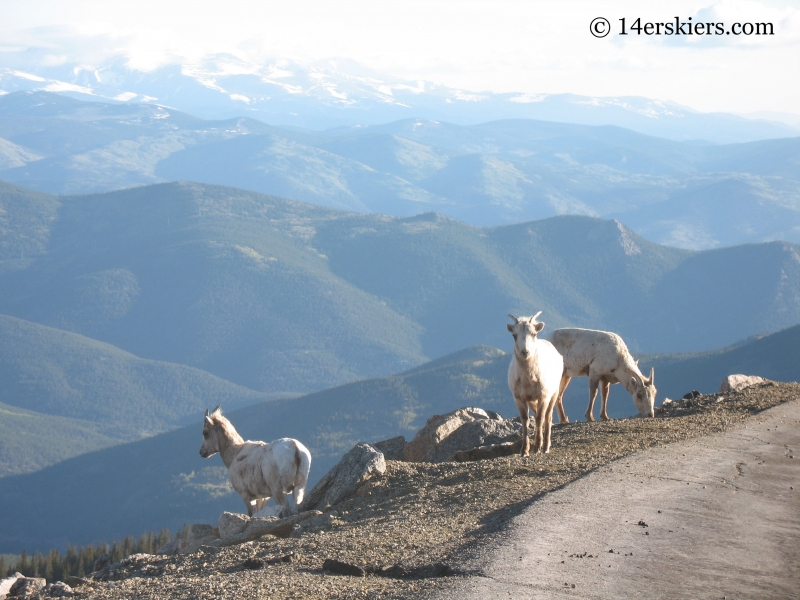 kWhen we arrived at Summit Lake, the road was gated to the summit. I think it was opened about an hour or so after our arrival. NOTE to drivers: When approaching Summit Lake, beware of the frost heaves on the road. They are HUGE and could easily cause your car to bottom out if you are not looking!
We discussed our routes from Summit Lake as you could see the entire bowl from the parking lot there. We saw where we wanted to ski down, on the first major chute on the lookers left, close to the summit. Since Dustin wanted to try out his crampons, we opted for a snow ascent up the east face of the bowl. We looked for a route without much of a cornice on top. We would then follow the Northwest ridge to the summit.
Putting skins on on the east side of Summit Lake. I opted to skin most of the route.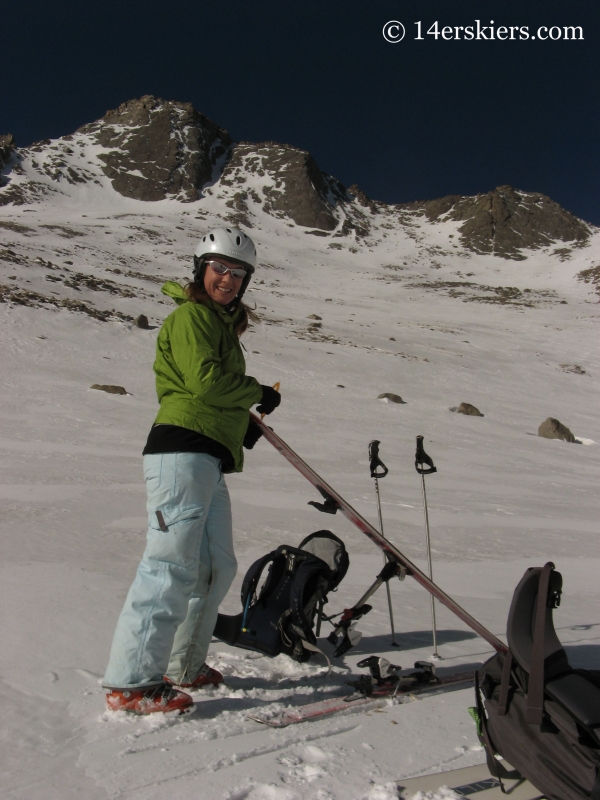 Dustin putting on his crampons with our ascent route in the background.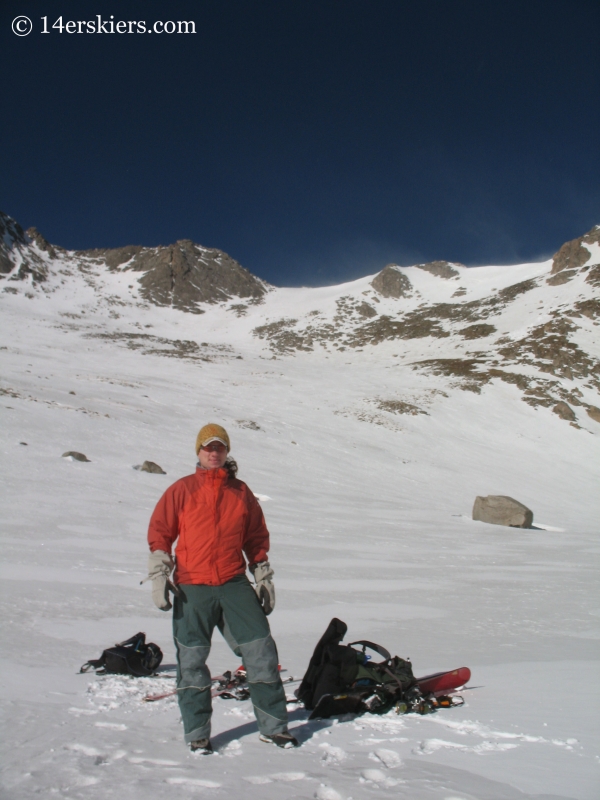 Looking back across Summit Lake.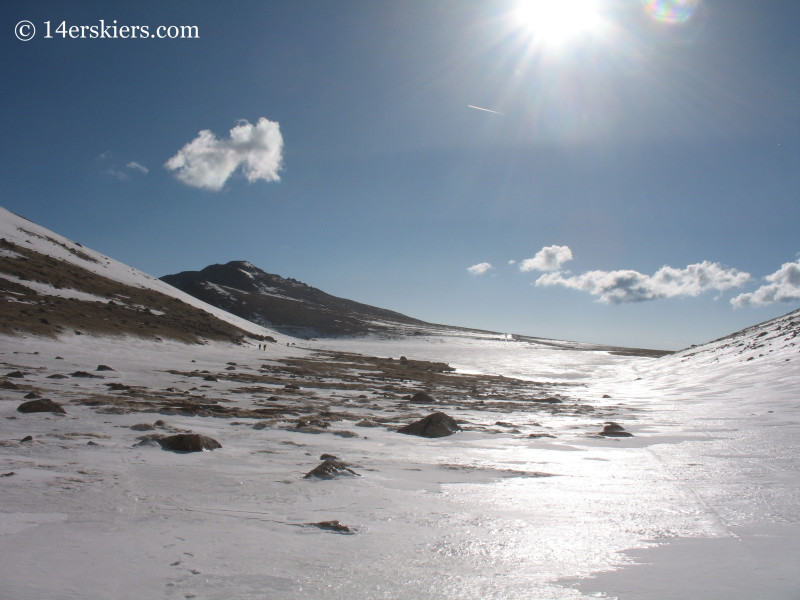 The climb.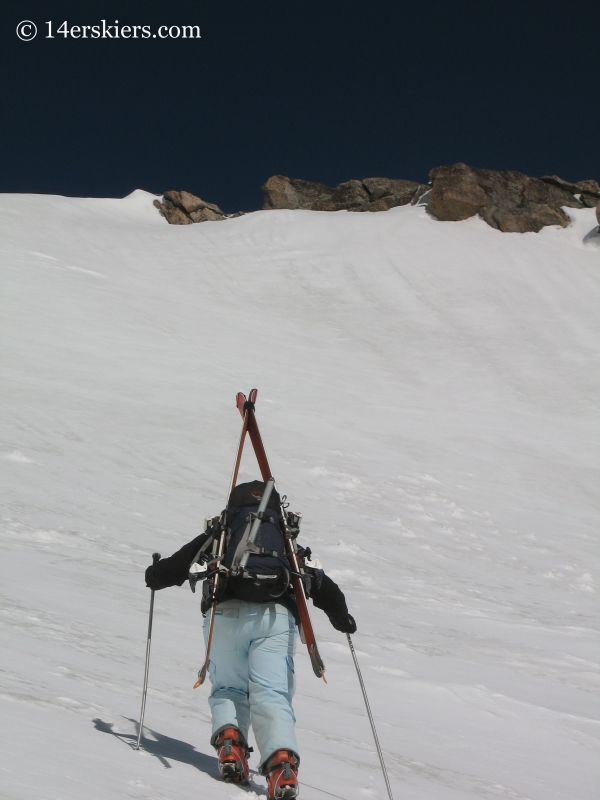 When we reached the top of the ridge, we saw all these people following behind us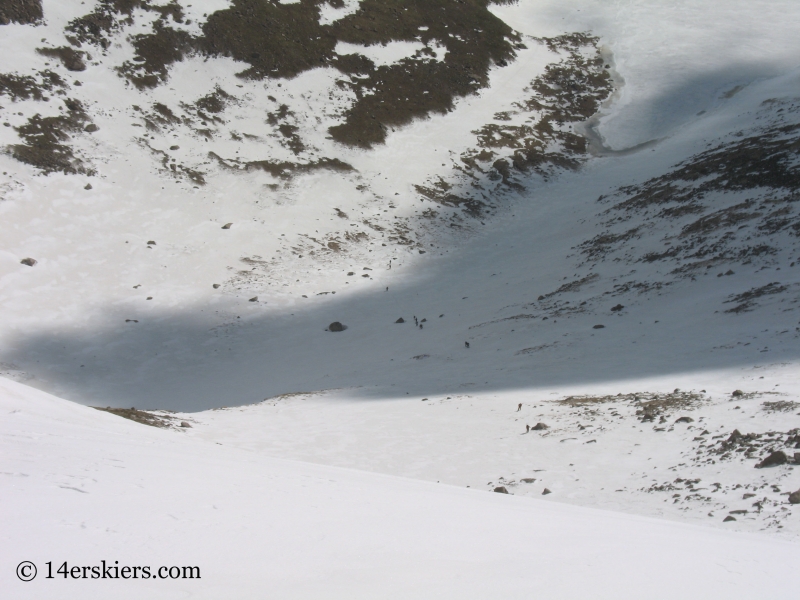 Climbing on the ridge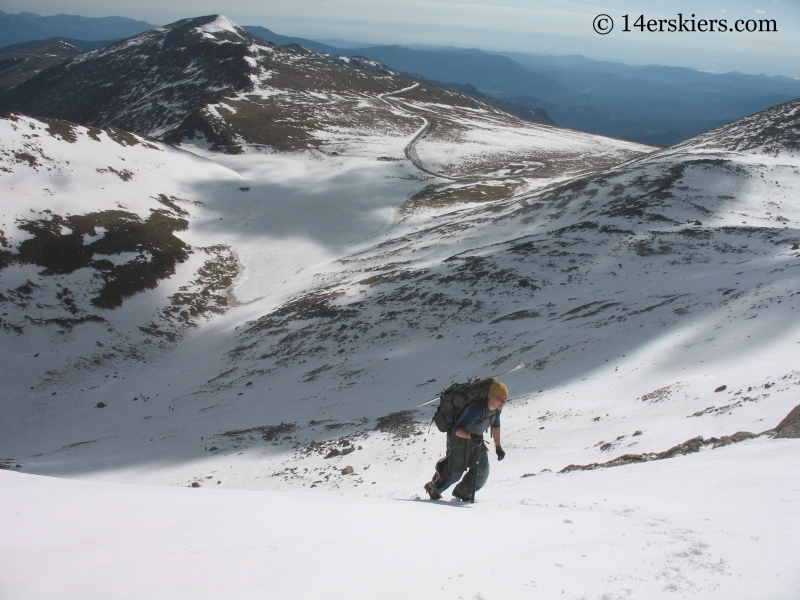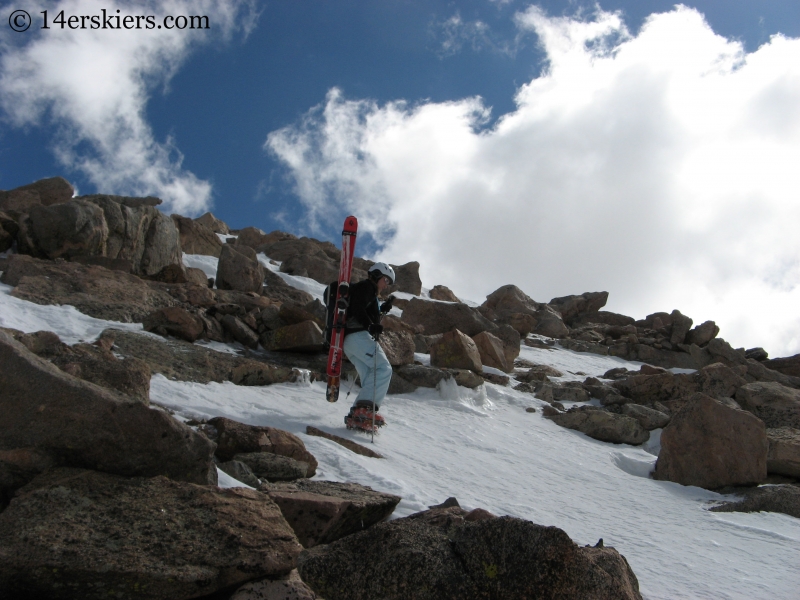 Bierstadt, looking still quite good.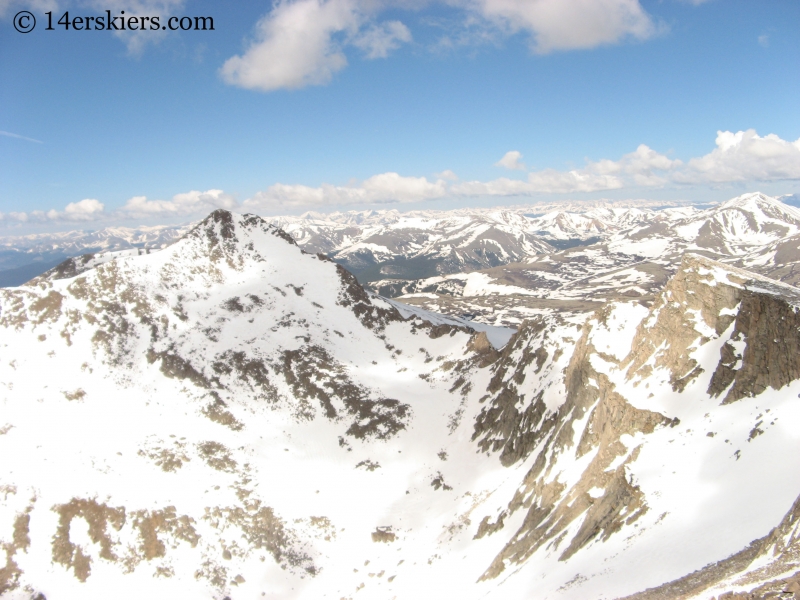 Scenic: Square Top, Grays, and Torreys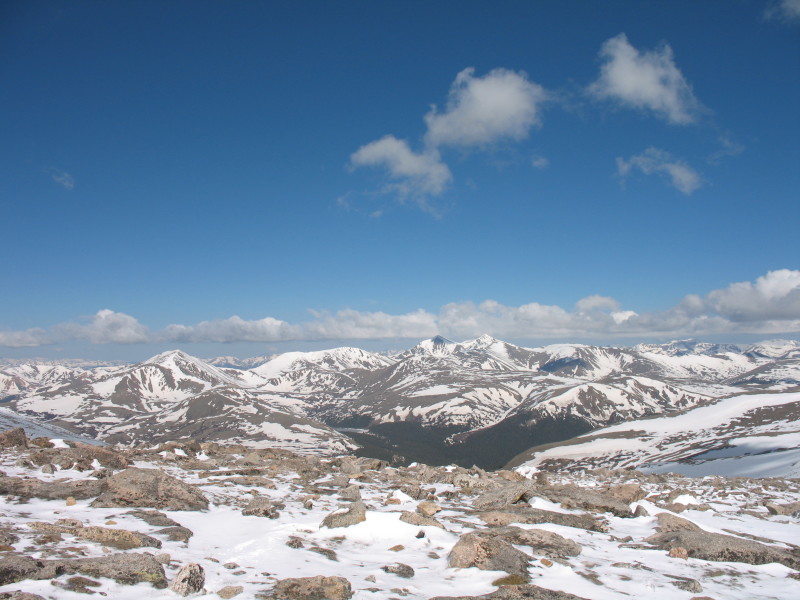 Approaching the summit.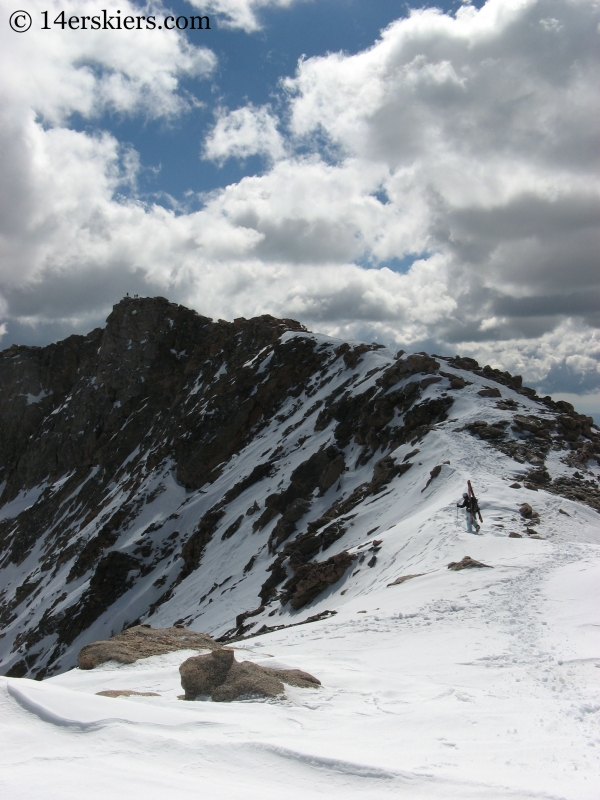 Me checking out the line I want to ski.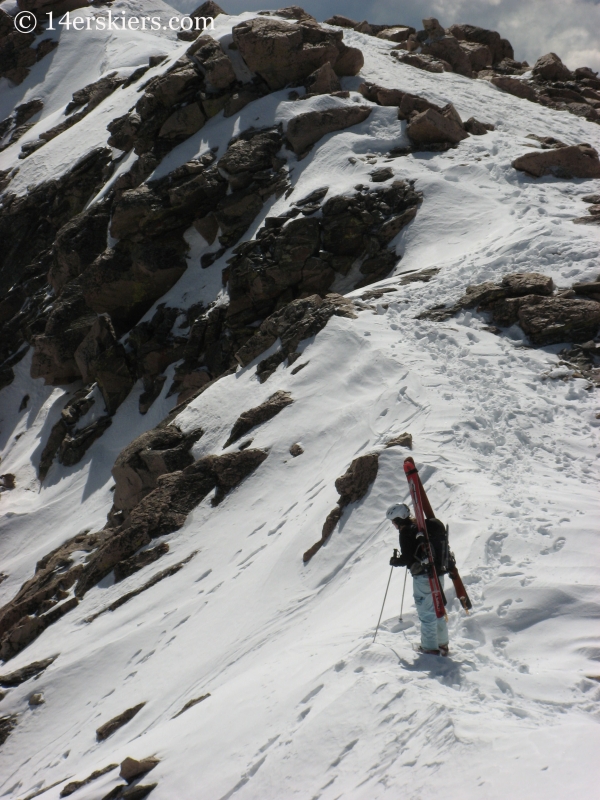 Dustin and I at the summit.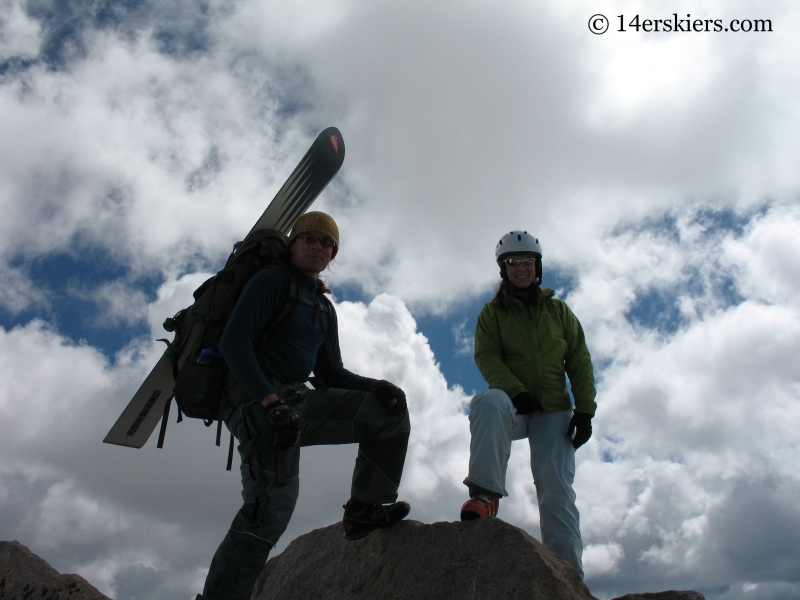 I chose to ski off the summit, whereas Dustin walked, and downclimbed a ways. Snow was patchy from the summit.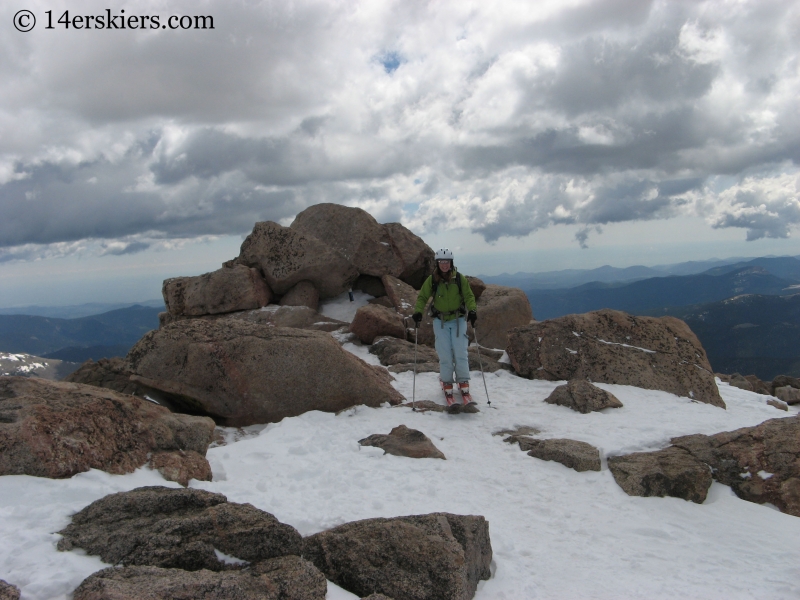 Most people skiing Evans, including Dustin and blue5oone, opted to downclimb the entrance to the chute. But the skinny little snow line that goes to the left of the chute looked good to me, the snow highest up in the pic.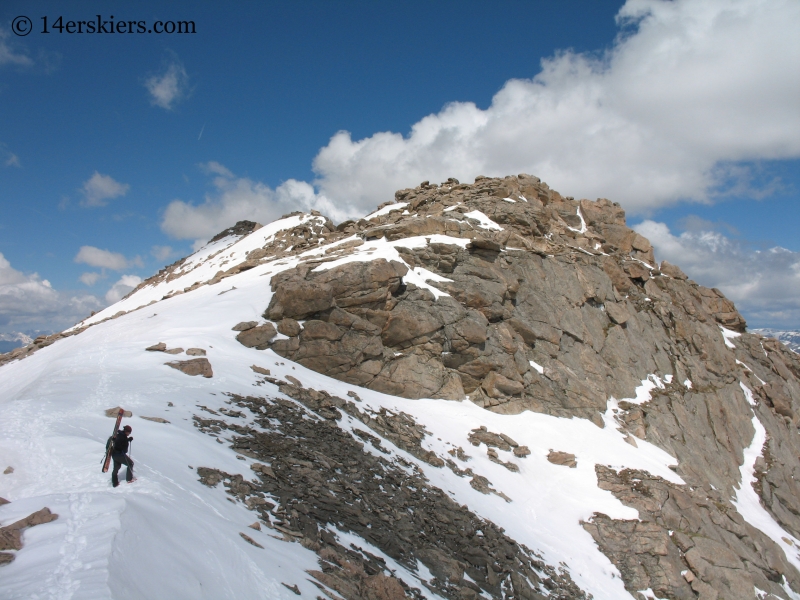 And the snow line continues until it meets up with the main chute.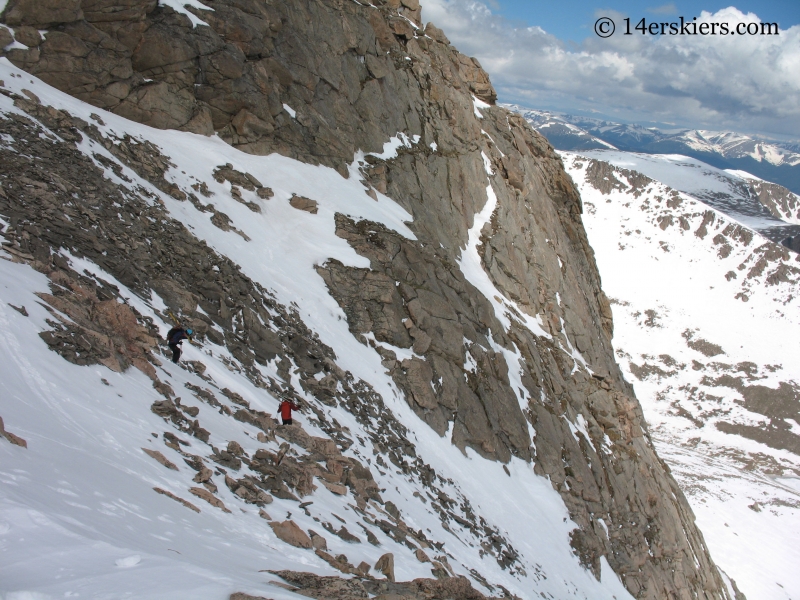 Looking down the main chute.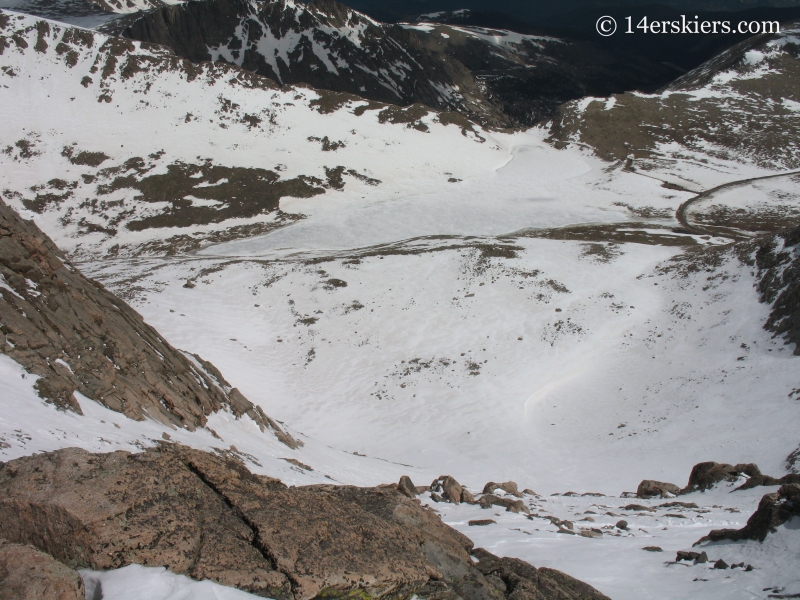 Here I go!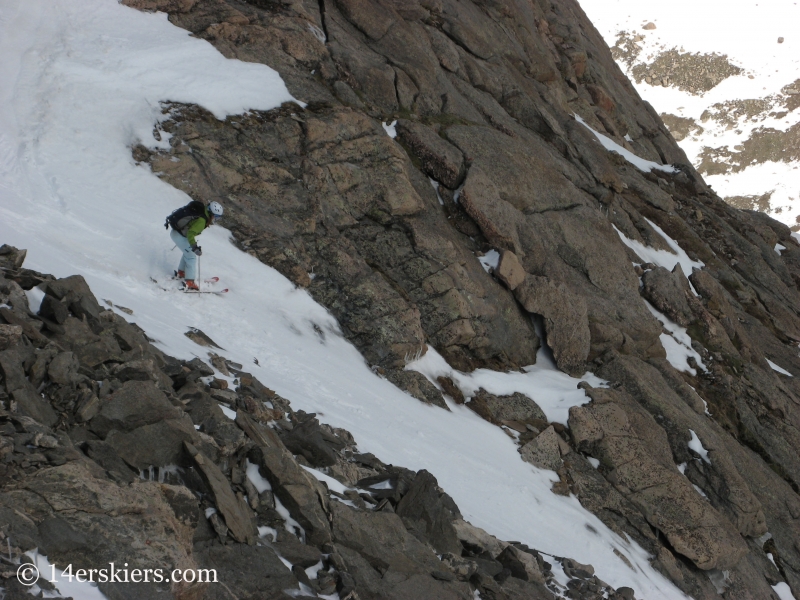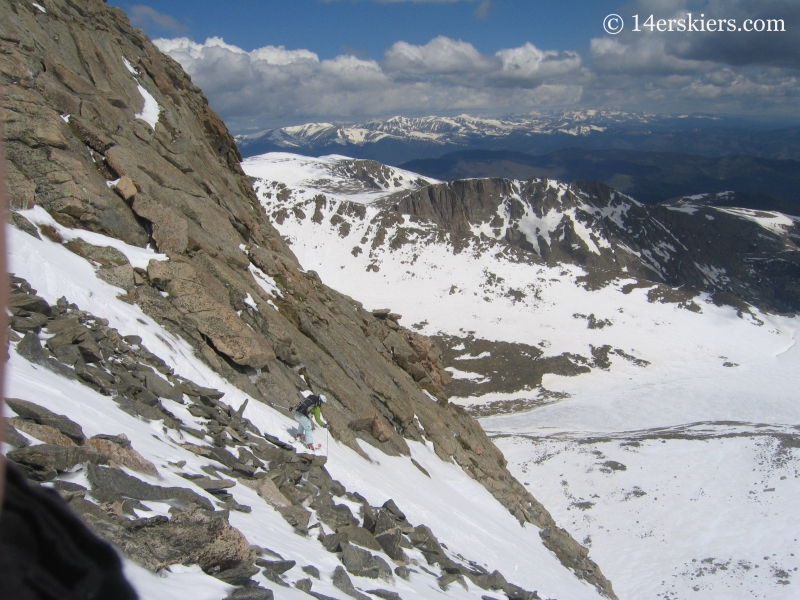 Chunky snow conditions required some classic jump turns.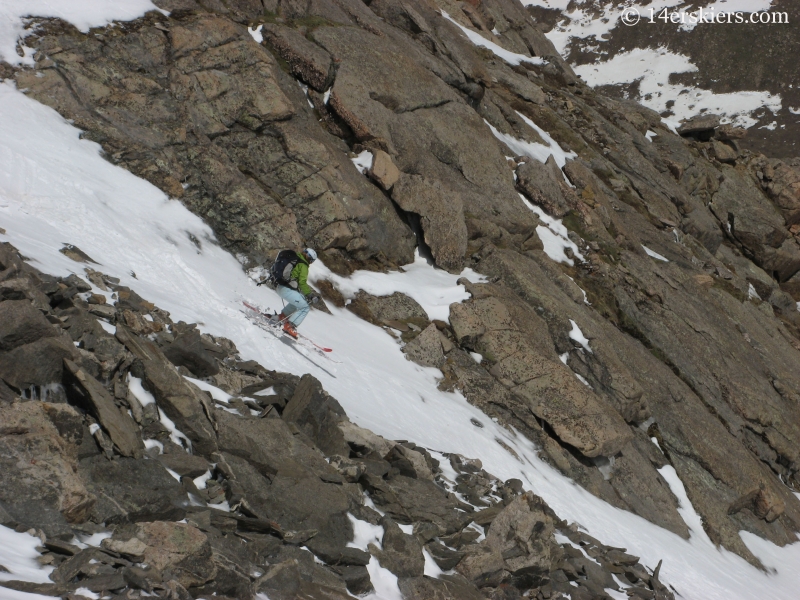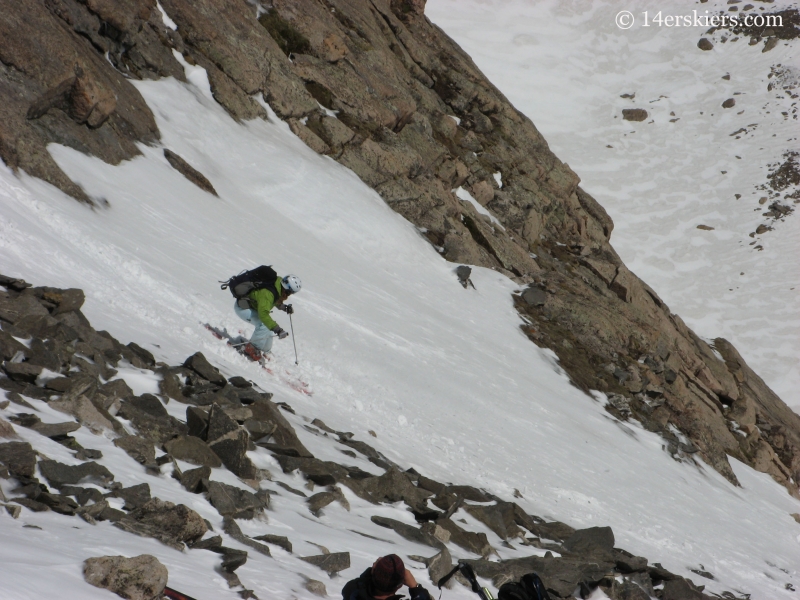 Dustin snowboarding the main chute.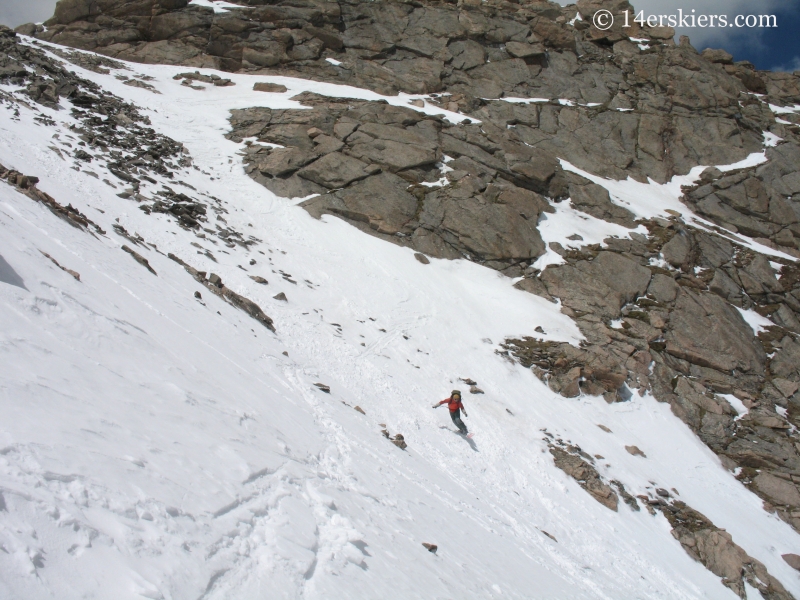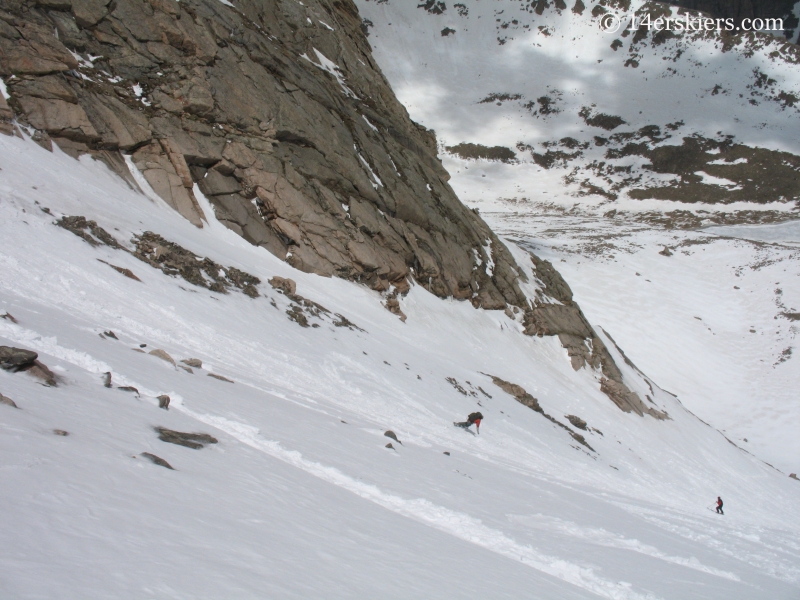 And then things opened up and we could really let loose!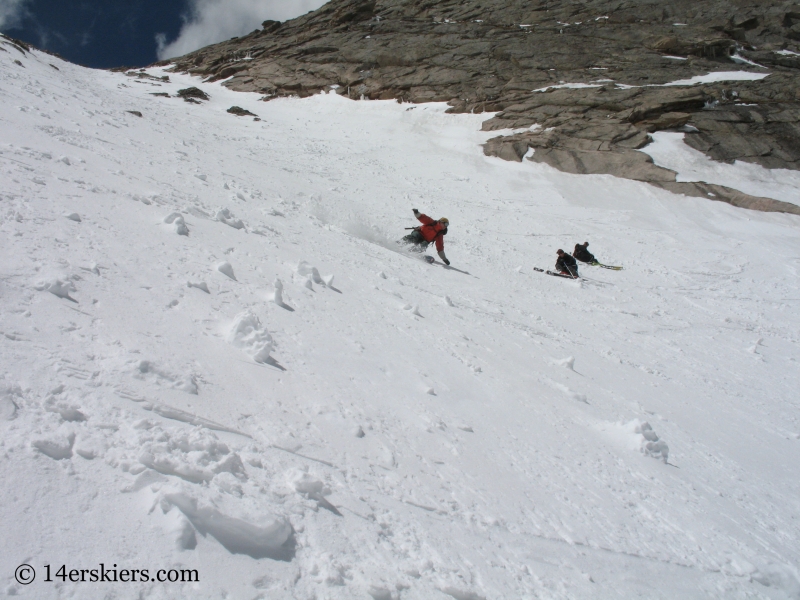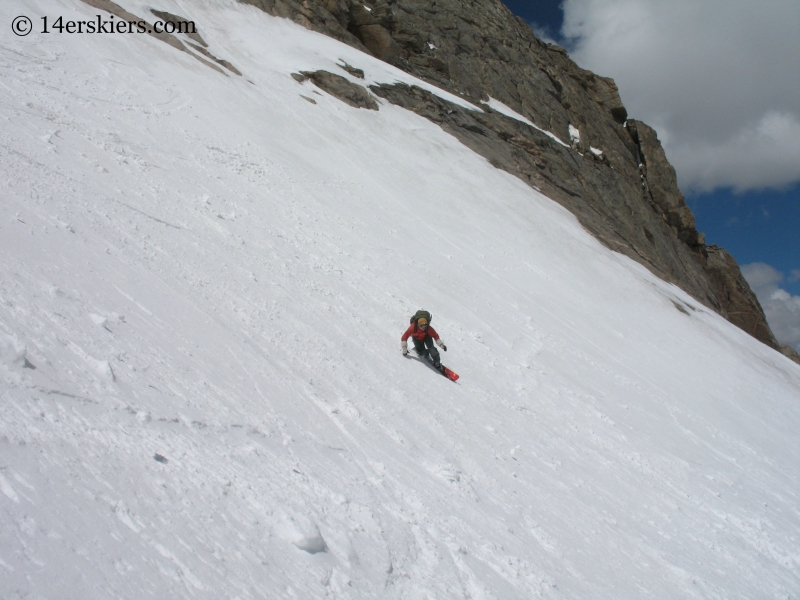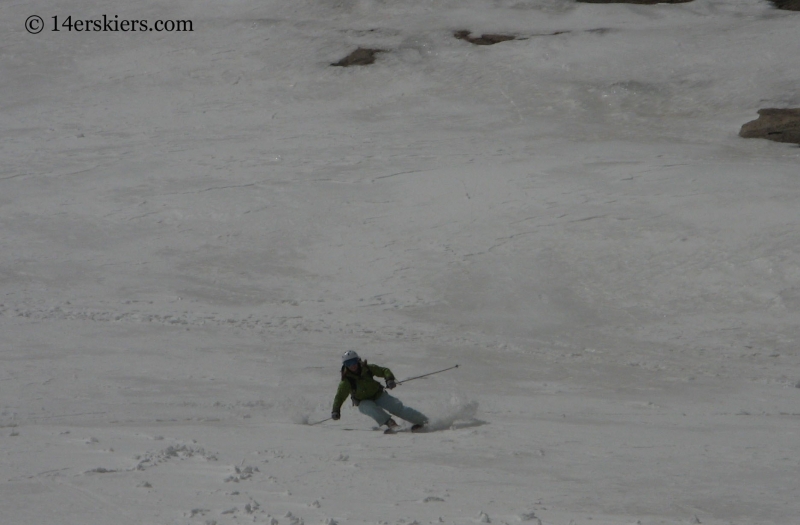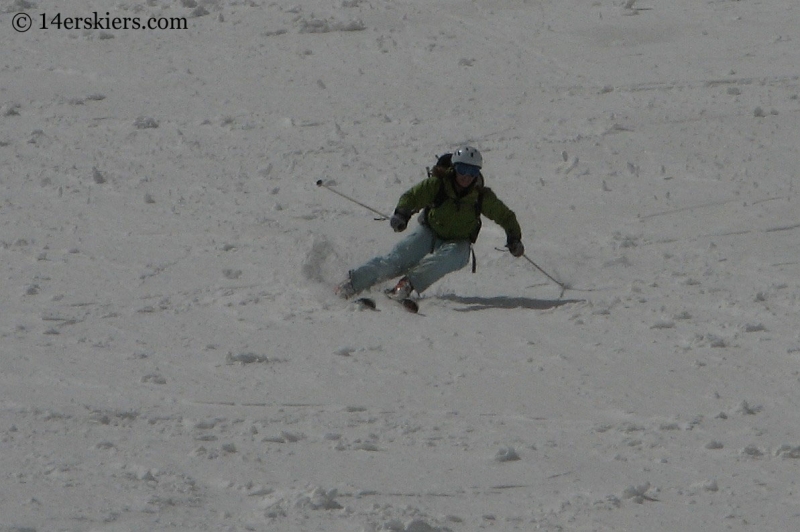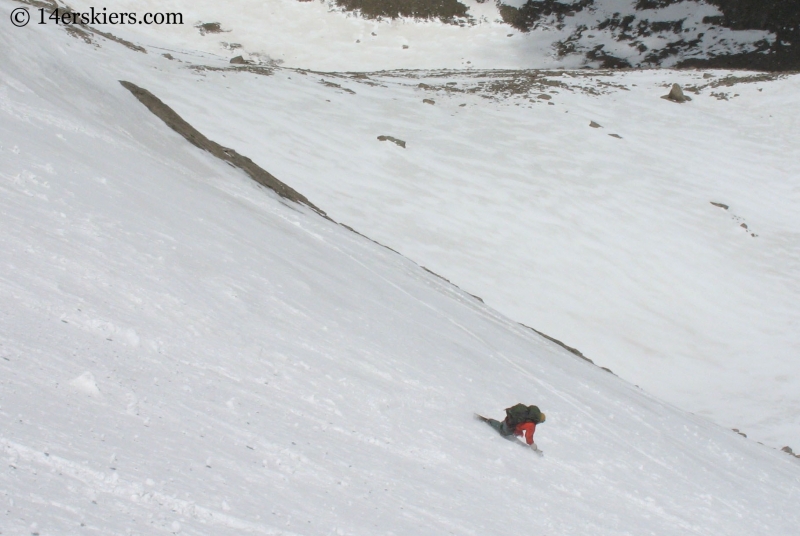 Looking back up the line we skied.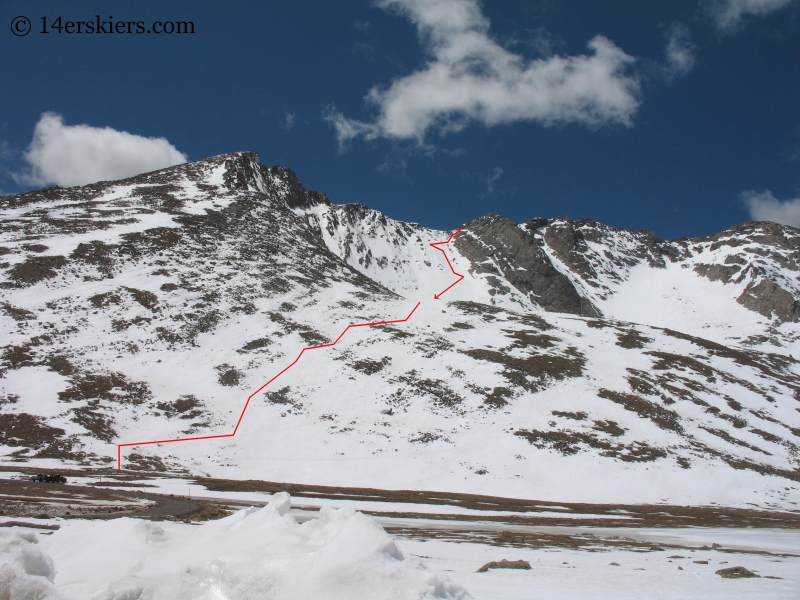 We were able to ski all the way back down to the road and then walk along the road for a couple of minutes back to the Summit Lake parking lot.
Thanks to Dustin for heading out with me this early morning!
Looking back, I'd never realized the possibilities of skiing on Mount Evans before starting my fourteener-skiing project. I loved the fact that there was easy-access to backcountry skiing in June! I need to go back! But, for now, there were more fourteeners yet to ski!
---
Like this report? See more of Brittany's 14er skiing journey.
Aside from skiing, biking, and all outdoorsy things,
Brittany Walker Konsella
also loves smiles and chocolate 🙂 Even though she excels at higher level math and chemistry, she still confuses left from right. Find out more about
Brittany
!
Latest posts by Brittany Walker Konsella (see all)
Summary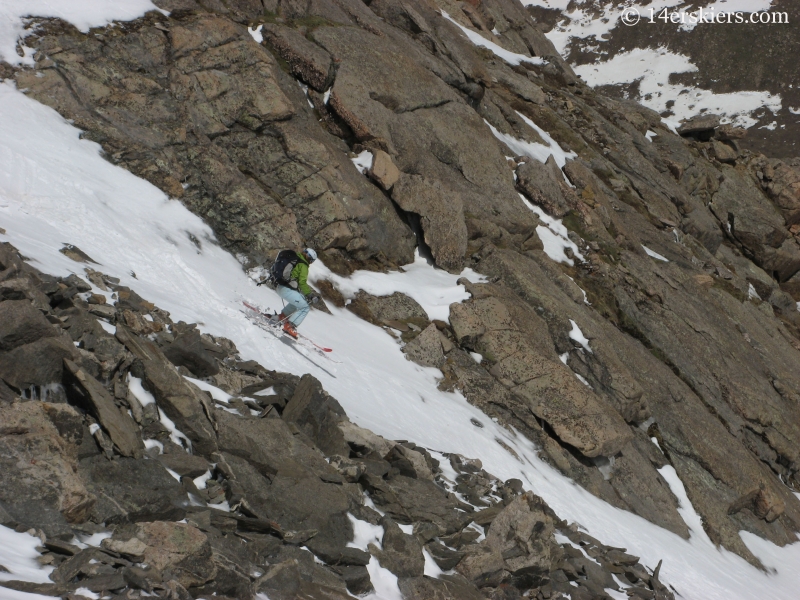 Article Name
14er TBT: Mount Evans (2 June 2007)
Description
Mount Evans is a great spot for late spring backcountry skiing. Read this report to find out more about it!
Author