TR: Gold Creek 427 to Cameron Creek 549 6.9.18
(Last Updated On: August 16, 2018)
One of my favorite things about TrailQuest has been that it's given us a great reason to visit places that I've heard of, but haven't been to. Such was the case with this ride, which had us starting in Union Park. When I first moved to Crested Butte in the late 90's, Union Park was a topic that seemed to be in every week's paper, because cities on the front range hoped to build a reservoir here and pump the water through the continental divide. It never happened, and it isn't likely to happen anytime soon, but nevertheless Union Park remained one of those places I had heard of but never been to. At least, not until TrailQuest got us to ride Gold Creek to Cameron Creek…
We drove up to Union Park, which is a huge meadow with a rancher's shack and a whole lot of cows, surrounded by mountains on all sides. We headed up on a dirt road towards trail 427/ Gold Creek. The name is strange, since you're actually following Lottis Creek, but the trail continues on towards Ohio City over an unnamed pass, at which point it follows Gold Creek. So I guess it's Gold Creek. The trial was steep and rocky, but at least it was cleared of trees since it is open to dirt bikes as well. We had some amazing views of Fairview Peak, and eventually reached the intersection with Cameron Creek, ready for our descent.
If you like steep descents, put Cameron on your list: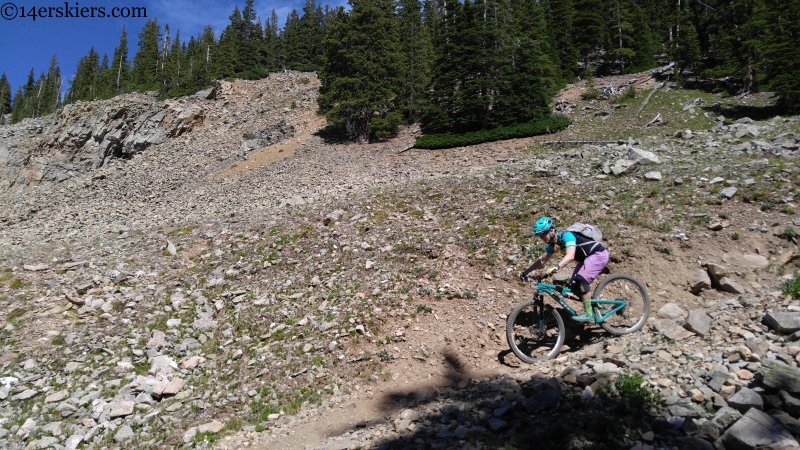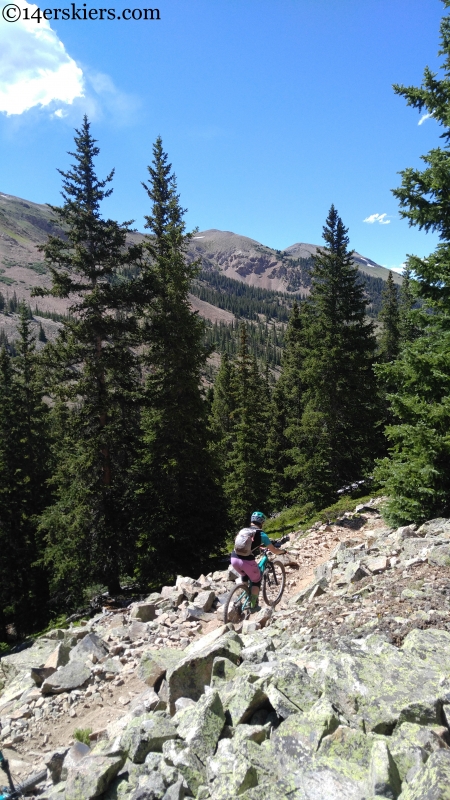 We had great views of distant Taylor Park as well: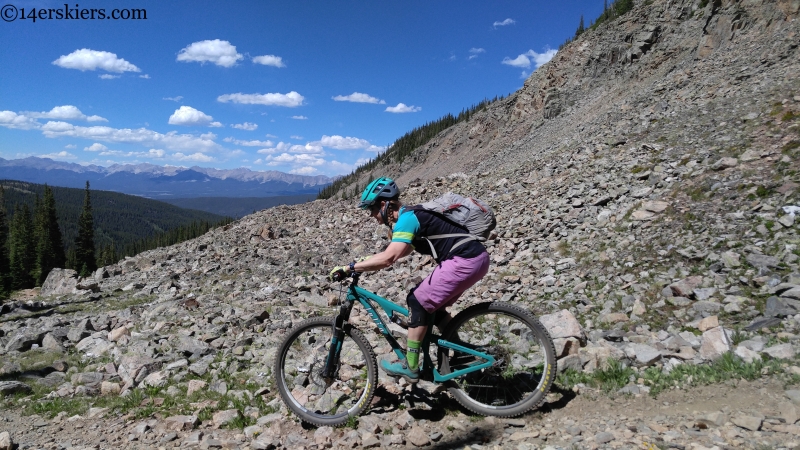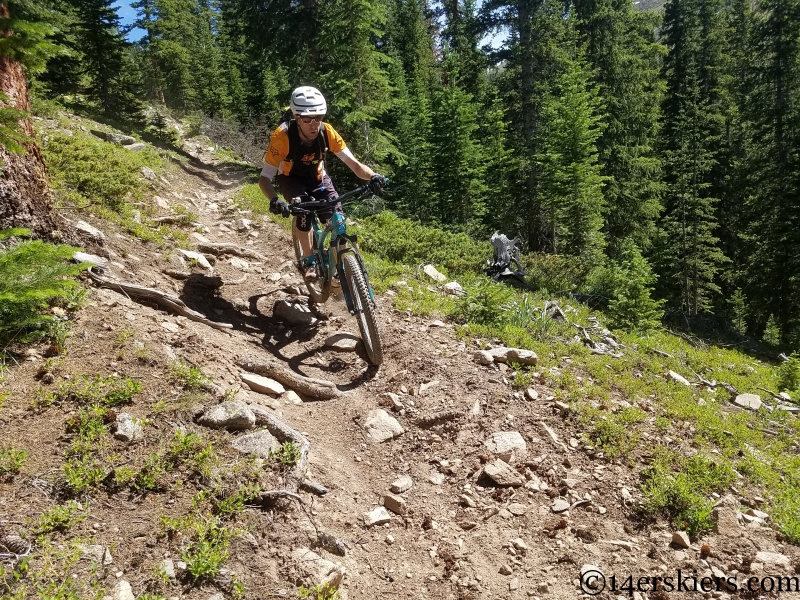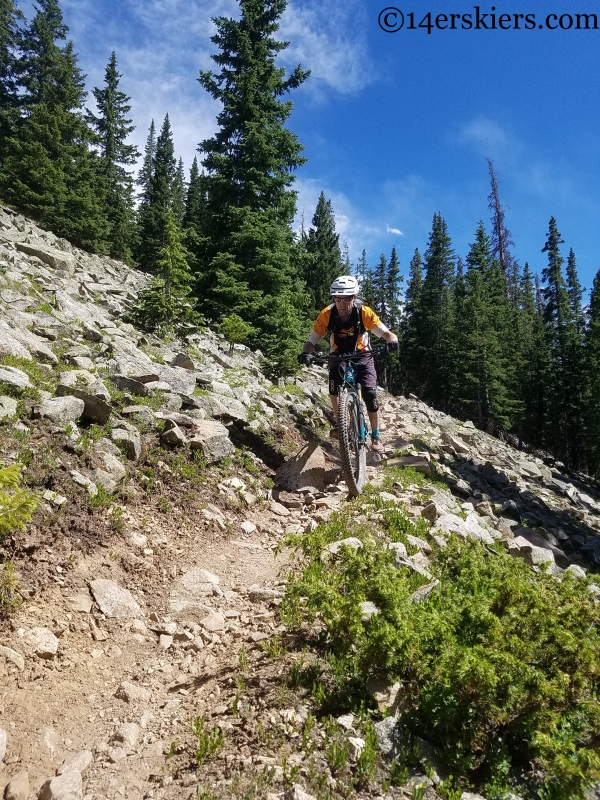 If you're looking to do something different in the Taylor Park area, this was a scenic ride with a challenging (but rideable) descent, and it's a reasonably short day as well. It's worth a look, here's the map:
Aside from skiing, biking, and all outdoorsy things,
Brittany Walker Konsella
also loves smiles and chocolate 🙂 Even though she excels at higher level math and chemistry, she still confuses left from right. Find out more about
Brittany
!
Latest posts by Brittany Walker Konsella (see all)
Summary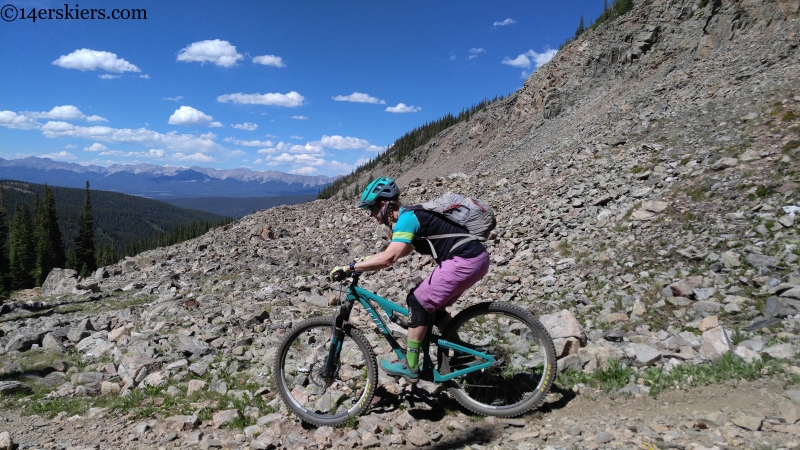 Article Name
TR: Gold Creek 427 to Cameron Creek 549 6.9.18
Description
Mountain Biking Gold Creek Trail 427 (really Lottis creek) to Cameron Creek trail in the Fossil Ridge Recreational area near Taylor Park. This is a short and sweet near-alpine ride in an area that doesn't see much traffic so check it out if you're looking for something different.
Author