TR: Mountain biking Interocean Pass to Lamborn (11 July 2018)
(Last Updated On: August 14, 2018)
Frank and I have a reputation. We have a reputation for taking people on things that crush them. In other words, we "Konsella" them. We'd like to think we're getting better at not doing such things. But, many-a-friend can attest to being "Konsella-ed" themselves. See, the thing is, how can we refrain from "Konsella-ing" our friends when every now and then we "Konsella" ourselves?
That's what happened to Heather and I while mountain biking Interocean Pass to Lamborn. This ride simply crushed us down to the soul. Frank didn't join us for this one – he decided to save this soul-crushing for a later time…
We began our ride relatively early in the morning near the start of Lone Cabin Road just outside of Paonia. It was already hot and the road seemed exceptionally steep. But, in reality, it wasn't that steep. The heat of the day simply made it steep steeper. I don't know how many times we stopped while riding a handful of miles on this road, but it was more than normal. But, at least the views were excellent.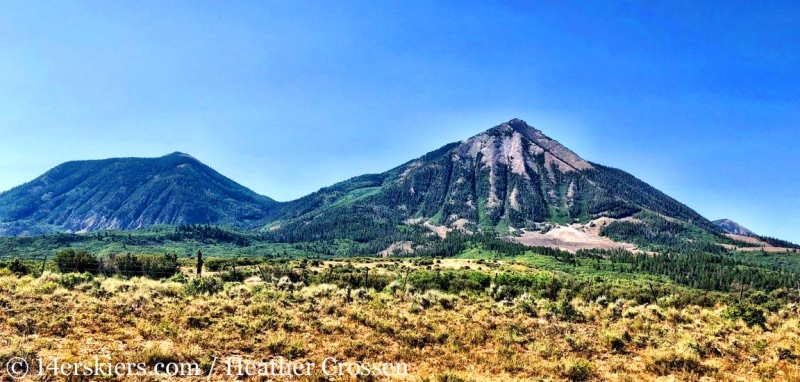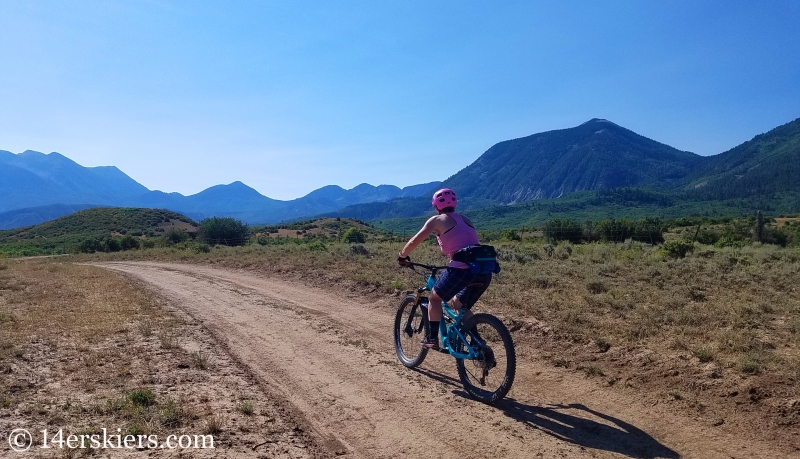 Behind Heather sits Mount Lamborn on the right and Coal Mountain on the left. Interocean Pass lies between these two peaks.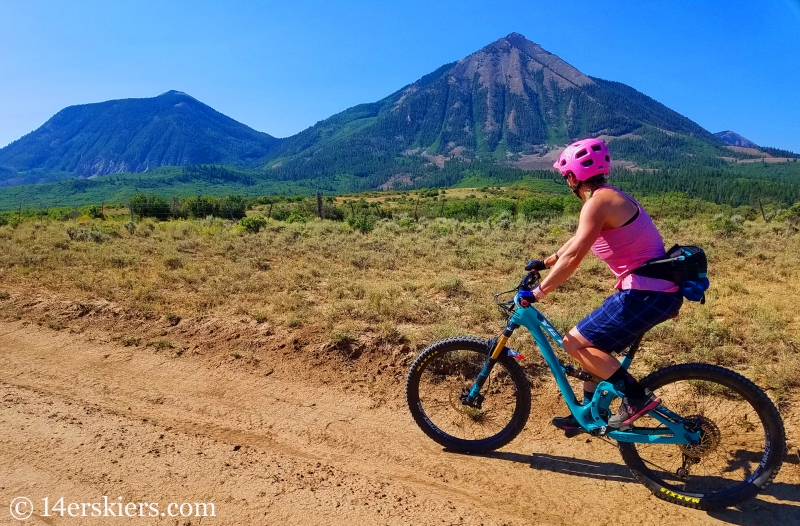 We passed Lone Cabin Reservoir along the way. I was hoping to dunk my head in the water to cool off, but the reservoir was completely devoid of water. Not a single drop in it – a sign of the severe drought in the area. After a seemingly endless 3.5 miles, we left Lone Cabin Road, turning right onto a Forest Service Road toward the trailhead.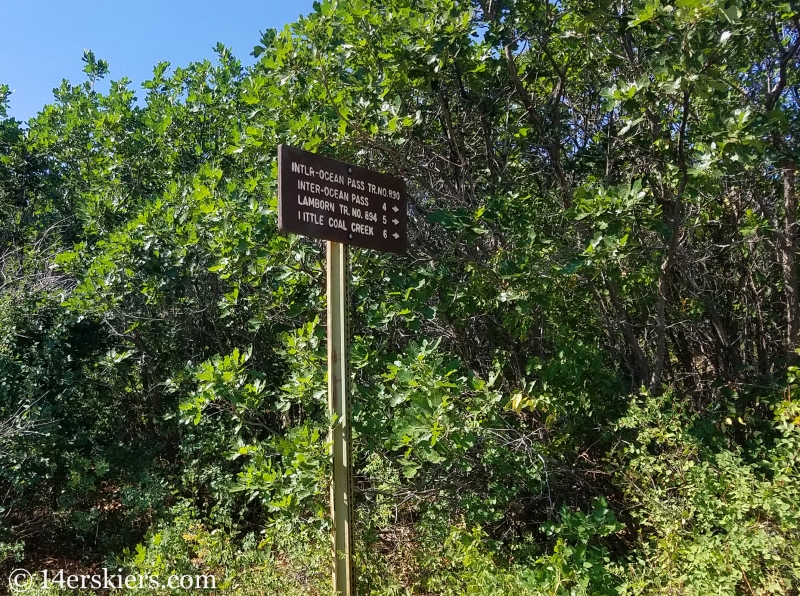 About 1.5 miles we found ourselves at the start of Interocean Pass trail, which first started out as a road.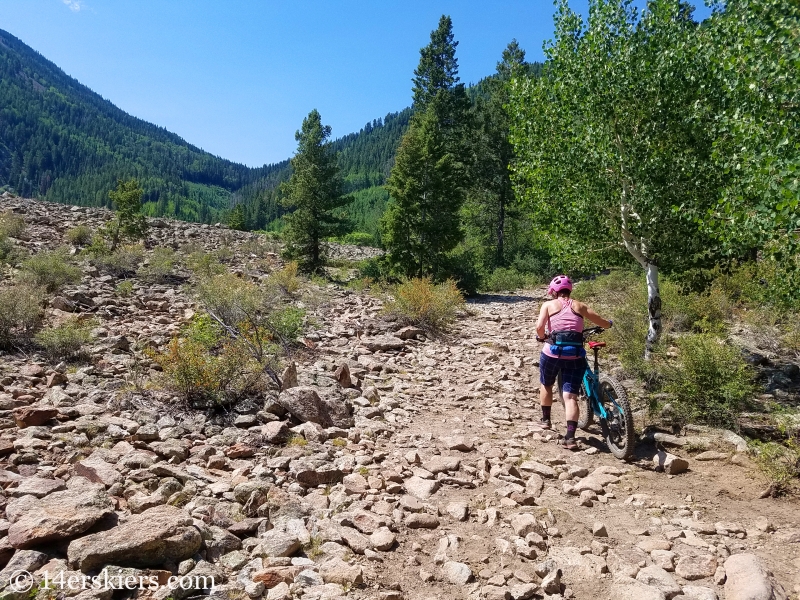 Interocean Pass lies at the saddle in this picture. It doesn't look that far, right? Wrong.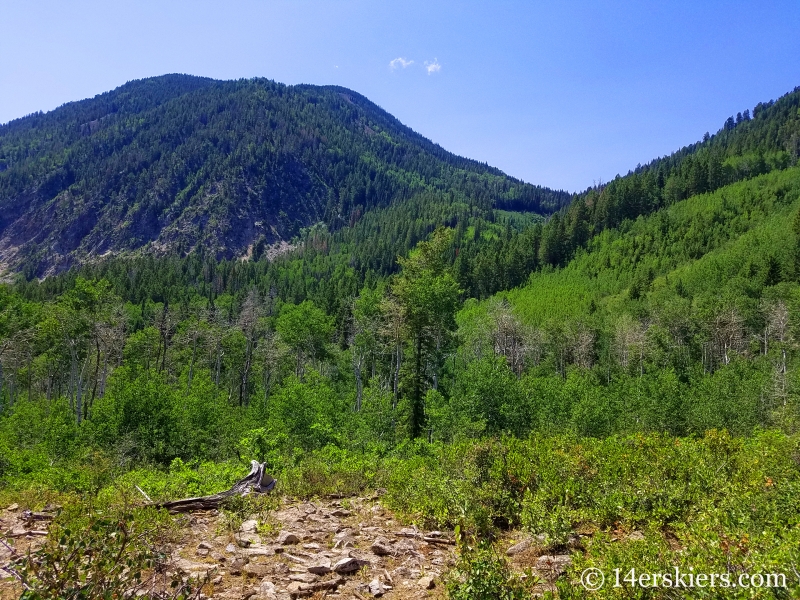 After about 1/3 of a mile, the trail quickly narrowed to single track. We ended up following a well-used trail for a ways but realized it was not going up toward the saddle. A little backtracking allowed us to find the correct trail, which climbed through an amazingly beautiful forest.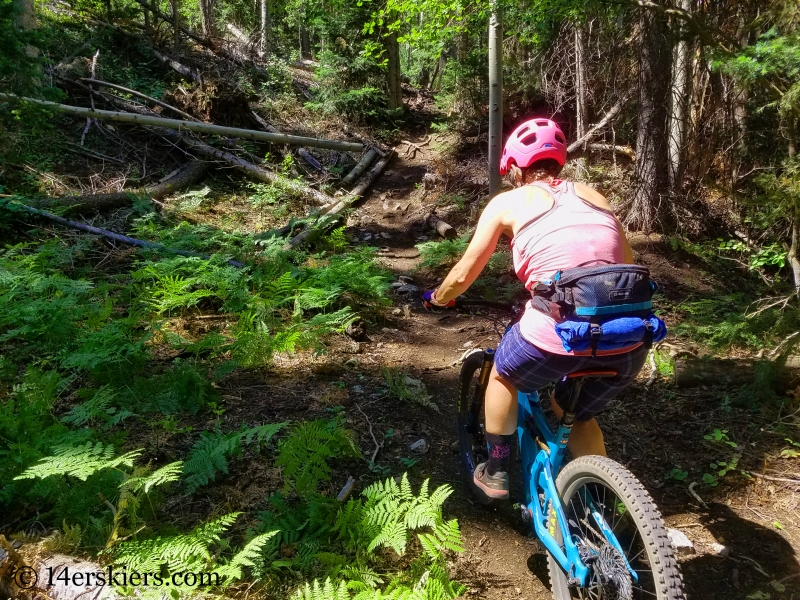 But, it was treacherous at times too….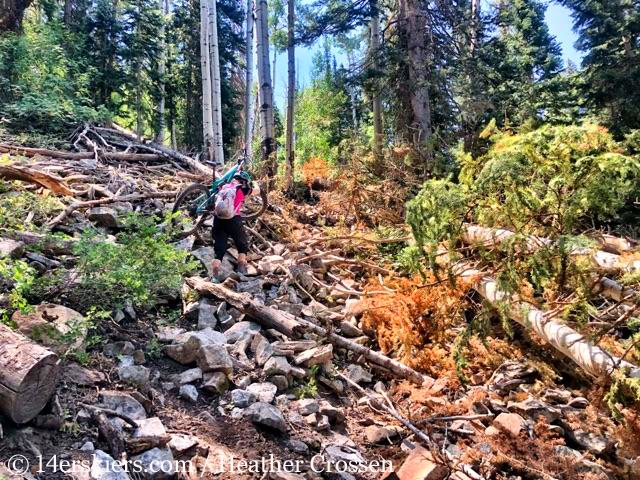 Most of the trail was hike-a-bike, especially as we climbed and the forest became more dense. Tree fall made us lose the trail a couple of times. But, eventually we found it again. After 2 miles on this trail we found ourselves at the top of Interocean Pass.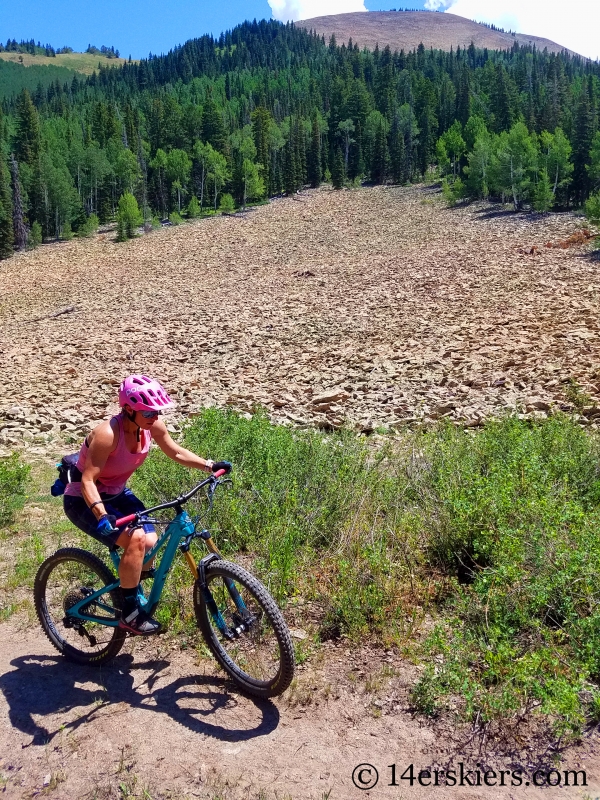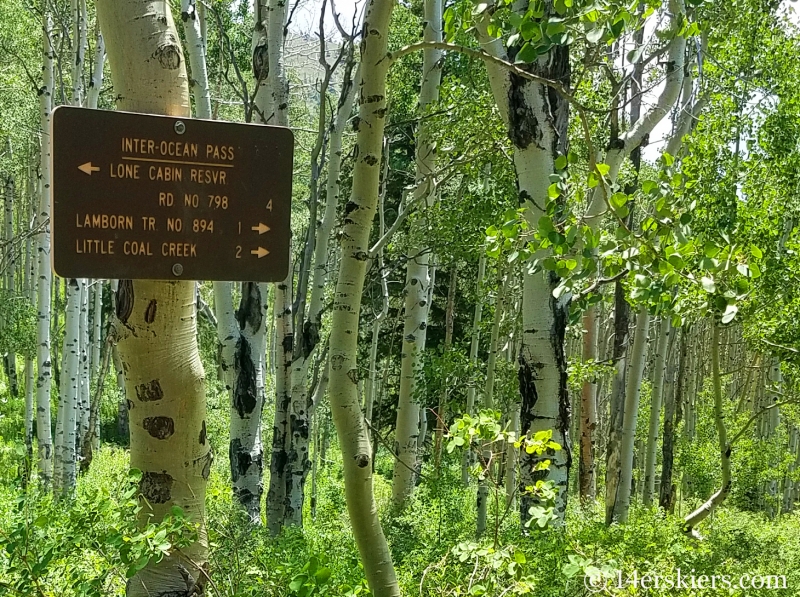 We enjoyed a short but hard-earned descent for about 0.5 miles.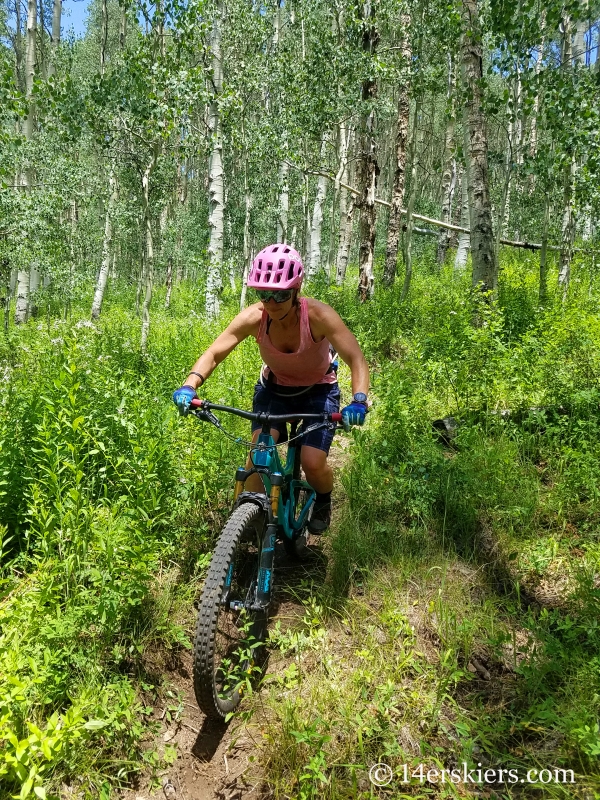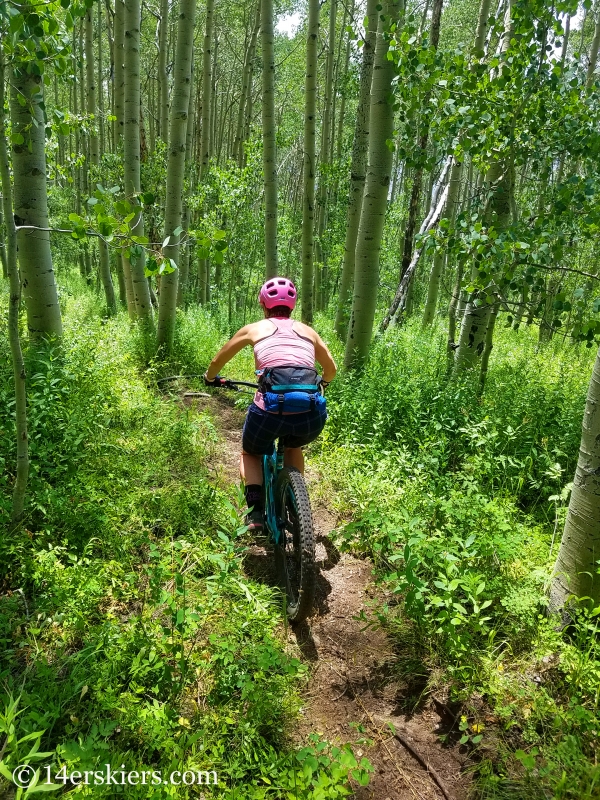 But then the climbing started again. Off and on the bike, constantly being scratched by the thick foliage that was overgrown on the trail, traveling through this area was not easy. The views, though, were spectacular. Needle Rock is the obvious feature at the bottom of the valley, which I've seen from afar many times while traveling toward Crawford Reservoir. Saddle Peak is the pyramid-shaped peak to its left.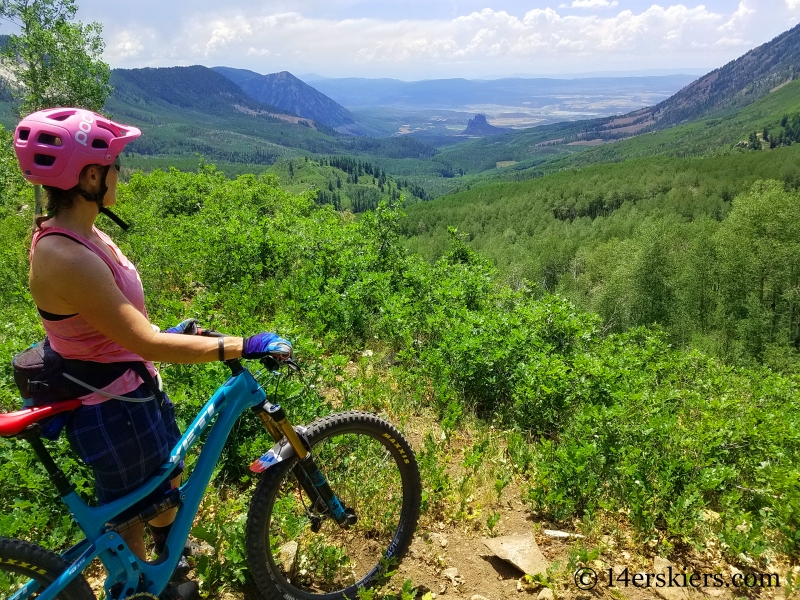 The forest was dense in this area – like a jungle full of fierce beauty.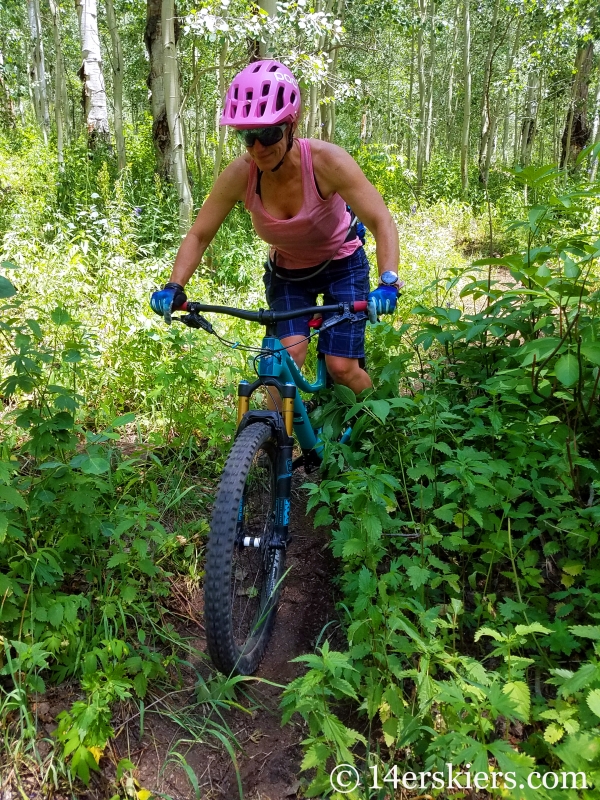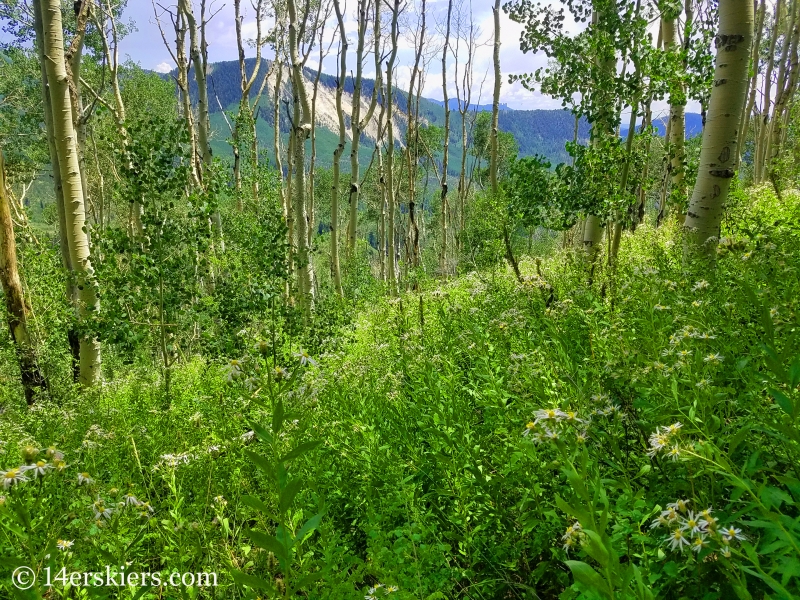 We only had a mile to travel once we started climbing again to the turn-off to climb Mount Lamborn. But, this mile took an hour. We lost the trail once, which caused us valuable time and energy. The dense foliage and steep terrain made riding nearly impossible. Walking on the narrow trail wasn't much better as our shins were constantly being hit by our pedals and our legs and arms constantly scratched from the unforgiving vegetation.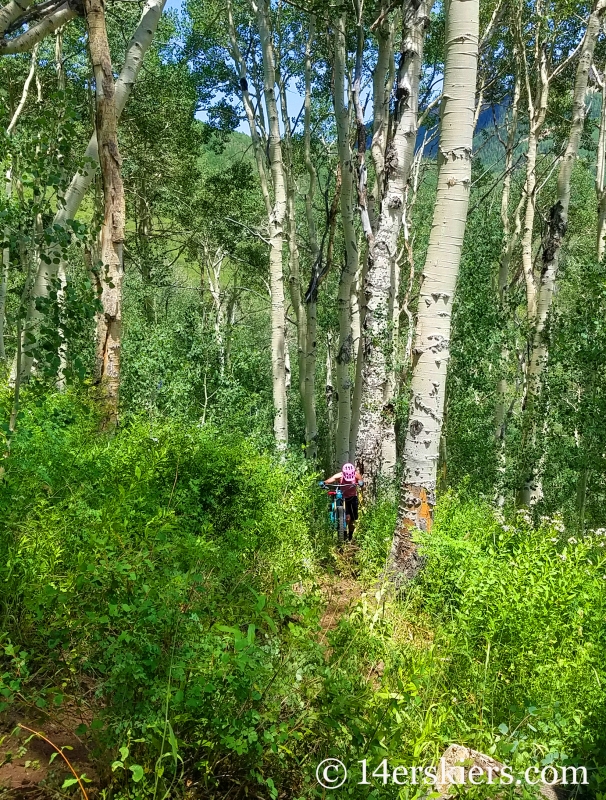 If we had wanted to continue on Interocean Pass Trail, we would have traveled down this indistinct path. But, we decided to save this segment for another day. We were already in it pretty deep….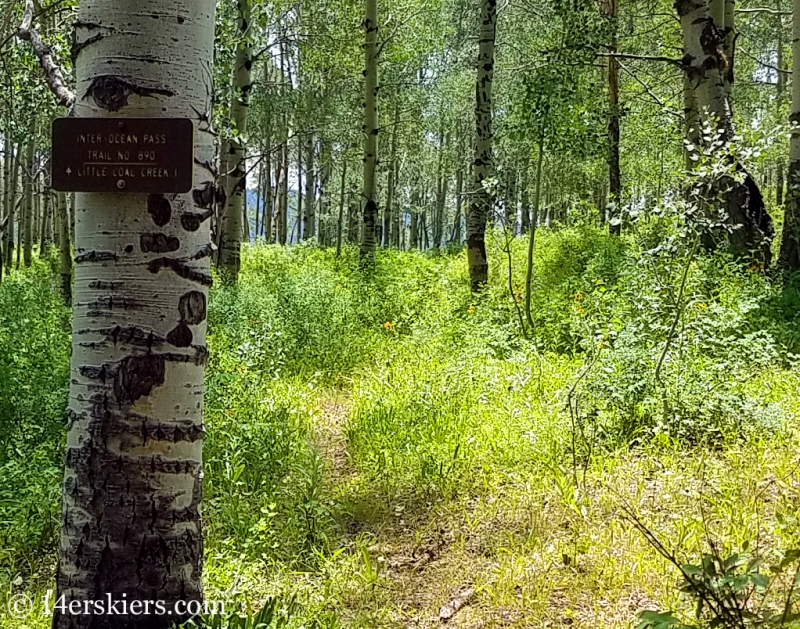 Once we reached the Lamborn Trail, we ditched the bikes behind some bushes (which wasn't hard to do with all the thick brush) and hiked up the steep and often very ditched-out trail.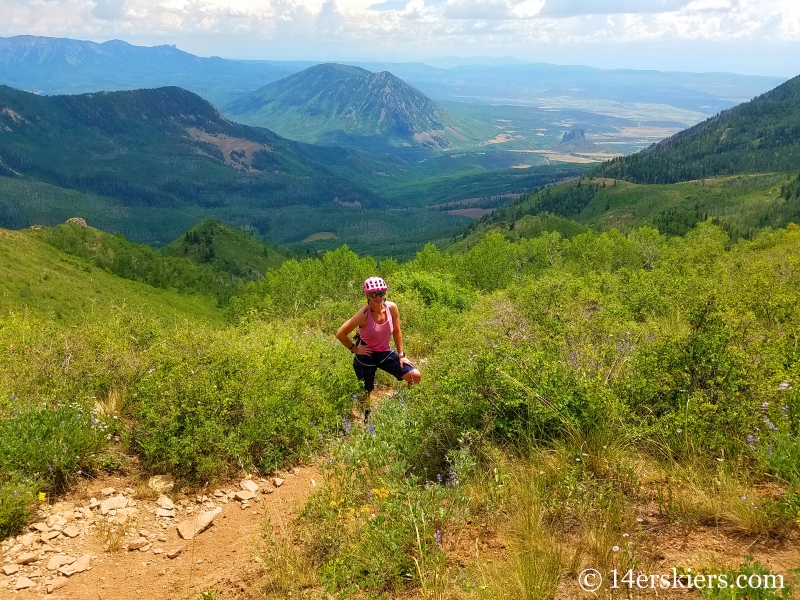 It was another seemingly-long mile to reach the saddle below the summit. Maps (including the app used for TrailQuest) show the trail as ending here. But, of course, in actuality, it keeps going toward the summit. Though we wanted to summit Lamborn, we knew it was still fairly far away. We were low on energy and low on water. And a storm loomed nearby to the northwest and was tracking toward us.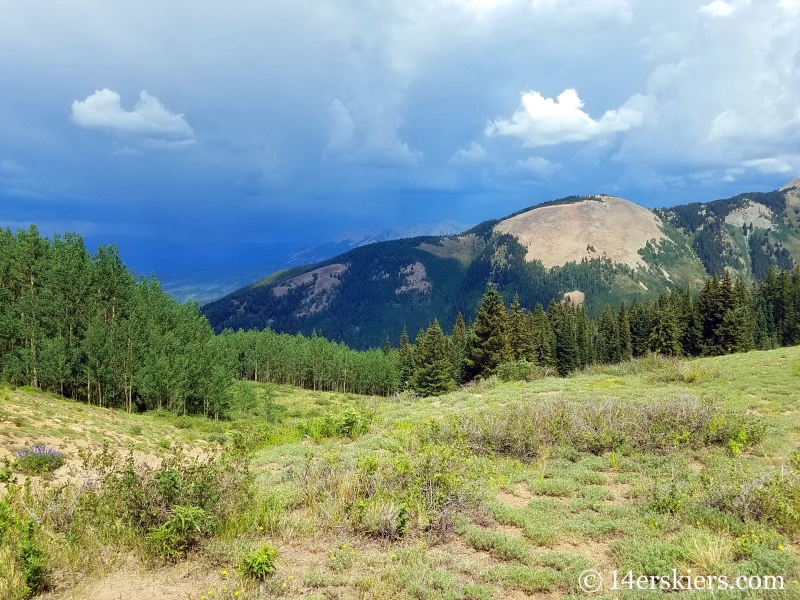 We turned around, retracing our steps down the Lamborn Trail. We retrieved our bikes and continued our way down the rest of Lamborn Trail. The descent started out pretty fun at first, and we were making good time.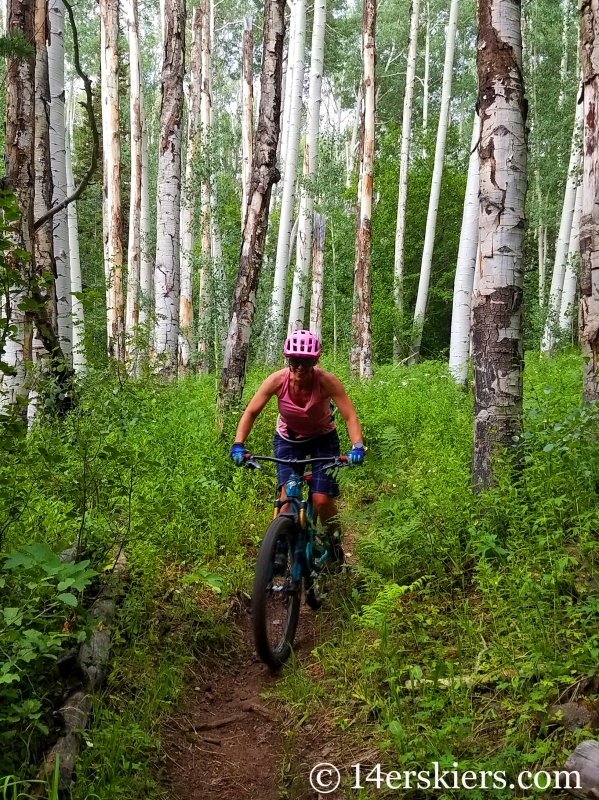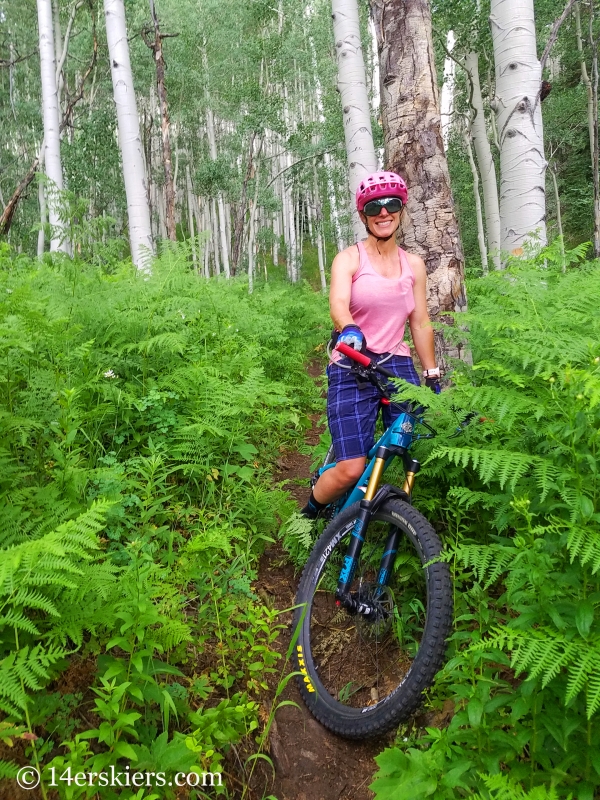 But then the middle third of the trail brought us to a grinding halt. The trail became rocky. The baby-head style rocks that are wedged into the ground and are rather unforgiving. The overgrown vegetation made it difficult for us to see the trail clearly enough to plan routes through this technical terrain.
So, we walked. We walked a lot. And let me tell you – walking on a good chunk of the descent when you feel like you should be riding and after pushing your bike for the better part of the day already – well, it's pretty disheartening. Soul-crushing is how I've chosen to define it. Oh, and I forgot to mention that it also began to rain.
Amazingly, we don't have pictures of these awful parts…. The trail traveled through a narrow passage between Mount Lamborn and Landsend Peak. Occasionally the forest opened up enough for us to catch a glimpse of the fiercly beautiful terrain.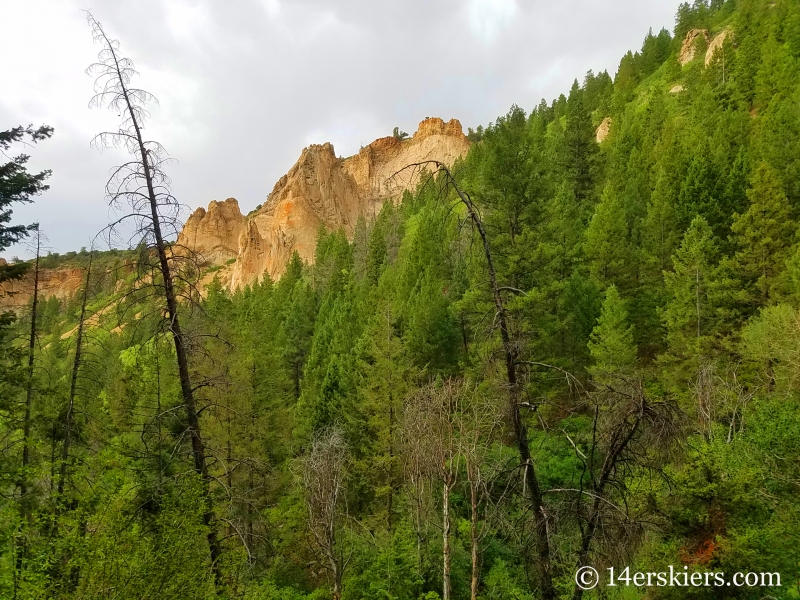 Lamborn Trail finished off strong though, with a fun descent on the lower third.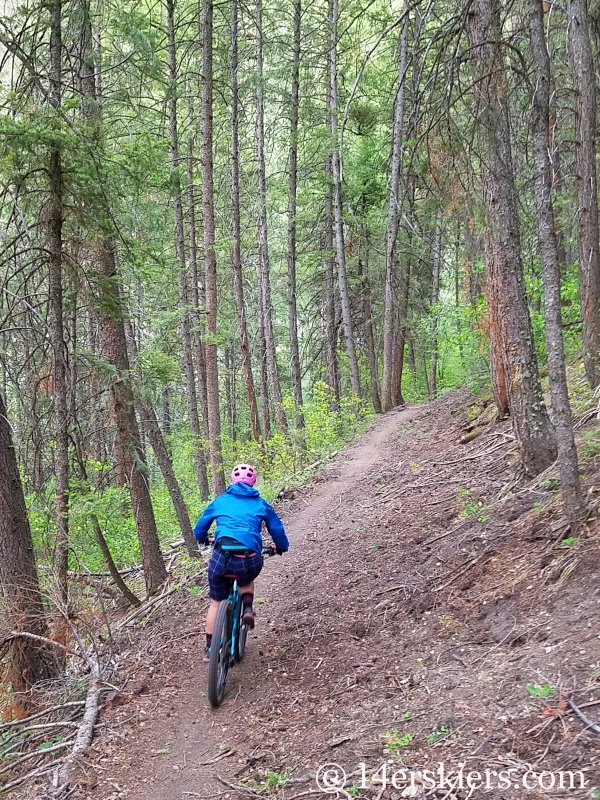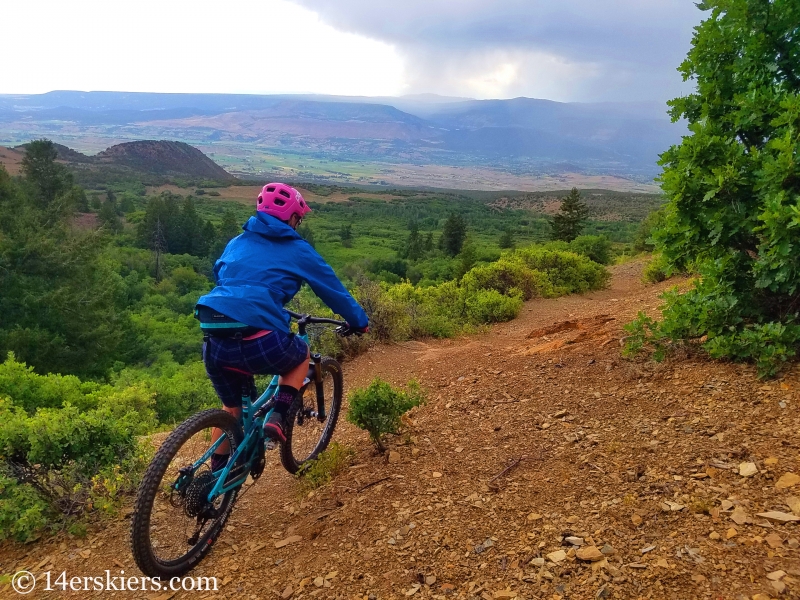 After yet again, another 1.7 miles, we reached City Springs Rd (FS Rd 894). This road is truly meant for 4WD vehicles. Another long 11 miles of riding on Forest Service and County Roads brought us back to our car.
So, what made mountain biking Interocean Pass to Lamborn Trail so soul-crushing exactly? I mean, my pictures don't make it seem that rough… Maybe it was the heat or the flies and mosquitos that buzzed around my head all day long. Maybe it was the fact that my legs were scraped raw and bleeding from the constant scratching of plants and thorns. Maybe it was the stress of losing the trail from time to time, costing us valuable time and energy. Maybe it was the intensity and steepness of the terrain, or the 6000+ total vertical-foot day. Maybe it was the giant lump (that still remains weeks later) on the lower part of my right shin from constantly hitting it with my pedal while pushing my bike. Maybe it was because my stomach ached from over-exhaustion. Maybe it was because we pushed our bikes on the trail for more miles than we rode them (road not included). Or maybe it was the whole experience combined.
And keep in mind, we didn't exactly take photos of the times when we were cursing this ride….
As intense as this ride was, the scenery was even more-so. The rawness of the area, the savageness of the jungle-like forest, combined with the unique topographay, all make this area something special. While riding this trail may not be for everyone, I still recommend visiting this area to experience it for all that it is. Hiking might be the best alternative for most.
All I know is that this ride was supposed to be an introduction to the general Paonia/Crawford area rides we must complete as part of TrailQuest. And while I was enamored with the landscape, I was humbled by the terrain. Admittedly, this ride has made me a little leary of the 50 or so miles of trails we still have yet to explore in the areas surrounding Paonia/Crawford. I'm guessing we need to prepare ourselves for some adventure on steriods!
Want to do this ride too?
Interocean Pass to Lamborn can be done as a clockwise loop starting from just outside of Paonia. A shuttle can also be used, but keep in mind the FS road heading toward the Lamborn trail is very treacherous.
Aside from skiing, biking, and all outdoorsy things,
Brittany Walker Konsella
also loves smiles and chocolate 🙂 Even though she excels at higher level math and chemistry, she still confuses left from right. Find out more about
Brittany
!
Latest posts by Brittany Walker Konsella (see all)
Summary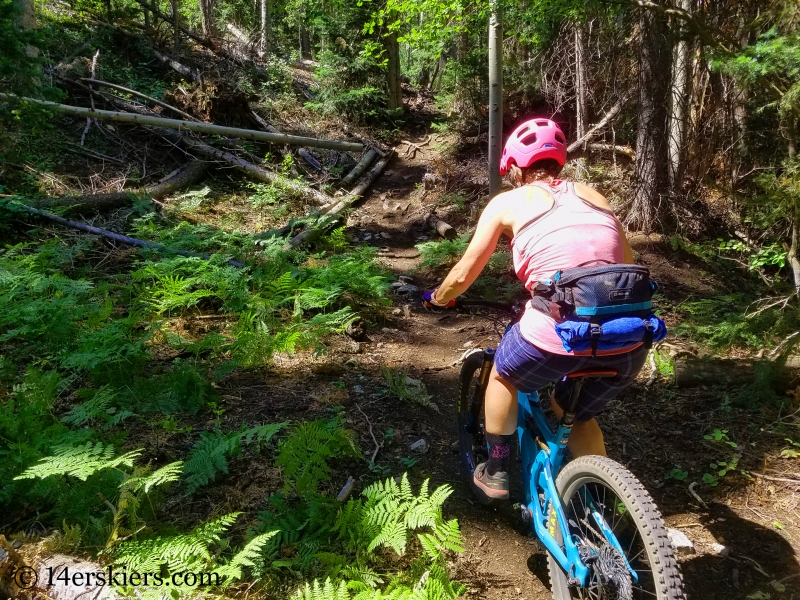 Article Name
Mountain biking Interocean Pass to Lamborn
Description
The primitive trail and thick foliage doesn't make mountain biking Interocean Pass to Lamborn easy, but this area harbors a rare sense of beauty!
Author