Mountain Biking Colorado Trail Segment 17 to Big Bend (9 Sept 2017)
(Last Updated On: October 4, 2017)
This season, we've been exploring a little lesser known rides. While segments of the Colorado Trail have been gaining popularity, Segment 17 isn't exactly one of them. Even less riders know about Big Bend. But Frank had done this exact ride back in 2012 and had good things to say. In short, if you like mountain biking steep technical trails, often loose at times, then Big Bend is a great choice.
One of the toughest things about this ride is that it requires a long shuttle. We started the day by leaving one car at Sargents, a few miles below where we would come out from riding Big Bend, and then drove toward Cochetopa Pass to catch Segment 17 of the Colorado Trail. We were able to drive a couple of miles on dirt road above the pass to start our ride closer to the actual trailhead.
The climb up Segment 17 is long and steep, with a few fun descents in between the climbs.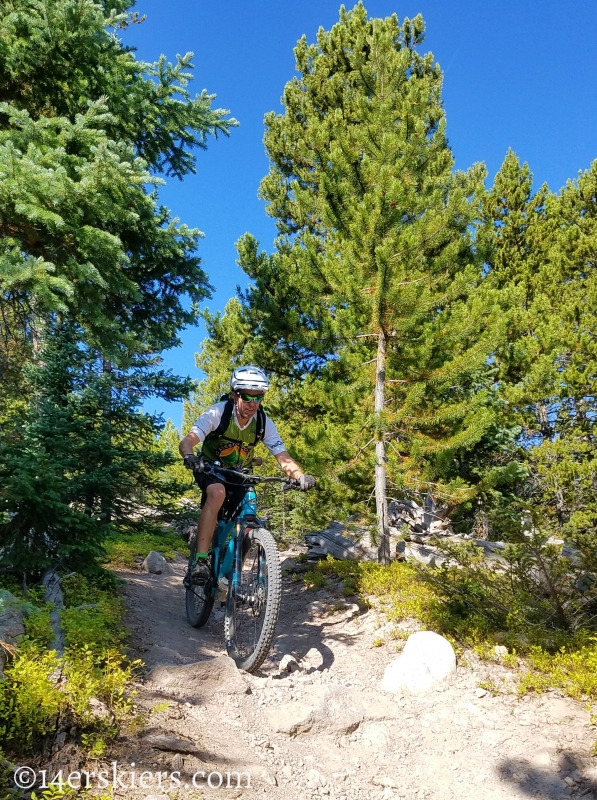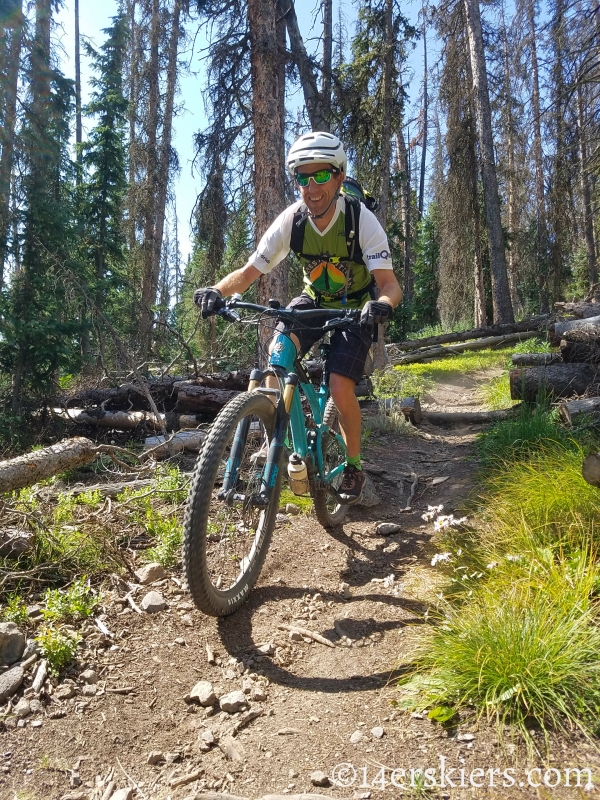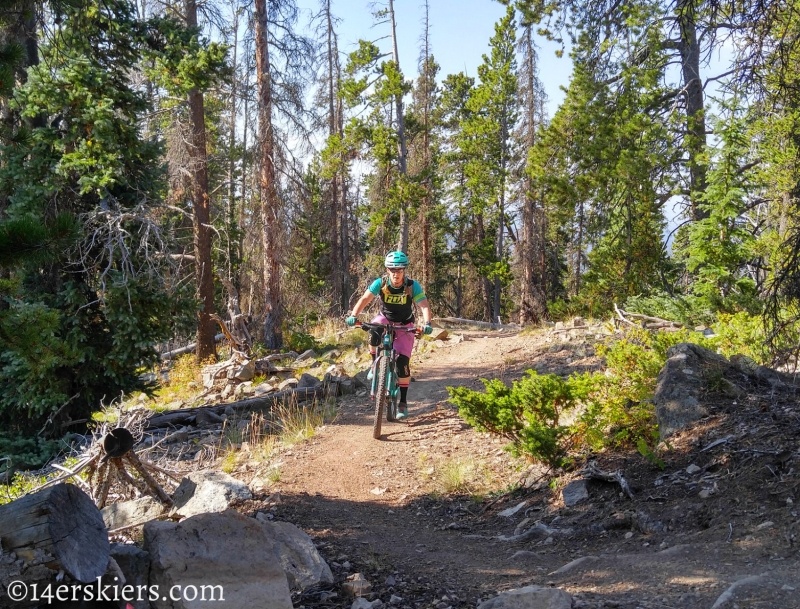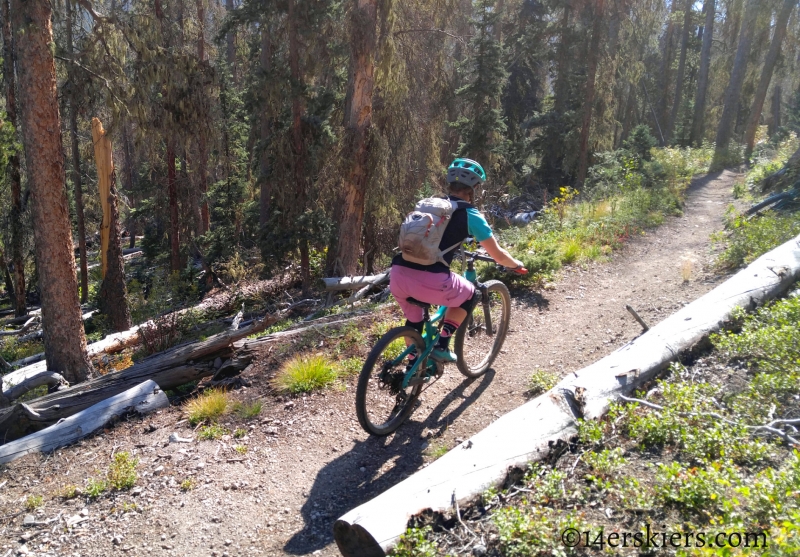 The day started out beautiful and sunny. But then the threatening clouds moved in. Based on the forecast, we knew we were taking chances with the weather. We missed this hail storm by probably ten minutes. Although not ideal for riding, it made for some pretty spectacular scenery!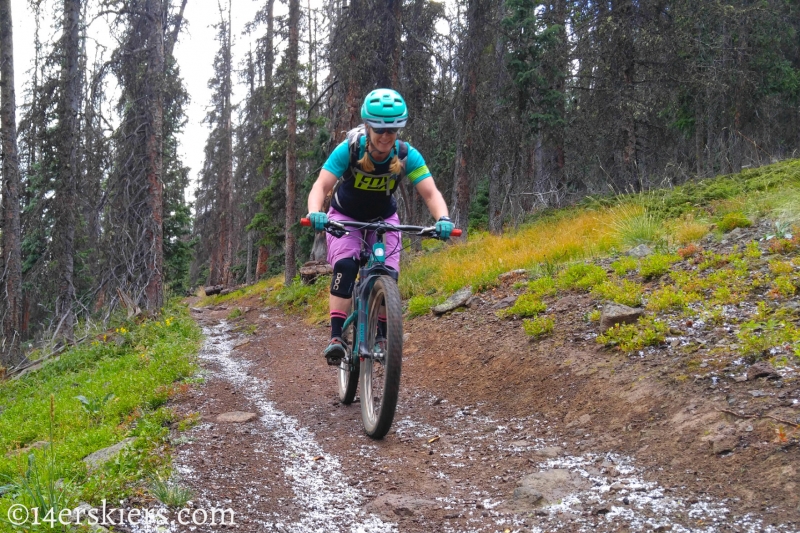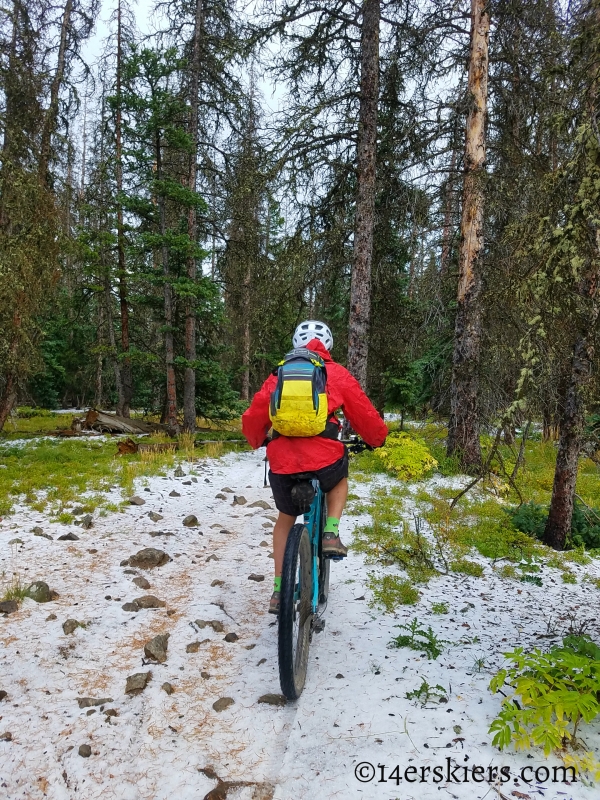 The turn-off toward Baldy Lakes came, and we almost bailed because of the weather. But, we thought to ourselves, "Let's try to make it to Long Branch. It's only a few more miles." So, a few more miles we went. A quick rain storm came and went, and we kept trudging on. At the intersection with Long Branch we had another choice to make. Thunder rumbled all around us. Do we keep going another half hour or so to Big Bend? We had already pushed our luck with the weather…. But, it was only a few more miles. So we went for it.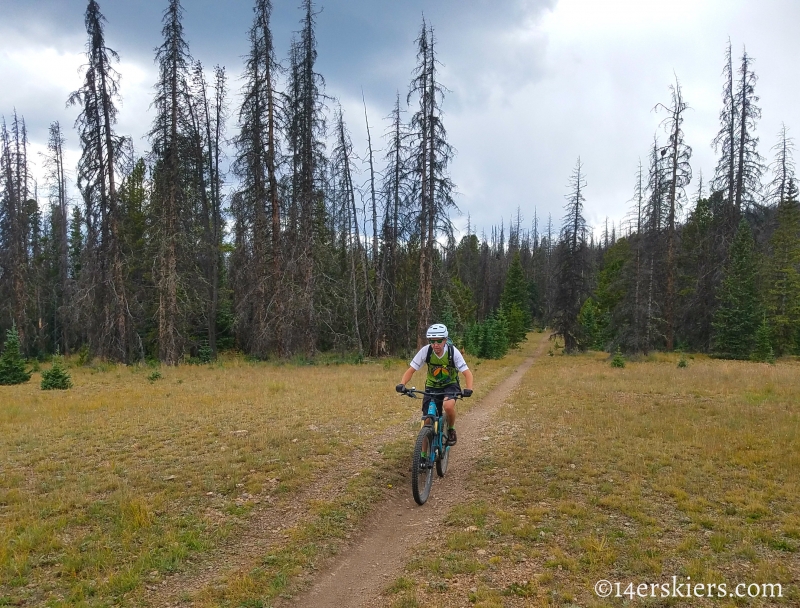 Our luck ran out this time as we endured a downpour of rain, sleet, and hail. To make matters worse, we had trouble staying warm as much of the trail was descending when the storm rolled in. It's hard to tell, but I took this photo of a beautiful meadow and Mt. Ouray in the background during a miserable part of the storm, with rain blowing sideways at my face.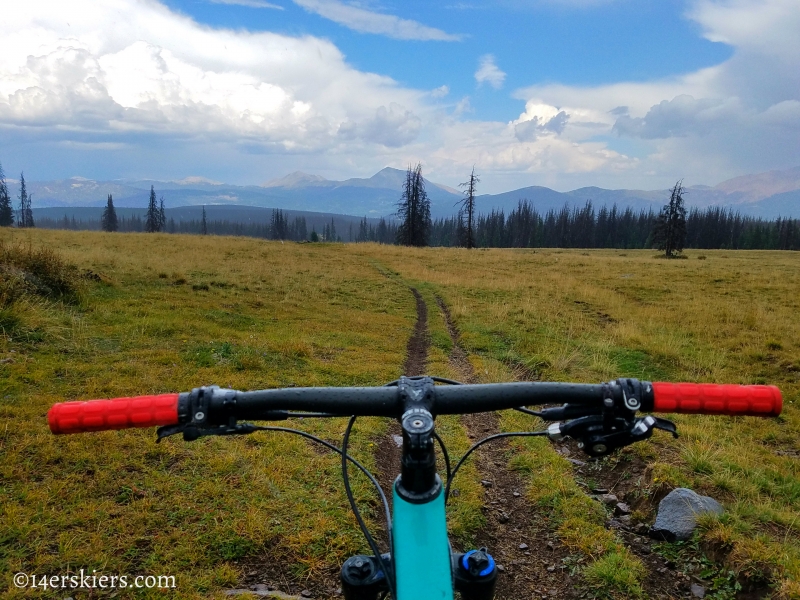 Once we hit Big Bend though, the rain stopped. Better yet, the trail dried out. The rain had simply missed that area. But, we were still very cold.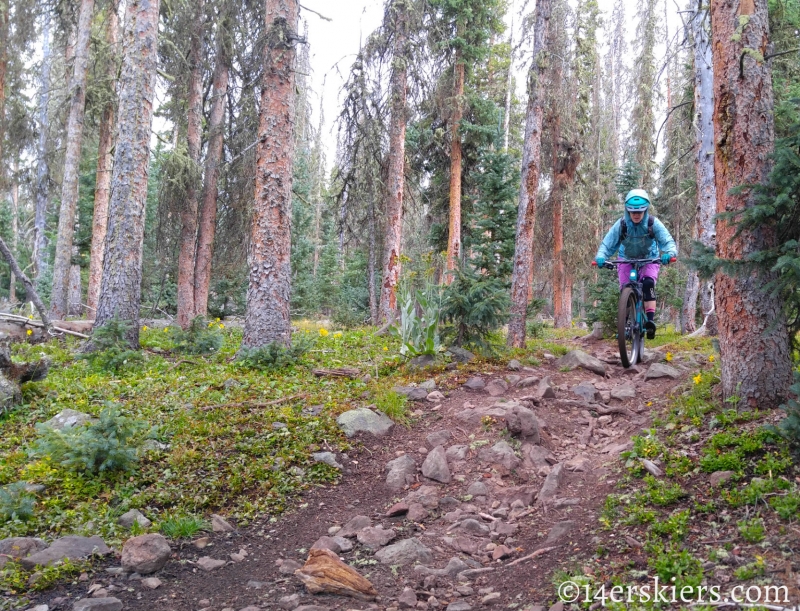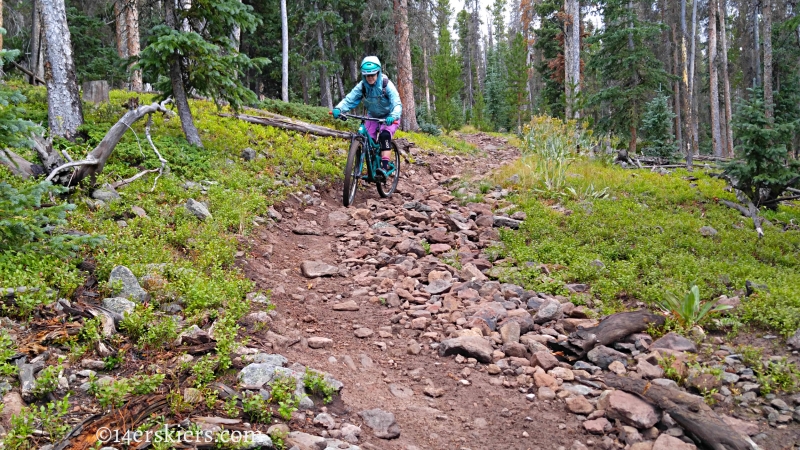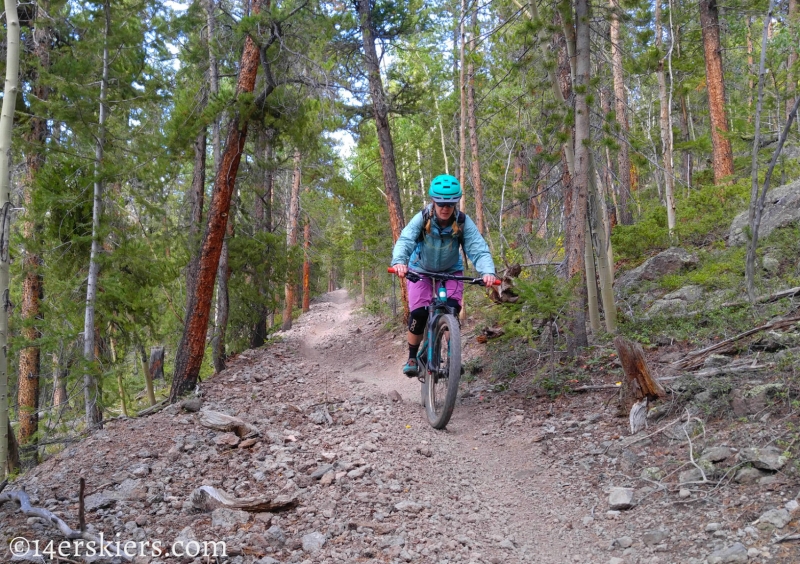 Big Bend was fun. Really really fun… especially as we got warmer and could actually feel our hands again.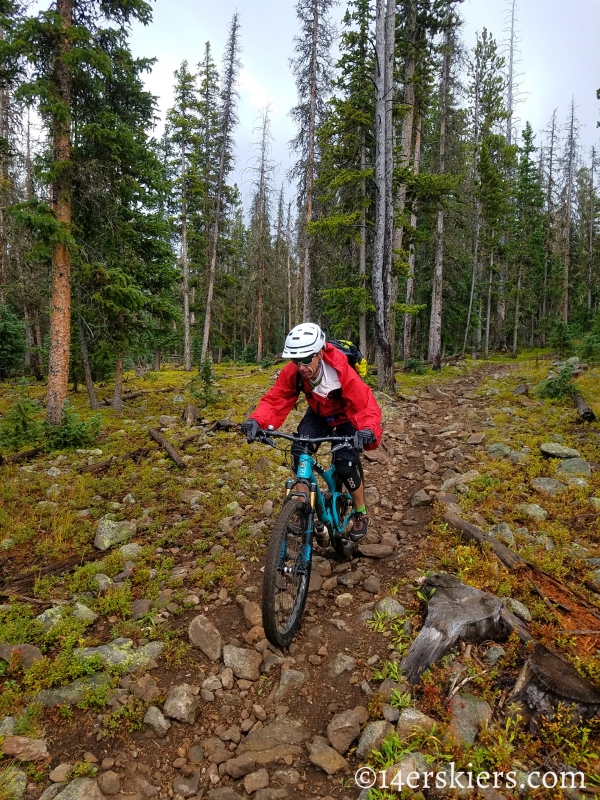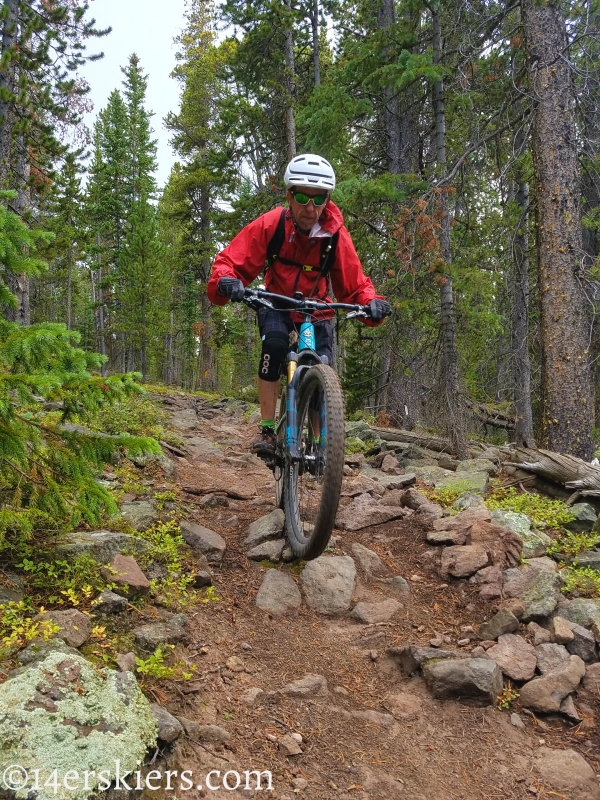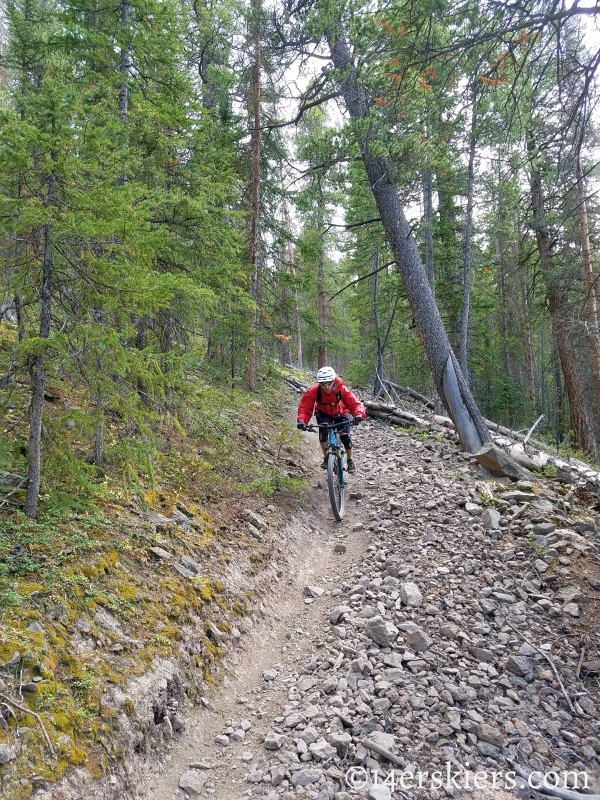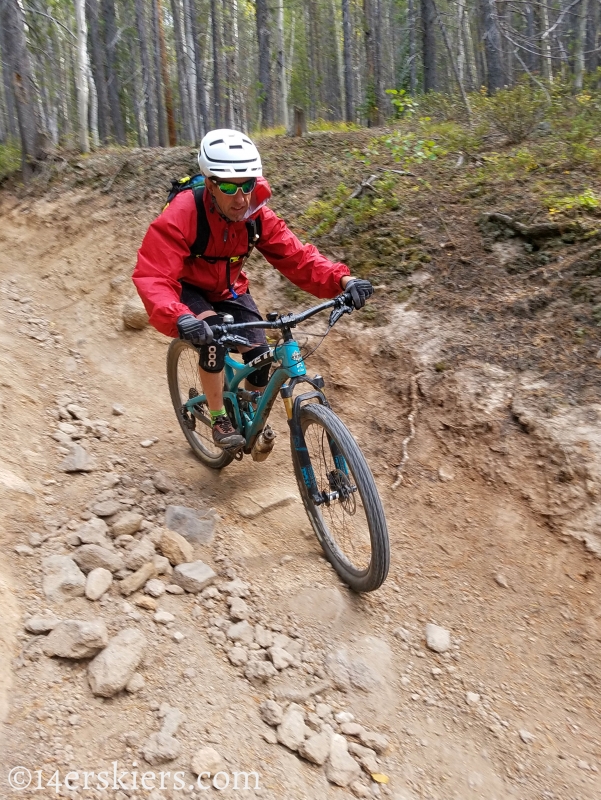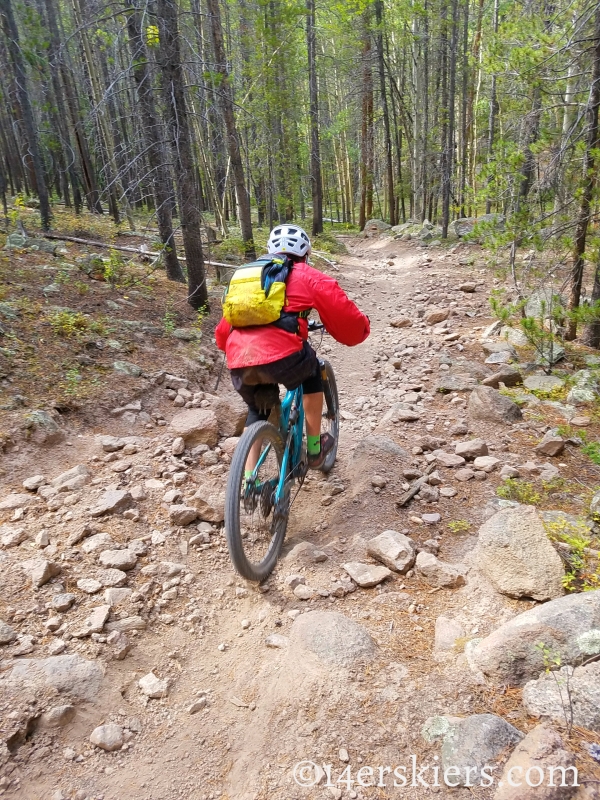 Toward the bottom, we found it to be rather balmy and shed some layers.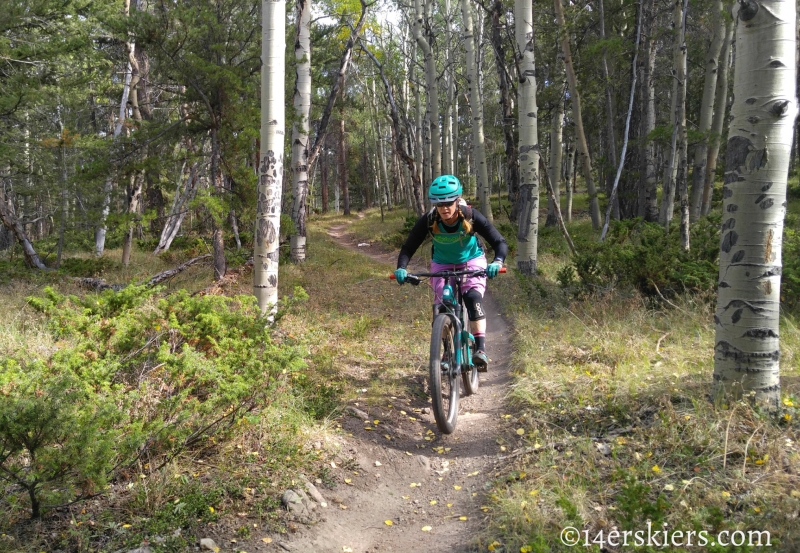 Frank especially liked the rock gardens we passed through.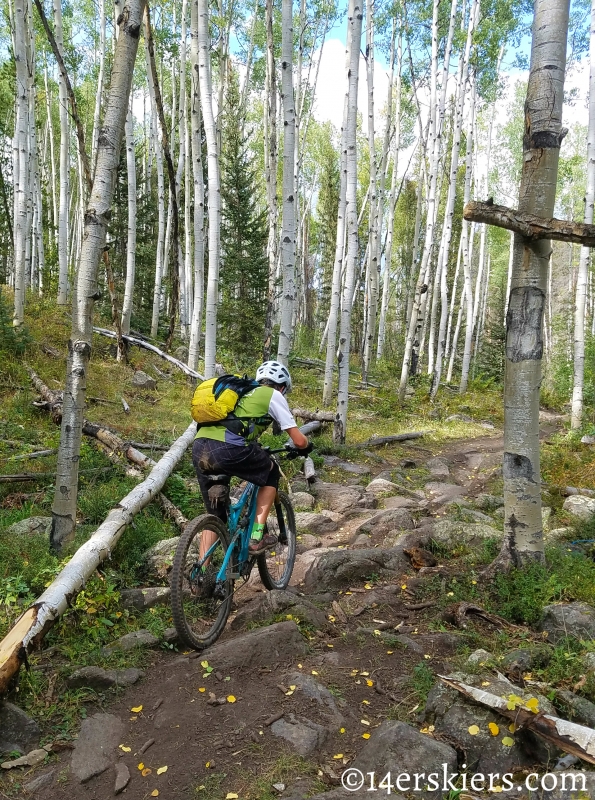 At the bottom, Big Bend eventually intersects with Long Branch. We then rode on roads to get to our car in Sargents.
It was another long but fun day out on a technical ride that was certainly worth the reward!
Map of Colorado Trail Segment 17 to Big Bend
If you want to do this ride yourself, here's the map!
Aside from skiing, biking, and all outdoorsy things,
Brittany Walker Konsella
also loves smiles and chocolate 🙂 Even though she excels at higher level math and chemistry, she still confuses left from right. Find out more about
Brittany
!
Latest posts by Brittany Walker Konsella (see all)
Summary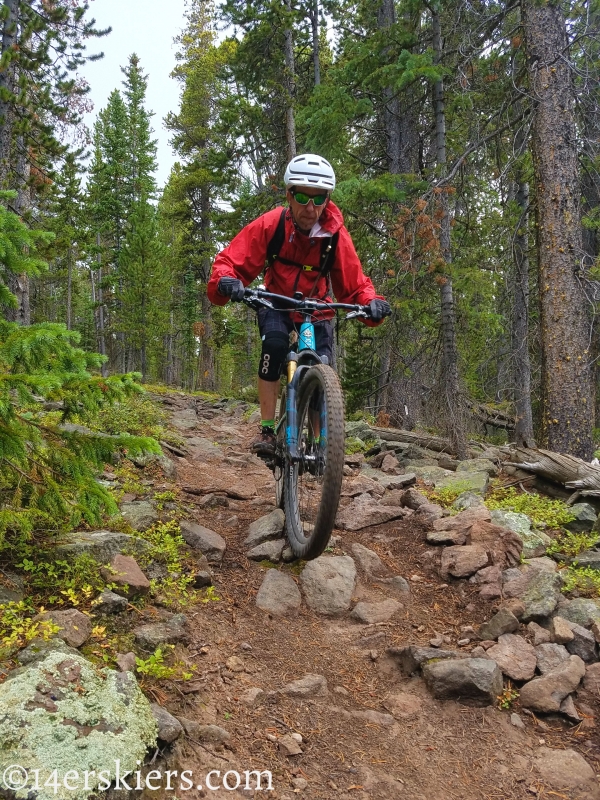 Article Name
Mountain Biking Colorado Trail Segment 17 to Big Bend
Description
If you like long hard rides with technical descents, then Colorado Trail Segment 17 to Big Bend is definitely one you should check out!
Author