7 Favorite Fall Mountain Bike Rides in Crested Butte
(Last Updated On: September 21, 2017)
When the calendar flips to September, most avid skiers start thinking of white fluffy snow. Admittedly, we're among them. But, at the same time, fall is one our most favorite times in Crested Butte. From mid-September to early October the mountains are glowing in gold, and as the leaves fall, riding them becomes nearly as fun as skiing in blower pow, as leaves swirl around you on every corner. Simply said, Crested Butte can be epic in fall and the riding can be too.
Below we have listed our 7 favorite fall mountain bike rides in Crested Butte. We've included brief descriptions and Google maps to get you started. You can even click on the start/end icons to get directions to the trailheads! More information is available on our Crested Butte Mountain biking guide. Additionally, the Gunnison – Crested Butte Tourism Association has a great app called CBG Trails that you should consider downloading on your mobile device!
---
Crested Butte Mountain Resort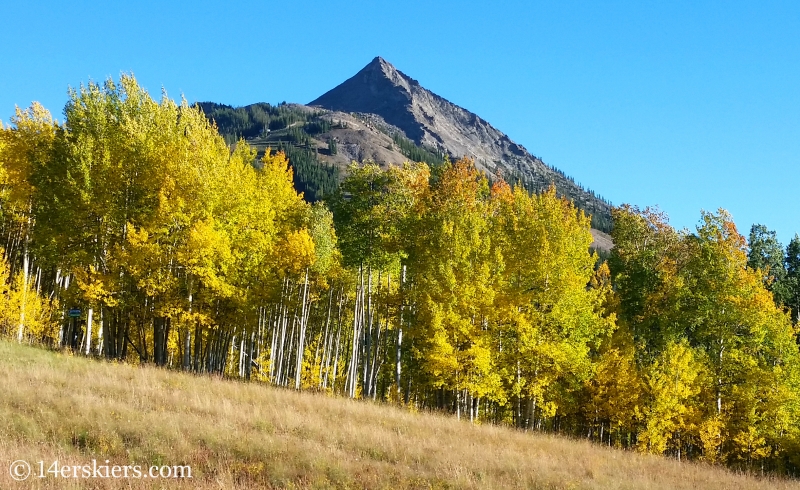 Distance: Nearly as long as you want. Several loops are possible. The recommended loop of Up, Up and Away to Columbine to Painter Boy to Primer and down Westside is about 7.6 miles. Click on the various trails on the map below to view distances.
Access: You can drive 3 miles up the road from the town of Crested Butte to the ski area. Better yet, take the rec path. You'll be able to catch it on the east end of Elk Avenue as well as many other places.
Crested Butte Mountain resort is one of the best places for fall riding. The leaves tend to peak on the earlier side of things here, in mid-September. While the lifts remain open only on weekends after Labor Day, you can ride your bike up a number of trails to enjoy a quality descent. Some of the best trails to enjoy the fall leaves include – Painter Boy, Columbine, West Side, Teaser and Awakening.
One recommended loop would be to go up Up, Up and Away to Columbine and Painter Boy. Continue up Primer to the top of the Red Lady Chair. Then, descend Westside. If your goal is to end up back in town, take Happy Hour which leaves from the lower part of Westside. Follow Happy Hour to Upper Loop and then take Tony's Trail back toward town.
Map
The map below shows the trails suggested. But, many other possibilities exist. Visit the Evolution Bike Park site for a full trail map.
---
409 – Point Lookout – 409.5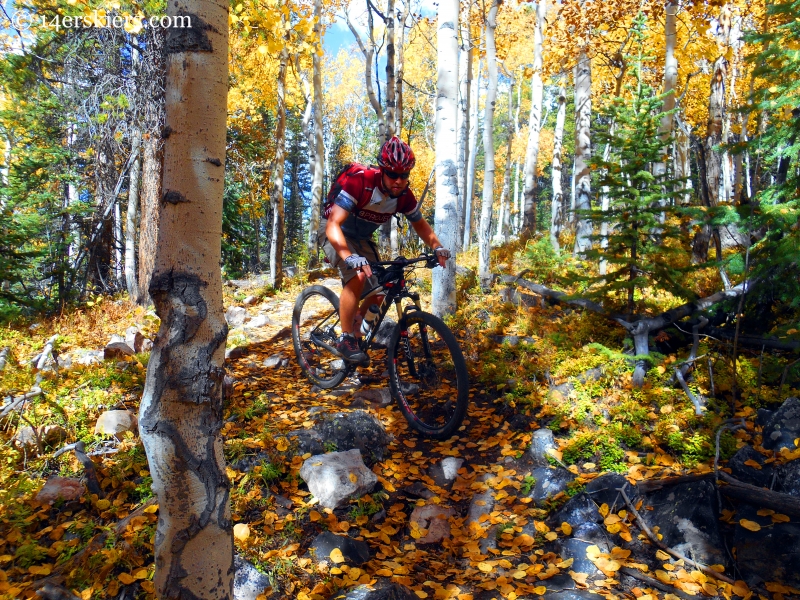 Distance: From the East River / Brush Creek Parking, the loop is roughly 13 miles. Adding on Strand Bonus or Strand or Ferris is recommended, but adds distance. See map below.
Access: From the town of Crested Butte, head south on CO-135 for about 2 miles and then turn east onto County Road 738 (Brush Creek Road). Follow this road for about 2.5 miles, past where it becomes dirt, to the obvious East River / Brush Creek Parking lot on the left.
409 – Point Lookout – 409.5 is not only a fall favorite, but it's an all-bike-season favorite of ours. Both 409 and 409.5 are technical in nature, while Point Lookout is an easier break in the middle of the two. Either way, this ride offers great leaf riding and overall quality mountain biking too. Oh, and we've listed it as one of our most scenic rides as well.
At the end of the ride, rather than descend the dirt road back to Brush Creek Road, you can catch some more singletrack by adding on either Strand Bonus, Strand, or Ferris Creek. See the map below.
Map
---
Strand Hill or Ferris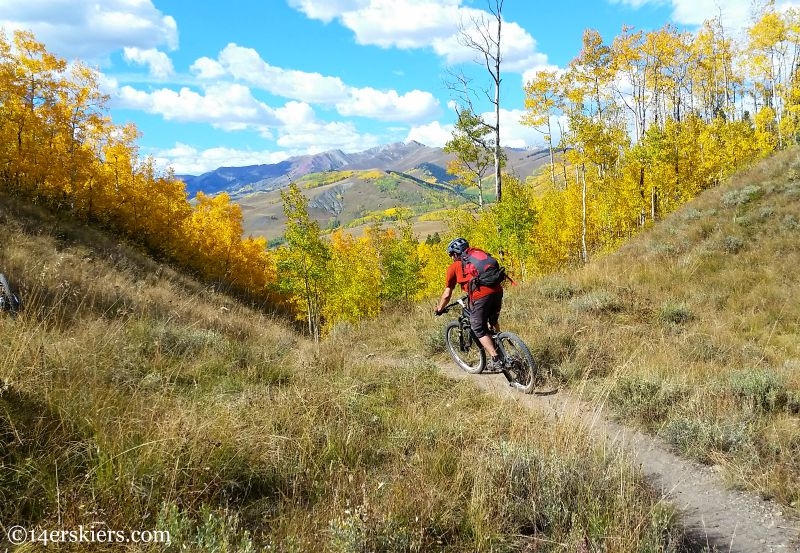 Distance: From the East River / Brush Creek Parking, the Strand Hill Loop is 7.2 miles and the Ferris Creek Look is 9.5 miles.
Access: From the town of Crested Butte, head south on CO-135 for about 2 miles and then turn east onto County Road 738 (Brush Creek Road). Follow this road for about 2.5 miles, past where it becomes dirt, to the obvious East River / Brush Creek Parking lot on the left.
The beloved Strand Hill is a favorite ride of ours in fall and all bike season long too. With a fun downhill that makes you want to ride it again, this trail also winds through some beautiful aspen forests that can be strikingly beautiful at peak colors. Those looking for a little less traveled, longer, and a bit more technical route can check out Ferris. This trail is bound to knock your socks off in the fall with all the lovely aspens.
Both loops are best done in the counterclockwise direction. These trails can be linked together like a corkscrew, or linked with 409 – Point Lookout – 409.5 as described above.
Map
---
Dyke Trail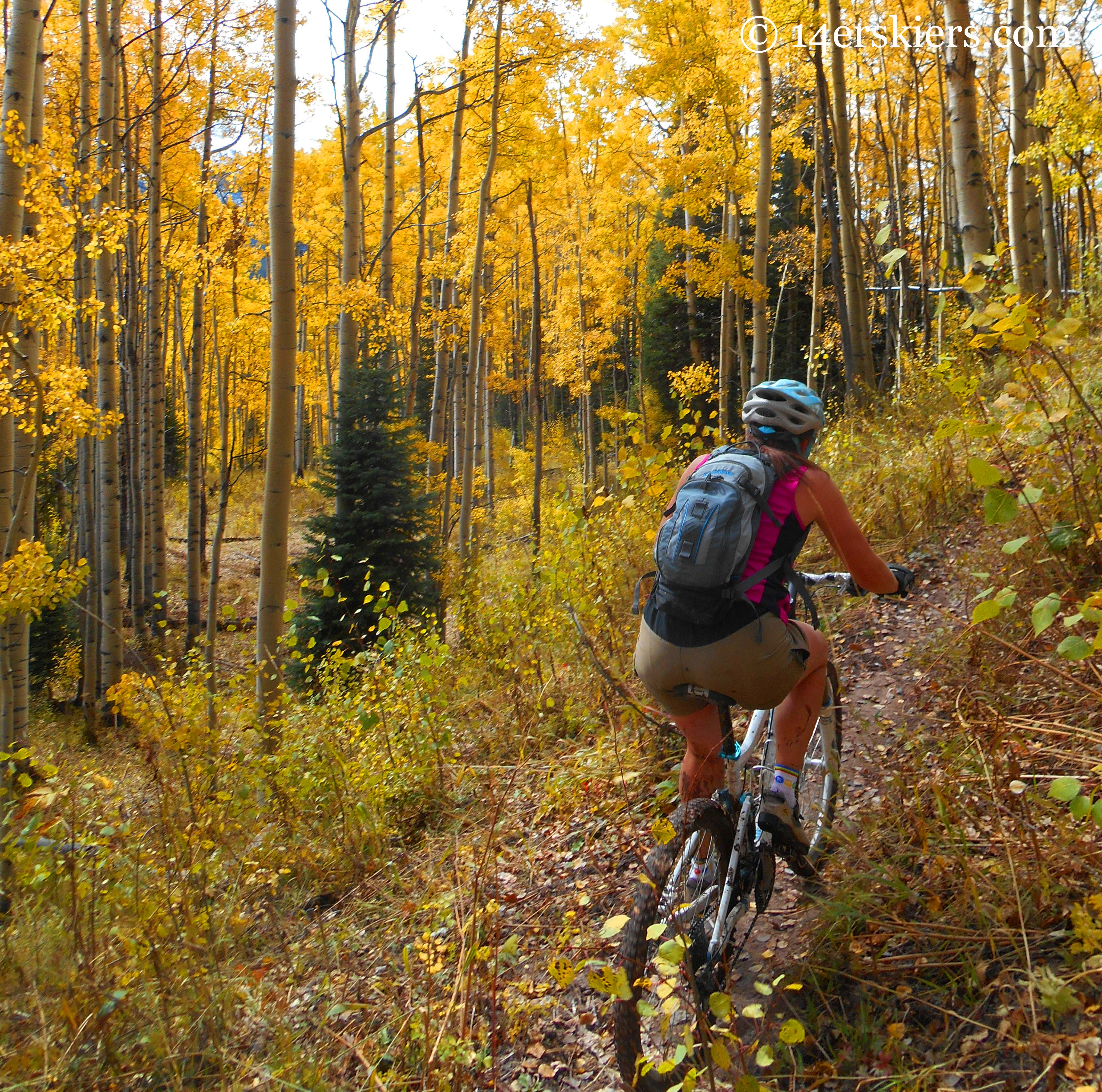 Distance: The trail is 5.4 miles. But, it is typically done as a loop with the Kebler Pass road, or the road with the Wagon Trail. A loop with the road is 13.8 miles.
Access: Drive toward Kebler Pass a few miles to the junction with the Irwin Lake Road called "they Y". Take a right, heading toward Irwin Lake but park a parking area just on your left just past the split.
The Dyke Trails is synonymous with fall. Since this path winds through the largest grove of aspen in the world, this is undoubtedly a Crested Butte fall classic ride. Although you ride up a road to reach the top of the trail, don't be fooled. The descent has some surprisingly steep climbs built within it. Still, the Dyke Trail is well worth the effort. You'll be rewarded with plenty of yellow brick road along the way!
The loop is best done counterclockwise from "the Y", riding past Irwin Lake and on to the top of the Dyke Trail.
Map
---
Lowline Trail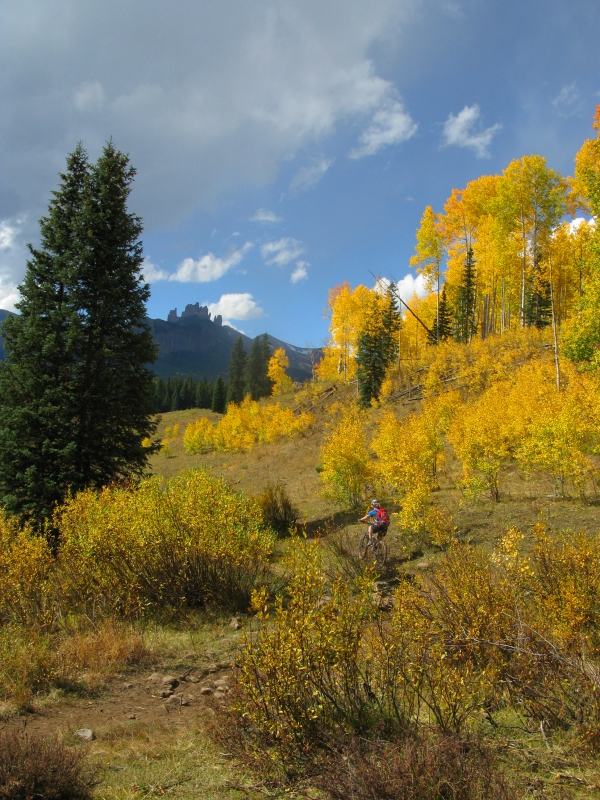 Distance: 13.8 miles
Access: Most people start this trail from the Swampy Pass Trailhead off County Road 730 / Ohio Pass Road. To get here from Crested Butte, take the Kebler Pass road to a fork just below the pass. Turn left at the fork, heading toward Ohio Pass. Go up and over Ohio Pass and go a few miles down to reach the large parking area on the east side of the road. The trail begins on the west side of the road from there.
Mountain biking near "the Castles" is truly a mixed bag. With the right dry conditions, this area can have some excellent riding. But in wet conditions, you'll be slipping and sliding around in a mixture of mud and cow poop. And, for most, that's not fun. At the end of September, the rainbow hues and striking silhouette of the Castles towering above make for a dramatically beautiful scene that is tough to top. Either way, this is not your traditional ride. Nonetheless, it is still a fall favorite of ours.
Most people set up a shuttle for this ride, leaving one car at Mill Creek where the Lowline trail ends, and taking another car to Swampy Pass Trailhead where it starts. Follow the Swampy Pass Trail for a bit before taking a left onto Pass Creek Trail. Follow this trail until it reaches Lowline where you'll head south til it's end at the beautiful Mill Creek.
Map
---
Roaring Judy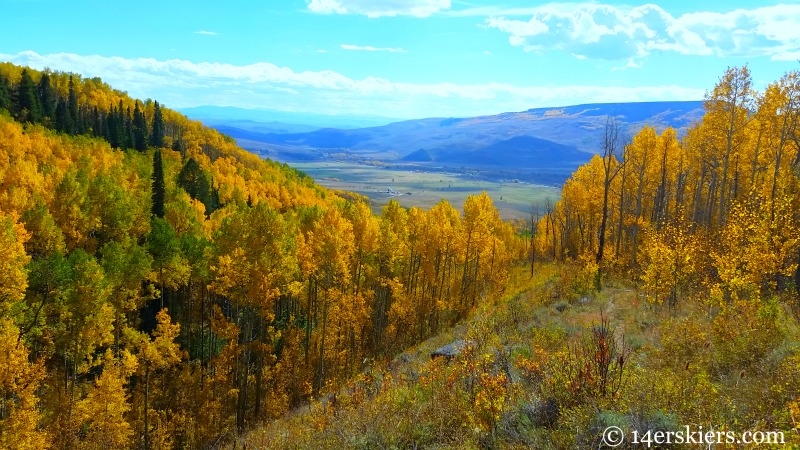 Distance: Roaring Judy Loop with FS Road 813-A2 is 10.2 miles. Deadmans to Cement Mountain Trail to Roaring Judy is 12.3 miles and adding the road in to create a loop is about 30 miles.
Access: FS Road 813-A2 can be reached via Jack's Cabin Cutoff from CO-135, south of Crested Butte. Deadman's can be found up Cement Creek Road.
A long-time fall favorite of ours is Roaring Judy. This trail is a bit more off the beaten path but is certainly worth the journey. Not only will you be stunned with golden glory, but you'll find some of the steepest mountain biking descent that Crested Butte has to offer. This ride is best for those who don't mind letting it roll on some steep, loose, and techy terrain.
A shorter version of this ride can be to loop Roaring Judy with FS Road 813-A2. This will stay dry late into the season as most of the area is quite sunny. This loop is best done in a counterclockwise direction. For more singletrack, start at Deadmans and ascend until you reach Cement Mountain trail. Follow this all the way to Roaring Judy. This can be done as shuttle or a clockwise loop with CO-135 and Cement Creek Road.
Map
---
Doctor Park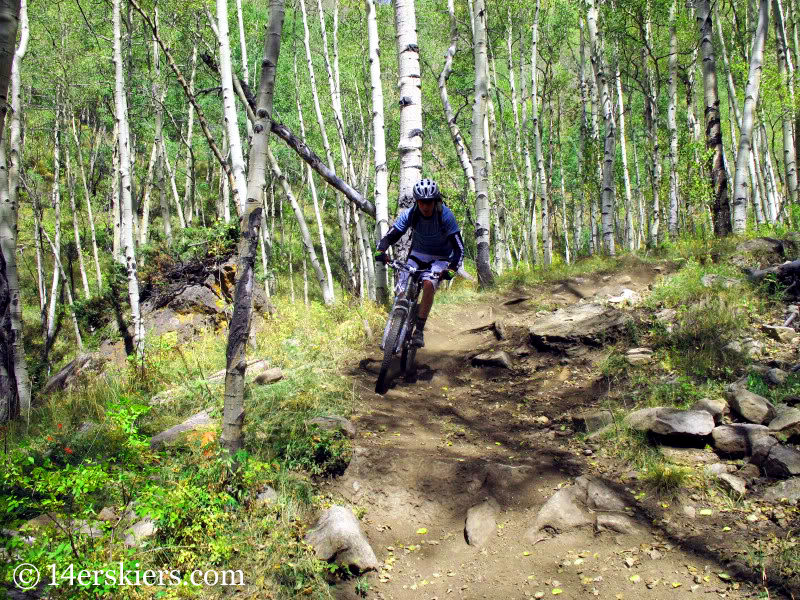 Distance: 6.4 miles one-way, or 19.3 miles as a loop
Access: Follow CO-135 south from Crested Butte to Jack's Cabin Cutoff and on to Taylor Canyon Road. Turn left where you will quickly see Harmel's. Park at one of several parking lots near here.
Doctor Park is known for having one of the best singletrack descents in the Crested Butte area and few dispute that claim. Perhaps the best time to ride it is in fall as much of the trail goes through large groves of aspen. However, the top of the trail can sometimes be muddy during the fall after snow or rain events as it goes through thick, shaded pine forest. Should you encounter this mud, don't worry. The descent will likely be in great shape!
Map
---
So, there you have it — 7 favorite fall mountain bike rides in Crested Butte that you can do to enjoy the golden glory! But, there are still several others worth your while. Trails like Upper, Upper Upper, and Whetstone Vista are always great fall rides. Even the classic 401 holds it's own beauty in fall too! So, get out there and enjoy the season!
Aside from skiing, biking, and all outdoorsy things,
Brittany Walker Konsella
also loves smiles and chocolate 🙂 Even though she excels at higher level math and chemistry, she still confuses left from right. Find out more about
Brittany
!
Latest posts by Brittany Walker Konsella (see all)
Summary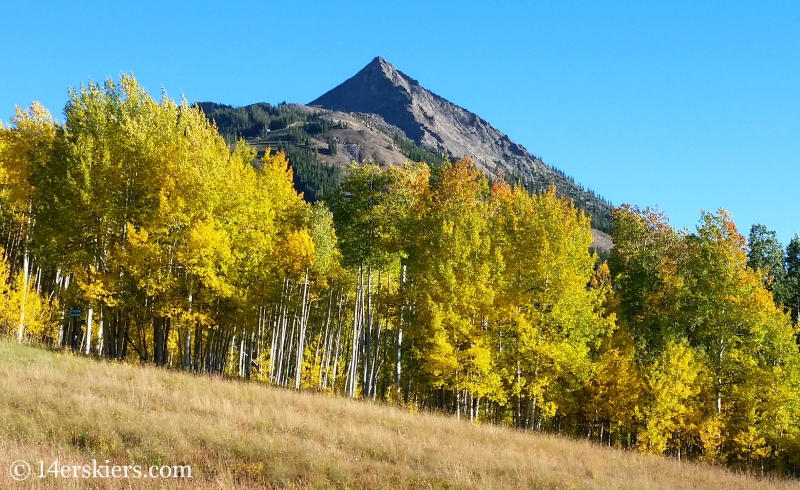 Article Name
7 Favorite Fall Mountain Bike Rides in Crested Butte
Description
Enjoy some of the best mountain biking in the world in full golden hues with these favorite fall mountain bike rides in Crested Butte.
Author