(Last Updated On: May 1, 2017)
Last year, Frank and I decided it was time to head out of the country once again for a ski trip. Iceland was on the top of our list. But, in July, I found out my ACL was again torn and it would take two surgeries roughly 3 months apart to fix with a 9 month recovery time after the 2nd surgery. That meant it would take a full year for me to recover, and no ski season for me.
But we still had a desire to travel overseas. So rather than letting my injury prevent that, we decided to change locations. After some detailed research, we decided on Colombia. And since flights often stop in Panama City along the way, we decided to spend a week in Panama too.
Our main purpose in Panama was to go to Bocas del Toro. But, if you're flying internationally, you basically have to stop in Panama City. Because international flights and domestic flights generally happen at two different airports that are about an hour away from one another, it's basically impossible to fly from the US directly to Bocas del Toro in one day.
Alright, guess we'd have to see what Panama City was about. And what we found was pretty cool.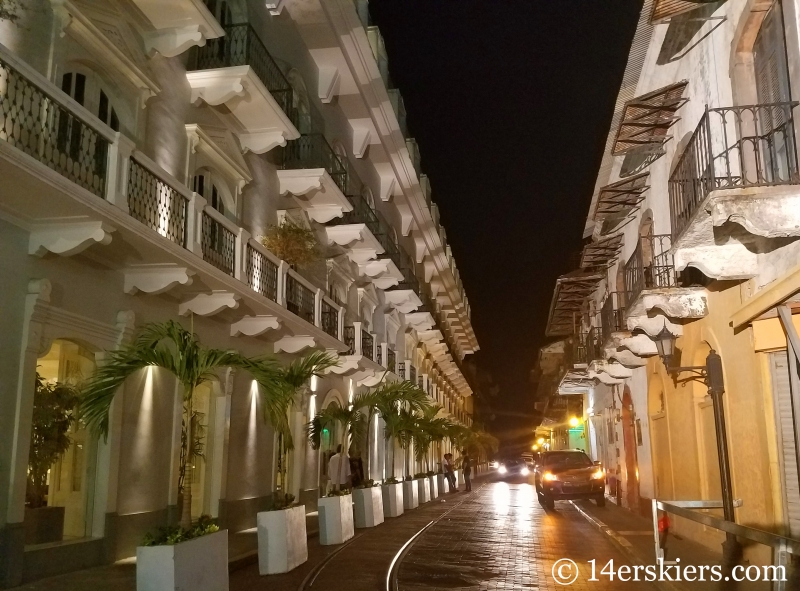 We stayed in the Casco Viejo neighborhood which is the historic center of the city and is also a UNESCO World Heritage Site (since 2003). The city was actually founded in 1519 a different section called Panama Viejo. But after it fell in 1671 to Captain Henry Morgan, the city was moved 8km southeast to the current Casco Viejo. This peninsula was easier to defend and walls once surrounded the city.
We arrived at night and wandered aimlessly about Casco Veijo. We asked where to eat Panamanian food, but everyone advised us to eat other food instead – they said it was better and Casco Viejo certainly had a lot of restaurants. So, we ended up eating at Nazca 21, a very good Peruvian Restaurants. Okay, so I know "Peruvian Food", like Panamanian food, isn't exactly popular world cuisine, but this restaurant is good. Trust me.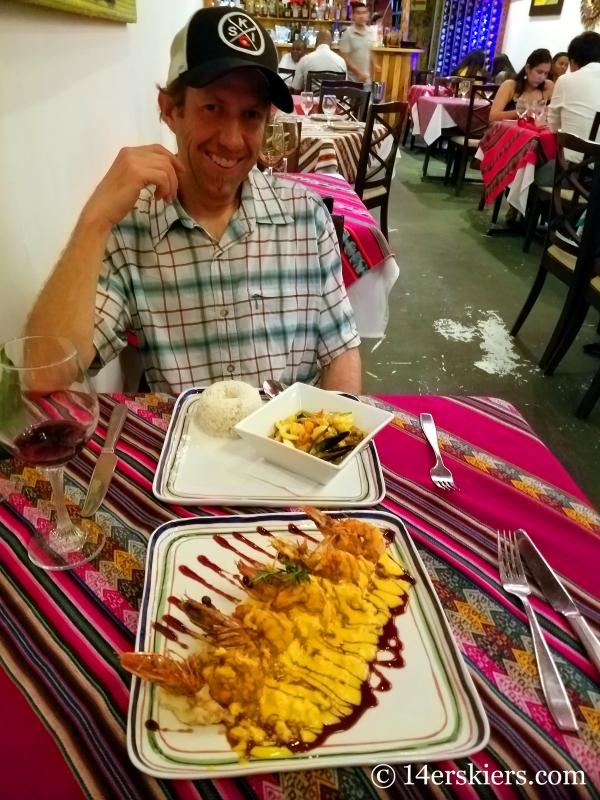 But we weren't done with the evening. So we wandered more and found ourselves mesmerized by Bolivar Square. Simon Bolivar is basically the George Washington of this region.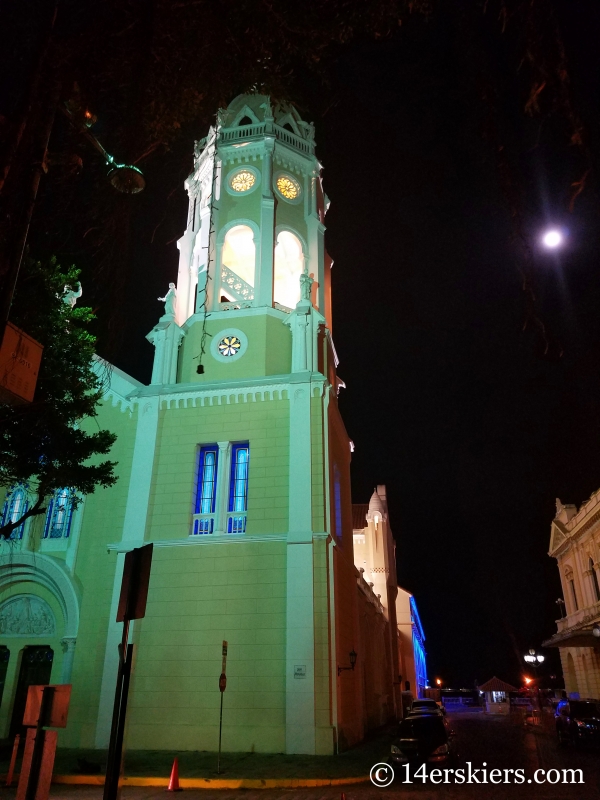 We also enjoyed some drinks at one of the few restaurants there – Note that water is 100% safe to drink in Panama City so there's no need to be worried about mixed drinks having contaminated ice!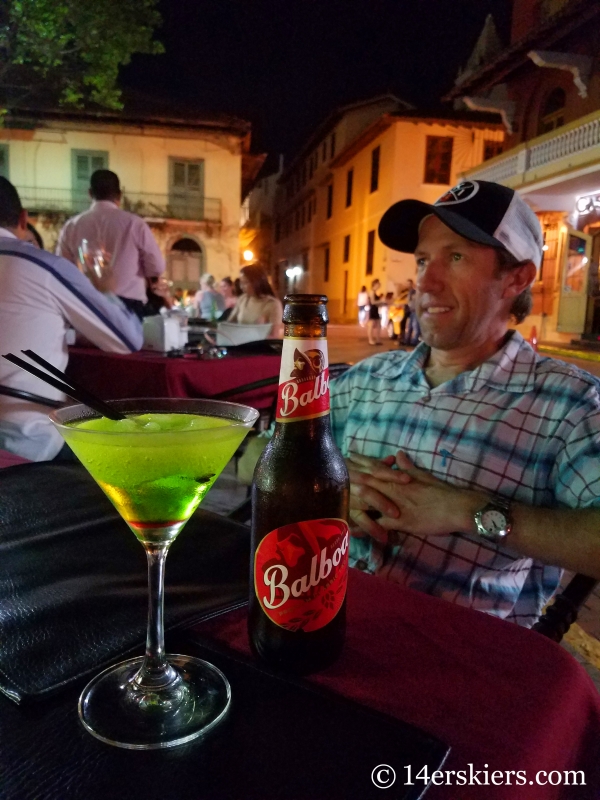 And some great music from street performers too!
The newer part of the city looked magical too.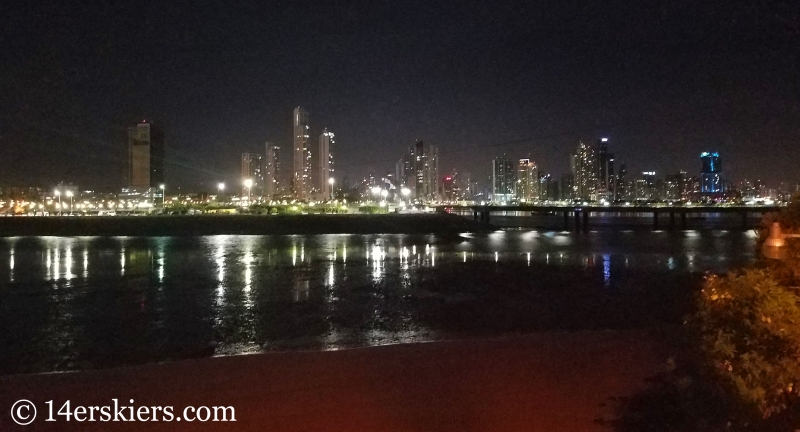 Our hotel was the lovely Magnolia Inn with well-airconditioned rooms and a great lobby area and shared kitchen.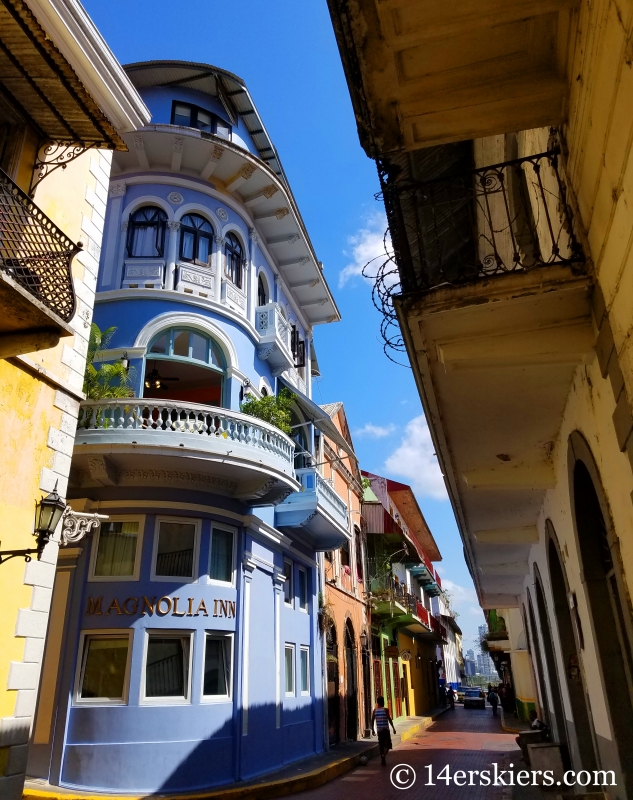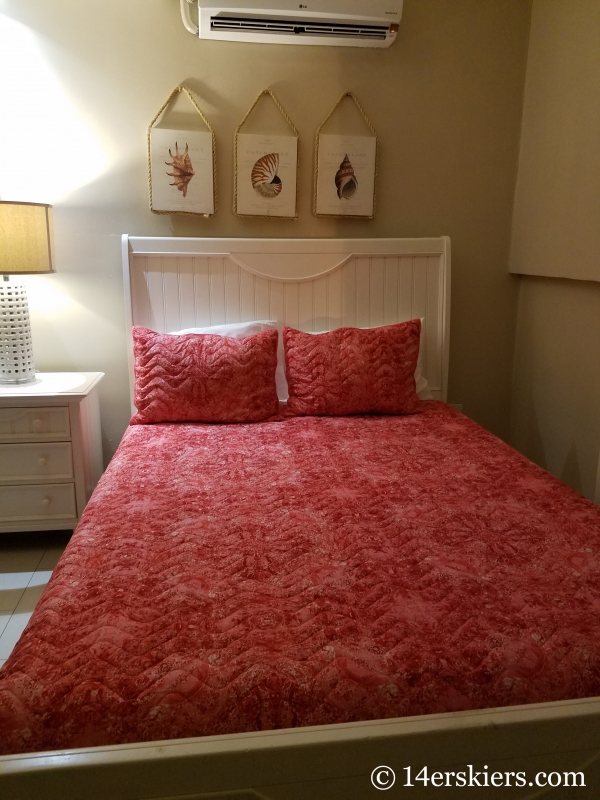 The next day, we continued wandering about the historic Casco Viejo, soaking in the ambiance of the neighboorhood.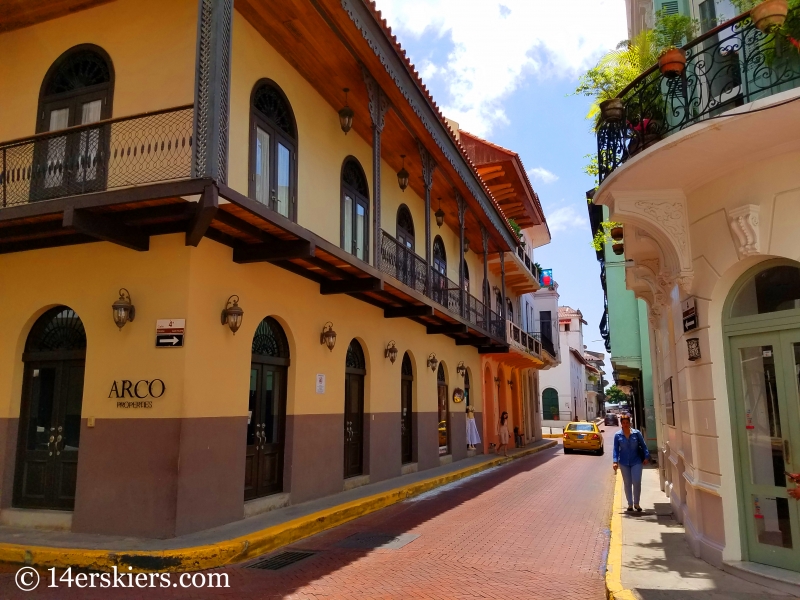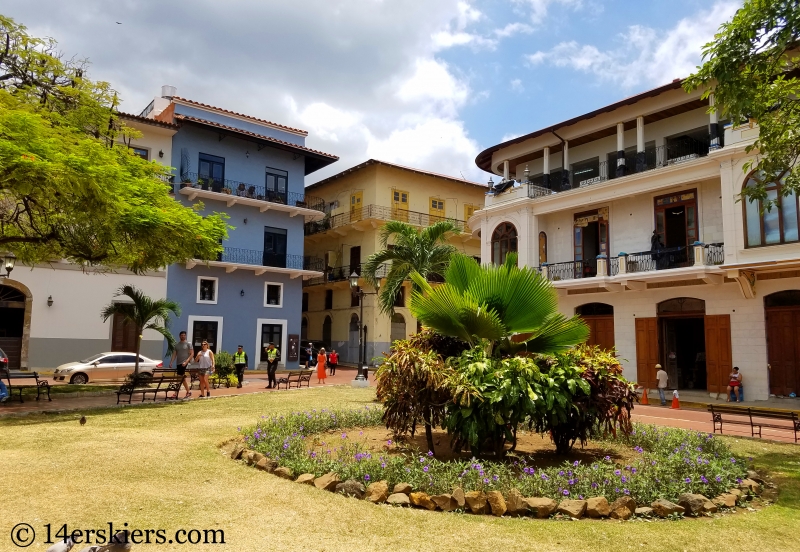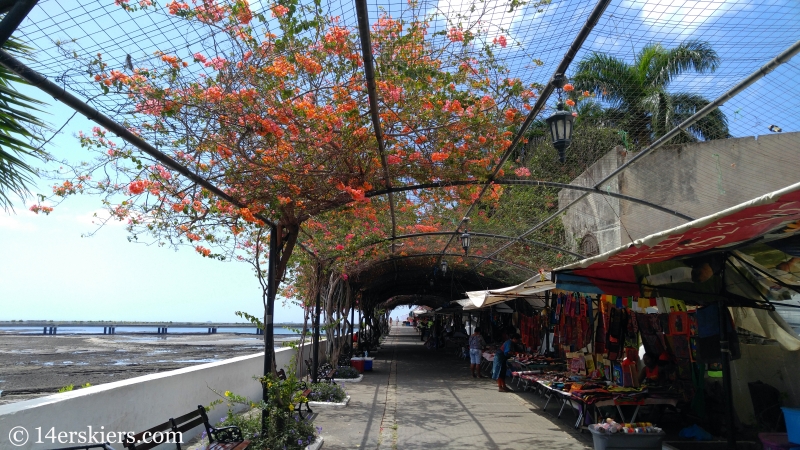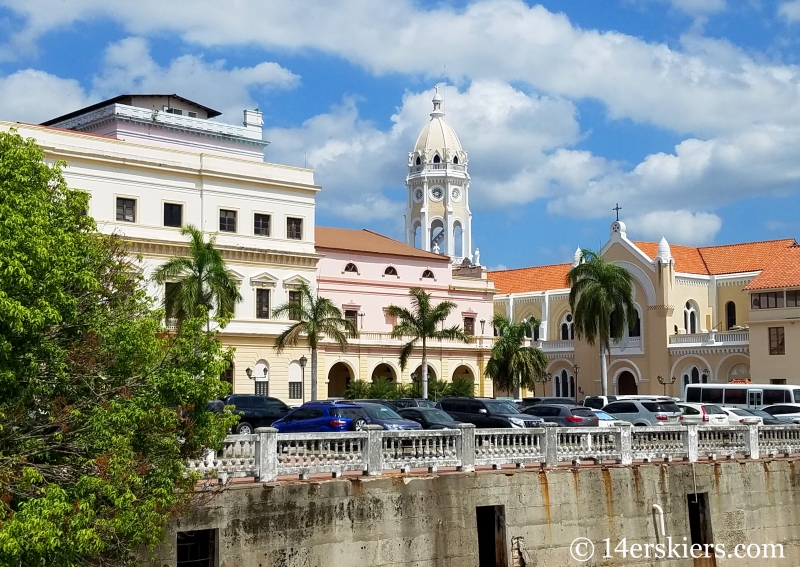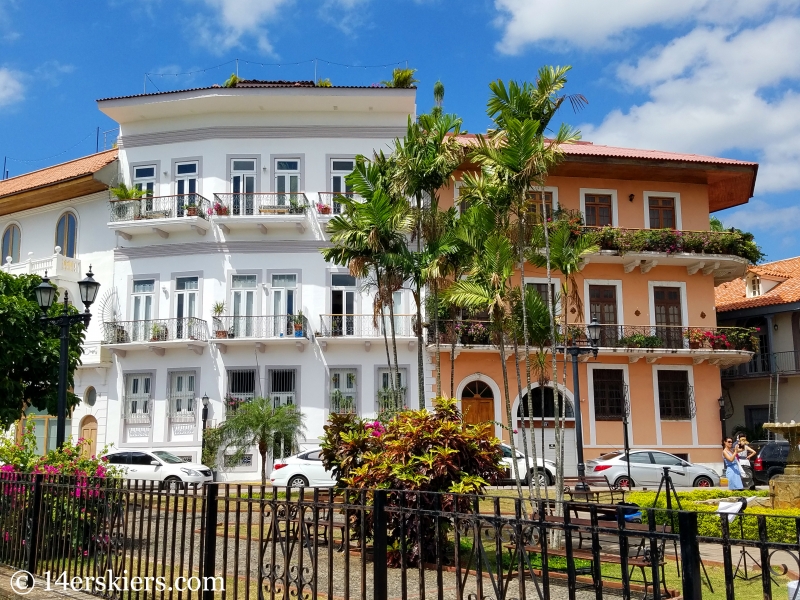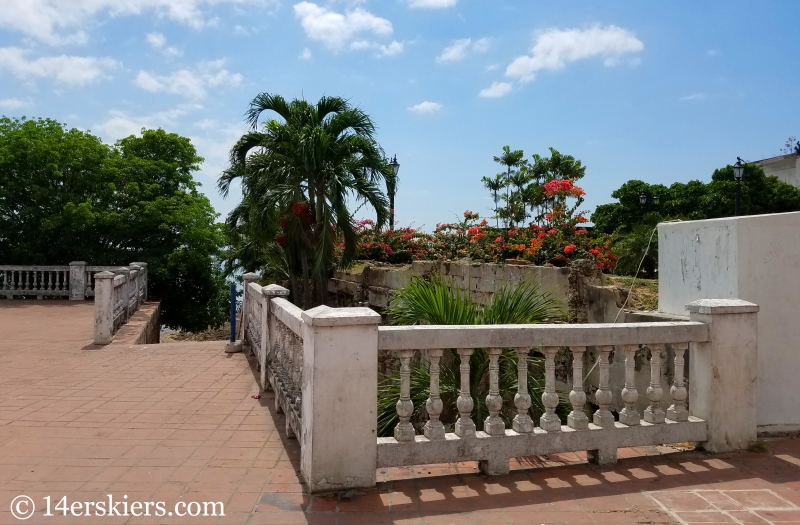 The new city is the backdrop for the old.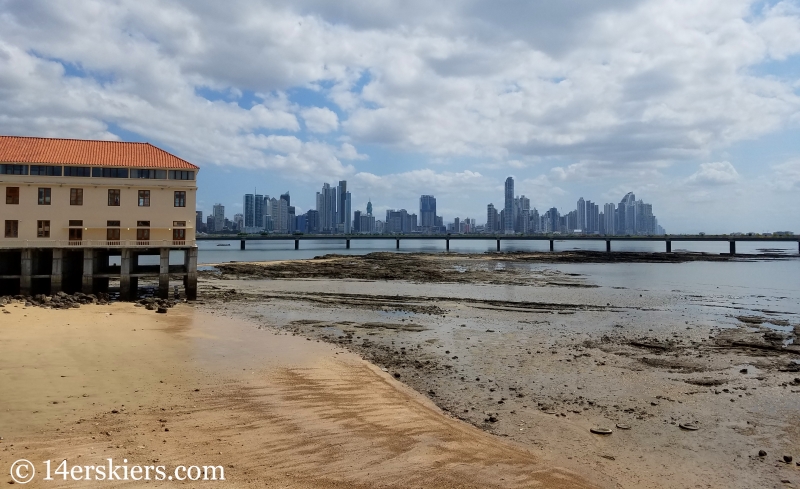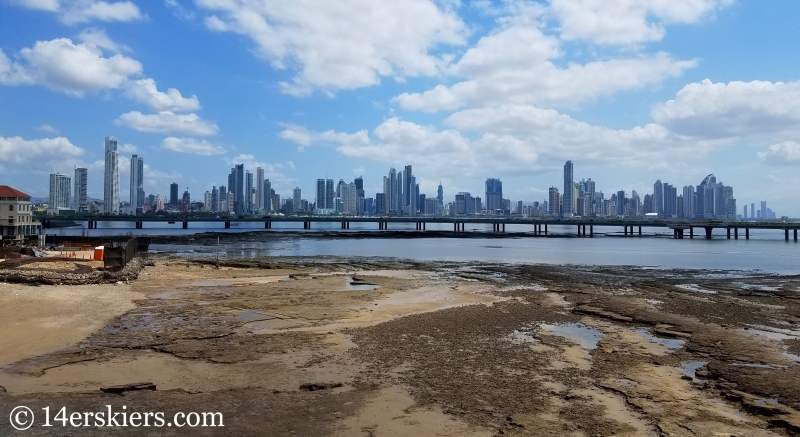 The spiral building is called the F & F Tower, formerly called the Revolution Tower.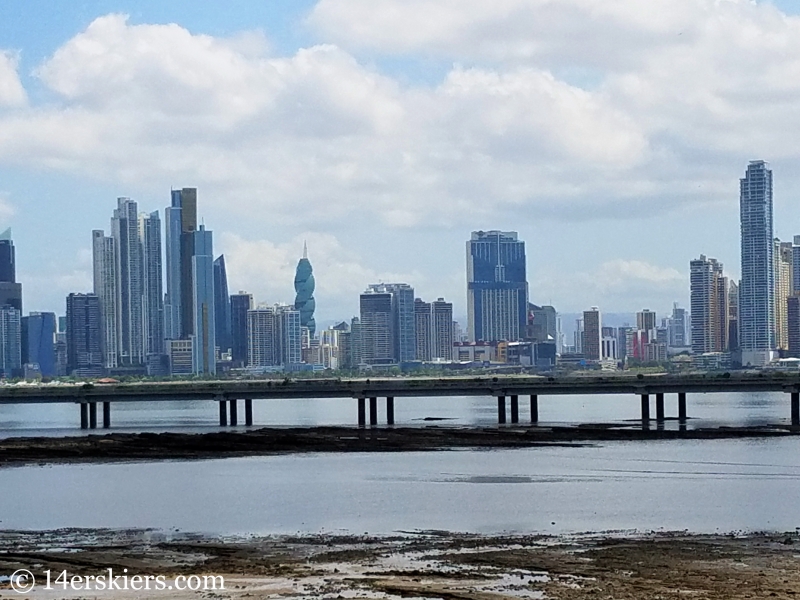 The Trump Tower is the lopsided building and underwent a lot of negative publicity when it was built due to many things, including bills not being paid.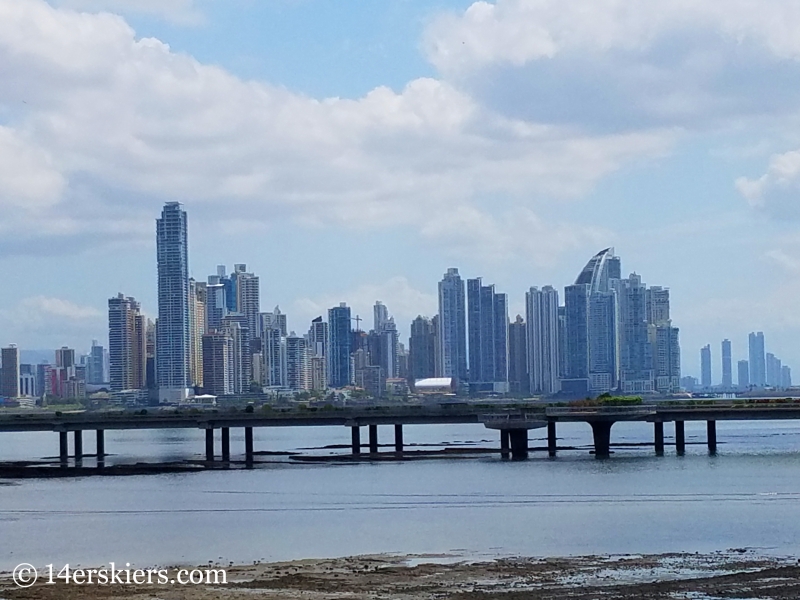 Casco Viejo is loaded with beautiful historical churches. Inglesia de San Jose is famous for its golden altar shown here. Legend has it that this was saved from the plundering of Captain Henry Morgan when the priest painted it black.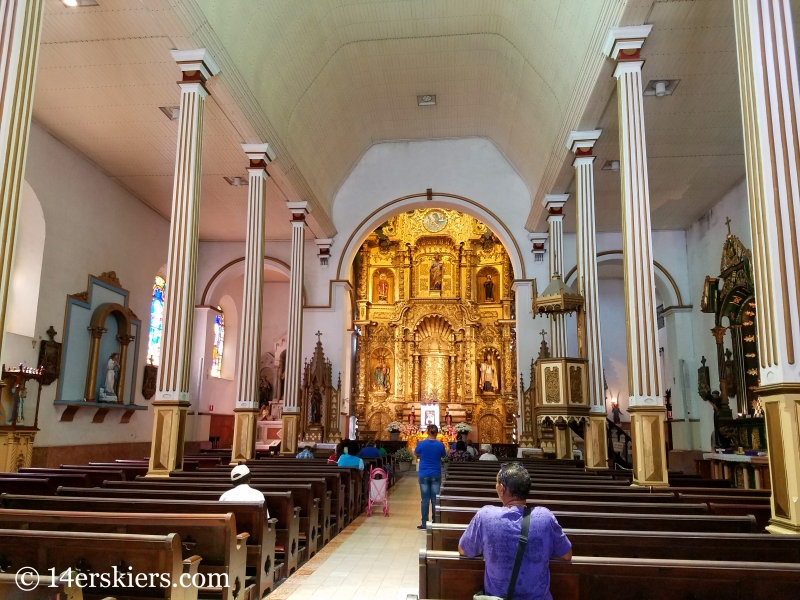 Inglesia y Convento de Santo Domingo was built in 1678 and burned in two fires in 1737 and again in 1756. This is all that still remains.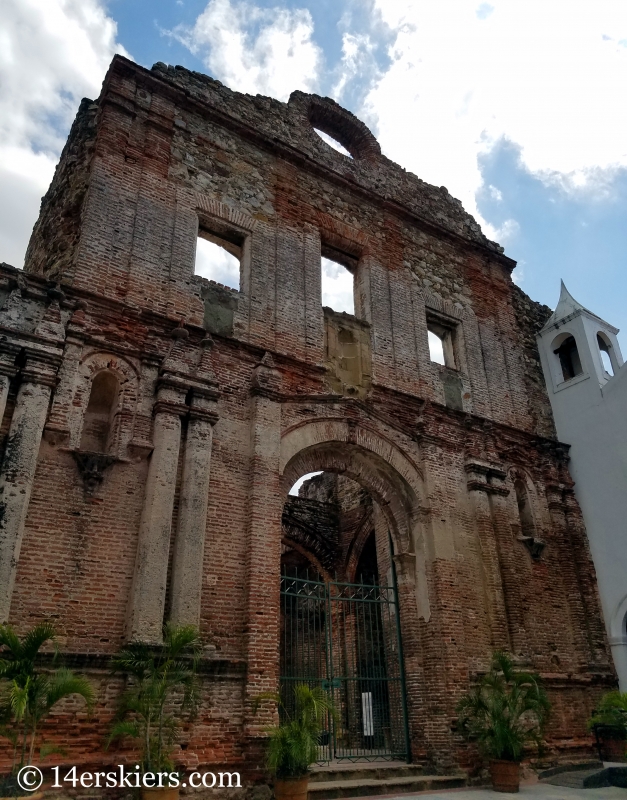 The Inglesia la Merced was built in 1673 and is one of the best Baroque style churches in the city.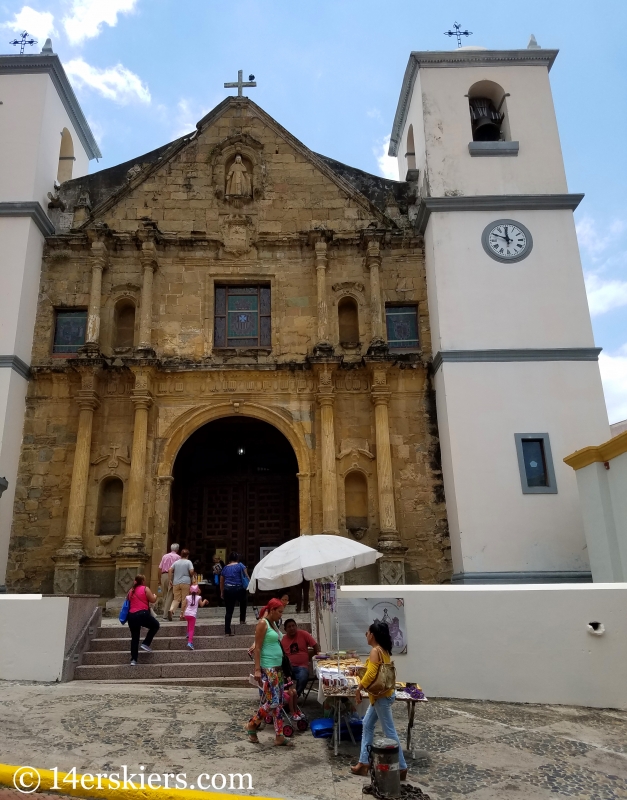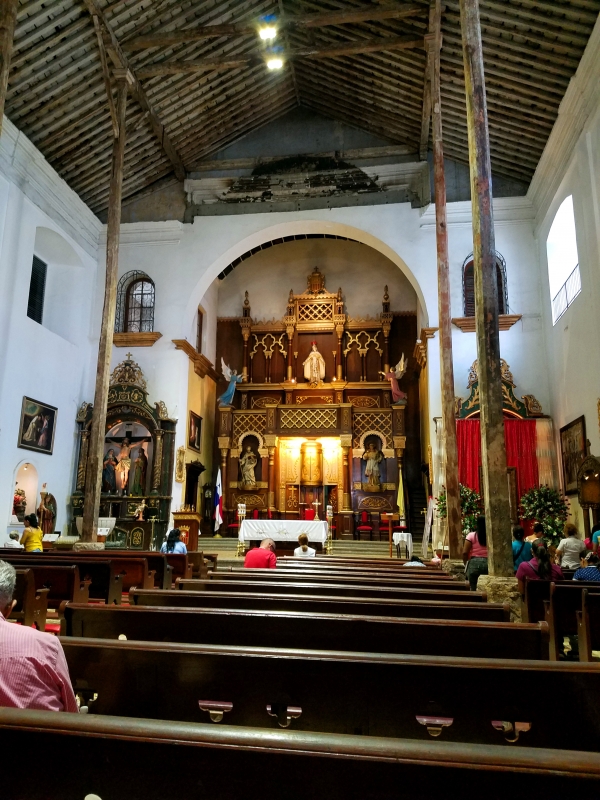 The Plaza Francia commemorates the French who originally started with the work of building the famed Panama Canal, but eventually pulled out after 22,000 workers died – mainly of mosquito-borne diseases like malaria and yellow fever.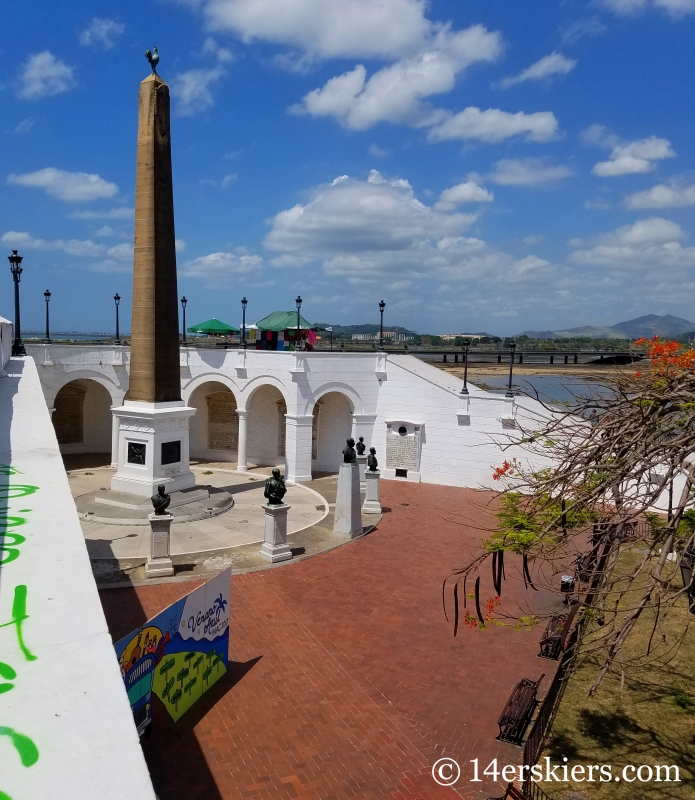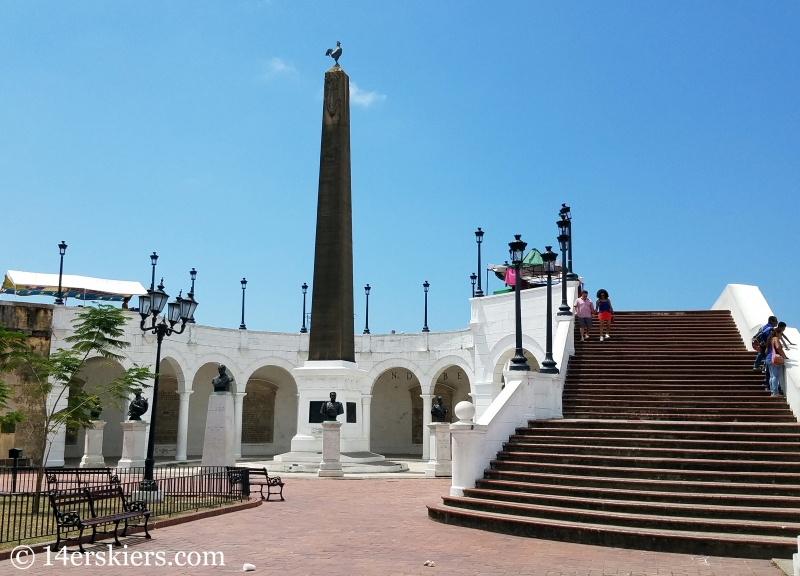 A historic photo from our 2nd hotel (Country Inn and Suites) near the canal.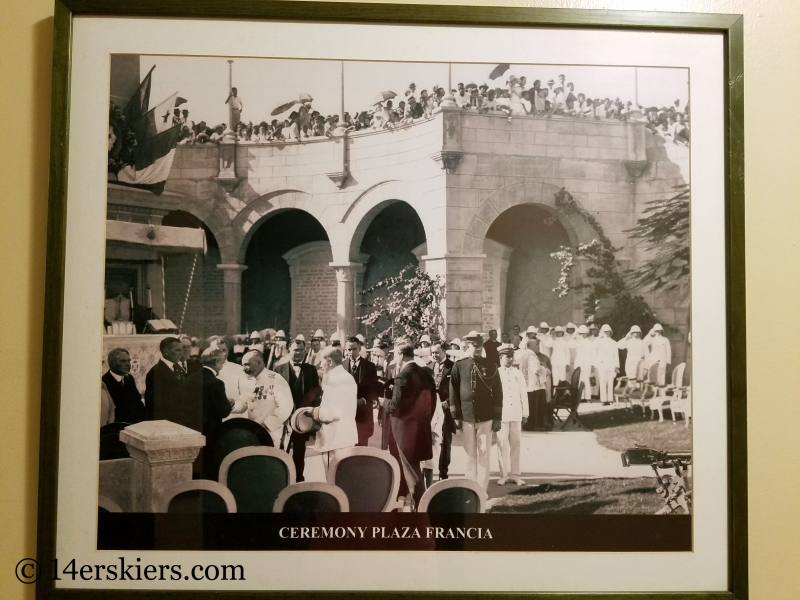 Up next – more about the Panama Canal!
Aside from skiing, biking, and all outdoorsy things,
Brittany Walker Konsella
also loves smiles and chocolate 🙂 Even though she excels at higher level math and chemistry, she still confuses left from right. Find out more about
Brittany
!
Latest posts by Brittany Walker Konsella (see all)
Summary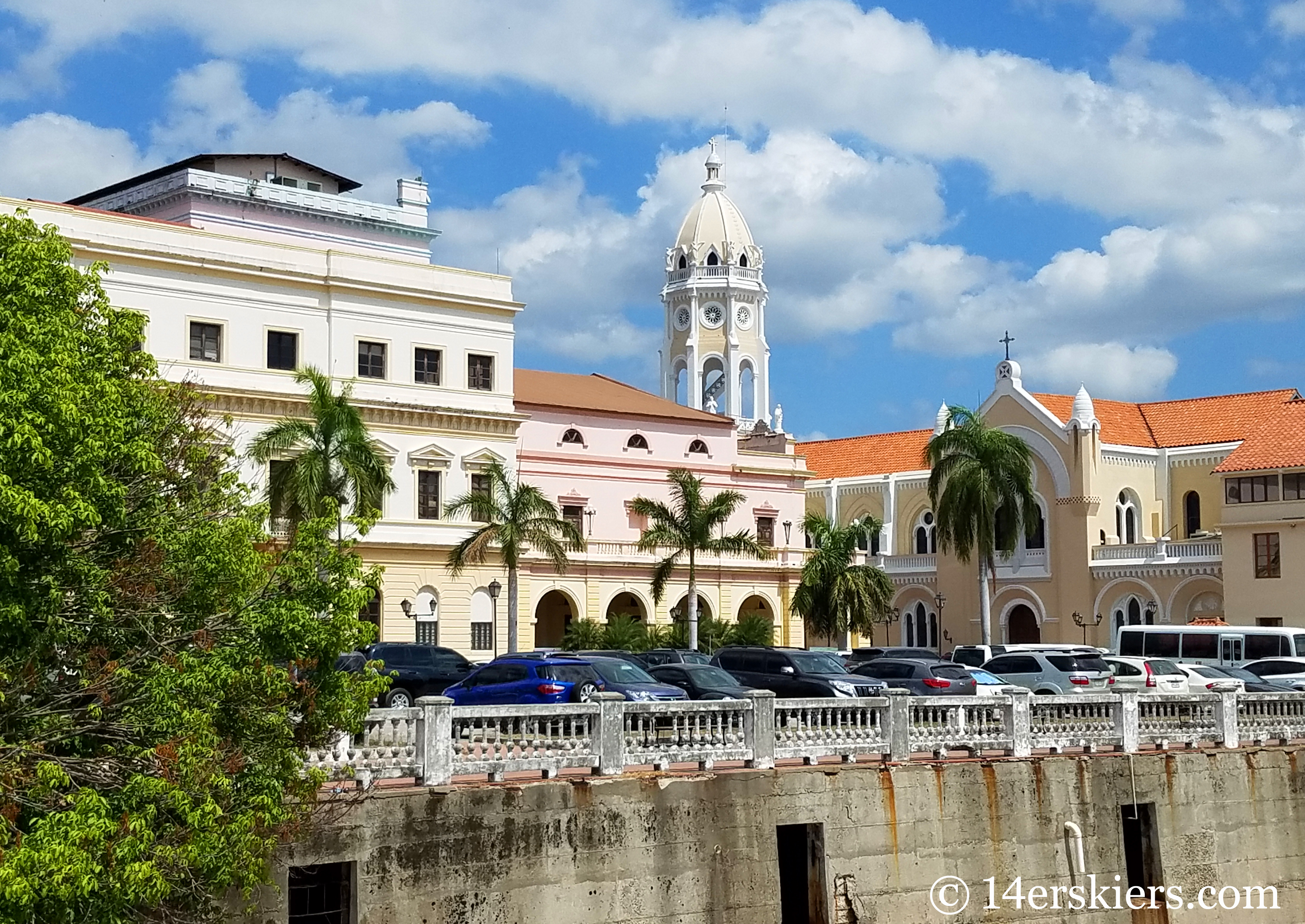 Article Name
Description
Declared a UNESCO World Heritage site, the historic Casco Viejo neighborhood is a beautiful area to wander around and enjoy some great food.
Author