TBT: Flat Top Mountain (21 May 2016)
(Last Updated On: April 27, 2017)
This post is part of a Throwback Thursday series featuring trip reports that we haven't had a chance to write about until now! Look for them at least every other Thursday!
If you're a backcountry skier in Colorado, you might have an idea of where the Flat Tops lie geographically within the state, but unless you're an adventurous soul, chances are you've never actually skied there. Appropriately named after its flat mesa tops, this range is fairly remote and difficult to access most of the winter, especially without the aid of a snowmobile. The Flat Tops peaks have largely short vertical, but what's there can be quite steep. It's a range meant for the adventurer, for backcountry skiers willing to explore.
Last May, I headed to the namesake peak of Flat Top Mountain with Steamboat residents Marko and Larry.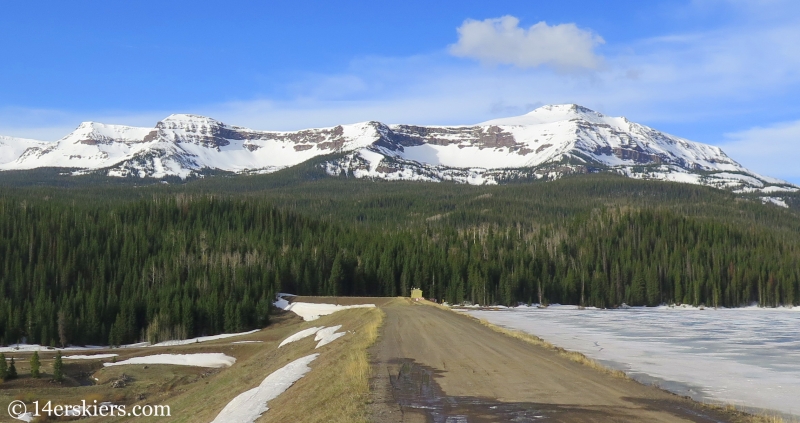 By then, most of the road had melted out and we were able to drive to Yamcolo Reservoir. Though we had a summit ascent on our minds, this other subpeak caught our eye as well – one that Larry had skied just the year before.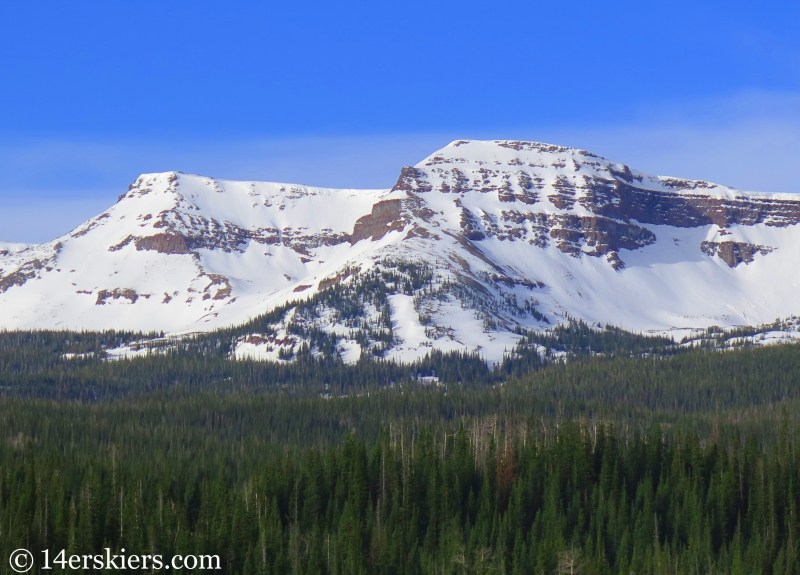 Temperatures were quite warm that day and the heat continued to grow on our approach. In the forest, we had to make a choice for whether to take our chances on the east-facing route to the summit or shoot for the more northeast facing subpeak to the lookers left. The heat of the day dictated our choice. The northeast facing subpeak would be our line.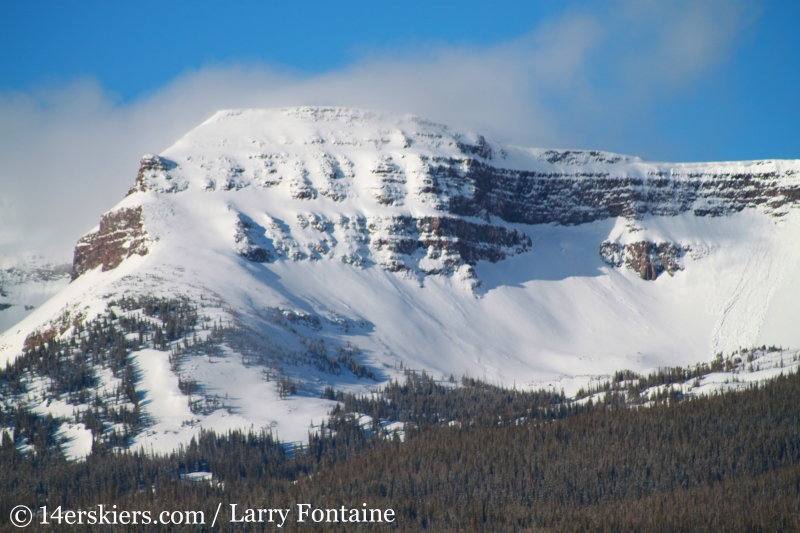 As we ascended above treeline, the line got pretty steep and fun to climb. Larry aimed for climbing over rocks while Marko and I chose to stay on a snow route. Me climbing.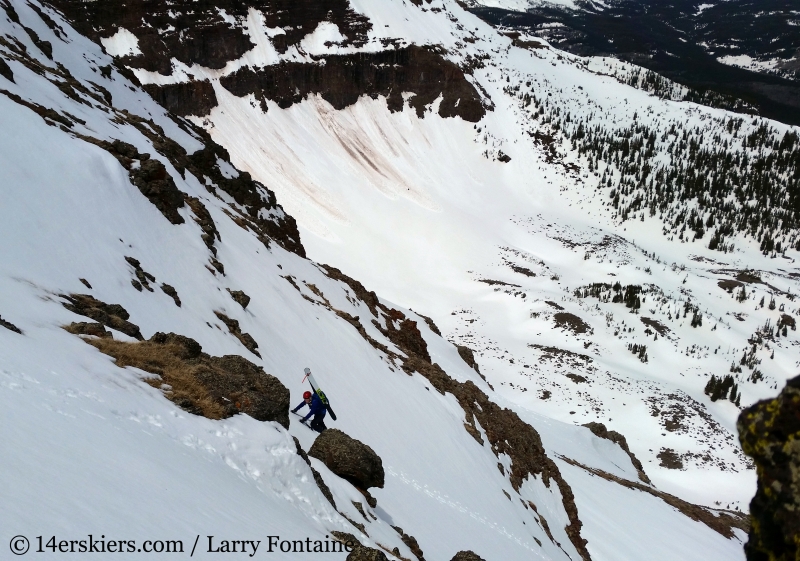 Larry resting on a rock ledge during the climb.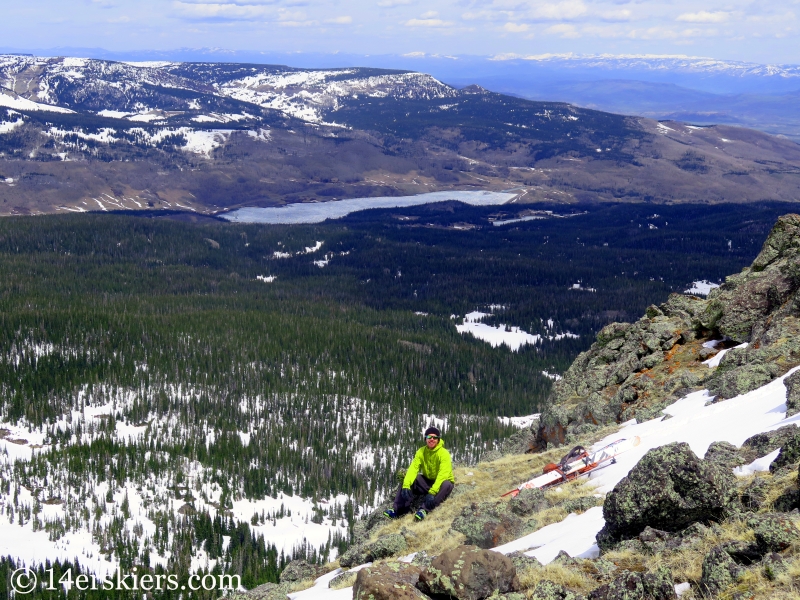 Admiring other lines in the Flat Top Range.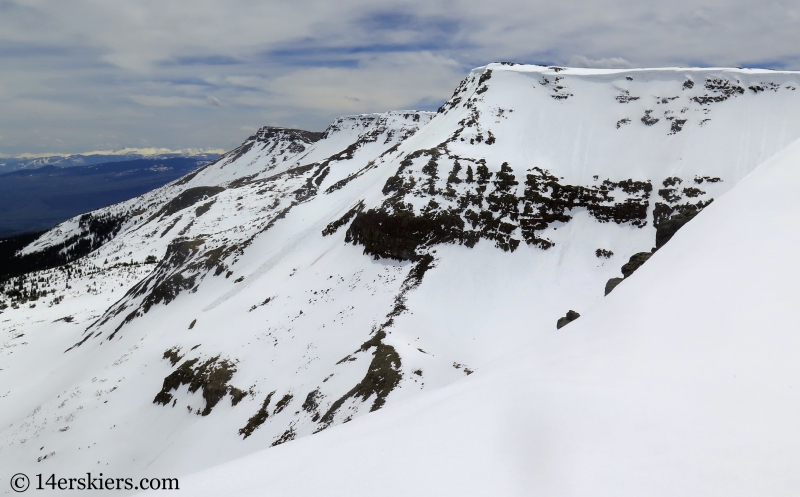 As we climbed we heard the thundering of falling snow many times on the east facing bowls beside us. Cornices dropped from the warmth. Our northeast line was a wise choice after all. A cornice guarding the top of our intended subpeak prevented us from rounding out to the exact top.
But the skiing was pretty fun. Larry.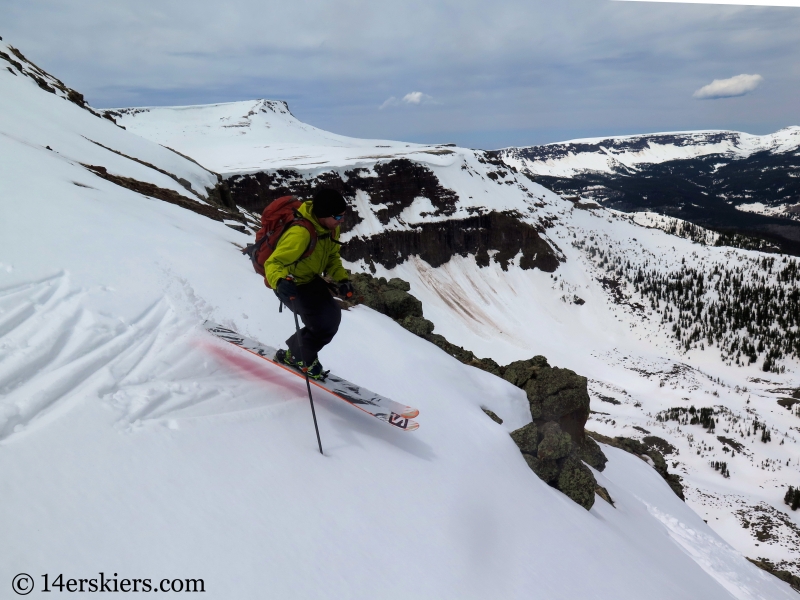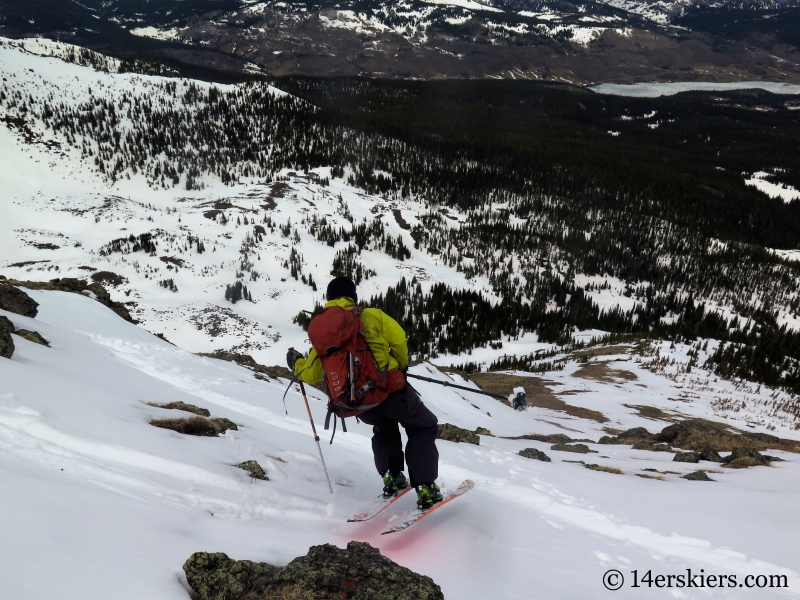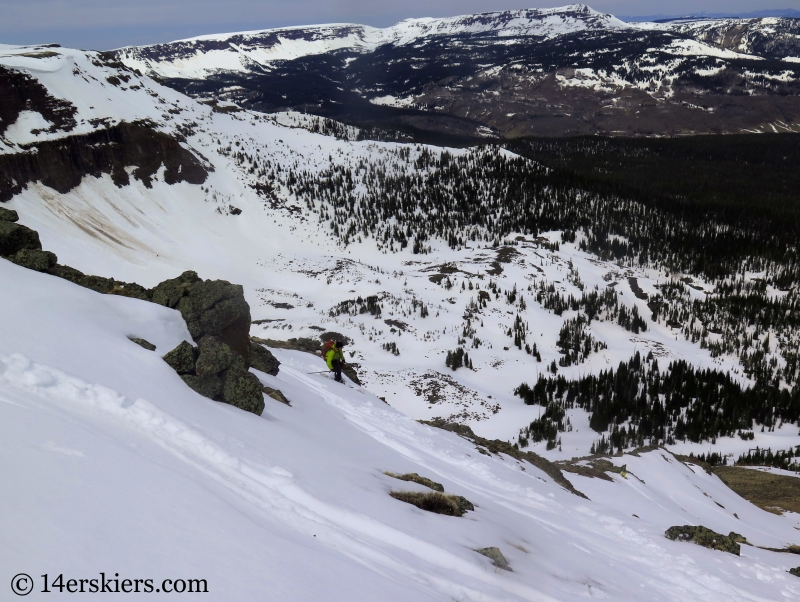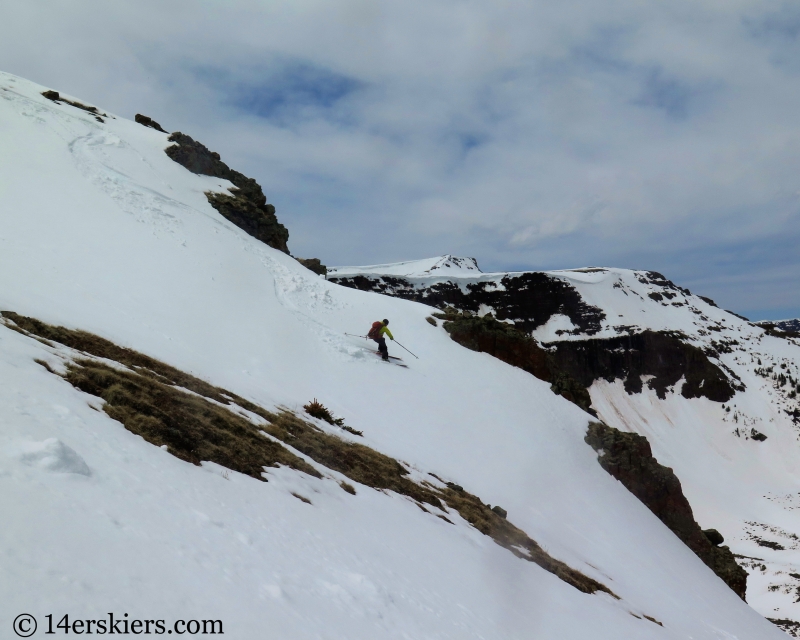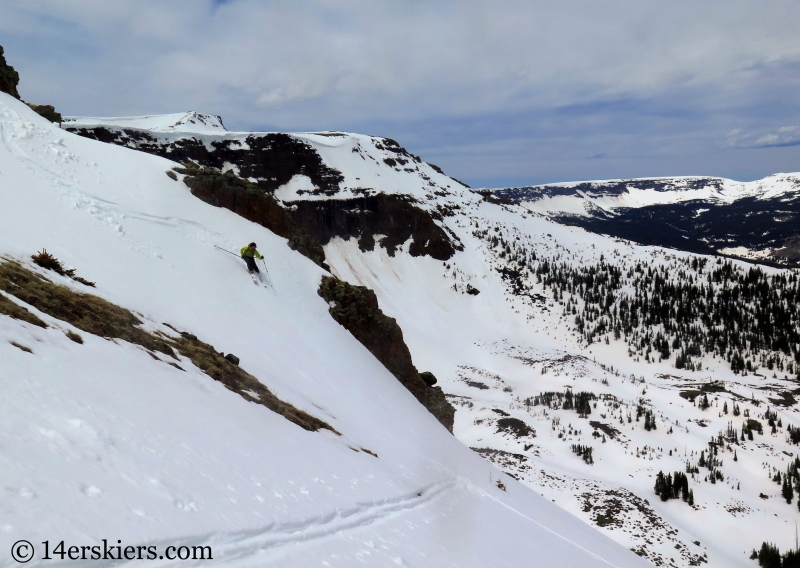 Marko.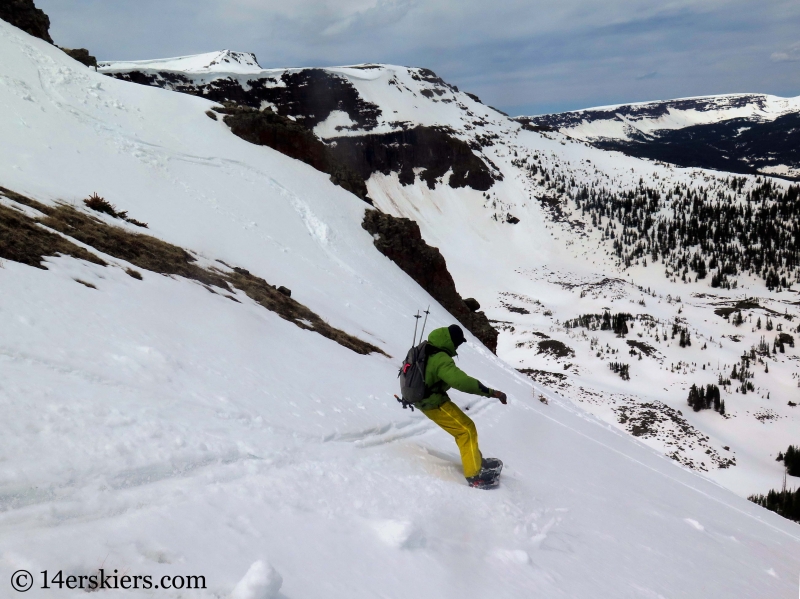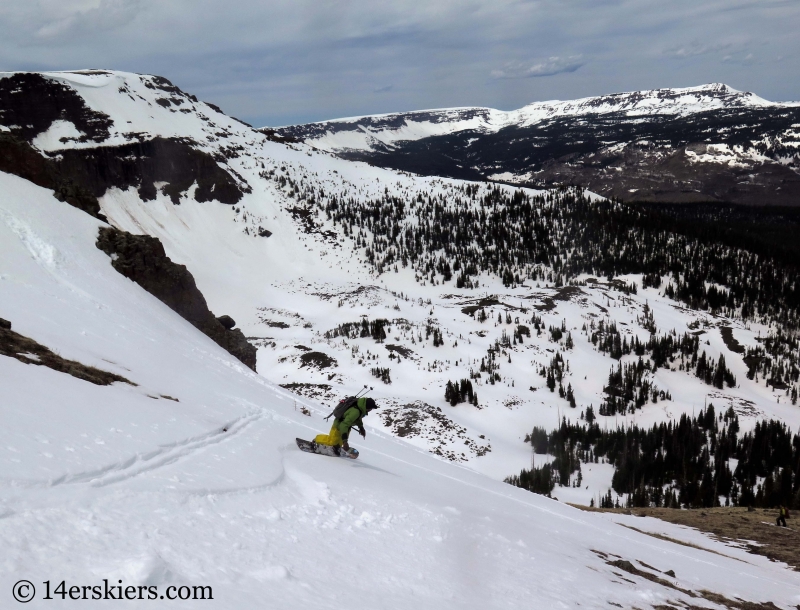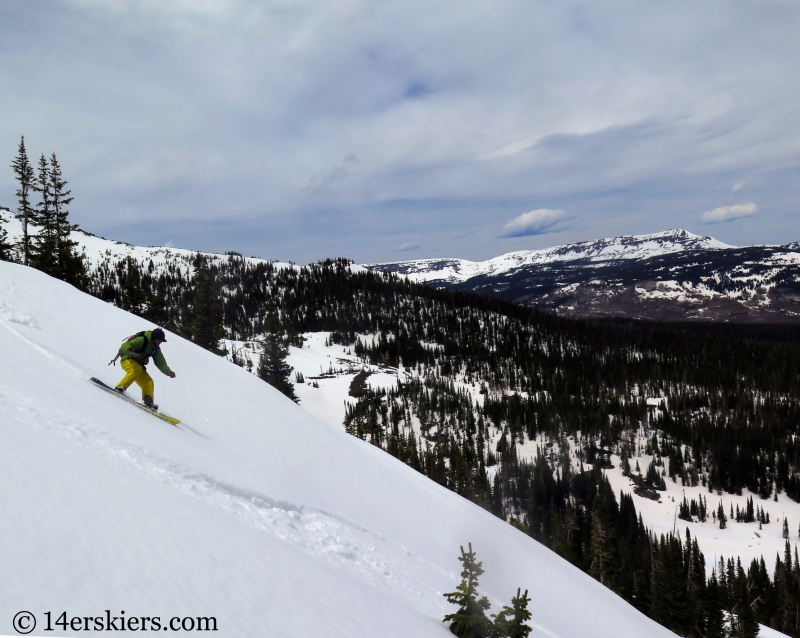 Near the bottom.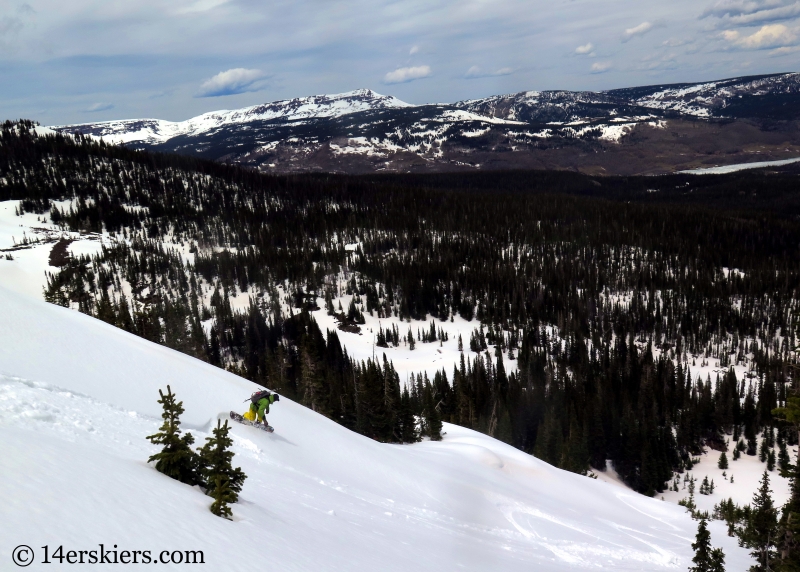 We retraced our approach back to the car where we enjoyed a nice cold post ski beer. We sure needed it on this hot day.
While the Flat Tops would not be my first choice for backcountry skiing in Colorado, their relatively unknown status makes them somewhat intriguing. It was certainly fun to explore a new area and I hope to be back some day. I already have ideas for more lines 🙂
Aside from skiing, biking, and all outdoorsy things,
Brittany Walker Konsella
also loves smiles and chocolate 🙂 Even though she excels at higher level math and chemistry, she still confuses left from right. Find out more about
Brittany
!
Latest posts by Brittany Walker Konsella (see all)
Summary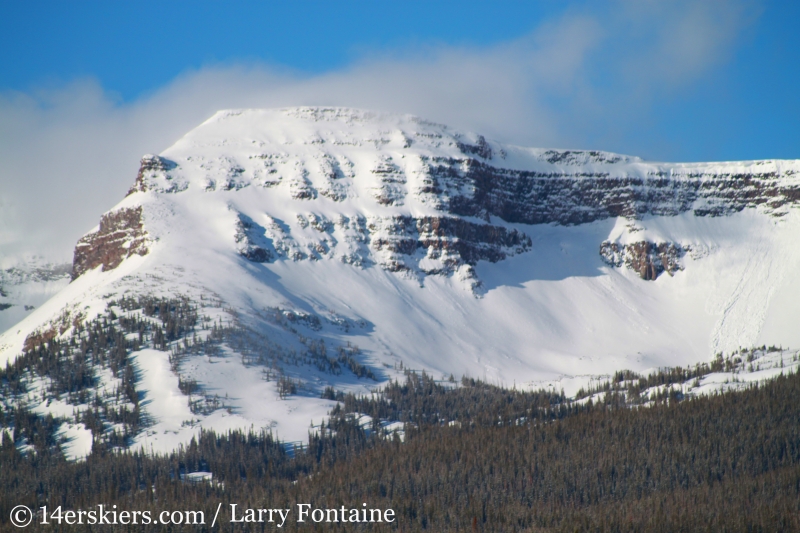 Article Name
Description
In a remote part of the state, Flat Top Mountain offers short but steep lines for backcountry skiers willing to go the mile for adventure!
Author