TR: Quandary Peak – Cristo Couloir Ski (3 May 2016)
(Last Updated On: May 16, 2016)
I first skied Quandary Peak in January 2007. Since we encountered windy conditions and the snowpack was not totally reliable, we settled on a descent via the east ridge and east bowls. But, the Cristo Couloir lingered, and remained on my list – something I'd have to come back to someday.
Larry and I made an attempt of Cristo Couloir in February but were knocked down by winds during the ascent. We retreated and went for powder in the trees instead. But, again, the Cristo Couloir remained on the list, begging to be checked off.
It was Larry's birthday, and a good day on skis is a great way to celebrate another full circle around the sun… We had originally intended to ski something in the Gore Range. But, my ideas were on the long side of a day and Larry was battling quite the cold. So, we needed something shorter. Quandary seemed to fit the bill. So, for another attempt we went.
The Cristo Couloir is really more of a gully – this picture taken from near Hoosier Pass.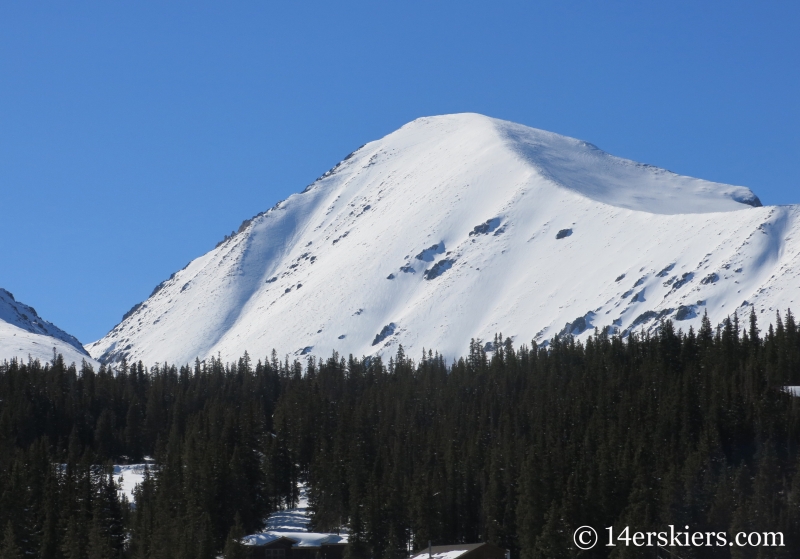 We ascended via the standard summer route, the east ridge.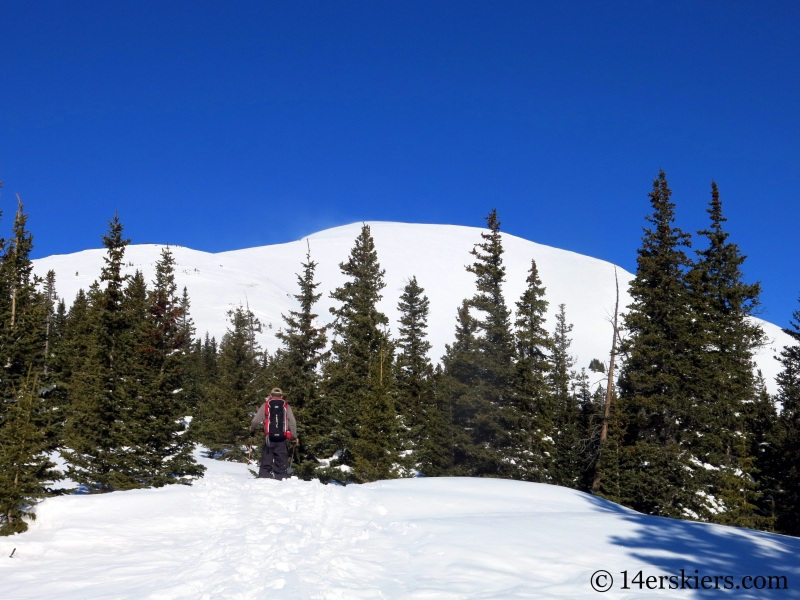 Being one of the most popular Colorado fourteeners, we were not alone.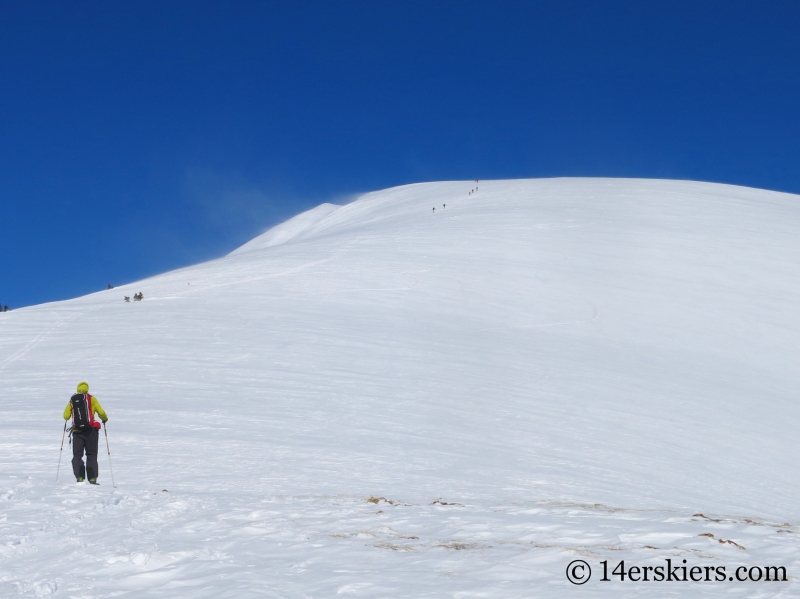 We kept catching up.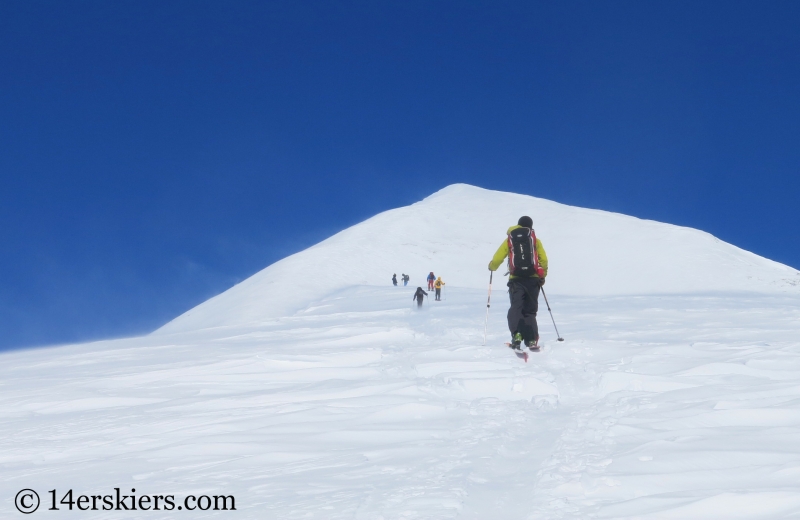 I couldn't keep track of all the parties there were as we passed them – maybe 5 parties and two solo men? But, I can say we pretty much all arrived at the summit within 15 minutes of one another. Ah yes, the good things about skiing a fourteener in spring…
7 of us decided to drop into Cristo, but each party let the other ones complete their line first. Larry dropping in.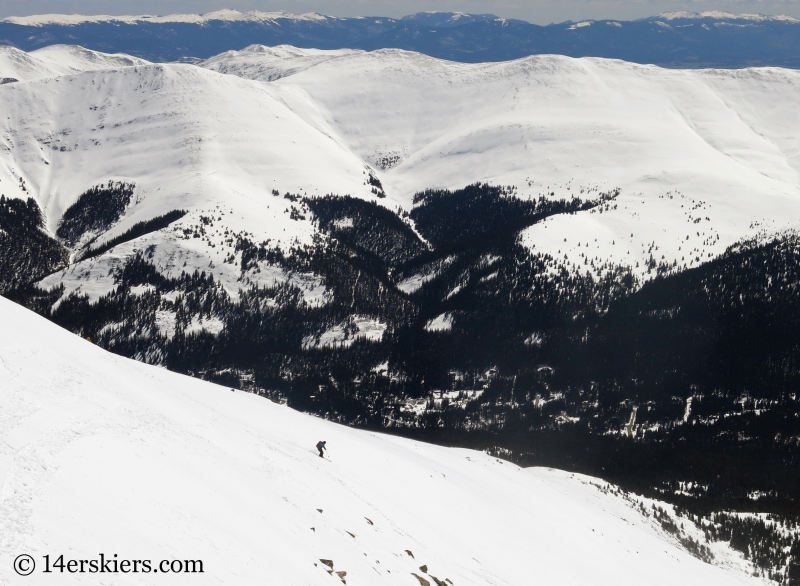 After a few turns, battling an inch of frozen suncrust on top of soft spring pow, we decided to hunker down on some rocks and let the snow soften for a bit. It did, and there was really quite a short window when the couloir was ripe, yet safe. Larry picking his line.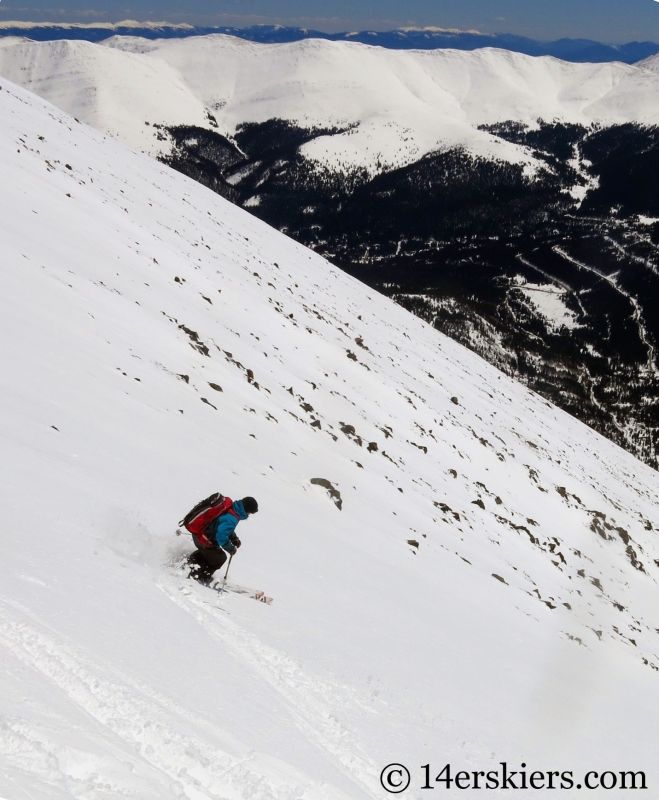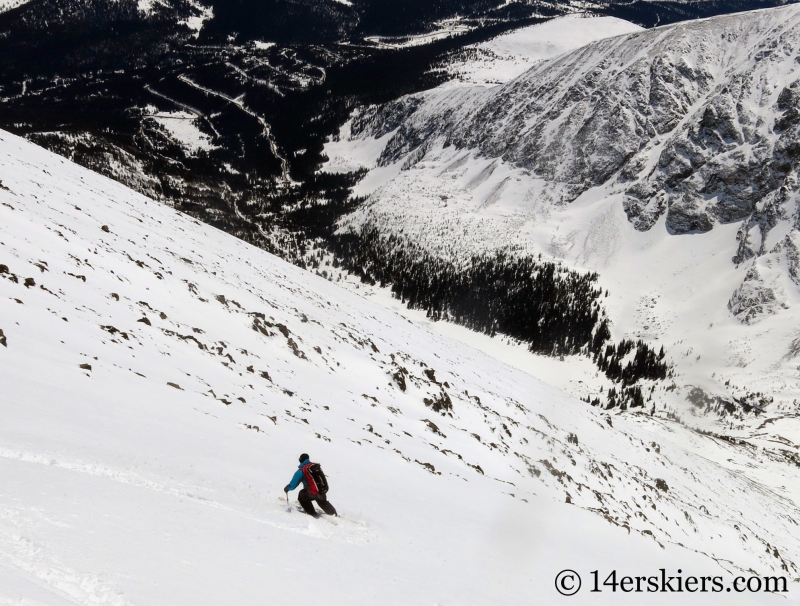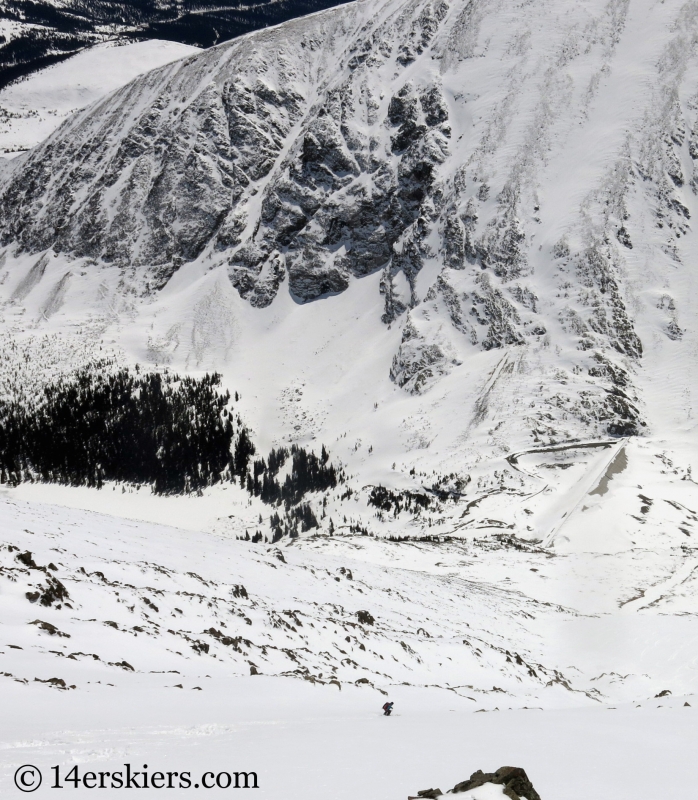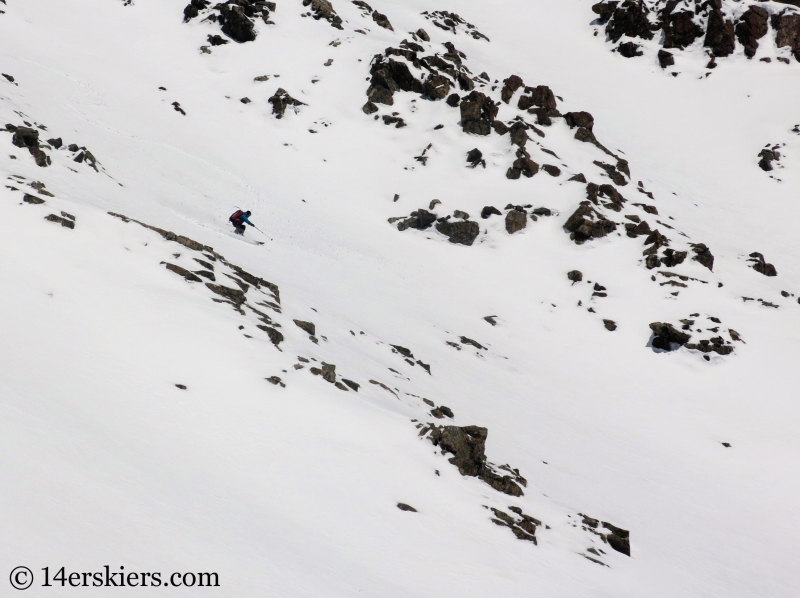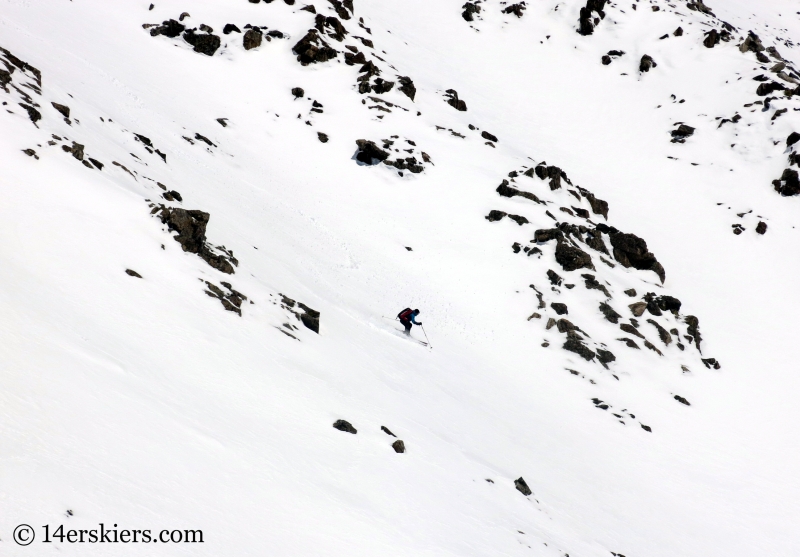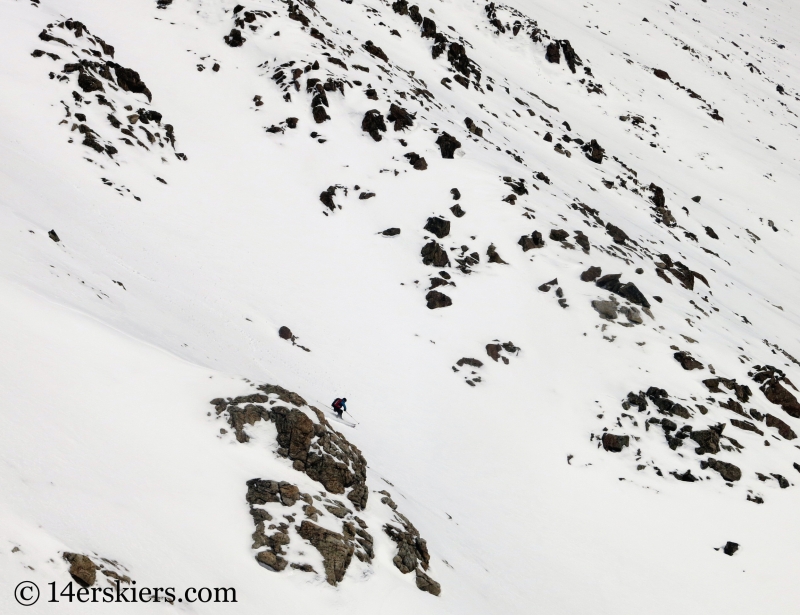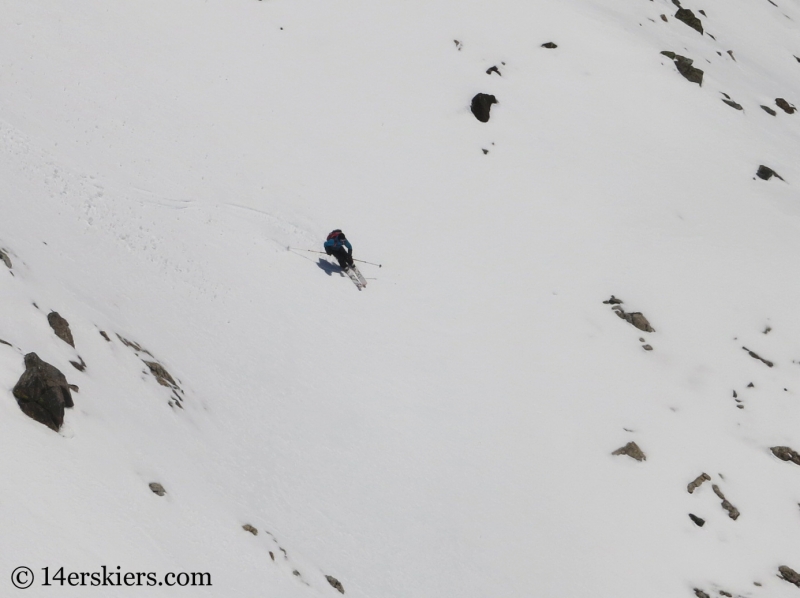 Me, near the bottom. Couldn't have asked for a more blue sky!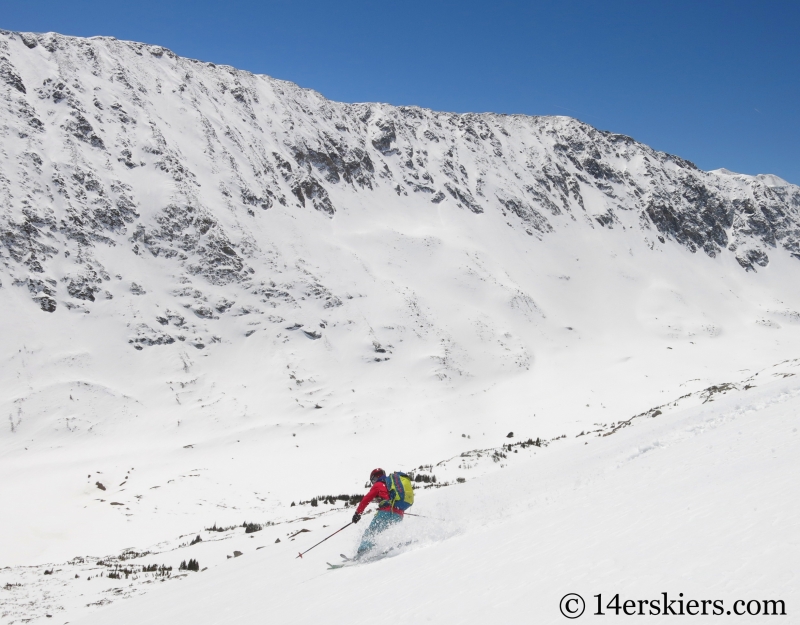 Larry, near the bottom as well.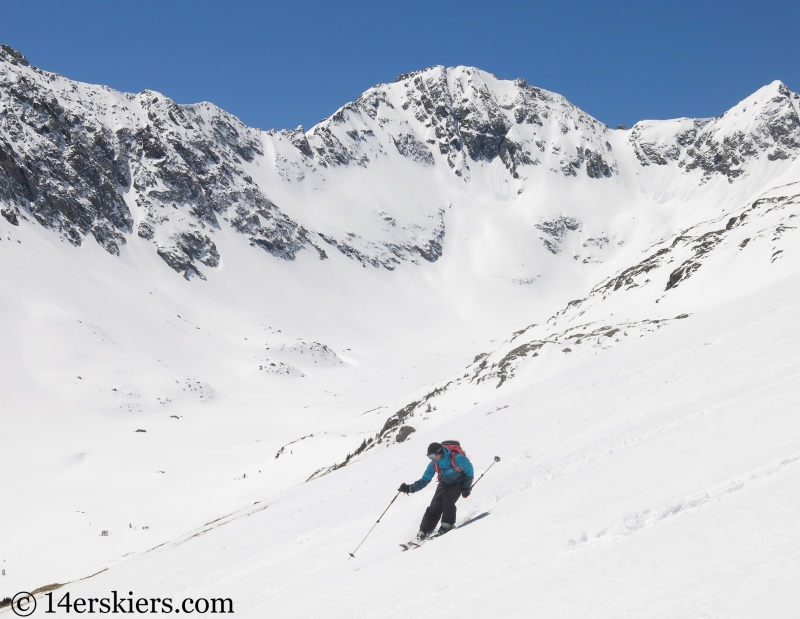 From the dam, we were able to ski most of the way back to our car.
It was a beautiful spring day, of which we've had precious few this spring. So, in a way, it was not surprising to see so many people on top of Quandary Peak, even midweek. Some people would complain that the backcountry is getting crowded. Well, those people should not venture to something like Quandary – one of Colorado's most popular fourteeners. But, I'm all for it. I'd rather have people enjoying the white gold under a blue sky than sitting in front of the computer or TV. And for those wanting more solace, there's still plenty of places for peace…
Another sunny stretch is coming for the weekend. So, make sure to get out there and enjoy it 🙂
---
Now's the time to get the deals on ski gear for you to use next year!

Aside from skiing, biking, and all outdoorsy things,
Brittany Walker Konsella
also loves smiles and chocolate 🙂 Even though she excels at higher level math and chemistry, she still confuses left from right. Find out more about
Brittany
!
Latest posts by Brittany Walker Konsella (see all)
Summary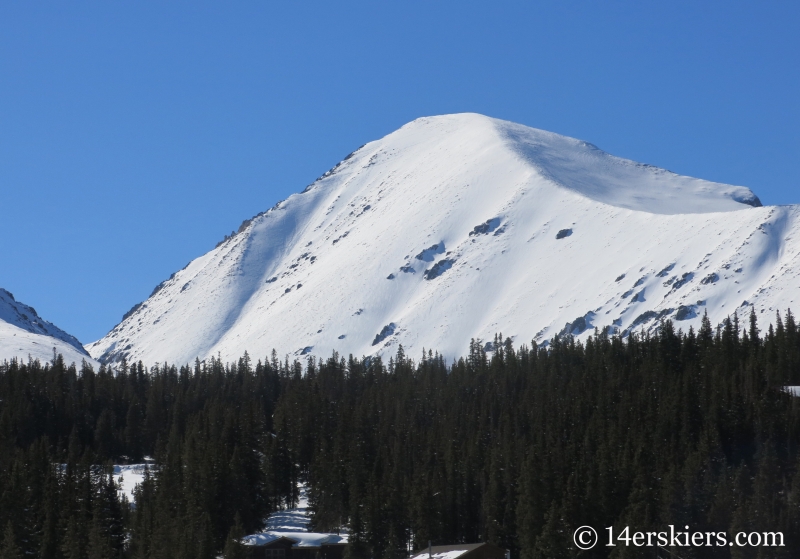 Article Name
Quandary Peak - Cristo Couloir Ski
Description
Cristo Couloir on Quandary Peak, of of Colorado's more popular fourteeners, is a classic line for backcountry skiers for a good reason. A perfect day out!
Author