Black Diamond 2015-16 Ski Line-up
(Last Updated On: November 30, 2015)
It was not all that many years ago when Black Diamond emerged onto the ski market. I owned the first version of the Verdict ever made, and I'll be honest – I really didn't like it. In fact, I sold my Verdicts only after using them a handful of times, after terrifying myself trying to ski them on icy conditions down Crestone Peak. I usually don't mind icy conditions. Growing up skiing man-made snow, ice skiing became my strength. But, not with the Verdicts.
But, then Black Diamond got pretty good at making skis. The Verdict was improved and the Megawatt became immensely popular. And before anyone could try to keep up, their ski line-up exploded, exponentially. There were men's versions, women's versions, carbon skis and not… It was hard to keep track of just how many skis they had.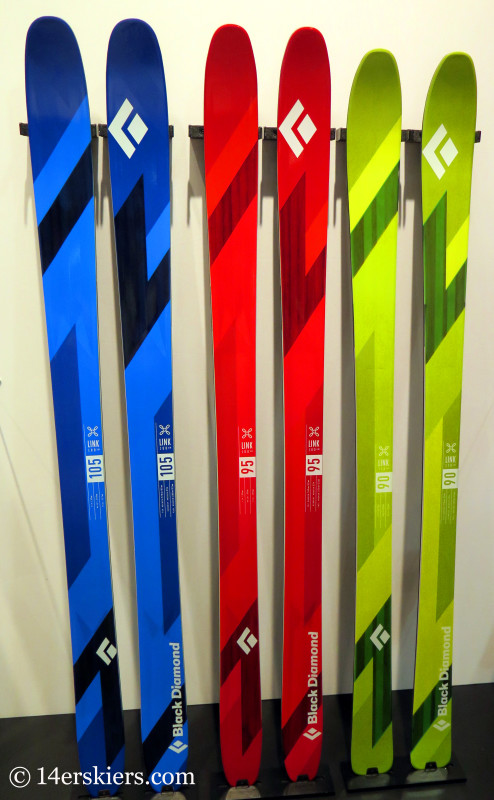 So, that's why we were surprised to walk into the Black Diamond booth at SIA last January to find less skis. A lot less. You see, ski series have a carrying capacity, of which Black Diamond had probably exceeded. Why not focus on a few different skis that are good at a lot of different things, but make those skis really good? That's what Black Diamond decided to do for 2015-16.
Black Diamond slimmed their line from "God-knows-how-many" to a skinny 9. Each of these skis can be classified under one of three categories – the Link, the Boundary, or Carbon.
Link Series
The Link Series is geared specifically toward backcountry skiers, being more lightweight and softer than the Boundary Series. Though not as lightweight as their carbon series, also backcountry-oriented, the Link Series is more reasonably priced. The Link Series seems geared toward more entry-level backcountry skiers.
The weight-savings on the Link Series is quite noticeable compared to the Boundary. For example, a 184 cm Boundary 107 is 4.2 kg (9 lb 4 oz), but a 180 cm Link is 3.3 kg (7 lb 4 oz). A Link 95 in 180 cm is 3.1 kg (6 lb 13 oz), whereas the same length Boundary 100 is 4.1 kg (9 lb).
Like all Black Diamond skis, the Link Series has a rockered tip and tail and sidewall construction. A distinguishing factor of this line is the paulownia wood core.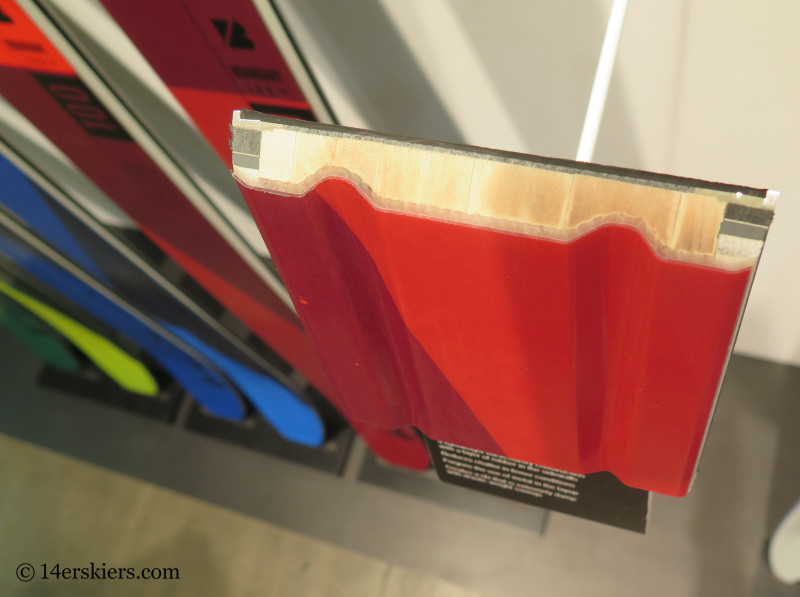 Ski Test of Link Series
At SIA I was able to test both the Link 95 and Link 105. I found the skis in this series to be very forgiving, but they also lacked energy and were not particularly damp. Both models could use a bit more torsional rigidity, in my personal opinion. That said, these skis are easy to ski. I never "fought" the ski. But, they never really helped me out either.
The Link 105 is noticeably better in firmer conditions and holds an edge a little better on ice than the 95. But neither one of them felt particularly stable at high speeds or chop.
I kind of found this ski to be "meh". There's nothing they do great, but they aren't terrible either. Due to their ease and forgiving nature, I think this ski is good for entry-level backcountry skiers and people who just like softer skis as a whole. But, if you're an advanced to expert level backcountry skier, than I would stick to the Boundary or Carbon Series.
Boundary Series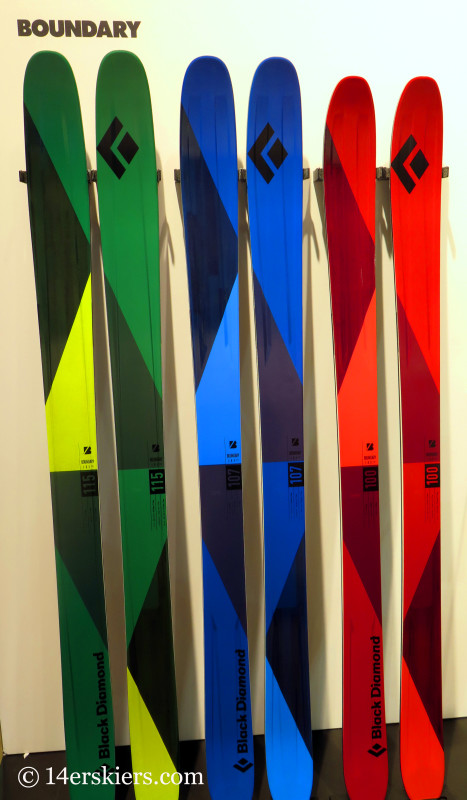 Although the Boundary Series is marketed specifically towards freeride skiers, these make for great all-mountain skis, both inside and out of the gates.
The Boundary comes in a 100, 107, and 115, which are supposed to be very similar to the previous generation of Verdict, Zealot, and Amperage. In comparison, the Boundary 100 carries the same dimensions as the Verdict and the 115 holds the same dimensions as the Amperage. But, the Boundary 105's dimensions are vastly different than that of the Zealot. For example, a 182 cm Zealot is 135-110-123 with a 27 m turn radius. But, the Boundary 107 in a 184 cm is 138-107-123 with a much shorter 20 m turn radius.
All skis in the Boundary series have a poplar wood core.
Ski Test of Boundary Series
Frank and I both tested the Boundary 107 and 115 at SIA last year. I found the Boundary 107 to behave a bit like my Black Diamond Amperage skis, just a little skinnier. The 107 carved surprisingly well, and was quick to respond. But still, the 115 was even better. More lively, more responsive, more damp than the 107 and better at carving than my Amperages, the Boundary 115 was a big winner for me at SIA.
Frank had the opportunity to extensively test this ski last spring and has written a full review of the Boundary 115.
The Carbon Series
Black Diamond Markets this series for ski mountaineers. But, really, the skis in this series are great for any long day in the backcountry. The core of each of these skis is an ultralight engineered wood, but it has pre-preg carbon fiber on top of the core. Other BD models use pre-preg fiberglass instead of carbon. This line up features three models: the Aspect (95 mm underfoot), the Convert (105 mm underfoot), and the Megawatt (120 cmm underfoot). The Carbon Megawatt is the one long-time hold-over of Black Diamond skis as it has been around for a few years. The Convert was introduced into the BD line-up for 2014/15, making the Aspect the only new ski in this series.
The lighter core and carbon construction equate to roughly 1/4 pound savings on the Carbon Series compared to the Link Series. A 180 cm Convert weighs only 2.9 kg (6 lb 8 oz), compared to the comparable Link at [180 cm] 3.1 kg (6 lb 13 oz).
Ski Test of Carbon Series
Although the Aspect was new this season, Frank and I did not test it. I had the opportunity to test the Converts, which I found to be a little more deflectly than I like. The lightness of them makes them less damp, and I like a damp ski. Still, they held an edge pretty well in many cases and responded in a snap.
Frank and I are both huge proponents of the Megawatt ski. Although nearly the same construction as the Convert, the 120mm underfoot serves up the additional dampness that a carbon ski like this needs. I had the opportunity to test this ski for a while this spring, and wrote a thorough Carbon Megawatt review.
The Wrap
Black Diamond has simplified their ski line-up for 2015/16, making it easier for customers to decide on exactly what ski is right for them. Skis in the Link Series are forgiving and lightweight, and good for entry-level backcountry skiers. The Boundary Series are a great line-up of all-mountain skis that are extremely versatile for use both in-bounds and in the backcountry. The Carbon Series is ultra-light, but still a strong performer. While you may sacrifice in performance compared to the Boundary Series, the weight-savings of the carbon line-up is often worth the small sacrifices in performance, especially on long days in the backcountry.
All in all, even after slimming their offerings, Black Diamond still has a variable and thorough line-up of skis that can suit the needs of almost any backcountry skier.
Aside from skiing, biking, and all outdoorsy things,
Brittany Walker Konsella
also loves smiles and chocolate 🙂 Even though she excels at higher level math and chemistry, she still confuses left from right. Find out more about
Brittany
!
Latest posts by Brittany Walker Konsella (see all)
Summary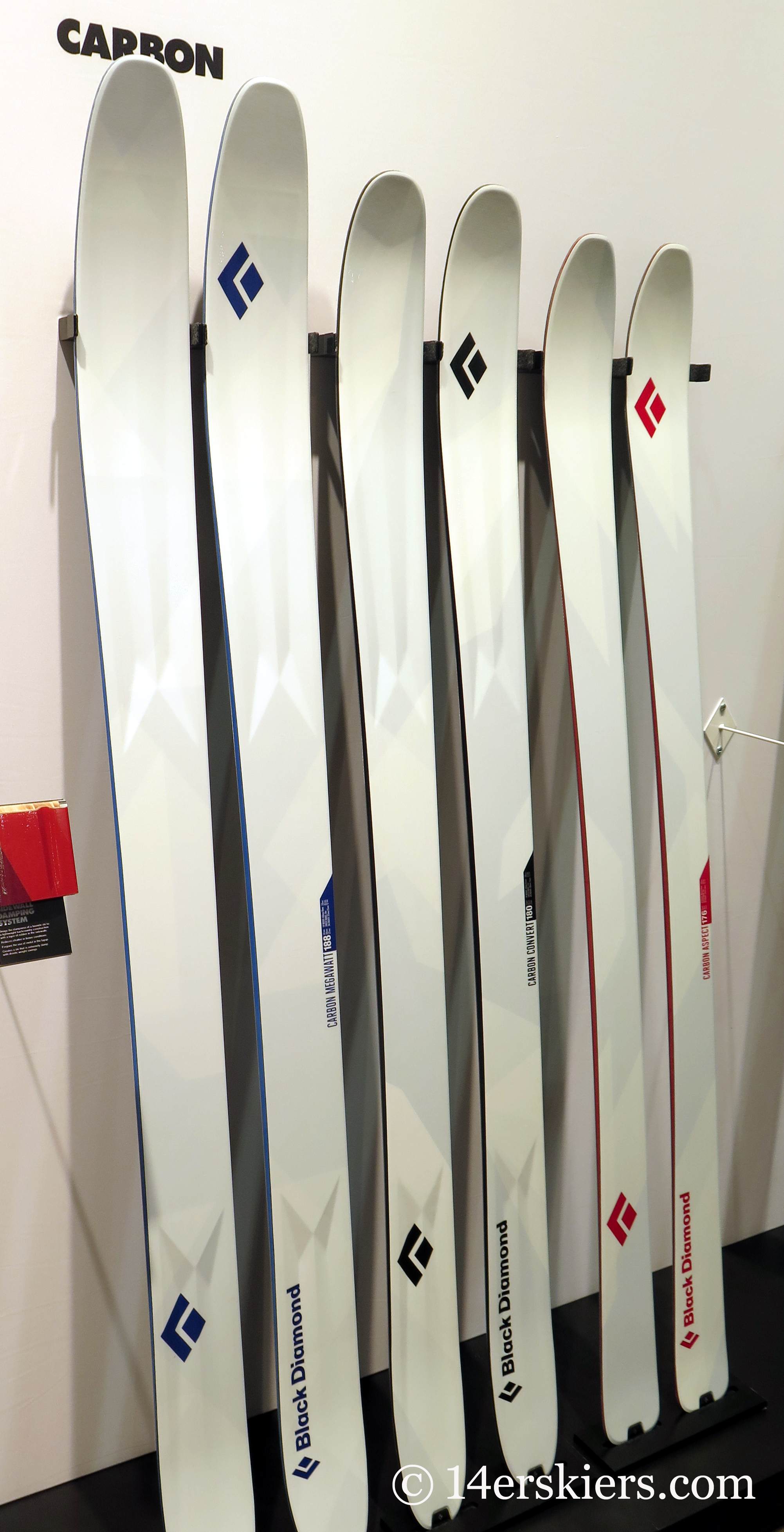 Article Name
Black Diamond 2015-16 Ski Line-up
Description
Black Diamond has simplified their ski line-up for 2015/16, with nine skis and three categories - Link, Boundary, and Carbon. Read our review!
Author