14er TBT: Mount Oxford & Mount Belford (22 April 2007)
(Last Updated On: March 25, 2015)
This is part of an ongoing series re-telling Brittany's fourteener-skiing story. Look for the reports every Thursday, as part of a Throwback Thursday theme.
Mount Oxford and Belford was my second experience of the double-fourteener whammy and there would certainly be more to come. They were my 18th and 19th fourteeners to ski. Below is a slightly modified version of my original trip report from Mount Oxford and Mount Belford.
Mt. Oxford (14,160′) & Mt. Belford (14,203′)
Brittany and Frank
Well, I began packing for the long weekend of tackling 3 different 14ers on Wednesday, hoping to leave Thursday night after work or Friday morning. My cat was NOT happy about it. She decided to sit on top of my down jacket for hours right in the middle of the floor, completely in the way of me packing. It was her way of saying, "I hate you for leaving me"…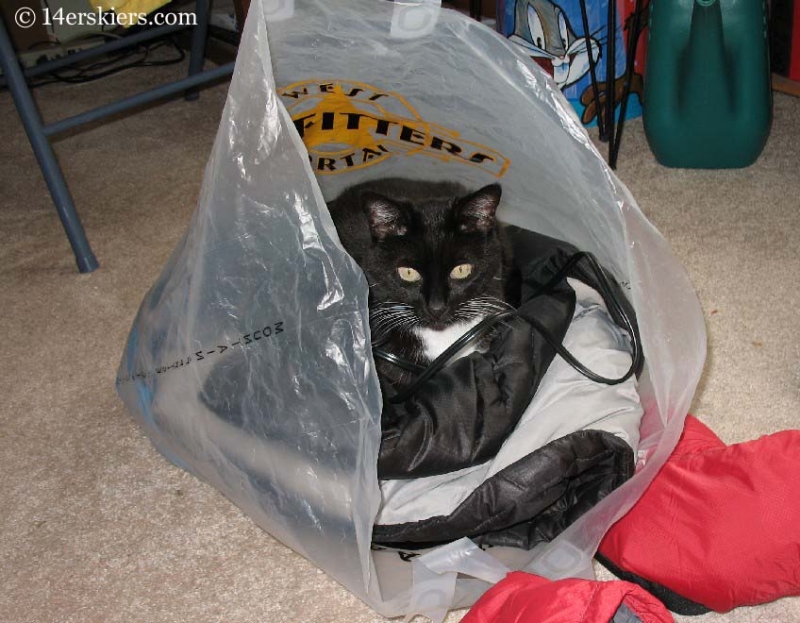 Frank and I decided to meet at the Vicksburg TH at 7 am to begin our day of tackling 2 fourteeners. For those of you unfamiliar with this area, the best way of accessing Oxford is to climb Belford first, then go to Oxford, and then back to Belford again. Indeed in your attempt to climb 2 fourteeners this requires you to summit one of them twice. But it really is the easiest way. So, that was the plan.
It had snowed several inches in the the lower valleys only a couple of days before. But you could barely tell now that it had even snowed. There was not a trace of new snow down low and much of the ground was dry. We climbed 300 vertical feet before putting on skins.
We moved quickly in the morning, covering 1400 vert in just an hour. When it finally opened up into the valley we slowed down a bit. But we knew it was going to be a long day, so we kept on pushing.
Skinning up the valley.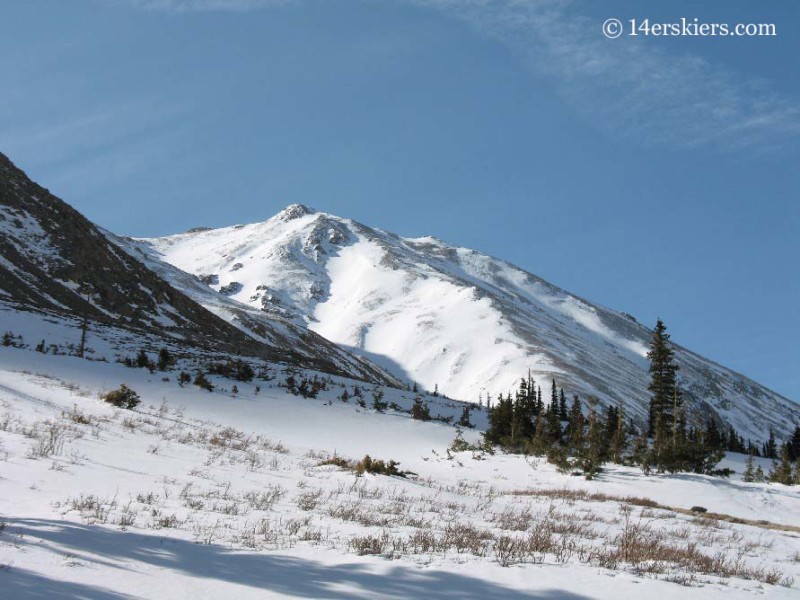 We picked a nice little NW-facing gully to skin up on Belford.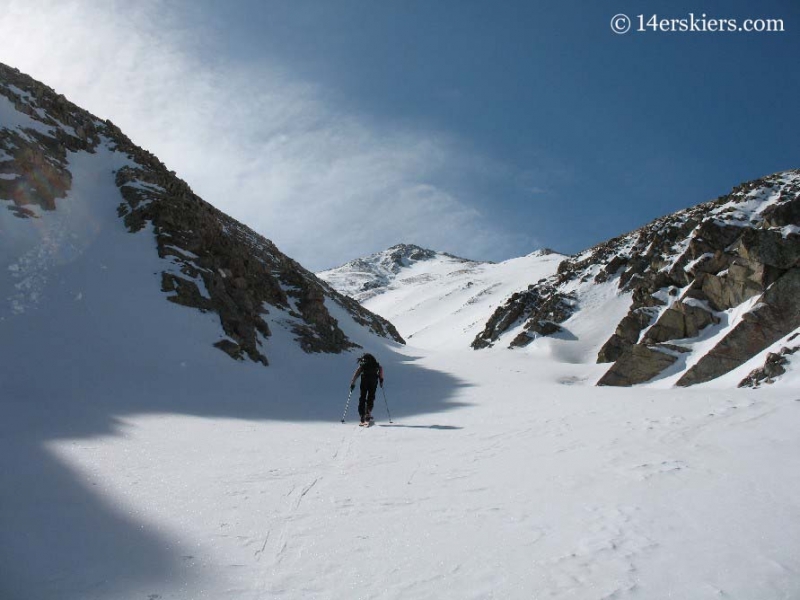 We were on the summit before we knew it 🙂 And as always, the summit provided beautiful views.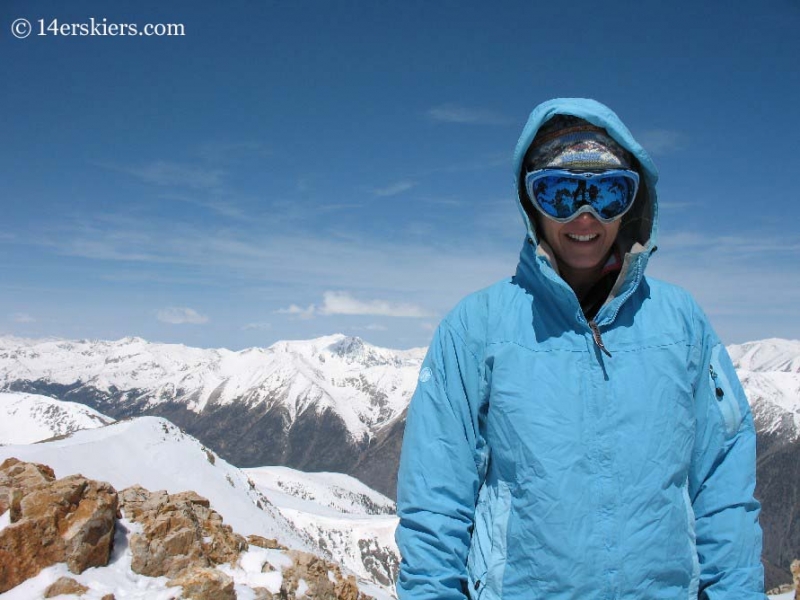 Looking toward Elbert and Massive.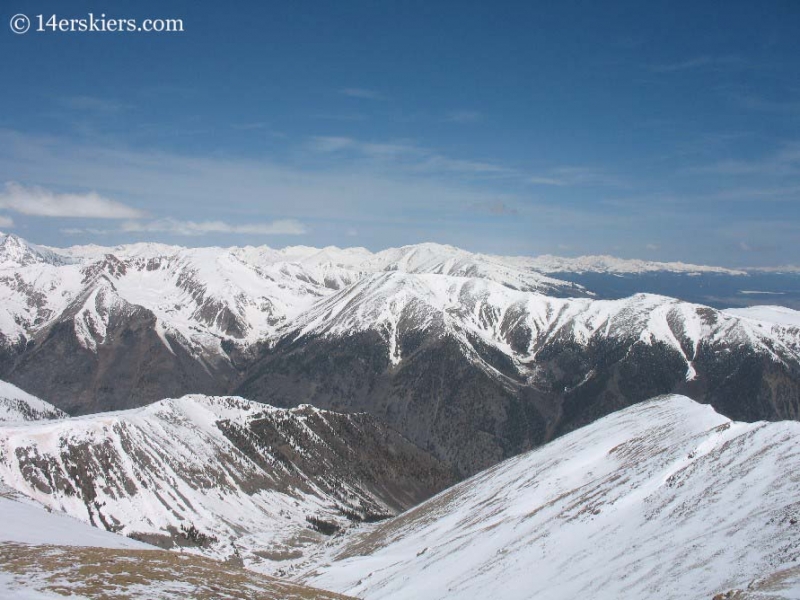 Who ever says the Sawatch NEVER has snow is um….. wrong 🙂 Looking north, south, and west there was snow on the peaks as far as the eye could see. It was a pleasant sight.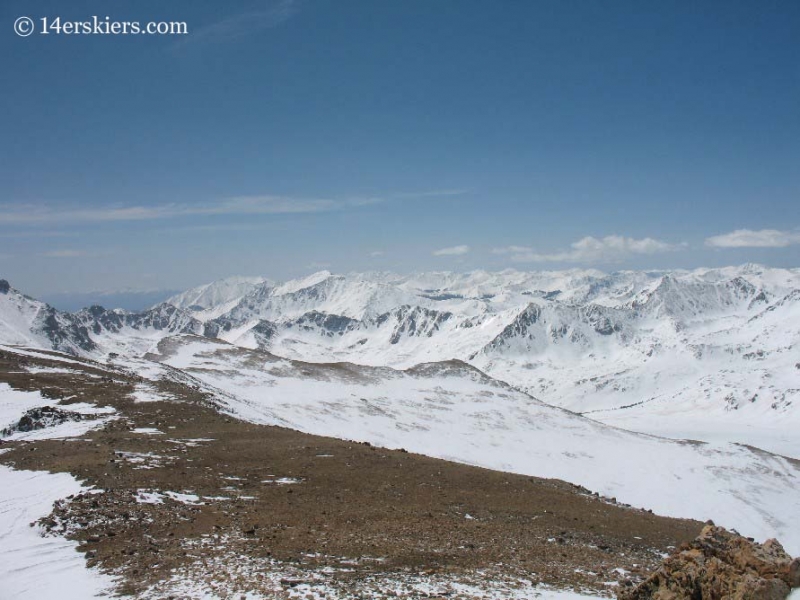 Frank got a big eager at the top and decided to build a jump to launch off the "rock-crown" on the summit. Here's his jump.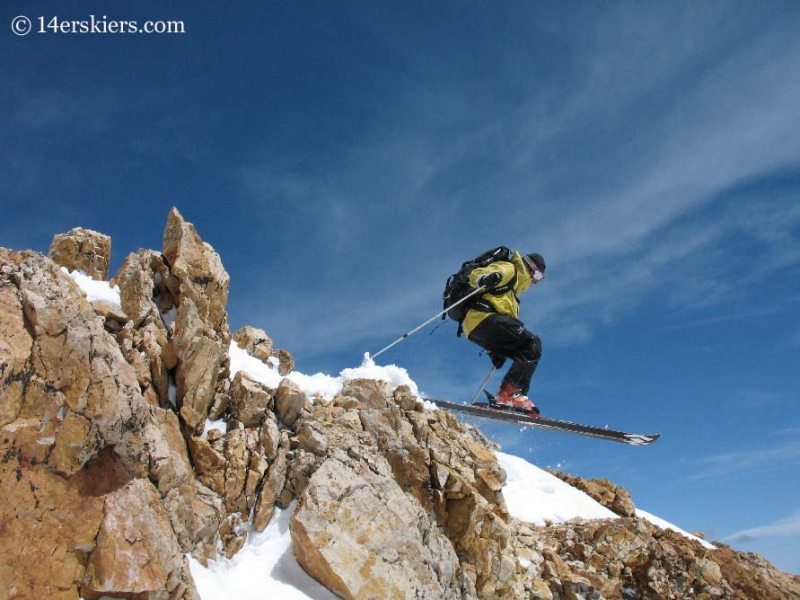 We skied down 800 ft into Belford Gulch, which lies between Oxford and Belford. Frank was once again on video duty, but I did get some sweet pics of him!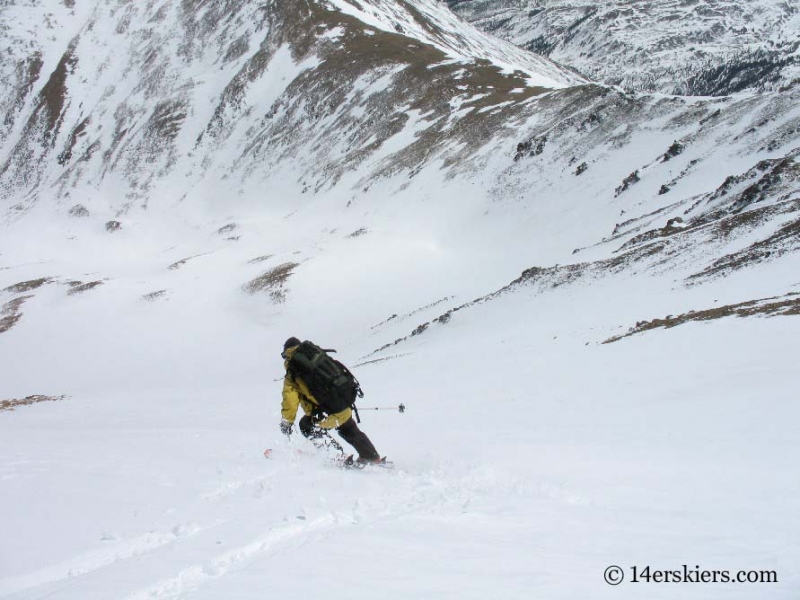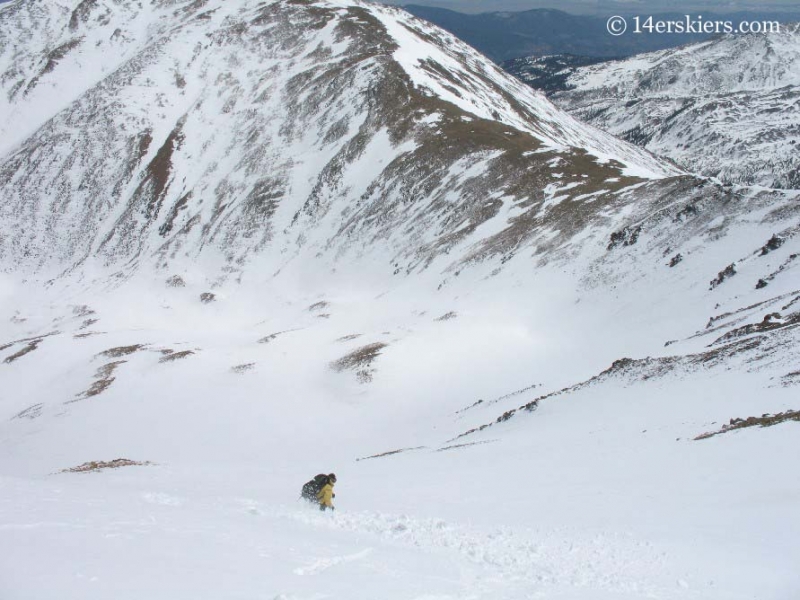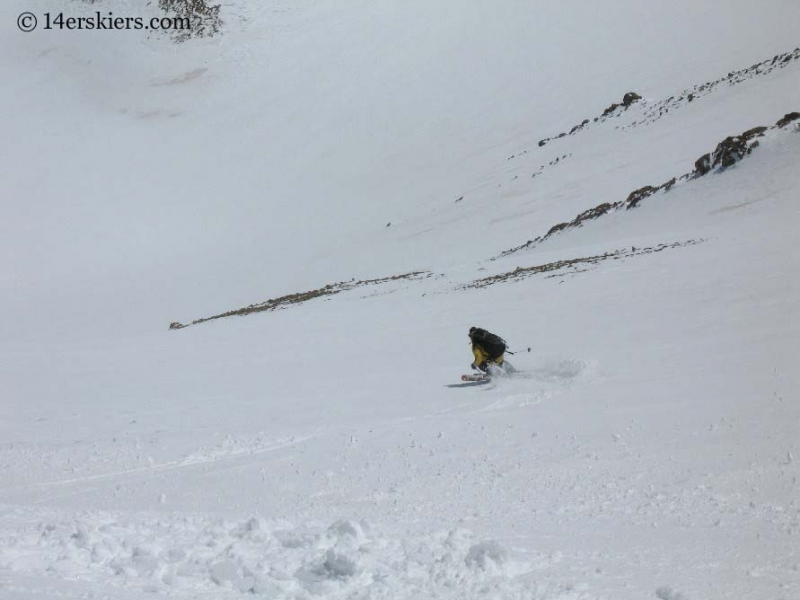 We found some great snow in Belford Gulch and lots of whoops and woohoos were had 🙂 Then it was time to climb back up to the saddle and follow the ridge over to Oxford.
Frank on summit of Oxford.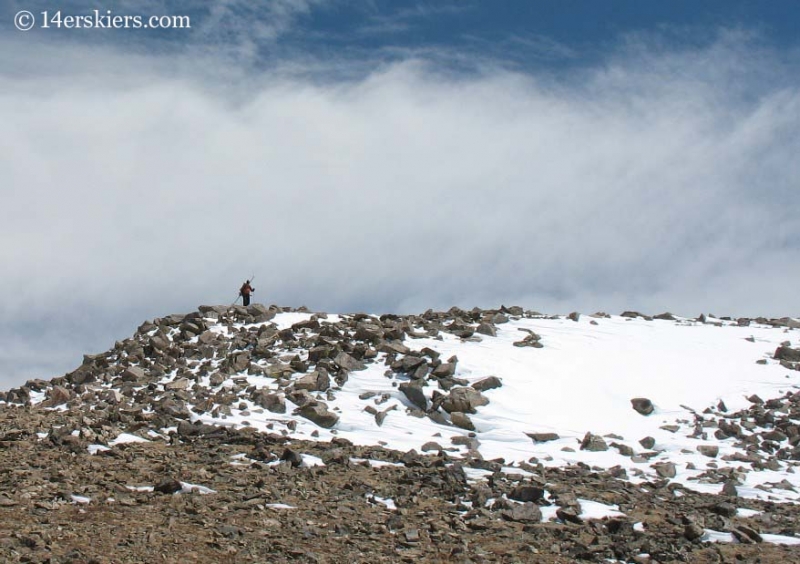 La Plata- Boy, do we want to ski that line!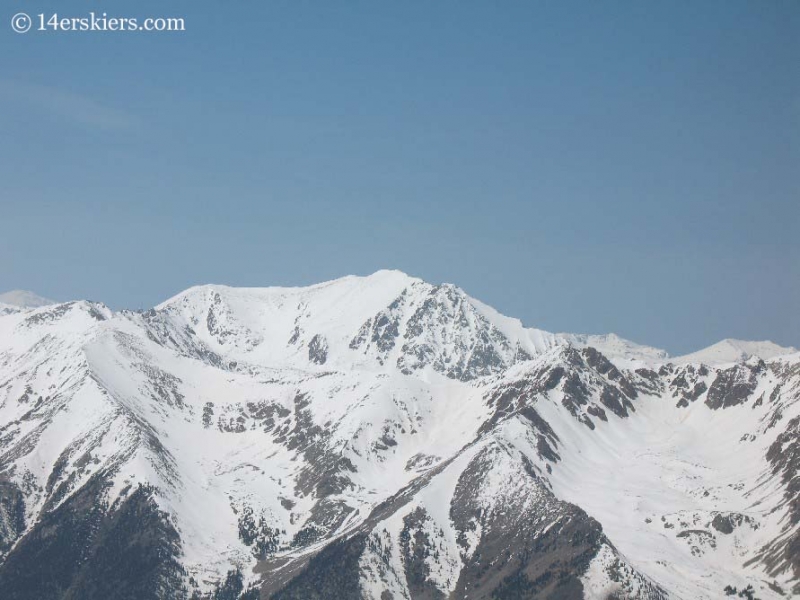 Frank and I were drooling over this line off of Belford, to the lookers left.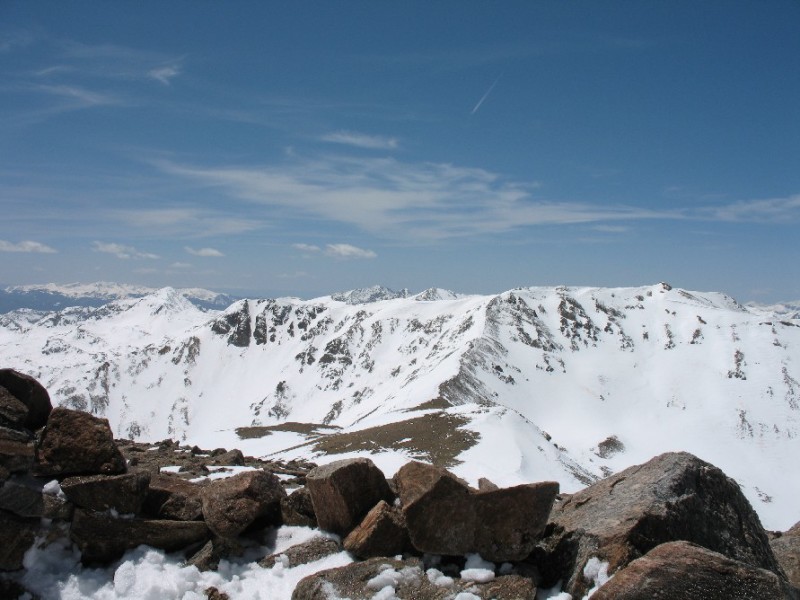 You can see the summit of Belford, in the middle of the pic. We wish somebody had told us this line existed. The way to ski these peaks is to summit Belford, then follow the ridge on Belford SE until you find those couloirs. Ski into the gulch, then climb back up to the same saddle we used to get over to Oxford. It would not be hard and it's a great line. If only we'd known earlier….
A closer view of the line.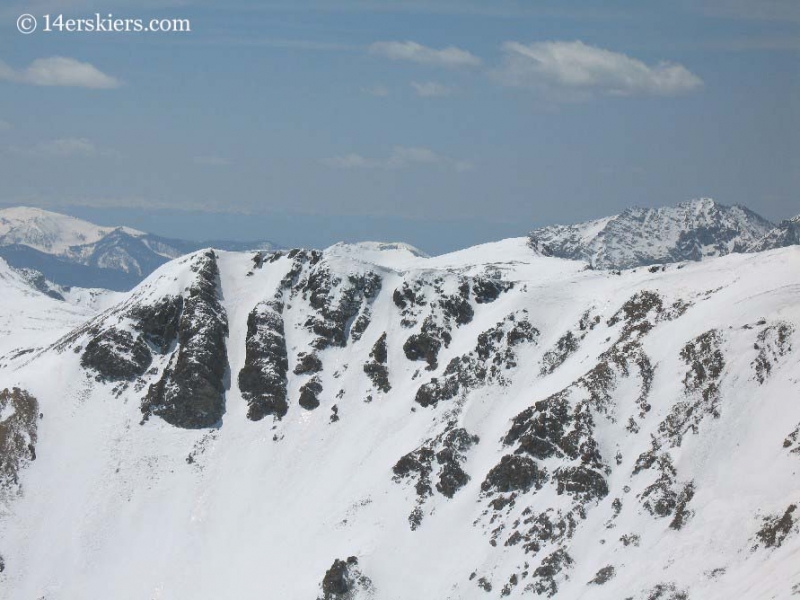 We were able to ski right off the summit of Oxford as well, but I think it will not last much longer. The top was pretty thin.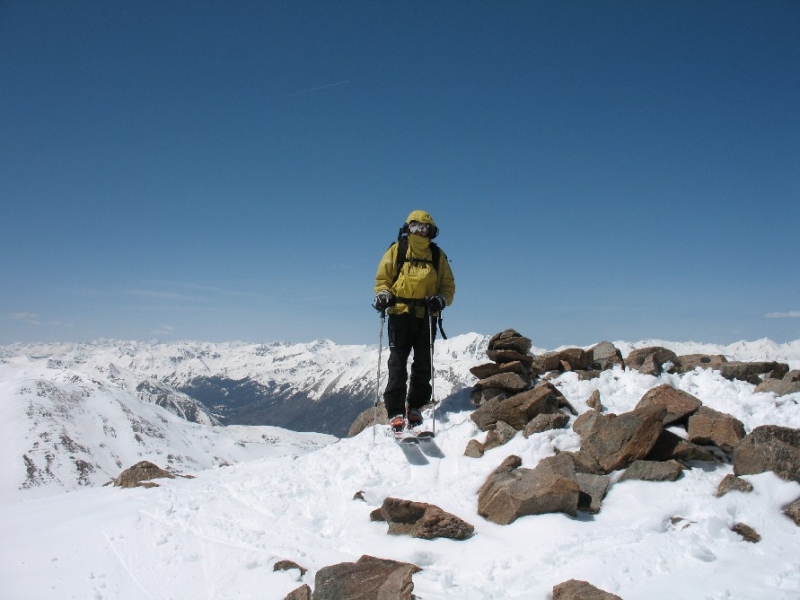 Once again, Frank was video-sly-guy but I wouldn't let him slide by without taking pics. 🙂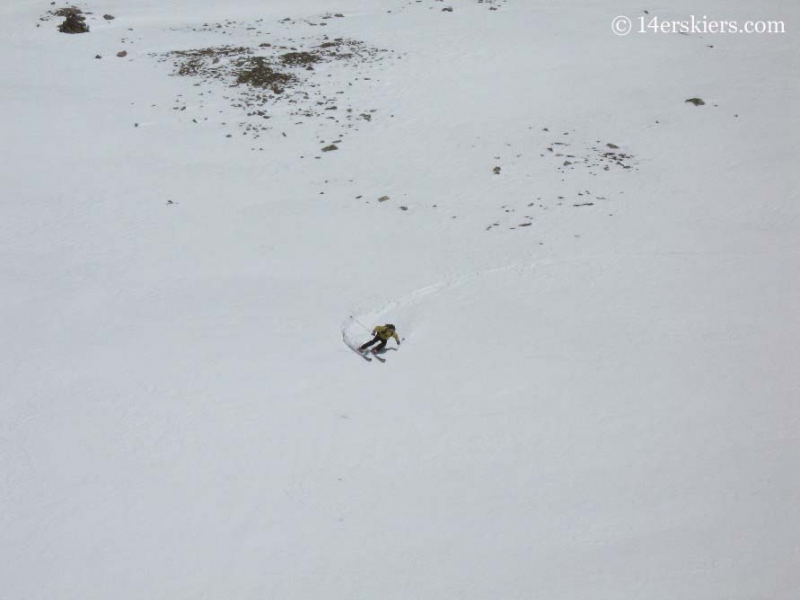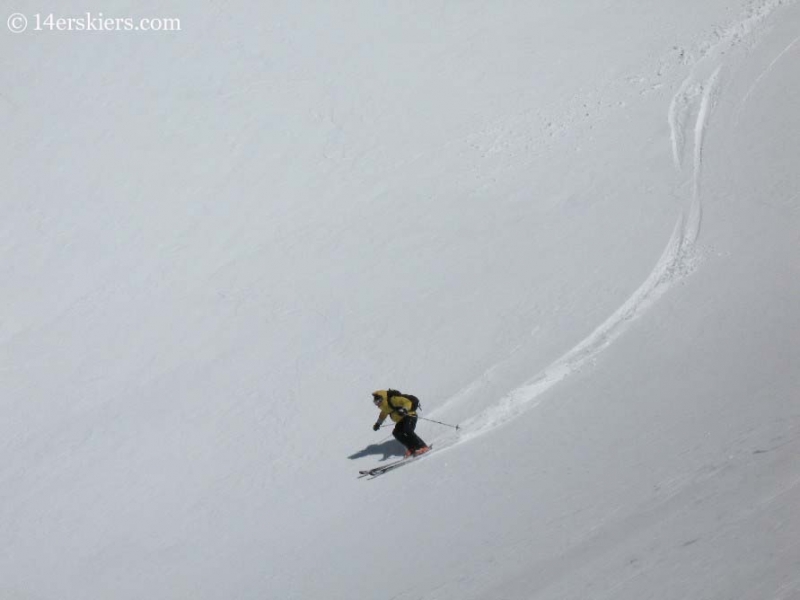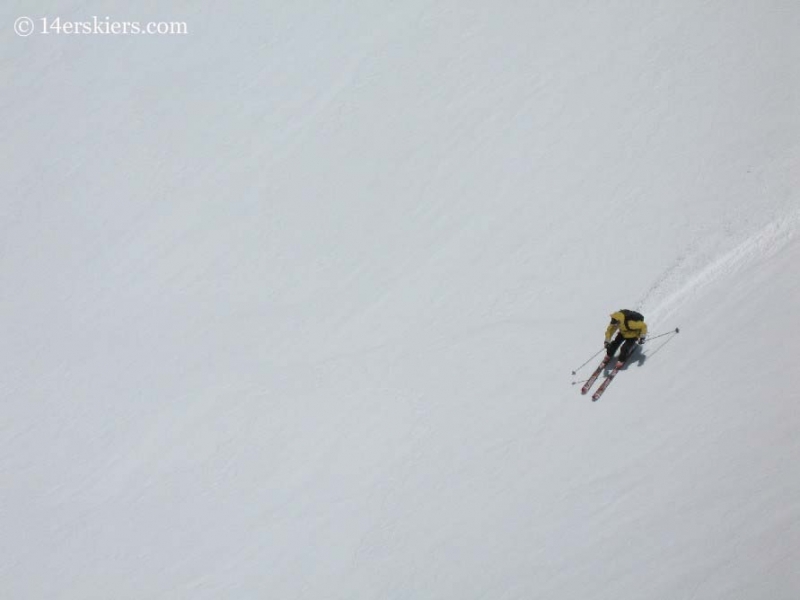 Frank almost near the end of the line.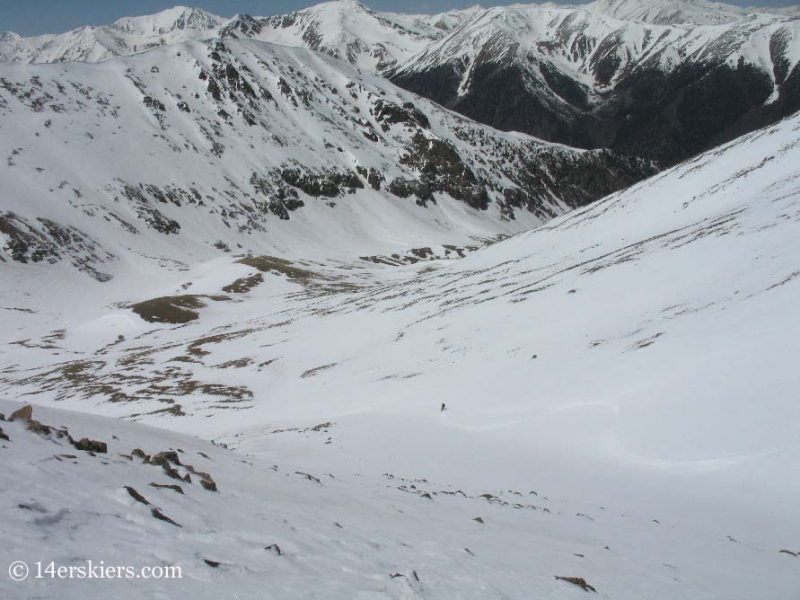 We skied over 1300 feet down a NE-facing gully off of Oxford into Belford Gulch once again and began climbing back up toward the saddle between the two mountains. On our way we saw our nice tracks from earlier on Belford.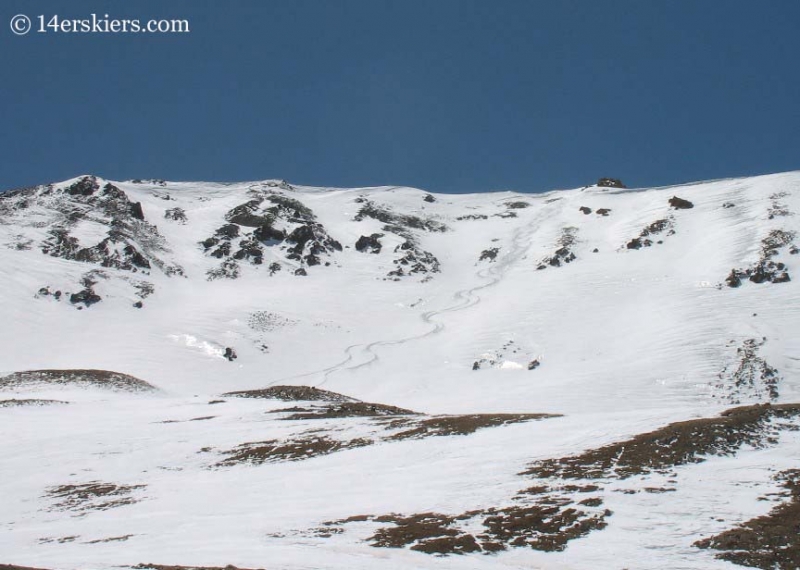 The ridge back up to Belford.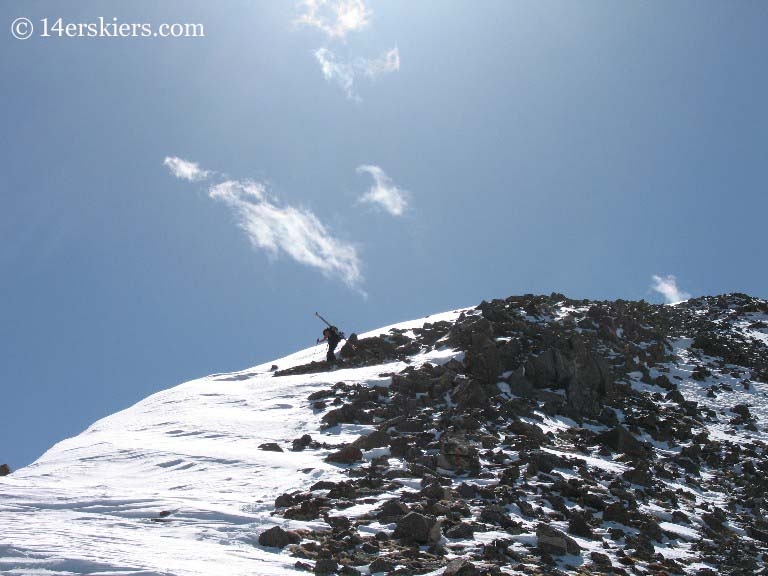 On our way back to the summit we got good views of Missouri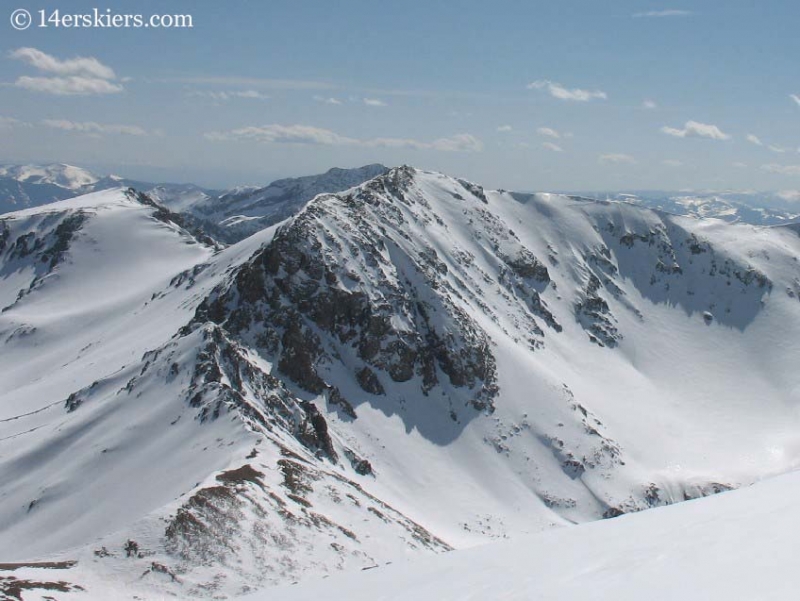 and Huron.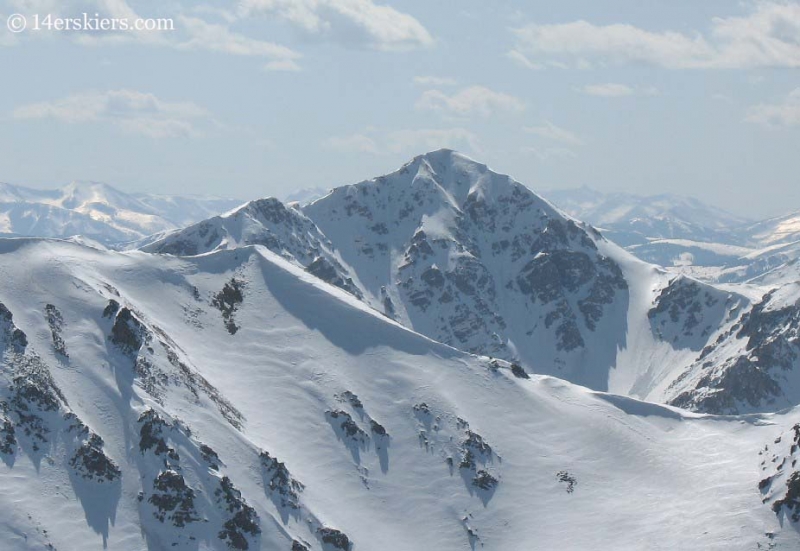 Frank on Belford's summit for the second time of the day.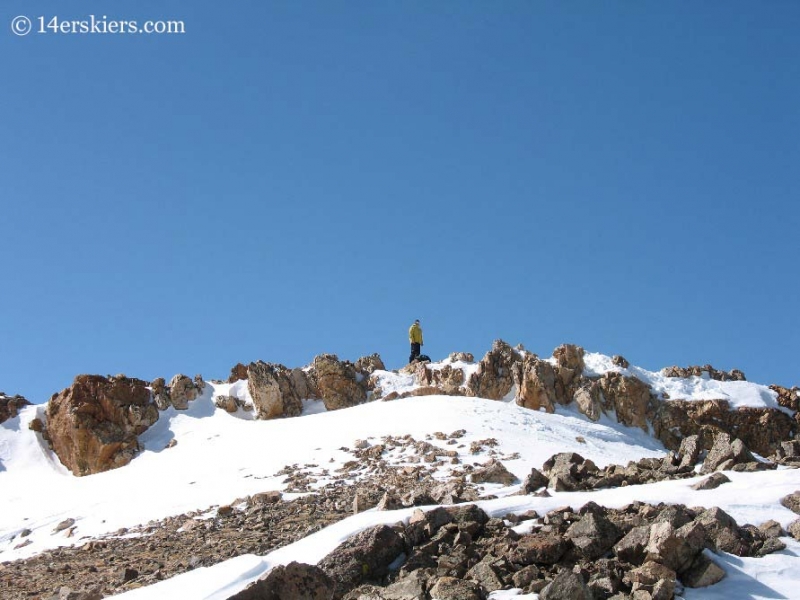 We decided to ski down the NW facing gully where we ascended in the morning- or variations of it. There are certainly lines to be explored on that side of the mountain. This time Frank and I traded jobs- I videoed and he took pics.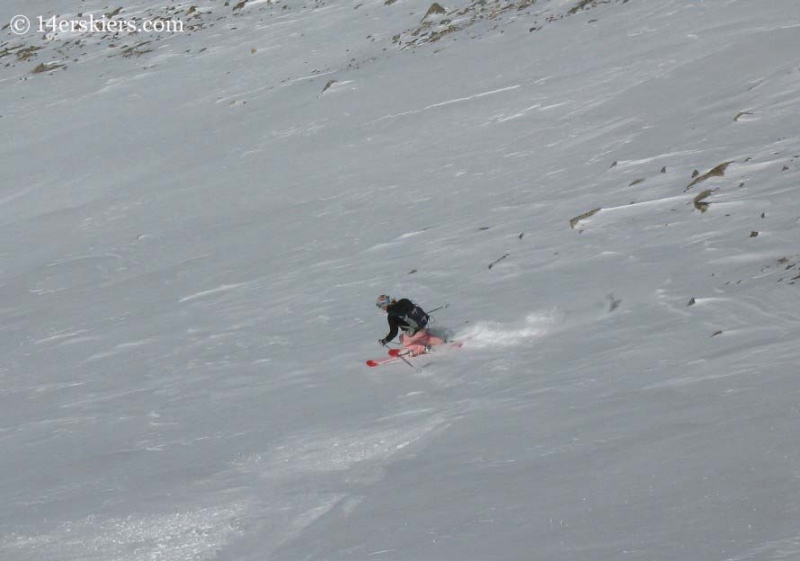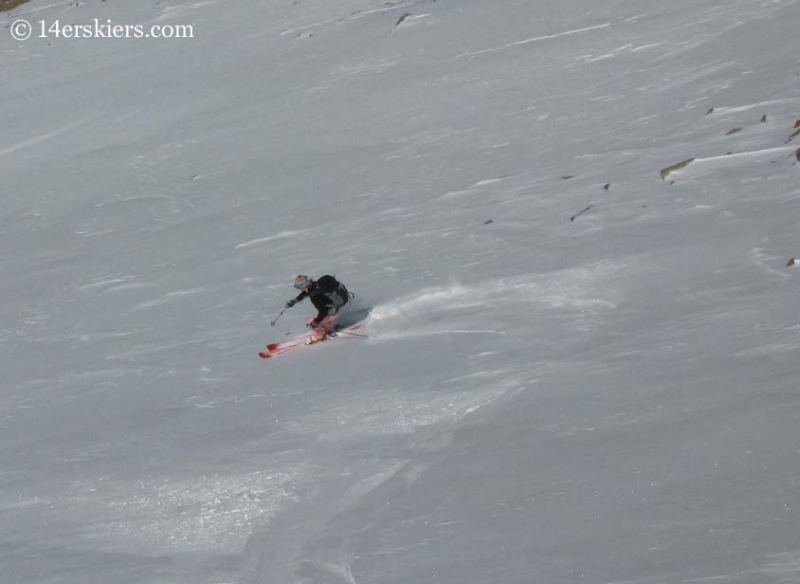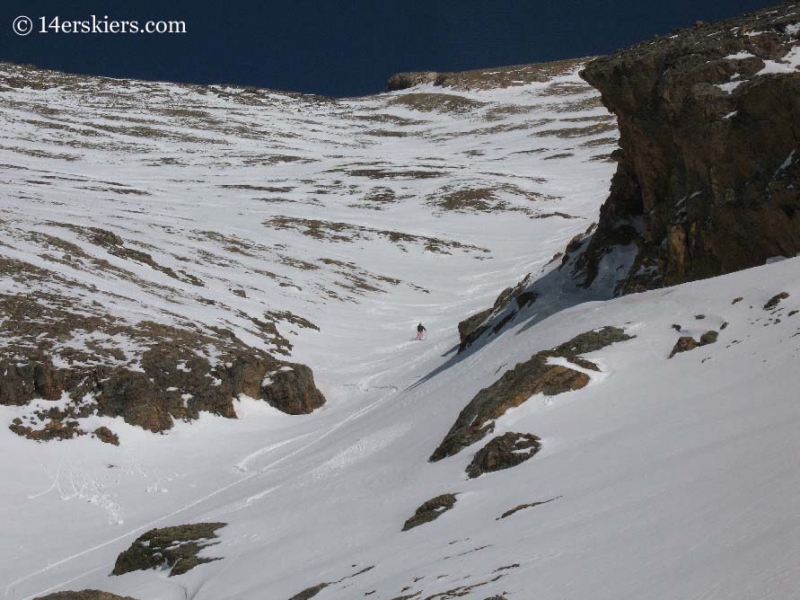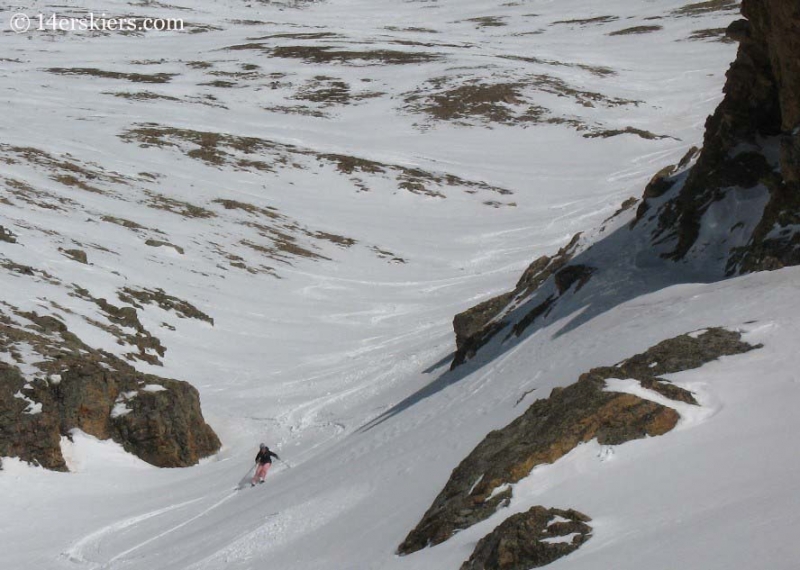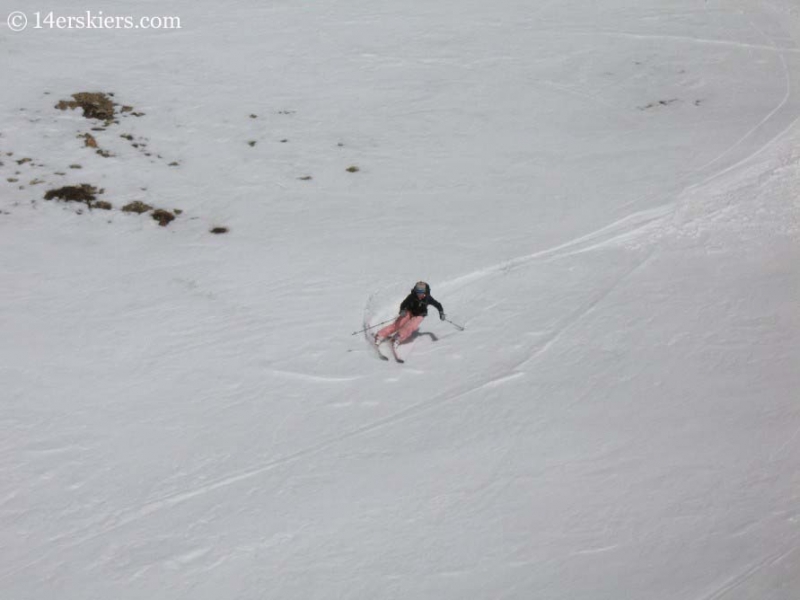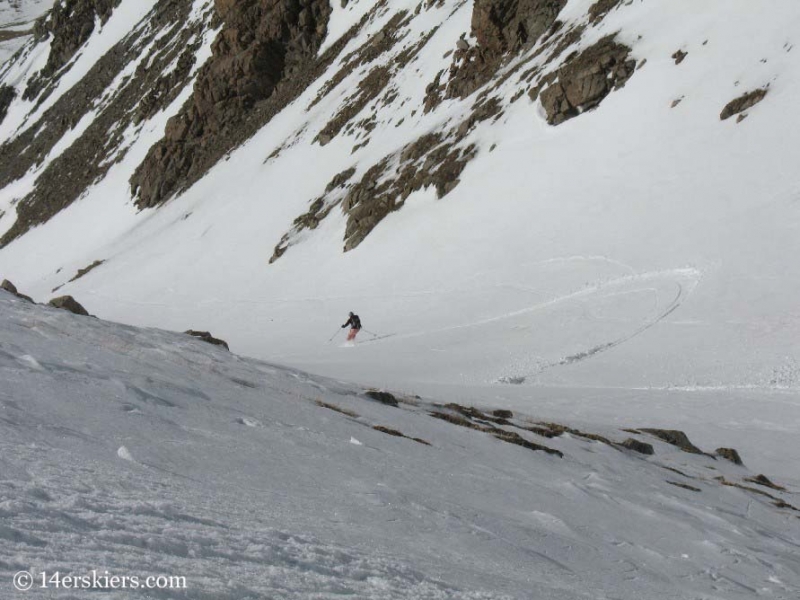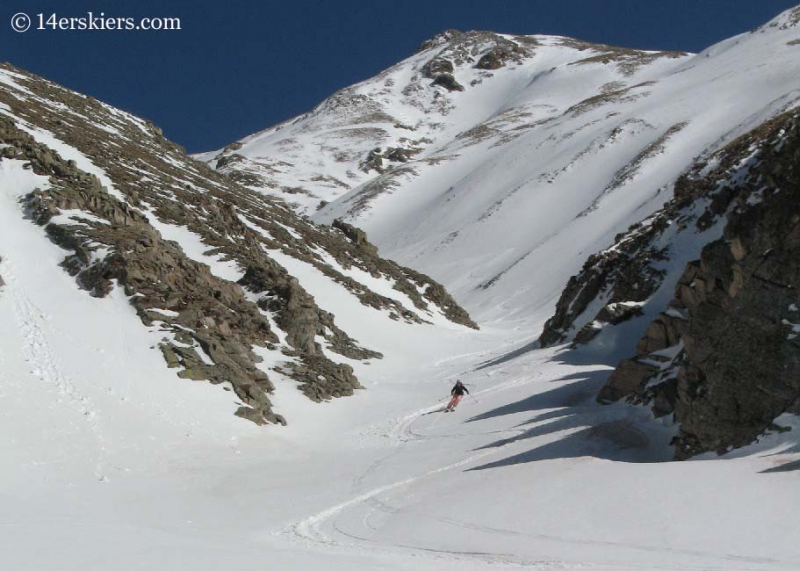 From this gully we followed the Missouri Gulch back to Vicksburg. We did find quite a bit of collapsable snow in the trees, which seems to be the theme for the year. But we were still able to ski to where we had originally put on our skins, 300 vert feet up from the car.
Satisfied from a nice long day and good skiing, we headed down the road to find a campsite, only a mile or so east of the TH. Frank found a log that provided extra-spectacular sparkage. Mesmorized by the fire, I decided to play with my my camera and see what kind of pics I could get. Here's a couple: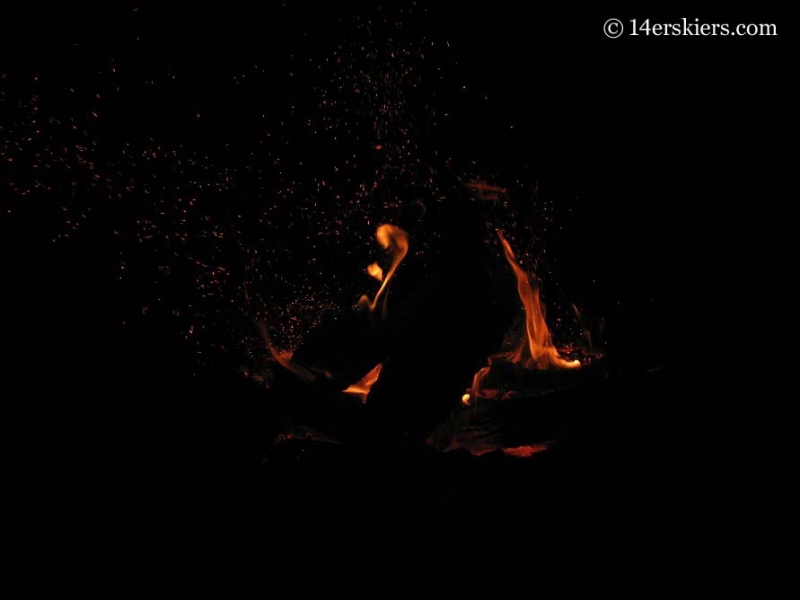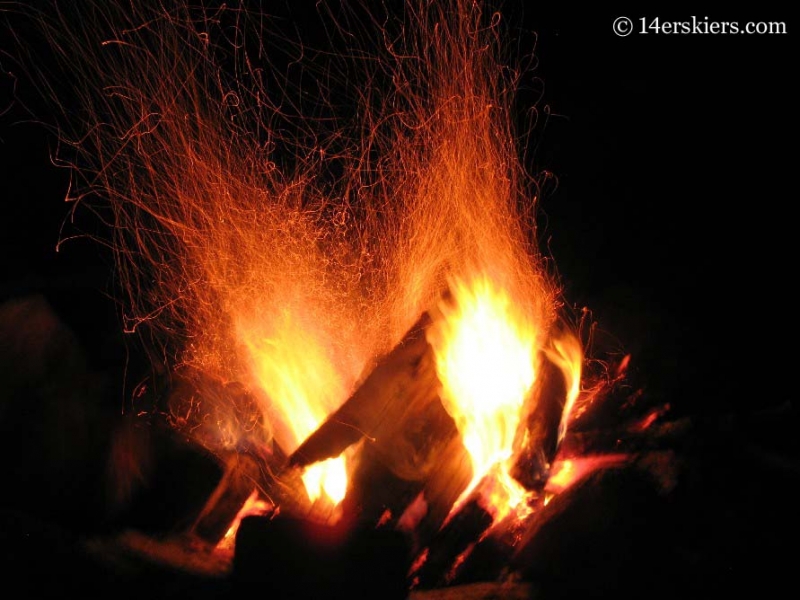 Then it was off to Humbolt!
Looking back, Oxford and Belford are not well-known for their ski routes. But, I think there are some interesting lines on each of them for those interested in venturing further…. This would be a jam-packed weekend as we headed off to ski Humbolt!
---
Like this report? See more of
Brittany's 14er skiing journey
.
Aside from skiing, biking, and all outdoorsy things,
Brittany Walker Konsella
also loves smiles and chocolate 🙂 Even though she excels at higher level math and chemistry, she still confuses left from right. Find out more about
Brittany
!
Latest posts by Brittany Walker Konsella (see all)