Avanet – The App for Backcountry Skiers & Snowboarders
(Last Updated On: November 22, 2015)
A couple of years ago, some innovative MIT guys invented the Avatech Probe which allows skiers to obtain reliable snowpack data in a quick digital format. But, they needed somewhere to keep all that data. Hence, Avanet was born.
At the time, Avanet was largely kept from the masses, being released primarily to snow professionals. But, it was obvious that the data stored in Avanet could be very useful for all winter backcountry users. In fact, we wrote about Avanet and some of its capabilities during our SP1 Review last spring. This summer, the Avatech/Avanet guys sat down again, enhancing their platform, and are now releasing it to recreational users as well.
What is Avanet?
Avanet is a platform that is available through the web or via a mobile app. Access via the web is through http://www.avatech.com/ and the app can be obtained on iTunes (currently no Android version available) at https://itunes.apple.com/us/app/avanet/id1002265185.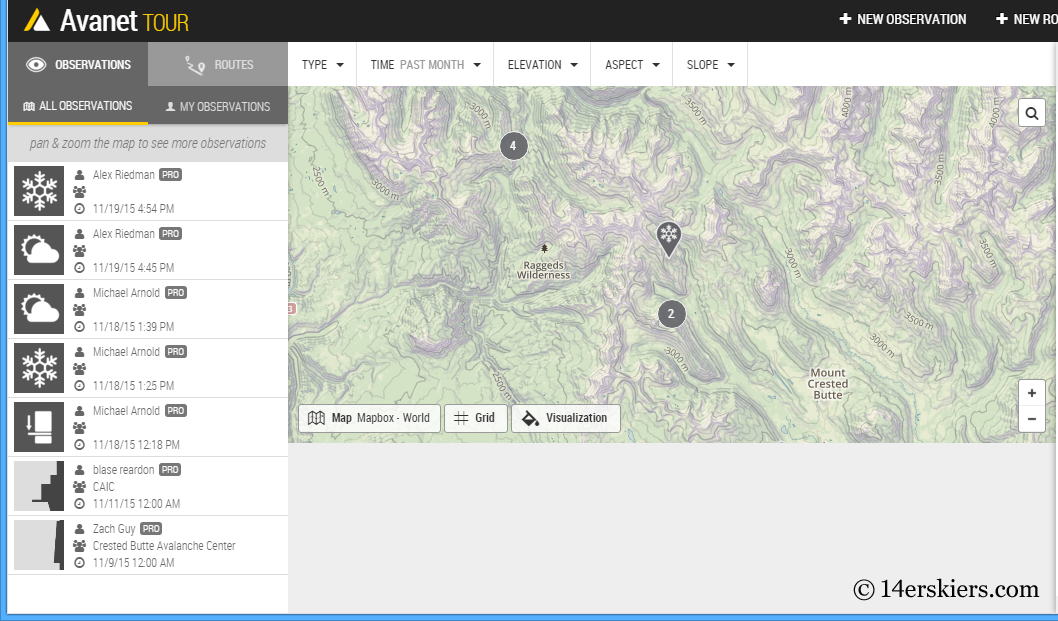 What does Avanet do?
Avanet is developed for winter backcountry users. It is a crowd-sourced platform for snow observations. That means, you can have access to a wealth of backcountry observations, depending on how many people in your area are using the app. Additionally, you can input observations yourself to include in the database, depending on the version you have.
On top of snow observation data, Avanet also comes with a handy route planning tool to help you plan safe routes and estimate the time it will take you to complete that route.
What are the different versions of Avanet?
Avanet currently comes in three versions:
Avanet (FREE) – A complimentary version for recreational mountain travelers. It includes such features as basic topographical and aerial maps, tour tracking and the ability to submit and view public observations.
Avanet Tour ($5 per month) – For those wanting more, this version includes additional features like terrain visualization and route planning tools.
Avanet Pro ($10 per month) – Designed for professional guides and snow safety professionals, this is the most feature-rich version and includes such additional tools as advanced route planning, professional-grade observation sharing, pro data access and more.
More details of the different versions can be seen here: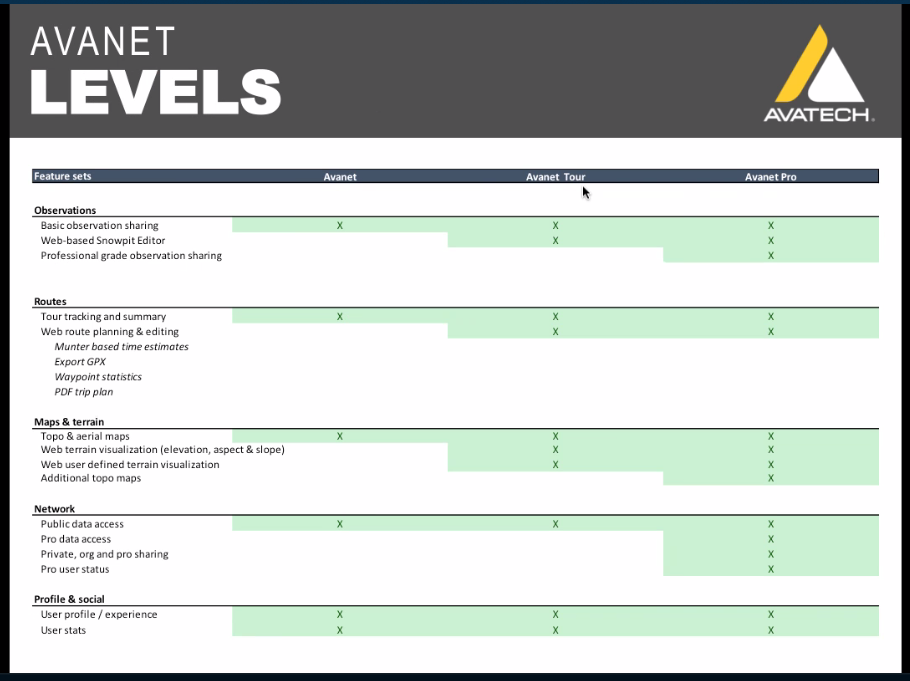 Where does Avanet work?
Avanet works world-wide. Obviously, some places are going to be using it more than others. The most use is currently in Europe and North America.
Adjustable Settings
You'll notice that the default map takes you to some place in Russia and that measurements are in metric. Let's face it, most of us don't live in Russia and we Americans are stuck on archaic English system of measurements. To change your default map location and units of measurement, go to your settings.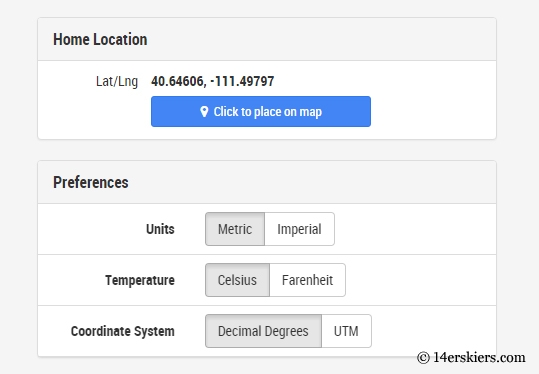 What snow data can I view with Avanet?
You can view any kind of snow observation that is input for public, or someone has granted you access to view. The details of the observations will be dependent on the observer and the tools they have available. But, in many cases, snow professionals will be inputting highly detailed snow pit observations like this: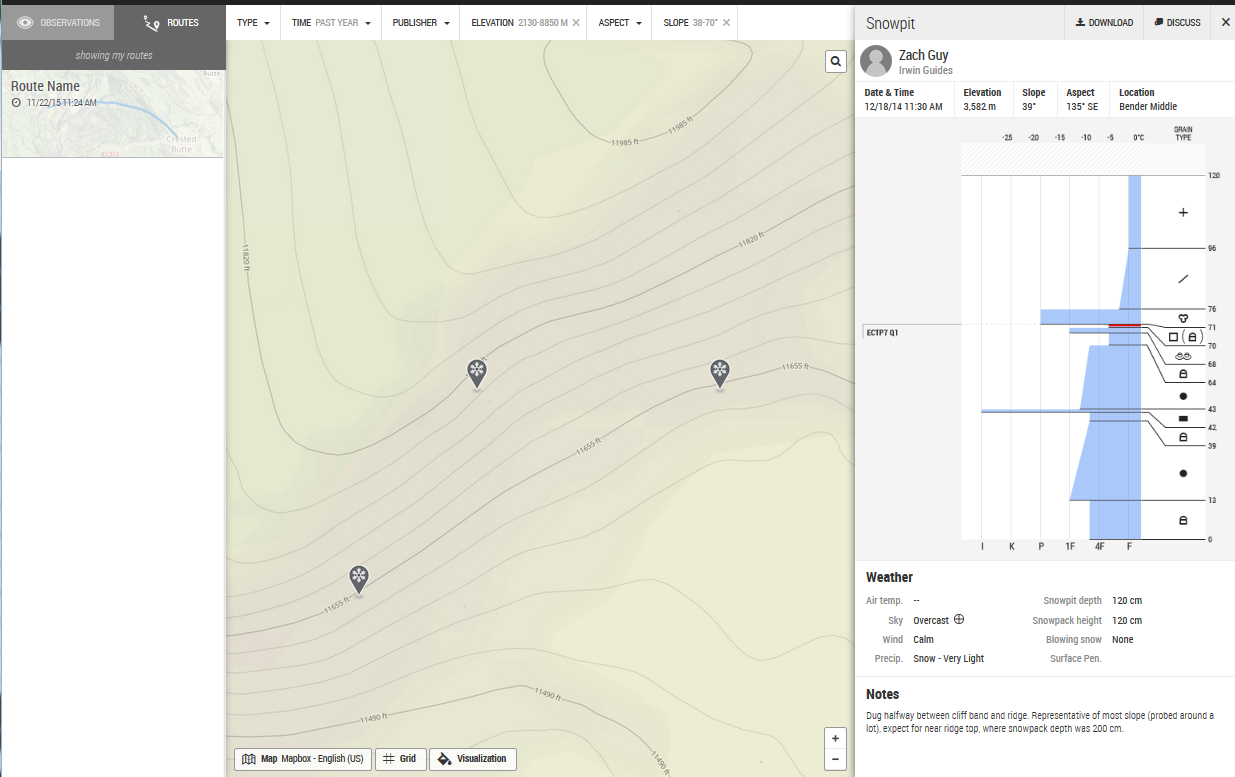 The above example was from a snowpit, but some observations may be directly from a probe. Others may have more about overall snowpack and weather conditions.
But, perhaps one of the coolest features of Avanet are the filters. You can view observations based on location, date, elevation, aspect, and slope angle. The Pro version allows you to filter by publisher (You, Outside Organizations, or Rec Users).
What can I report with Avanet?
You can report your snowpack, snowpit, and weather observations with Avanet using the app on your mobile phone. If your observations are recorded out of cell range, then you can set the app to report your observations once you are back in cell range. If you choose, you can also report snowpit observations using your computer. Either way, observations can also be made private, or shared with specific users.
You can report snowpit information and the results of tests: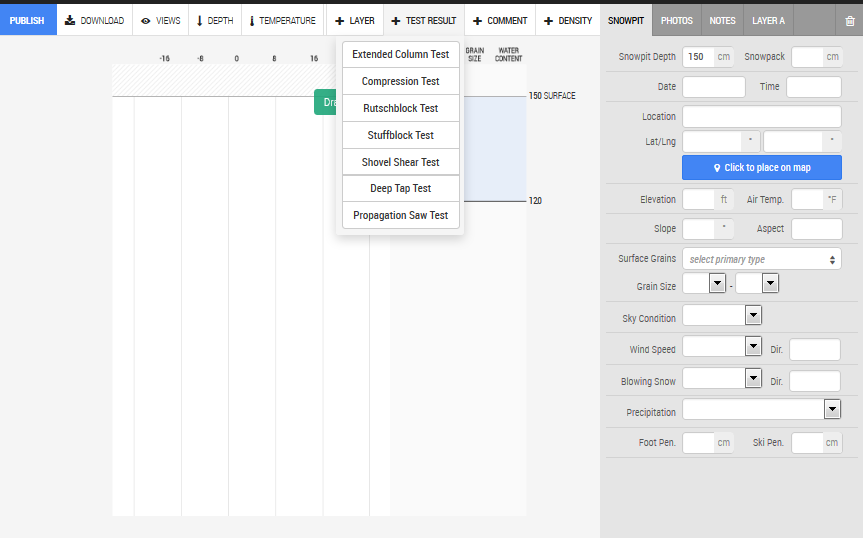 Details of each layer can also be reported: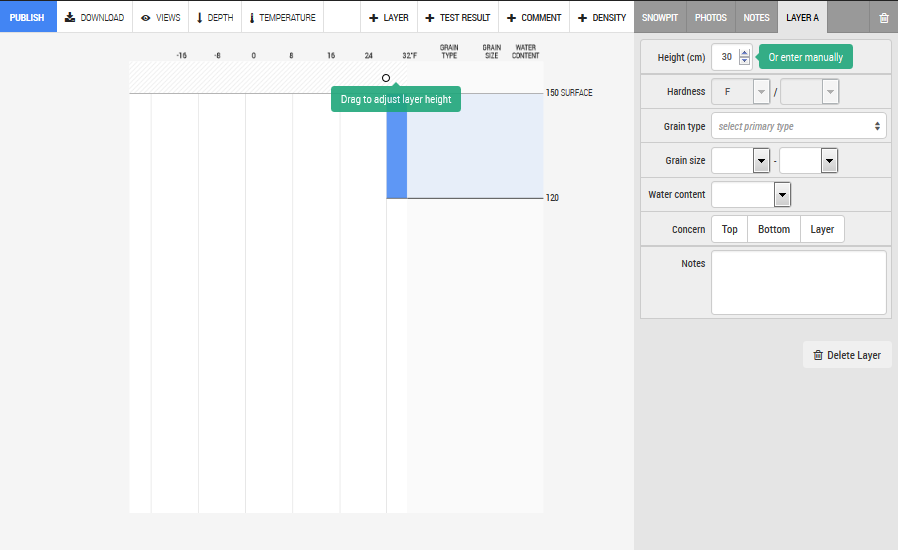 What can I do on my mobile device?
Your mobile device can be used to send and receive real-time snow observations, assuming cell service is available.
Also, depending on the version you have, your mobile can be set to use the route-planning features. Routes can be planned in advance on your computer or phone, or on the fly. If you know you will be venturing out of cell-range, maps can be cached in advance. And, of course, your cell phone can be used for route-tracking as well: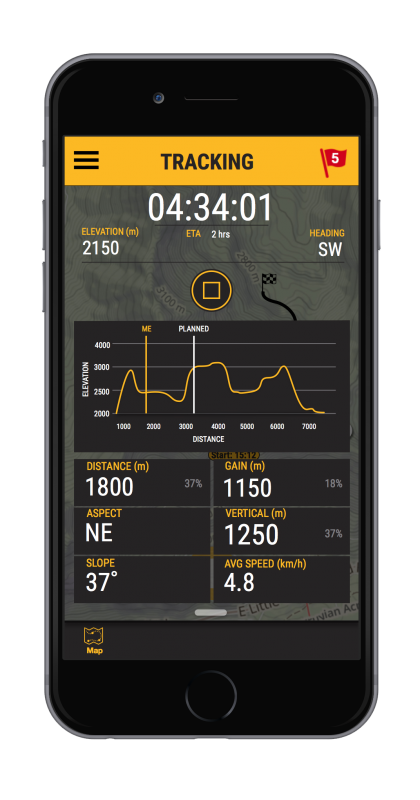 More about the Avanet route-planning tool
Perhaps one of the best features of Avanet is the route-planning tool, available in the Tour and Pro versions. Take CalTopo and Gaia and all the cool maps and mapping apps, tie them into one, enhance them, and you've got Avanet.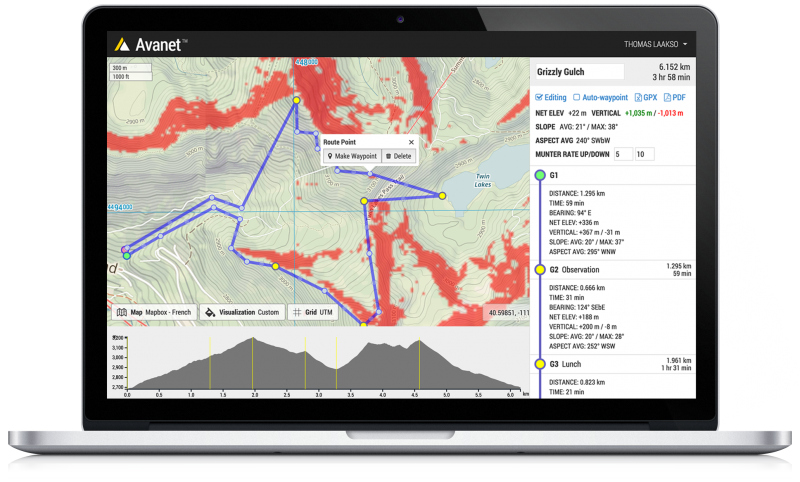 The route-planning tool hosts a number of filters. For example, you can filter by elevation. This is great if you know you want to stay within certain zones, like below treeline: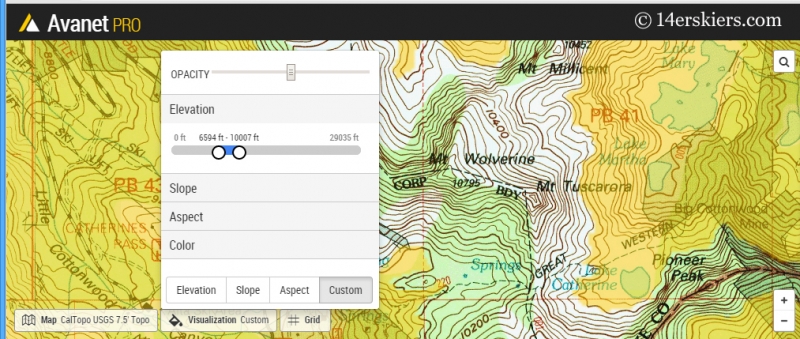 You can also specify a range for slope angle. This map highlights, in yellow, the 25 to 43-degree range which is the sweet spot for a lot of ski zones.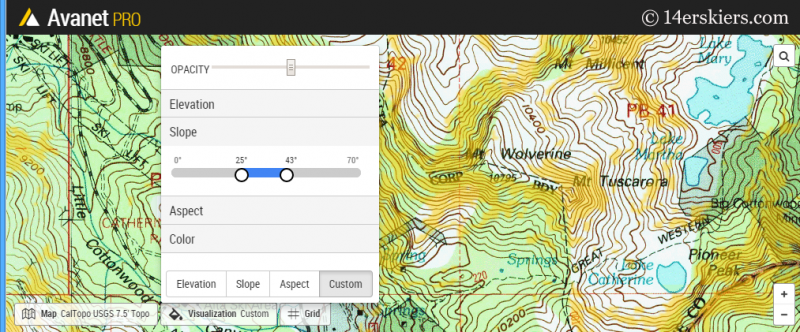 Or on a high avalanche day, you may want to plan your route to be under 25-degrees: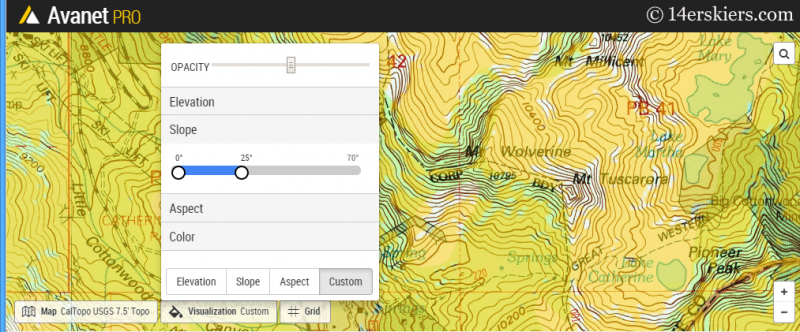 Alternatively, you may prefer certain aspects over others or are trying to avoid certain due to wind-loading or faceting. There's a filter for that too!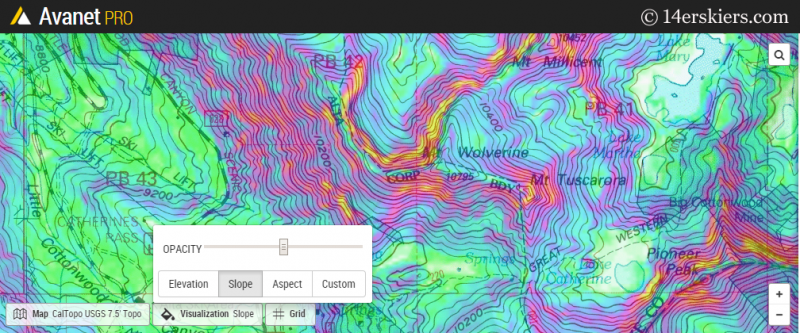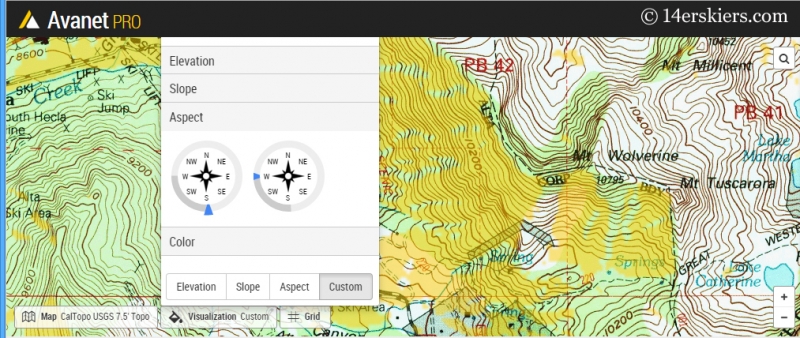 Just like most route-planning tools, way-points are entered and an elevation profile is generated. Total mileage and vertical are tallied. But, the Avanet differentiates itself by using the Munter system to estimate times. Once done, you can download a GPX file for use on a GPS device or other phone. Or, you can download a PDF copy to print and take with you as well.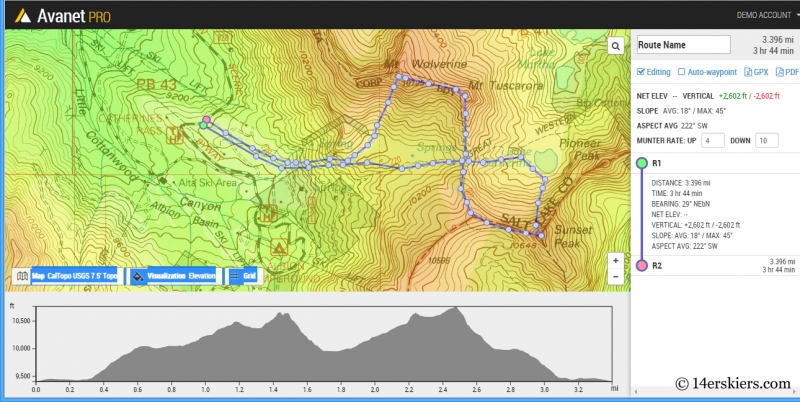 If conditions are different than what you expect or your group is slower than you planned, you will probably need to change your route on the go. To do this, all you need is the app on your phone, and to cache the maps in advance if you are expected to be out of cell phone range.
Why should I become part of Avanet?
As a community of backcountry users, we have a responsibility to be informed and help keep others informed. Avanet provides the perfect platform for all winter backcountry users to share their snow observations. With more data, we as backcountry users can make more educated decisions. Additionally, we can help our local avalanche forecasting centers in creating more accurate snow forecasts.
Professional skier and ski mountaineer Chris Davenport perhaps puts it best: "The more knowledge you have the better. Crowdsourced, real-time information about what's happening in the mountains, in the backcountry, benefits professional forecast centers and backcountry users everywhere. I use Avanet in the field and trip planning, and it's been a game-changer in how I prepare to go into the mountains."
Be smart, be informed, make good decisions. Get Avanet now!
How do I get Avanet?
Find Avanet on avatech.com or download the app on iTunes (currently no Android version available).
Our take on Avanet
Avatech revolutionized snow data-collection with it's SP1 Probe, which has now been upgraded to SP2. But, we believe that opening Avanet to recreational use is perhaps one of the greatest revolutions the backcountry skiing world has seen. Backcountry users will now have the opportunity to make well-informed decisions with wide-spread real-time data. Essentially, we will all become forecasters to an extent.
Avatech first changed the way that snow data can be collected by professionals with the SP1 Probe. Now, Avanet has the chance to be an even bigger game changer if users begin using it on a widespread basis. As our local forecasters (friends of ours) have noted, their forecasts are only as good as the data they have on hand. Avanet should give forecasters more data to work with, and that's a good thing. Areas with heavy backcountry use and decent cell reception, like the central Wasatch, may have a large amount of data- and much of it in real-time. Just imagine if all the dawn-patrollers end up reporting touchier than expected conditions, and how that info can save lives.
So, if you haven't tried the app yet, you should try it now. I mean, there is a FREE version after all! Observe data and make smart, educated decisions. Become an active part of the community and share your snow observations. The more people contributing to this platform, the better. So, get your Avanet on!
Aside from skiing, biking, and all outdoorsy things,
Brittany Walker Konsella
also loves smiles and chocolate 🙂 Even though she excels at higher level math and chemistry, she still confuses left from right. Find out more about
Brittany
!
Latest posts by Brittany Walker Konsella (see all)
Summary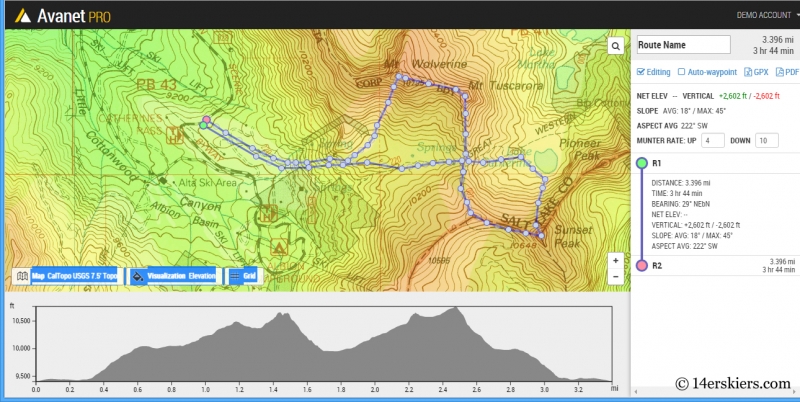 Article Name
Avanet - The App for Backcountry Skiers & Snowboarders
Description
Avanet is an innovative app designed for backcountry skiers & snowboarders to share snow observations as well as plan and track routes in avalanche terrain.
Author