14er TT: Torreys Peak Ski (14 May 2006)
(Last Updated On: January 20, 2015)
This is part of an ongoing series re-telling Brittany's fourteener-skiing story. Look for the reports every Thursday, as part of a Throwback Thursday theme.
My second fourteener that I skied was Torreys Peak. I was joined by friends Dave Bourassa, Lacy Meadows, and Andrew Oscar. None of them knew each other at the time, but they would all become friends. This report is particularly difficult for me to recount as one of these friends is no longer with us. Below, you'll find a slightly edited version of my original report.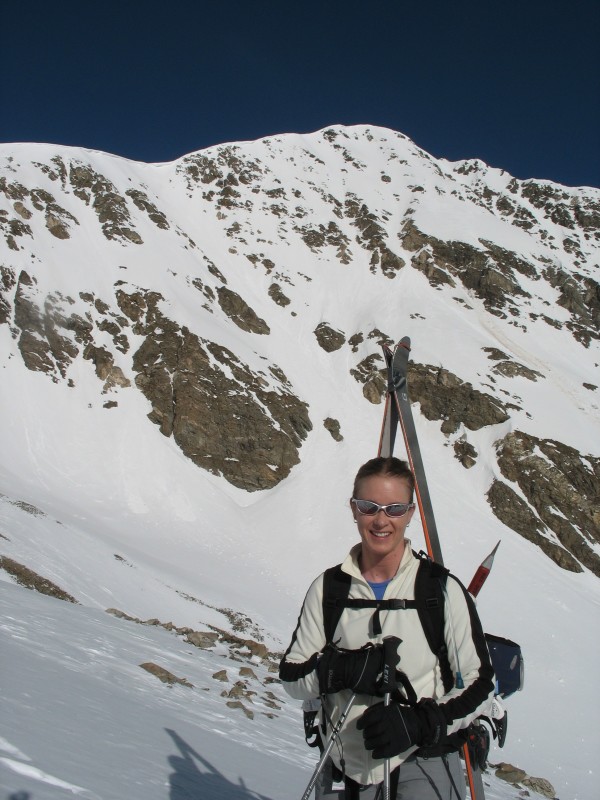 We arrived at the Bakerville exit off of I-70 before 6am. We had heard news that there was an avalanche the day before on Torreys but we didn't know any details, except that it happened around 3pm. We weren't sure which route we wanted to ski down, so in order to give us flexibility, we left one car at the Grizzly Gulch trailhead and parked at the Steven's Gulch trailhead. We left from Stevens Gulch (nearly all of the trail had enough snow to skin on) and followed the trail up to the summit. We skinned for about an hour and then we had to boot pack the rest of the way to the summit. The trail was boot packed well and easy to follow.
Here is a pic of the east side of Torreys. We ascended via the traditional route by heading to the saddle (between Gray's and Torreys) to the lookers left of Torreys. The obvious couloir to the right is the Dead Dog couloir, one of the routes we were considering skiing down, but we ended up skiing another route on the north side of the mountain, not shown in this picture.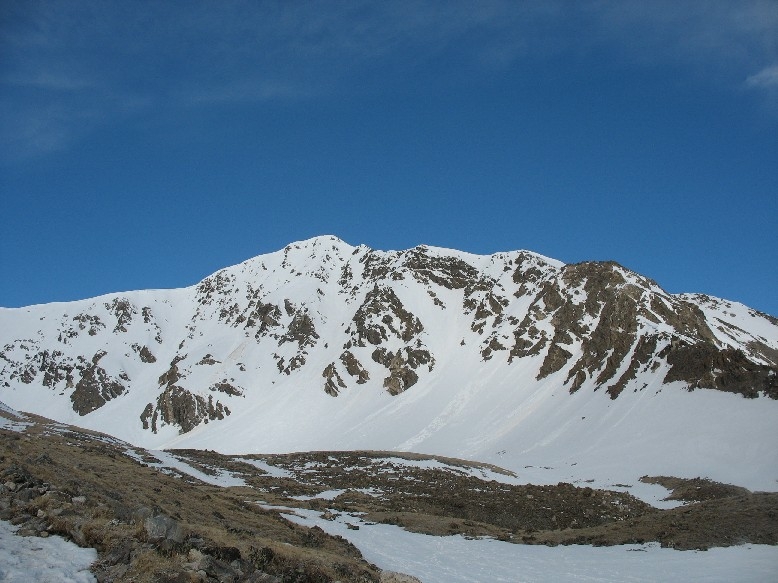 As you can see in the picture above, there is evidence of some smaller typical spring wet slides. But we couldn't see where the avalanche had happened the day before from the hiker. We found out later on that the avalanche was actually created from a hiker falling through a cornice, which caused some snow to fall with him, on Kelso Ridge. The hiker took a good tumble and was taken by Flight for Life to Denver.
Another view of Torreys east face.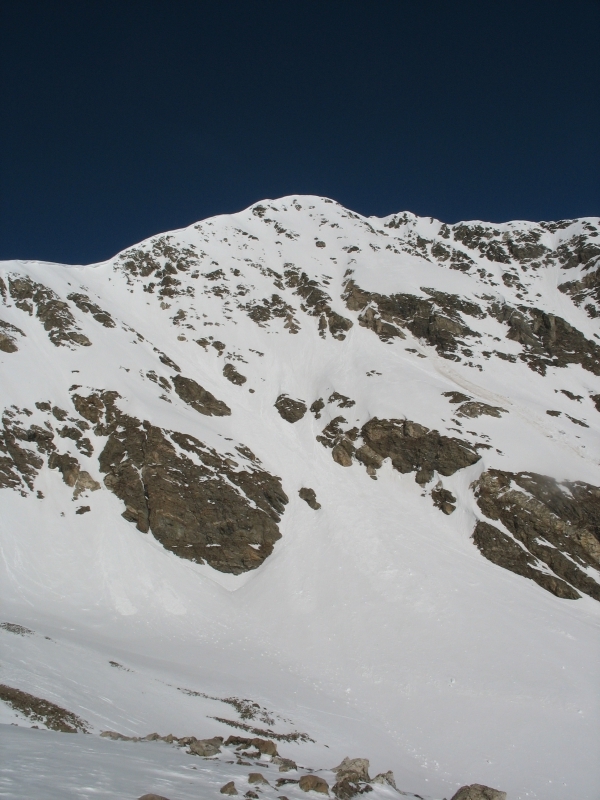 The ridge to the summit… the home stretch!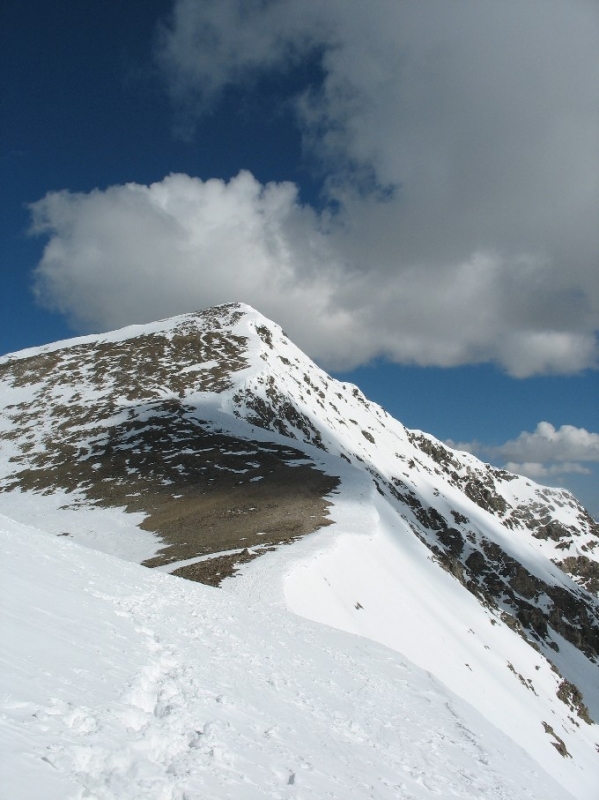 A picture of the four of us at the summit: Lacy, me, Andrew, Dave.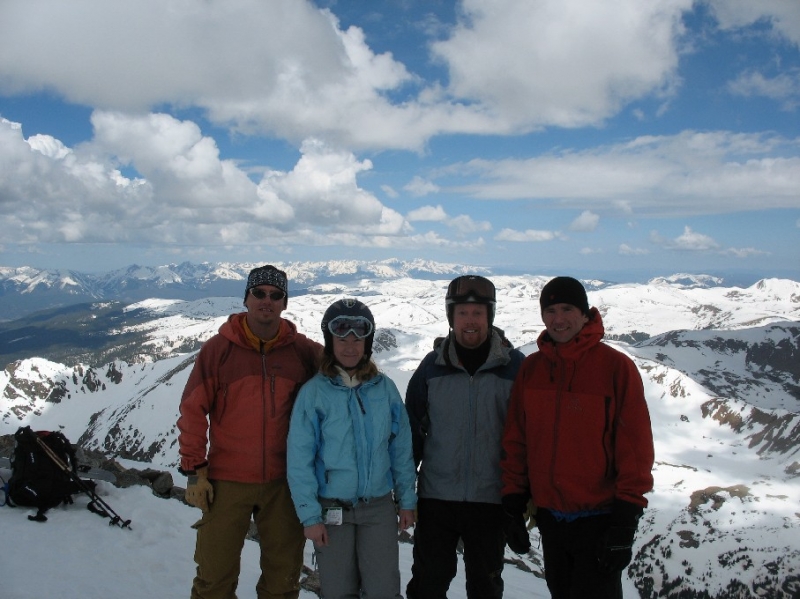 The views from the summit.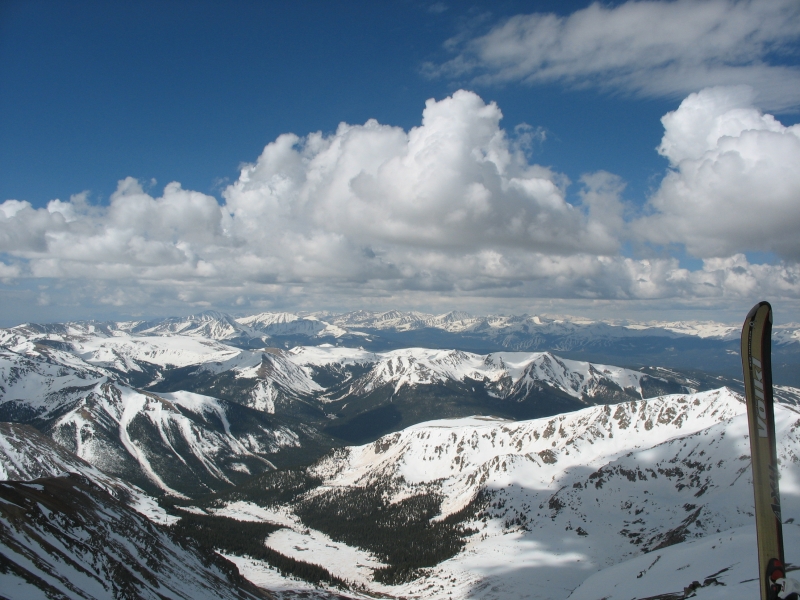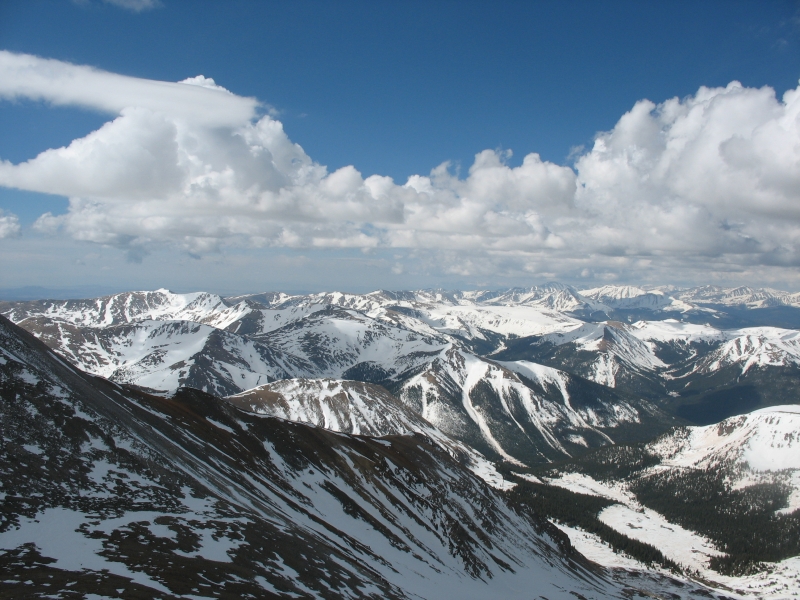 At the summit, we see a snowboarder boot packing up the northwest couloir. Lo and behold it turns out to be Lacy's coworker! Who in the heck runs into a coworker at the summit of a 14er in the middle of winter????? Sheer irony! So, Oliver joined us for the ride down.
Just before we summited, clouds started moving in- before 10 am. We knew that the snow would not soften. We opted to descend the north chutes rather than Dead Dog thinking the snow would be softer. Turns out it was a pretty good ski down! Here's some pics!
Andrew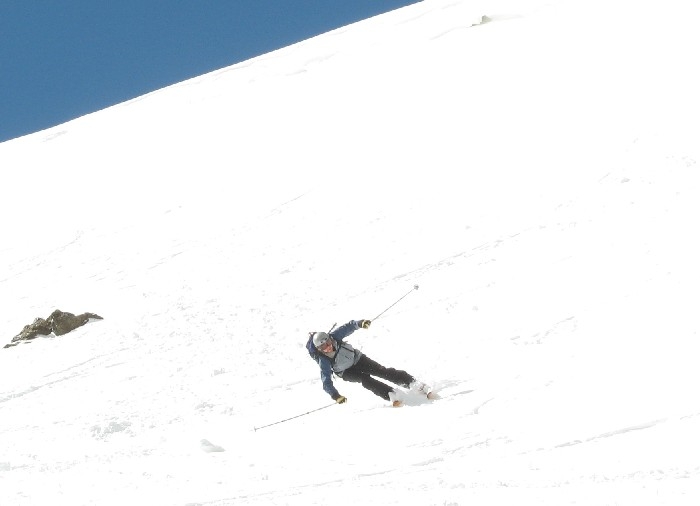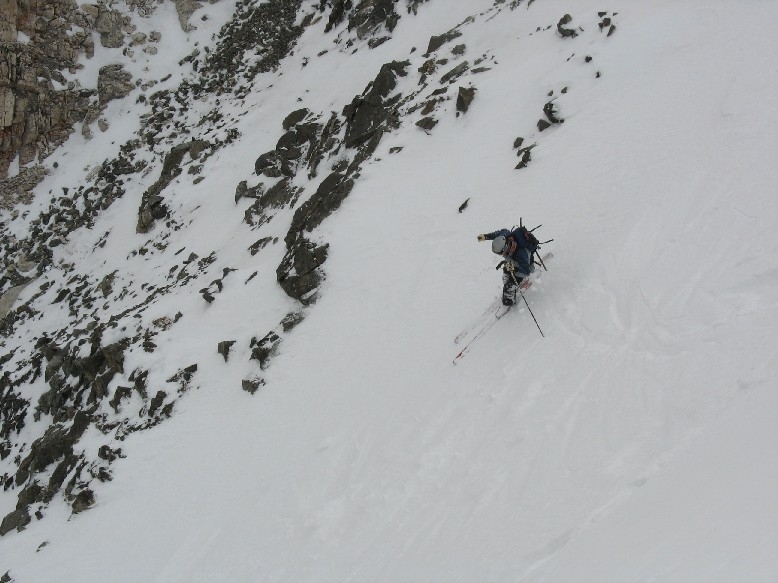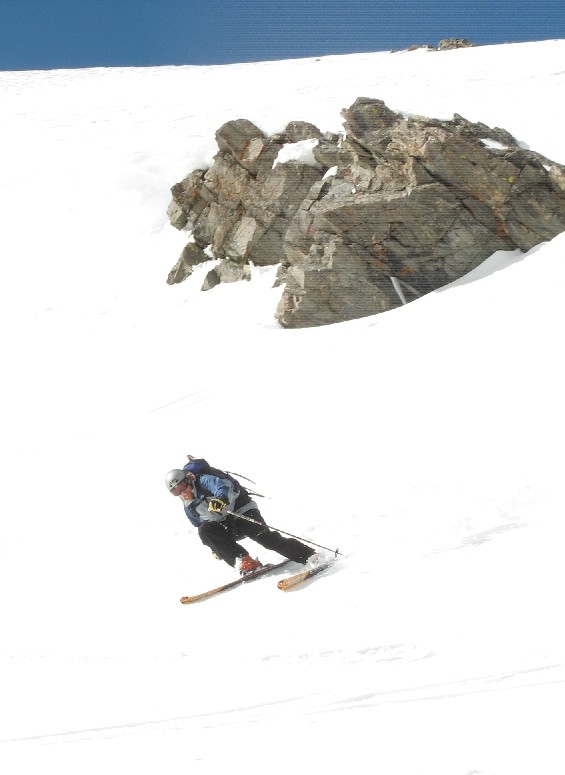 Dave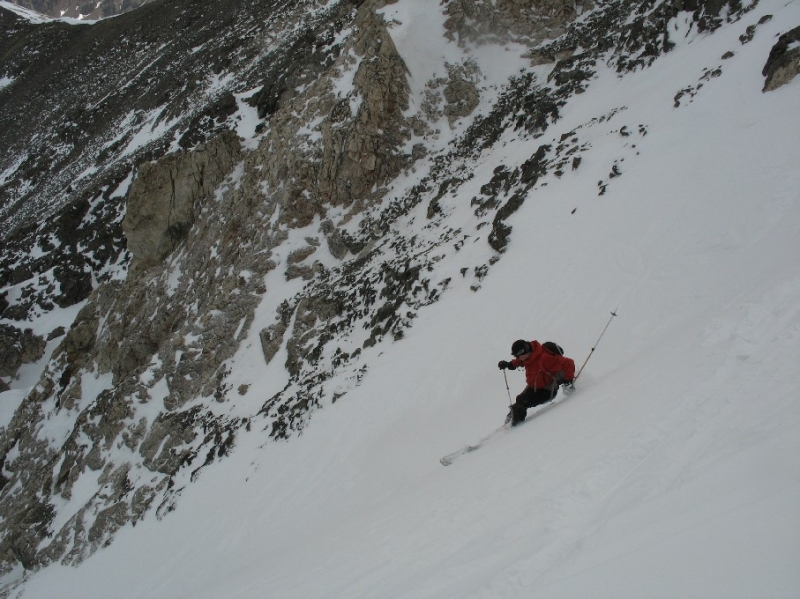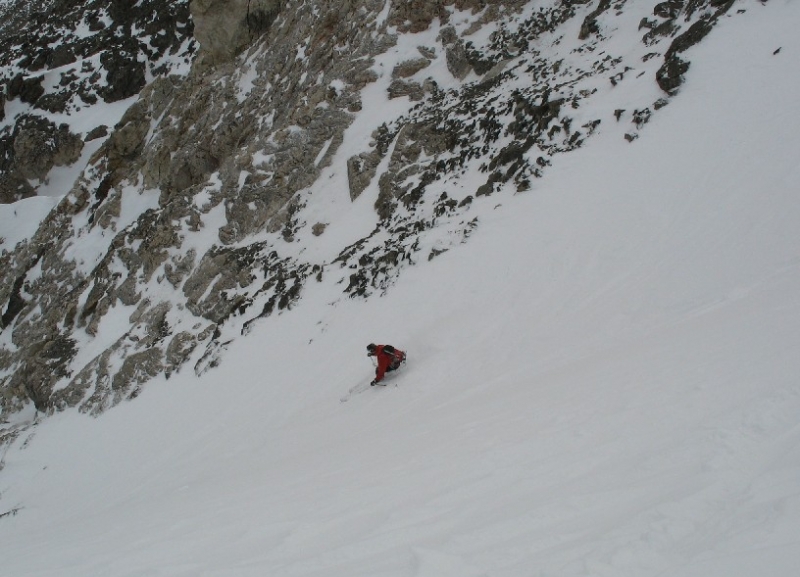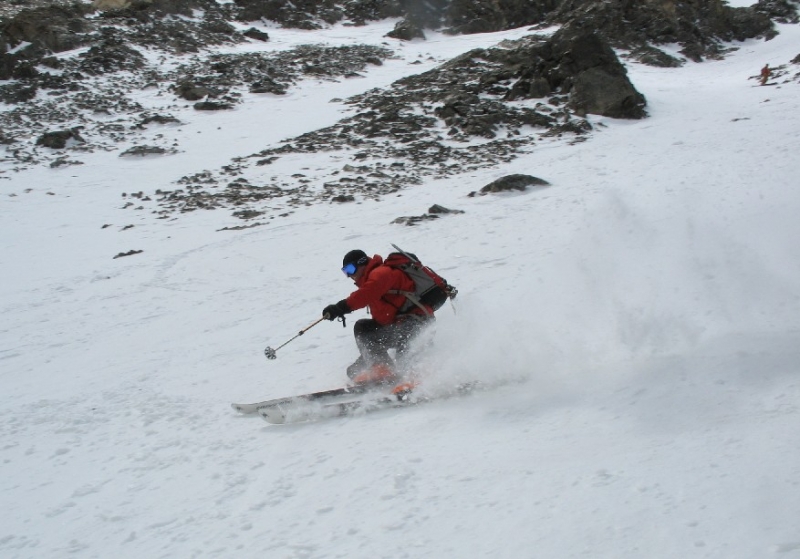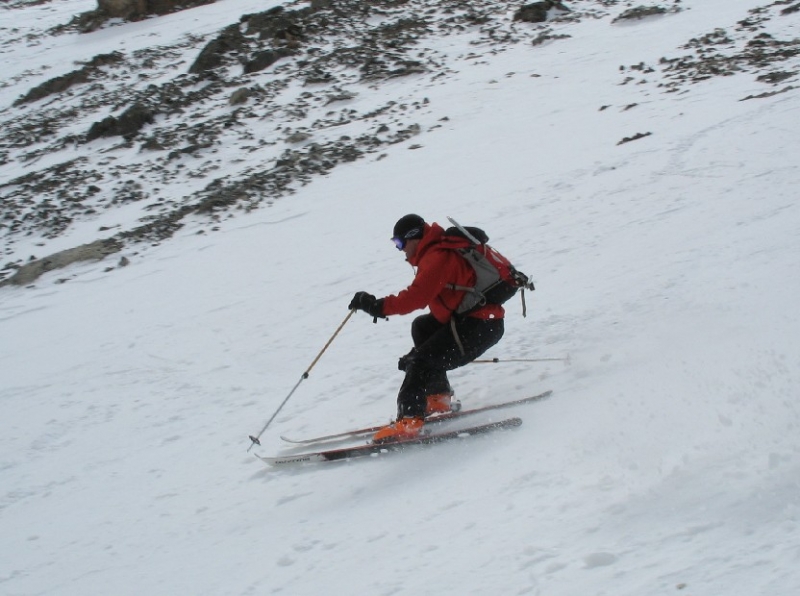 Me.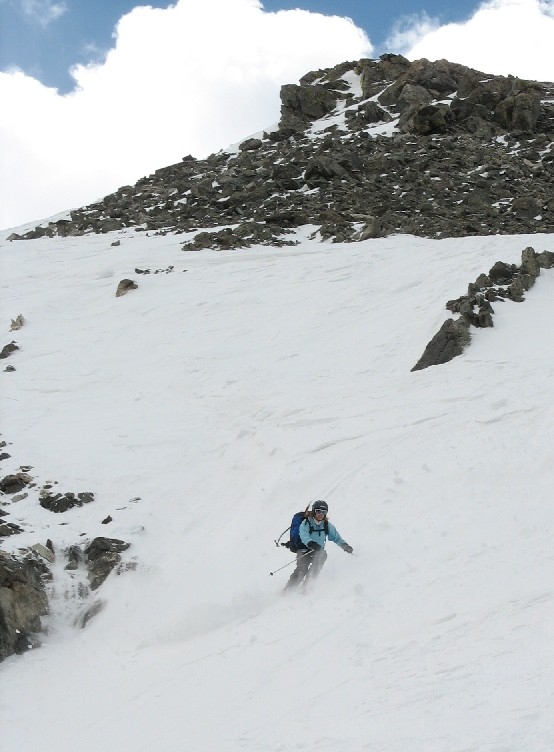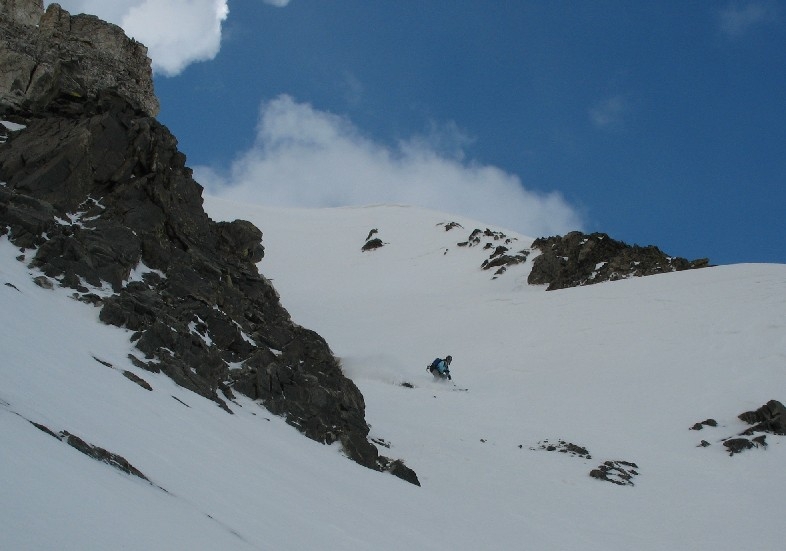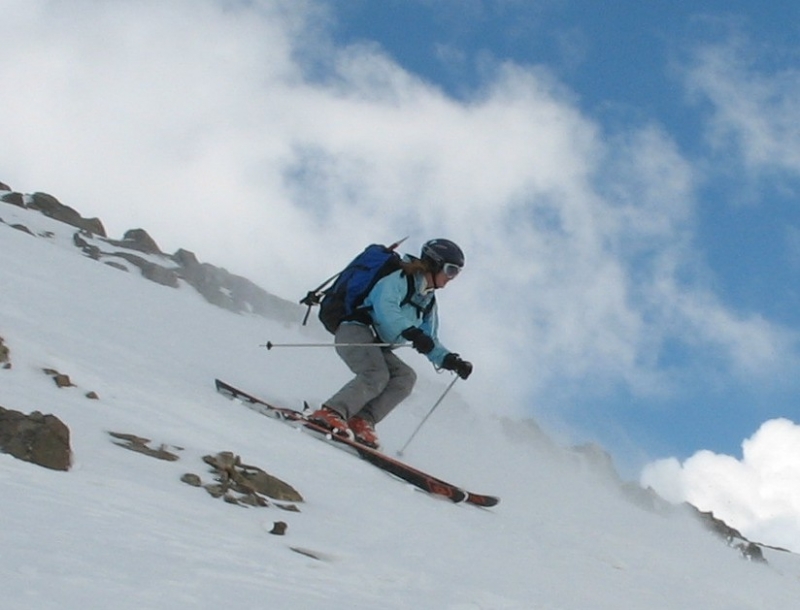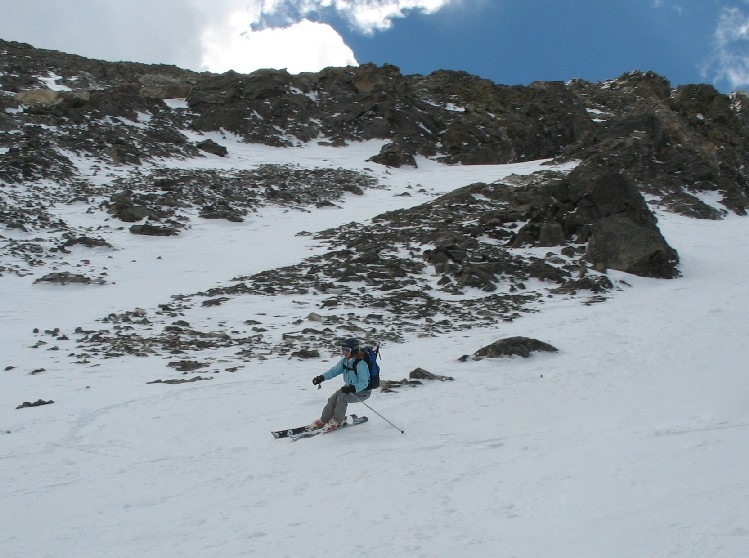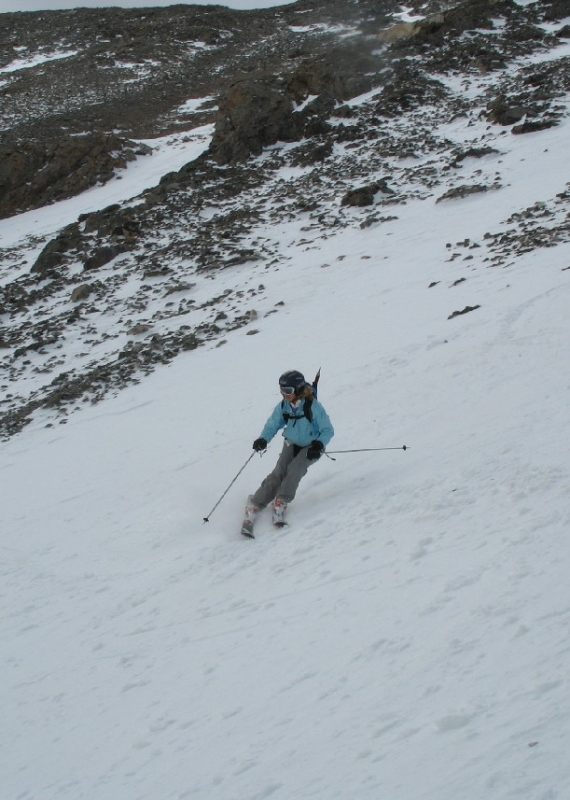 Lacy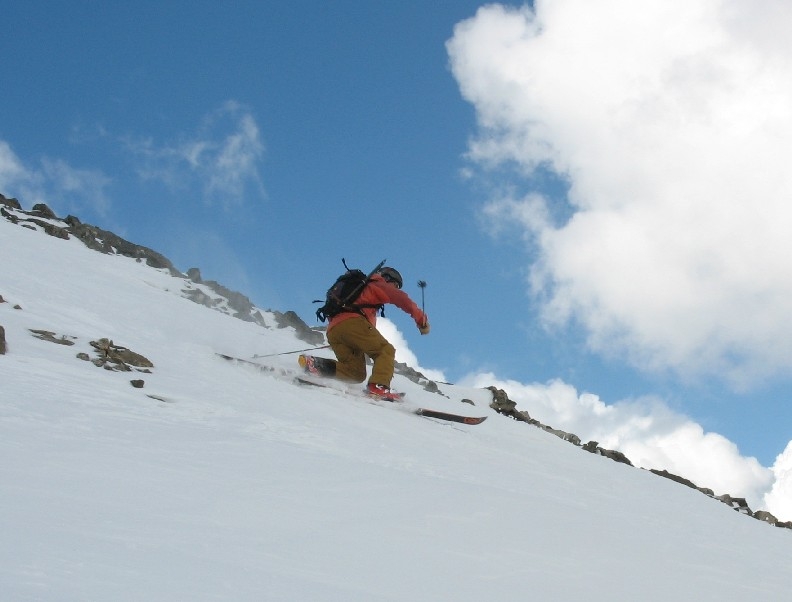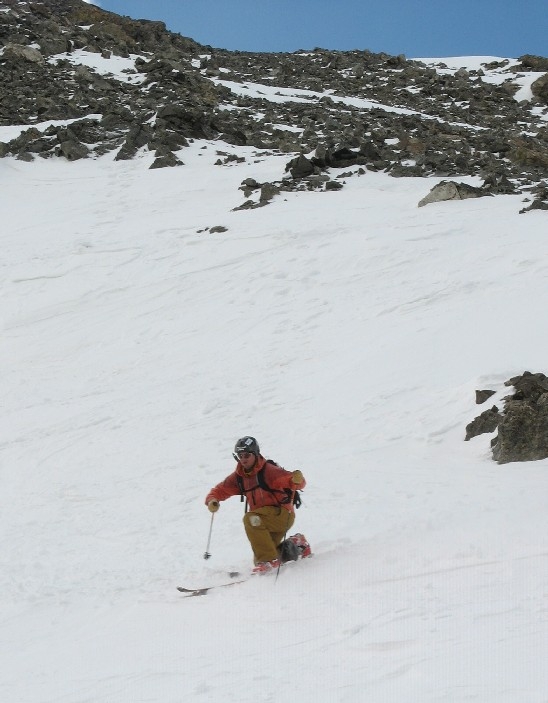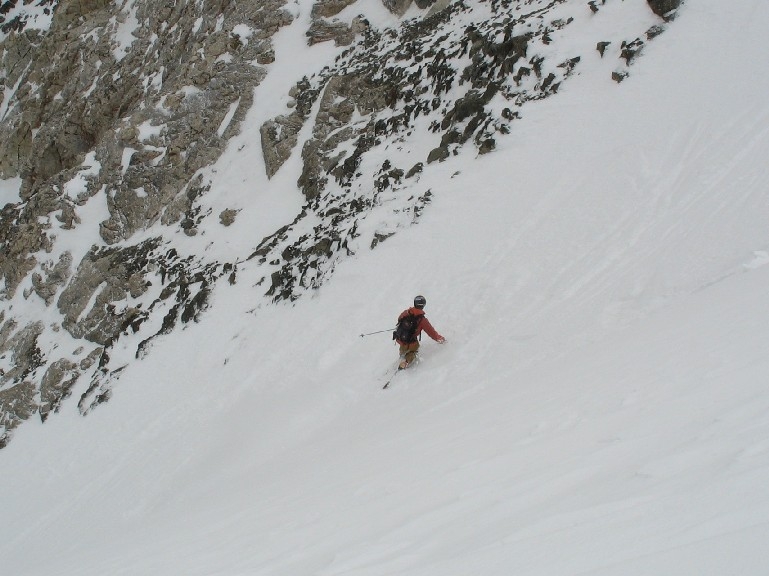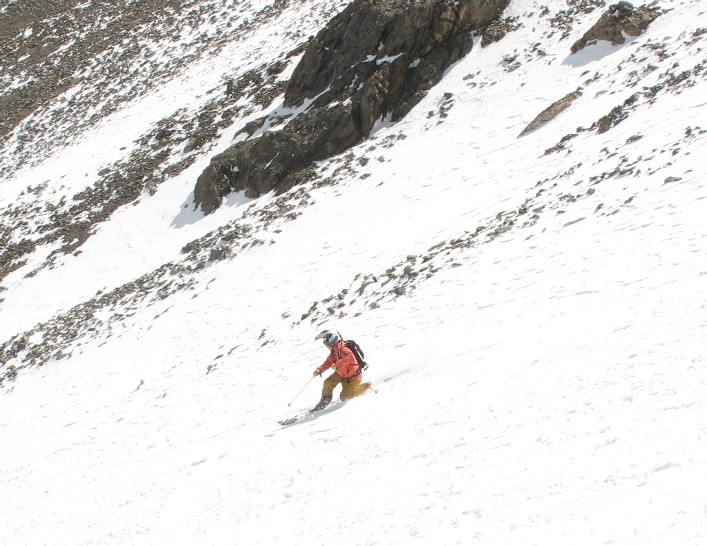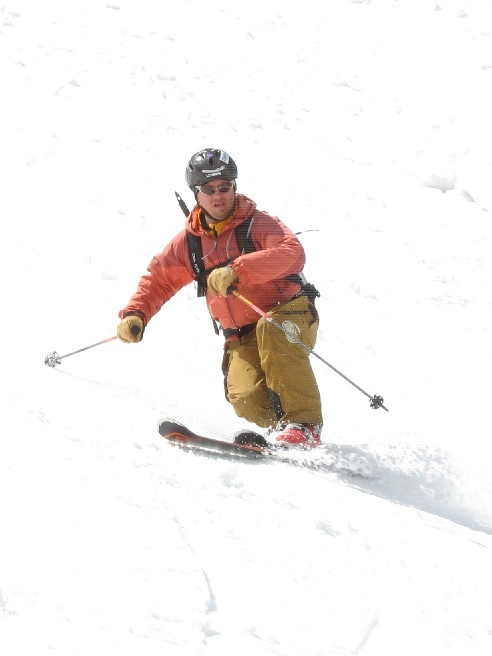 Oliver (Lacy's coworker)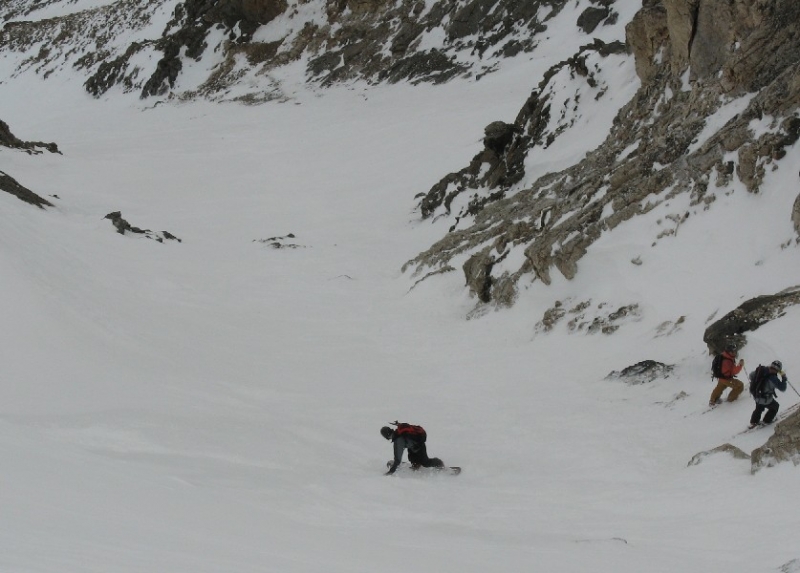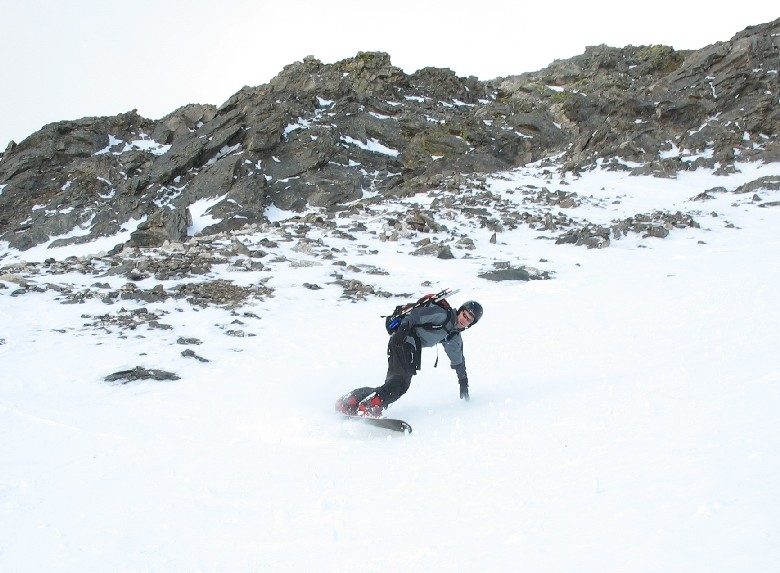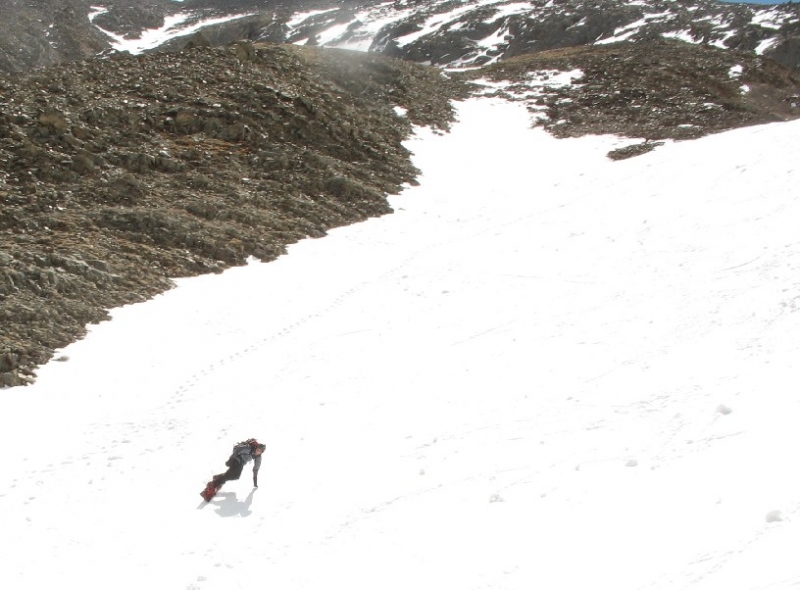 The north chutes took us down to Grizzly Gulch. The road out was a mix of skiing over snow and dirt… crossing the stream a few times, and taking the skis off and putting them back on 20ft later. Here's a pic from the gulch, with another line to tag later in the background.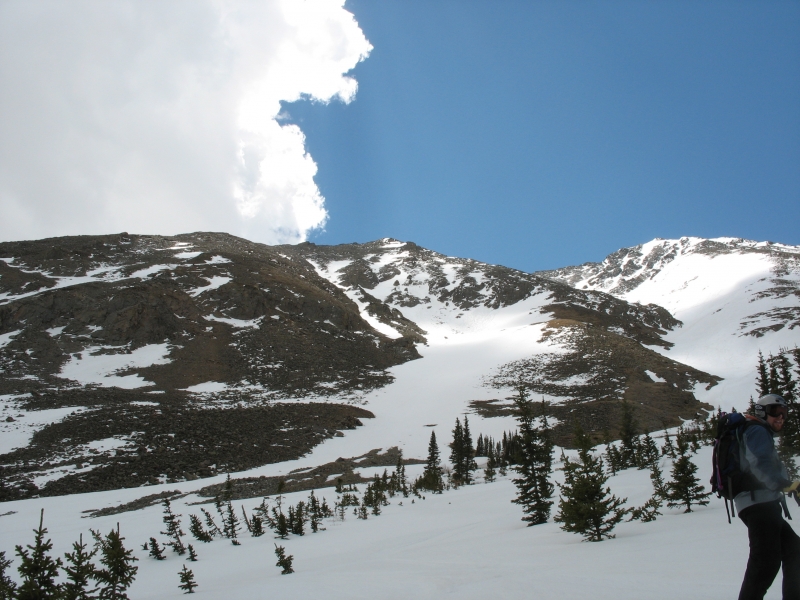 No ski descent is complete without apres-ski celebrations. Most people to a bar at the bottom of a ski area for apres-ski. But we prefer the parking lot. When the parking lot is full of snow, we prefer the road. Lacy.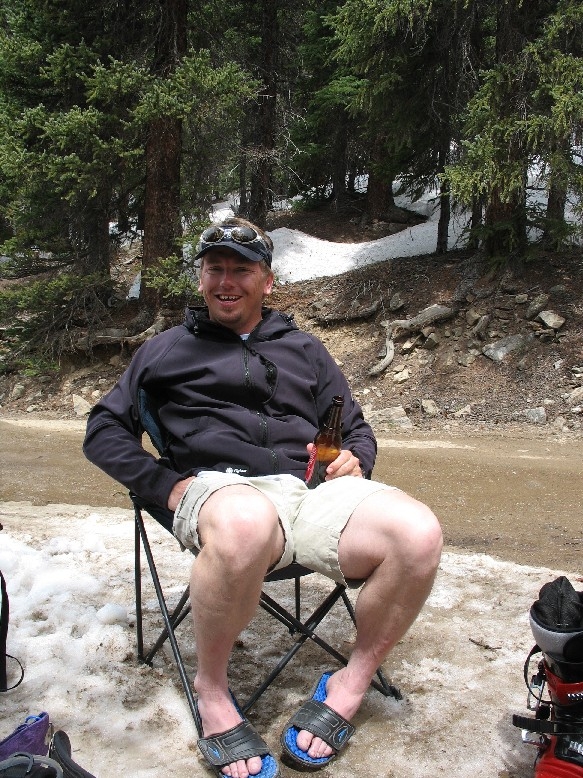 Thanks to the group for making it a fun day!!!!
Looking Back
Torreys Peak is a classic ski and I am glad that I put it as one of the first on my list. It was a much easier day than I experienced on Princeton, my first fourteener.
Andrew and Dave would go on to become good friends over the years. Lacy and Dave would ski more lines together too. Lacy, however, perished in a ski-related accident in Rocky Mountain National Park in July, 2010. But, I believe he kept skiing peaks with me even after….. We miss you Lacy!
For those of you who knew Lacy, we still have commemorative stickers to honor his life. Please contact me if you would like one.

---
Like this report? See more of
Brittany's 14er skiing journey
.
Aside from skiing, biking, and all outdoorsy things,
Brittany Walker Konsella
also loves smiles and chocolate 🙂 Even though she excels at higher level math and chemistry, she still confuses left from right. Find out more about
Brittany
!
Latest posts by Brittany Walker Konsella (see all)