In Loving Memory of Lacy Meadows
(Last Updated On: December 11, 2014)
his blog has been silent now for over a week. Last week, I attended a Wilderness First Aid course (more on that later). But, this week, we are mourning the loss of our beloved friend Lacy Meadows.
As I was driving back to Crested Butte from the Denver area on Sunday, I quickly checked Facebook on my phone and learned that Lacy had gone missing. On Saturday he had headed out for a solo ski trip in Rocky Mountain National Park. He was supposed to check in with our friend Kim Ross when he returned. But the check in never came. On Sunday morning, rangers at RMNP were alerted and Lacy's car was found. So, Search and Rescue was then sent out. They found Lacy's body below a snowfield above Cony Lake in the Hutcheson Lakes drainage near the southern boundary of the park, about 10 miles from the nearest trailhead.
News spread quickly, mostly because 9News reported it in their evening report. And all who knew Lacy were devastated.
It always seems like the mountain takes the good ones, doesn't it? After loosing our friend Jack Hannan in an avalanche this past March, this all just seems like too much. Times like this make me contemplate what we are doing in the backcountry. Yes, I feel like Frank and I make generally safe decisions, but risk is still there. Still, there is just as much risk in driving your car to and from work every day. We can't live our lives in some over-precautionary mode. If you do, then you'll never really enjoy the life you have, even if it lasts a long time. Lacy lived every day of his life to the fullest, packing more in his 40 years than most do in a lifetime. His death is a painful reminder to enjoy every moment of your life, and to appreciate the time you have to spend with your friends or family- because you never know what can happen – to anyone.
In the Edge of Never, Anselme Baud talks about the death of his own son. "It's a beautiful life. And the mountain is here. You have to take the best of the mountain and follow life."
Lacy was an amazing person. I'll quote what I said to a Daily Camera reporter: "Lacy was an avid and passionate skier, both inbounds and in the backcountry. He had unending energy that resonated with each and every person he met," she said. An honest soul and a great friend, Lacy lived and loved every day of his life to the fullest."
But, pictures capture Lacy the best:

In Loving Memory of Lacy Meadows from 14erskiers on Vimeo.
My last ski trip with Lacy was last month, with Kim, on La Plata.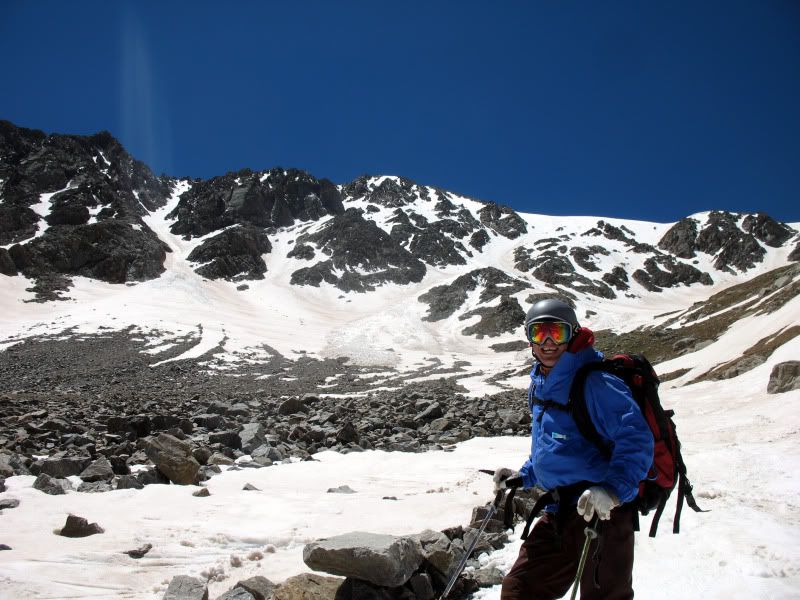 Lacy was stoked.
Even now, I still hear Lacy's voice. I hear it when I sleep, I hear it when I ride, I hear it all the time. I can hear his laugh, and picture his quirky smile. I can picture him skiing, and I know that's what he must be doing in heaven. RIP Lacy. You will be missed.
Lacy's memorial service will be held Sunday August 1st at Loveland Ski Area from 10am-2pm. It will be a potluck.
Link to the Evite
Also, we are selling commemorative stickers for Lacy. Check out Lauren's website for the design options and contact me if you would like to purchase one. I particularly like the "Love like Lacy"- because Lacy loved every day of his life to the fullest, and it's a reminder for us to do the same.

We will be doing more to help keep Lacy's memory alive. Stay tuned.
Update December, 2014: We still have commemorative stickers to celebrate Lacy's life – the one shown in the picture above. If you would like a few of these stickers, please contact me.
Aside from skiing, biking, and all outdoorsy things,
Brittany Walker Konsella
also loves smiles and chocolate 🙂 Even though she excels at higher level math and chemistry, she still confuses left from right. Find out more about
Brittany
!
Latest posts by Brittany Walker Konsella (see all)