14er TT: Mount Princeton (22 April 2006)
(Last Updated On: January 20, 2015)
This post is the beginning of a series of 14er-skiing Throwback Thursday reports. Last week, I described the intention of these reports. But, I'll give you a summary. We are called 14erskiers. Yet, most of our fans were gained as we neared the end of our fourteener skiing goal, or even after. Because of this, most of our fans really don't know much about us actually skiing the fourteeners – the project that defined us. So, I will be revisiting a fourteener every Thursday, so that my fourteener skiing journey is reshared with you – from beginning to end, peak by peak. And for those of you who knew us from the beginning, well, a bit of nostalgia is always kind of nice 🙂
This is part of an ongoing series re-telling Brittany's fourteener-skiing story. Look for the reports every Thursday, as part of a Throwback Thursday theme.

Mount Princeton seen from near Buena Vista.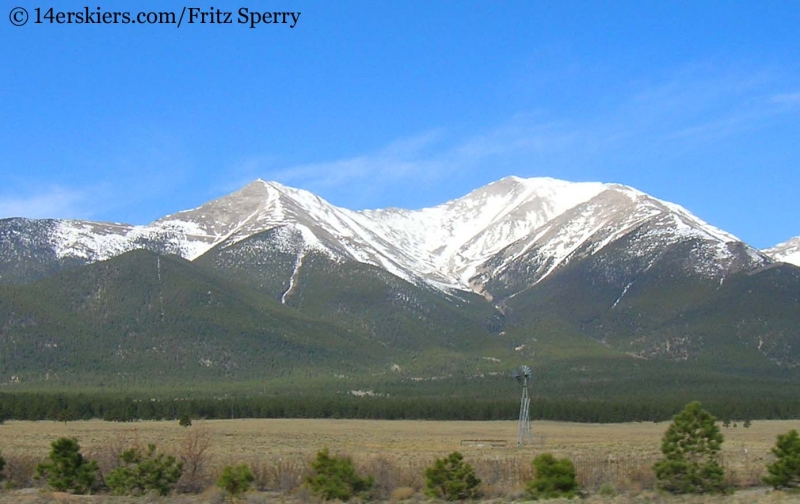 Mount Princeton was my first fourteener that I'd ever skied. I'd climbed Long's and Pikes Peak before. But, at the time, I didn't really even know the names of all the fourteeners. But, I knew I wanted to ski them.
It happened sort of by chance. It's not like I was wanting to start with a peak like Princeton. Something like Torrey's or Quandary probably would have been easier to climb and a higher quality ski. But, Fritz was looking for a partner to ski Princeton, and I wanted to ski fourteeners. So, it just made sense.
It was one of those whirlwind sort of days. I had already been skiing in the Summit County area and stayed with a friend that night. Fritz drove up from Denver to pick me up and we headed on over to Buena Vista. We drove up toward Frontier Ranch and drove as far as we could until we hit snow, which ended up being pretty high at just under 11,000′.
Fritz Sperry is his name. But, his other name is Killing Cokes. So, it was only natural that Fritz killed a Coke before we began climbing.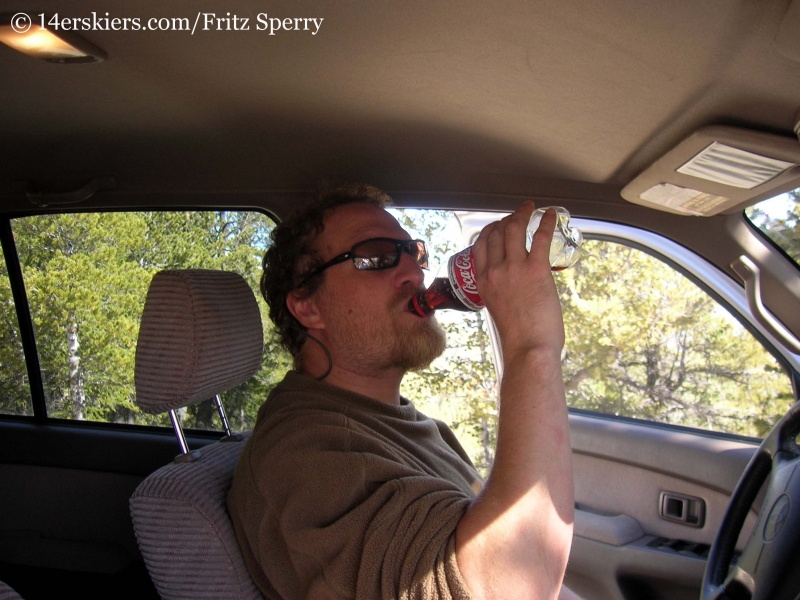 Our hike quickly revealed our eventual ski line.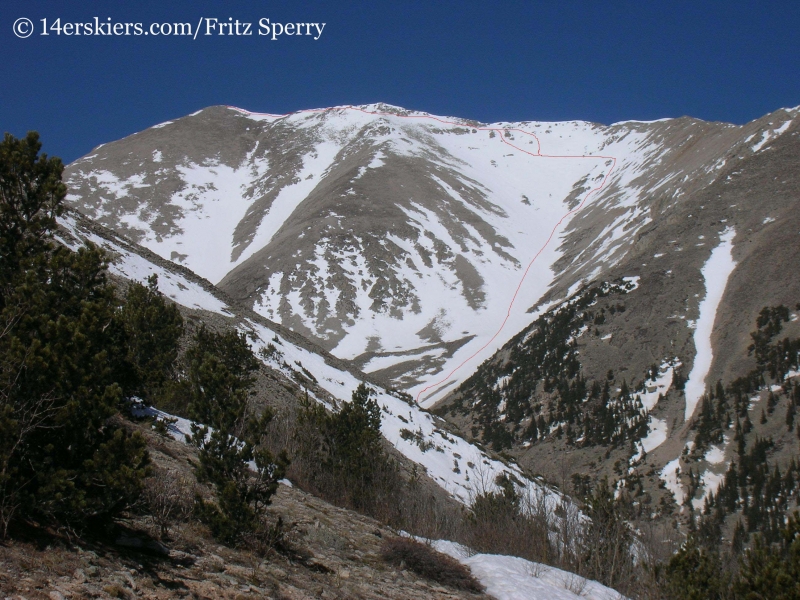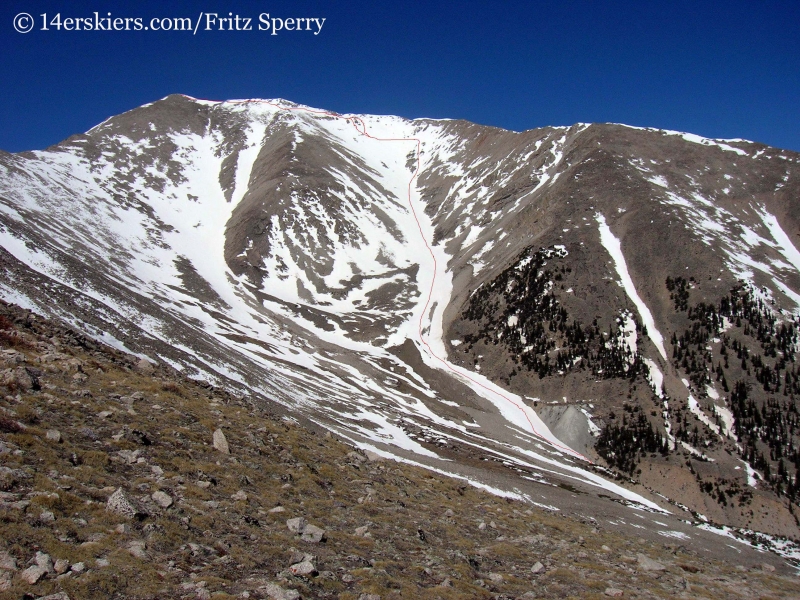 To be honest, we started pretty late in the day for climbing a fourteener in April. But, we didn't spend a whole lot of time on snow from the get go. Instead, we spend the majority of time climbing through scree in our ski boots.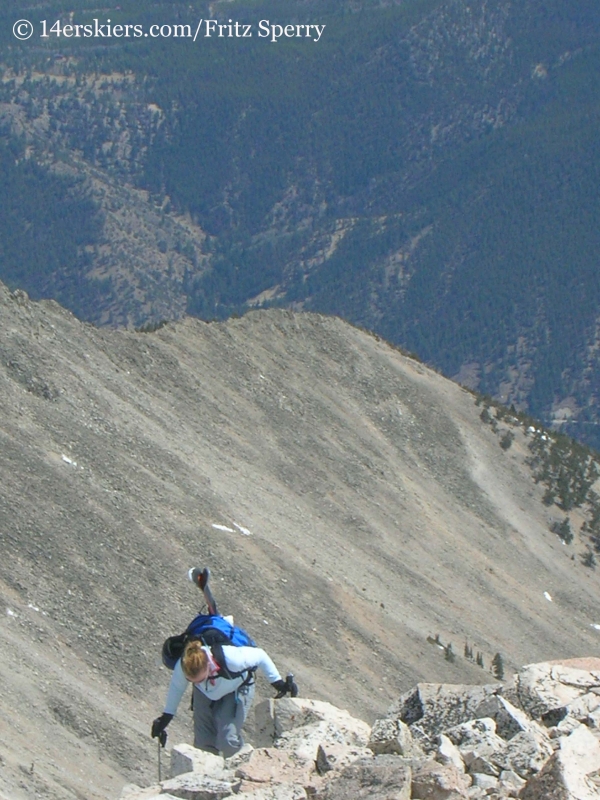 Yep, there sure was a lot of rock.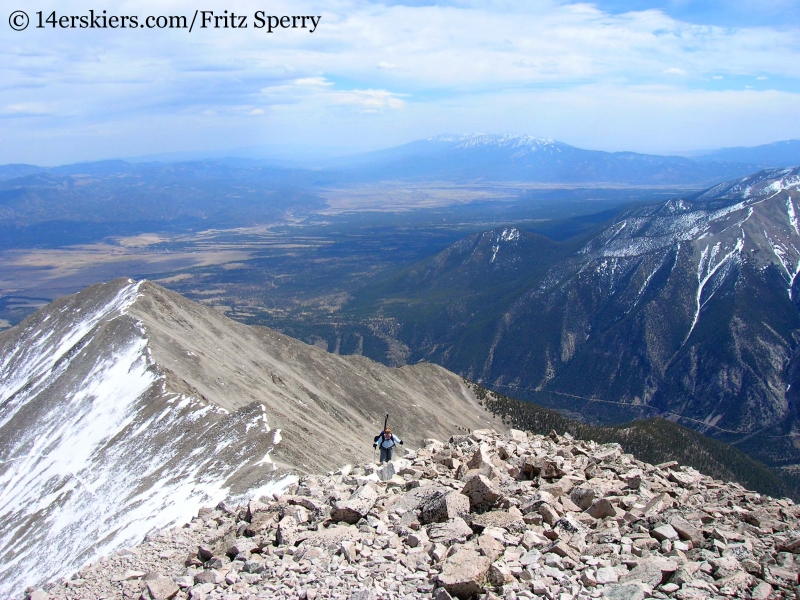 Fritz snapped a picture of me on the summit.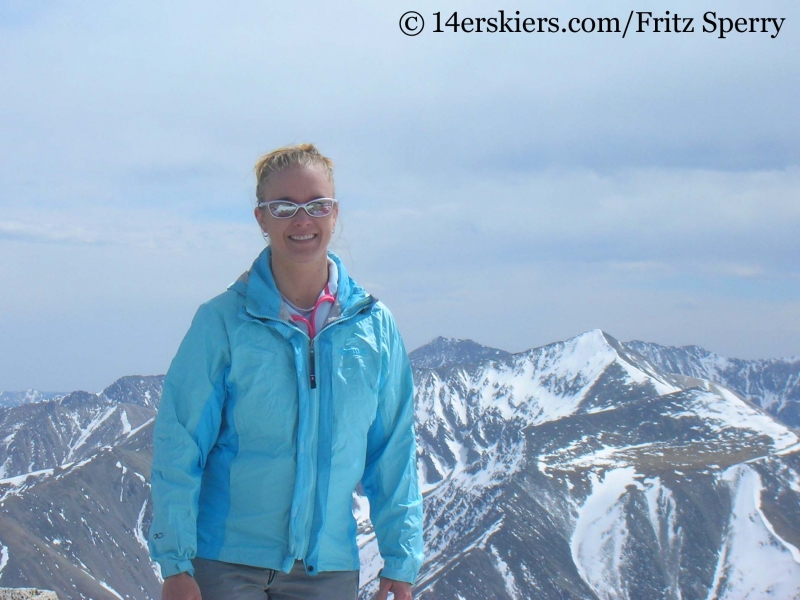 Lines for another day.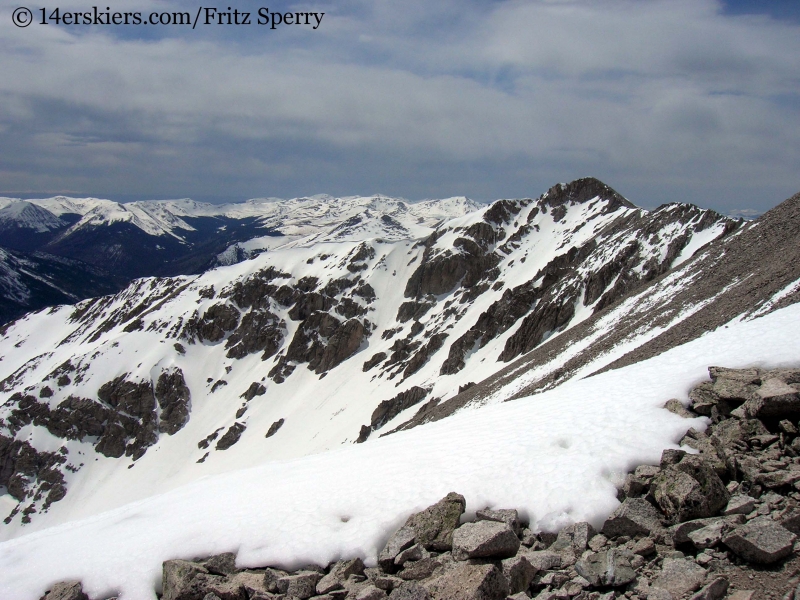 Then, Fritz handed me a camera. He wanted me to take pictures of him as we skied. Specifically, he wanted me to take a picture of him skiing off of the summit.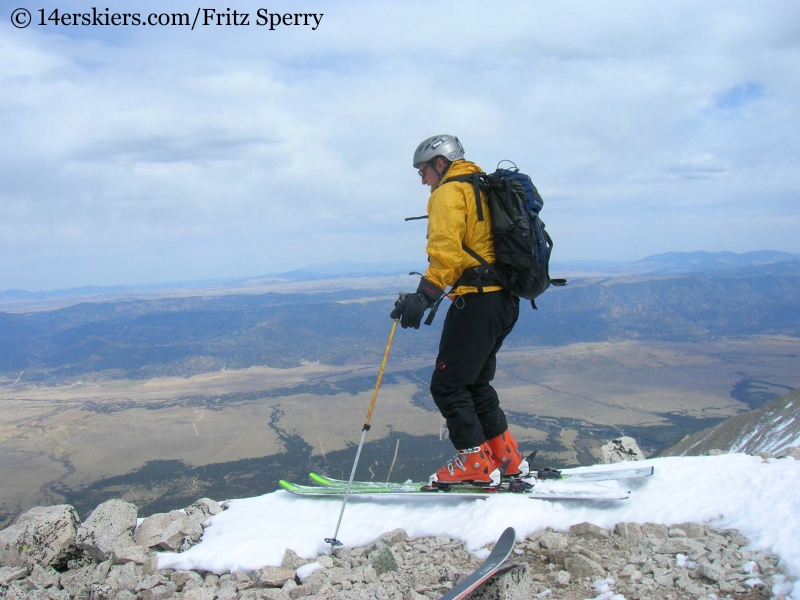 I wondered what all the fuss was about…. I mean, really? There was hardly any snow at the summit. Yes, there was snow, but it was just a tiny strip. So, why would we take pictures of skiing that? It was all about documentation. Something I was just beginning to learn….
I remember the skiing being actually fairly good. Fritz.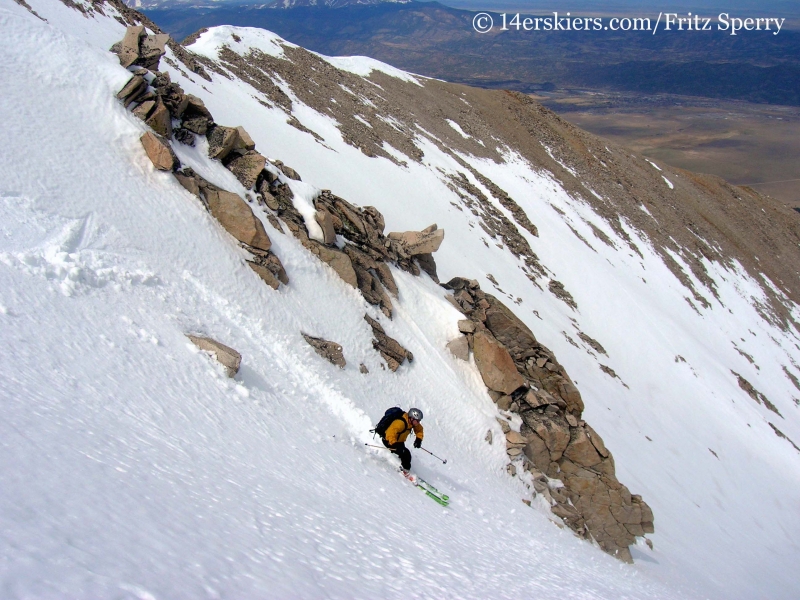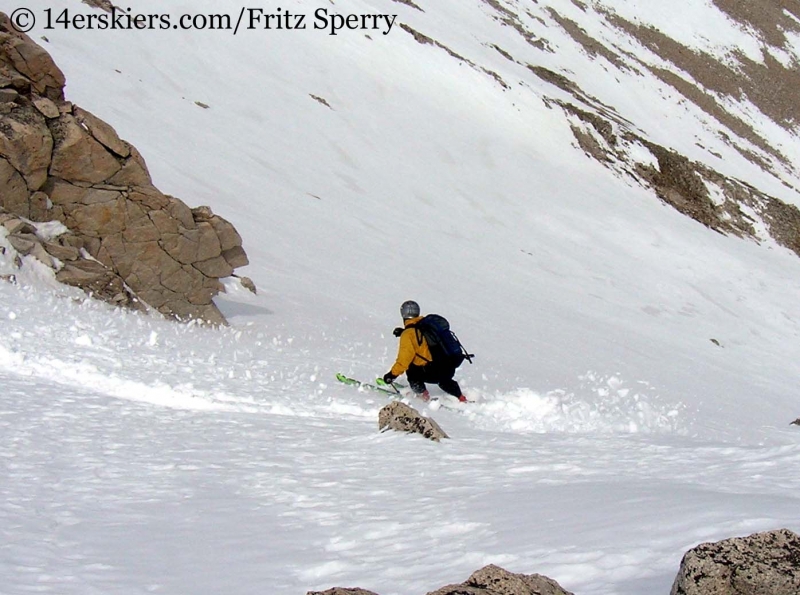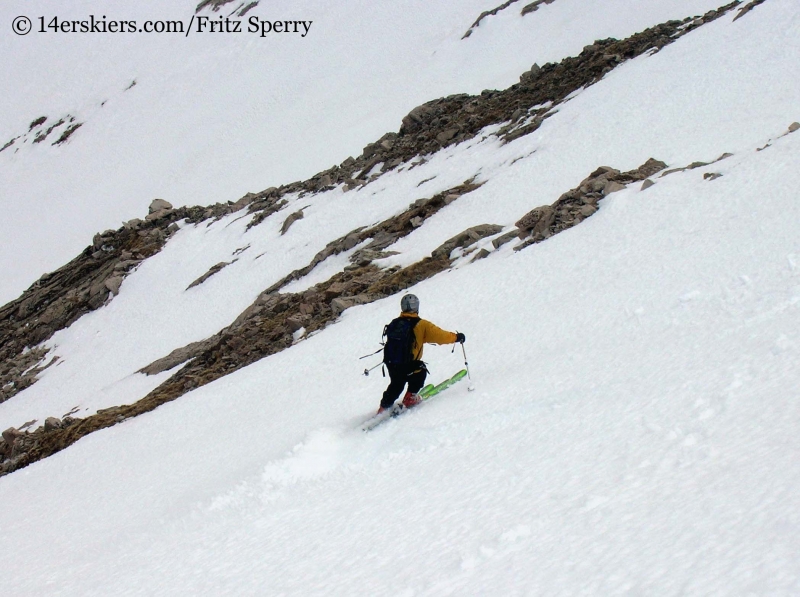 Me.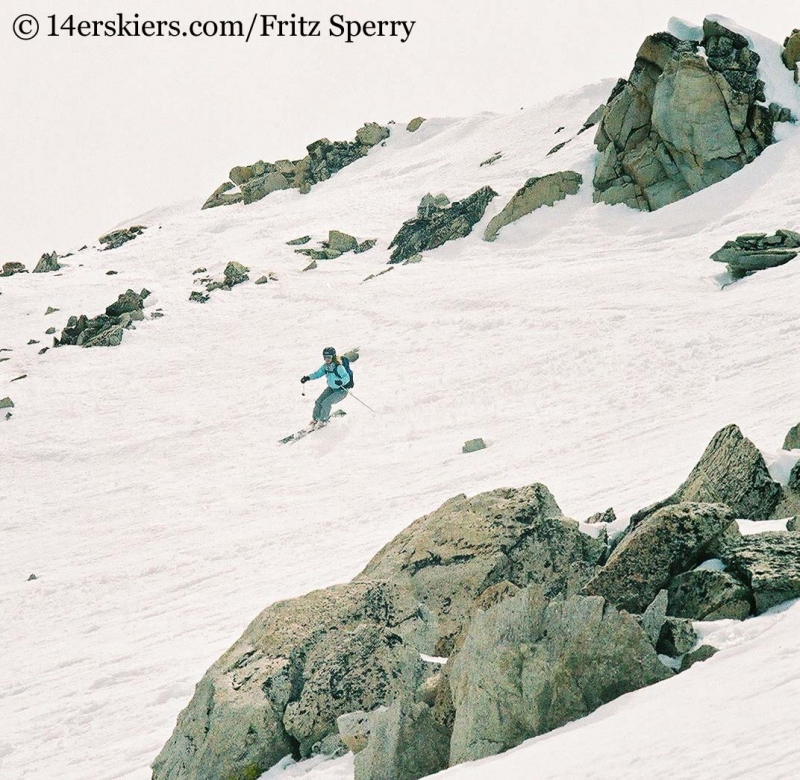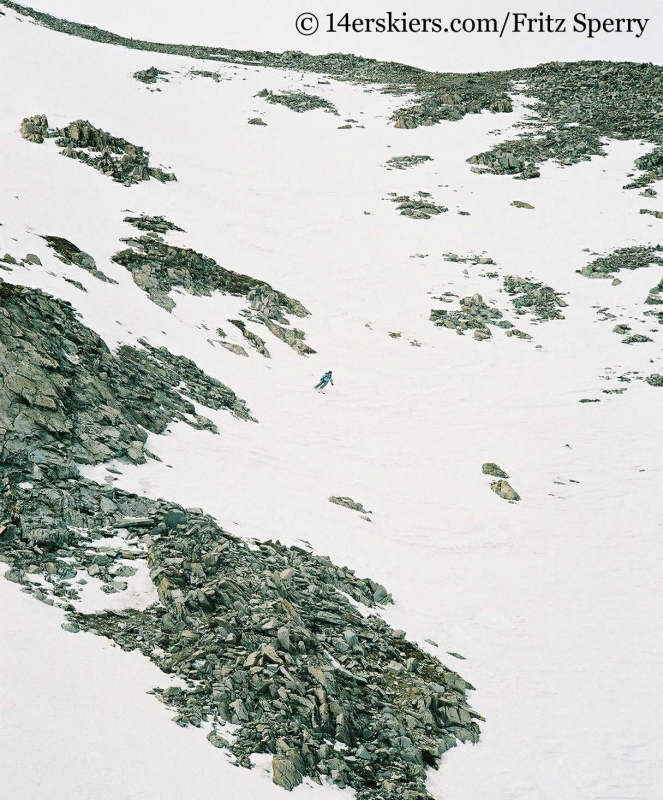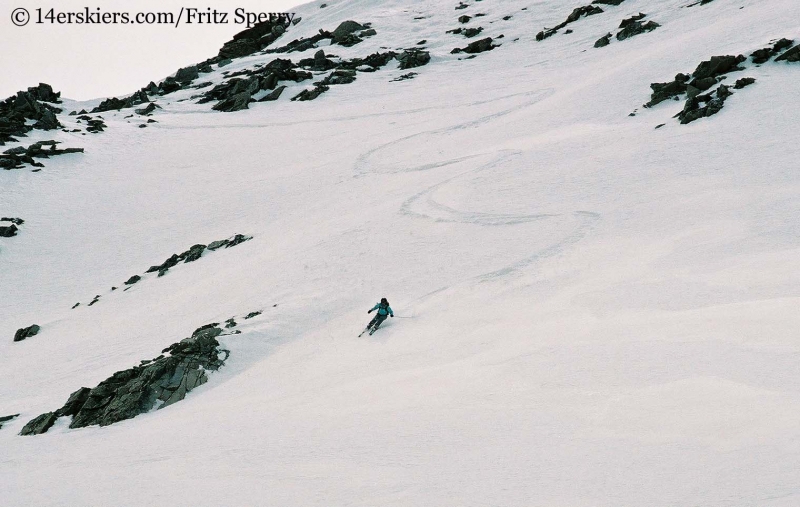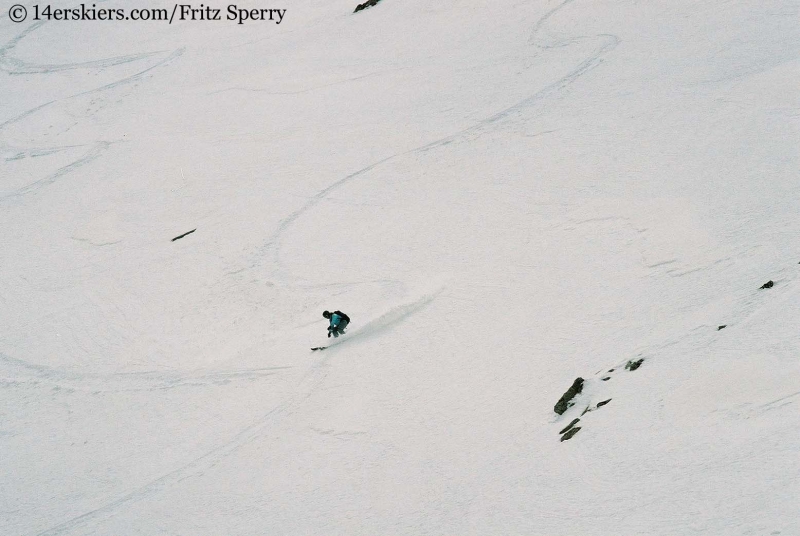 We did not ski the line until the snow ended. Rather, we skied until it made sense to stop and the line flattened out. We had to re-gain the ridge to climb to the other side. So, we skied to a point where climbing to the ridge would be relatively easy. This amounted to skiing just under 2000′. A view from our hike out.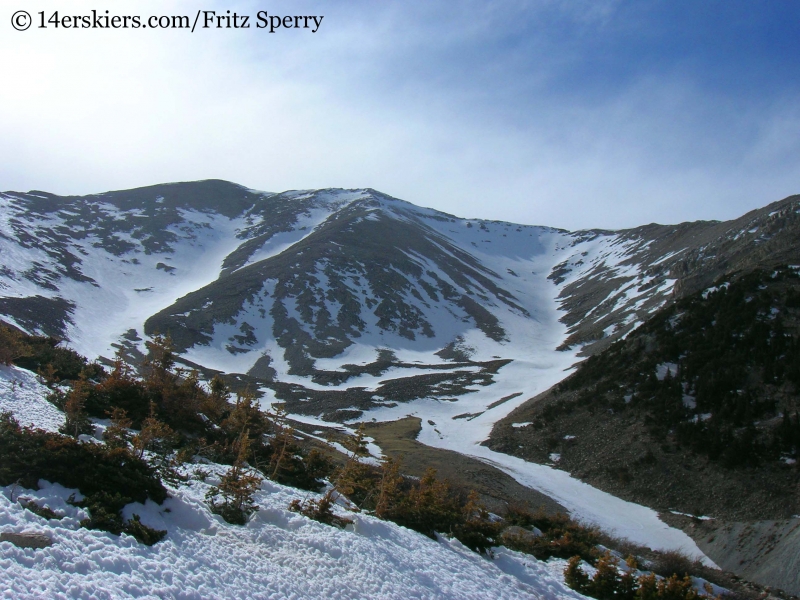 The climb back up to the ridge looked so close, but was so far away.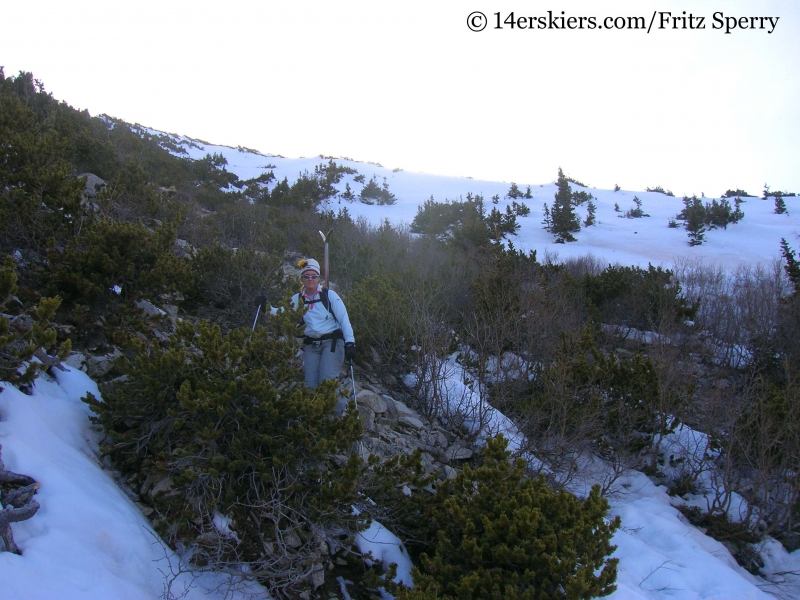 Thankfully, the scenery was beautiful 🙂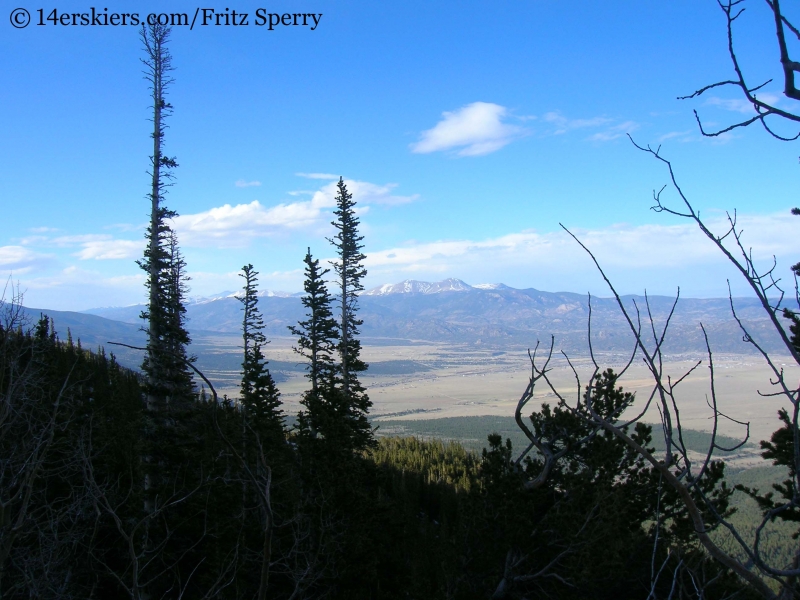 We made it back to the car with a lot of daylight left – which was good as we still had much driving to do to get back home.
That wraps up my first fourteener skiing experience: Skiing Mount Princeton with decent snow, a rocky climb, and annoying exit. It was a good taste for many more experiences to come. And I knew some of them were going to be good – really good. I couldn't wait for more.
The original report for this Mount Princeton ski was written by Fritz Sperry on the TGR Forums. All photos were contributed by Fritz.
---
Like this report? See more of
Brittany's 14er skiing journey
.
Aside from skiing, biking, and all outdoorsy things,
Brittany Walker Konsella
also loves smiles and chocolate 🙂 Even though she excels at higher level math and chemistry, she still confuses left from right. Find out more about
Brittany
!
Latest posts by Brittany Walker Konsella (see all)