TR: Star Pass / Hunter Creek (31 July 2013)
(Last Updated On: August 7, 2013)
It had been years since I'd ridden up to Star Pass. And that was for a reason. Although beautiful, the trail had been treacherously steep, and loose and rutted from dirt bike abuse. But, recent closure of trail 583 to motorized vehicles has changed things, and Frank's "discovery" of the Hunter Creek descent has now shed a new light on riding in this area.
I first rode this lollipop loop the weekend prior. With scenery and wildflowers abound, I instantly regretted not bringing my camera. So, when my friend Sonya visited and I described this ride to her, I was happy to return. This time with the camera.
We parked at the Deadman's trailhead and began riding the road for a short spurt before connecting on to the newly redone Cement Creek trail. This trail is fantastic. It is rolly and rhythmic, has rock-bridges spanning over significant creek crossings, and lots of wildflowers colorizing the sage brush. Sonya: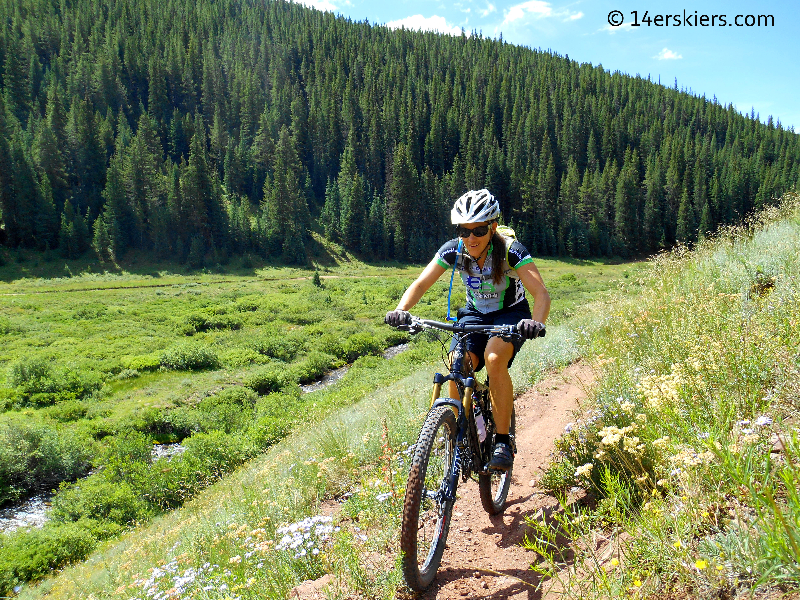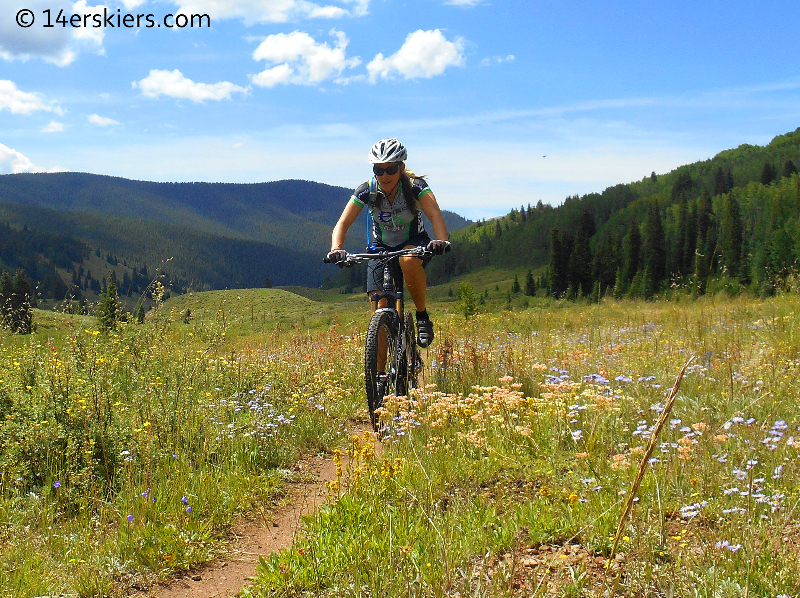 We followed the Cement Creek trail all the way to it's end at Hunter Creek. But, instead of ascending Hunter Creek (which we wanted to descend), we headed back on to the the Cement Creek Road for a few miles before connecting with trail 583. Just before we headed back on to the road, we coincidentally ran into our friend Sydney, who was also headed in the same direction.
Sonya and Sydney on the middle part of 583: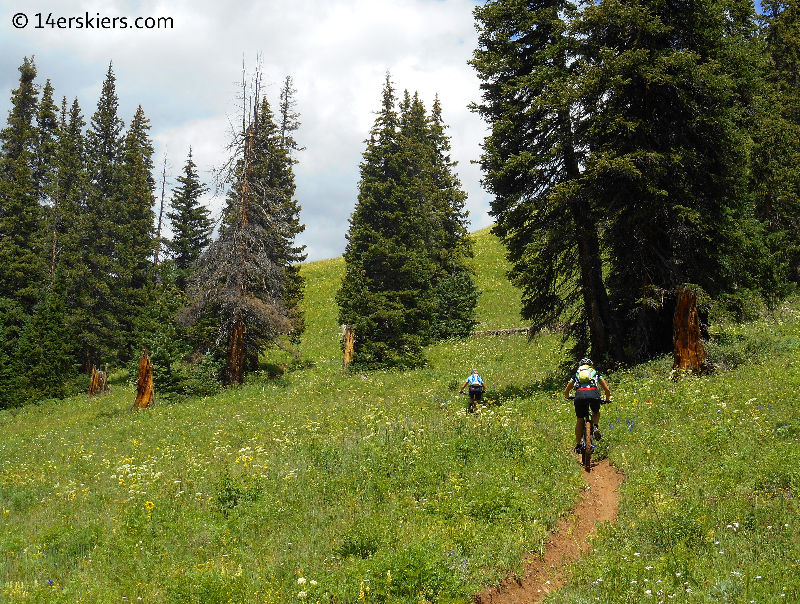 The trail was beautiful.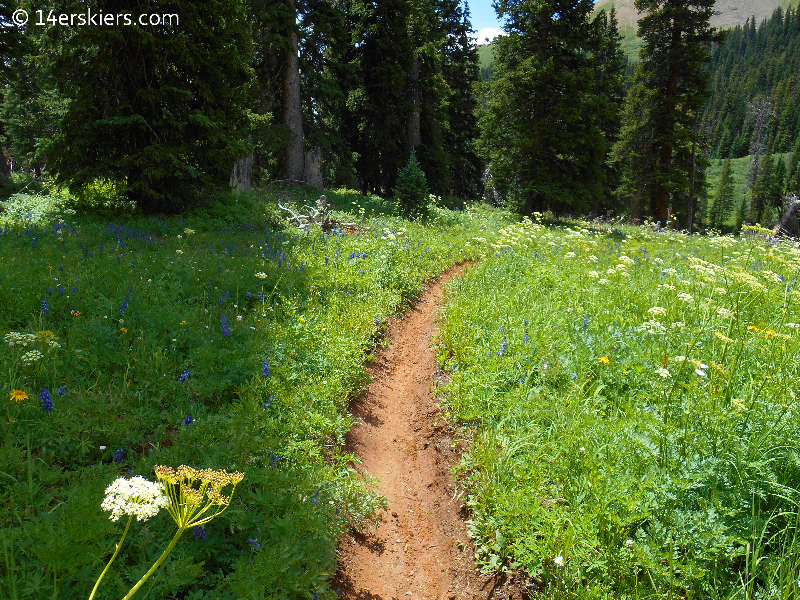 Up, up, up we went.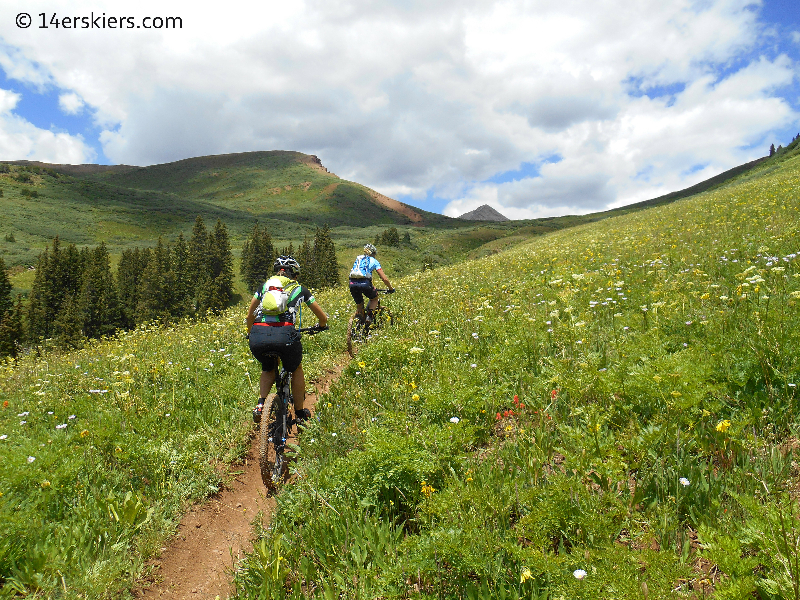 We rode through fields and fields of flowers.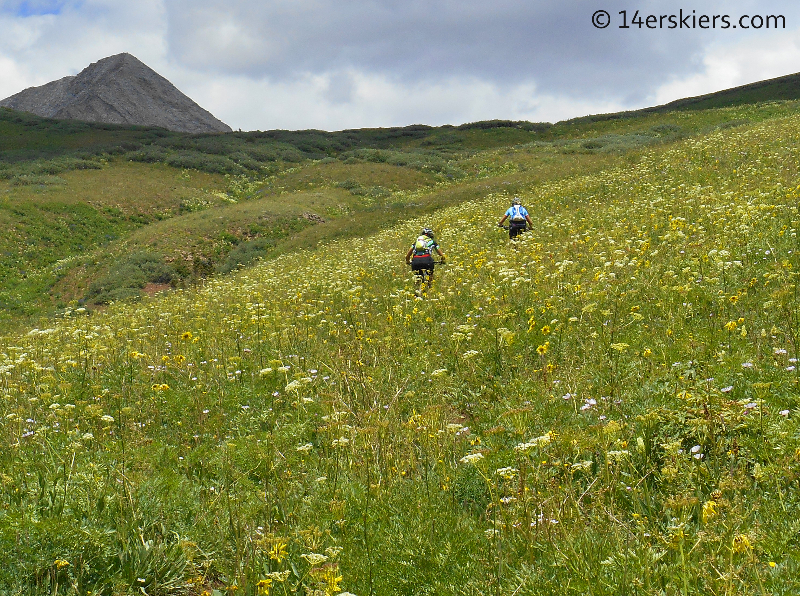 The climb came with the rewards of stunning scenery.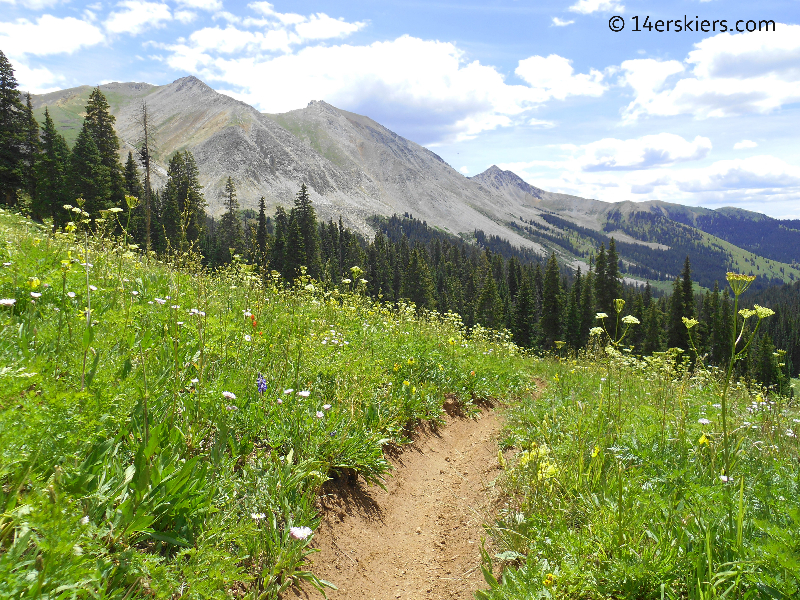 Sonya.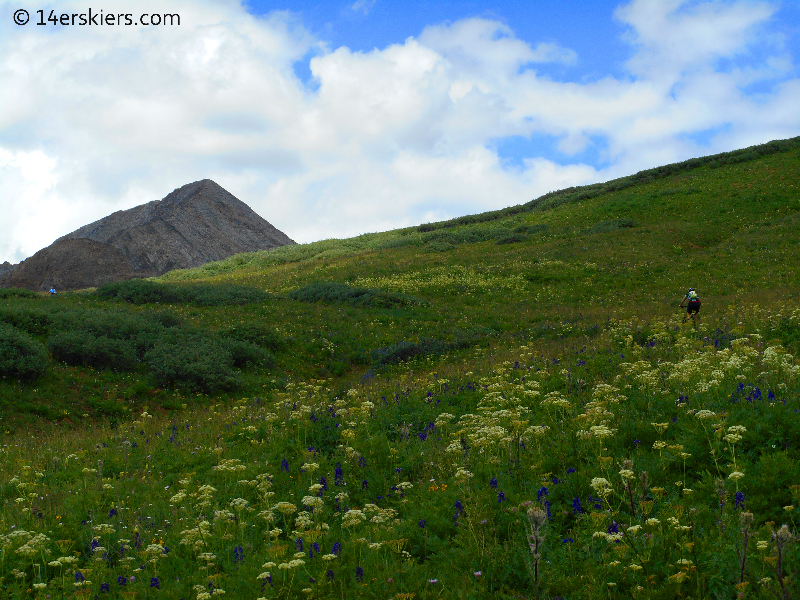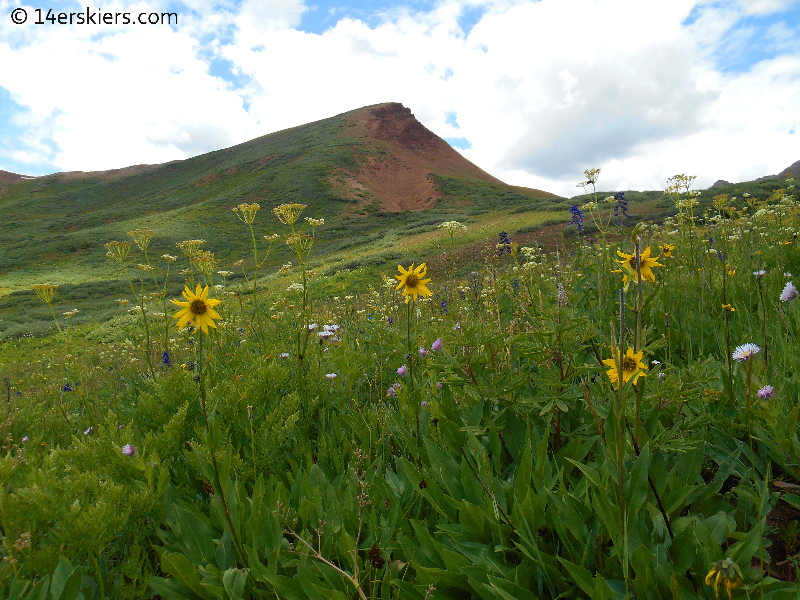 At the top of 583 we stopped to enjoy a nice break, admiring the view of Star and Taylor Peaks. Sydney and me.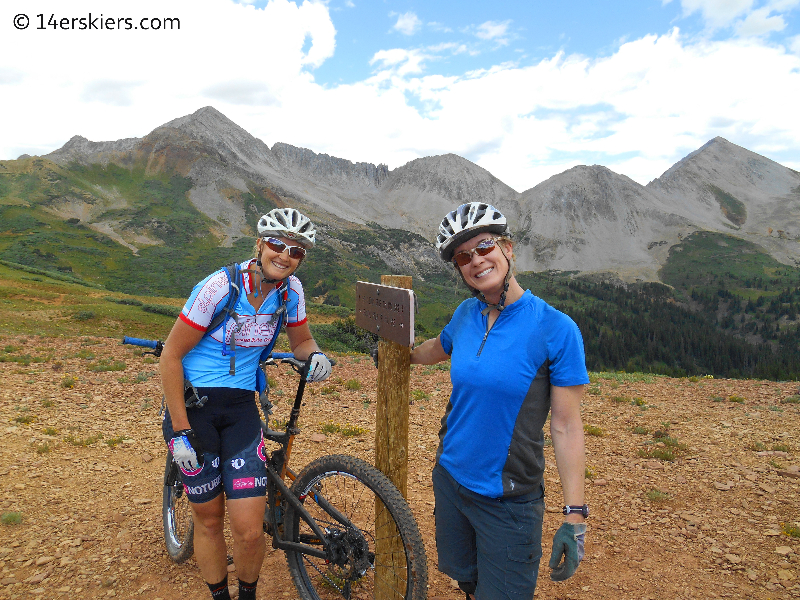 We continued onward toward Star Pass.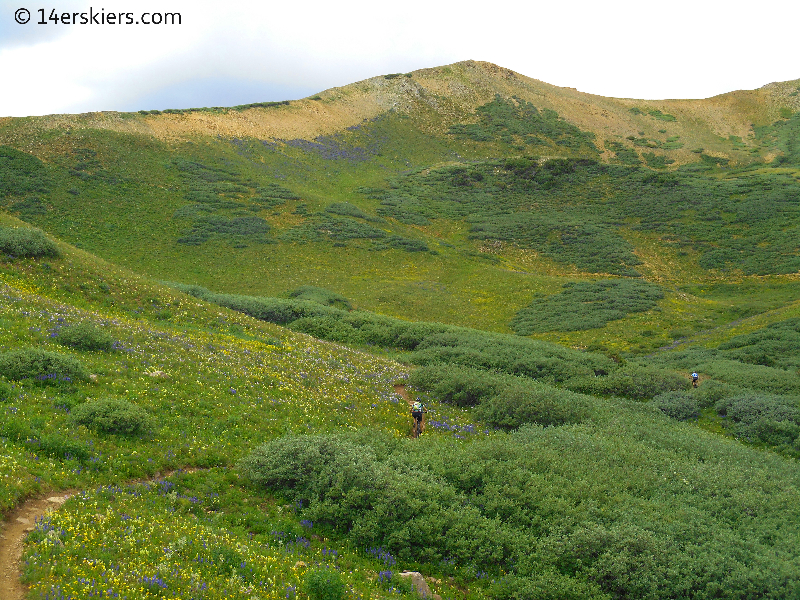 The wildflowers were hard to beat.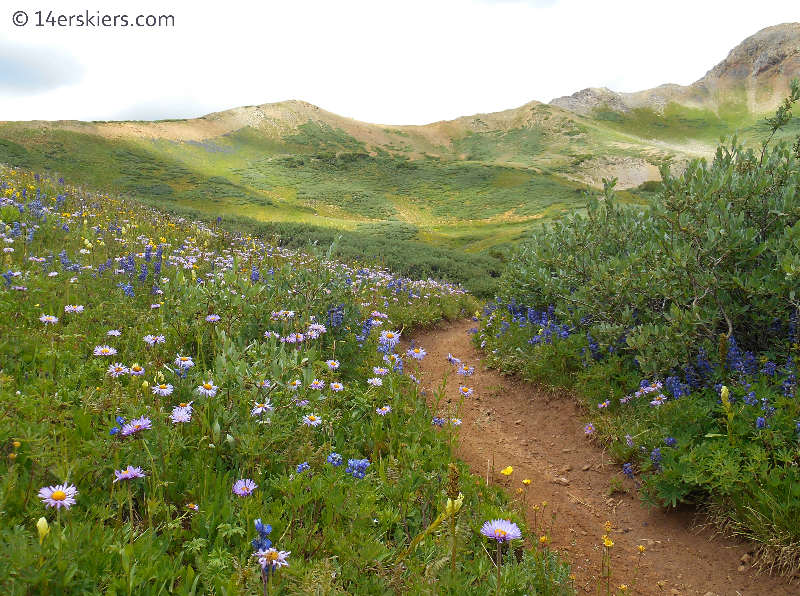 Me.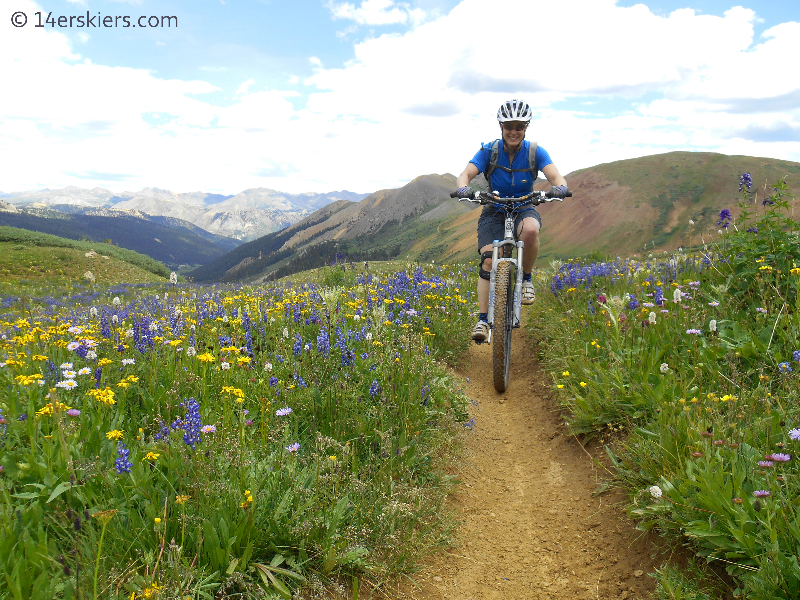 Such a beautiful area. Sydney and Sonya.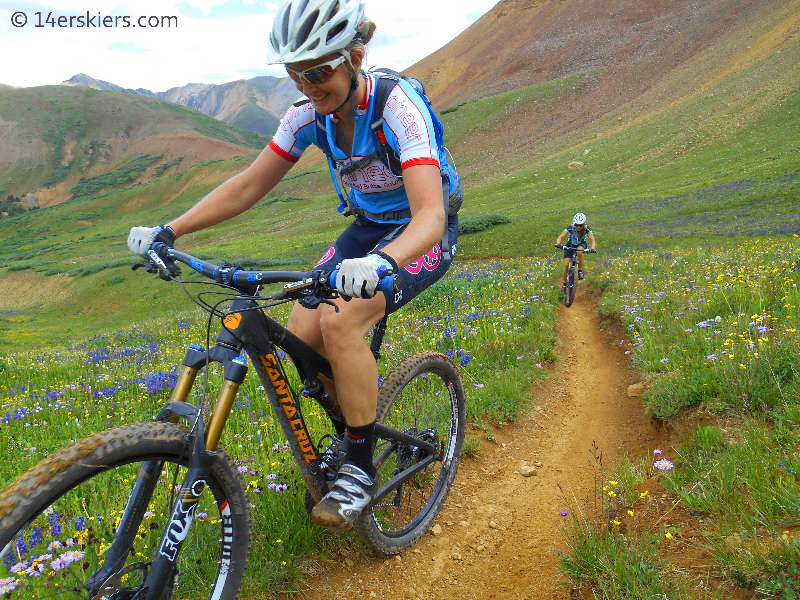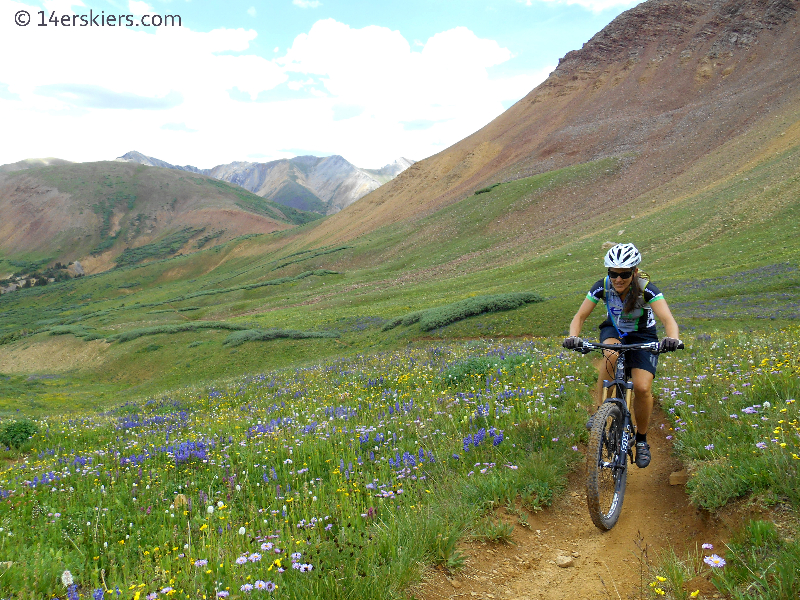 At the top of Star Pass, Sydney decided to part with us and descend toward Brush Creek. Sonya and I continued onward, descending a bit at first and then ascending Hunter Creek. The climbs were worth it though. The descent of Hunter Creek was fabulous. As is true of most of the best descents, it was too good to stop for pictures. But, I did manage to capture one of Sonya: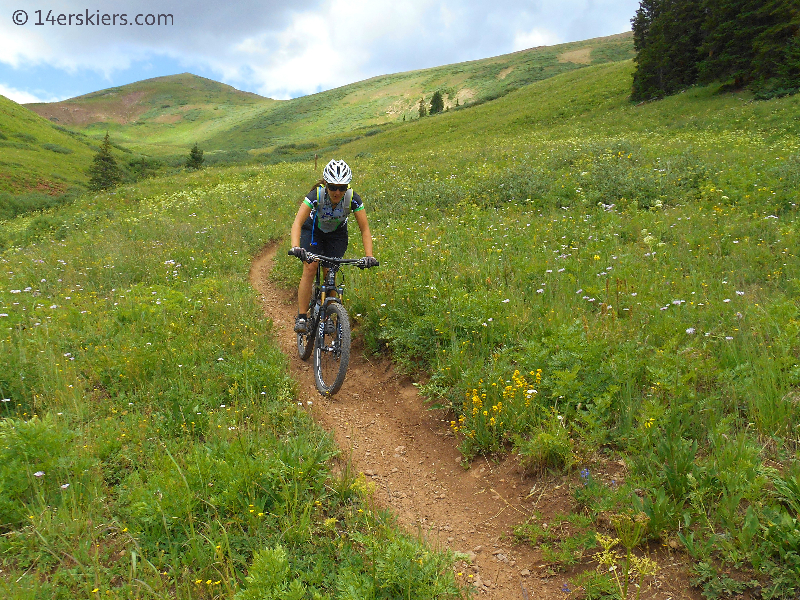 After the end of Hunter Creek, we connected back on to the Cement Creek trail to complete the lollipop. This trail is just as fun going down as it is going up.
For me, one of the main problems with riding in the Crested Butte area is that so many of our epic rides involve significant road climbs. Frankly I get bored with that. I like the single track. This loop is great because it only has a few miles of road. In addition, the scenery and descent are top notch. It easily is ranked in my top 5 rides for Crested Butte. And, as Frank said, this ride is surely and instant classic.
The riding season is far from over. In fact, it's just starting to get good. So, get out there, and enjoy it!
Aside from skiing, biking, and all outdoorsy things,
Brittany Walker Konsella
also loves smiles and chocolate 🙂 Even though she excels at higher level math and chemistry, she still confuses left from right. Find out more about
Brittany
!
Latest posts by Brittany Walker Konsella (see all)