TR: Hall of Fame (27 April 2013)
(Last Updated On: April 30, 2013)
The Hall of Fame is one of the most obvious lines that catches skiers eyes as they gaze up to the jagged peak that caps Crested Butte. Yet, it is one of the lesser known areas on the mountain. Just above the Banana couloir, the lingering snowfield ramps up, steeper and steeper, until it reaches the summit. Coming off of good conditions for the Terminator 3 chute the week before, we decided the Hall of Fame would make a nice follow up.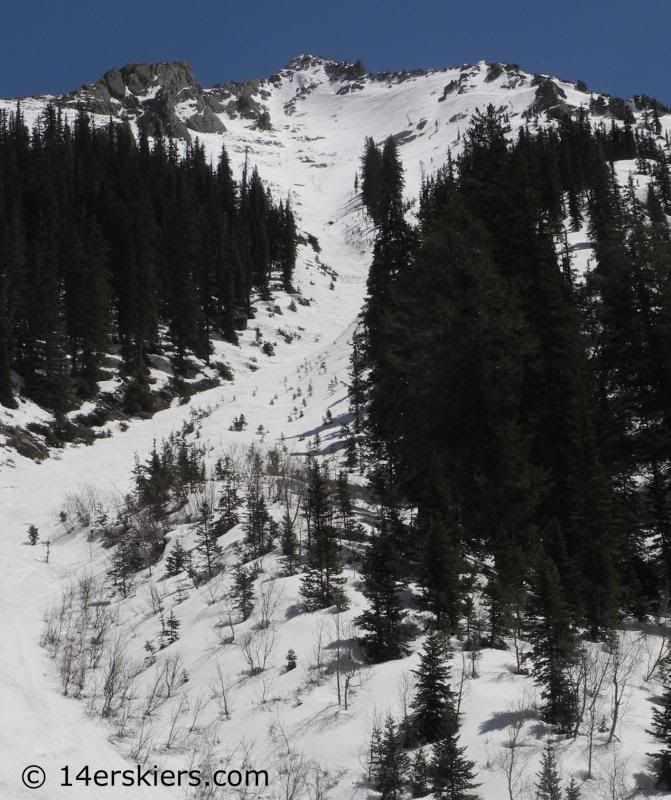 Within the ski area boundary, but considered a permanent closure, Hall of Fame doesn't seem to get skied much these days, especially since patrol did not open Banana during the last two ski seasons. But, this area was used as the day four venue for the 1993 Extreme Competition. To get competitors safely into the area, two rappels had to be set up. The anchors for these rappels were set by Johnny Biggers, who still resides in Crested Butte today.
Coincidentally, Frank happened to have an old VHS tape of this very Extreme Competition. As we watched it together, he said, "This footage is the reason why I moved here." The video is a near hour-long production of the entire competition. But, I have clipped it to only include excerpts from the day four Hall of Fame venue. The footage features big-name heroes like Doug Coombs, Seth Morrison, Dean Cummings, Kasha Rigby, Dean Conway, and even our very own Johnny Biggers!

HallofFameExtremeComp from 14erskiers on Vimeo.
Frank: As Brittany alluded to above, it's no exaggeration to say that watching the '93 "Extremes" on ESPN changed the course of my life. I was a freshman at the University of Colorado when I first watched the video, and I was blown away. "I need to check that Crested Butte place out!", I thought. Just a couple of weeks later, during spring break, I got my chance. I was struggling to keep up with the rigors of studying Engineering at CU, so the following year I took a year off (CU had a program where you could take a year off without needing to re-apply), and I moved to Crested Butte. I went back to Boulder and got my degree, but that year hooked me and I moved back to Crested Butte within days of my last final at CU. I've been here ever since, minus a couple of seasons in Canada.
We began our day by skinning up the slopes of now closed resort. It did not take long for us to get to the summit. At the summit we pondered how to get over to the actual line we wanted to ski. The snow at the summit was very firm and had not yet softened from the days sun. A ridge line led directly toward our west-facing Hall of Fame, but without crampons, we did not want to venture far on it.

We looked at the south facing slopes below which dropped down into T3 -also looking firm. In addition, these same slopes had melted out considerably since our ski only six days before. Our entrance onto this slope which we used the previous weekend was no longer there. As we waited for the snow to soften, we decided the best option was to set up a short rappel into T3 and then traverse over to the Hall of Fame.

Frank, however, found another way in, and was able to forgo a rappel and did a downclimb instead. After pulling the rope, Frank and I traversed toward Pete, who was waiting for us at one of the rappel stations set up for the competition. In fact, you can see competitors using it regularly if you watch the video above.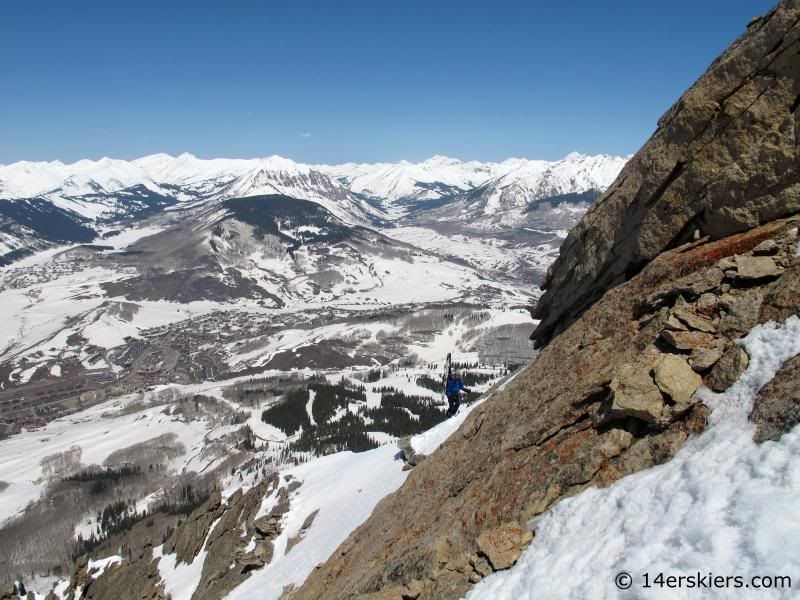 Me on the traverse.

As we peered over into the Hall of Fame, we saw another group. They were climbing Guides Ridge. We later found out it was Crested Butte Mountain Guides Scott Krakkala and two clients.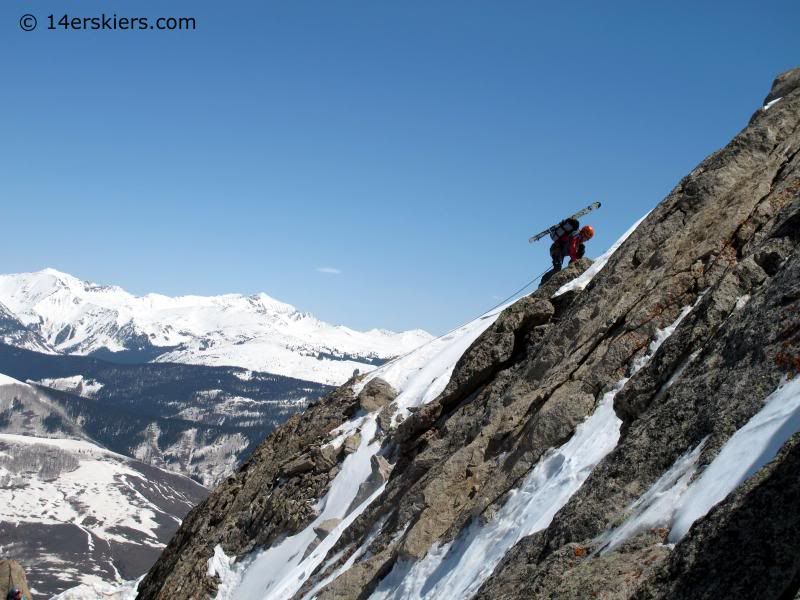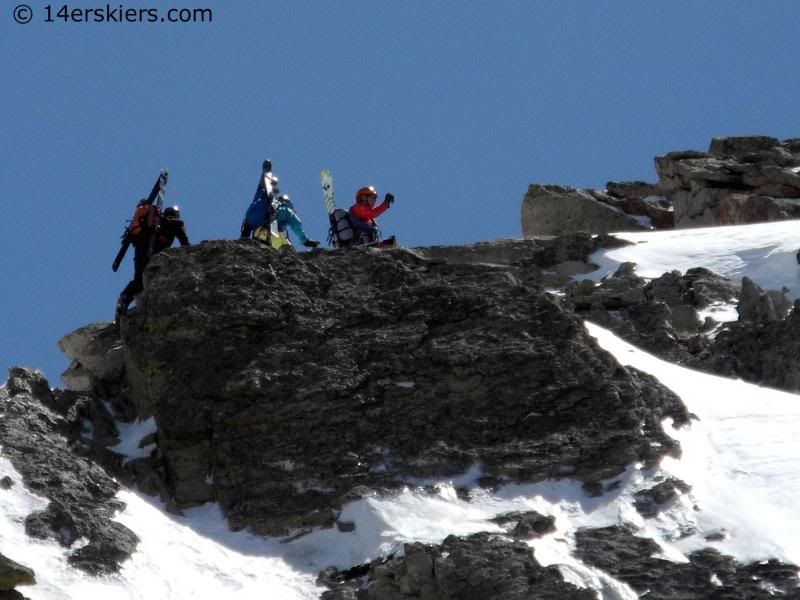 The 1993 Extreme Comp happened during a big snow year. This year, however, was not. Though we all considered skiing our way into the Hall of Fame, a rock, a small cornice, unpredictable snow, and high consequences for mistakes made us decide to use the rope once again. Me, getting ready to ski after breaking free of the rope.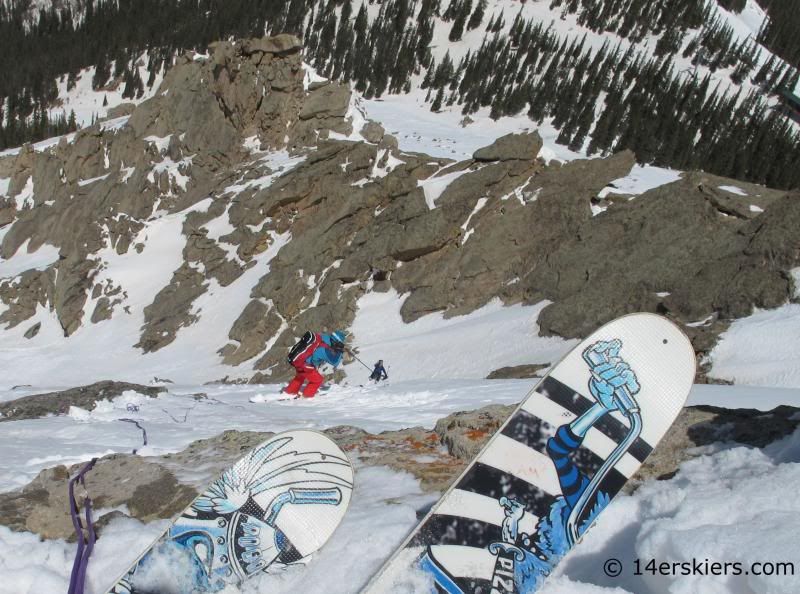 The upper part of the Hall turned out to be steep and carvable. These pictures do not do justice for the steepness of this line. Frank.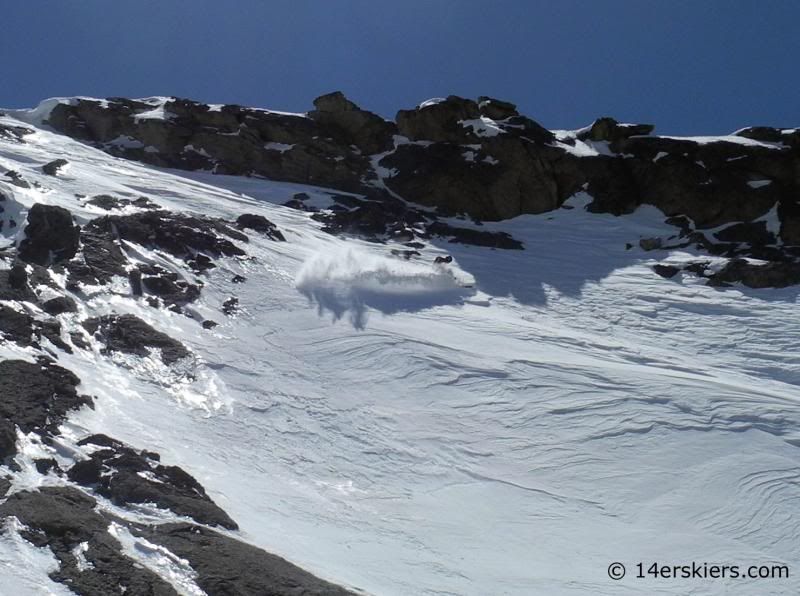 A look back up at the top, and our entrance to the right.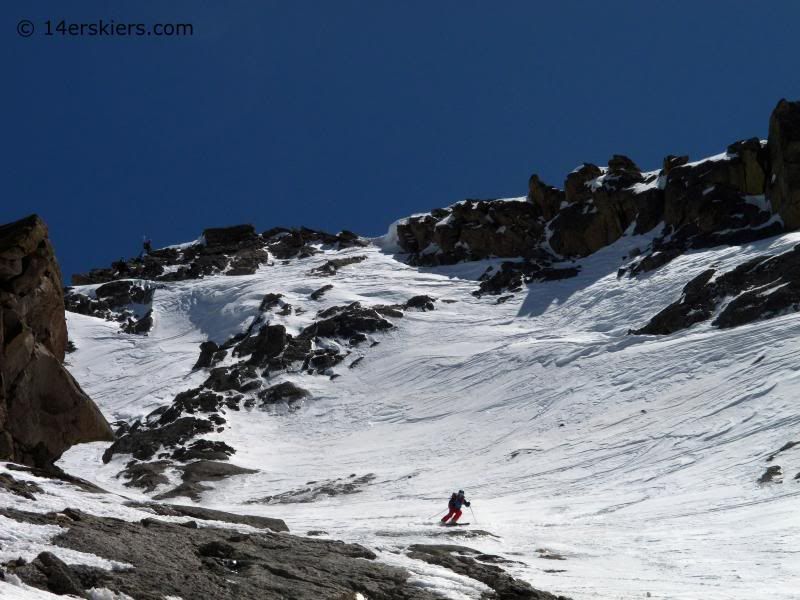 After the initial steep face, you can follow the fall line directly down, or veer skiers left toward a very steep face. Frank.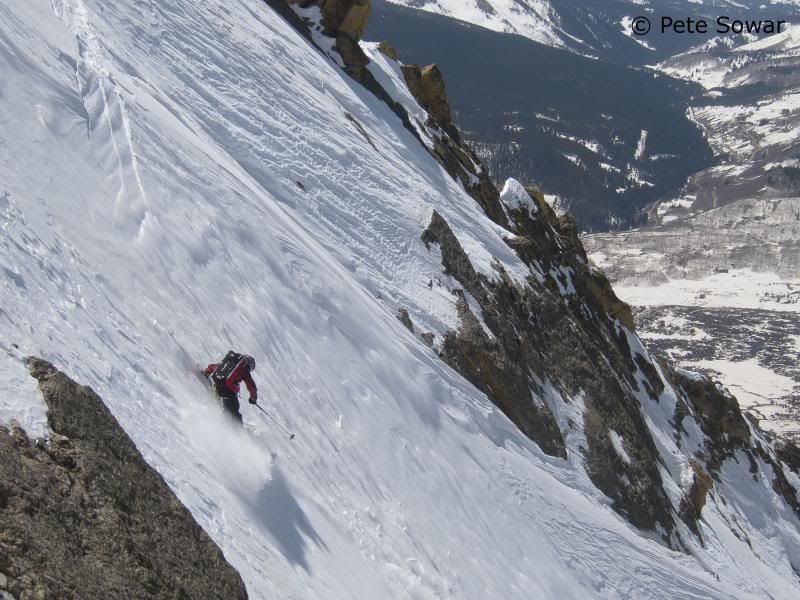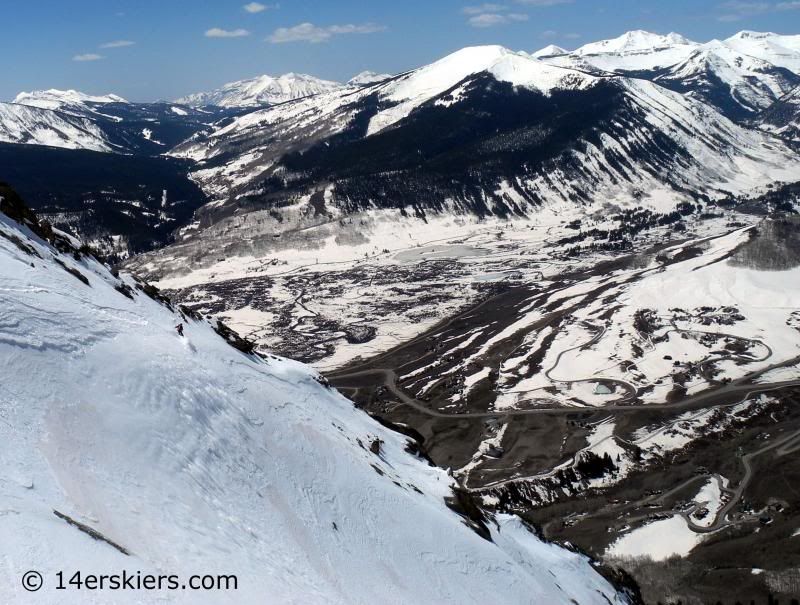 Me.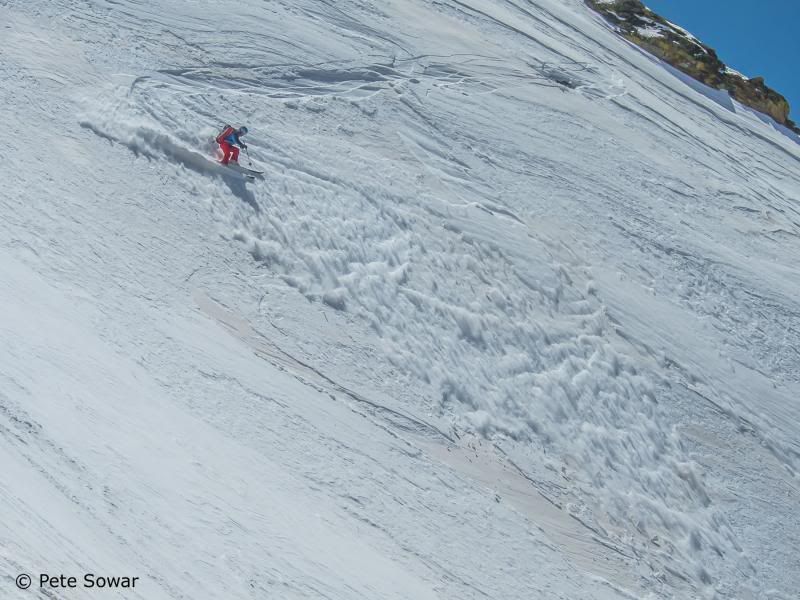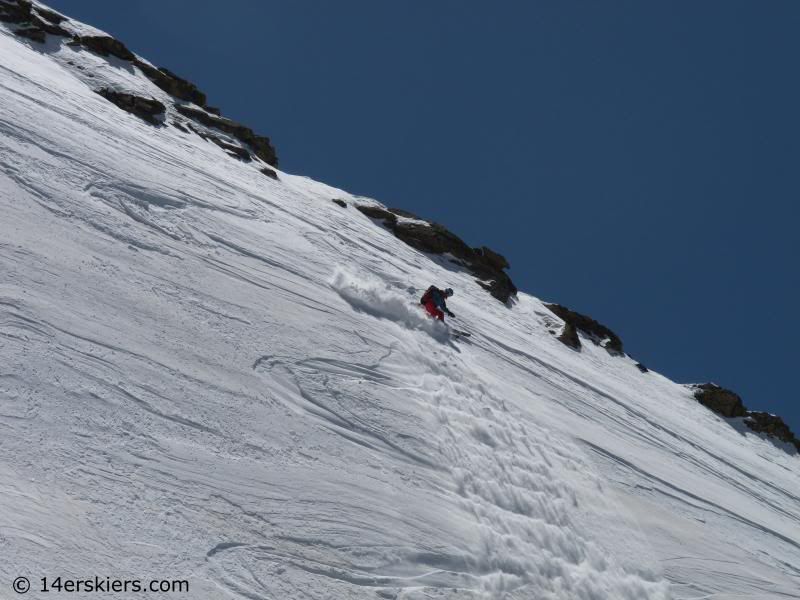 Pete.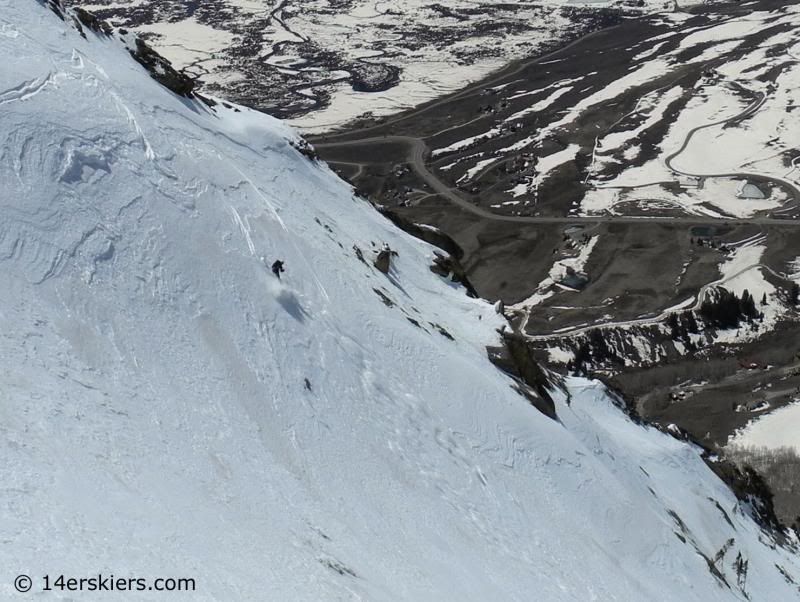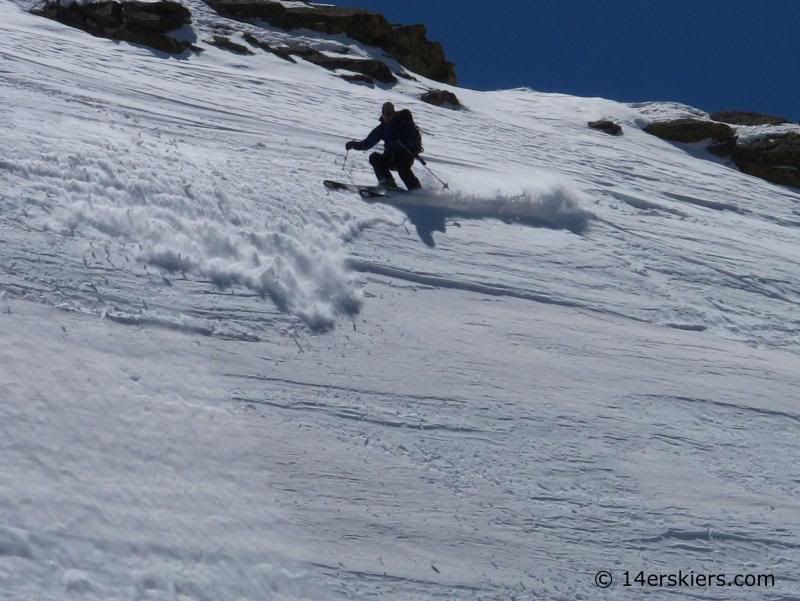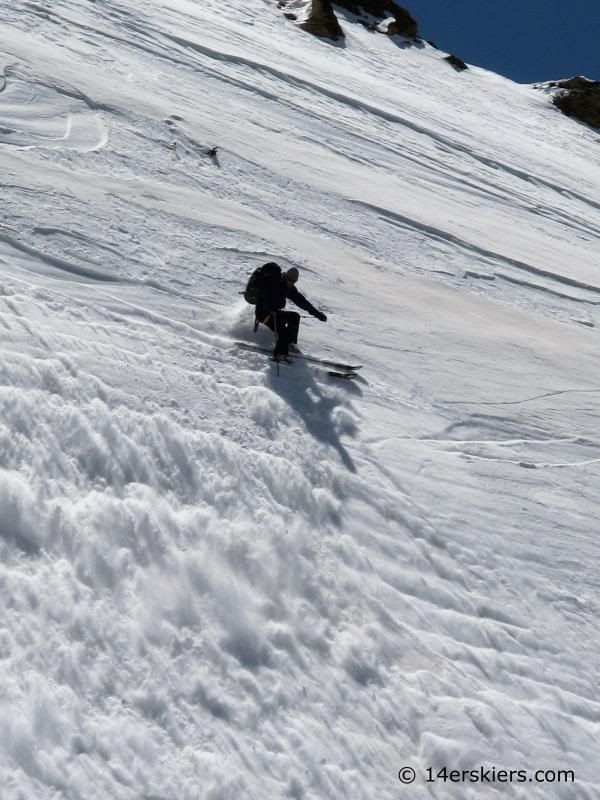 From there, the line eased, but remained fairly steep until entering the true Banana. Frank.

Me.

Pete.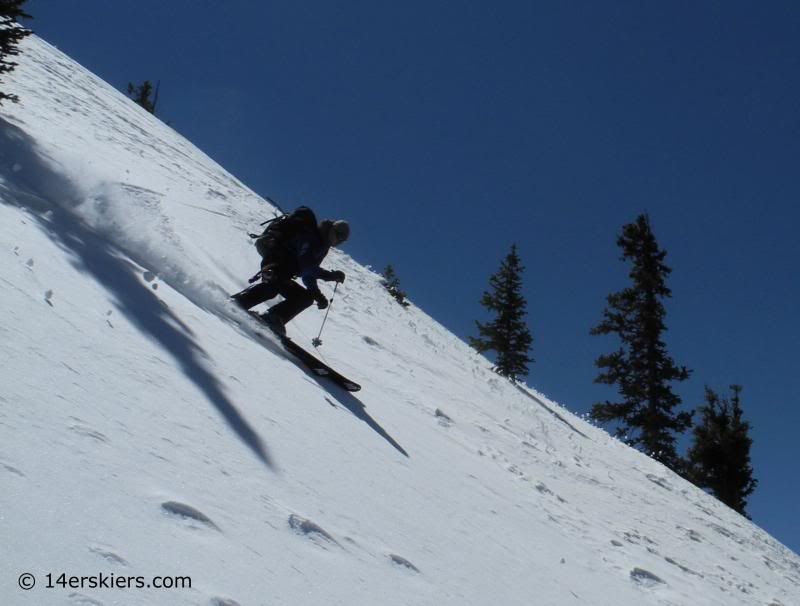 The Banana was fun too, alternating between pow turns on the left and corn turns on the right! Pete.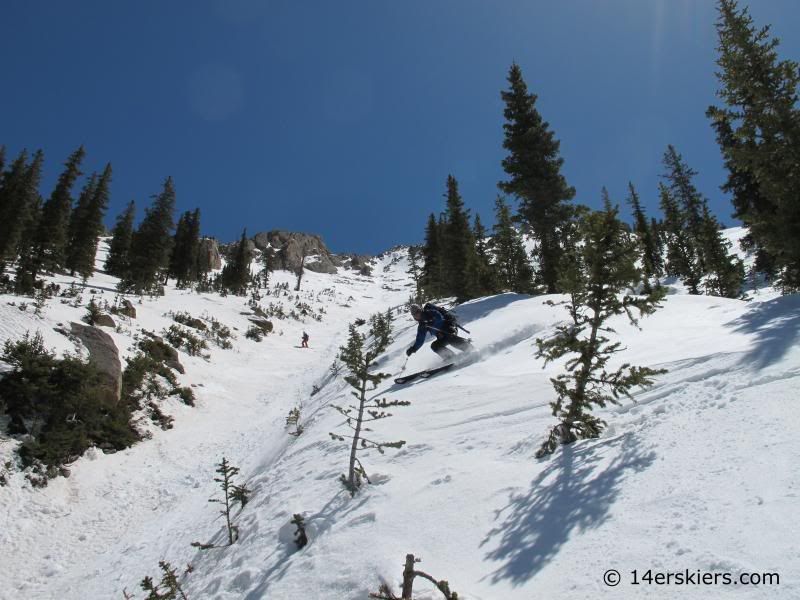 A closer view of the Hall of Fame.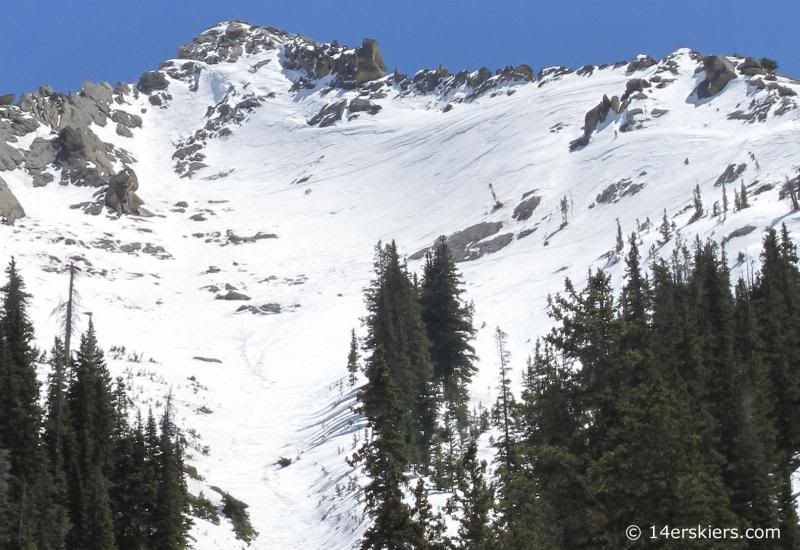 It was a good run.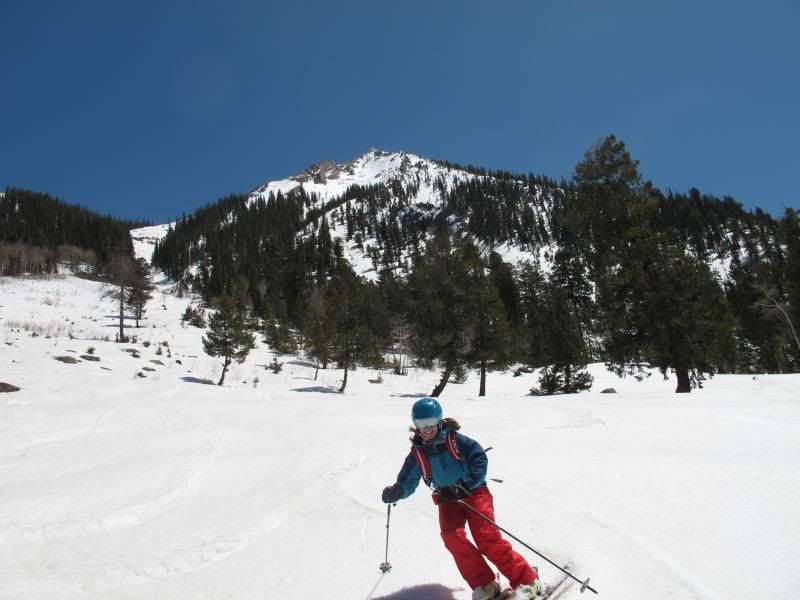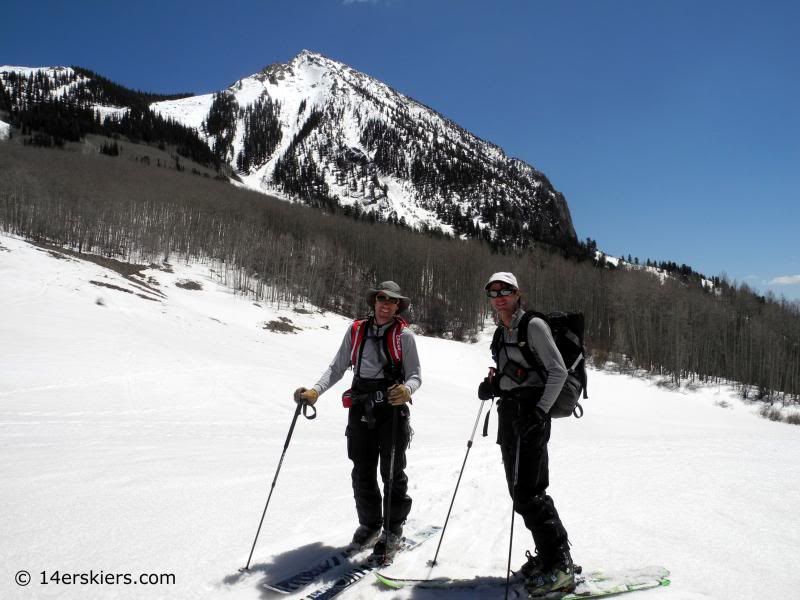 At the end of the day, we all agreed that the Hall of Fame was a more intense line than the Terminator 3 Couloir. Not only was more exposure and difficulty getting into the line itself, but overall, the line was steeper as well.
Thanks to Frank and Pete for a fantastic ski day on a new line, and one that stares us in the face every day!
Shop local 🙂

Aside from skiing, biking, and all outdoorsy things,
Brittany Walker Konsella
also loves smiles and chocolate 🙂 Even though she excels at higher level math and chemistry, she still confuses left from right. Find out more about
Brittany
!
Latest posts by Brittany Walker Konsella (see all)