Grete and the Grand Traverse
(Last Updated On: March 21, 2015)
Now it it's 16th year, the Grand Traverse is a race across the Elk Mountains, beginning in Crested Butte and ending in Aspen. Racers compete in teams of two, and up to 200 teams are accepted each year. Though the Traverse has never been on the top of the list of what we desire to do in the outdoors for us here at 14erskiers, we still admire those who participate in this event. Our friend Grete Gansauer participated in the Grand Traverse for her first time this year. This is the story of her journey.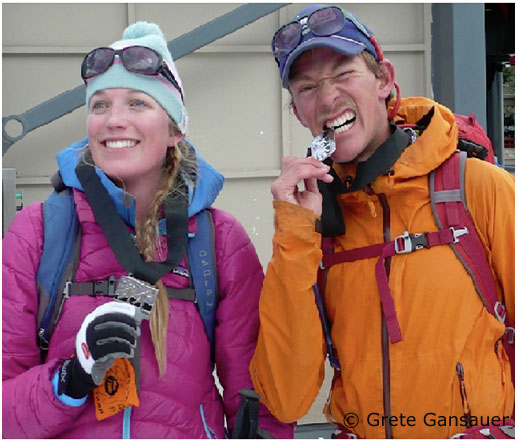 Rookie Year in the Elk Mountains Grand Traverse 2013
At 11:00 pm on March 30th, 2012, I watched hundreds of headlamps attached to racers bobble up from the base area of Crested Butte en route to Aspen in the Elk Mountains Grand Traverse. Dressed in jeans and feeling groggy, I knew that in 2013 I wanted to be immersed in the jitters of the starting lineup of that race. The traverse itself begins at midnight, covers 40 miles and almost 8000 vertical feet, though the preparation for months beforehand is a journey in itself.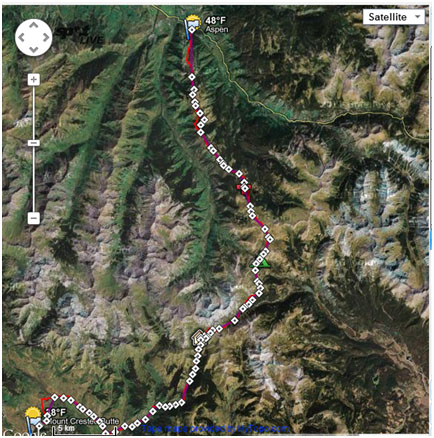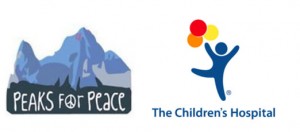 It began when I reached out to my friend, Brennan Metzler that fall. Brennan has dedicated several days in the Backcountry to philanthropy through his charity "Peaks for Peace"—which encourages brave outdoor trekkers to raise money and awareness for Children's Hospital camps for Burn Victims. Outdoorsmen usually commit to projects or goals and ask for pledges to support their pursuits. Campaigns range from Brennan summiting and snowboarding as many peaks as humanly possible in the springtime to through hiking the Appalachian Trail in 29 days to my proposal—skiing from Crested Butte to Aspen. Not surprisingly, Brennan was thrilled with my initiative and I was off and running—5 months from the GT with a goal of raising $1500 for the kiddos.
In December, my teammate, Zach Miller, and I began the effort to spread awareness and fundraise for the Burn Camps. For the first year ever, I was thankful for my mom's embarrassing Christmas letters because I stuffed them with a pleading blurb about our cause. Through Facebook posts, emails, word of mouth, phone calls and of course the embarrassing letters we had raised over $1800 by race day!
Never has a countdown flown by so quickly as did mine to the race. After a winter of skiing uphill day-in and day-out, my efforts didn't feel meaningful until Zach pulled into town from Salt Lake City. Then it was real. As they said at the pre-race meeting, "We're going to Aspen!" Feelings ranging from overflowing excitement to dread bubbled in my head over those 24 hours leading up to the start.
Overwhelmed with preparatory details, there was little room for introspective thought in the few hours leading to the race…which was probably a good thing. After a final beacon check, we knelt in a frenzy to stash choice snacks in our pockets, tape our feet for blisters and boot up. Looking up from tying my laces, I realized the large room had been evacuated. It was time to go. Shouldering my pack and wriggling into my gloves as we walked, Zach and I shared a crisp high-five and plodded to the mass of starting racers. We clicked into our Dynafits and clicked our headlamps on. In an instant we were sharing in hollers of stoke volleying between racers as we panted up CBMR ski area.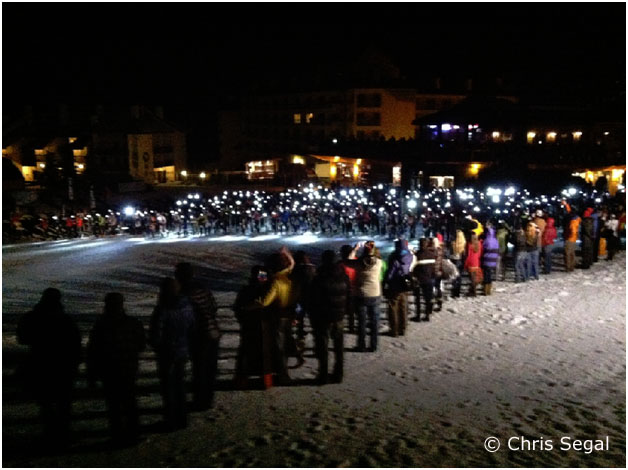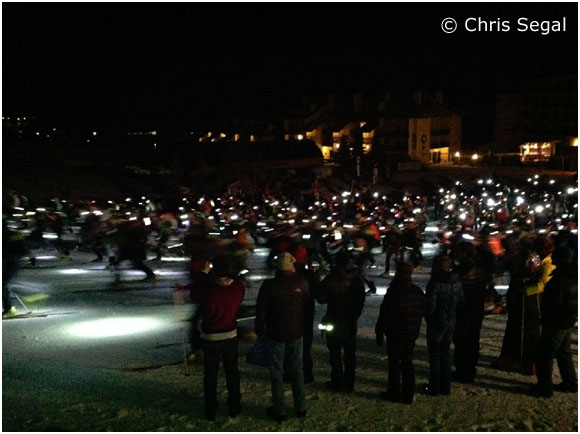 Arriving at the top of the Painter Boy chair lift, the East River Valley (our highway for the next five miles) loomed before us. We could see headlamps in disarray in the valley below as the leaders were just reaching the valley floor and transitioning to skinning for the long, gradual ascent to Friends' Hut—the first major check point. After a quick scan, we ripped our skins only to apply them again a few minutes later after a quick descent.
As we began a long side-hill climb out of the valley and toward Brush Creek, the touchy snow conditions proved to be a hold up for everybody. Virtually the entire course ended up having similar conditions—breakable crust with facets underneath. With many racers (of many paces) pushing through as a unit this early in the race, one skin track became six side-by-side as people tried to shuffle past one another. However, the snow was not supportive, so various contrived skin tracks were constantly failing, causing the victims to merge into other lanes…..it was a booby-trap mess. It reminded me of I-70 on a snowy Saturday morning; everyone is trying to ski, but no one is getting anywhere fast and there is lots of carnage to slow things down even more. 🙂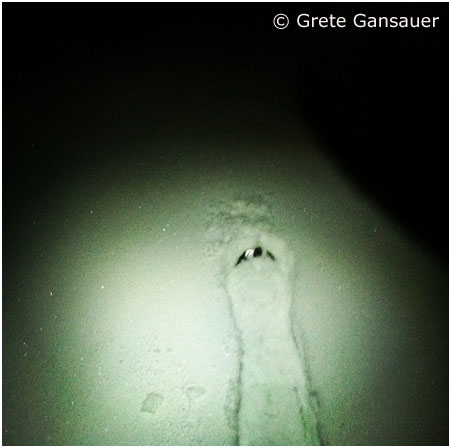 By the time we rounded the corner to head up Brush Creek towards the Friends' Hut, things were thinning out a bit. Racers had settled into one skin track, and there was now a continuous string of headlamp orbs. Though the pace picked up a bit, there was still no practical option of passing others on the go, and Zach and I were getting antsy. In hindsight, I can say the pace turned out to be an energy-saving blessing in disguise, so we chit-chatted as we unhurriedly trudged the next 9 or so miles to Friends' Hut, passing people when we could, and arriving a little after 5 am. Abiding by our adopted leisurely attitude, we enjoyed a 'leisurely' break at the Friends' Hut check point—dining on PB and J's, sipping chilled water, warming numbed fingers, contemplating if we were actually going to make it and eyeing the towering climb to come, Star Pass.
After hours spent unaware of our location or progress in the tunnel of the forest, it was refreshing to climb up a ridge and get above tree line. The climb was steep—enough to require heel risers for the first time in the course :)—and littered with kick turns. I welcomed the switchbacks as an opportunity to survey the basin below as we zig-zagged up the slope. The sun hadn't risen yet, but it was on its way. The world turned blue, then purple, as the nearby mountains began to reveal their majesty from the darkness. Just as Zach and I surmounted the ridgeline, the sun was beginning to crack the far horizon to the east. Perfect timing!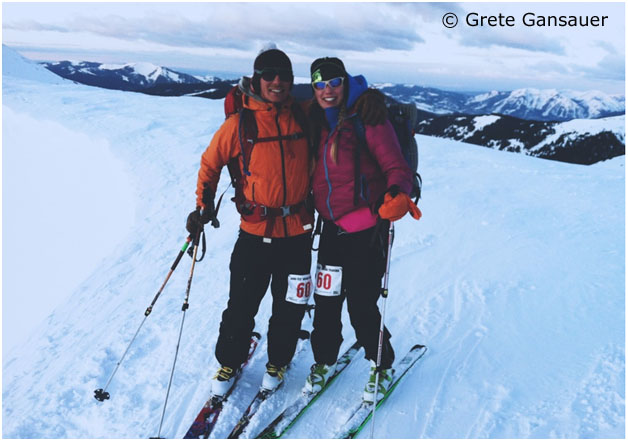 After skinning since about 12:30 am at the bottom of the East River Valley, we had now ascended the majority of the vertical, and got to rip our skins for a fun descent from the top of Star Pass. The race volunteers advised us of a specific route for the descent because of concerns of persistent weak layers on other aspects. By the time we were skiing, this route was very obvious and actually had some moguls in it. This is probably the only time I have been glad to roll up on something so skied out in the backcountry—I'll take moguls over breakable crust any day! Though it was not technical, I was very glad to be on AT gear (instead of Nordic skis) at this point…we actually got to have some fun making turns!
At the bottom we stopped at "The Bonfire" the volunteers had set up. We reapplied our skins, put down another PB and J, and, in the tradition of 7:00 am, Zach sipped some coffee before jumping back on the skin track for almost eight more hours of FUN.
And I'm actually not being sarcastic! I thought the traverse was surprisingly FUN during the fact. Did we win? No. Was I tired? Yes. Did it hurt? At the end. Did I contemplate death? Only sometimes. But overall it was just a really long excuse to spend time in the backcountry with a good friend for a good cause. Remembering the kids who would benefit from the money we raised was certainly a motivating comfort when the going got slow, long or steep. We joked, chatted with other racers, got to watch the sunrise at over 12,000 feet, Zach defecated four times for some reason, and in general it was a great day.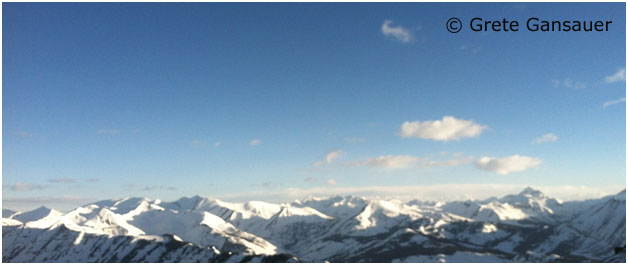 So on and on we trudged. The sky grew into a gorgeous sapphire blue and the air was still and crisp. The day was as perfect as the views that surrounded us. Several valleys, and only a few quick descents later we finally arrived at the final check point and mandatory rest stop: Barnard Hut. "We're making it," I thought, sipping the complementary Ramen Noodles, "only seven miles to go!"
'Only seven miles' turned into almost three hours and Zach and I perfected our twenty-minute mile. As it turns out, the rolling topography of Richmond Ridge (the last leg of the course before reaching the top of Aspen Mountain) is also undulating with snowmobile whoop-de-do's. It was hard to get into any sort of rhythm, hard to find energy and motivation to continue (especially when snowmobiles were whizzing by) and hard to forget the pain of the blisters forming on my feet. Slowly and with tiny strides, we skinned on. Finally, a Zach spotted a beacon of hope: a man snowshoeing in a long patterned coat and bulky fur headband. "We can't be far from Aspen now!" We rejoiced.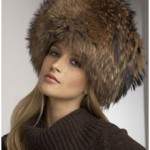 Sure enough, the Aspen Sundeck was around the corner. We ripped our skins for the final time and entered the ski area. We made it!! Feelings of commiseration dissolved into elation as we zoomed down the last 3,000 vertical feet of groomer, shouting back and forth. After 14 hours and 45 minutes after we started and 1 year after I decided I wanted to do this, we crossed the finish line in Aspen. We were greeted by parents, friends and lots of photo ops. It wasn't hard to put on a smile for this Kodak moment! We shared hugs and congratulations with other racers and welcomed the instant we got to sit down pop off our boots (though I think the people near me may not have been as grateful for that moment :)).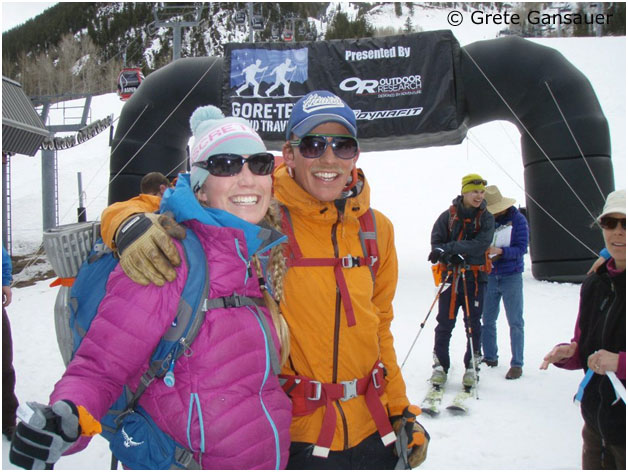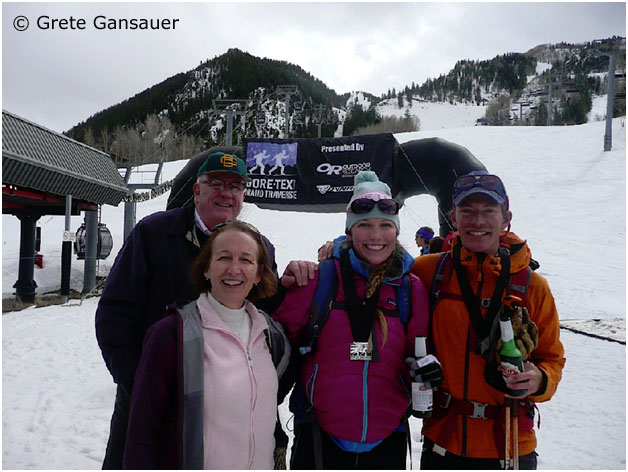 Later, Zach and I found out that we were the youngest team to compete. That was cool, and we were awarded a couple of neat backpacks. Though useful, the backpacks were no match to the feeling of accomplishment, youngest or not, that came from completing a goal I had in mind for a year. Never have I seen an idea of mine grow from "I can't do that" to "let's try this" to "we did it". And the problem is, now I'm thinking "let's do that again"!

Grete Gansauer grew up in Colorado loving the outdoors.After living in Crested Butte for a year, she found herself in Salt Lake City. She continues enjoying an athletic life by wandering the country in pursuit of outdoor adventures.

Latest posts by Grete Gansauer (see all)