TBT: Let the Ski Season Begin (12 Oct 2013)
(Last Updated On: October 10, 2018)
This post is part of a Throwback Thursday series featuring trip reports that we haven't had a chance to write about until now! Look for them on Thursdays!
---
With a foot of recent snow in Crested Butte, we just had to repost this trip report from back when skiing in October was good! Throwback Thursday to our first day of our ski season in 2013. We hope you enjoy!
Ski season began with a bang for us this year. With consistent weekly storm patterns, snow has been gathering up high for the last few weeks. Although still relatively thin, the snowpack is deep enough to not worry too much about hitting debris underneath. Furthermore, it's supportable and bomber. We've never seen anything like it this early in October. That's why we skied lines this day that we did not touch last year until April.
We were wavering about whether to ski or not. We knew it was early season still, and we'd heard reports of people skiing. But, we thought it would be just a little too thin still. In early season, we are always a bit wary about jumping on snow to fast, sacrificing our equipment or ourselves. But, Snotel said the snowpack grew overnight. And something told me it was going to be good. I was glad when Frank changed his mind and decided that skiing actually was a good idea. It was 10 am. Better late than never, I guess.
It was definitely winter up high. And as we skinned we could tell that the snow was better than we'd ever dreamed of it being in October.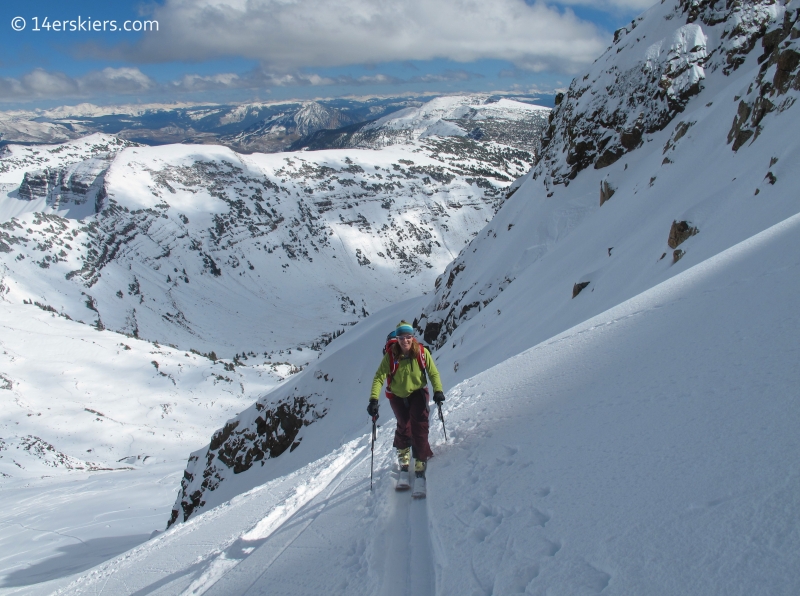 As we worked our way upwards, we passed a few different teams of skiers who had long stolen the goods before us, many of whom had gone back up for more and more. The smiles on every skier's face was proof of what we already suspected – it was good. Really good.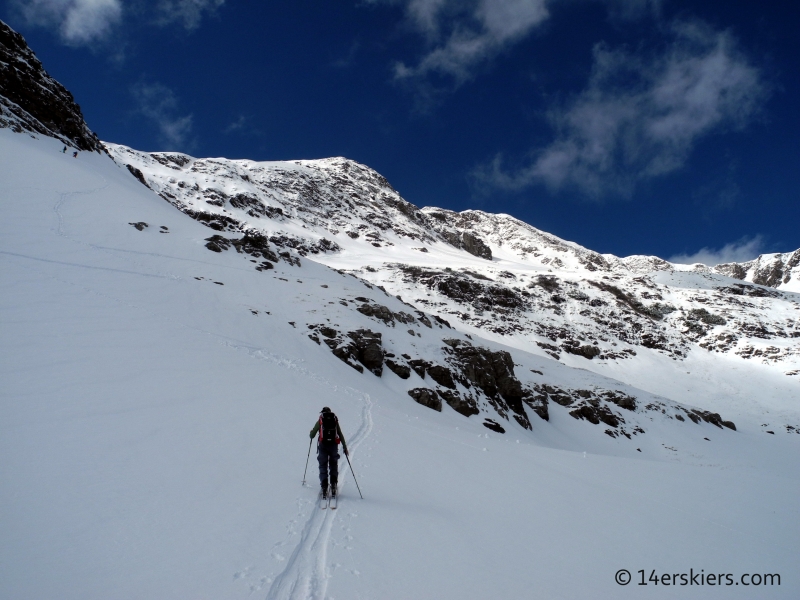 I love snow. I really really love snow 🙂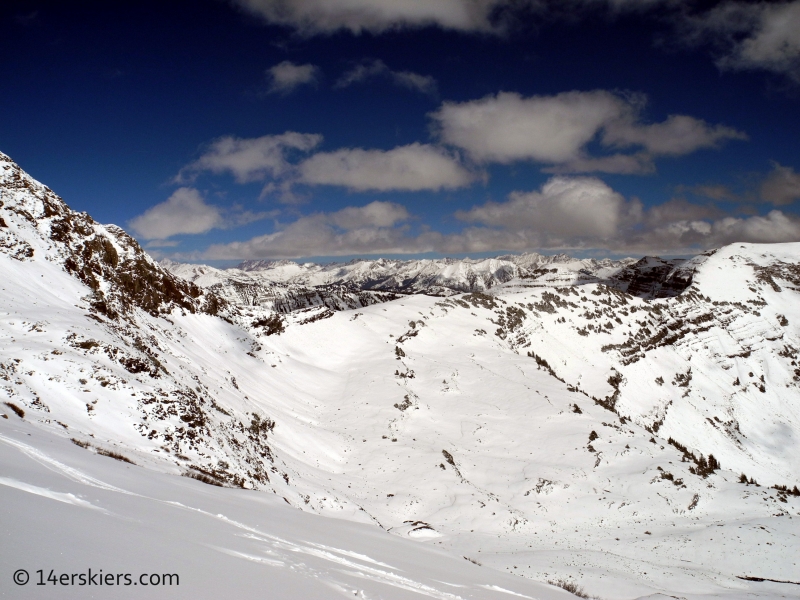 As we ascended through the basin, we saw that nearly every obvious couloir had tracks. Never fear, there was still room for fresh tracks. We chose a couloir to begin ascending to gain the ridge. However, I stopped short of the top, choosing to ski a line that particularly appealed to me and which I had never skied before. Frank, continuing on to the ridge.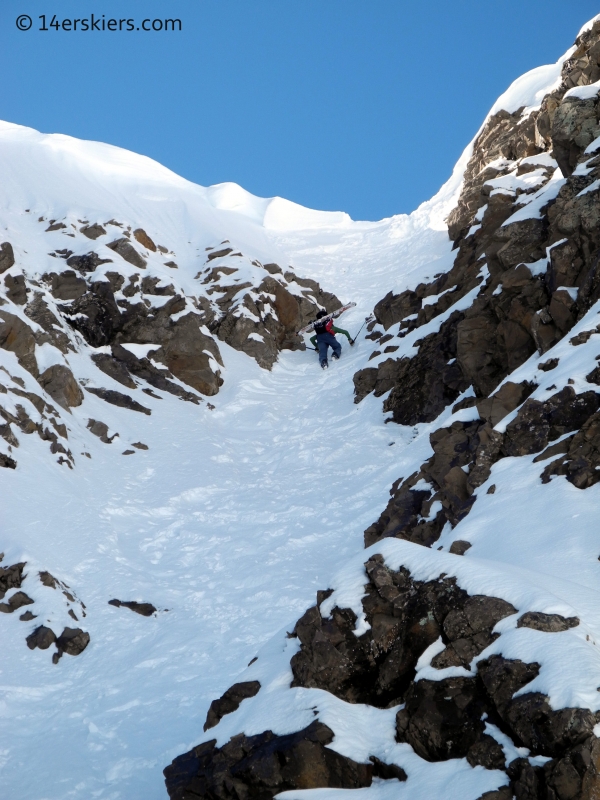 Me, getting ready for my line.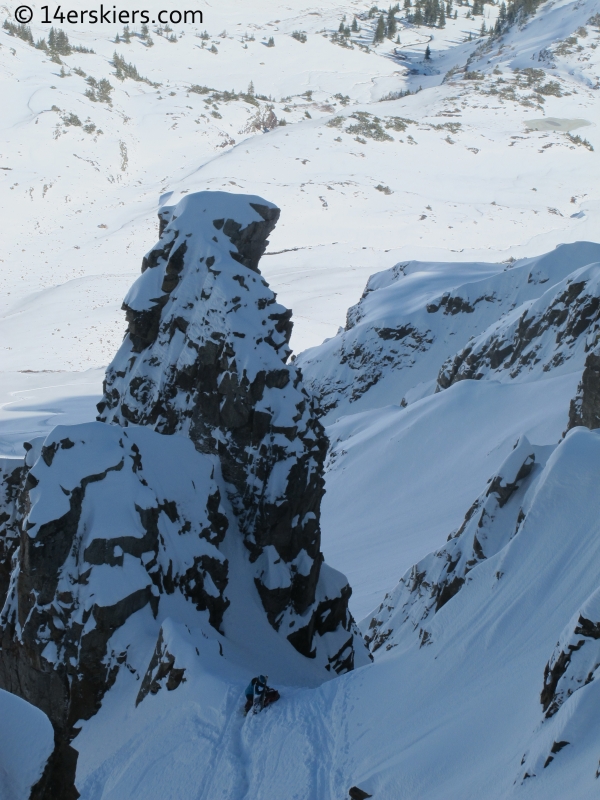 My heart fluttered with excitement as I stood at the top of my line, about to drop in for the first turns of the season.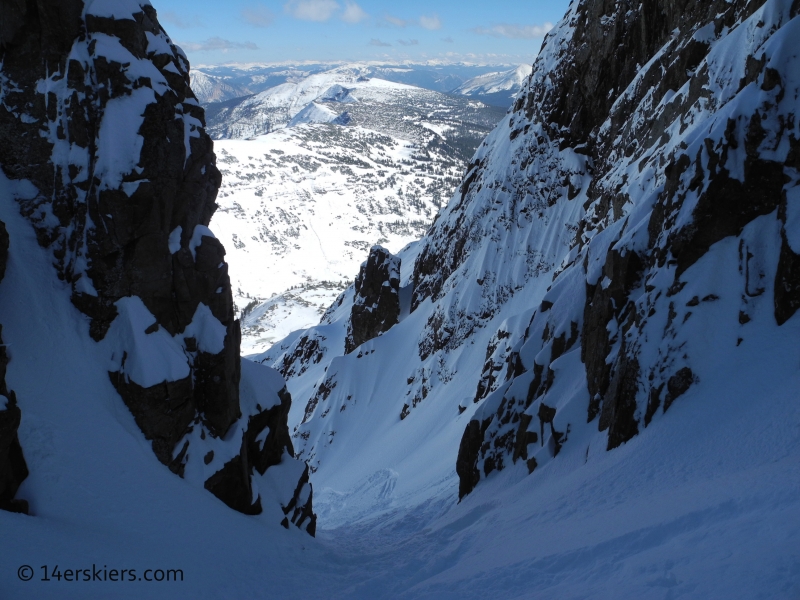 Looking back at my first of the season turns. Not too shabby really 🙂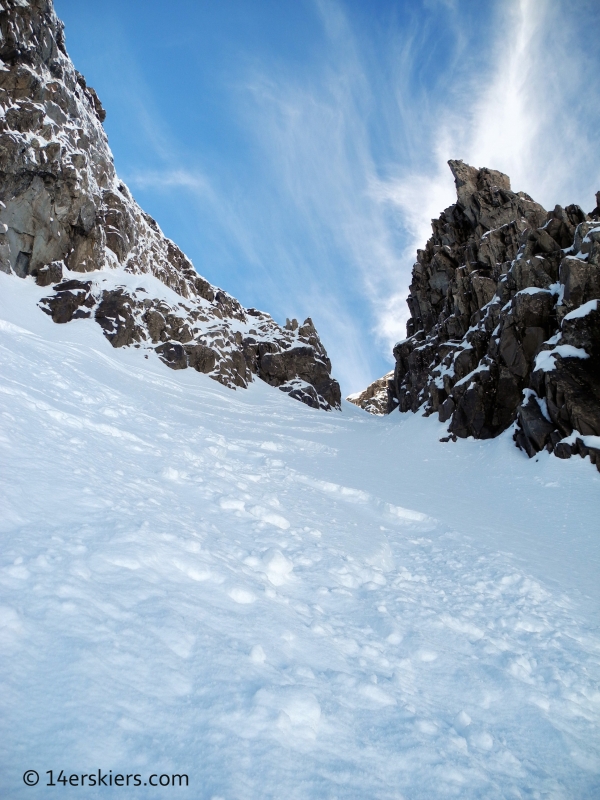 Yep, I'd say that was solid.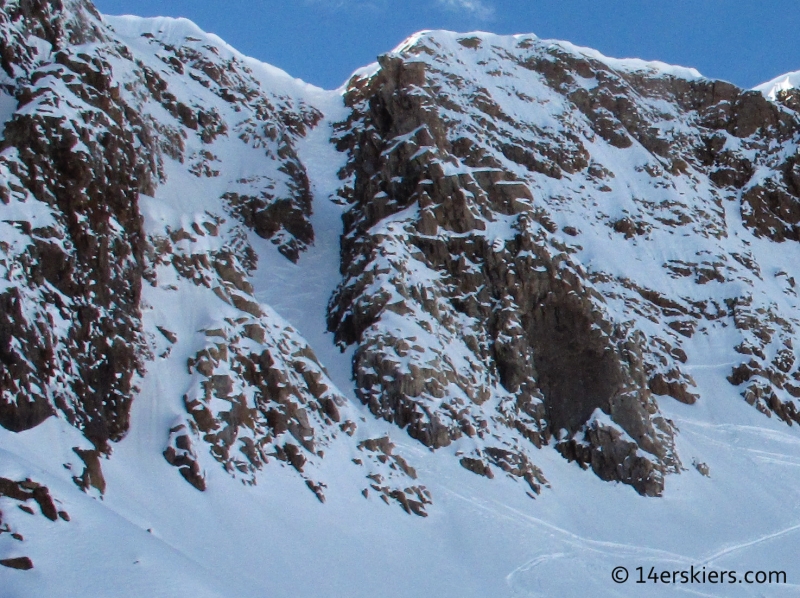 Meanwhile, Frank enjoyed the views from the top of the ridge, where fall meets winter.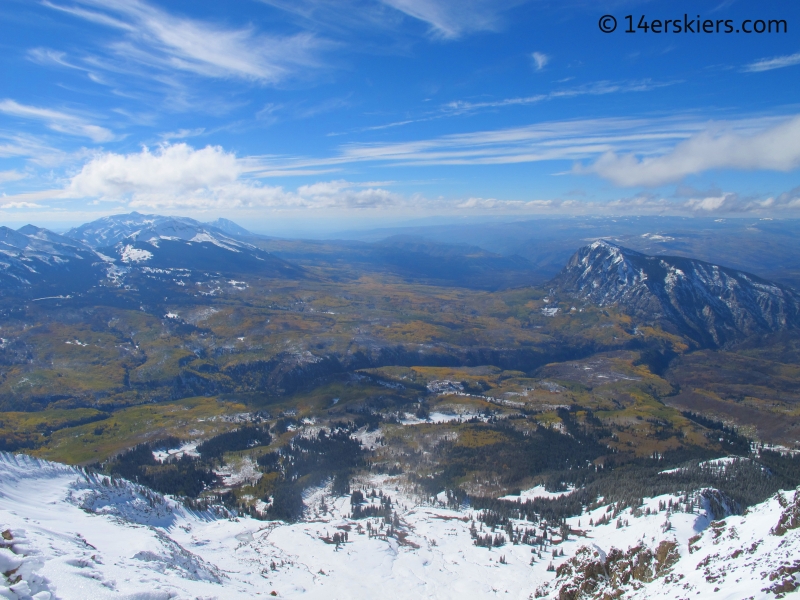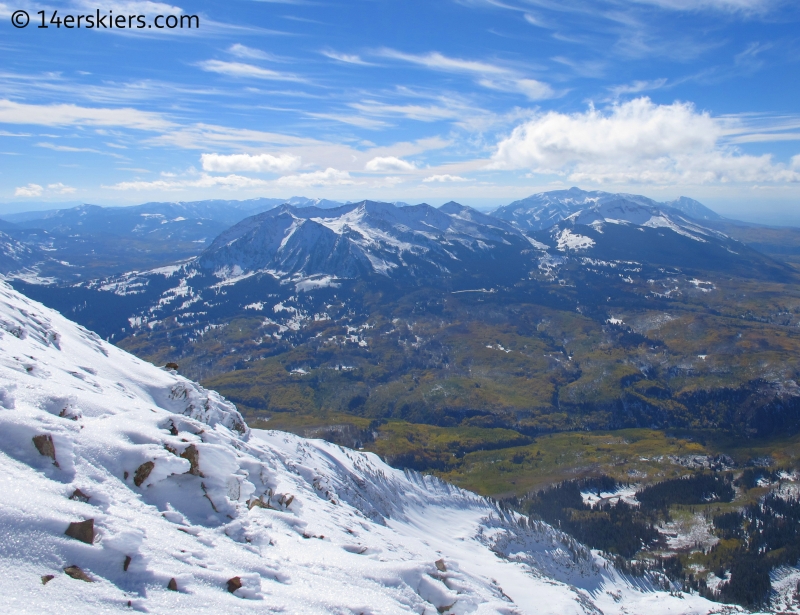 Frank followed the ridge down a little further. Normally an easy descent on skis, the ridge was thin and made for interesting navigation. Finally, I saw him pop out on top of the knob of his intended line. He began descending through the rocky terrain.
Frank is crazy. But, that's why I married him.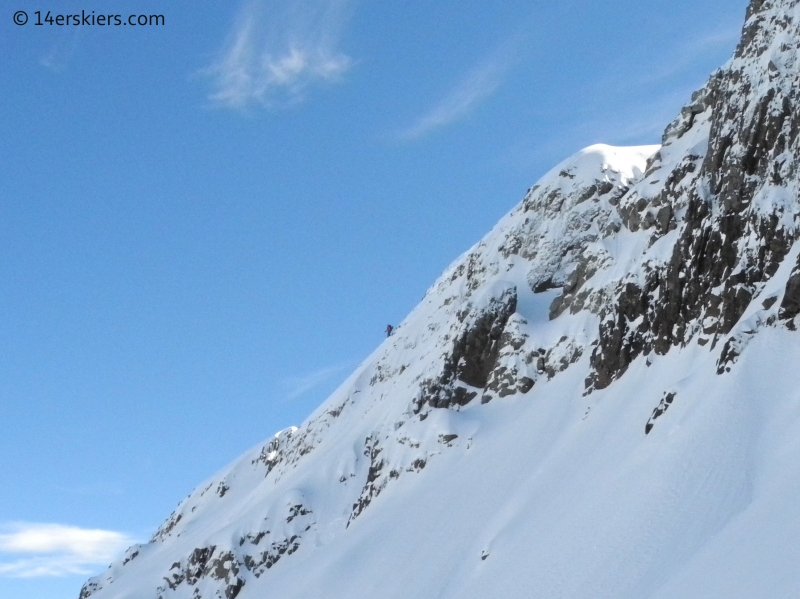 Finally, Frank reached the area where the snow was better filled in and he let loose making some big swoopy turns on this exposed area.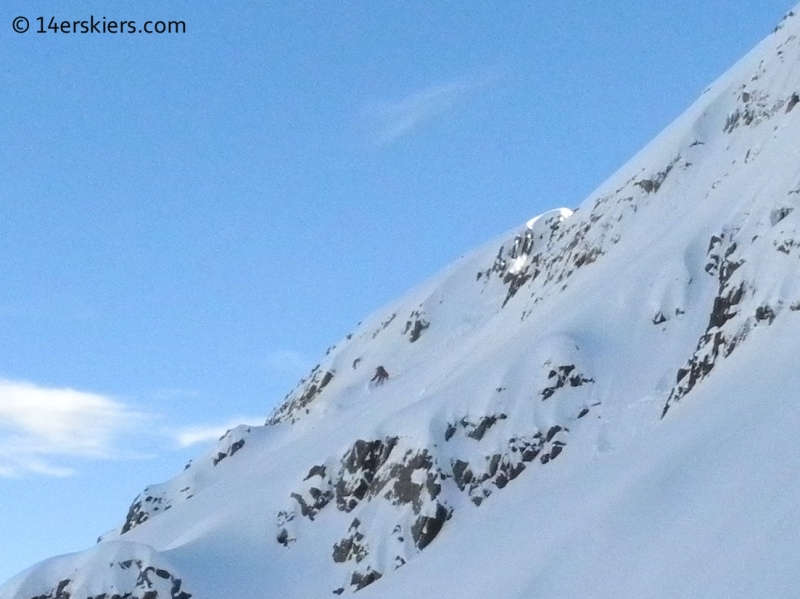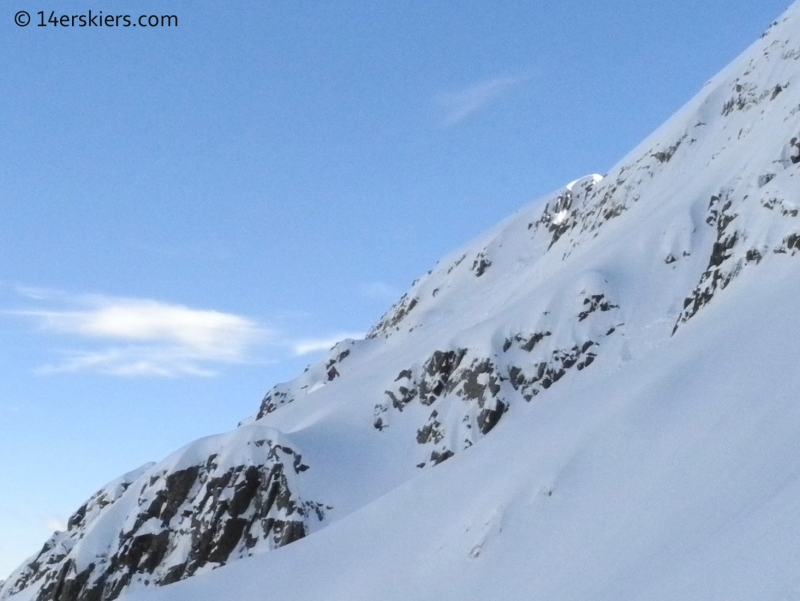 Frank paused on a ledge to shoot some photos of me. The apron was exceptionally milky and good.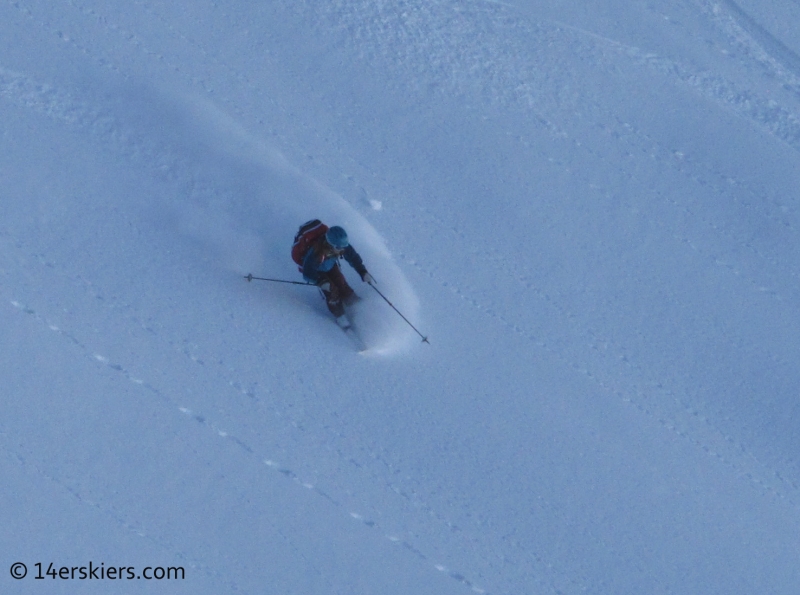 Some people call it farming. I call it "finding freshies in the middle".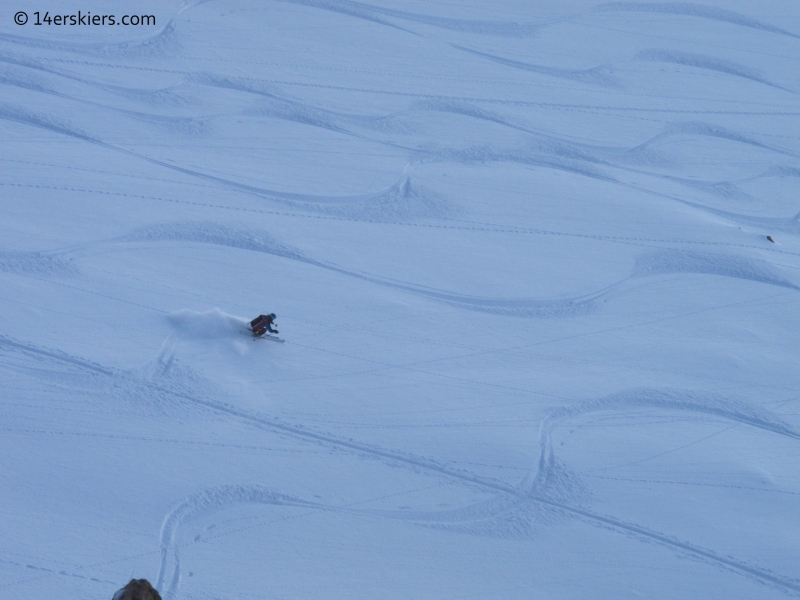 Then, Frank continued his way down the "ramp">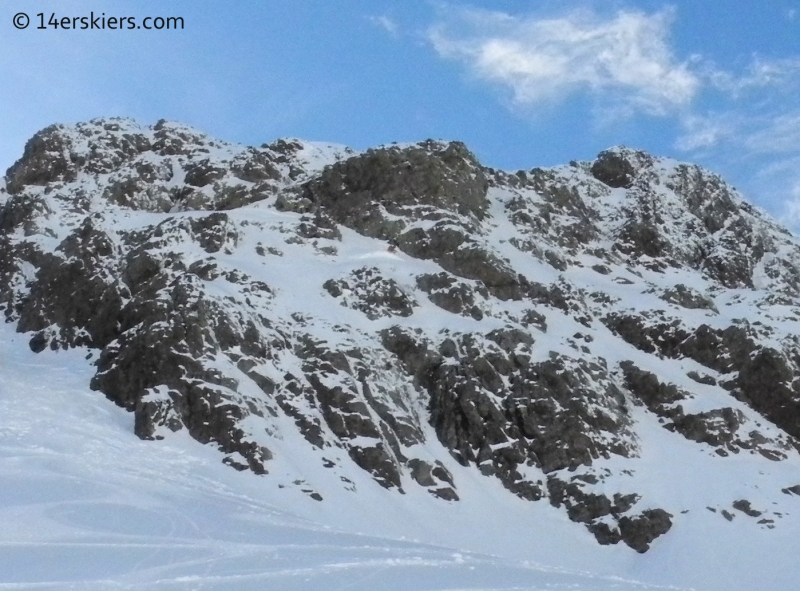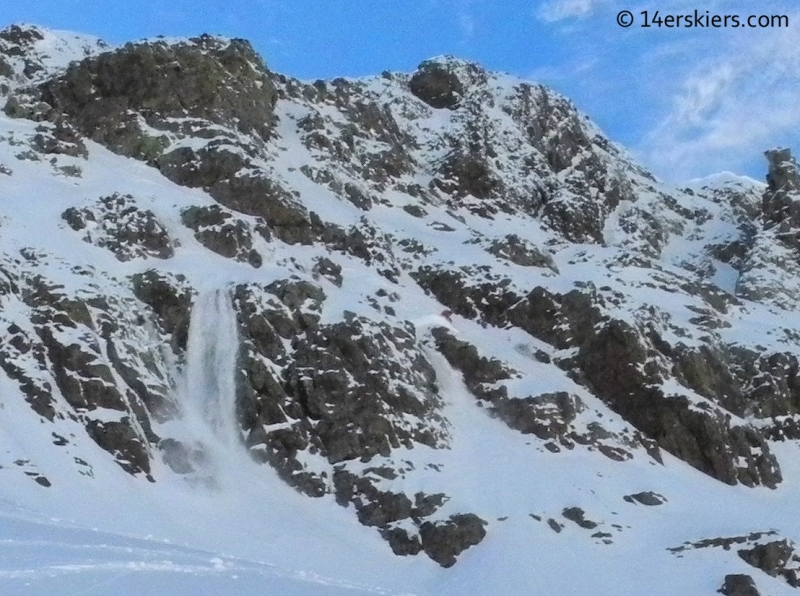 A better view of Frank's line and tracks. Who would have thought this was October?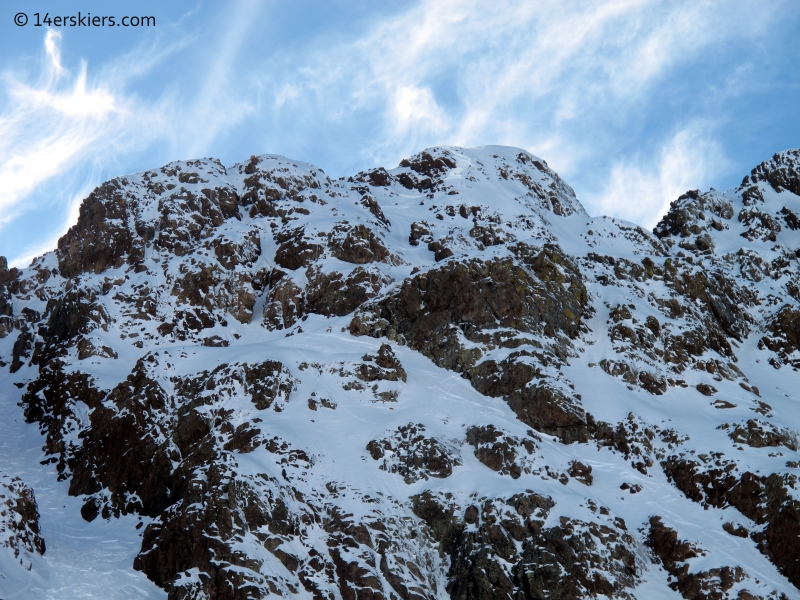 We continued down the apron, enjoying every creamy turn.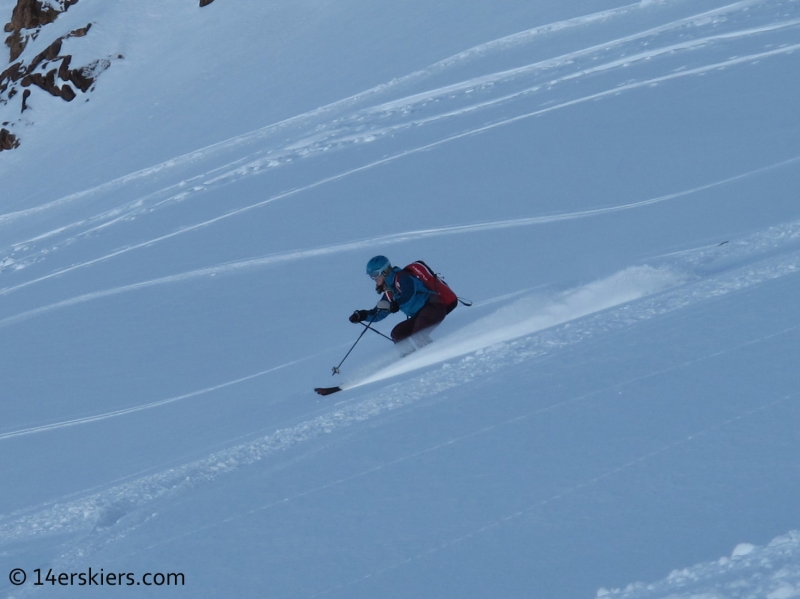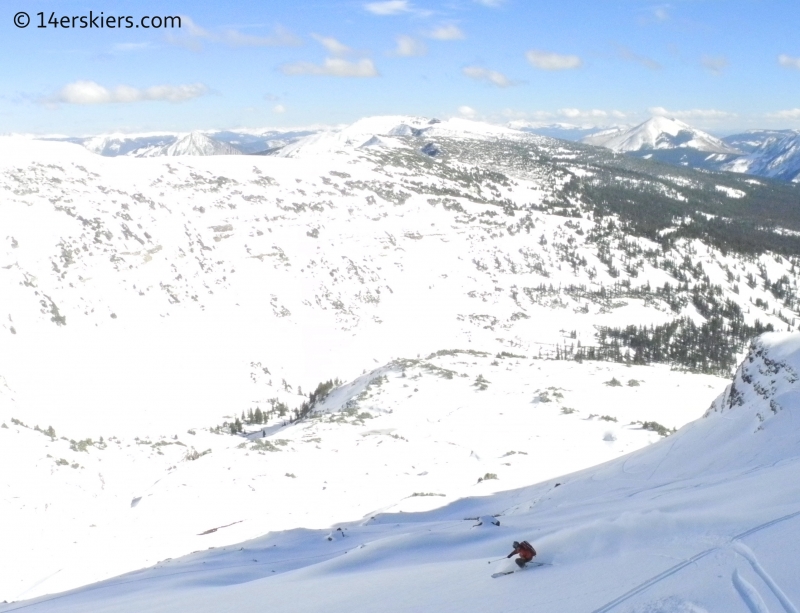 Wait for it….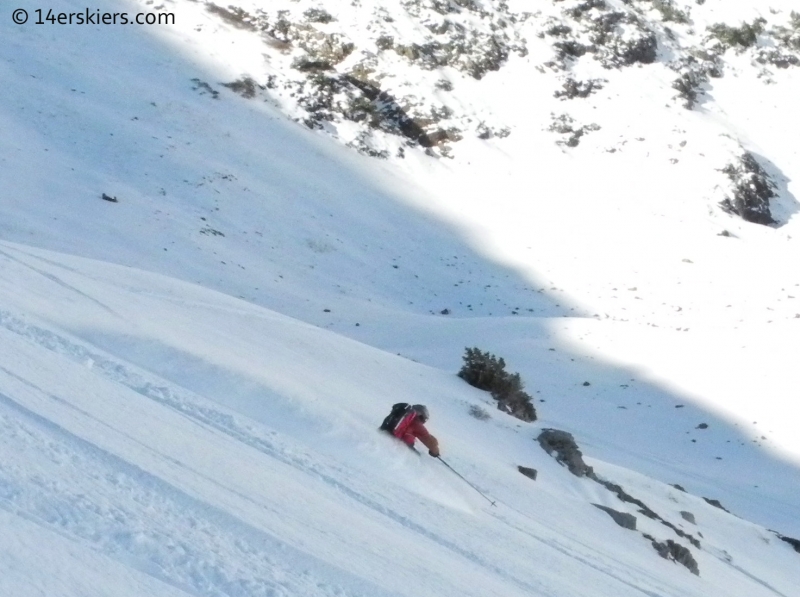 Face shot!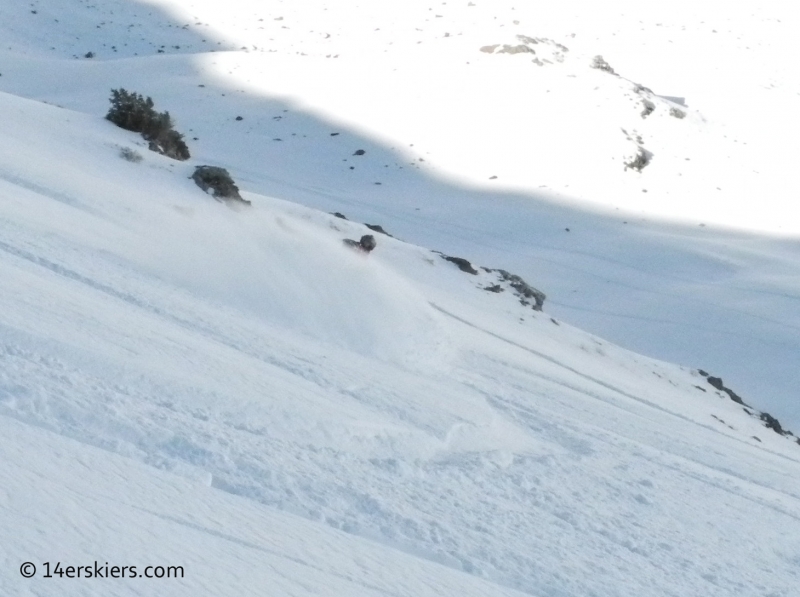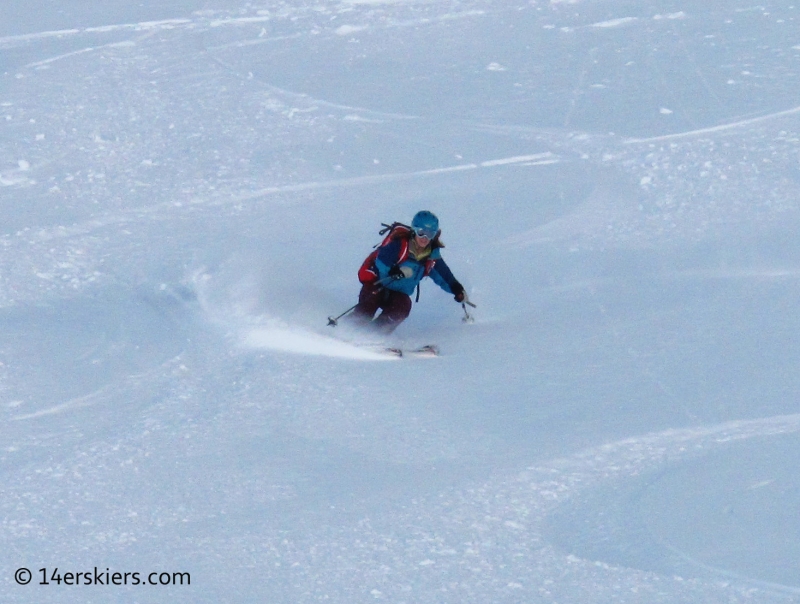 Admittedly, I wasn't quite ready for bike season to end. But, with skiing this good, I can say I don't crave the bike anymore. Let's hope that Winter keeps providing, giving us frequent doses of snow this early season to deepen our snowpack and keep it stable!
Aside from skiing, biking, and all outdoorsy things,
Brittany Walker Konsella
also loves smiles and chocolate 🙂 Even though she excels at higher level math and chemistry, she still confuses left from right. Find out more about
Brittany
!
Latest posts by Brittany Walker Konsella (see all)
Summary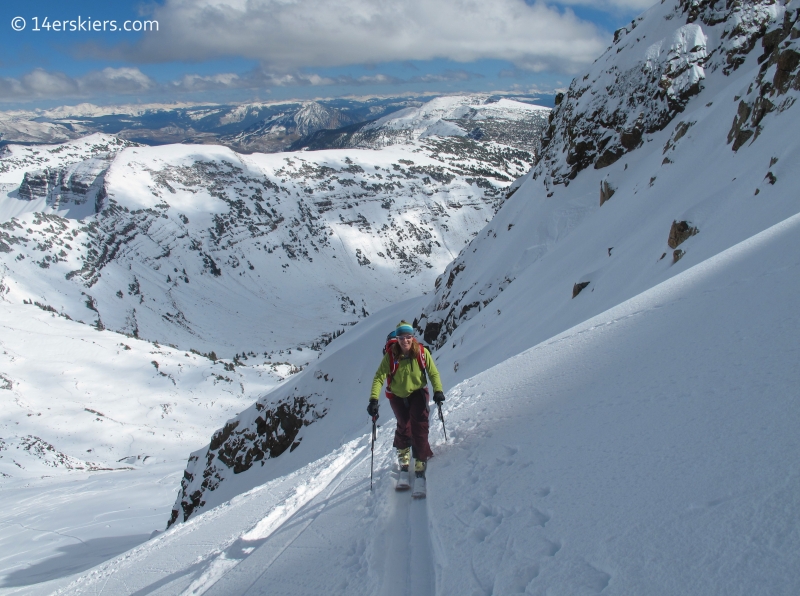 Article Name
Let the Ski Season Begin (12 Oct 2013)
Description
Looking back to when the Crested Butte ski season started early and we could ski nearly anything we wanted in the backcounry during the October of 2013!
Author