Belated TR: Spain- Modernisme of Barcelona (17-20 Aug 2009)
(Last Updated On: October 9, 2009)
Modernisme was a movement that climaxed at the turn of the 19th century, whose hub was centered around Catalan nationalism in fervent Barcelona. Tourists visit Barcelona to see many of the architectural relics left behind from this captivating era. Architects like Lluís Domènech i Montaner and Antoni Gaudí are household names in Barcelona, as their work gave rise to the energetic atmosphere that makes Barcelona what it is today.
Modernisme architects have a unique style which is appealing to today's culture. The most distinctive features of Modernisme are the vibrant colors and organic/natural feel of the structure.
Our Modernisme tour began with a walk by the Block of Discord, which houses 3 examples of Modernisme architecture in one block: 1) Casa Batlló by Antoni Gaudi, 2) Casa Lleó-Morera by Lluís Domènech i Montaner, and 3) Casa Amatller by Josep Puig i Cadafalch.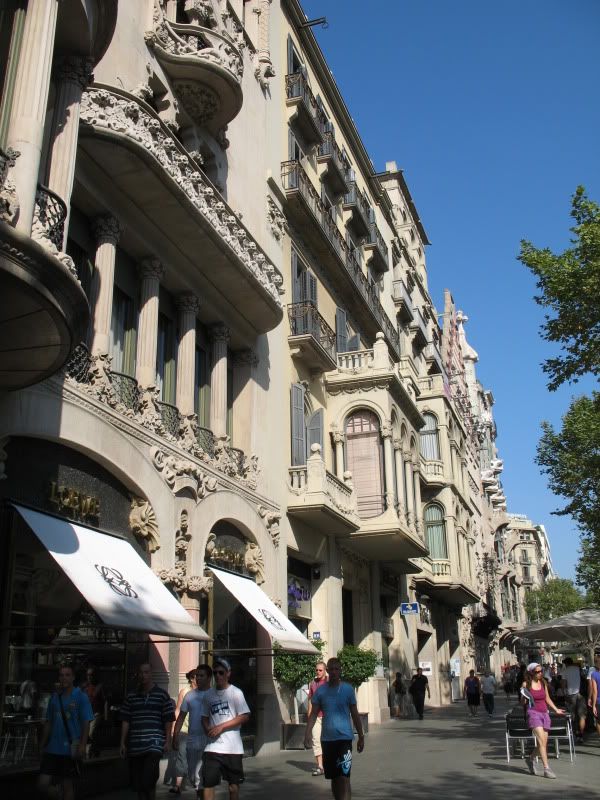 Casa Lleo-Morera on the left, with Casa Batllo behind.

A closer view of Casa Batllo.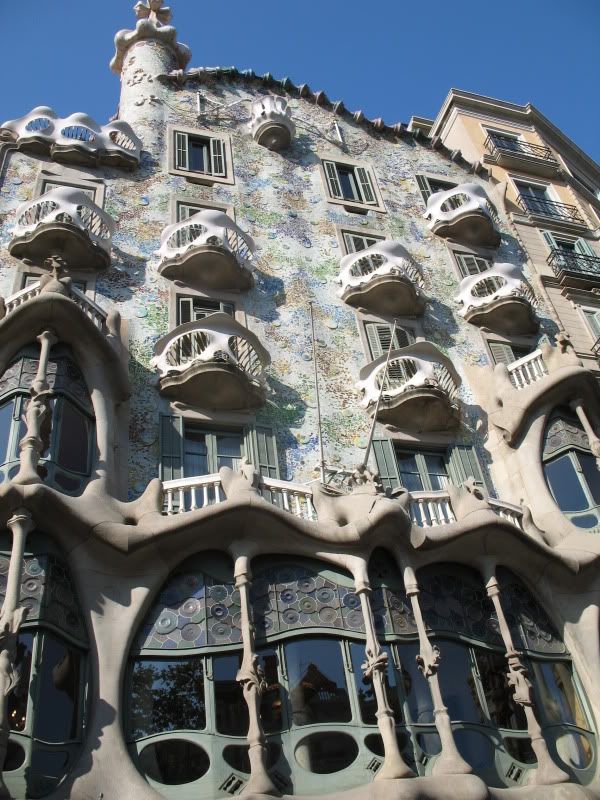 Casa Amatller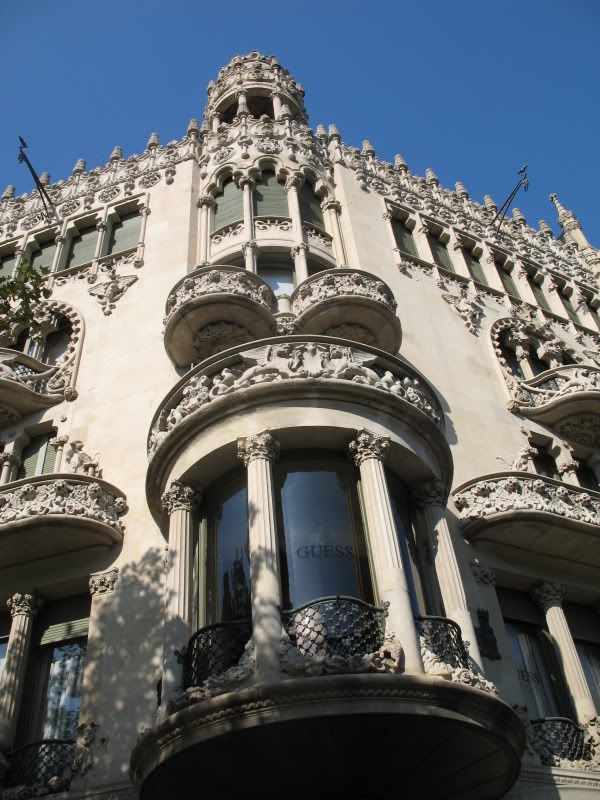 A few blocks down Passeig de Gràcia is another splendid exhibit of Gaudi's work, Casa Mila, also known as La Pedrera. Built from 1906-1912 for the Mila family, La Pedrera is one of Gaudi's more popular structures.

Walking inside, I felt like I was entering the human body, since lower interior seemed to have a "vein"-like theme.

A model of the Casa Mila.

When walking around the rest of the interior I felt like I was Alice in Wonderland herself, waiting for the White Rabbit, Cheshire Cat, or Mad Hatter to come walking around the corner.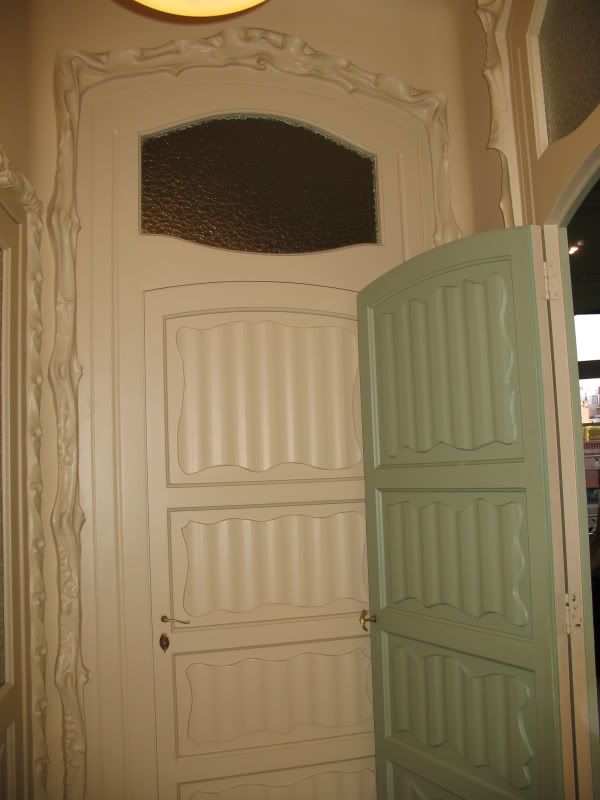 And then there was the roof… a surreal collection of oddly shaped sculptures that made me think I was walking around with some alien Vikings.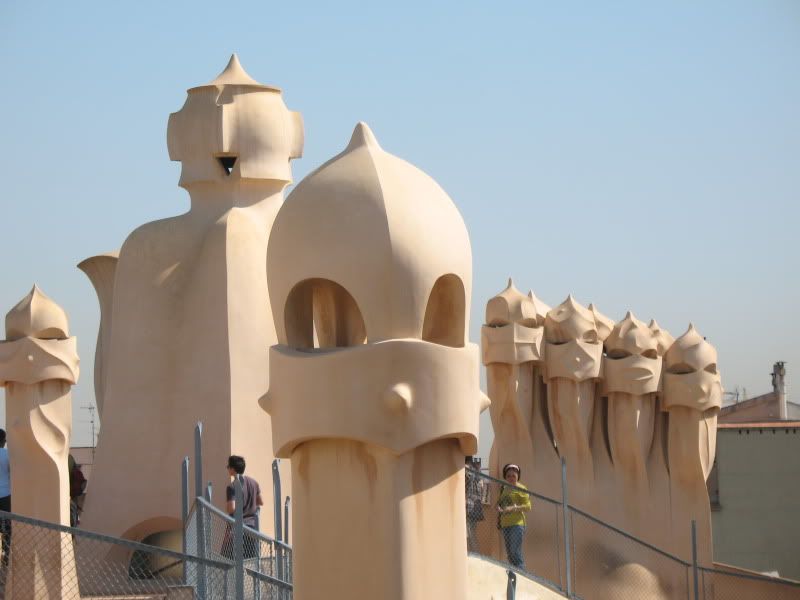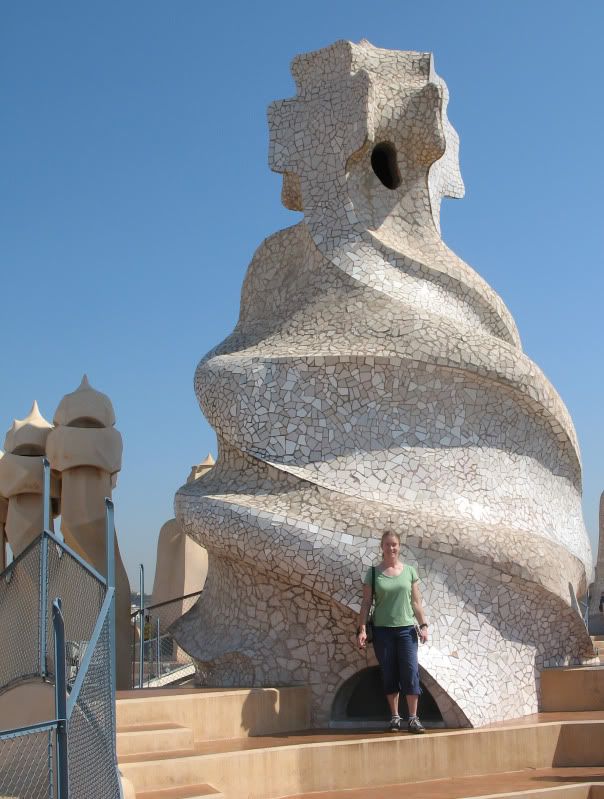 A view of Passeig de Gràcia from the roof of Casa Mila, capturing the effervescence of the diverse architecture.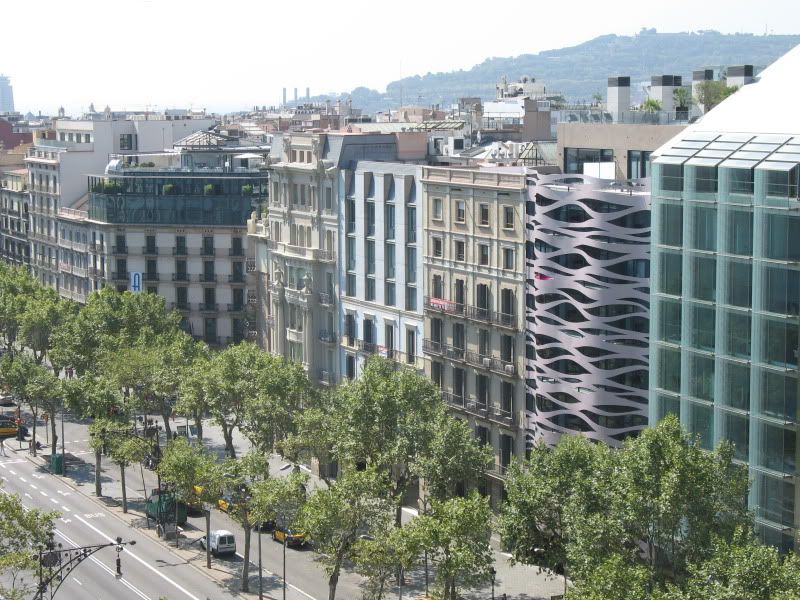 From Casa Mila, we walked toward Sangrada Familia, passing many other examples of beautiful architecture along the way.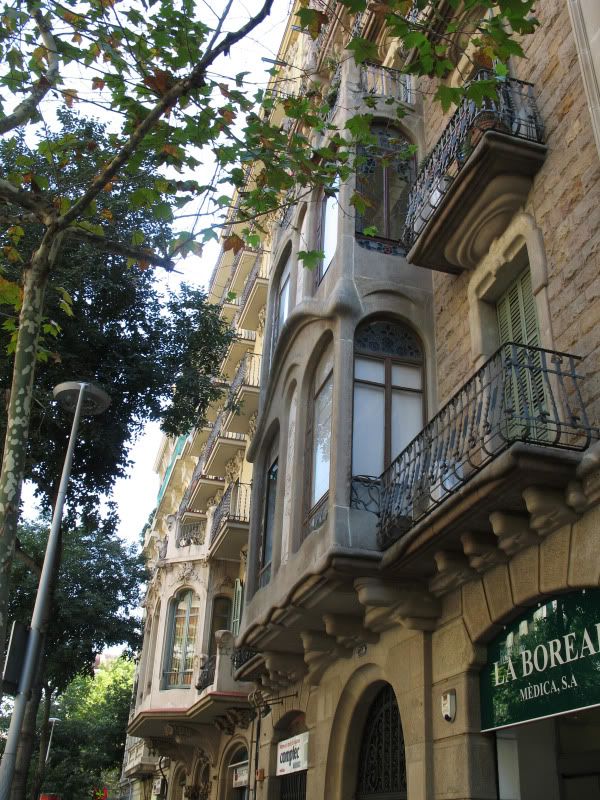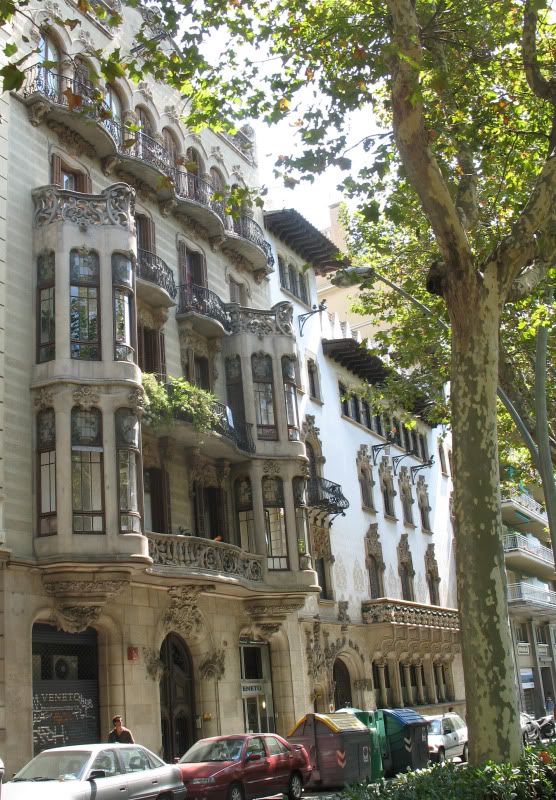 Sangrada Familia is the making of a dream born from Gaudi. A devout Catholic, Gaudi spent the last 15 years of his life consumed by this project. Upon his death in 1926, the cathedral was not complete, and to this day construction still continues. One can only imagine what an architectural masterpiece will materialize when this magnificent church is complete.

Even the gardens themselves capture the "organic" motif of Modernisme.

Since the spires were concealed from construction, I opted to grab a photo off the Internet to show a better perspective of the grandeur of this cathedral.


From About.com.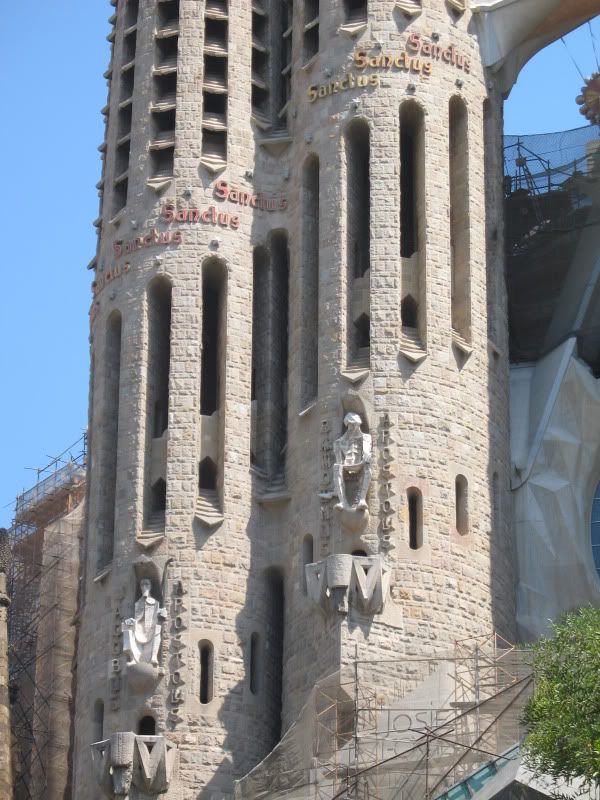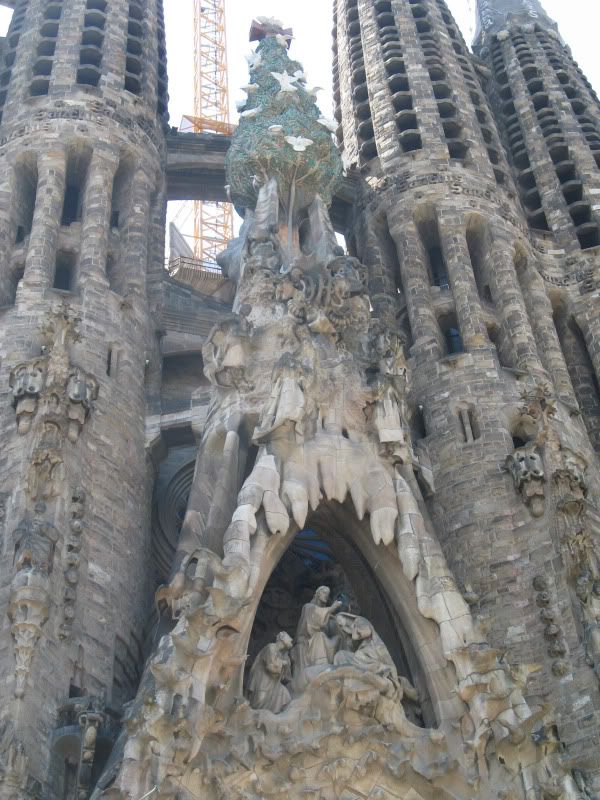 From Sangrada Familia we strolled down the road toward Hospital de Sant Pau, capturing more of Barcelona's beauty.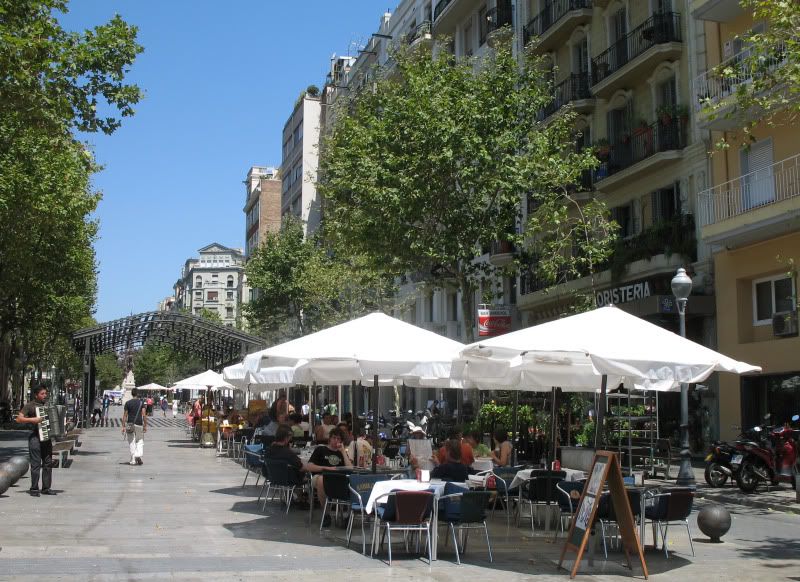 The Hospital de Sant Pau, built from 1901 to 1930, designed by Montaner.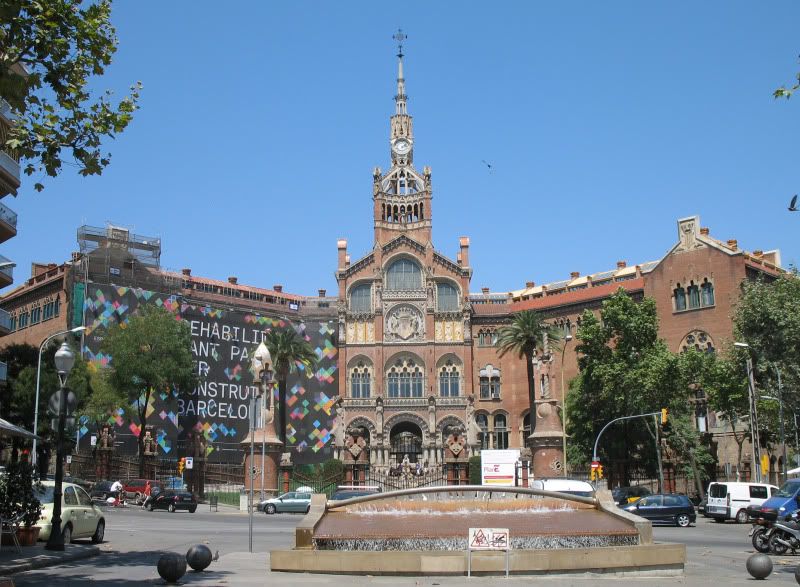 We spent our afternoon enjoying Gaudi's Park Guell, which can be viewed in tomorrow's TR!
Aside from skiing, biking, and all outdoorsy things,
Brittany Walker Konsella
also loves smiles and chocolate 🙂 Even though she excels at higher level math and chemistry, she still confuses left from right. Find out more about
Brittany
!
Latest posts by Brittany Walker Konsella (see all)