The "College" in College Bowl
(Last Updated On: November 9, 2018)
Washington Gulch Road typically does not see some of the same winter recreation traffic as some of the other areas around Crested Butte. The exception may be during the early season, when this road offers access to an early season backcountry favorite – College Bowl. Located on Mount Baldy, College Bowl has acquired a host of names. Some call it Western State Bowl (although, with Western State changing their name to Western Colorado University, that name may fade out or morph into something new). I've also heard it called Halloween Bowl, although most locals agree that the true Halloween Bowl lies on the northern part of Mount Baldy.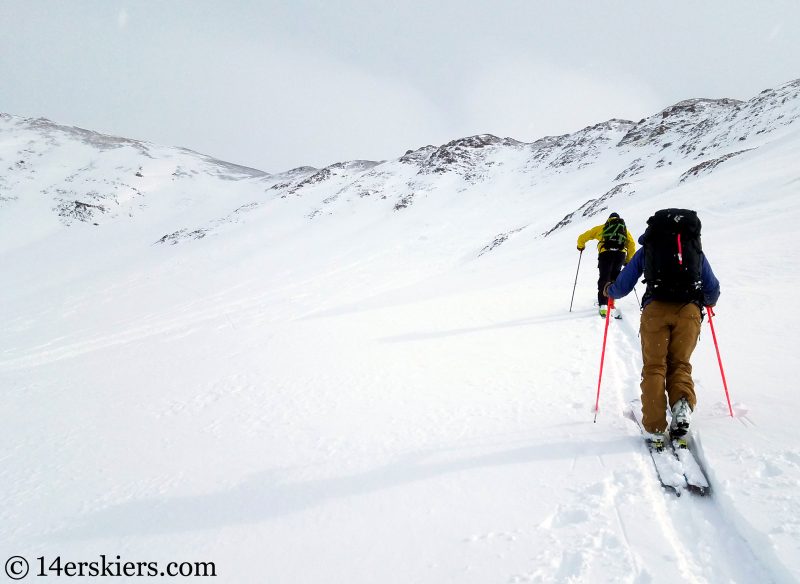 Although the name may have changed, the bowl has not. Nor have the people who access this bowl, especially during early season. On Sunday morning, our group of three started up Washington Gulch Road along with at least 3 other parties, each with their own agenda.
Snow had been falling recently, but the road was still drivable for quite a few miles. We parked our vehicle in a place where we knew if we pushed further, we would risk getting stuck. Tire tracks on the road ahead were tell-tale signs of other vehicles that had struggled in that area of suspect.
As we skinned up the road, we could see a group ahead, though they had a healthy head-start and it took us quite some time to catch up to them. It was a group of five ambitious young people, one traveling on snowshoes with skis on his back. It was easy to stereotype this group, as un-PC that may be these days – it was a group of eager college students heading out to ski College Bowl.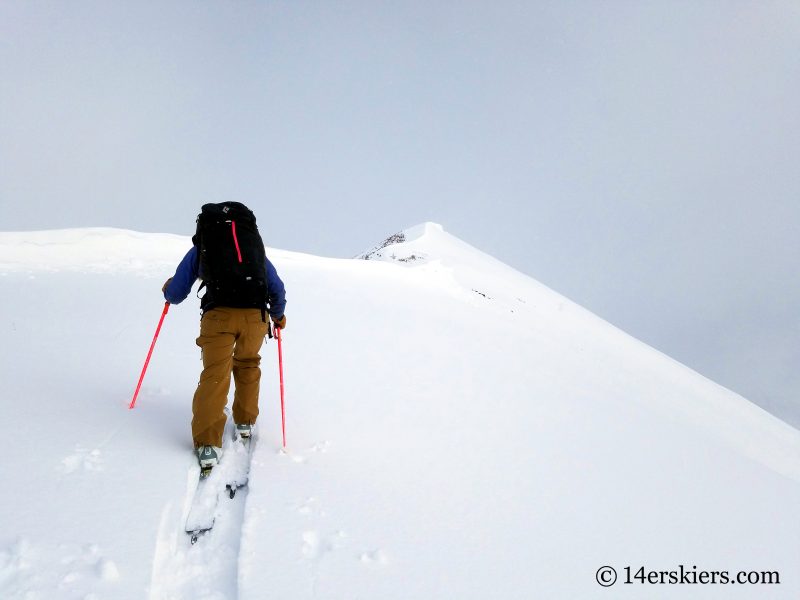 Experienced backcountry skiers know the signs of newbies. The signs are often subtle. But, then there are the blatant ones, like snowshoes. Most backcountry skiers and snowboarders quickly realized the difficulties of traveling on such inefficient devices and drop them in place of skins and touring bindings. The snowshoer was an obvious red flag. But, for me, personally, I kept thinking how awesome it was this this young group of people was getting out to experience early season backcountry skiing. I automatically assumed that most of the group had at least some winter backcountry experience and that maybe one or two of them were new to the sport. But, you have to learn somewhere, somehow. And mentors are a great tool to edge someone into backcountry skiing.
As we passed this group, we exchanged friendly hellos and continued traveling up the ridge to our intended ski route into College Bowl. By the time we reached our line, the wind was howling all around us. Snow pelted our faces and lingering clouds severely reduced our visibility. We quickly transitioned to ski. Alex dropped in first, and waited in a safe zone that still had visual on people at the start. I dropped in next and pulled over into a different safe zone where I did not have the same visual.
Meanwhile, the college students were lining up at the start zone too. Tom, the third person in our party, encouraged them to descend a slightly different route as ours was a bit more technical and difficult, especially with thin early season coverage. He dropped in and skied to me, while Alex, with eyes on this group, kept telling them not to drop in right on top of Tom.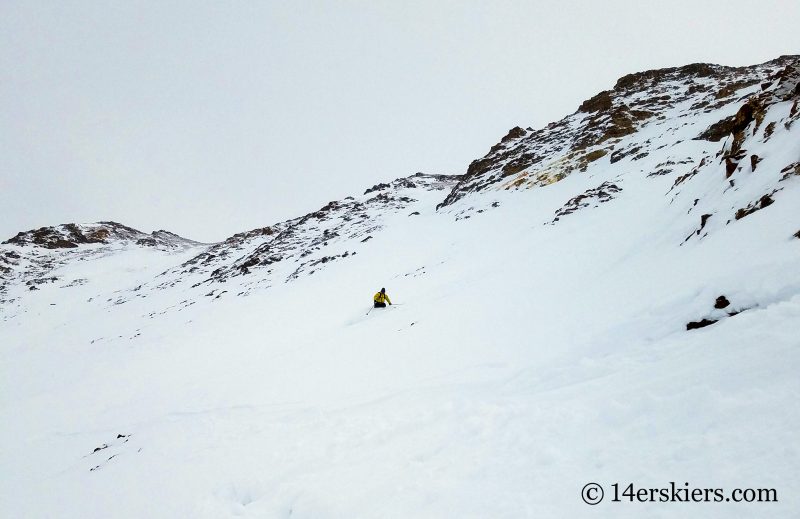 Alex then proceeded to ski the rest of College Bowl until she reached a bench that is often considered a safe stopping point. I followed. When I reached the bench where Alex was located, I turned around and saw six people on the line that we had skied. Five of them were all skiing at the same time, many of them falling sporadically all over the mountain.
Backcountry skiers know that this is a huge no-no. This is huge a violation of Avalanche Safety 101. When skiing in avalanche terrain, you ski one at a time, stopping at various safe zones. That way, if there is an avalanche, it decreases the risk of your entire group getting buried. Who is going to dig you up if your whole group succumbs to an avalanche? No one. Or if they do, it's likely too late. Just look at the incident at Sheep Creek a few years ago….
My jaw dropped in awe of the pure ignorance of these backcountry skiers. I could not believe what they were doing, and that they had also put our group at such huge risk. This group put the College back in College Bowl.
We are lucky in Crested Butte. Most winter recreationists are at least aware of avalanche danger and basic protocol. We are not prone to the inexperienced travelers that you can often see at places like Loveland Pass and parts of Berthoud Pass. And even after spending quite some time skiing on Berthoud, I never saw anything like this.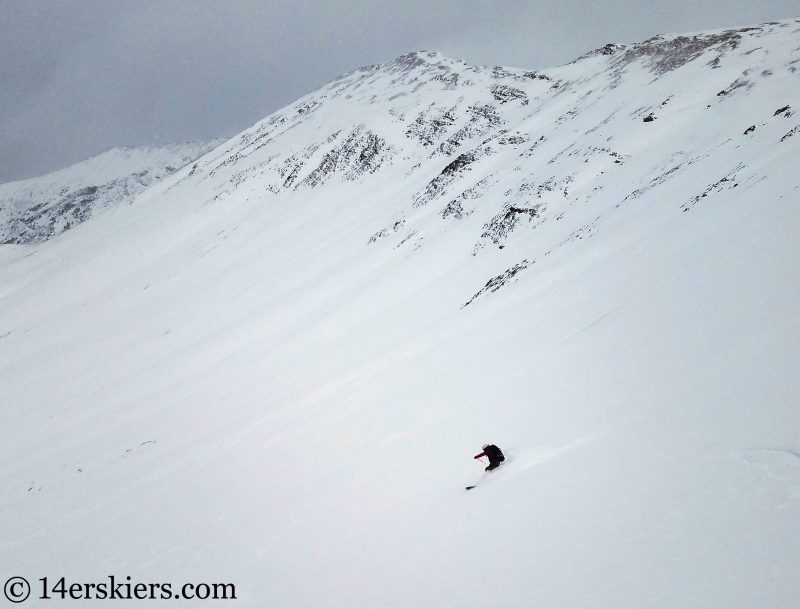 So, what do you do when you see an entire group of backcountry skiers breaking all the basic avalanche safety rules and putting other groups at risk? Well, it's probably a good idea to talk to them. So, we had a couple of different conversations with this group of college students – warning them that the whole bowl can slide, that they can't have their entire group get buried, that they can't put other groups at risk, and that backcountry skiing is indeed a risky sport and that you can die if you don't follow avalanche safety protocol. We told them to get educated – that it was essential for them to take an avalanche course.
I think the look on our faces was sign enough for these students. Though they did not exactly know the details of their errors, they knew they did something wrong. I'm hoping that these students spend the money and take the time that they need to get proper avalanche training. I'm hoping that this group helps to take the college out of College Bowl.
How many of you have seen backcountry skiers and snowboarders breaking all the basic avalanche rules? How many of you have been put at risk by other parties skiing in the same area as you? What did you do about it? Please share your stories with us in the comments below!
Aside from skiing, biking, and all outdoorsy things,
Brittany Walker Konsella
also loves smiles and chocolate 🙂 Even though she excels at higher level math and chemistry, she still confuses left from right. Find out more about
Brittany
!
Latest posts by Brittany Walker Konsella (see all)
Summary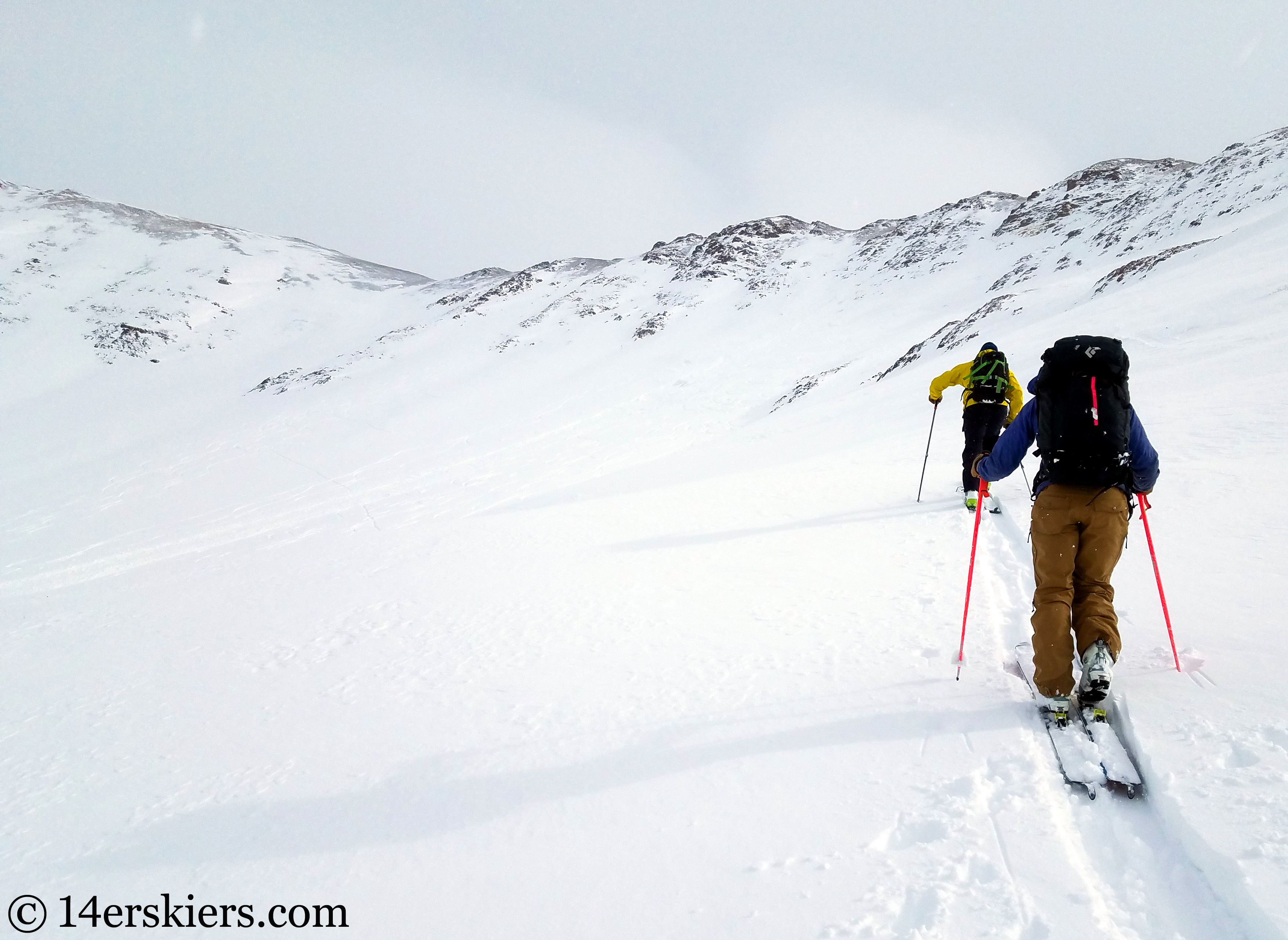 Article Name
The "College" in College Bowl
Description
Backcountry skiing comes with adherent risks of which not everyone is aware, as seen by this account of skiing College Bowl on Mount Baldy.
Author