TBT: Middle Ruby Range Traverse
(Last Updated On: September 13, 2017)
This post is part of a Throwback Thursday series featuring trip reports that we haven't had a chance to write about until now! Look for them at least every other Thursday!
The Ruby Range Traverse in Crested Butte refers to a traverse on a ridge line that travels over several different peaks between Purple Mountain and Ruby. Normally covered from north to south, after Purple, the ridge line extends to Augusta, Richmond, Hancock, Oh-Be-Joyful, Afley, Purple Peak, Owen, and then finishes at Ruby. In mid-September, my friend Susan and I completed a traverse of the northern most peaks. After that, we set our sights on another part. This hike would take us over Afley, Oh-Be-Joyful, and Hancock- a part I have termed the "middle" Ruby Range traverse.
It was Susan who came up with the vision of how to complete this hike. We drove to the bottom of Mount Owen and approached the edge of Scarp's Ridge. From there, we dropped into the basin between Purple Peak and Afley, and then climbed Afley. After, we continued to Oh-Be-Joyful and Hancock and then descended the Oh-Be-Joyful Pass trail and followed that to the Blue Lake trail. When the Blue Lake trail split, we headed toward Star Pass and then traversed our way over to the high point on Scarp's Ridge. From there, we followed along Scarp's ridge until the bench that lead us back to our car at the bottom of Mt. Owen.
We got an early start. Afley seen from Scarp's. We ascended a couloir that leads up to the left ridge – the same couloir that most people climb when they ski the mountain.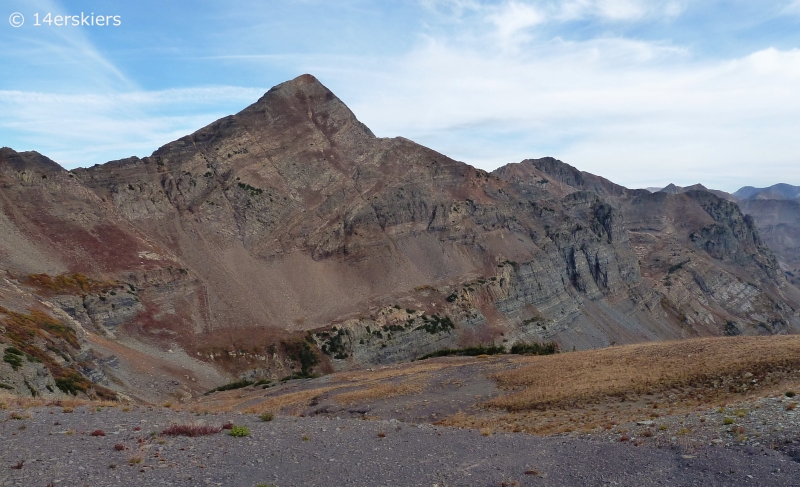 Looking down toward Blue Lake and over toward Star Pass (the notch in the far ridge line).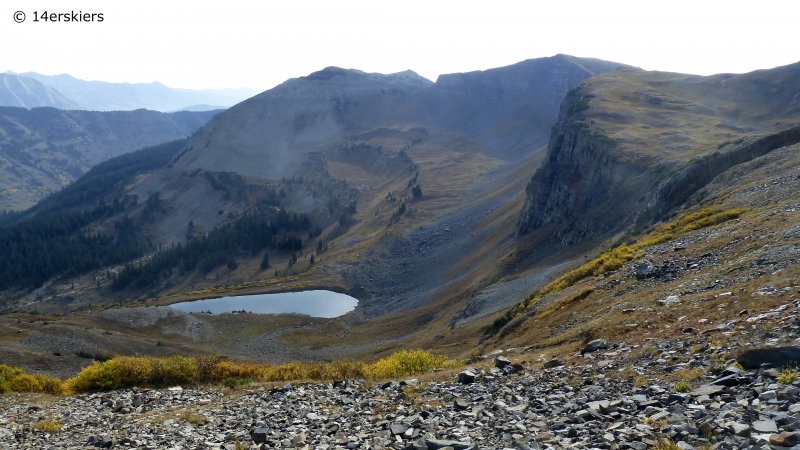 Susan climbing up the couloir, which had a few treacherously loose sections.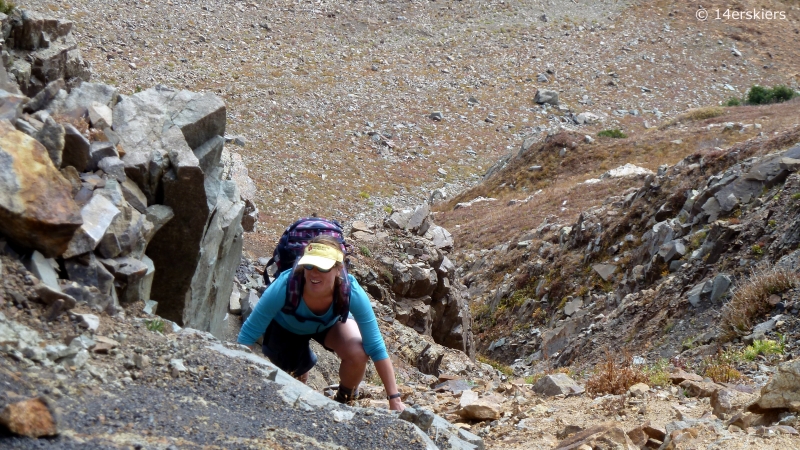 Susan on the ridge line to Afley.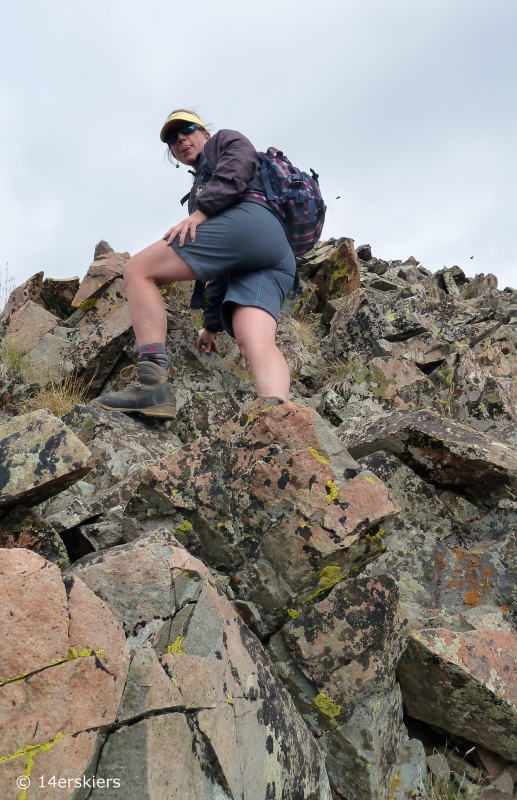 So, as it turns out, there really wasn't a person standing on the summit for an hour 😉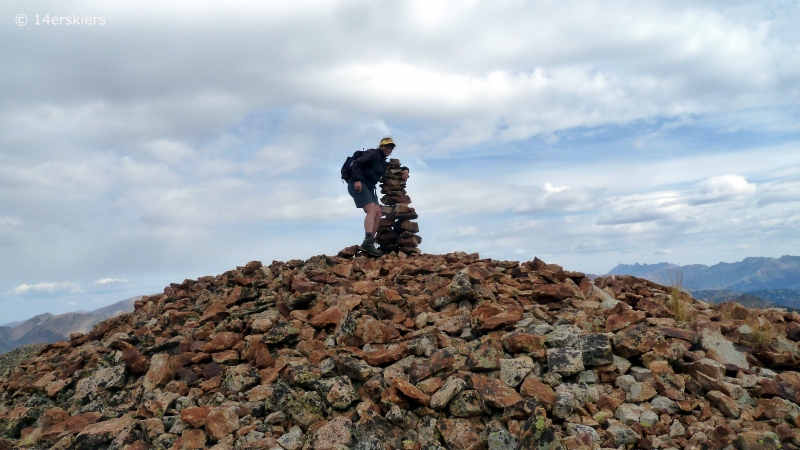 A view looking southwest from Afley – Beckwith and Marcellina mixed with colorful fall hues.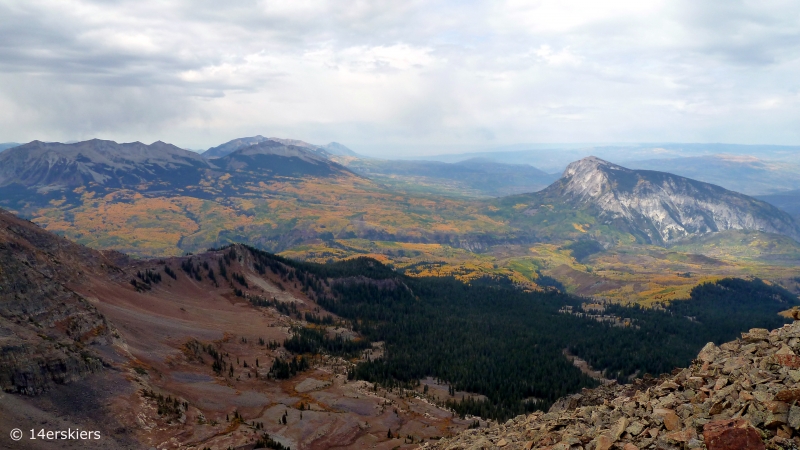 Marcellina and the Raggeds.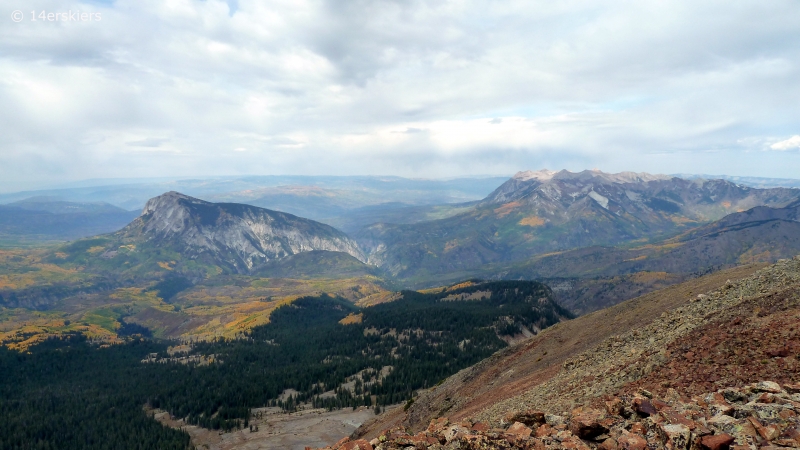 Looking north from Afley.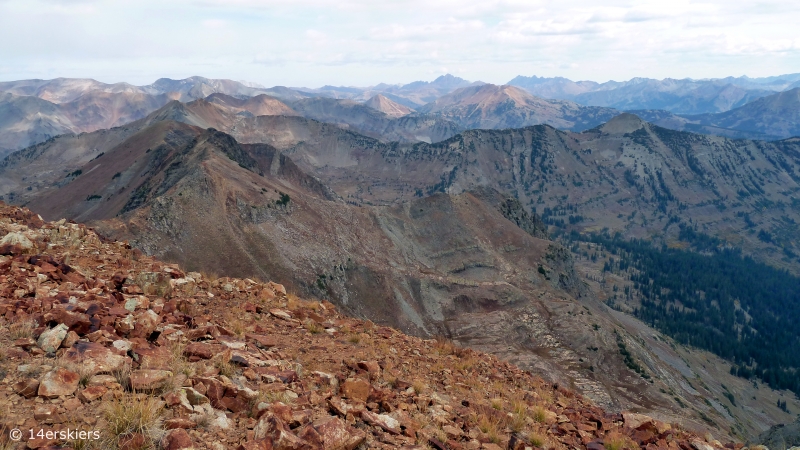 The rest of the Ruby Traverse, north of Afley.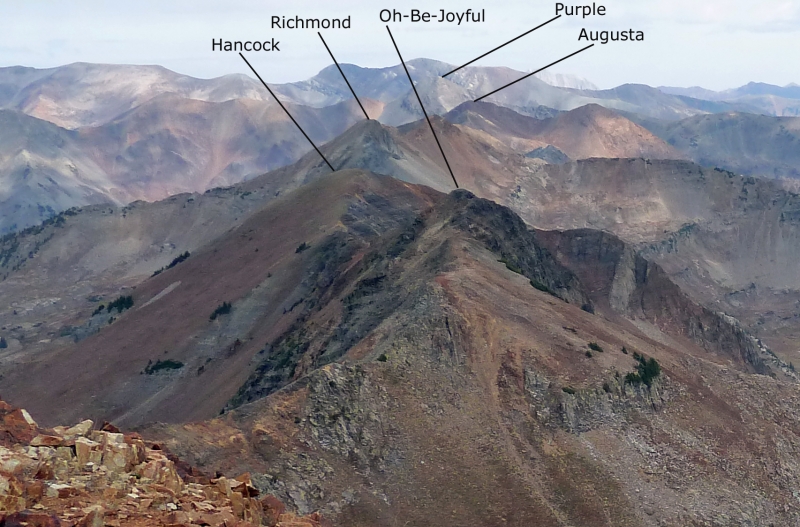 The rest of the southern Ruby Traverse- Purple Peak, Owen, and Ruby (hidden).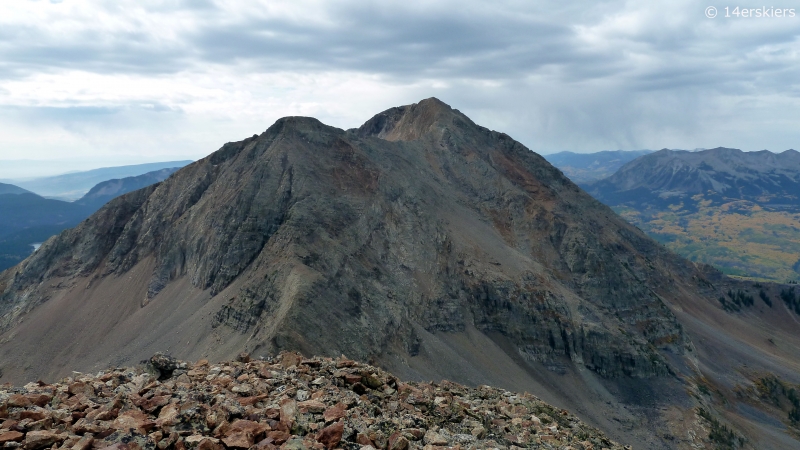 From Afley, we continued on toward Oh-Be-Joyful. This section of the ridge line was fun.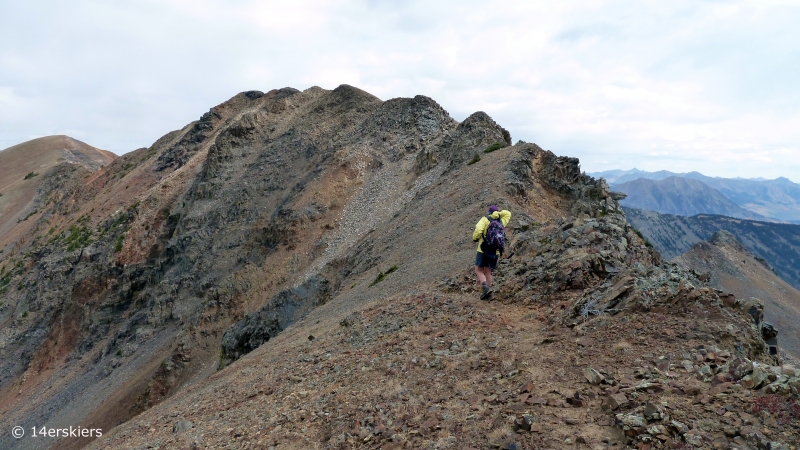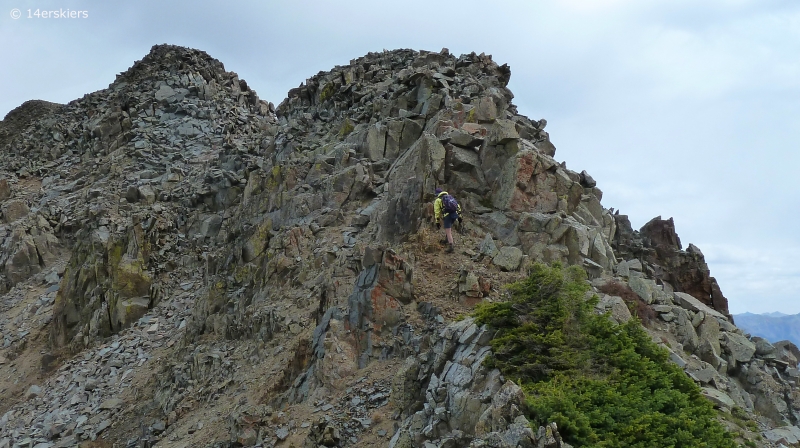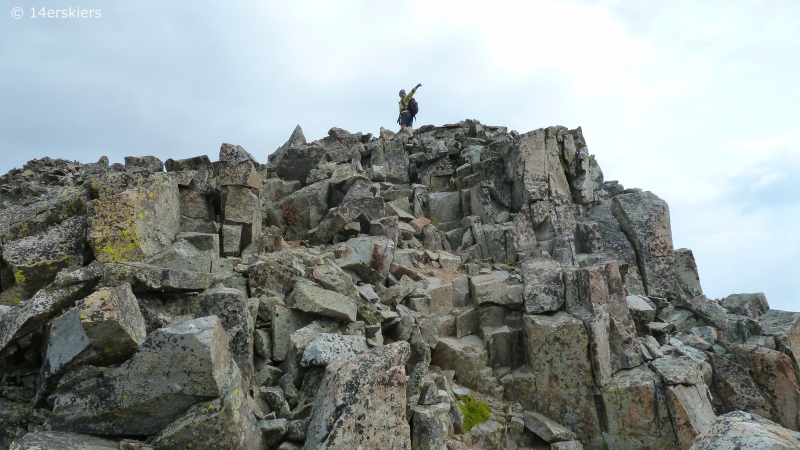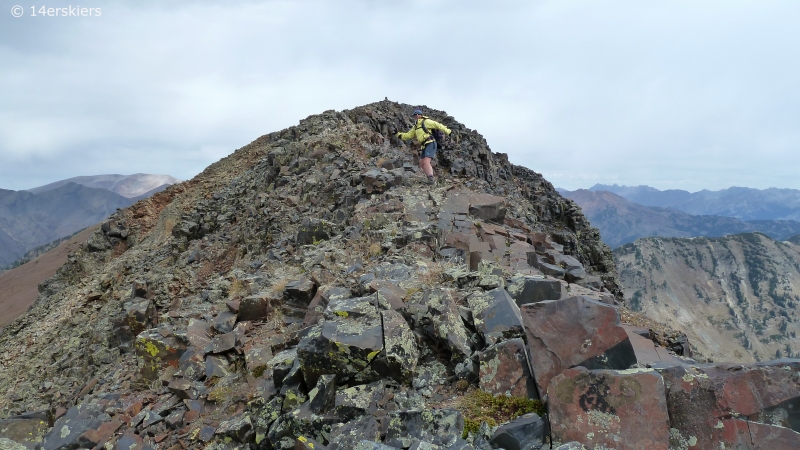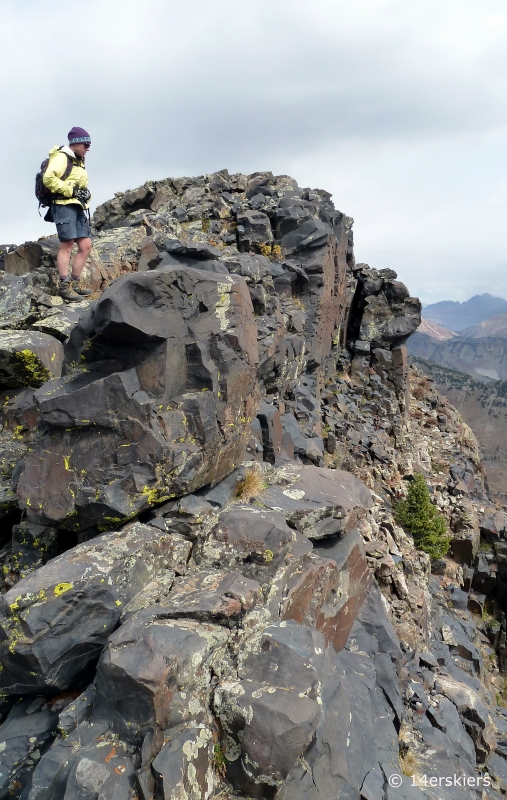 Susan enjoying a snack on the summit of Oh-Be-Joyful.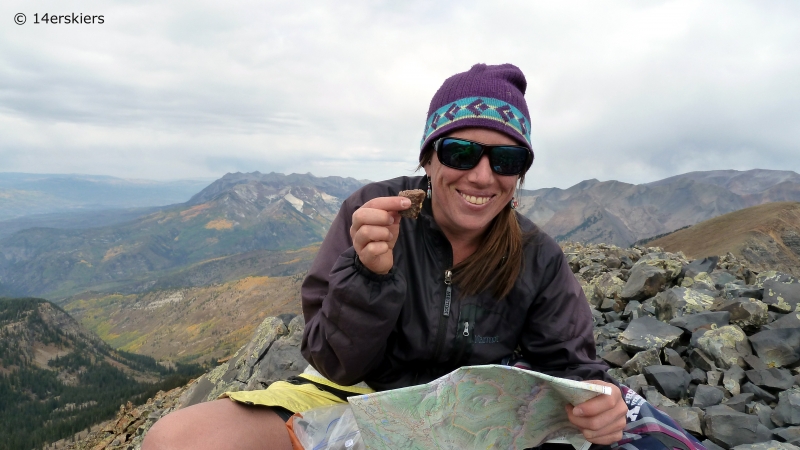 A look back toward Afley and the ridge line we followed.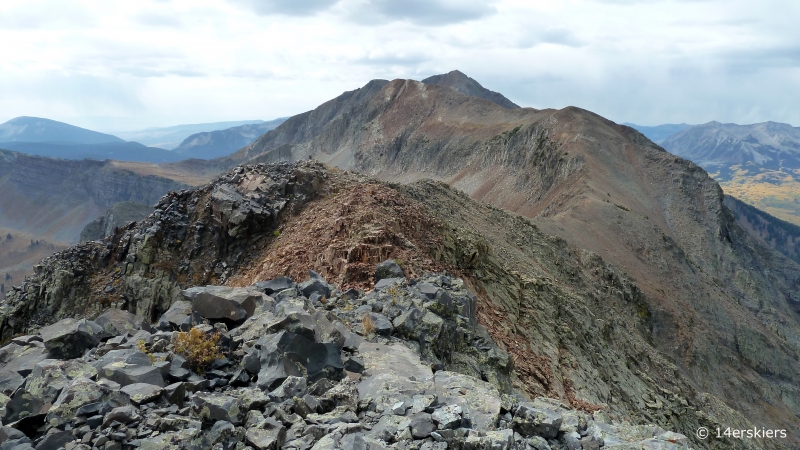 The sky was blue when Susan picked me up in the morning. But, it quickly turned to gray. As we stood on Oh-Be-Joyful, we watched snow squalls engulf surrounding peaks. The temperature was rapidly dropping. We knew we had to keep going. On to Hancock.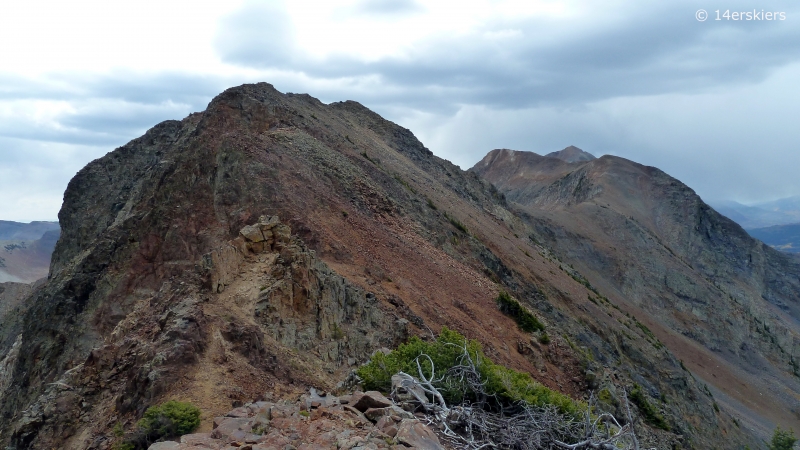 Susan on top of Hancock.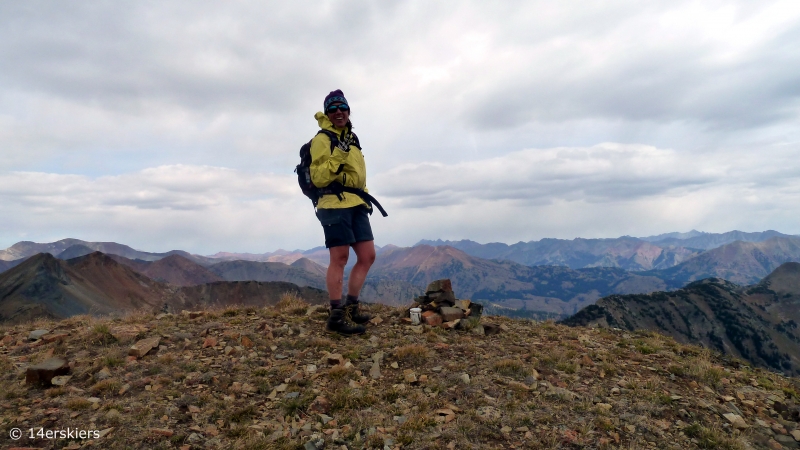 Looking back toward Oh-Be-Joyful and Afley.

Susan descending Hancock with Richmond behind. Oh-Be-Joyful pass trail descends from the treed area on the ridge just below.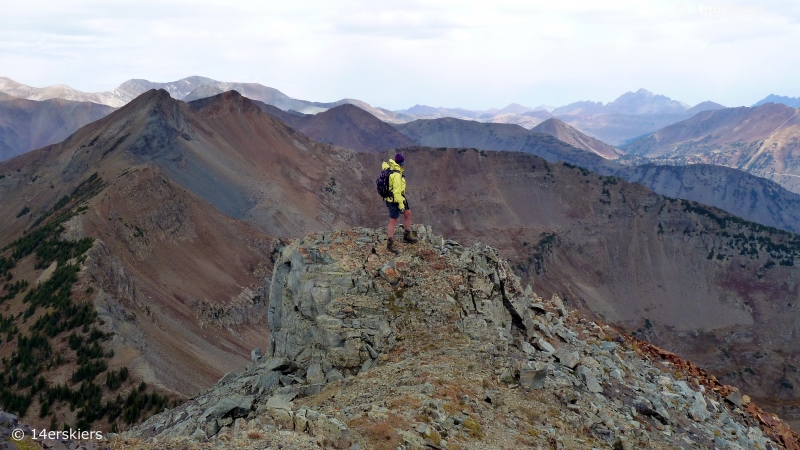 As we descended Oh-Be-Joyful Pass, we were happy to be protected from the prevailing wind for a while.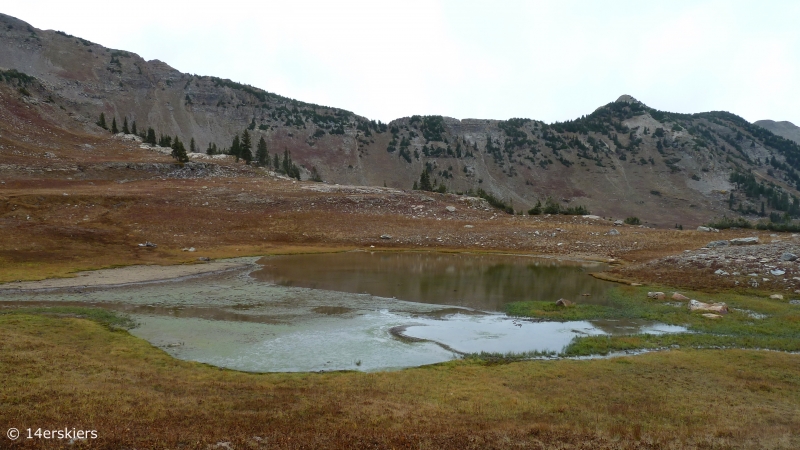 The upper bench of the Oh-Be-Joyful valley.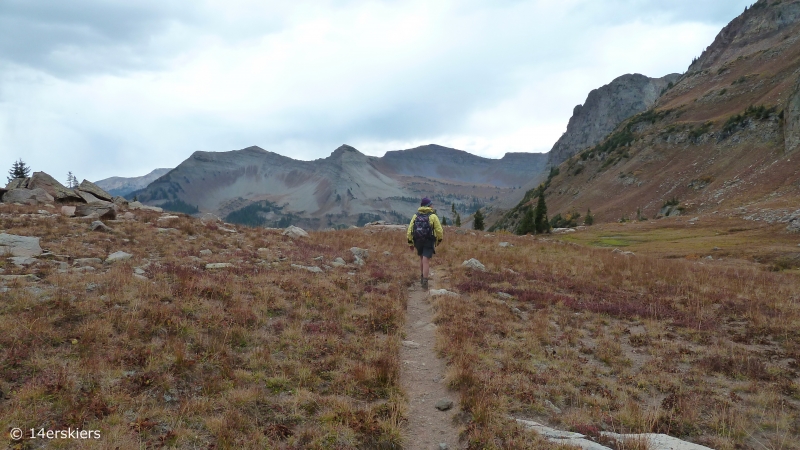 We made our way through the valley quickly and then began to make our way over to Star Pass.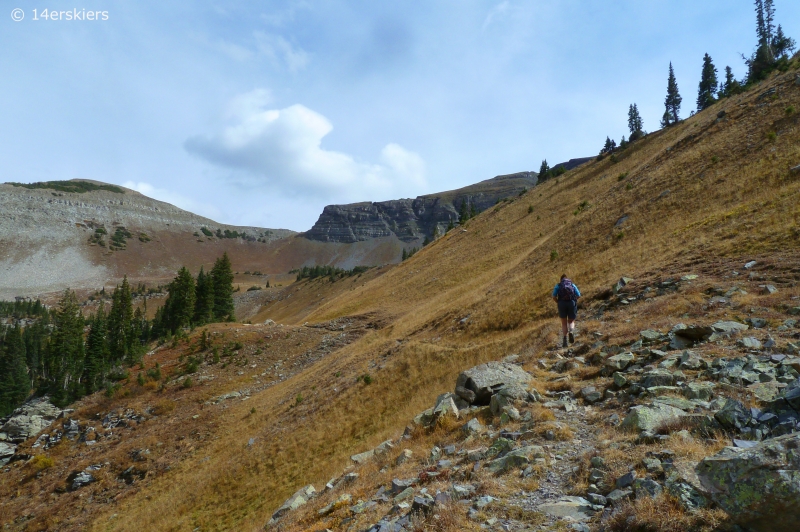 Susan ascending Star Pass, as the sun started to show itself once again.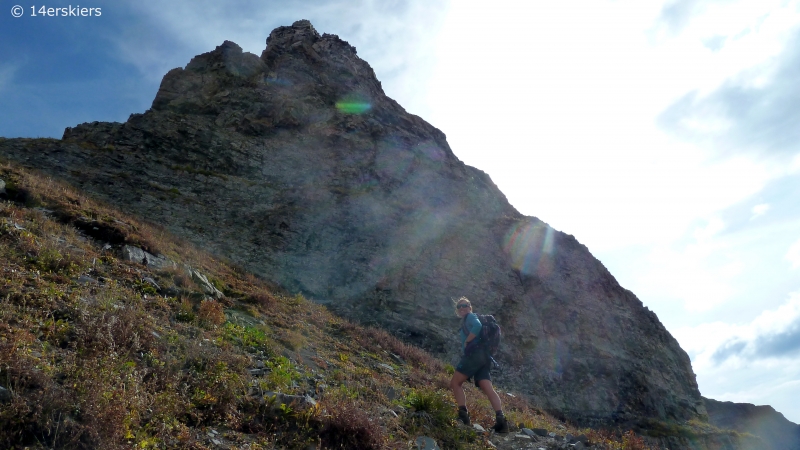 Blue Lake, Purple Peak and Afley, as seen from near the top of Star Pass.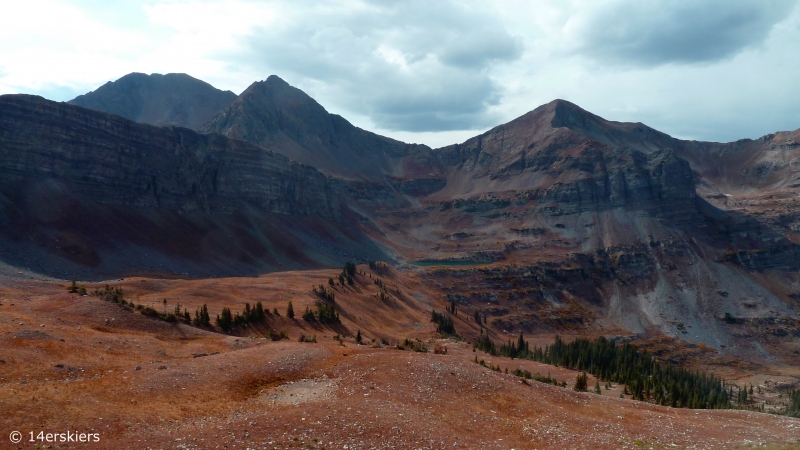 From the top of Star Pass, we wrapped around the ridge on an unmarked climber's trail that heads to the Scarp's Ridge high point.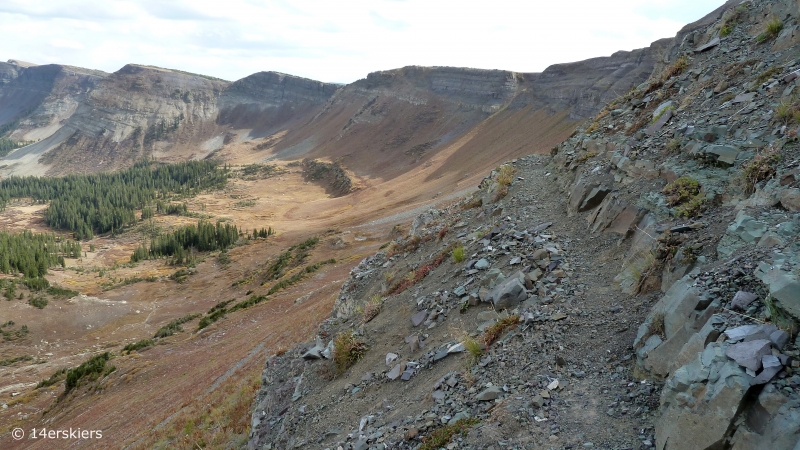 The views from the Scarp's Ridge high point are always amazing – The Oh-Be-Joyful valley and the three peaks we traversed.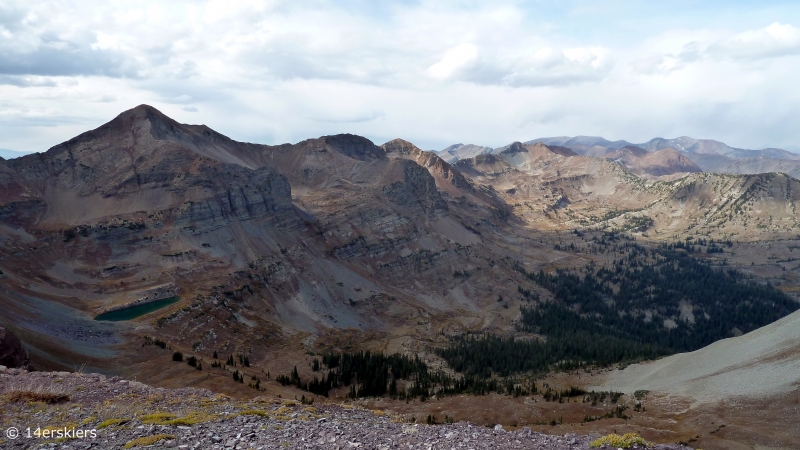 It was there that we saw it…. The big mound of white. Susan claimed it was a mountain goat, but this was coming from the same person who confused a deer for an elk just hours before. Nevertheless, the binoculars came out. And sure enough, it was a mountain goat.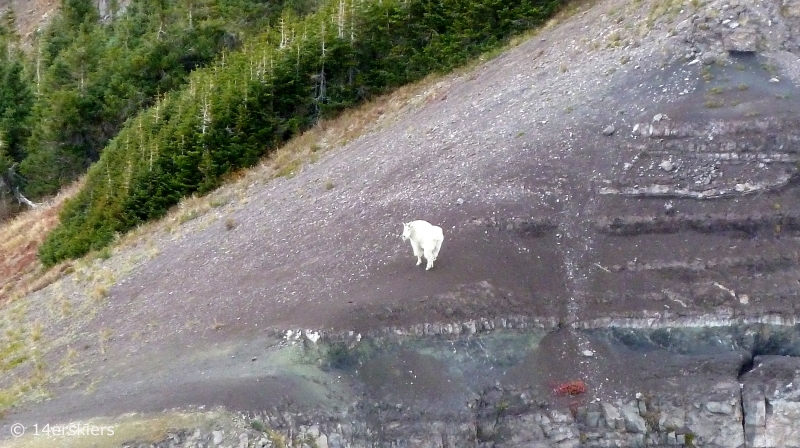 He let us come fairly close before deciding he needed to keep a fair lead on us. But, every time I yelled his name, "Goatie" he turned around. I'm sure he knew he was posing for my pictures 🙂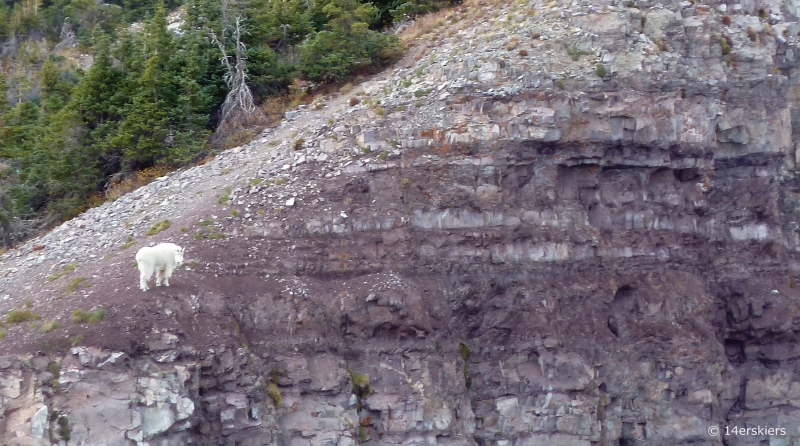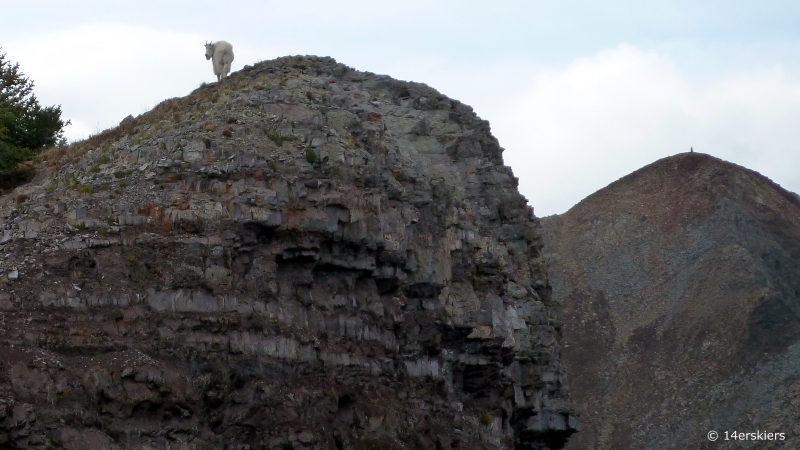 We continued along Scarp's ridge until we reached the bench above Robinson's basin, and followed that bench back to our car.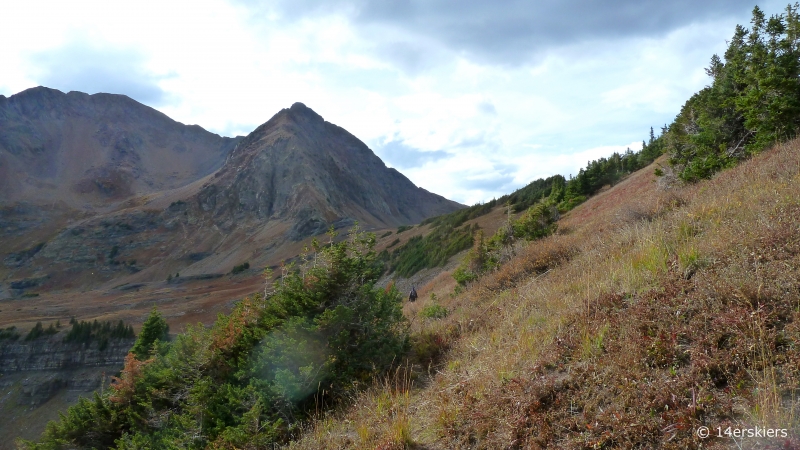 It was a beautiful hike over much varied terrain. We felt glad to accomplish yet another goal. Thanks to Susan for the vision to put together the middle Ruby Range Travers! But, admittedly, being up there made me wish for snow. Maybe it was the snow squalls that kept popping up around us. Or maybe it was the fact that we found the couloir up Afley much easier to climb with snow than without. But, either way, I seem to be wishing for winter more and more each day 🙂
Aside from skiing, biking, and all outdoorsy things,
Brittany Walker Konsella
also loves smiles and chocolate 🙂 Even though she excels at higher level math and chemistry, she still confuses left from right. Find out more about
Brittany
!
Latest posts by Brittany Walker Konsella (see all)
Summary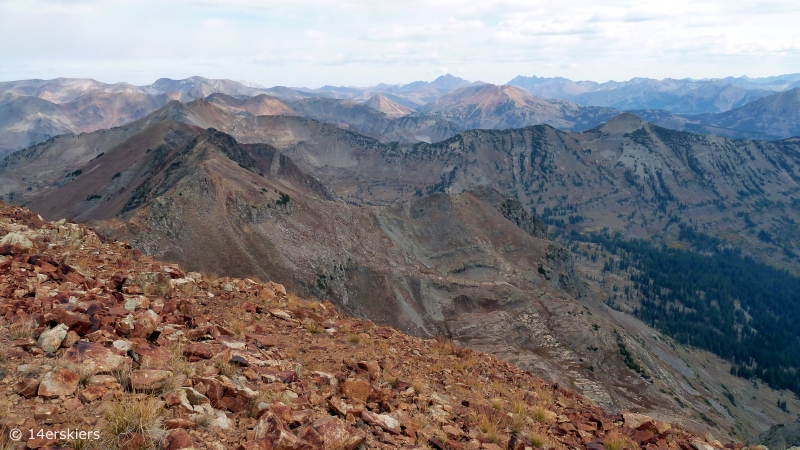 Article Name
Middle Ruby Range Traverse
Description
The Ruby Range Traverse in Crested Butte refers to a traverse on a ridge line that travels over several different peaks between Purple Mountain & Ruby Peak.
Author