TBT: Crystal Peak – North Face – then & now
(Last Updated On: April 27, 2017)
This post is part of a Throwback Thursday series featuring trip reports that we haven't had a chance to write about until now! Look for them at least every other Thursday!
If you've been to Copper Mountain, your eyes have likely gazed upon the northern flanks of Crystal Peak. This peak is even more noticeable once you head south on Highway 91 toward Leadville. A Centennial Summit, Crystal Peak is ranked the 82nd highest peak in the state of Colorado, and it also holds some fantastic skiing – especially on its north side.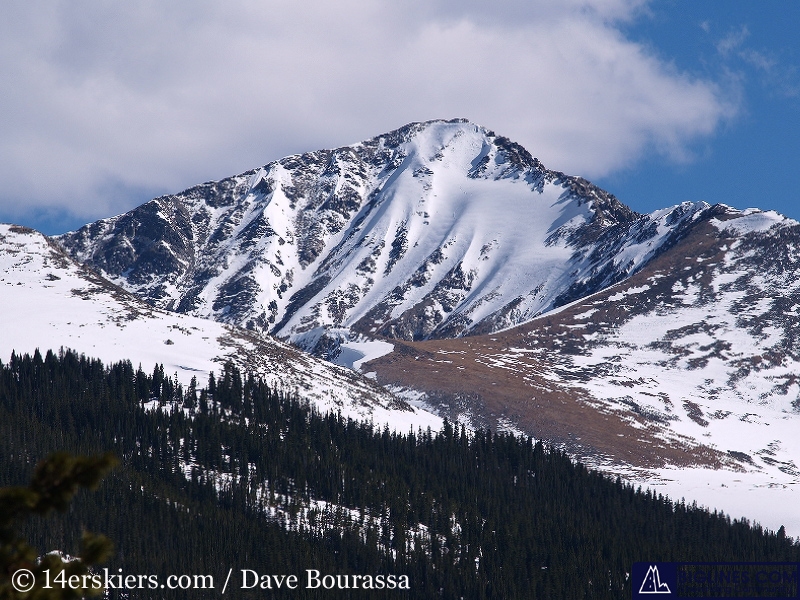 Crystal Peak will always be special to me. Back in April, 2006, my friend Dave Bourassa asked me to join him to ski the north face. When we arrived to the summit, the line had not yet softened. So, we had to bide some time for better conditions. Just below the summit sits a wind drift feature that typically forms and is a good place to seek shelter from the wind. We sat there for quite some time waiting for the sun to do its work, chatting. It was then that I confided to Dave that I was thinking of skiing all of Colorado's fourteeners. I hadn't skied a single one of them, yet though, and questioned whether a goal like this was even possible for me. So, I asked Dave if he thought I could do it, and he said he knew I could.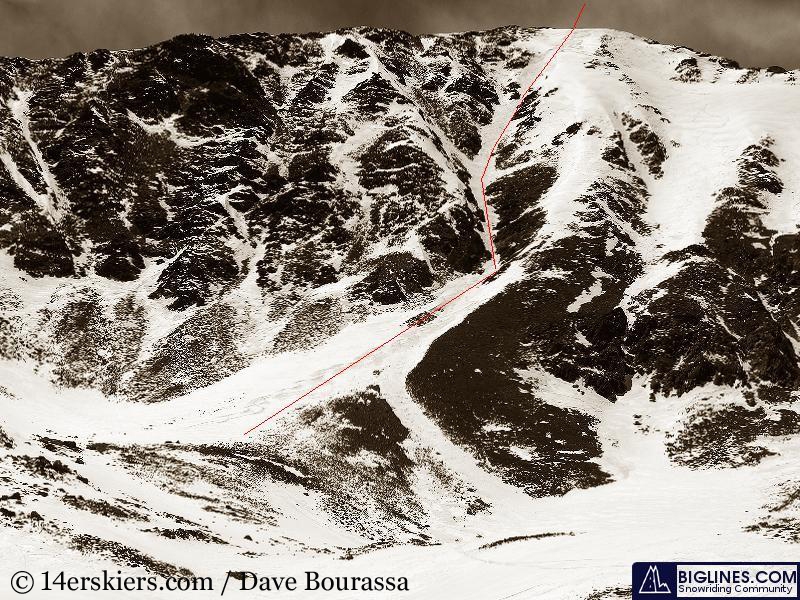 That's where my fourteener project started and really began to take shape – a goal that would take me 5 years to complete. Although Dave only ended up skiing a handful of 14ers with me, I would not have started that project without him. His belief in me was what got me started in the first place. Of course, I had to believe in myself too. But Dave's affirmation helped me realize that such a lofty goal was not out of my reach.
23 April 2016
Crystal Peak was one of the first things I skied in the Tenmile-Mosquito Range and it opened my eyes to the wealth of lines available in the area. Dave and I headed out on one of those perfectly sunny spring days.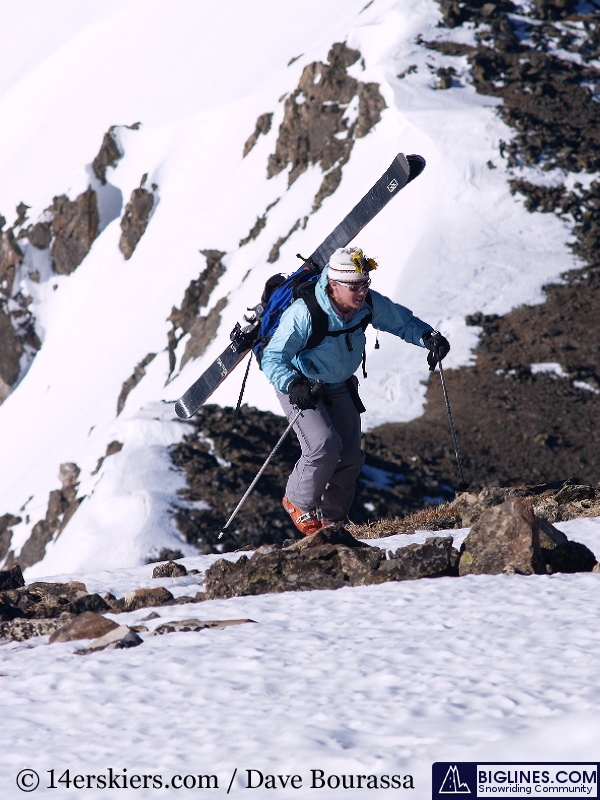 This was when I laid eyes on Pacific Peak for the first time and knew I wanted to ski it.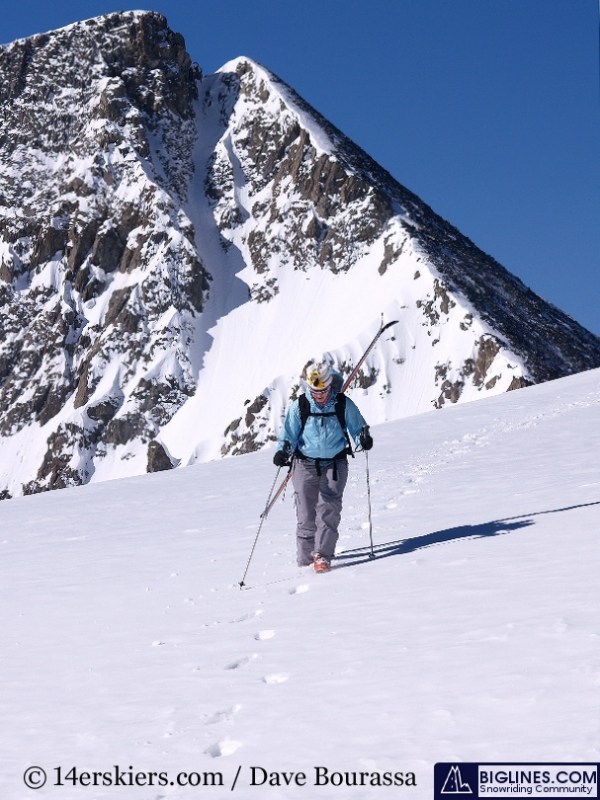 Me skiing.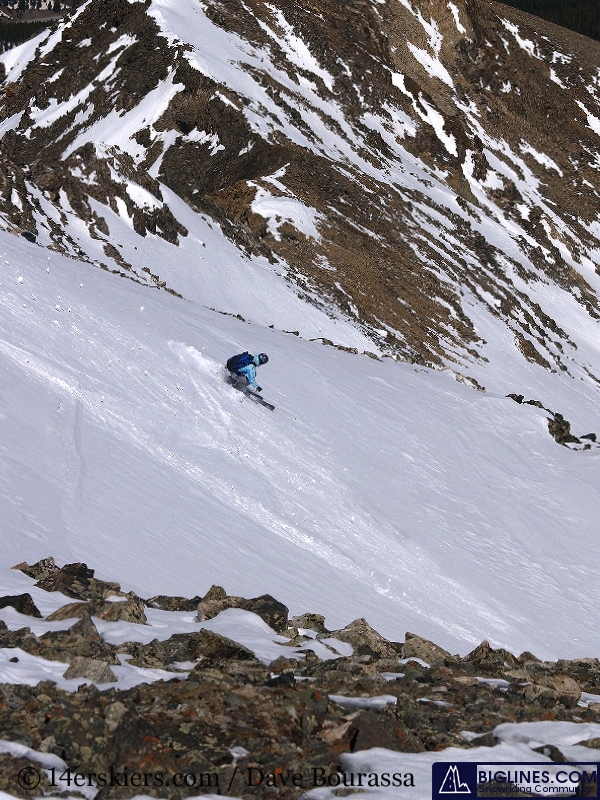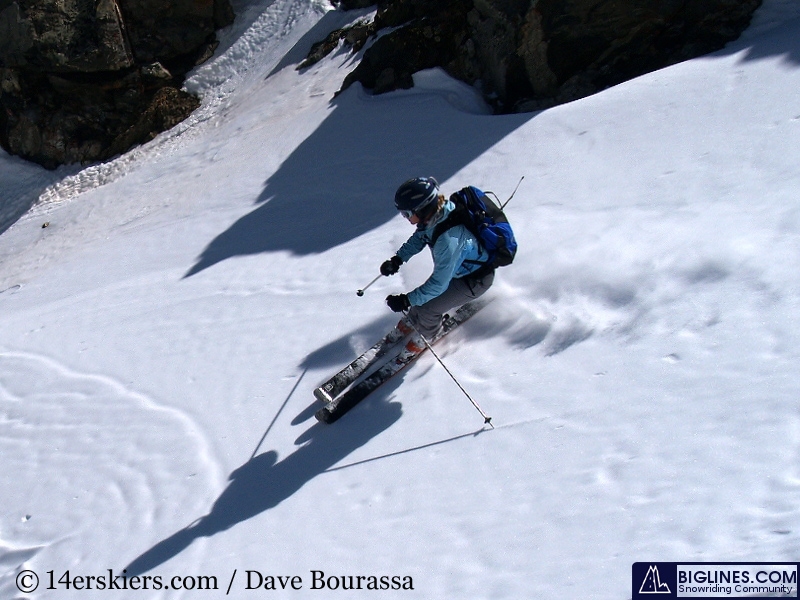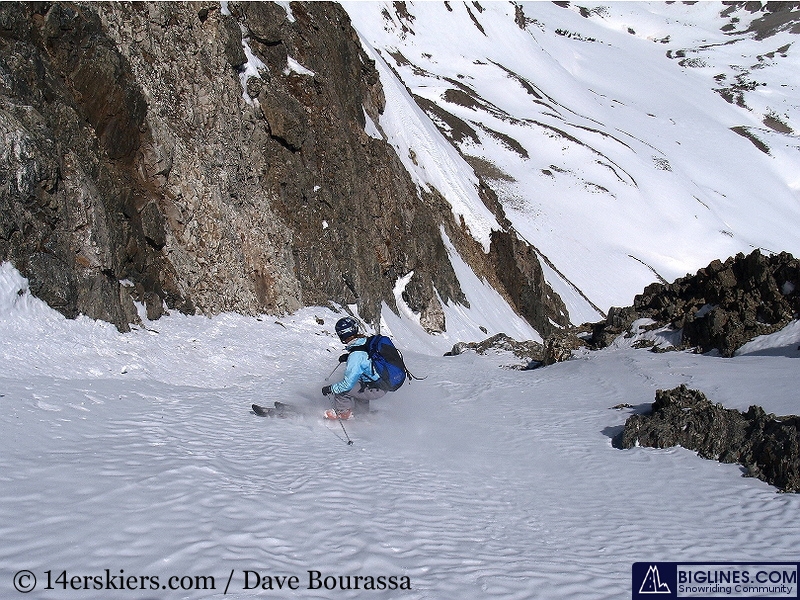 I ended up having a little better ski than Dave… Dynafit bindings were new a the time and Dave had just mounted his skis with them. Not very far down the line Dave made a turn and his ski rocketed right off of his feet – perhaps he was skiing with them unlocked? The ski sailed down several hundred vertical feet before stopping on a rock. Dave had to walk down a good portion of the line to then retrieve his ski. But, here's some photos from when he did ski.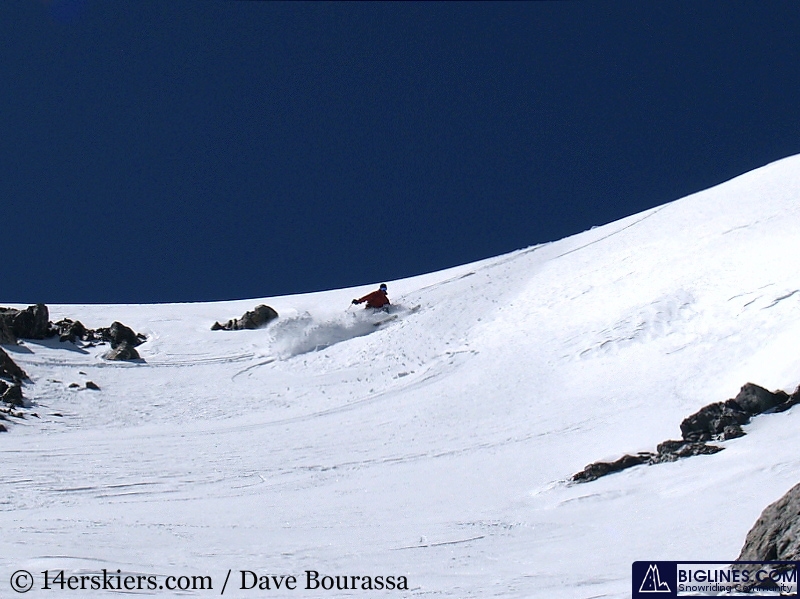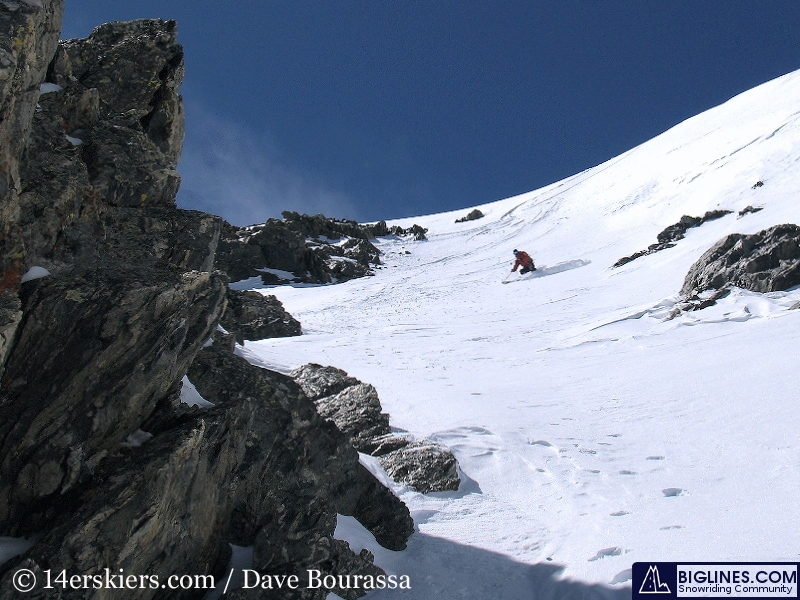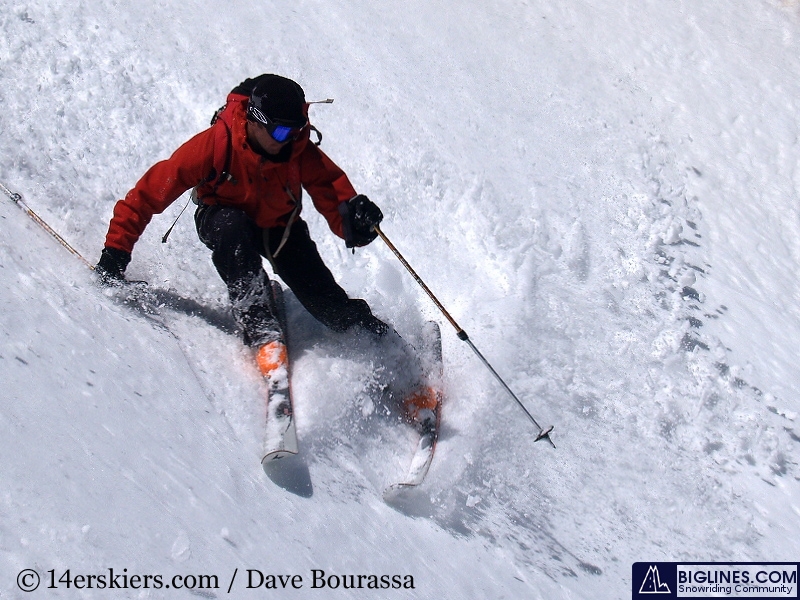 It was a good day in the backcountry. So good, that I wanted to go back….
20 May 2016
Crystal Peak had been on my list of things to repeat for quite some time. Last May, snowstorms kept winter lasting and the ski out stayed snow covered until late in the season. But, I was keeping a close eye on snow melt by May anything below treeline was melting fast. It was time to ski Crystal or let it go for another season. I was able to conjure up Scott and Natalie to join me for another Summit County adventure.
Scott with Crystal ahead of him. It doesn't look far to the top from here, but it is.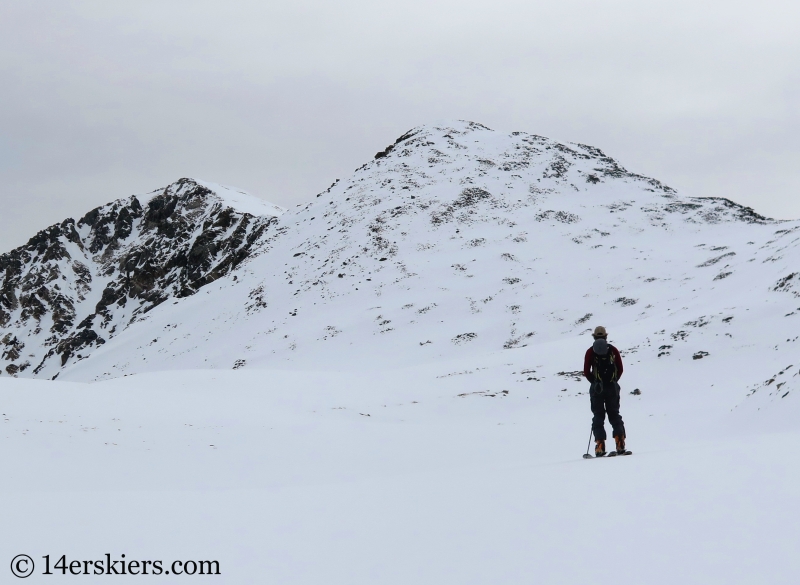 Following the ridge to the summit.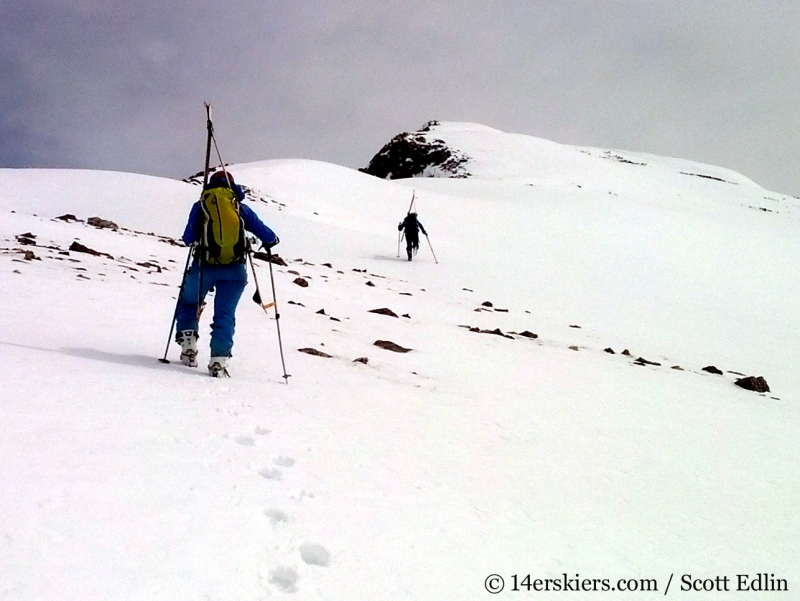 Scott nearing the summit with Pacific Peak behind him.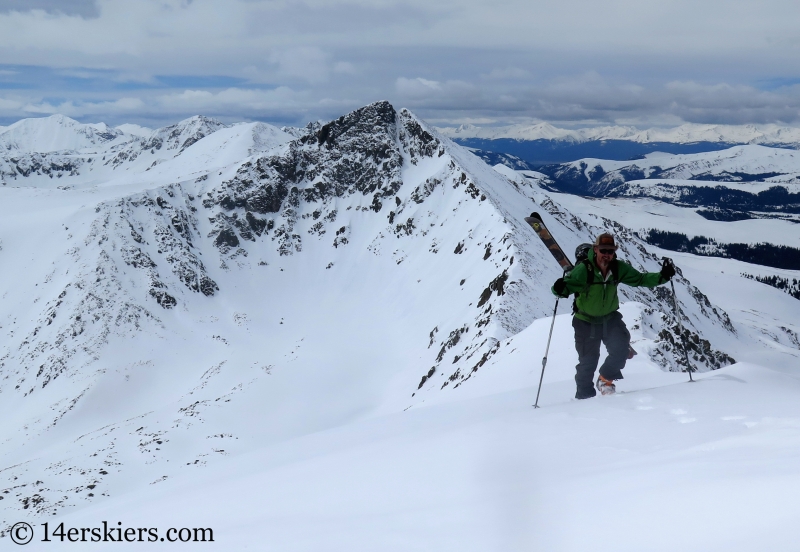 We quickly began our descent as the day was cold. Lingering at the summit was not really an option. We found some nice spring powder up high. Down low, the line had been hit by wet slides.
Natalie.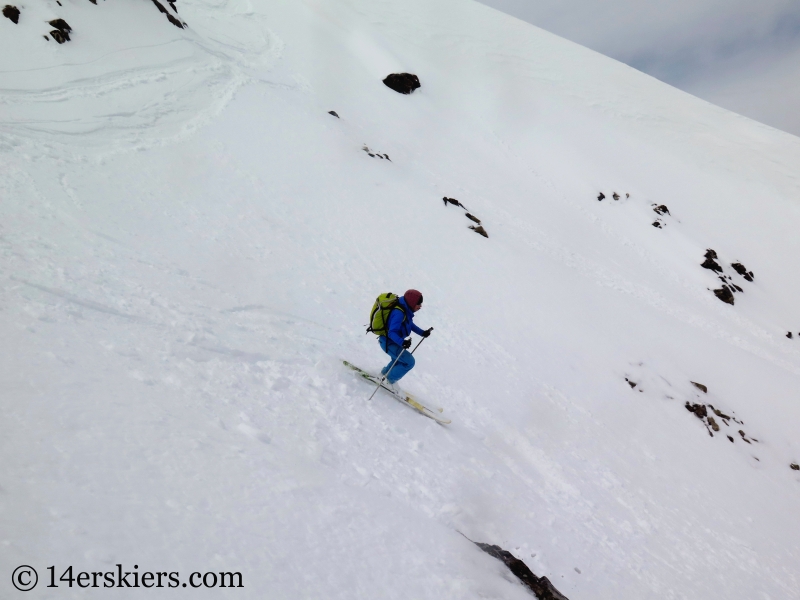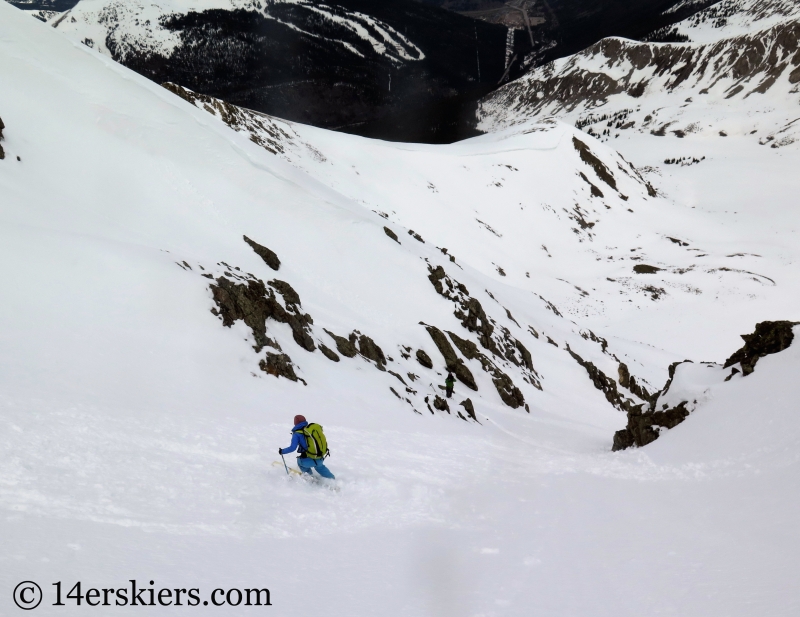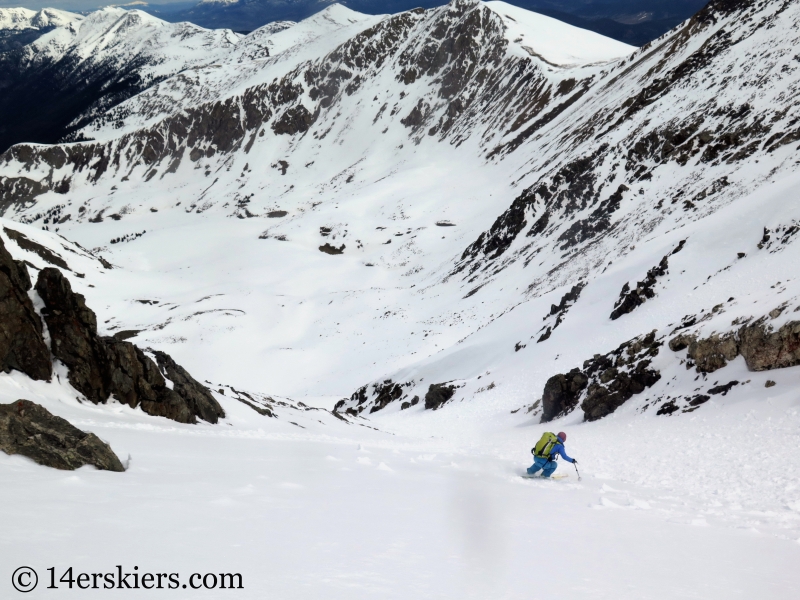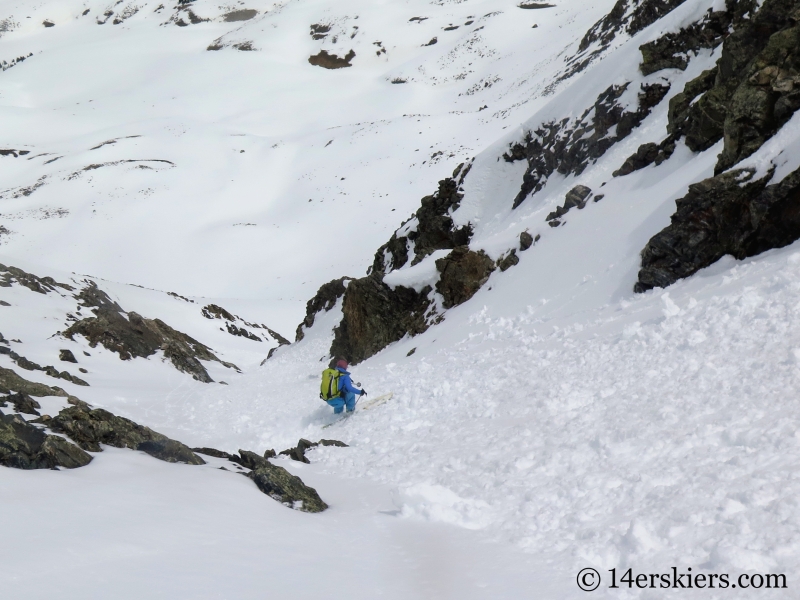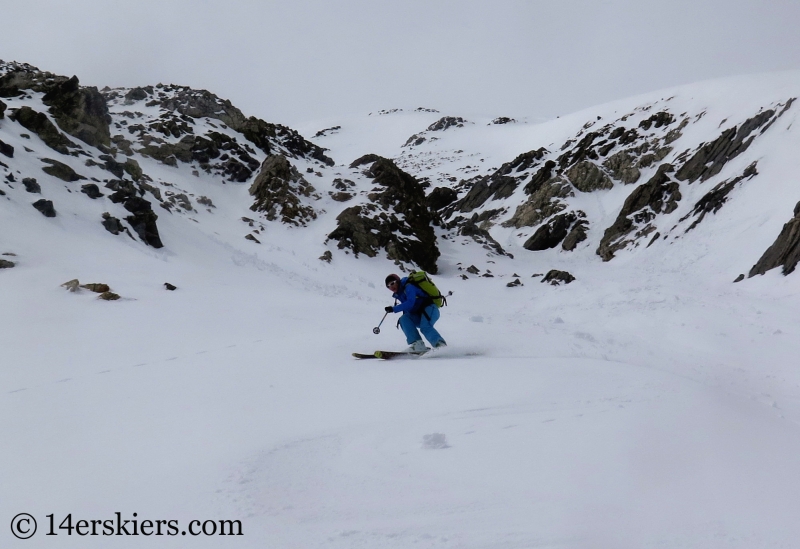 Scott.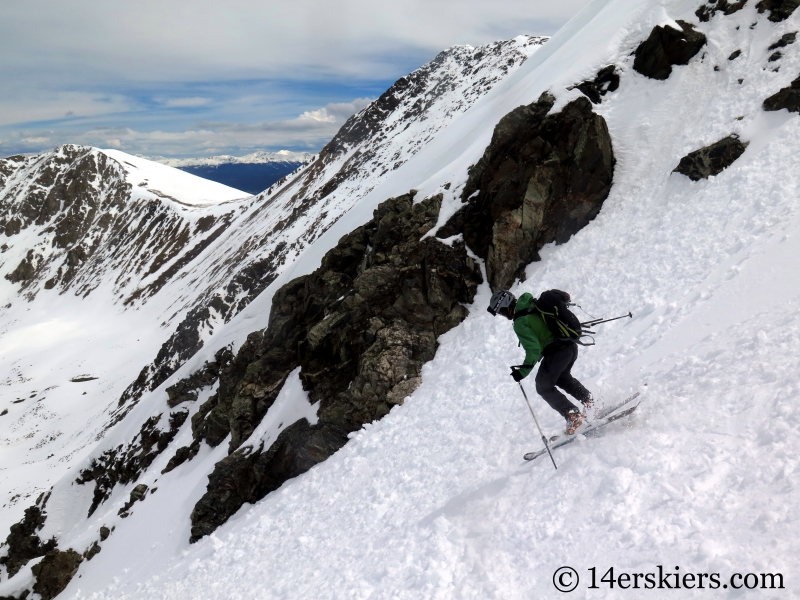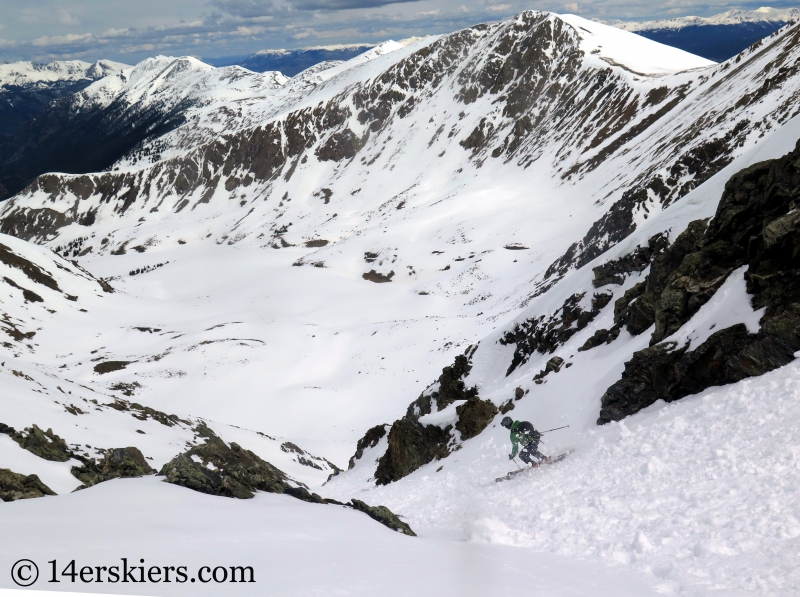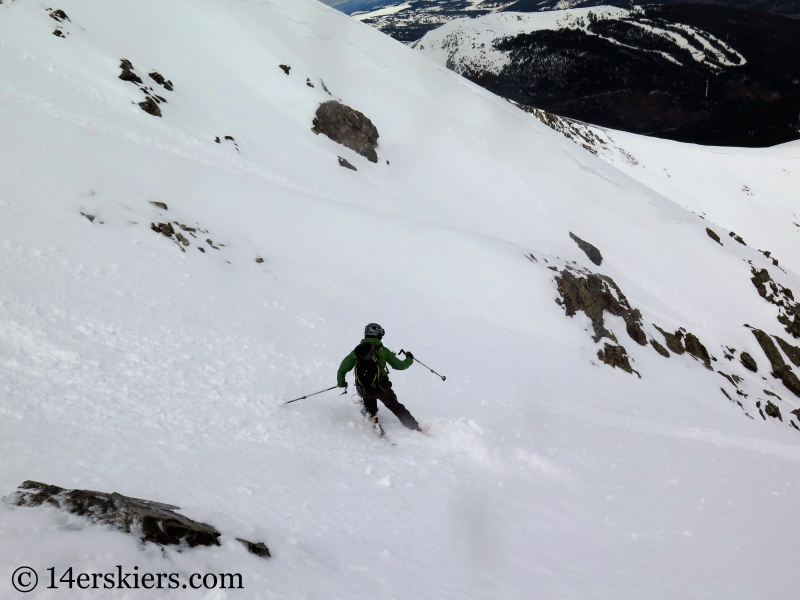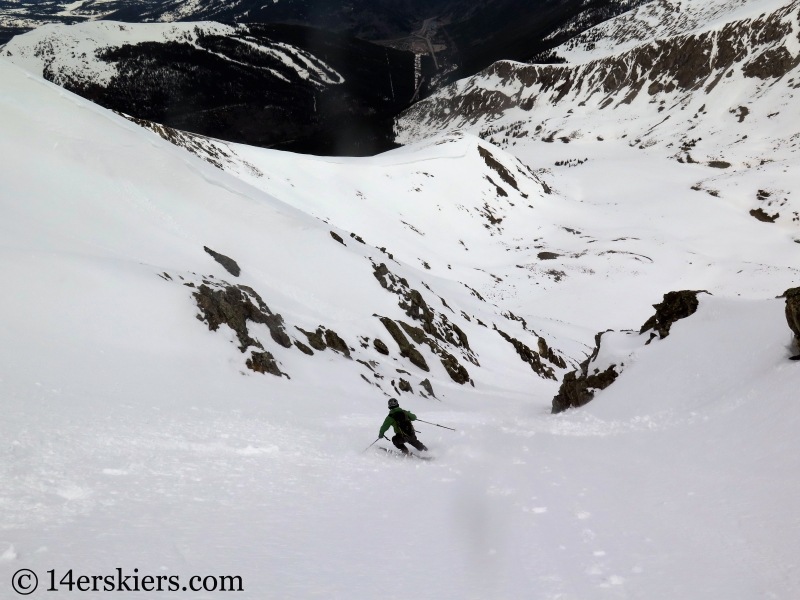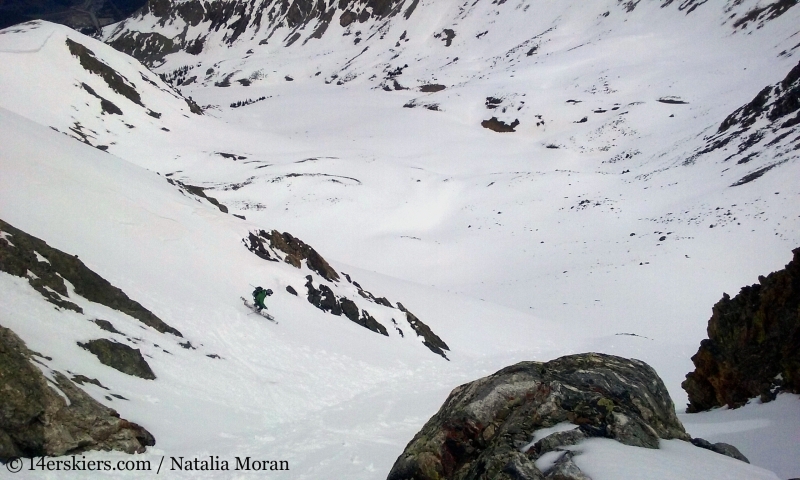 Me.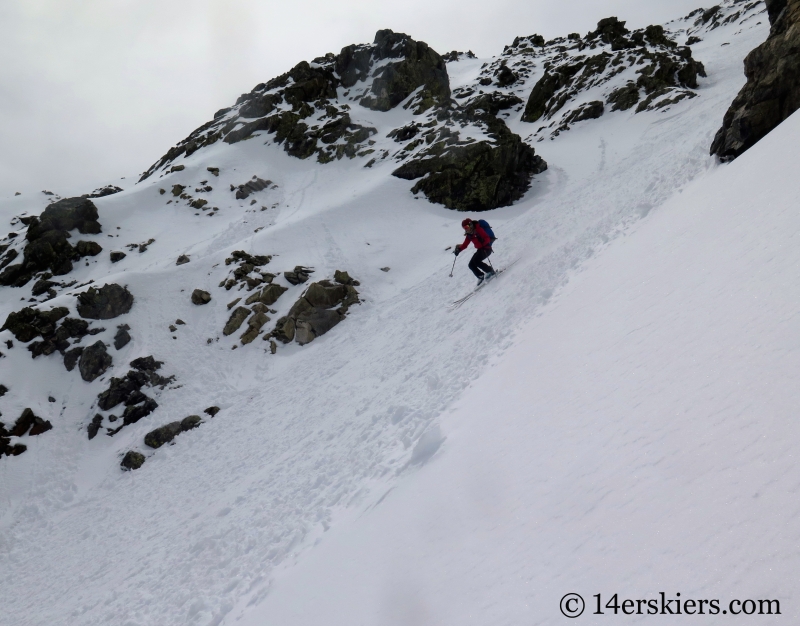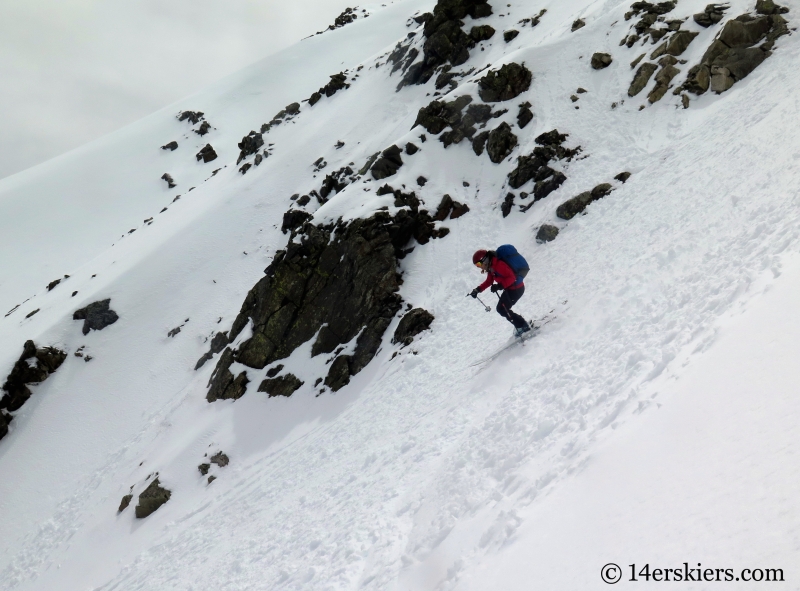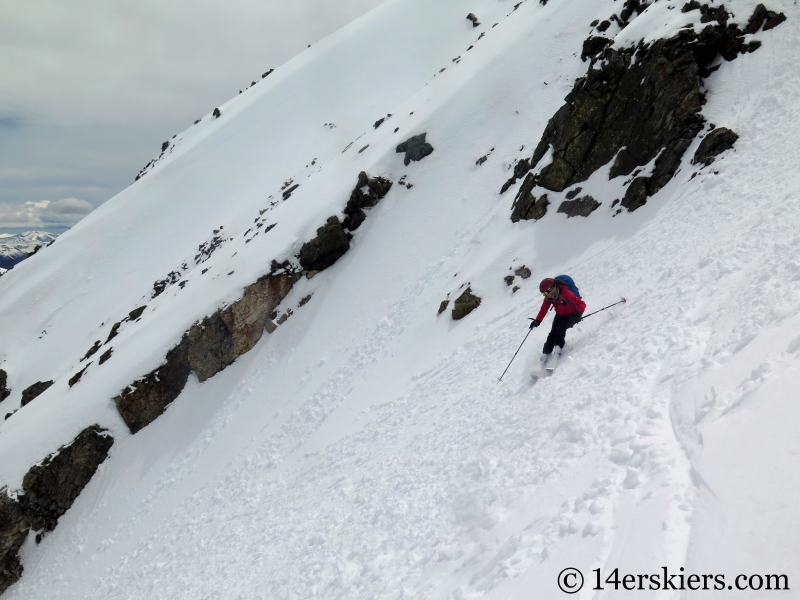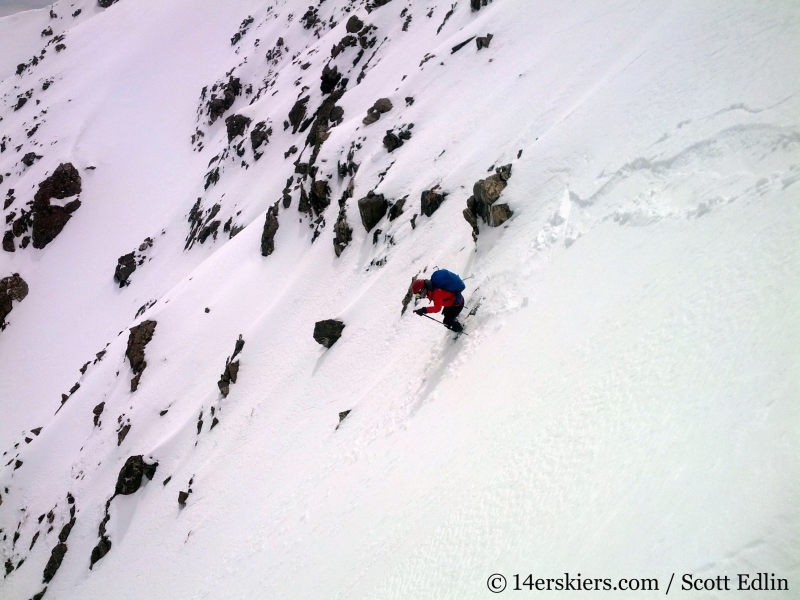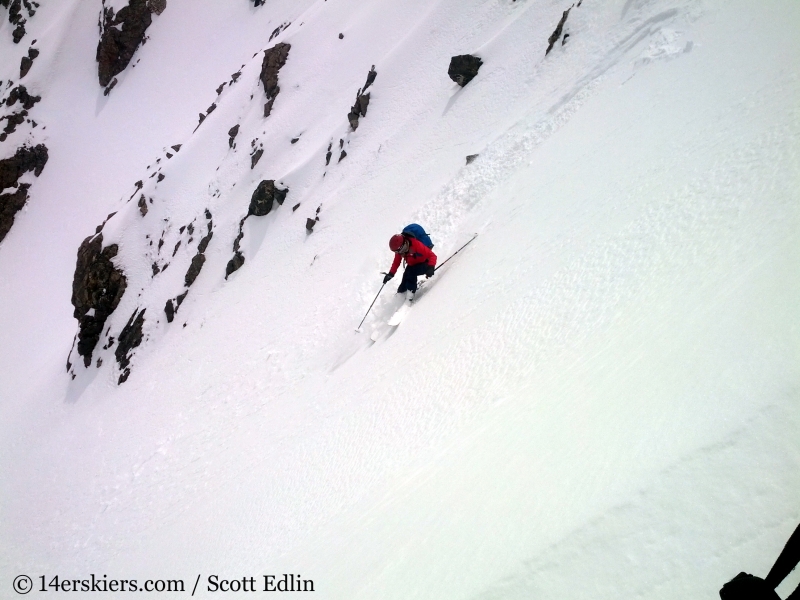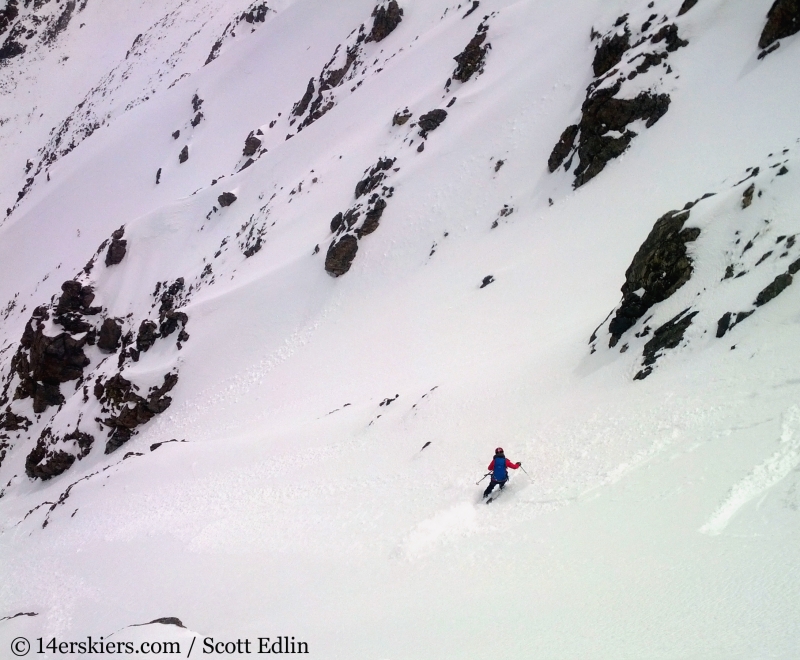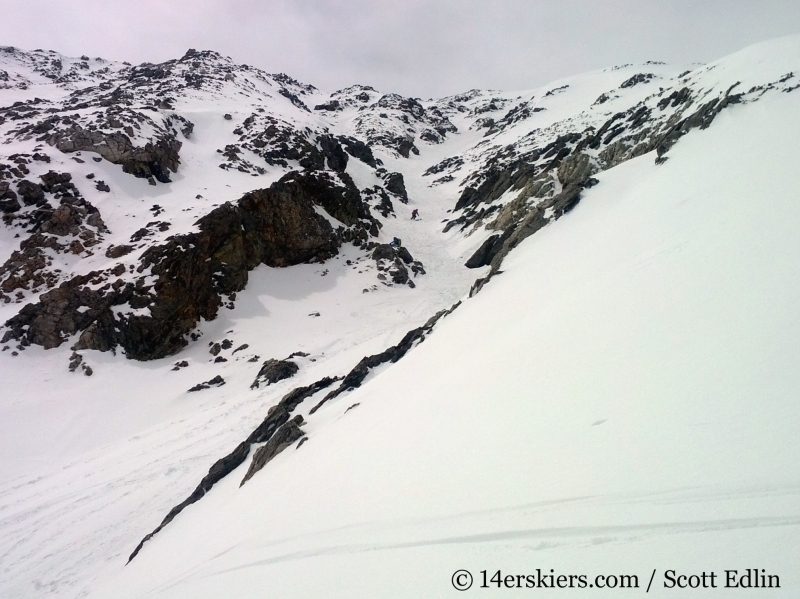 Natalie skiing out the apron.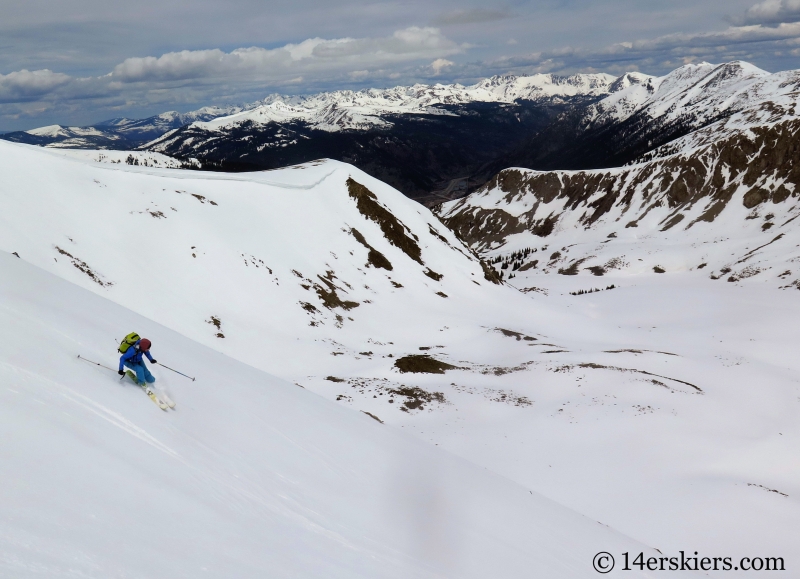 Even with flat light, the line was still fun 🙂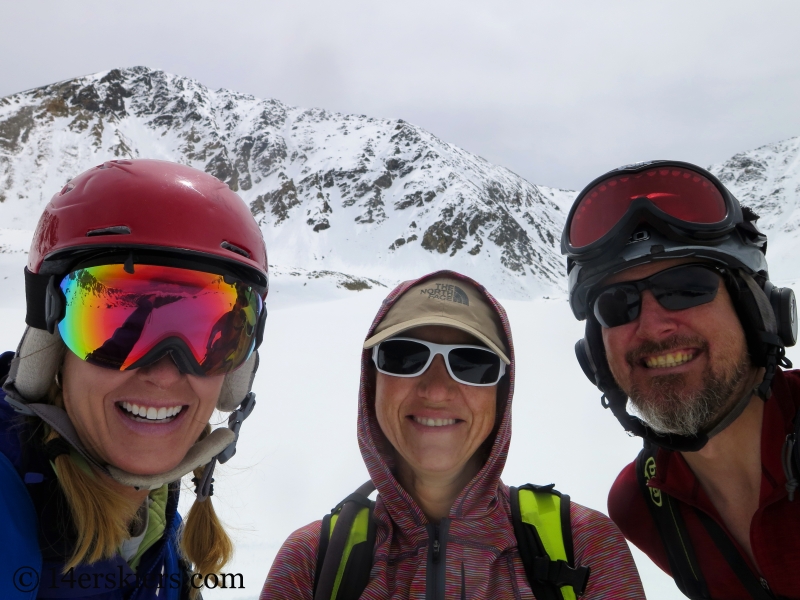 Crystal Peak is most certainly a fabulous ski descent, and I bet it has shaped up nicely this spring!
Aside from skiing, biking, and all outdoorsy things,
Brittany Walker Konsella
also loves smiles and chocolate 🙂 Even though she excels at higher level math and chemistry, she still confuses left from right. Find out more about
Brittany
!
Latest posts by Brittany Walker Konsella (see all)
Summary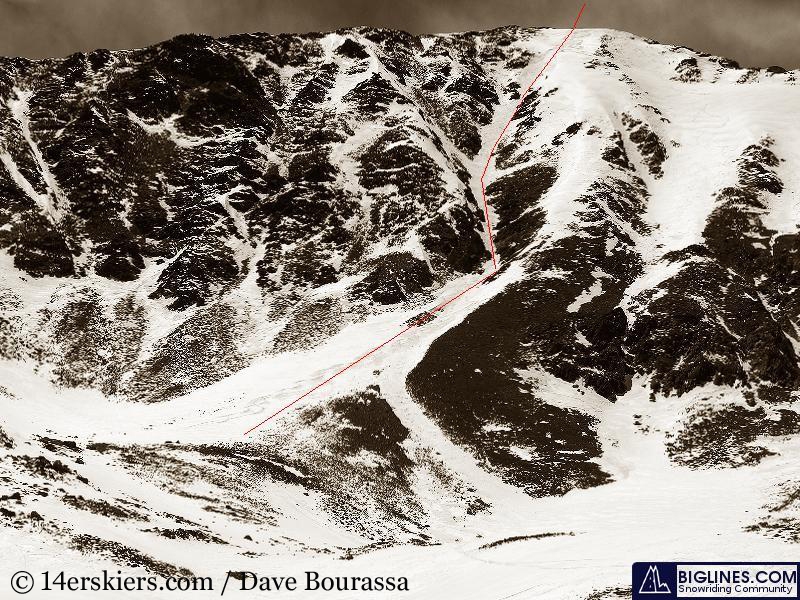 Article Name
TBT: Crystal Peak - North Face - then & now
Description
Crystal Peak is ranked the 82nd highest peak in the state of Colorado and it holds some fantastic backcountry skiing - especially on its north side.
Author