14er TBT: Little Bear Peak Ski (15 April 2010)
(Last Updated On: March 31, 2016)
This is part of an ongoing series re-telling Brittany's fourteener-skiing story. Look for the reports every Thursday, as part of a Throwback Thursday theme.
After beginning my 14er-skiing season with a bang on Crestone Needle, after a year hiatus, I was eager to see if I could finish up my project this season. After all, I only had 8 peaks left. I was hoping the weather and snow conditions would stand in my favor…
Little Bear was another Sangre de Cristo peak that I had to finish. And it was a good year for the Sangres, thankfully. My good friend Pam also had that one remaining on her fourteener list. So, Pam and I, along with Frank, headed out on our mission together….
Below is a slightly modified version of my report for skiing Little Bear Peak, which would become my 47th fourteener skied.
---
After hitting Crestone Needle on Sunday, I felt a momentum to keep going. A cold that was infesting my body combined with Mother Nature didn't seem to want to cooperate with me. A good weather window was opening up on Wednesday and Thursday. But, the infection that had hit my lungs didn't seem want to subside. Despite my less-than-stellar condition, we decided to give Little Bear a go. I could think of worse ways to spend Tax Day.

On top of Little Bear with Blanca behind. (Photo courtesy of Pam Rice)
Frank and I met up with Pam Rice at the Como Lake trailhead. View of Little Bear from the valley floor.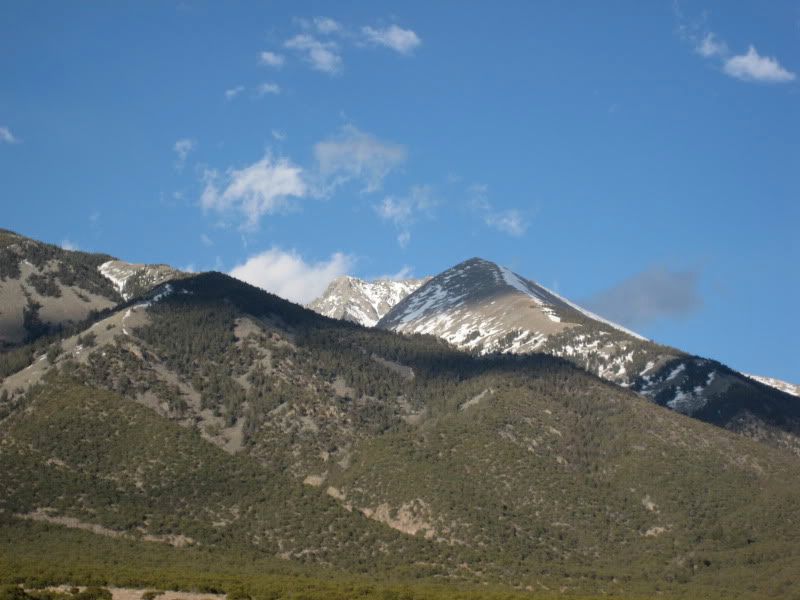 Photo courtesy of Ben Conners
From there, we drove up as far as we felt comfortable, with darkness quickly falling upon us. We didn't get very far- only about 8800′. We promptly went to bed, knowing an early wake-up would be necessary. We left the cars well before dawn, at 3:30 in the morning.

At approximately 10,000 feet, the road was covered with enough snow to break out the skins and skis. We reached treeline shortly after dawn. A look at the valley 4000 feet below.

Little Bear, seen from Como Lake.

We booted up the couloir to the notch on Little Bear's ridge.

Frank led the way.

We were at the top of the notch by 8:15.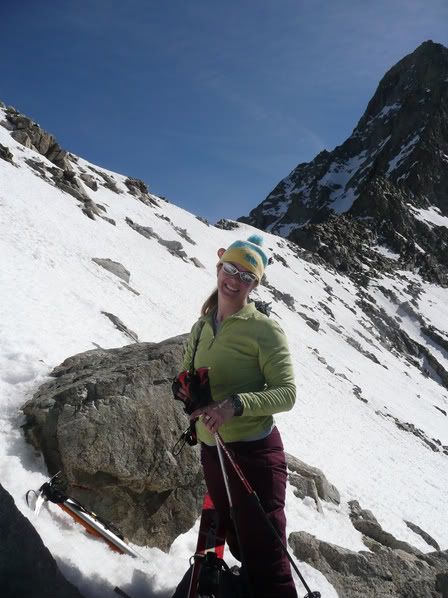 Photo courtesy of Pam Rice
View of Little Bear from the notch. The Hourglass is the left line coming down from the peak.


Photo courtesy of Ben Conners
Frank and Pam traversing from the notch.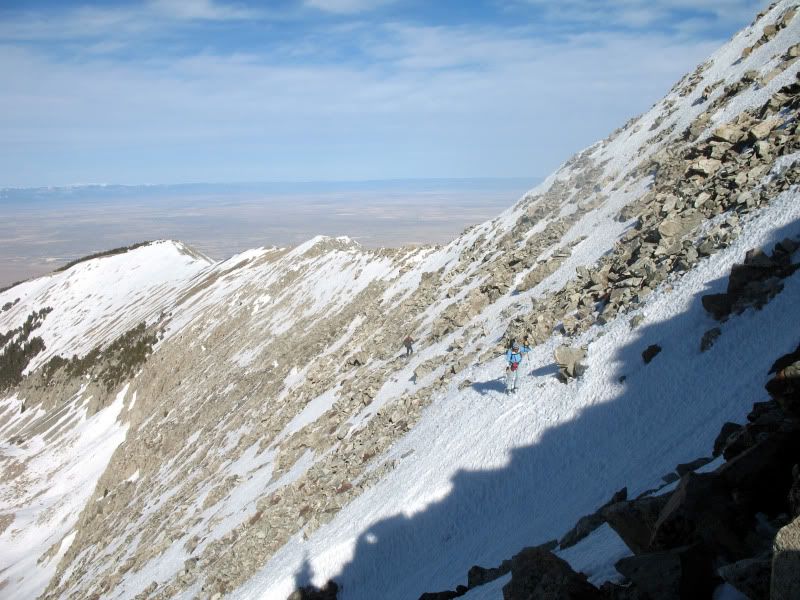 While resting along the traverse, a group of two other skiers caught up from behind- Ben and Matt. They tagged along with us for the rest of the day. We began up the Hourglass together.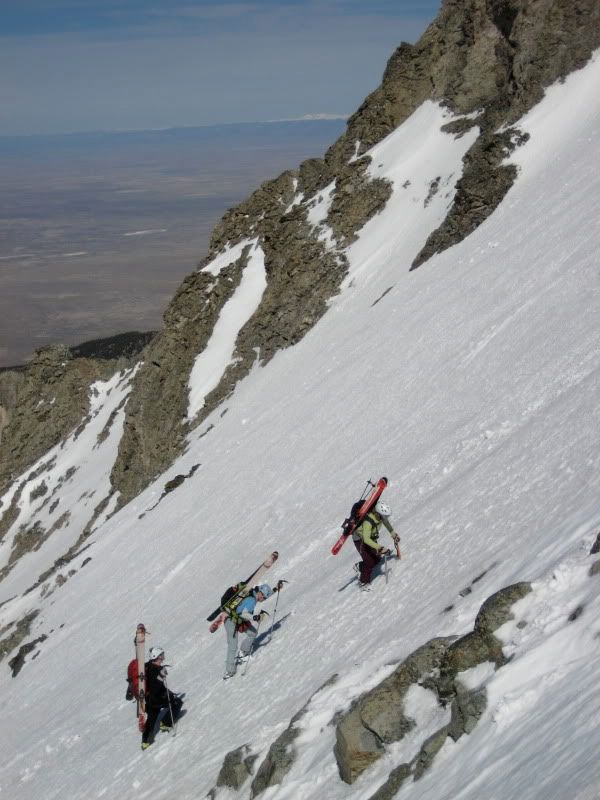 Photo courtesy of Matt Kamper
Frank and Matt booting up the Hourglass couloir.


Photo courtesy of Pam Rice
Pam and I approaching the summit.

It was a beautiful windless bluebird day on the summit. Pam, me, and Frank.


Photo courtesy of Matt Kamper
A view of Blanca.

Looking at the Crestones from the summit.

After about a half an hour on the summit we finally decided to get skiing, despite the fact that conditions hadn't completely softened yet.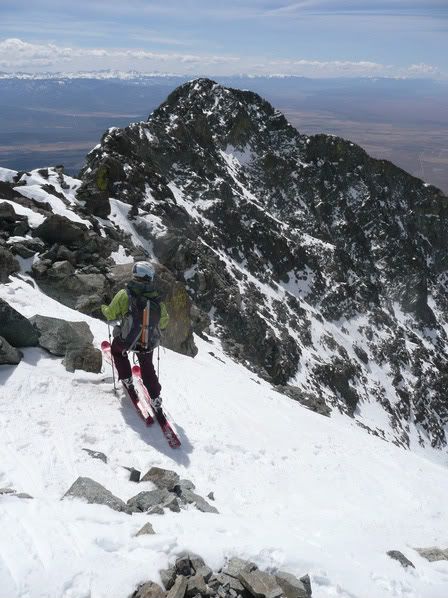 Matt making his way from the summit.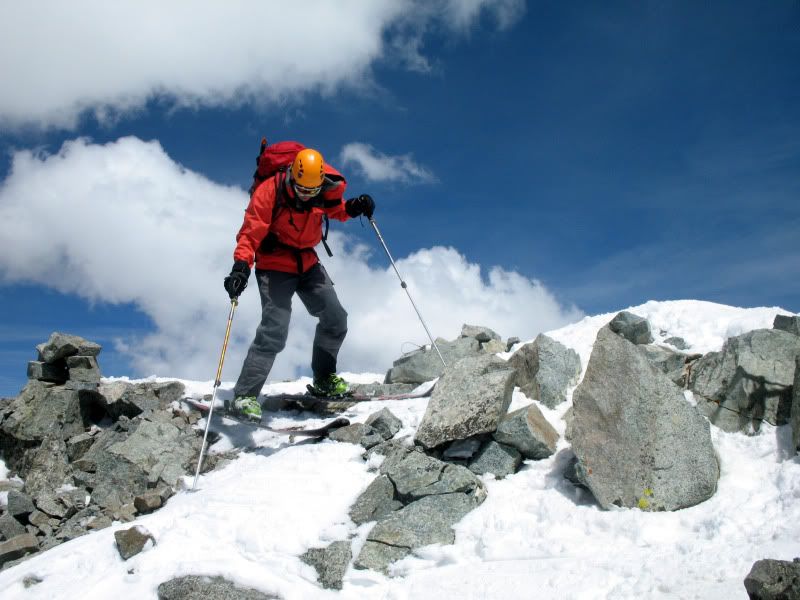 Frank.

Matt.


Photo courtesy of Pam Rice
Ben.


Photo courtesy of Pam Rice
Pam.

Me.


Photo courtesy of Pam Rice

Photo courtesy of Matt Kamper
From the bottom of the hourglass we began our traverse over to Baby Thunder.


Photo courtesy of Ben Conners
We climbed up to the Baby Thunder notch.


Photo courtesy of Ben Conners
The entrance looked thin…

and also required a downclimb on loose rock.


Photo courtesy of Pam Rice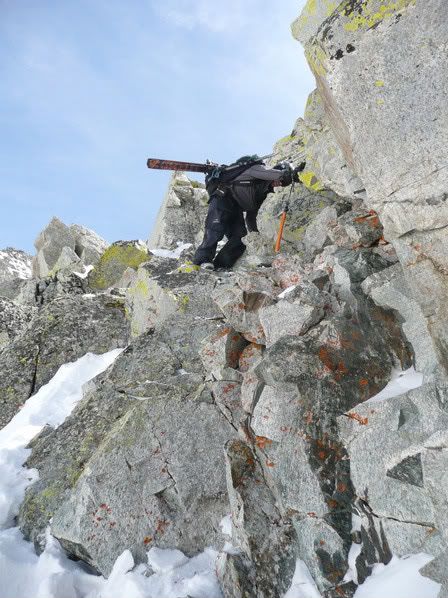 Photo courtesy of Pam Rice
Me skiing between the downclimb and the entrance to Baby Thunder.


Photo courtesy of Ben ConnersAfter the downclimb, we all put on our skis to continue down. Pam, however, forgot to lock her Dynafit bindings. As I was navigating my way into the tight entrance of Baby Thunder, I heard Pam's shouts. Her ski was on the way down the mountain without her. It came whizzing down the hanging snowfield, and was going to pass right by me. I knew it would tumble over several hundred feet of cliffs, likely to splinter apart into pieces, if I didn't do something to stop it. So, I made a weak attempt and stuck my pole out toward her ski. But that was enough… The ski turned over, and stopped short of the cliffs, dangling on a precarious rock. We were able to reunite Pam with her ski, and down we went.
Frank getting ready to ski.

Pam at the top of the entrance.

Baby Thunder was the best skiing of the day. Me.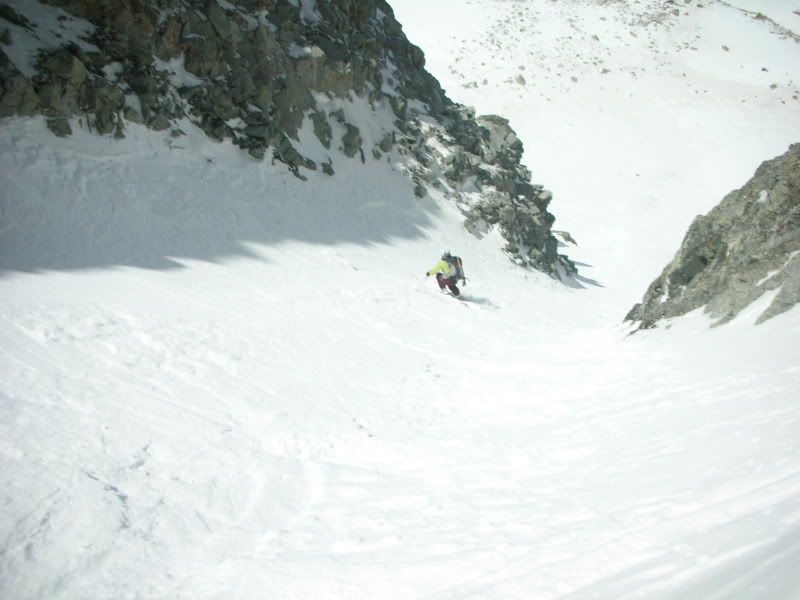 Photo courtesy of Ben Conners
Frank.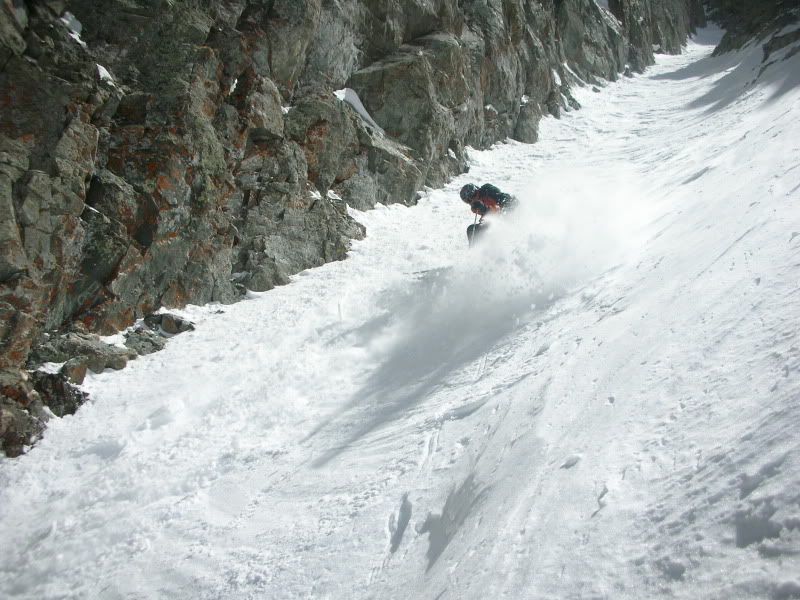 Photo courtesy of Ben Conners
Pam.

Matt and Ben with Ellingwood and Blanca behind.

We were able to ski most of the way down the road, only taking our skis off a few times before reaching 10,000′. From there, we hiked dry road the rest of the way to the car.

I could not have asked for a better day to ski a fourteener, except for the gunk that was still collecting in my nose and chest. Thanks to Pam and Frank for helping me get another one done. And it was great to meet Matt and Ben. Number 47 is done. 7 more fourteeners to go!
I was stoked to have another one under my belt… What I didn't know was that after that day we would build a long lasting relationship with both Ben and Matt, and that Matt would become one of our best ski partners. Friendships are built among the mountains….
But, what I didn't mention, was something we saw on the summit. When we opened the summit register, we saw Christy Sauer Mahon's name on the list, from earlier in the season. I wondered how many more peaks she had remaining. She had to be closing in… Her name on the register was a reminder that being the first woman to ski all the fourteeners was indeed a tight race. And it began gnawing away at me, even though I tried everything I could to not let it. I still had 7 more fourteeners left to ski. Could I finish by the end of the season?
Aside from skiing, biking, and all outdoorsy things,
Brittany Walker Konsella
also loves smiles and chocolate 🙂 Even though she excels at higher level math and chemistry, she still confuses left from right. Find out more about
Brittany
!
Latest posts by Brittany Walker Konsella (see all)
Summary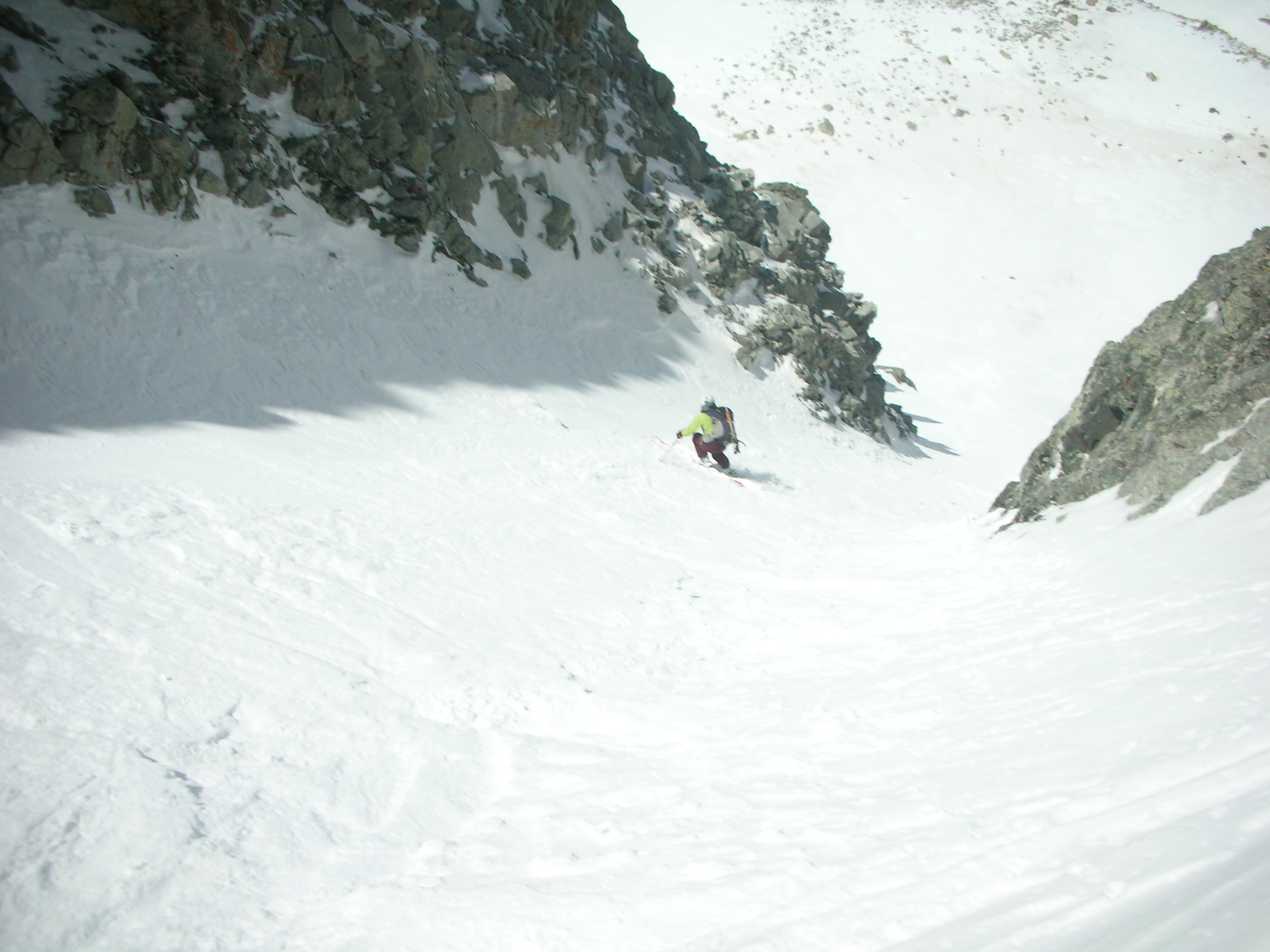 Article Name
Description
Brittany recounts her ski of Little Bear Peak, one of Colorado's more difficult fourteeners, making it her 48th fourteener descent!
Author